Best Mattress for Hip Pain
Sleep is a critical time for physical recuperation, but unfortunately, many sleepers find that their mattress contributes to pain in areas such as the hips. This often occurs with old mattresses that have worn out and no longer provide adequate support. If a bed's firmness level isn't well-suited to a sleeper's body type or sleep position, it may create painful pressure points around the hips.
Our selection process for this list involved hands-on testing of many different mattresses to find the ones that are most suitable for addressing hip pain. A key criteria in our search was a bed's ability to balance pressure relief and support, both of which are important for alleviating hip pain. We also considered factors such as firmness and quality of materials.
Best Mattress for Hip Pain Video
Watch the video below to get a closer look at some of our top mattress recommendations for sleepers with hip pain.
We awarded an accolade for each of our top picks based on criteria such as value, comfort, and other performance factors. If you'd like to learn more about finding an ideal mattress for hip pain, scroll down for our comprehensive buyer's guide. We cover the specifics of how hip pain affects sleep, how mattresses can increase or decrease hip pain, and which types of mattresses are best for hip pain.
Our Recommendations
Helix Sleep's mattress line includes more than a dozen hybrid models, all designed with certain types of sleepers in mind. The Helix Midnight is specifically tailored to side sleepers between 130 and 230 pounds. That said, our tests show the balanced feel and strong support make this mattress suitable to a wide range of people across different body types and sleep positions.
How It Performed
During our hands-on tests, most side and back sleepers on our team felt comfortable and adequately supported on the Helix Midnight. Those weighing up to 230 pounds were particularly impressed. Our stomach sleepers weighing less than 130 pounds also awarded the Midnight favorable ratings.
We noticed minimal sinkage when testing the mattress for edge support, and this is largely due to the reinforced perimeter coils. Temperature control was another testing area where the Midnight performed well. The coils should generate enough airflow to keep the entire mattress reasonably cool, whether you use the standard or GlacioTex cover — though we recommend the latter if you're an excessively hot sleeper or prone to night sweats.
What It's Made of
The Midnight's comfort system consists of a memory foam comfort layer over transitional polyfoam. We've rated this mattress as medium firm (6), so you should expect light contouring and little to no "hugging." Pocketed coils and dense base foam make up the support core. The perimeter coils are reinforced to push back against your weight when you lie near the edges or get in and out of bed.
Standard Midnight models come with knit polyester covers. You can upgrade your order to include a cover made of GlacioTex phase change material, which is engineered to capture and release body heat on contact. This addition may be useful for hot sleepers and those who reside in exceptionally warm or humid climates.
The Midnight carries a much lower price-point than the average hybrid model, and shipping is free to all 50 states. Your order includes two Helix Dream Pillows at no extra cost. Helix Sleep's trial period allows you to test the mattress for up to 100 nights before deciding whether to return it or keep it. If you opt for the latter, you'll also receive a 10-year warranty against structural defects.
The DreamCloud is a memory foam hybrid mattress with a layer of polyfoam quilted into its cashmere poly-blend cover. This combination of materials made the bed extremely comfortable for many of our testers.
How It Performed
Thanks to its foam comfort system, pressure relief is a key strength of the DreamCloud. This, and the medium firm (6) feel, made the bed a good fit for our side sleepers, who benefit from cradling in their shoulder and hip areas to reduce pressure buildup. Our back sleepers found this bed comfortable, as well, due to the balance of support from the coils and gentle cushioning of the foam.
The reinforced edge prevented us from sinking when we sat or laid on the bed's perimeter. The mattress also slept fairly cool during our tests, thanks to strong air circulation through the coils. Unlike most other hybrids – particularly those with latex – the DreamCloud felt relatively light and easy to lift and move. The foam layers also absorbed a good amount of motion transfer and noise, making it a solid choice for couples who value motion isolation.
What It's Made of
The DreamCloud's construction begins with a breathable cashmere cover quilted with polyfoam for a plush initial feel. Underneath is a memory foam layer infused with cooling gel meant to reduce heat buildup. A polyfoam transitional layer prevents you from sinking too deeply into the mattress. All three layers hug and cushion your body without sagging beneath the shoulders and hips.
Pocketed coils make up the support core, reinforcing the sleep surface and preventing excessive sinkage. The coils also create a supportive perimeter, so you can sleep or sit near the edges without experiencing "roll off." The coils rest on a polyfoam base layer for stability.
The DreamCloud's price-point falls beneath the average hybrid model. Free shipping is offered to all customers in the contiguous U.S., and White Glove delivery is available for an additional charge. The mattress is backed by a 365-night sleep trial, one of the longest mattress trials offered anywhere, as well as a lifetime warranty.
Side sleepers with hip pain typically need a soft sleep surface, so most hybrids are off the table due to their medium firm or firm designs. The Softer Winkbed bucks this trend with a medium soft (4) feel and thick foam layers that contour closely to cradle the spine and reduce pressure. This version of the WinkBed was particularly popular among side sleepers on our team weighing up to 230 pounds.
How It Performed
Back and stomach sleepers under 130 pounds also awarded favorable ratings to the Softer WinkBed. The foam layers were adaptive enough to cushion the hips and other areas along the spine, but the support system kept their bodies on even planes and prevented excessive sinkage. Those weighing more — as well as side sleepers over 230 pounds — may need a firmer version of the mattress.
We also found the Softer WinkBed excelled at pressure relief and motion isolation. Firmer hybrids tend to underperform in these areas, but the thick foam layers make a noticeable difference. Temperature control was another strong point during our tests. The Softer WinkBed's comfort system may still retain some heat, but a moisture-wicking cover and steady airflow through the coils should prevent the mattress from feeling uncomfortably warm.
What It's Made of
Like other WinkBed models, the Softer WinkBed begins with adaptive polyfoam quilted into a Euro-top cover. A comfort layer of proprietary SupportCell foam cradles the body, while a third foam layer not found in firmer WinkBeds provides additional cushioning. As a result, the Softer model is significantly softer than its counterparts.
The support core contains pocketed coils. Thicker coils rest beneath the midsection to push back against the extra weight people tend to carry in their shoulders, stomach, and hips. The perimeter is also reinforced to reduce sinkage when you get in and out of bed. A cover made of breathable, moisture-wicking Tencel fabric encases the mattress.
WinkBeds offers free ground delivery throughout the contiguous U.S. Your order comes with a 120-night trial. If you aren't satisfied with the Softer WinkBed, you may exchange the mattress for a firmer model backed by an additional 60-night trial period. All mattresses come with lifetime warranties against structural defects.
Although there's no such thing as a "universally comfortable" mattress, some models offer a wider range of firmness options to meet the needs of different sleepers. The Brooklyn Bedding is sold in medium soft (4), medium firm (6), and firm (7) designs. You can further optimize your sleep surface by adding a phase change pillow-top layer that delivers extra cushioning and cooling.
How It Performed
The medium soft Signature Hybrid earned its highest ratings from our side sleepers up to 230 pounds and back sleepers under 130 pounds. This model has the thickest, most adaptive foam layers, so you can expect deep cushioning — but sleepers in these weight groups shouldn't sink too much. Our back and stomach sleepers weighing at least 130 pounds preferred the firm model, which feels highly supportive by comparison. Those seeking a balance of contouring and reinforcement should consider the medium firm design.
Motion isolation and pressure relief were testing highlights for the medium soft model. Couples can get the rest they need without sleep disruptions when their partner changes positions, and the foam layers conform closely enough to reduce discomfort in the shoulders and hips. If edge support and ease of movement are your higher priorities, the medium firm and firm models may be more suitable. All versions of the mattress scored high marks during our temperature control tests.
What It's Made of
The Signature Hybrid's specific construction depends on which firmness you choose. The medium soft and medium firm models begin with adaptive polyfoam and cotton fibers quilted into the cover for a plush surface. The firm design only contains the fiber fill, resulting in a noticeably firmer feel. The softer models also feature a memory foam comfort layer, whereas the firmer model uses responsive TitanFlex polyfoam for more bounce.
Transitional polyfoam and pocketed coils create a stable base. A cotton cover encases standard models. For an additional fee, you can upgrade to a pillow-top that makes the surface feel softer regardless of your selected firmness. This component is encased in GlacioTex, a phase change material engineered to dissipate body heat.
The Signature Hybrid is available in 14 different sizes. In addition to standard mattress dimensions, these include a split California king for couples with adjustable beds and a handful of RV-friendly options. Standard ground shipping is free within the contiguous U.S. Brooklyn Bedding backs all mattresses with 120-night trial periods and 10-year manufacturer's warranties.
Nolah's Evolution 15 is a pillow-top hybrid that offers top-tier pressure relief. Measuring 15 inches thick, this mattress earned high marks from our testers who enjoy the feel of a high-profile bed. The mattress is available in three firmness levels that correspond to medium (5), medium firm (6), and firm (8) on our firmness scale.
How It Performed
If you're a side sleeper living with hip pain, you will probably prefer the medium or medium firm feels, depending on how much you weigh. During testing, the softest model earned its highest ratings from side sleepers weighing up to 230 pounds, while the medium firm suited testers who weigh more than 230 pounds. Meanwhile, the medium firm and firm should offer sufficient support if you sleep on your back or stomach.
Thanks to its softer feel, the mattress can reduce sleep disruptions if you share the bed with a restless sleep partner. The foams absorb movement when you or your partner change positions or get in and out of bed, resulting in limited motion transfer across the surface. Our heat guns also detected minimal heat buildup on the surface of the mattress, which should appeal to hot sleepers.
What It's Made of
A Euro-top quilted with polyfoam begins the comfort system, giving the surface a plush feel. Underneath is a comfort layer composed of AirFoamICE, a proprietary polyfoam that contours evenly to your body without hugging too tightly. The foam is also infused with cooling graphite intended to prevent the buildup of body heat. An additional polyfoam layer provides transitional support to prevent excess sinkage.
The support core contains zoned pocketed coils that provide extra strength around your midsection and also reinforce the perimeter against sinkage when you sleep near or sit along the edges. The coils rest on a base polyfoam layer to prevent shifting. A breathable organic cotton cover infused with cooling ArcticTex fibers encases the mattress.
Nolah offers free ground shipping anywhere in the contiguous U.S. Your purchase includes a sleep trial that allows you to test out the Evolution 15 for up to 120 nights, along with a lifetime warranty should you decide to keep the mattress.
Spinal alignment is key to reducing hip pain, and some mattresses are better equipped to promote even alignment than others. The Bear Elite Hybrid is constructed with a transitional foam layer divided into five firmness zones, creating more pushback around the midsection and gentler cradling for the head and legs. The mattress' pocketed coil layer is also zoned in the same manner, so you shouldn't experience excessive sinkage beneath heavier areas of your body.
How It Performed
Our team tested each of the Elite Hybrid's three firmness levels. The firm (5) design earned its strongest ratings from our side and back sleepers under 130 pounds. These testers enjoyed the deep contouring from the top layer bolstered by zoned transitional and coil support. The medium firm (6) model was most popular across the board, with particularly favorable ratings from side sleepers of at least 130 pounds and back sleepers up to 230 pounds. If you're a stomach sleeper, we recommend the firm (7) model — especially if you weigh 130 pounds or more.
Cooling proved to be a major strength of the Elite Hybrid during our tests. A Celliant-blend cover engineered to dissipate heat on contact, breathable copper infused into the top layer, and steady circulation through the coils all help the mattress maintain a comfortable temperature. We were also impressed with the Elite Hybrid's edge support, particularly for the two firmer models. The reinforced perimeter delivers strong pushback to prevent excessive sinkage when you lie near the edges of your mattress or get in and out of bed.
What It's Made of
The Elite Hybrid's comfort system contains memory foam over a five-zone layer of transitional polyfoam. Although contouring level depends on which firmness you choose, the mattress offers even cushioning to cradle the spine and help ensure optimal alignment. Copper infused into the memory foam is intended to promote breathability and consistent cooling.
Pocketed coils and high-density base foam make up the support core. Thicker coils rest beneath the midsection and reinforce the perimeter, making the surface easy to move across and reducing sinkage while you sleep. The cover is composed of fabric containing Celliant fibers engineered to release heat before the foam layers absorb it.
Seven sizes are available, including a split king if you and your partner use an adjustable bed. Should you opt for the split size, you can reach out to Bear and arrange for a different firmness level on each side. Standard shipping is free for customers in the contiguous U.S. Your purchase comes with a 120-night trial period, and those who keep the Elite Hybrid also receive a lifetime warranty.
Whether you prefer the close contouring of a medium soft (4) mattress or the even support of a firm (7) sleep surface, the flippable Zenhaven from Saatva has you covered. This all-latex mattress features zoned layers on each side to ensure you receive targeted support where it's needed and a gentler feel for the head and legs. Although the sticker price is somewhat high, the natural durability of latex makes this luxury mattress a solid long-term investment.
How It Performed
Most of our testers enjoyed the Zenhaven, though they were divided on which side felt most comfortable. The medium soft surface earned favorable ratings from side sleepers up to 230 pounds, and back and stomach sleepers weighing less than 130 pounds. Alternatively, our side sleepers over 230 pounds and back and stomach sleepers between 130 and 230 pounds preferred the firm side instead.
All three of the Zenhaven's layers are composed of dense Dunlop latex, so the mattress fared well during our ease of movement tests. The surface felt sufficiently bouncy, and none of us encountered resistance when moving across the surface. Our tests also show the Zenhaven sleeps exceptionally cool. The latex layers are ventilated to promote airflow throughout the interior, and each side's cover is made from breathable, moisture-wicking materials.
What It's Made of
Although both sides of the Zenhaven begin with Dunlop latex, the medium soft surface has a lower indentation load deflection (ILD) to ensure closer contouring and more cushioning for the shoulders, lower back, and hips. A higher ILD on the firm side results in a firmer feel and stronger pushback for the midsection. A third latex layer acts as the mattress' shared support core. The outer cover is composed of breathable organic cotton, and layers of wool batting sewn to each side act as fire barriers while wicking moisture away from your body.
Saatva offers free White Glove delivery for all orders. This includes a scheduled delivery date, full assembly in a room of your choice, and removal of your old mattress and box spring upon request. Comparatively, most competing brands charge at least $100 for White Glove services. You'll receive a generous 365-night sleep trial with your purchase, and a lifetime warranty against manufacturing defects if you decide to keep your Zenhaven after the trial period ends.
Tempur-Pedic is known for its high-quality foam mattresses. The TEMPUR-Cloud features the close-conforming memory foam that the company is known for – but at a lower price-point than other mattresses in the Tempur-Pedic lineup we've tested. Our testers enjoyed the foam's generous contouring, which is ideal for seniors who need a bed that relieves pressure around sensitive or arthritic joints.
How It Performed
The TEMPUR-Cloud ranks as a medium (5) on the firmness scale. Our side sleepers weighing up to 230 pounds found the TEMPUR-Cloud a good fit. Side sleepers who weigh more than 230 pounds and stomach sleepers might find a firmer mattress is better suited to their needs. Besides pressure relief, the mattress excelled in other testing categories, namely motion isolation. The memory foam layers absorbed movement and limited motion transfer across the bed, which may benefit couples and those who toss and turn.
What It's Made of
The TEMPUR-Cloud's all-foam construction lends itself well to sleepers seeking pressure relief. The mattress' comfort system has two memory foam layers, which work together to support and cushion the body. The comfort system sits atop a support core made from high-density polyfoam, resulting in a surface that alleviates pressure points while supporting the spine and lower back. The mattress has a stretchy, breathable, moisture-wicking cover.
Tempur-Pedic ships its mattresses for free to the contiguous U.S. It has a 90-day sleep trial, though customers must sleep on the mattress for at least 30 nights before returning it. Mattress returns carry a $175 shipping charge. The TEMPUR-Cloud Mattress comes standard with a 10-year limited warranty.
The SpineAlign Luxury Hybrid is a leading pick for athletes and active people with hip pain. Available in multiple firmness options, this bed performed well in several of our testing categories. Soft (3), medium (5), and firm (7) options are available, so testers in any position found a version to match their needs.
How It Performed
Depending on the firmness chosen, the SpineAlign suits different sleeper types. The softest model's deep cushioning best suited our side sleepers weighing less than 130 pounds. Our side sleepers weighing up to 230 pounds, as well as back and stomach sleepers weighing between 130 and 230 pounds, enjoyed the medium model. The firmest model has an even and supportive surface that our back and stomach sleepers enjoyed. This model may also appeal to side sleepers weighing more than 230 pounds.
Each part of the SpineAlign works to stay cool through the night. The foams are infused with gel or copper, and the coils themselves provided plenty of ventilation during our tests. In addition, the cover has a phase change material that holds a comfortable temperature, drawing in or pushing out heat as necessary. Our heat guns detected little heat buildup on the surface.
What It's Made of
The comfort system of the SpineAlign is 4.5 inches thick and made with three different foams. The top layer is 1.5 inches of copper-infused Energex foam, a latex-like polyfoam that can effectively cradle your hips and other pressure points. The copper infusion is designed to conduct and dissipate excess heat. Next is 2 inches of cooling ArcticPhase polyfoam for extra cushioning. The bottom layer is 1 inch of gel-infused memory foam that acts as a buffer between your body and the coils. The support core is composed of a tall, 8-inch layer of pocketed coils, and underneath the coils is 1 inch of high-density polyfoam. This support core delivers solid edge support and overall sturdiness.
SpineAlign ships free to customers in the contiguous U.S. and gives you 120 nights to test out the bed. A 10-year warranty covers defects in materials and manufacturing.
Why You Can Trust Us
Our team of experts consists of researchers and testers with years of experience in the sleep product industry. To evaluate each mattress, we rely on testers with different body types, primary sleep positions, and firmness preferences in order to create well-rounded product recommendations.
Methodology
How We Evaluated These Mattresses
To pick our best mattresses for hip pain, we used sensor-based technology that monitors pressure buildup in the hips. The mattresses listed above earned the highest ratings from our testing crew, but the picks aren't set in stone. We'll continue to reassess these mattresses and evaluate new models to ensure all of our guides are accurate and up to date.
If you would like to know more about how we rank our mattress picks, read about our product research methodology below:
Other Mattress Guides
For more help deciding which mattress is right for you, check out our guides broken down by mattresses that meet specific criteria.
How Hip Pain Affects Sleep
Hip pain can have a profound effect on a person's life. The hip is one of the largest joints in the body, and hip problems can interfere with mobility and the ability to carry out day-to-day tasks.
Unfortunately, hip problems affect a significant number of Americans. In one study, nearly 20% of adults between the ages of 65 and 74 reported suffering from recent hip pain. Around 27% of adults over 45 have evidence of hip degeneration on imaging tests, making them more susceptible to hip pain. Athletes frequently deal with this issue as an estimated 30-40% of them have chronic hip pain.
One consequence of hip pain can be reduced overall sleep quality. Discomfort can make it harder to get settled in bed, and hip pain has been found to be associated with sleep fragmentation and difficulty sleeping on three or more nights per week. Stress and anxiety can be provoked by pain, further affecting sleep. To make matters worse, lack of sleep can make a person more inclined to perceive pain, contributing to a negative cycle of discomfort and sleeping problems.
All is not lost, though, because in many cases there are direct steps that can be taken to address both pain and poor sleep. However hip pain arises — acute or chronic, irregular or consistent — it's helpful to learn more about what causes it and what can help relieve it.
Types and Causes of Hip Pain
Hip pain can occur as a result of a wide range of medical conditions. Some people experience hip pain as a short-term issue while others deal with it over an extended period of months or years.
The pain can be felt in the hip, which may be indicative of a problem inside the actual joint, or around the hip, such as in the buttock or thigh, which is more often associated with issues in the surrounding tissue. Some hip pain is also "referred" from other parts of the body, which means that the problem does not originate directly in or around the hip itself.
The following sections describe some of the most common causes for hip pain; however, this is not an exhaustive list. Because of its effects on quality of life and the possibility that it is connected to a larger health concern, it is important for anyone with hip pain to review their symptoms with a doctor.
Arthritis
Osteoarthritis (OA), commonly referred to as just arthritis, is the degradation of cartilage in a joint that leads to inflammation, pain, and deterioration of the bone. OA of the hip is a serious problem, especially among older adults, and it usually worsens slowly over time with additional wear-and-tear.
Cartilage cannot be regenerated, so treatment for OA is normally focused on managing pain and enhancing mobility through lifestyle changes, physical therapy, and medications. In more severe cases, it may be treated surgically with a procedure like hip replacement. People with OA of the hip are generally advised to avoid activities that can exacerbate pain or stiffness, so having a mattress that adequately cushions the joint and that contributes to stable, healthy alignment of the body can be beneficial.
Though less common, other types of arthritis, such as rheumatoid arthritis (RA), septic arthritis, and juvenile idiopathic arthritis, can also cause hip pain.
Physical Injuries
Direct physical harm to the joint can inflict pain on the hip. Bruising, dislocation, and fracture are examples of injuries that can occur from falls or other impacts. Older adults, who suffer more falls, are at a higher risk of these types of hip problems. People with a condition of thinning bones called osteoporosis are also more prone to hip fractures.
Other physical injuries that can affect the hip include strains and sprains of muscles like the hip flexor or hamstring; bursitis, which is inflammation of the fluid-filled sacs around the hip; tendonitis, which is inflammation of nearby tendons, including in many cases the iliotibial (IT) band that goes along the outer leg from near the hip to the knee; and labral tears, which affect the cartilage around the hip joint. Athletes are at an elevated risk of these types of hip problems because of repetitive use and/or overuse of the joint during training and competition.
With almost all of these physical injuries, it's important not to aggravate the problem with excess pressure or poor posture. Sleeping on a mattress that is too soft may cause the body to sink out of alignment, straining the tissue around the hip. Sleeping on a mattress that is too firm may generate sharp impact at the joint itself.
Pinched Nerves
Nerves carry signals between the brain and the body, and if they become compressed or damaged, it can stimulate feelings of burning, numbness, and pain. Pinched nerves may cause a type of pain that radiates from one part of the body to another, such as sciatica, which radiates along the sciatic nerve that runs from the lower back into the upper legs.
In a condition called meralgia paresthetica, pressure on the nerve that runs to the skin of the thigh can lead to pain, including around the outer part of the hip. In sacroiliitis, the sacroiliac (SI) joints, which connect the pelvis and spine, are inflamed, which can induce radiating pain felt in multiple areas, including the hips.
Treatment for pinched nerves often involves medication and efforts to eliminate the nerve compression. This can require avoiding certain activities, postures, or positions, and a proper mattress that matches a patient's body's needs may play a part in preventing compression in areas with a pinched nerve.
Other
While less common than arthritis, physical injury, and pinched nerves, a handful of other conditions can cause hip pain.
Some infections can take root in the bones and joints, causing pain in and around the hip.
Different types of cancer can spread to the bones, including in the hip, causing pain and bone degeneration. Leukemia, a type of cancer affecting blood cells, can also be associated with pain, including hip pain in some cases.
A lack of blood supply to the bones can cause decay of bone tissue, known as osteonecrosis or avascular necrosis, that results in tiny breaks in the bone and eventual bone collapse.
These issues tend to be related to broader health problems that are less likely to be tied to posture or sleeping position. Most hip pain is not caused by these serious problems, but it is important to review hip symptoms with a doctor who can best diagnose their most likely cause.
Can Sleeping Position Affect Hip Pain?
Sleeping position can affect whether a person experiences hip pain. Each sleeping position creates areas of vulnerability, and sleepers are wise to account for these when buying a mattress.
Side sleepers put the most pressure on their shoulders and hips, since these joints bear more weight and have direct impact with the mattress. If a mattress is too firm, it won't accommodate these areas, potentially causing joint pain and throwing the spine out of alignment. If a mattress is too soft, these pressure points will sink in too deeply and fall out of line with the rest of the body.
Stomach sleepers tend to have the greatest vulnerability around the pelvis and lower back. Most people carry more weight around the abdomen, and on a soft mattress, that area can sink in deeply, contorting the lower back in a U-shape that can induce pain around the entire midsection. For this reason, stomach sleepers tend to do best with a firm mattress that has just enough contouring to cushion the pelvis.
Back sleepers are at risk of pain in the lumbar spine. A mattress that is too firm can't account for the natural curvature of the lower back, but a mattress that is too soft will cause the spine to sink into a U-shape (similar to the risks for stomach sleepers). Improper positioning can cause muscle aches and nerve compression. Consequently, back sleepers generally prefer firmer mattresses with low-to-moderate contouring to cushion the pelvis and shoulders.
Body shape and weight should be considered along with sleeping position. People who carry more abdominal weight and sleep on their back or stomach are at an elevated risk of bad posture on a soft mattress. People who weigh under 130 pounds don't sink as much into a mattress and can benefit from a plusher feel compared to people who have a higher body weight.
Can a Mattress Cause Hip Pain?
A mattress can contribute to hip pain if it doesn't give your body the right amount of support. If you have sharp pressure points, it can cause irritation or even pinched nerves. In addition, if your alignment at night is out of whack, your muscles and other tissues can't truly relax, generating stress and interrupting bodily recovery.
Many factors can contribute to pain, and it's not always possible to pinpoint just one cause. As a result, it may be a challenge to know for sure if your hip pain is related to your mattress. If you find that the pain is worse when you get out of bed and gradually improves during the day, it may be a sign that your mattress is part of the problem.
Check out our video below to learn more about how a mattress with good pressure relief can minimize hip pain:
How to Tell if You Need a New Mattress
Sometimes, a worn-out mattress is a large contributor to hip pain and other types of pain. After years of use, mattresses will develop permanent impressions in the foam, sagging in the coils, and other signs of wear that can significantly diminish the amount of support a mattress provides. If you experience any of the following signs in addition to your hip pain, it's likely time for a new bed:
You notice impressions, lumps, sagging, rips and tears, or other signs of wear in your bed
You tend to roll to the center of the mattress while sleeping
You find the couch or other places to sleep more comfortable than your own bed
It's been more than 7 years since you've purchased a new mattress
You can't remember the last time you purchased a new mattress
The average mattress lasts from 6 to 8 years, but mattress lifespan varies depending on the quality and materials it's made of. Cheap memory foam and innerspring mattresses can last as little as 4 years, while higher-quality hybrid and latex models can last as many as 9 or 10.
Whether your hip pain is a direct result of your mattress or not, an old mattress isn't helping. Most online mattress companies offer sleep trials, which allow you to try the mattress for at least 100 days before committing to it. We recommend making use of this to help ease your hip pain.
Which Type of Mattress is Best for Hip Pain?
The type of support that you get from a mattress is determined largely by the type of mattress that you use. There are five main types of mattresses on the market, and each has pros and cons. The following sections introduce these mattress types, but it's important to note that performance isn't uniform within each category. While there are consistent features, the performance of any given mattress will depend on the specifics of its construction, which can vary even within a mattress type.
Hybrid
Definition: The construction of a hybrid starts with its support core, which is made from innerspring coils. In modern hybrids, these are usually pocketed coils. Above the coils is a thick comfort system built with one or more layers. Those layers can include microcoils, memory foam, polyfoam, latex, and other textile materials.
A Bit of Everything: The inclusion of distinct components allows a hybrid to offer some of the best characteristics of other mattress types. The coils improve responsiveness and protect against excess sagging, and the comfort layers provide conforming to relieve pressure and support the spine.
Innerspring
Definition: A coil-based layer is the central component of an innerspring mattress. In the past, innersprings were the most common type of mattress available. These offerings have either no comfort system at all or at most thin layers of materials like foam, cotton, or polyester.
An Economical Base to Build On: Most people with hip pain won't get enough support from an innerspring alone, but by combining an innerspring and a mattress topper, they can essentially arrange their own hybrid-type mattress to fit their preferences. With the lower cost of innersprings and toppers, they may save money in the process.
Latex
Definition: The components of a latex mattress are made with its namesake material. Latex, a type of rubber, can be produced using sap cultivated from rubber trees (natural latex), or it can be made synthetically (SBR latex). For mattresses sold online, natural latex is much more common and is made with either the Talalay or Dunlop process.
Blending Contouring and Resilience: Latex is a bouncy material, which means that these mattresses are easier to move on and generally don't permit excessive sink. At the same time, they have the ability to compress to suit the body's weight, conforming to protect the hips and minimize impact at pressure points.
Airbed
Definition: An internal air chamber forms the support core of an airbed. Air is added or removed using a pump that is controlled by a remote or a smartphone app. The comfort system above the air chamber can be minimal or robust and may include foam, latex, and/or other textiles.
Max Adjustability: Airbeds offer the ability to easily adjust the firmness level, which means that a different feel for your bed is available in an instant. If hip pain flares up, you can make the bed softer to reduce impact, or if you need to sleep on your back or side, you can add air to make the bed firmer.
Foam
Definition: A bed is considered foam when all of its internal layers are made of memory foam or polyfoam, sometimes with thin layers of latex or a textile such as cotton, polyester, or wool. There are no innerspring coils in a foam mattress. Foams with more contouring and responsiveness tend to be used in the comfort system.
Outstanding Pressure Relief: Foam mattresses, especially those that utilize memory foam, typically provide excellent pressure relief because of the material's ability to conform and give proportional cushioning based on how the body's weight is distributed across the mattress. This reduces pain points and bolsters spinal alignment.
How to Get Relief on a Budget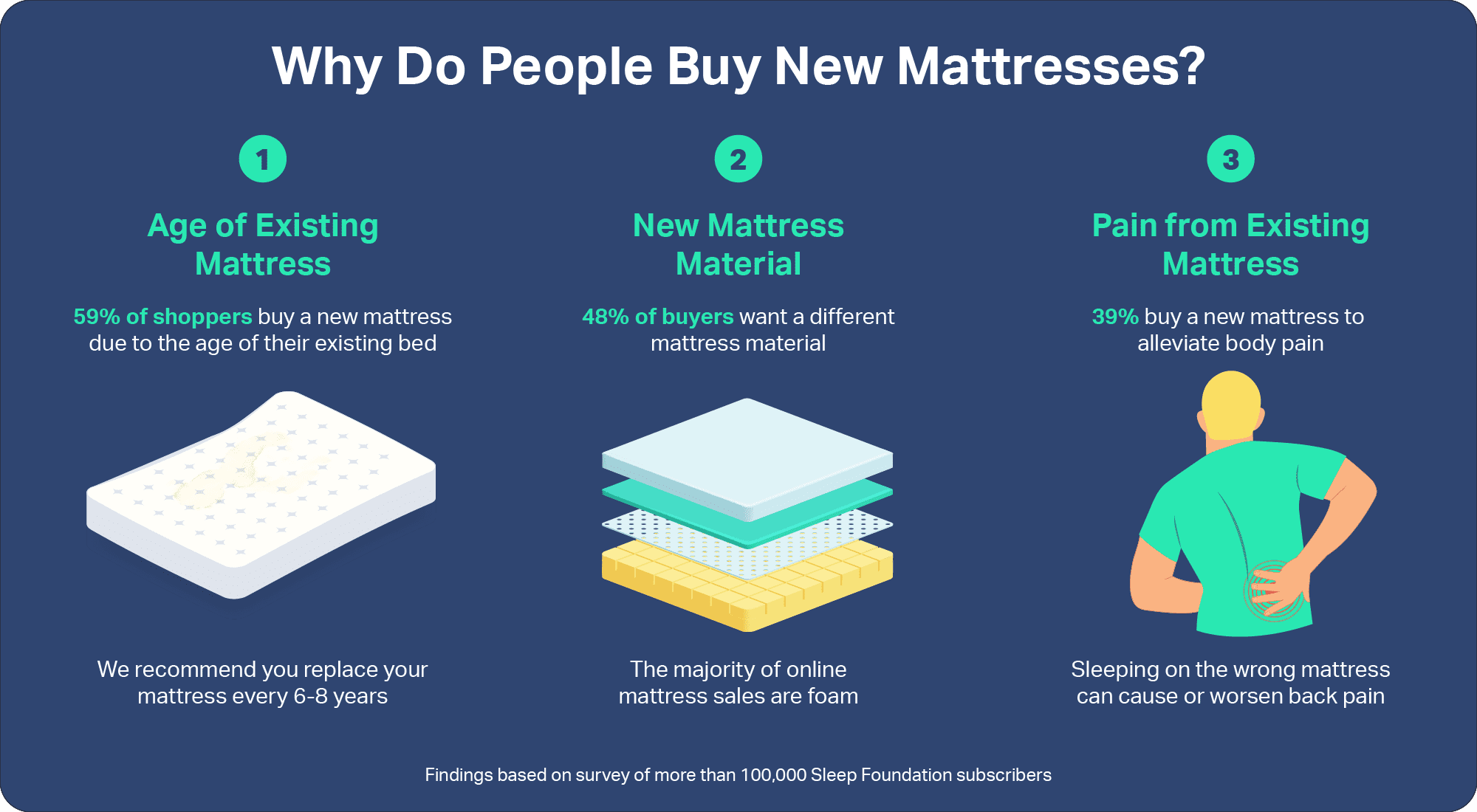 If you've identified that your current mattress is contributing to hip pain, you're likely ready to make a change. But at the end of the day, you have to be able to afford a mattress upgrade, and some people may worry that it's just not in their budget.
Even if you aren't able to splurge on a luxury mattress, you can still find relief. You can make the most of your spending with the following tips.
Consider Buying a Mattress Online
People who are looking for a mattress online are often surprised by how many affordable options are available. Buying a mattress online has become commonplace today and is consistently growing in popularity.
Part of the reason for this popularity is competitive pricing. Online direct-to-consumer mattresses are often less expensive since the manufacturer isn't paying for showrooms and additional staff. These "mattress in a box" models are comparable to those sold in brick-and-mortar stores in terms of construction and performance. In addition, competition between sellers means that promotions and discounts are available to offer deals below the retail pricing.
Another benefit to shopping online is that you can take your time and fully research your options. In your living room, there's no pushy salesperson looking over your shoulder, so it can be a much more pleasant and low-pressure shopping experience. In this context, it's much easier to compare different options and seek out the best mattress for the money.
A common concern when buying online is that you can't lie down on the bed before making a purchase. While it's true that you can't feel out a mattress through your computer, detailed descriptions and reviews online give a solid idea of what to expect for any given model.
Furthermore, virtually every online mattress comes with a sleep trial that lets you use the mattress at home with the option to return it for a full refund. These no-risk sleep trials usually last for 100 nights or more, and if you decide to make a return, most companies will even come and pick the mattress up from your home.
Shipping is almost always free and uses the "mattress-in-a-box" method. The mattress is compressed inside plastic packaging and mailed to your doorstep in a box. You simply need to move the box to your bedroom, cut away the packaging, and let the bed retake its original size. You can usually sleep on this new bed immediately or at the latest within a few hours.
Shipping the mattress in this way has no effect on its quality or durability, and it eliminates the cost and hassle associated with traditional mattress delivery and installation.
Dozens of brands have an online presence, and that includes many of the major mattress companies that originally built their reputation in brick-and-mortar stores. But no matter whether you're intrigued by a new mattress brand or a long-time industry player, you can expect to find plenty of quality, affordable options online.
Mattress Toppers
Even if you conclude that a brand new mattress isn't in your budget, that doesn't mean you're out of options. A mattress topper, which goes above your current bed, is another product that switches up the feel of your bed and often comes with a lower price tag.
As the name indicates, a mattress topper sits on top of your existing mattress and under your sheet. It is held in place by straps, an elastic band, or by your fitted sheet. Mattress topper thickness usually ranges from 1 to 4 inches, and most of the time they are made with only one type of material.
Memory foam is among the most popular materials in mattress toppers. It is known for its contouring, allowing the topper to cradle the hips and relieve other pressure points to improve spinal alignment. Polyfoam and latex toppers with slightly less contouring can also work to reduce hip and other pain.
While it's more affordable, a topper won't offer all the advantages of a new mattress. It won't have the coordinated design and layers of a complete mattress, so you may not get all the benefits of materials like latex or memory foam. In addition, if your current mattress is sagging or suffering from other wear-and-tear, a topper won't fix it; instead, the topper will just sag right along with your old bed.
Overall, a topper can be a useful stepping stone, letting you try out sleeping on a different material. It can also help with pressure relief in the short-term, buying time until your budget allows you to invest in a new mattress.
Try Changing Up Your Sleeping Position
Depending on the cause and nature of your hip pain, you can try to change your sleeping position. For example, if you're a side sleeper dealing with a bruise or inflammation, sleeping on your back or side, or at the very least avoiding the injured side, may help fight pain.
If you're a back or stomach sleeper with a soft mattress and can't afford a new bed, you can try switching to side-sleeping. The softer mattress may be better at cushioning pressure points, including your hips, and keeping your lower back aligned.
Giving a new sleeping position a shot is worth a try, but it won't always pan out. Many people involuntarily move back to their traditional sleeping position during the night, and in those cases, a long-term sleeping position change may fail to take hold.
Additional Sleeping Accessories for Sleepers With Hip Pain
Along with your mattress, a number of accessories, such as pillows and a bed frame, help shape your sleeping experience. If you don't have the budget for a new mattress, you can invest in these lower-cost accessories to try to reduce hip pain. Or if you want to fully step up your bedroom, you can get a new bed frame and pillows along with a brand new mattress.
Pillows
By itself, the wrong pillow can throw off alignment and have a snowball effect on the rest of your spine, including on the lower back area that can radiate pain to the hips. Keeping your head and neck supported and in line with your body is an important part of getting deep, restorative sleep.
The ideal type and size of pillow depends in part on the feel of your mattress. For example, on a plush mattress, your body is likely to sink in more than your head, which means that your neck could hyperextend if the pillow is tall (high loft). General recommendations for the combination of firmness and pillow loft are listed in the table below
Sleeping position also plays into the best pillow for any given person. The width of the shoulders means that side sleepers have a greater gap between their head and the mattress, making a taller pillow a better fit. Back sleepers want less loft, but a pillow that is too thin may be insufficient for support and can contribute to snoring. Stomach sleepers generally need a very thin pillow to avoid hyperextending the neck.
Pillows can help provide comfort and support when used in other ways besides just to support the head. When dealing with a physical injury, a light, thin pillow may help cushion any sensitive areas including the hips. Side sleepers who pull their legs upward often benefit from the use of a pillow between their knees. Some side sleepers also like a body pillow that can keep their torso from twisting, which can strain the muscles around the lower back and hips.
Back sleepers can try putting a pillow underneath their knees to take some pressure off of the lumbar area. Depending on their mattress firmness, stomach sleepers may use thin pillows under the abdomen or chest to promote alignment.
Bed Platforms and Bases
The base that your mattress sits on can affect its overall performance. If the bed frame or base is weak or poorly designed, your mattress may start to sag prematurely, reducing the support you need to combat hip pain.
When choosing a new bed base, it is essential to check with the mattress manufacturer about recommended options. If you don't use the proper foundation, it may detract from performance and void the mattress warranty.
An intriguing option for many people with hip and back pain is an adjustable base. These frames are equipped with motors and a remote that allow you to raise and lower the head and foot of the bed. Some adjustable bases offer heat and massage options as well.
The benefit of an adjustable base is that you can modify your body's positioning to improve alignment and comfort. For example, back sleepers may slightly raise the head and the legs to decrease pressure on the lower back and hips. A pressure-relieving "zero gravity" setting is available on many adjustable bases.
Not all mattresses are compatible with an adjustable base. Some innersprings are vulnerable to damage if you try to bend them in this way, and some foam or latex mattresses may wear out more quickly if compressed by an adjustable frame. For this reason, it is vital to check with the mattress maker before buying and using this kind of bed base.
Mattress Features To Look For to Relieve Hip Pain
When you get started shopping for a new mattress, you may find yourself confronted with a dizzying array of brands, models, and marketing jargon. Sorting out what's truly important can be a struggle, but failure to do so can lead you astray, causing you to wind up with a mattress that exacerbates your hip pain.
To keep things simple, focus on certain key factors when considering your options. These can narrow your list down to just a few models that you can investigate in detail to make a final purchase.
Mattress Type: As we explained in a previous section, mattress type is a major indicator of likely performance. If you want more conforming to cushion your hips, more bounce to make it easy to move in bed, more firmness adjustability, or any other performance characteristic, look for the mattress category that best suits that preference.
Zoned Support: Not all parts of the body need the same cushioning, and this principle drives zoned material construction. Coils or foams can be made to have more give under certain parts of the body, such as the shoulders and hips. Materials with lots of conforming, like memory foam, produce a similar effect through their proportional compression and body cradling.
Quality Materials: If you want a mattress that is durable and helps relieve pain, it's important to look for quality components in all layers of the mattress. Low-quality materials in even just one layer can be a weak link that drags down the bed's overall performance.
Firmness Level: The right comfort level is a critical part of making sure that a mattress fits with your body and sleeping position. It's also necessary so that your mattress is welcoming and puts you in the right mindset to drift off to sleep at bedtime each night.
Thanks for the feedback - we're glad you found our work instructive!
If you're ready for more, sign up to receive our email newsletter!
Was this article helpful?
Thanks for the feedback - we're glad you found our work instructive!
Submitting your Answer...
Other Articles of Interest