Best Mattress for Arthritis and Joint Pain
Methodology
We personally test every product featured in our reviews and guides to provide accurate, data-driven recommendations.
Learn More
Over the next several weeks, we'll be reassessing the picks on this page with particular attention to pressure relief and support. We may update our picks in light of our findings.
Arthritis is a common medical condition that affects the joints in your body. There are many forms of arthritis but they all share some similar symptoms, including joint pain, stiffness, swelling, and tenderness. These symptoms can make it more difficult for a person to get the quality sleep they need. The right mattress can help ease arthritis pain, while the wrong mattress may worsen these symptoms.
Our sleep expert team has personally tested hundreds of mattresses for performance areas that can affect people with arthritis, such as durability, support, pressure relief, and ease of movement. In addition to hands-on testing, we've consulted with medical professionals to ensure our recommendations are accurate and beneficial to the people who need them most. The picks listed below reflect our latest findings.
To learn more about these mattresses, please visit the detailed product profiles below. We've awarded each one a unique accolade based on areas where that model performed particularly well. Scroll down further for our buyer's guide aimed at mattress buyers with arthritis-related considerations. We'll discuss mattress qualities that can improve – or, in some cases, worsen – arthritis symptoms, price expectations for different mattress types, and mattress qualities you should take into account if you or your partner live with arthritis pain.
Product Details
Many people with arthritis and joint pain also experience discomfort in the lower back and hips. A mattress that cushions the spine and provides strong overall support is essential to waking up without aches and pains. The WinkBed is designed to keep your body on an even plane while providing a comfortable, well-cushioned surface.
How It Performed
The WinkBed caters to sleepers across all weight ranges and sleep positions, thanks to its four firmness options. We found that side sleepers prefer the cushioned surface of the medium soft (4) and medium firm (6) models while back sleepers gravitate toward the firm (7) and firm (8). Stomach sleepers up to 230 pounds received the most support from the luxury firm and firm, while those over 230 pounds fared well on the firm (8). In general, those who weigh over 230 pounds will probably receive inadequate support from the softer options and may prefer the firm (7) or firm (8).
What It's Made of
All firmness options of the WinkBed feature a Euro-top quilted with adaptive polyfoam encased in a breathable Tencel fabric cover. Beneath is a layer of proprietary SupportCell polyfoam with a higher-density composition than conventional polyfoam. The medium soft option includes an additional layer of polyfoam to enhance cushioning.
The support core is composed of a pocketed coil system zoned to offer enhanced support in the lumbar region and less support to lighter parts of the body. The coil system is reinforced with thicker coils around the perimeter to bolster edge support.
WinkBeds provides free ground shipping for all customers in the contiguous U.S. Your order includes a sleep trial that allows you to test out the WinkBed for up to 120 nights, along with a lifetime warranty that covers structural defects for as long as you own the mattress.
Read our Full WinkBed Review to learn more
The DreamCloud Mattress offers luxurious construction at an approachable price. Thick foam layers over a pocketed coil system create a balanced feel with even body-contouring and stable support. The deep cushioning of this mattress is particularly well suited to people who experience arthritis-related pain and other conditions that cause frequent discomfort.
How It Performed
The side and back sleepers on our team awarded favorable ratings to the DreamCloud during our hands-on tests. Those who weigh up to 230 pounds were particularly impressed with the mattress. The foam layers contour closely enough to improve spinal alignment and alleviate pressure for side sleepers, while the coils provide the support needed for back sleepers to lie comfortably without sinking too much around the midsection.
Temperature regulation is another major strength of the DreamCloud. The cashmere-blend cover helps the mattress maintain a comfortable surface even on hot or humid nights, and the coil layer promotes steady airflow to keep the interior cool. We also found that the DreamCloud isolates motion very well compared to other hybrid models. This can be attributed to the thick comfort system and pocketed coils that generate little to no transfer.
What It's Made of
The mattress begins with a layer of adaptive polyfoam quilted into the cover, followed by a memory foam comfort layer and a polyfoam transitional layer. These layers conform to your body without sinking or buckling beneath your weight, creating a luxuriously plush feel as you settle into the surface. The support core contains a pocketed coil system over a base layer of high-density polyfoam.
The entire mattress is encased in a cover woven with cashmere, a material that has natural cooling and moisture-wicking properties. Measuring 14 inches thick, the DreamCloud is considered a high-profile mattress. Its feel is medium firm (6).
In addition to its affordable price-point, the DreamCloud Mattress qualifies for free ground shipping anywhere in the contiguous U.S. DreamCloud's 365-night sleep trial is among the longest in the online mattress industry. Those who keep their DreamCloud also receive a lifetime warranty, which covers structural defects for as long as you retain original ownership of the mattress.
Read our Full DreamCloud Mattress Review to learn more
Helix offers a wide selection of hybrid mattresses to suit different types of sleepers, including the Luxe line of pillow-top models aimed at high-end shoppers. The Midnight Luxe is one of the most comfortable and balanced mattresses in this collection thanks to a medium firm (6) feel.
How It Performed
The Midnight Luxe's pillow-top provides a plush surface that doesn't interfere with its overall firmer feel. Extra coil support along the perimeter also reduces sinkage when weight is applied, so most people weighing up to 230 pounds will feel secure lying near the edges or getting in and out of bed. Air circulates freely through the coil system and the entire mattress is encased in a breathable Tencel cover, so people who run hot in bed should remain fairly cool throughout the night.
What It's Made of
The Midnight Luxe begins with two memory foam layers that cushion the body without sinking or squeezing too tightly. The pocketed coil support core is reinforced around the midsection to create added stability for the lower back and hips – two areas where people with arthritis tend to feel sharp pains. Despite its name, the Midnight Luxe has a price-point that is lower than average for a hybrid model.
Helix provides free ground shipping to all 50 states. The company's sleep trial spans 100 nights in length, and the mattress is backed by a 15-year manufacturer's warranty.
Read our Full Helix Midnight Luxe Review to learn more
The Saatva Classic is a luxury hybrid model with the thoughtful construction to match. The mattress has strong pressure relief and three firmness options, which may make it a good choice for people with arthritis from all weight groups.
How It Performed
Compared to other hybrid models, the Saatva Classic is quite affordable. Our testers found that it also excels in temperature neutrality, pressure relief, and ease of movement. The mattress is available in three firmness options, so it felt comfortable to most testers regardless of their sleep position and weight group. However, not all firmness options will be ideal for all individuals. Testers who weigh under 130 pounds tended to favor the Plush Soft version, while those who weigh over 230 pounds preferred the Firm version. Most testers from all weight groups found the Luxury Firm version comfortable.
What It's Made of
You can select between three firmness options: Plush Soft (3), Luxury Firm (6), and Firm (8). You can also choose between two profiles, 11.5 inches or 14.5 inches. The hybrid design combines a Euro-top and two layers of coils. The Euro-top contains polyfoam, fiber fill, and Dacron. To adjust the feel of each mattress, the thickness and firmness of the polyfoam vary between models. The Plush Soft and Luxury Firm options use softer foam in their Euro-tops, and the Firm model uses firmer foam.
A layer of polyfoam rests under the Euro-top. The lumbar region is supported by a layer of memory foam. This layer adds to the pressure relief while promoting proper spinal alignment. A layer of wrapped coils adds bounce, breathability, and support. The base layer consists of hourglass coils, which add durability and cooling airflow. This layer is thinner in the 11.5-inch version of the Saatva and thicker in the 14.5-inch version. Final base pads support the core. A layer of foam wraps around the edge of the mattress to reduce sagging.
The Saatva Classic comes with free White Glove delivery. You can try the mattress at home during the 365-night trial. A lifetime warranty protects against defects in materials and workmanship.
Read our Full Saatva Classic Review to learn more
Sleepers with arthritis often appreciate mattresses made with adaptive foam comfort systems, which typically offer excellent pressure relief for the joints. However, these mattress types can often trap more heat. The Nectar Premier is a notable exception, using phase change material and proprietary cooling technology to prevent heat buildup.
How It Performed
The Premier has a medium firm (6) feel that performed best among our side-sleeping testers who weigh at least 130 pounds. These sleepers often experience pressure buildup in their hips and shoulders, and our testers noted the adaptive foam layers helped reduce this discomfort. For this reason, we also recommend the Premier for sleepers with persistent joint pain. Back sleepers weighing less than 130 pounds also found it comfortable and received cushioning for their lumbar area without sinking excessively.
Cooling was a standout feature for the Premier, but it performed well in other categories as well. We highly recommend this pick for couples who value motion isolation. The mattress' foam construction absorbed nearly all movement and noise during our tests. You should notice little to no sleep disturbances when your partner switches positions or gets up at night.
What It's Made of
Gel-infused memory foam in the top layer adapts to your body to relieve pressure buildup. The gel in this layer is designed to absorb and dissipate heat, and this layer features phase change material (PCM) for enhanced cooling. PCM reacts to your body heat and regulates the surface temperature throughout the night. A dense polyfoam transitional layer ensures your weight is evenly distributed across the mattress surface.
The support core features high-density polyfoam that prevents your midsection from sinking too deeply into the mattress, promoting healthy sleep posture. A cover made from a polyester/nylon blend encases the mattress.
Along with the competitive price-point, Nectar ships free to customers in the contiguous U.S. The Premier is backed by a 365-night sleep trial, one of the longest in the industry. During the trial, you can test the mattress and return it for a full refund. The mattress is backed by a lifetime warranty against structural defects.
Read our Full Nectar Premier Review to learn more
The Layla Mattress is an all-foam model with a flippable design. Each side of the mattress has a different firmness level, making it comfortable for people who enjoy plush sleep surfaces as well as those who need firm support. Both sides offer even contouring, which is ideal for side sleepers, and the dual firmness means the bed will feel comfortable for a wide range of body types.
How It Performed
Like many flippable mattresses, the Layla has two distinct sides that each performed well in certain areas where the opposite side fell short. The medium soft (4) surface contoured closely to cradle the spine and reduce pressure throughout our testing. This side was most comfortable for side-sleeping testers up to 230 pounds and back and stomach sleepers weighing less than 130 pounds. The firm (7) side felt much more supportive and was best suited to side sleepers over 230 pounds and back and stomach sleepers weighing 130 pounds or more.
If you need a mattress that isolates motion, you may prefer the Layla's medium soft side, as the thick foam layers absorb most movement and reduce motion transfer significantly. On the other hand, couples who need a more responsive surface with strong edge support for sleep or sex will probably prefer the firm side instead.
What It's Made of
Each side of the Layla is cushioned with a memory foam comfort layer. The medium soft surface features 3 inches of memory foam over a 2-inch polyfoam transitional layer. Conversely, the opposite side is constructed with 1 inch of memory foam and no transitional polyfoam. This thinner comfort system resulted in a firm feel with minimal contouring during our tests. A shared support core of high-density polyfoam is sandwiched between the two comfort systems.
Both memory foam layers are infused with copper intended to make the material more breathable. The transitional layer on the medium soft side is zoned with added support and less sinkage around the midsection. A cover made from a fabric blend of polyester, viscose, and Lycra spandex encases the entire mattress. We found the Layla to be relatively lightweight for a reversible model, and the sides are equipped with handles to assist you whenever you want to flip the mattress.
An accessible price-point makes the Layla a good option for shoppers on a budget. If you live in the contiguous U.S., you also qualify for free ground shipping. The mattress comes with a 120-night sleep trial and a lifetime warranty against structural defects.
Read our Full Layla Mattress Review to learn more
The Bear Hybrid is an excellent match for sleepers who seek relief from painful pressure points at night. The foam layers and responsive coils cradle joints where pressure tends to build up while also delivering enough support to ensure healthy sleep posture.
How It Performed
The medium firm (6) feel makes the Bear Hybrid a good fit for most types of sleepers, but it's especially ideal for back and stomach sleepers below 130 pounds and side sleepers between 130 and 230 pounds. The balance of cushioning and support is perfect for these sleepers, who need the best of both worlds to keep the head, neck, and spine in healthy alignment. Hot sleepers will appreciate the cooling properties of the Celliant fabric in the cover, as well as the ample air circulating through the coils.
What It's Made of
The bed's cover is quilted with polyfoam, followed by a memory foam layer that closely contours to the body. A transitional polyfoam layer enhances the top layers' contouring and has a firmer feel that supports the body and helps keep it from sinking into the bed. The support core is composed of pocketed coils that excel in support but also have a responsive feel. The slight give of the coils helps relieve pressure in areas like the hips, shoulders, and spine.
Bear offers a 120-night sleep trial with the Hybrid. If you choose to keep the bed, you also receive a lifetime warranty. The mattress ships free to the contiguous U.S.
Read our Full Bear Hybrid Review to learn more
The Brooklyn Bedding Aurora Luxe is a hybrid mattress with foam comfort layers that conform closely to cradle the spine, promote even alignment, and alleviate pressure in sensitive areas. While many beds with close contouring are prone to heat retention, the Aurora Luxe is designed with cooling features to reduce heat buildup overnight.
How It Performed
The Aurora Luxe comes in three firmness levels: medium soft (4), medium firm (6), and firm (7). Our hands-on tests showed the medium soft model was comfortable and sufficiently supportive for side sleepers weighing up to 230 pounds. Back and stomach sleepers under 130 pounds also gave the mattress favorable ratings. The medium firm model felt most comfortable to testers between 130 and 230 pounds, while testers who sleep on their back or stomach and weigh over 130 pounds felt most comfortable on the firm model.
We detected minimal heat retention during our temperature control tests. Phase change material and copper infusions in the topmost foam layers effectively cool off the surface, and none of our testers felt excessively warm. The zoned coils also helped maintain an even surface for our bodies, and the extra perimeter reinforcement reduced sinkage when we tested the mattress for edge support.
What It's Made of
In the medium soft and medium firm models, the topmost polyfoam layer is infused with copper and phase change material, so bothersome heat absorption shouldn't be an issue. The second layer is made of TitanFlex, a proprietary polyfoam designed to cushion the body while providing latex-like responsiveness. Memory foam forms the transitional layer. The firm model has a thinner TitanFlex layer and uses a firmer VariFlex foam instead of memory foam in the transition layer.
The Aurora Luxe's pocketed coils are divided into three firmness zones, ensuring extra reinforcement for the torso and hips and gentler cradling for lighter areas of the body. A layer of high-density base polyfoam completes the hybrid design. The entire mattress is encased in a polyester cover containing phase change material.
The Aurora Luxe is available in 10 sizes, including a split California king for couples who use adjustable beds and three RV-friendly options. Shipping is free throughout the contiguous U.S., and each order is backed by a 120-night sleep trial. Those who choose to keep their mattress after the trial period also receive a 10-year warranty against structural defects.
Read our Full Brooklyn Bedding Aurora Luxe Review to learn more
The Nolah Evolution is a Euro-top hybrid available in three firmness levels: medium (5), medium firm (6), and firm (8). This selection, which ranges from deep contouring to sturdy support, should accommodate most people with arthritis regardless of their weight or which sleep position they primarily use.
How It Performed
Each firmness level offers distinct benefits for sleepers. The medium feel conformed very closely during tests, cushioning the body and improving spinal alignment. This option best suited side-sleeping testers who weigh up to 230 pounds and back sleepers under 130 pounds. Firm models are quite supportive and barely contour at all, so back and stomach sleepers over 230 pounds will probably prefer these models. If you fall in the middle of these weight ranges, you should consider the medium firm Evolution 15, the most balanced of the three.
Breathable foams, a cooling cover, and excellent air circulation allowed the mattress to excel at temperature control during tests. The foams used in the comfort system are more responsive than memory foam, and the coils generate a fair amount of bounce, so the surface was also fairly easy to move across for our testers. This was especially true of firm models.
What It's Made of
The Evolution 15's Euro-top is cushioned with a layer of open-cell polyfoam. A border gusset around this layer is intended to capture and dissipate body heat near the surface. Three additional foam layers make up the comfort system, including a comfort layer of proprietary AirFoamICE designed to promote additional cooling. The support core contains pocketed coils divided into three zones, resulting in more reinforcement for the midsection and softer cradling for the head, shoulders, and legs. The dense base layer is composed of plant-based material, and the entire mattress is encased in a cooling ArcticTex fabric cover.
Nolah offers free ground shipping throughout the contiguous U.S. All Evolution 15 purchases are backed by a 120-night sleep trial, but customers may opt out of the trial period and reduce their up-front costs. The mattress is also protected with a lifetime warranty against structural defects.
Read our Full Nolah Evolution 15 Review to learn more
For many sleepers with arthritis, a combination of body contouring and even support is key to managing nightly aches and pains. The Birch Mattress is a medium firm (6) latex hybrid that delivers a balanced feel. The mattress' components are also quite breathable and the coils distribute air evenly throughout the interior, so it should sleep cool for most people regardless of where they live.
How It Performed
Our testers found that the mid-range firmness and moderate contouring was particularly well suited to people in the range of 130 to 230 pounds, regardless of which sleep position they prefer. The surface was just cushioned enough to cradle sensitive joints such as the hips and shoulders, but the coils delivered plenty of support to keep your body from sagging. Since the Birch Mattress is a latex hybrid, you can expect more responsiveness on the surface.
What It's Made of
The mattress begins with a comfort layer of Talalay latex that conforms to the body without hugging too tightly while pocketed coils stabilize the entire mattress. A base layer of wool and rayon acts as a fire barrier while providing reinforcement for the coils. Extra-strength outer coils create strong perimeter support. This ensures added stability when you sleep near the edges of your mattress or get in and out of bed.
Eco-conscious shoppers should be drawn to this model due to its environmentally friendly composition. The latex has earned certification from the Rainforest Alliance, indicating the rubber trees that produce the latex have been sustainably grown. The cotton cover is certified as organic by the Global Organic Textile Standard, while the fire barrier is made of natural wool.
Birch is one of the only online mattress brands to offer free ground shipping to customers in all 50 states. Each purchase is backed by a sleep trial that runs 100 nights in length, as well as a manufacturer's warranty covering structural defects in the mattress for up to 25 years after you purchase it.
Read our Full Birch Mattress Review to learn more
---
Other Mattress Guides
If you need further help choosing a mattress that checks all of your boxes, you can read through our detailed guides broken down by mattresses for your particular requirements.
How to Choose a Mattress for Arthritis and Joint Pain
Choosing a mattress is a big decision for anyone, but it can be particularly impactful for people living from joint pain. This section will highlight some of the most important things to consider when selecting a new mattress.
What to Look for in a Mattress
While comfort preferences may vary between individuals, some factors tend to come into play in determining a mattress's overall performance. It may help to consider these categories when selecting the best mattress for you.
Price: A mattress can cost anywhere between a few hundred and a few thousand dollars. A cheap mattress may be easy on the pocketbook, but some higher-priced models are also good values for their durability and advanced features. When budgeting for their mattress purchase, those with joint pain might want to leave room in case they purchase additional accessories for added comfort. Adjustable bed frames, pillows, and mattress toppers may be helpful tools to customize the sleep surface to better meet an individual's needs and preferences.
Contouring: Contouring is how a mattress adjusts to a sleeper's body shape. A mattress that contours well allows a sleeper's wider, heavier body parts to sink in, which can help support better spinal alignment. Better spinal alignment may help reduce some of the aches and pains often associated with sleeping.
Quality Materials: High-quality materials are often more expensive, but they may also contribute to superior performance and durability. Since higher-quality materials often resist sagging and indentations, they could help ensure that a comfortable mattress remains comfortable longer.
Firmness Level: While firmness preferences are subjective, they tend to be closely linked to an individual's weight. Lighter individuals usually prefer a softer mattress that allows them to sink in enough to enjoy contouring, while heavier individuals tend to prefer a firmer model for more support. A mattress that is too soft may lead to spinal strain, and a mattress that is too firm could contribute to pressure buildup, so people with arthritis and joint pain may benefit from selecting their firmness level carefully.
Pressure Relief: Pressure relief may be one of the most important factors for people with joint pain to consider when selecting a mattress. Body parts that are wider or heavier apply more force to a mattress. If the mattress does not have strong pressure relief, pressure could build up in these areas. Pressure relief is usually directly linked to contouring because mattresses that contour to the sleeper's body help redistribute their weight more evenly across the surface.
Edge Support: Edge support refers to how sturdy the perimeter of the bed feels. A strong perimeter may make it easier for people with arthritis-related mobility issues to sit on the edge of the bed, which may, in turn, facilitate getting into or out of bed. Individuals who frequently sleep near the perimeter of the bed may also feel more secure on a bed with good edge support.
Temperature Regulation: Depending on their materials and construction, mattresses may retain heat or allow it to dissipate away from the sleep surface. Individuals who tend to sleep hot usually prefer a breathable sleep surface. Latex, hybrid, and innerspring models tend to have the strongest temperature regulation, but some all-foam models also have features to support cooling airflow through the mattress.
Ease of Movement: Ease of movement can affect how easy it is to change positions on a mattress. Mattresses with materials that conform closely and/or are slow to respond to changes in pressure are usually the most difficult to move on. Softer, high-density memory foam comfort layers are sometimes associated with a "trapped in the bed" feel, while latex, coils, and more responsive foams are generally easier to move on. Those with joint pain who have mobility issues may prefer a more responsive mattress.
Mattress Type: The type of mattress may influence its potential benefits and drawbacks. Hybrid, innerspring, latex, airbed, and foam are the most common types of mattresses, and any of these may be a good choice for some sleepers with arthritis. We'll discuss these mattress types in greater depth below.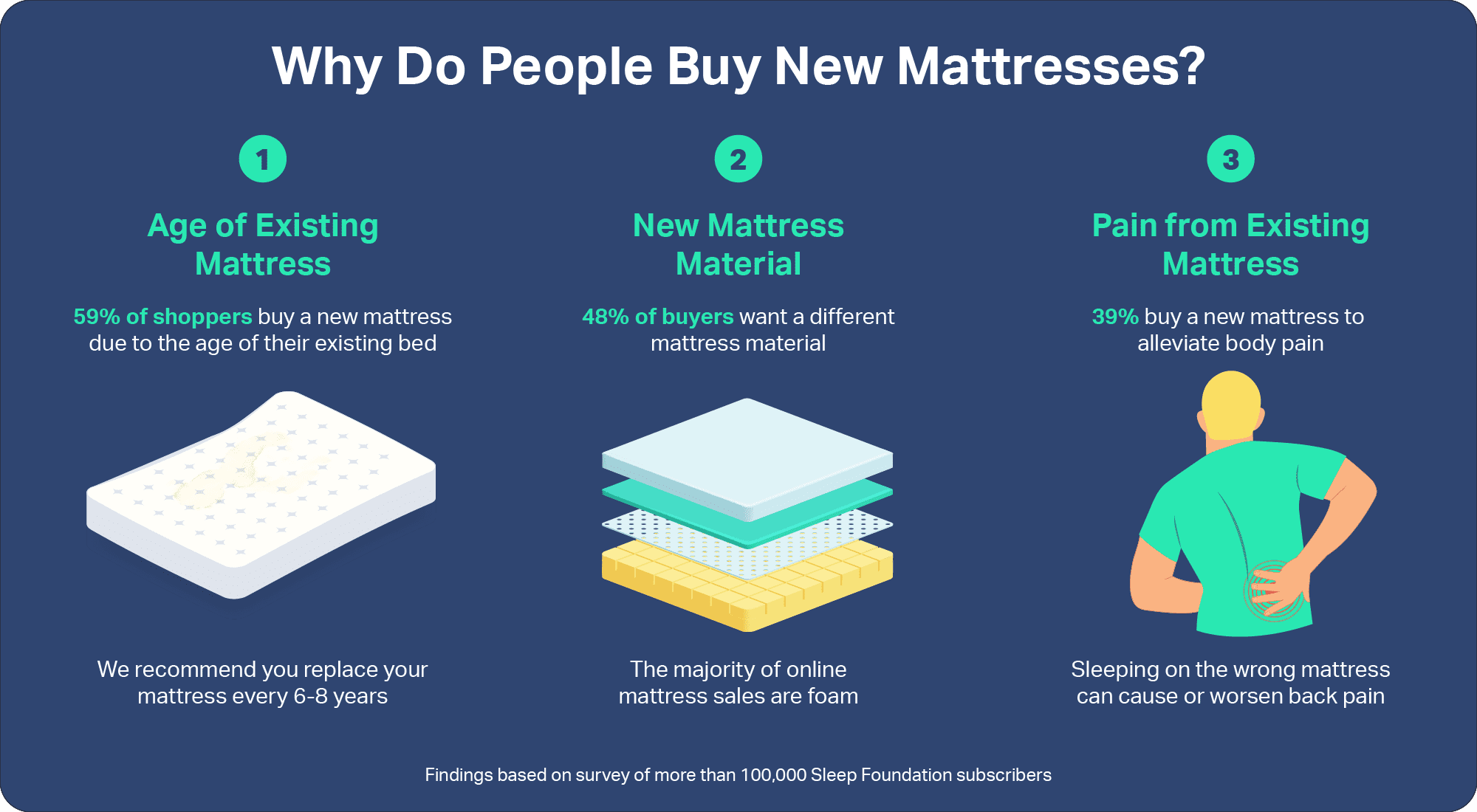 How Does Sleeping Position Affect Joint Pain?
As with any condition that causes pain or discomfort, arthritis could make it harder to get restful, quality sleep. Aches and pains may make it harder to fall asleep or could lead to tossing and turning during the night. The position someone uses could either reduce or contribute to pain. Depending on an individual's pains, they may prefer any sleep position. However, most experts usually recommend back or side sleeping. If you continue to experience arthritis and/or joint pain that interrupts your sleep, we recommend talking to your doctor.
Back Sleepers
Back sleeping can have both pros and cons for people with chronic pain pain. Neck pain could be aggravated by sleeping face up. However, some people find sleeping on their backs alleviates their lower-back pain. Others may experience more back pain in this position, but the Cleveland Clinic suggests that placing a pillow under the knees could help.
The right mattress can help support a back sleeper's natural spinal alignment. If the mattress sags excessively near the midsection, the sleeper could experience strain in their lower backs. If the mattress is too firm, they might have some pressure buildup around their hips. Since sagging tends to be the most common problem for back sleepers, many people who prefer this sleep position select a firmer-than-average mattress to get the support they need.
Side Sleepers
People tend to be wider near their shoulders and hips, so these body parts usually put more force on the mattress when a person sleeps on their side. This can contribute to pressure points.
Without the right mattress, a side sleeper's spinal alignment could also become uneven. Too soft of a mattress may allow the shoulders and hips to sink in excessively, while too firm of a mattress may not allow them to sink in enough. Either of these options could put a strain on a side sleeper's lower back.
Side sleepers could also experience knee and hip pain from their legs resting on each other. Some side sleepers place a pillow between their knees for added relief for their hips and knees.
Stomach Sleepers
Most experts do not recommend stomach sleeping, but some people prefer it.
People tend to carry extra weight near their midsections, which could pull their hips too far into the mattress and put a strain on their lower backs. Since stomach sleepers often turn their heads to the side, they may also strain the neck. Some stomach sleepers prefer to use a thin pillow or no pillow to keep their neck in a more neutral position. Thicker pillows may force the neck to extend backward, contributing to additional strain.
If you want to transition away from sleeping on your stomach, using a body pillow may help.
Combination Sleepers
Combination sleeping can bring together the potential benefits and drawbacks of multiple sleep positions. Switching positions during the night can shift the location of strain and/or pressure. Depending on which sleep positions the person prefers, they may still experience pressure buildup in their hips and shoulders, lower back strain, and/or neck strain. However, switching positions may make these aches and pains less pronounced.
What Type of Mattress is Best for Arthritis and Joint Pain
Hybrid, innerspring, latex, airbed, and foam mattresses are the major types of mattresses currently sold. Each mattress model may have some variations from other mattresses that use similar constructions due to differences in materials, quality, and construction techniques. However, there are some common similarities between mattresses in each category.
Hybrid
Definition: Hybrid models pair comfort layers of memory foam, polyfoam, latex, wool, microcoils, and/or other materials with a coil support system. This combination usually gives some of the benefits of innerspring and foam or latex mattresses with fewer drawbacks.
Highlight: Balanced Support and Contouring. People with joint pain may enjoy cushioning, contouring, and pressure relief from a hybrid mattress's comfort system. The coil core tends to give more even support, which could be beneficial for spinal alignment.
Innerspring
Definition: Innerspring models are generally seen as the most traditional type of mattress. They consist primarily of springs. While they may have a comfort layer for cushioning, this layer is usually thin.
Highlight: Stable Support. High-quality innerspring mattresses do not permit much sinkage and usually have a relatively even plane. People with joint pain who want support without a lot of contouring may like innerspring models.
Latex
Definition: Natural latex is made from the sap of the rubber tree. Latex mattresses may include natural latex, synthetic latex, or a blend. Dunlop latex is generally denser, while Talalay latex has a bouncier feel.
Highlight: Pressure Relief Without Hug. Latex has low point elasticity, which means that rather than compressing exclusively directly under the sleeper's weight, it spreads the compression over a wider area. This lends to pressure relief without the hug often associated with memory foam, so those with joint pain who have mobility issues may find a latex mattress easier to move on.
Airbed
Definition: The support system of an airbed consists of fillable air chambers. These chambers can usually be filled or emptied using either a crank, a remote control, or an app. Airbeds may also contain comfort layers for added cushioning, though these comfort layers are usually relatively thin.
Highlight: Adjustable Firmness. The firmness of an airbed can be adjusted by filling or emptying the air chambers. Arthritis and people with joint pain may appreciate the flexibility of being able to change the firmness of their mattress to adjust their current preferences. Additionally, many airbeds have separate air chambers on each side of the bed, allowing partners to select different firmness settings.
Foam
Definition: Foam mattresses are constructed of multiple layers of foam. These may include memory foam, polyfoam, or a combination of both. Most foam mattresses use softer, closer conforming foam in their comfort layers and firm polyfoam in their support cores.
Highlight: Close Conforming. All-foam models often conform more closely than other types of mattresses. People with joint pain looking for a pressure-relieving hug may enjoy this close conforming.
Last Things to Consider with a Mattress for Arthritis and Joint Pain
Purchasing a mattress is a big decision, and you may still have some lingering questions or concerns. We'll answer some of the top questions customers have when buying a new mattress.
How Can I Get Relief On a Budget?
While there are budget-friendly mattresses on the market that could be good options for people with arthritis, pillows and mattress toppers may also prove effective. A good pillow can help support your natural spinal alignment. Some people with arthritis may also like a wedge pillow to support their knees or upper bodies. If your existing mattress is in good condition but you're looking for more pressure relief, a quality mattress topper can add plushness and contouring without the expense of replacing the whole mattress.
How Much of an Investment Do I Need to Make?
Budget-friendly mattresses may cost just a few hundred dollars. These models often offer strong pressure relief and good support, but some may be more prone to forming impressions over time. Higher-priced models may seem like a big investment, but quality materials and construction can help the mattress last longer, which may make it a better value in the long run. Direct-to-consumer mattresses sold online are often less expensive, since the manufacturer isn't paying for showrooms and additional staff. These "mattress in a box" models are comparable to those sold in brick-and-mortar stores in terms of construction and performance.
Mattress Warranty and Other Policies
A company's policies may play a role in your purchasing decision. The shipping, trial period, and warranty may be particularly important to consider.
Customers with joint pain may find it more challenging to set up their mattresses. If you need assistance, you may want to consider whether the company offers White Glove delivery. Most online mattress companies offer trial periods that give customers a chance to try the mattress at home. Those with arthritis may use this window to determine whether the mattress provides any relief. Finally, the mattress's warranty can provide customers with additional protection for their purchase.
Mattresses for Arthritis FAQ
Thanks for the feedback - we're glad you found our work instructive!
If you're ready for more ⟶ sign up to receive our email newsletter!
Was this article helpful?
Thanks for the feedback - we're glad you found our work instructive!
Submitting your Answer...
Other Articles of Interest