Latex is a springy, durable material derived from the sappy extract of rubber trees. When processed into a foam for mattress layers, latex contours gently and produces a light bounce when you get in and out of bed. Our team has tested dozens of all-latex mattresses, as well as latex hybrids with coil support cores. We've found these mattresses can be a suitable alternative if you want a mattress that cushions the body without the deep "hug" of memory foam. Latex also retains minimal body heat, so these mattresses are a good option if you are a hot sleeper.
To create our list of the top latex mattresses sold today, we conducted rigorous in-house testing on dozens of mattress models. These included assessments for pressure relief, temperature regulation, edge support, and odor potential. Since our testing team consists of individuals with varying body types and preferred sleep positions, we were also able to evaluate how comfortable and supportive each mattress feels for different sleeper groups.
Best Latex Mattress Video
Watch our video below to learn more about our lab's top picks for best latex mattress.
The beds below reflect the best latex mattresses as evaluated and chosen by our testing crew. Each of these top picks has earned a unique accolade, but most excelled in multiple performance categories. We've also put together a detailed buyer's guide that includes a breakdown on the origin and production of latex, pros and cons of latex mattresses, and some important considerations for latex mattress shoppers.
Our Recommendations
The WinkBeds EcoCloud exemplifies everything we like about latex hybrids. The mattress has a medium (5) feel with a zoned design in both the comfort layer and support core. This construction helps maintain even support for your entire body, including areas where you carry a disproportionate amount of weight. As a result, the mattress is particularly well suited to people with pain and pressure points in their shoulders, back, and hips.
How It Performed
During our tests, the EcoCloud earned favorable ratings from side and back sleepers on our team weighing up to 230 pounds. Stomach sleepers on our team across all weight groups also felt comfortable on the mattress. The combination of gentle cushioning and robust coil support makes the EcoCloud an appealing choice for a wide range of sleepers.
We detected little heat buildup when testing the mattress for temperature control. This can be attributed to the breathable cover, moisture-wicking fire barrier, latex that retains minimal heat, and a coil system that promotes steady air circulation. The zoned coils also maintain even support throughout the interior and along the perimeter, so our testers noted minimal sinkage during our edge support and ease of movement tests.
What It's Made of
The EcoCloud consists of a Talalay latex comfort layer over a pocketed coil support core. Measuring 4 inches thick, the latex creates a highly responsive feel with considerable bounce when you get into bed. This layer feels firmer and more supportive around the lower back, with gentler cradling for lighter areas of the body. The coils are also zoned for extra support in areas where you carry more weight.
A breathable organic cotton cover encases the entire mattress, and a layer of wool batting is sewn into the top surface. Wool has natural moisture-wicking properties to help you stay dry and comfortable on hot and humid nights. The EcoCloud measures 12.5 inches thick, making it a high-profile mattress.
The mattress is competitively priced for a latex hybrid and shipping is free throughout the contiguous U.S. WinkBeds includes a 120-night sleep trial with each order. Should you decide to keep the EcoCloud, you'll also receive a lifetime warranty covering structural defects for as long as you retain original ownership.
Comfort is a subjective quality that varies from person to person, but we've tested a number of mattresses that seem to transcend comfort preferences across different sleeper types. The Birch is a prime example. This medium firm (6) latex hybrid is designed with balance and moderation in mind, resulting in a mattress that provides close cushioning without sacrificing support or responsiveness.
How It Performed
The Birch was popular among our testers across the board. Our side sleepers weighing at least 130 pounds received adequate cushioning for their shoulders and hips – two common areas of pressure buildup for those who primarily use this position. The Birch's coil system also delivered plenty of reinforcement for our back sleepers weighing 130 to 230 pounds, and our stomach sleepers weighing up to 230 pounds.
Temperature control was another area where the Birch performed well during our tests. The mattress contains two layers of wool batting over the comfort layer, creating a surface that sleeps cool and provides excellent moisture control. The Talalay latex and pocketed coils work together to maintain a bouncy surface that we found easy to move across, and the perimeter did not sink much when we tested the mattress for edge support.
What It's Made of
Like many other latex hybrids we've tested, the Birch begins with wool batting sewn into the cover that acts as a natural fire barrier. Wool's moisture-wicking qualities also help keep you dry, and a second wool layer provides additional cooling. The comfort layer is composed of Talalay latex, creating a light and bouncy feel with gentle contouring for your shoulders and hips. The support core's pocketed coils are thick and robust, with extra reinforcement along the perimeter to protect the edges from deep sinkage.
The Birch's organic cotton cover has earned certification from the Global Organic Textile Standard (GOTS), a leading authority for sustainably sourced fabrics. The latex also carries a Rainforest Alliance certification, indicating the rubber trees used to produce the latex are grown and harvested using eco-friendly means.
The Birch's sticker price is well below average for a latex hybrid and shipping is free for customers in all 50 states. Your order includes two Birch pillows at no extra cost. The sleep trial runs for 100 nights, and those who keep their mattress receive a warranty covering structural defects for up to 25 years.
Latex hybrids tend to be some of the more expensive options on the market, but the Silk & Snow Organic maintains a competitive price-point. The mattress also boasts several certifications, making it a great choice for eco-conscious shoppers.
How It Performed
Our team's side and back sleepers awarded the mattress high ratings thanks to the medium firm (6) feel and balanced design. Side sleepers found significant contouring for pressure in their hips and shoulders, while back sleepers enjoyed the supportive and even sleep surface. Our stomach sleepers weighing less than 130 pounds also found the mattress comfortable, but we recommend seeking a firmer mattress if you fall into another weight category.
Like many other latex mattresses, the mattress excelled in our temperature control tests. Latex's natural breathability and steady airflow through the coil support core helped maintain a cool surface that registered minimal heat buildup. We highly recommend the mattress for couples who prioritize a responsive surface for sex. The combination of bouncy latex and coils made the bed easy to move across during our tests. The latex layers also absorb a good amount of movement and most noise, so it's a decent choice if you share the bed with a restless sleep partner.
What It's Made of
The comfort system begins with a layer of Joma wool that gives the surface a plush feel while doubling as a natural fire barrier. Underneath is a layer of GOLS-certified Dunlop latex that cradles your body to relieve pressure in your joints and lower back. Pocketed coils in a zoned configuration make up the support core. Thicker coils in the center of the mattress prevent midsection sagging, while thinner coils near the head and foot of the bed cradle lighter areas of the body. Extra coils line the perimeter for sturdy edge support. A breathable, GOTS-certified organic cotton cover encases the mattress.
Silk & Snow offers free shipping to the contiguous U.S. and provincial Canada. Purchases come with 100-night sleep trials, during which you can test the mattress and return it anytime after a 30-night break-in period. The Silk & Snow Organic is backed by a 15-year warranty against structural defects.
Saatva's Zenhaven delivers a high-end, reversible design. This all-latex mattress features a medium soft (4) feel on one side and a firm (7) feel on the other, so you'll most likely find at least one surface comfortable and sufficiently supportive regardless of how much you weigh or which sleep position you prefer. Saatva sweetens the deal with additional perks for shoppers, such as free White Glove delivery and a year-long trial period.
How It Performed
The Zenhaven's sleep surfaces feel distinct from each other, and our testers were divided on which felt most comfortable. The medium soft feel earned the most favorable ratings from our side sleepers weighing up to 230 pounds, and back and side sleepers under 130 pounds. We've found during mattress tests that people who fall into these categories need extra cushioning to sleep comfortably. Our side sleepers weighing at least more than 230 pounds preferred the firm side, and the same was true for our back and stomach sleepers between 130 and 230 pounds. This surface offered stronger support for testers who sank too much on the medium soft side.
Saatva is known for using high-quality materials, and the Zenhaven is no exception. Dense Dunlop latex layers make up the mattress core. Since this type of latex is associated with above-average durability, we expect the Zenhaven to perform for at least 8 years. The medium soft side earned high marks during our pressure relief tests, while the firm side performed better for edge support. We detected little heat buildup on either surface, and both sides were responsive enough to facilitate mostly sink-free movement.
What It's Made of
While each side of the Zenhaven has a different firmness level, both share similar designs. A GOTS-certified organic cotton cover encases the entire mattress. Extra quilting around the lumbar region helps alleviate pain and pressure in your lower back. A layer of GOTS-certified New Zealand wool acts as a fire barrier while keeping you cool by wicking moisture away from your body. All Zenhaven models are treated with Guardin, a plant-based antimicrobial agent intended to safeguard the mattress from harmful bacteria.
The comfort layer on each side is divided into five firmness zones to give you extra reinforcement around the torso and hips, and gentler cradling for lighter areas of the body. A thick, shared support core of ultra-dense Dunlop latex is sandwiched between the comfort systems. All latex layers are ventilated with small holes to promote airflow throughout the interior.
Saatva is one of the only online mattress brands to offer free White Glove delivery to all contiguous U.S. customers. On your scheduled delivery date, couriers set up the mattress in a room of your choice and remove your old mattress and box spring upon request. This service normally costs at least $100. The company's generous sleep trial spans 365 nights in length, and those who keep their Zenhaven also receive a lifetime warranty against structural defects.
Your ideal mattress largely depends on which sleep position you primarily use. If you're a side sleeper, you'll probably feel most comfortable on a mattress that cushions and contours to your shoulders and hips – two areas of the body prone to pressure buildup when you use this position. The Nolah Natural 11 features two latex layers that adapt to your unique curves, helping to ensure less pressure in these areas while keeping your body on an even plane, followed by a strong coil system that prevents you from sinking too deeply into the mattress.
How It Performed
The Natural 11 is medium firm (6) with a balanced feel. Ratings were strong across the board with our testing team, but the mattress performed particularly well with our side sleepers weighing at least 130 pounds, our back sleepers up to 230 pounds, and our stomach sleepers between 130 and 230 pounds. All of these testers received adequate cushioning and support from the Natural 11, and sinkage was not a major issue for most of us.
The coils are zoned to reinforce the midsection and push back against compression along the perimeter. As a result, the mattress earned favorable ratings during our edge support and ease of movement tests. Breathability was another area where the Natural 11 performed well. Testing the mattress for temperature control, our thermal sensors picked up little body heat and none of us felt uncomfortably warm.
What It's Made of
The Natural 11's comfort system contains two layers of Talalay latex, both ventilated to promote airflow near the surface. The second layer is denser and more supportive, serving as a buffer between your body and the support core. Thick pocketed coils create a sturdy base for the mattress. The coils feel especially robust beneath the torso and hips, and you shouldn't sink too much when sleeping near the edges or getting in and out of bed.
A breathable cover made of organic cotton encases the entire mattress. Another cooling element is the fire barrier made of natural wool, which wicks away moisture for maximum comfort and dryness on humid nights. As its name implies, the Natural 11 measures 11 inches thick. This makes it a medium-profile mattress, and relatively low to the ground compared to other latex hybrids we've tested.
The mattress comes in seven sizes, including a split king. An approachable sticker price and free shipping throughout the contiguous U.S. make the Natural 11 a good option for shoppers with tight budgets. Nolah backs the mattress with a 120-night sleep trial. You can opt out of the trial period and reduce your up-front costs, though this means you won't be able to return the mattress for a refund at any point. A lifetime warranty against structural defects is included with all orders. You may also purchase an accident protection plan covering stains and other physical damage for up to 10 years.
If you live with chronic or frequent back pain, then you should choose a mattress that cushions sore areas without sinking too much beneath your weight. The all-latex PlushBeds Botanical Bliss is available in medium firm (6) and firm (7) feels, and 9-inch, 10-inch, and 12-inch profiles. You can also swap out the top layer if your initial choice doesn't feel comfortable, allowing you to further optimize the mattress to meet your personal needs.
How It Performed
We personally tested both firmness levels and all three profiles for the Botanical Bliss. Generally speaking, the medium firm (6) feel was most comfortable for our side and back sleepers up to 230 pounds. The firm (7) feel earned more favorable ratings from our back and stomach sleepers weighing at least 130 pounds. Our testers weighing more than 230 pounds also appreciated the extra support of the 10-inch and 12-inch profiles.
All of the mattress' latex layers are ventilated to promote airflow throughout the interior, and each model is topped with moisture-wicking wool batting to ensure a cool, comfortable surface. As a result, most versions of the Botanical Bliss received high marks during our temperature control tests. The latex is adaptive enough to alleviate pressure and isolate motion, but the material's responsiveness also allowed our testers to move across the surface without sinking excessively.
What It's Made of
Each Botanical Bliss begins with an inch of wool batting sewn into the cover, which acts as a moisture-wicking fire barrier. The 9-inch and 10-inch models contain a top layer of Talalay latex, followed by two Dunlop latex support layers. The 12-inch model adds a third Dunlop layer to the support system. A breathable organic cotton cover encases the entire mattress.
The Botanical Bliss holds an impressive number of environmental certifications. These include USDA, GOTS, and GOLS organic certifications, as well as a Forest Stewardship Council certification for the rubber trees used to produce the latex. GREENGUARD Gold and eco-INSTITUT certification mean the mattress has been tested against rigorous standards for chemical emissions. Lastly, the Control Union certification indicates the mattress' materials and production create a relatively small carbon footprint.
The Botanical Bliss' sticker price depends on the selected profile, but shipping is free for all orders in the contiguous U.S. PlushBeds' 100-night comfort exchange allows you to order a new top layer for the mattress if your first choice feels too firm or too soft. This service and return shipping during the 100-night window are both free of charge. The mattress is further backed by a lifetime warranty.
Latex hybrids often earn high ratings in our ease of movement and edge support tests, and the Latex for Less Hybrid Latex Mattress is no exception. Thanks to the responsive feel, combination sleepers should have no trouble changing positions at night.
How It Performed
The mattress' performance slightly depends on the firmness level you choose. Our side sleepers weighing 130 to 230 pounds, as well as back and stomach sleepers weighing less than 130 pounds, enjoyed the medium (5) model. Sleepers in these categories should notice cradling for sore spots without sinking too deeply. Meanwhile, side sleepers weighing more than 230 pounds and most back and stomach sleepers will appreciate the firm model's even surface.
Breathable components like cotton, wool, and latex helped the mattress excel in our temperature control tests. Our heat guns detected minimal heat retention. Like many other latex hybrids, we also recommend this model if you and your partner prioritize responsiveness for sex. Thanks to latex's naturally bouncy feel and supportive perimeter, we could move across the mattress easily without slipping near the edges.
What It's Made of
Both models start with a wool comfort layer that cushions the surface and acts as a natural fire barrier. Dunlop latex cradles, rather than adapts, to your body to alleviate pressure buildup. Pocketed coils in the support core keep the body on an even plane, preventing excessive sinkage and reinforcing the perimeter of the mattress. The mattress cover is made from breathable, GOTS-certified organic cotton.
Customers living in the contiguous U.S. are eligible for free shipping. A 120-night sleep trial allows you to test the mattress and return it for a full refund. The Latex for Less Mattress is backed by a 20-year manufacturer's warranty.
The Spindle Organic Latex Mattress has an adjustable feel made with natural and durable materials. The mattress' adjustable design also allows you to customize the firmness at any time.
How It Performed
Each Organic Latex Mattress comes with medium soft (4), medium (5), and firm (7) Dunlop latex layers. You can unzip the cover and rearrange the layers to create the most comfortable configuration for you and your partner. Our testers weighing less than 130 pounds preferred a soft-to-firm arrangement from top to bottom, resulting in a plush surface with decent support. Those weighing 130 to 230 pounds felt more comfortable with the top two layers reversed. This created a firmer surface feel with extra transitional cushioning. If you weigh more than 230 pounds, we recommend placing the firmest layer on top.
All three latex layers are ventilated for optimal airflow and the cover is breathable organic cotton, so the mattress performed quite well during our temperature control tests. We also found that the latex layers are adaptive enough to reduce motion transfer and alleviate pressure for side sleepers, but also bouncy and conducive to movement across the surface. Edge support varies by layer configuration. For the strongest perimeter, you should place the firm layer above the other two.
What It's Made of
Each 3-inch latex layer has a distinct feel and cushioning level. That said, all three are composed of dense Dunlop latex that responds to your movement with a light bounce. A 1-inch layer of organic batting encased in the mattress acts as a fire barrier and also keeps the surface cool and dry. This brings the total profile up to 10 inches, so the Organic Latex Mattress toes the line between low- and medium-profile. The cotton and wool hold GOTS certifications and the latex is GOLS-certified, so the mattress should appeal to eco-conscious shoppers who prefer to buy sustainably made products.
Spindle's 25-year Comfort Exchange program allows you to order additional latex layers if you're dissatisfied with the initial set, or if one of the layers deteriorates over time. Each layer is available with a 30% discount. This exchange may be suitable if you find the mattress too soft and want to invest in a third firm layer, or vice versa.
The Organic Latex Mattress appears expensive at first glance, but Dunlop latex is a highly durable material and the Comfort Exchange option further extends the lifespan if you're willing to pay extra down the road. All customers in the contiguous U.S. qualify for free shipping, and Spindle backs the mattress with a year-long sleep trial and 10-year warranty.
The Eco Terra is a latex hybrid that's a good option for eco-conscious consumers. Both the cotton and wool have received GOTS certifications, ensuring these materials are sustainably grown and responsibly sourced. Additionally, the coils are constructed using upcycled steel. Both models are also highly responsive, making it a great choice for couples who prioritize a bouncy surface for sex.
How It Performed
The mattress is sold in medium (5) and medium firm (6) designs, allowing you to choose a design based on your body type and sleep position. Our team personally tested both versions of the Eco Terra. The medium feel earned favorable ratings from side sleepers across the board, and back and stomach sleepers weighing less than 130 pounds. This model contours closely, resulting in deep cushioning for your body – especially around the shoulders and hips. Our back and stomach sleepers weighing up to 230 pounds and side sleepers weighing at least 130 pounds felt comfortable on the medium firm model, which still conforms but to a slightly lesser extent.
Responsive Talalay latex over zoned pocketed coils helped the mattress perform well during our ease of movement and edge support tests. We encountered little resistance on the surface, and most of our testers did not sink excessively when positioned along the perimeter. Like other latex hybrids we've tested, the Eco Terra also earned high marks for temperature control. We've attributed the mattress' exceptional cooling to its breathable cover, moisture-wicking fire barrier, ventilated latex comfort layer, and a coil system that promotes steady air circulation.
What It's Made of
The medium and medium firm Eco Terra models feel distinct from one another, but share similar designs. The latter's Talalay latex comfort layer is slightly denser with an indentation load deflection of 29 to 31, allowing it to feel firmer than the medium model's latex layer. Both models contain zoned pocketed coils, and are encased in organic cotton covers. Organic wool fire barriers are sewn into the covers.
Compared to other latex hybrids we've tested, the Eco Terra is very affordably priced, and shipping is free for all U.S. orders. The mattress comes with a 90-night sleep trial, and returns are allowed after you've slept on it for at least 30 nights. Eco Terra also backs the mattress with a manufacturer's warranty covering structural defects for up to 15 years.
The Dreamfoam Latex is a versatile mattress with multiple firmness and thickness options. Regardless of the design you choose, we found the mattress excels at gentle contouring without compromising on support.
How It Performed
The mattress is available in three firmness options that correspond to medium soft (4), medium firm (6), and firm (8) on our 10-point firmness scale. You can also choose between a 10-inch or 12-inch profile. During testing, back and side sleepers up to 230 pounds gravitated toward the two softer options. The firm option felt most comfortable to back and side sleepers over 230 pounds and stomach sleepers across all weight categories.
The two softer options gently cradle the body and helped relieve pressure buildup in many of our testers, while the firmest option offered moderate cushioning for our sleepers over 230 pounds. All models performed very well in temperature regulation tests, due largely in part to the cooling properties of latex and strong ventilation through the coil core. Our testers also observed strong edge support.
What It's Made of
The Dreamfoam Latex Mattress begins with a quilted foam top that conforms closely to your body's curves and joints. Beneath is a layer of Talalay latex with a responsive feel that moderately cradles your body while also generating pushback. The support core is composed of sturdy pocketed coils that offer strong support, with thicker perimeter coils for reinforcement along the edges. The 12-inch model contains a thicker coil layer than the 10-inch model and also features a zippered cover, which makes cleaning and maintenance easier.
Dreamfoam offers a 120-night sleep trial, which is a standard trial length compared to other beds on the market. The bed is also backed by a 10-year warranty. Shipping is free to addresses in the contiguous U.S.
Why You Can Trust Us
Our team at Sleep Foundation has years of experience testing mattresses. Members of our testing team belong to different groups based on preferred sleep position and body type. This allows us to evaluate latex beds based on the experience of sleepers with many different needs and preferences.
Methodology
How We Evaluated These Mattresses
Our evaluations involve an array of hands-on tests and tools. Team members lie on each mattress to gauge performance features such as firmness, bounce, and overall support. Our top picks reflect the latex beds that out-performed other models during the testing process.
To learn more about our testing process, read about our product research methodology below:
Other Mattress Guides
If you're still not certain that latex mattresses are the best choice for your needs, you can browse our other guides broken down by mattress type.
Who Should Buy a Latex Mattress?
Latex mattresses are a good fit for many customers. If you want cushioning without excess sink or tend to sleep hot, you'll likely love a latex bed. With its considerable bounce, a latex mattresses is also great if you want to effortlessly move on the bed to switch up your sleeping position or engage in sexual activity. The durability of latex makes it a good material for people over 230 pounds and a popular choice among shoppers focused on finding a long-lasting mattress.
What to Look For in a Latex Mattress
We've already covered the central characteristics of latex mattresses: bounce, moderate conforming, and limited heat retention. For some customers, these are a major benefit, but for others, there can be insufficient contouring or motion isolation.
As with all mattress types, we've found that latex mattresses have benefits and drawbacks. Mattress companies try to construct their products to cut down on those drawbacks, but those efforts often have mixed or minimal impact.
When considering latex mattress options, you should focus on the factors that matter most to your sleep experience. We've described these factors below, and you should think about which ones have the highest priority for you.
Price: The price tag of any latex mattress is a crucial consideration because it has to fit in your budget. While latex beds have traditionally been among the most expensive, their price has come down in recent years without sacrificing quality. Promotions and coupons can frequently help you score a great deal.
Sleeping Position: How you sleep has clear bearing on what mattress will best serve your needs. Latex is great for combination sleepers who change positions frequently. With less sink, it often is great for back and stomach sleepers. Slightly softer latex beds also tend to work well for side sleepers.
Mattress Type: This guide includes both all-latex and latex hybrid options. The performance is similar in most cases, although an all-latex bed may be more durable. Latex hybrids typically have better edge support. Consider whether you have a preference for one of these types and then shop accordingly.
Contouring: While latex does cushion the body, it doesn't have contour as closely to your body as memory foam. Talalay latex tends to feel slightly softer and provide more contouring than Dunlop.
Quality Materials: Most latex mattresses are built with significant emphasis on quality materials. This includes the latex itself, which is most often natural or organic, as well as the other elements. Finding a mattress with higher-quality materials translates to better performance and durability. Many latex beds feature one or more organic materials.
Firmness Level: Firmness is crucial to your comfort, so you want to select a mattress that aligns with your preferences. If you aren't sure which firmness is best for you, consider a mattress with a reversible design or that a model that qualifies for a comfort exchange during the sleep trial period.
Motion Isolation: Motion transfer is when you can feel someone else move on the bed. Because of its bounce, latex tends to transfer more motion than materials like memory foam. Despite this, latex should insulate enough motion to prevent you from being disturbed by your partner's movement, and vice versa.
Pressure Relief: Proper cushioning for your body around major pressure points is crucial for healthy spinal alignment during the night. Latex offers most sleepers excellent pressure relief through moderate contouring and reduced sinkage.
Edge Support: A reinforced perimeter helps keep your mattress from collapsing around the edge when you get in and out of bed. Latex provides better edge support than most all-foam beds, but will still compress around the edges. Firmer models and hybrids usually provide the best edge support among latex mattress options.
Temperature Regulation: Latex doesn't build up heat the way that most foams do, and many companies aerate the latex with small holes to permit extra airflow. Latex hybrids resist heat buildup even more because their coils generate steady circulation.
Noise: All-latex mattresses make virtually no noise, so nighttime disruptions when your partner moves are unlikely. Though modern designs have cut back on squeaking from coils, a latex hybrid may be a little bit noisier than an all-latex bed.
How Does it Feel to Sleep on a Latex Mattress?
Thinking about what sleeping on a latex mattress is like? These core characteristics help give you an idea:
Spring Into Action: When you move on a latex mattress, the material quickly bounces back to its full shape, providing a spring-like feel. This exceptional responsiveness makes it easy to move around on the bed when you're changing sleeping positions or taking part in intimate activities.
A Little Hug: Latex has a modest amount of contouring. It doesn't have the significant sink of memory foam, but you will notice a light hug. For many customers, this level of contouring is just enough to feel supported, stable, and comfortable.
Keep Your Cool: Latex does not accumulate heat like memory foam, and its moderate contouring means that air can move more freely around your body to keep your temperature steady.
What are the Different Types of Latex?
Different types of latex have similar performance characteristics, but they aren't all created equal. In the following sections, we'll explain the types of latex so that you can better understand the descriptions that you'll find of latex mattress options.
Organic and Natural Latex
Organic and natural latex are made by harvesting sap from rubber trees, and then converting the sap – through processes of curing, molding, and baking – into a rubber product.
Organic and natural latex are not 100% sap, though. Some agents must be added to the curing process. In order to receive organic certification from the Global Organic Latex Standard, chemical agents cannot make up more than 5% of the material. Natural latex is not certified the same way as organic latex, so the "natural latex" in your mattress may carry a large concentration of chemical agents.
Synthetic Latex
Also known as Styrene-Butadiene Rubber (SBR), synthetic latex is made with chemical inputs rather than rubber sap. Many of those inputs are derived from petroleum.
Synthetic latex also has bounce and some softness, but it tends to be less durable and offer a less well-rounded performance relative to natural latex. It can also have a noticeable odor.
Historically, synthetic latex was much less expensive than natural latex. Today, SBR is tied to the price of oil, which is no longer a low-cost commodity. Very low-cost latex beds may still utilize this material, but these beds usually pale in comparison to natural latex options in terms of quality and performance.
Blended Latex
As indicated by its name, blended latex uses both liquid from rubber trees and chemically-produced rubber inputs. The ratio of the blend is often listed, such as a common mix of 30% natural latex and 70% SBR.
Despite some marketing to the contrary, blended latex is rarely a "best of both worlds" offering. It usually involves more synthetic than natural latex and offers few benefits, except perhaps a lower price, than a mattress made with 100% natural latex.
Dunlop Latex vs. Talalay
Natural latex can be crafted using one of two methods, known as the Dunlop and Talalay processes. Both produce high-quality latex, but there are some differences you should be aware of.
Dunlop Latex
In the Dunlop process, whipped sap is put in a mold and then baked to hold its form. Some heavier sediment sinks to the bottom in the baking process, making Dunlop latex denser and heavier, especially toward the bottom.
Dunlop latex is robust and has plenty of bounce. It can be used in any part of a mattress but is especially common in support cores. In general, Dunlop tends to cost less than Talalay latex.
Talalay Latex
In the Talalay process, whipped sap is put in a mold and then vacuum-sealed and flash-frozen before being baked. The sealing and freezing steps make the material more homogenous and airy, which confers an increase in lightness and bounce relative to Dunlop latex.
Talalay latex can be used in any part of a mattress but is more often featured as a part of the comfort system because of its gentle contouring and comfort. It may come with a higher cost than Dunlop latex.
How Much Does a Latex Mattress Cost?
The retail price of most latex mattresses ranges from $1,300 to $3,000, although there are options that fall higher and lower than that range. In general, latex beds cost more than foam, innerspring, and hybrid options and less than airbeds.
Some factors that influence the price of a latex mattress include:
Type of latex: Natural latex is generally more expensive than synthetic or blended latex. Among natural latex products, Talalay tends to cost more than Dunlop.
Type of mattress: All-latex beds on average will cost more than latex hybrids, although there are exceptions.
Organic certifications: Receiving an organic certification can require extra steps for a manufacturer, so a certified organic product often has a higher price.
Other materials: The type and quality of other components, such as the cover, can influence the final price.
Latex Density and ILD
The density and Indentation Load-Deflection (ILD) of latex are two other factors that can play a role in the feel, performance, and durability of your latex mattress.
Density
The density tells you about how compact and heavy latex is. It is measured by weighing a cube of latex with dimensions of one meter on each side. The total density is reported in kilograms per cubic meter (kg/m3), often with the letter D before it. Most latex in mattresses ranges from D60 to D95.
Denser latex will generally have a firmer feel that will feel more comfortable if you sleep on your back or stomach. Higher density is associated with more longevity as well.
In many latex mattresses, layers of latex with different densities are arranged to create a complete package that is stable, durable, and comfortable.
Indentation Load Deflection (ILD)
The ILD is a metric that explains how easily a latex layer compresses. It is measured by seeing how much force must be applied before the latex indents a certain amount. The higher the ILD, the more force required, indicating a firmer material.
For latex used in mattresses, an ILD of 15 to 25 is softer, 25 to 35 is medium to firm, and over 35 is very firm. However, not all labs test the ILD in the same way, which means you should view these numbers a general outline and far from a hard-and-fast rule.
As with density, it's important to not lose the forest for the trees. Each layer works together to affect the overall mattress feel, so the ILD of individual layers does not always give you a complete understanding of the mattress performance as a whole.
How Long Will a Latex Mattress Last?
You can expect a well-built all-latex mattress to last for 8 years or longer. These mattresses are the most durable on the market, outlasting most foam, innerspring, hybrid, and airbed models.
A well-constructed latex hybrid should last for 6 years or longer. Their lifespan is similar to most foam mattresses and slightly better than most other hybrids, innersprings, and airbeds.
The design of your mattress and the quality of the materials will both have a key role in determining the expected useful life of a latex mattress. Natural latex tends to last longer, especially if it is arranged without any thin or low-density layers.
The stress placed on a mattress can impact its durability. More weight applied to the mattress increases strain, so couples and people with a higher body weight may find that their mattresses do not last as long. Significant activity on the mattress, such as sex or a child jumping on the bed, can also wear out latex and other materials more quickly.
A latex mattress with high-quality materials often costs a bit more at the outset, but because it lasts longer, it can give you better value over time. With coupons and promotions regularly available from different brands, investing in one of the best latex mattresses can be done without blowing way past your budget.
Last Things to Consider With a Latex Mattress
With what you've read so far, you're well-armed with the knowledge necessary to buy a new latex mattress. To wrap up, we'll introduce a few other practical issues for savvy shoppers to take into account.
Natural Latex, Organic Latex, and Other Certifications
There are many labels for latex that you'll find thrown around in the descriptions of these mattresses. It can get confusing, so here's a quick guide:
Organic latex has undergone a process that shows that its production process is in accordance with the standards established by whatever organization is providing the certification. The Global Organic Latex Standard (GOLS) is one well-regarded standard. In order to receive GOLS certification, organic latex must consist of at least 95% rubber tree sap.
Rainforest Alliance is another certification that is not the same as organic but also focuses on safe environmental standards.
Certifications like GREENGUARD, ecoInstitut, and OEKO-TEX are used to demonstrate that a material does not have harmful chemicals or emit dangerous volatile organic compounds (VOCs).
What is the Support Core Made of?
In an all-latex mattress, the support core is made of one or more latex layers. In a latex hybrid, it is made of innerspring coils. The performance of these can be similar, but make sure to examine the support core's components along with the comfort system when considering the likely performance and durability of the mattress.
Shipping and Moving
Latex is a heavy material, and these mattresses tend to weigh more than other mattress types. Most of the time, it takes two or more people to setup or move a latex bed. Keep this in mind when deciding whether you need installation services such as White Glove delivery or a setup service from a third-party provider.
The weight and unwieldiness of a latex mattress is also important to keep in mind if you expect that you will need to move the mattress frequently, either within your home or as part of moving to a new home.
Why Do People Buy New Mattresses?
Sleepers invest in new beds for many different reasons, whether it's to change firmness levels or replace a worn-out bed. We polled thousands of Sleep Foundation subscribers to learn some of the top reasons people shop for new mattresses. Read our results below.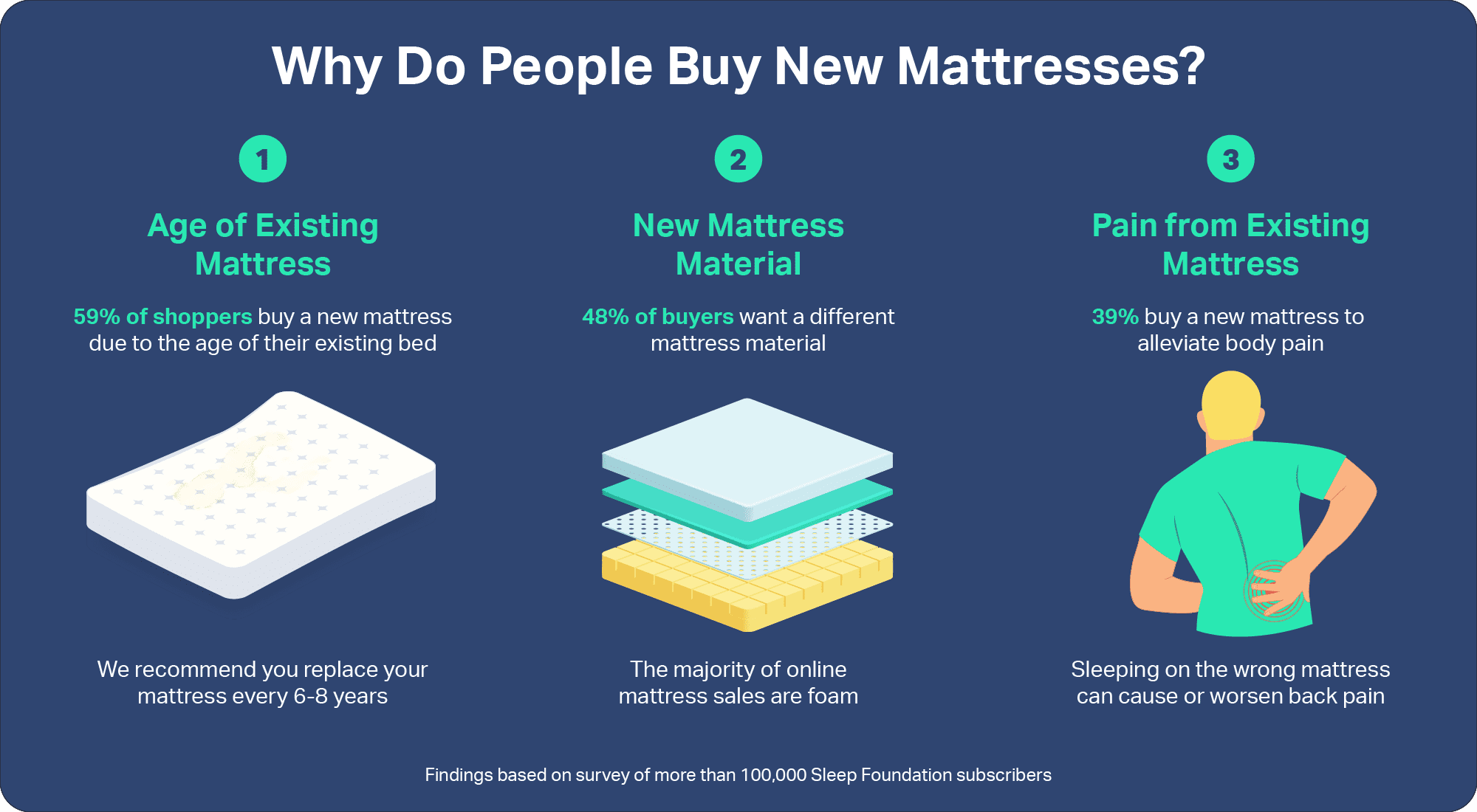 Other Articles of Interest