How did you sleep last night?
No matter how you answer this question, you may rest easier knowing that you are not alone.
Sleep issues can affect people of all ages and impact many parts of our lives.
While the science and nature of sleep is too complex to sum up on a single page, taking a peek at sleep statistics nationwide can help you understand key aspects of sleep health, as well as how widespread sleep issues are.
Our Sleep Cycles
Understanding the science of sleep
In a normal sleep period, a person experiences four to six sleep cycles

.
While cycles vary in length, each sleep cycle can last about 90 minutes.
Rapid eye movement (REM) sleep makes up 20% to 25% of total sleep in healthy adults.
As you cycle through non-rapid eye movement (NREM) sleep, various bodily functions slow down or stop altogether. Metabolism drops by around 15%

and both heart rate and blood pressure go down.
Stage 3 NREM sleep or "deep sleep" is believed to be the most critical stage of sleep for regenerating your body and brain. Deep sleep decreases across the lifespan, with one receiving less deep sleep as they age.
On average, we spend about two hours per night dreaming

, mostly during REM sleep.
On average, adults sleep on their side 54% of the time

, on their back 38% of the time, and on their stomach 7%.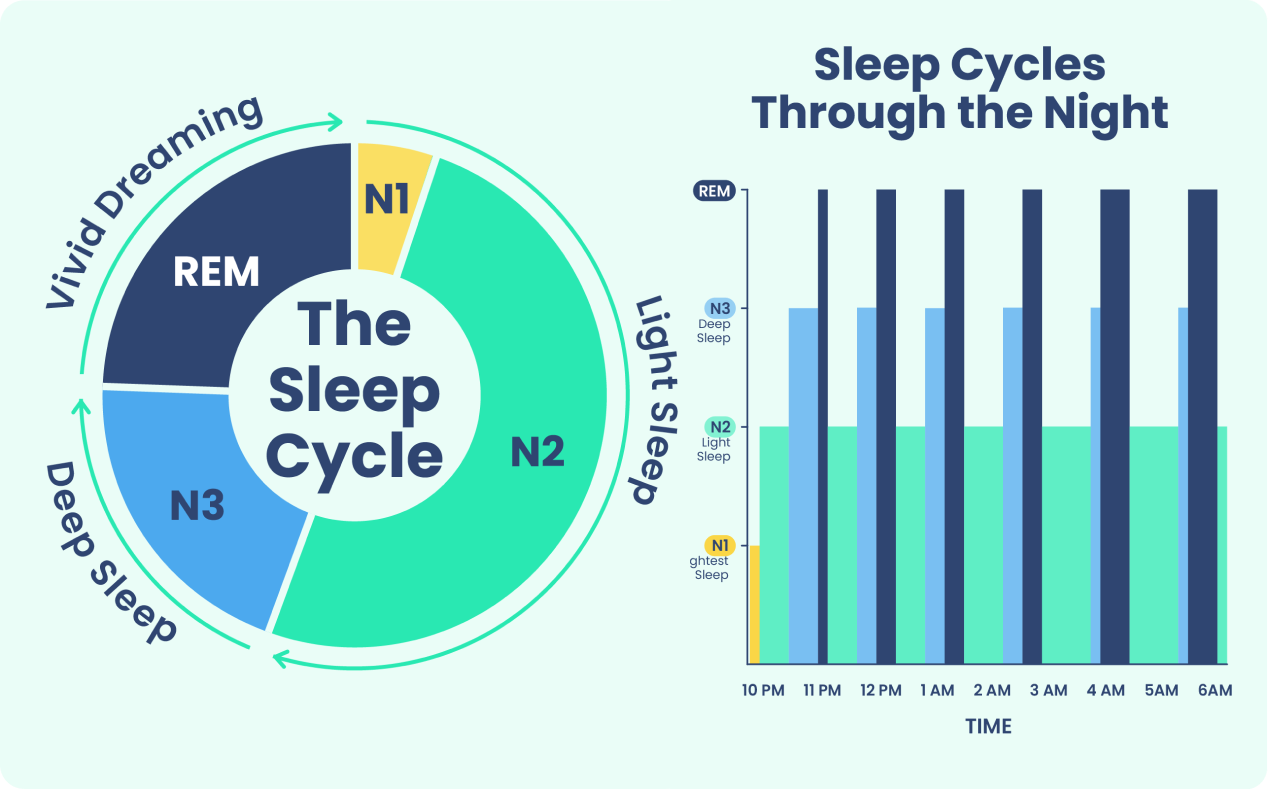 How Much We Sleep 
Are we really getting enough sleep?
Adults need seven or more hours

of sleep per night.
More than one-third

of adults sleep less than seven hours per night, on average.
Among all states, Hawaii has the highest percentage of adults (43%)

who get seven or fewer hours of sleep each night. | Learn more
Among U.S. counties, Boulder County in Colorado has the lowest percentage of adults (23%)

who get seven or fewer hours of sleep each night.
7% of adults nap every day.
81% of adults have taken a nap of 10 minutes or longer in the past three months. | Learn more
The average nap is about one hour.
Work and Sleep 
The link between sleep quality and work performance
Insufficient sleep has an estimated economic impact of more than $411 billion

each year in the United States alone.
4.8 of 10 workers say they are regularly tired during the day, and 7 of 10 say they are tired when their work day is done. | Learn more
Active-duty service members are

34% more likely

to report insufficient sleep than people with no history of military service.
55% of nurses say they experience insomnia. | Learn more
Drowsy driving is responsible for more than 6,000 fatal car crashes

every year in the United States.
One study estimates the annual cost of workplace errors and accidents linked to insomnia at $31.1 billion

.
Snoring and Sleep
How often do we snore
About 57% of men, 40% of women, and 27% of children

snore in the U.S.
Up to 70% of snorers have been diagnosed with sleep apnea

.
Obstructive sleep apnea (OSA) affects around one billion adults worldwide, with 80-90% of cases

going undiagnosed.

A 10% increase

in body weight may make you six times more likely to have OSA.
Some 1% of adults ages 40 and older

experience central sleep apnea (CSA).
Insomnia and Sleep
Why we struggle to fall asleep and stay asleep
Up to two-thirds of adults occasionally experience insomnia symptoms
10-15% of people

experience chronic insomnia, a type of insomnia that persists over multiple months
Women are 40% more likely

to have insomnia than men are.

According to a 2020 study

, 58% of a sample of post-9/11 veterans screened positive for insomnia.
Up to 75% of older adults experience symptoms of insomnia. According to a 2019 study, incidences of multiple physical and psychiatric disorders are

higher in older adults with insomnia

than those without.
Other Sleep Disorders
Common sleep disorders keeping us up
According to estimates, 50 million to 70 million people

have ongoing sleep disorders. The most common among them are insomnia, sleep apnea, and narcolepsy.
Sleep disorders

affect 39% to 47% of perimenopausal women and 35% to 60% percent of postmenopausal women.
76% of adults with a sleep issue or disorder share a household with at least one other person who does. 42% of people agree that sleep issues run in their family. | Learn more
You may exert as much as 250 pounds of force when you grind your teeth. | Learn more
Restless legs syndrome (RLS)

affects 5% to 10% of adults and 2% to 4% of children. | Learn more
1 in every 2,000 adults

has narcolepsy. In the U.S., that equates to about 165,950 people.
People with irritable bowel syndrome (IBS) are 37.6% more likely

than others to have a sleep disorder.
66% of adults say they have talked in their sleep

.
23% of adults say they have had a sleepwalking episode

.
8% of people have had an episode of sleep paralysis

.
Common Sleep Disruptions 
How interrupted sleep can affect you
Nighttime disruptions may cause sleep fragmentation and reduce time spent in the deep sleep.
Noise may disrupt sleep and increase production of the hormones adrenaline and cortisol, as well as

increase heart rate and blood pressure

.
69% of men ages 40 and older and 76% of women in that age group get up to go to the bathroom

at least once per night

.
41% of primary care patients

say that they experienced night sweats at least once a month.
95% of adults lose at least an hour of sleep to pain in a given week. | Learn more
63% of adults

with heartburn say it has affected their ability to sleep well.
Premenstrual syndrome (PMS) makes women at least two times as likely

to report insomnia-like symptoms before and during their period.

Pregnancy and Sleep
The relationship between pregnancy and sleep
Around 50% of people who are pregnant

experience insomnia-like symptoms.
Sleeping on the left side with the legs slightly curled is considered the best sleeping position for pregnancy.
As many as 50% of pregnant people

snore, with snoring typically getting worse during the third trimester.
Obstructive sleep apnea affects as many as 1 in 5 people

during pregnancy.
Restless legs syndrome affects up to one third of people

during their third trimester.
Having a sleep disorder during pregnancy may increase the odds of a premature birth by 40%. | Learn more
Children and Sleep 
The importance of sleep during adolescence
Babies spend more than half

of their time sleeping.
Babies up to 1 year old need 12 to 16 hours of sleep each day, including naps.
Babies born prematurely may spend around 90% of their day asleep.
Sudden infant death syndrome (SIDS) is a leading cause of death for babies younger than 1 year old.
More than twice as many

of SIDS deaths occur among non-Hispanic Black, American Indian, and Alaska Native babies per 100,000 live births than non-Hispanic white babies. | Learn more
20% to 30% of children have trouble falling asleep or staying asleep

.
Ages 1 to 2 need 11 to 14 hours of sleep.
Ages 3 to 5 need 10 to 13 hours of sleep.
Ages 6 to 12 need 9 to 12 hours of sleep.
According to estimates, 10% to 50% of children ages 3 to 6 have

occasional nightmares

.
Kids share a bedroom in 70% of households with two or more children. | Learn more
30.8% of parents and guardians say their school-age children are not getting enough sleep. | Learn more
As many as 70% of children with ADHD have

mild to severe sleeping problems

.
Children who lose 39 minutes of sleep or more

have a harder time coping at school and typically feel worse than those getting enough sleep.
For teens between the ages of 13 to 19, average total sleep per night drops by 40 to 50 minutes

.
58% of middle schoolers and 72% of high school students get

less than the recommended amount

of sleep for their age.
78% of adults say getting enough sleep is more important than being successful at a video game, compared to 60% of adolescents. | Learn more
Adolescents push their bedtime back by 16 minutes

for every 30 minutes they spend playing video games.
Parents and Sleep 
Coping with sleep loss as a new parent
Sleep satisfaction and duration significantly decrease immediately after the birth of a child, with the effects lasting up to 6 years.
New mothers are shown to lose 62 minutes of sleep on average, compared to 13 minutes for new fathers.
43% of single parents

sleep less than seven hours per night, compared to 33% of adults in two-parent homes and 31% of adults with no children.
36% of parents

bed share with their children between the ages of 2-5.
Mental Health and Sleep
The connection between our emotional health and sleep
40% of people with insomnia

may have a diagnosable mental health condition.
70% of adults with seasonal affective disorder (SAD) feel tired in the winter, compared to 44% of those without it | Learn more
Individuals with SAD who practice light therapy during the winter are 36% less likely

to experience a depressive episode.
83% of adults

with depression may have at least one symptom of insomnia.
54% of adults say stress and anxiety were the top reasons they have trouble falling asleep. Sunday was the night of the week in which they had the most trouble falling asleep. | Learn more
As much as 91% of adults

with post-traumatic stress disorder (PTSD) have symptoms of insomnia.
80% of people with PTSD have nightmares within three months of experiencing trauma.
Wildfires can cause as much as 135 hours of lost sleep per year for adults. 77% of adults who have lost sleep to wildfires cite anxiety as the reason. | Learn more
Bedtime Rituals and Sleep
How bedtime rituals impact our sleep
Watching TV is the top bedtime ritual among U.S. adults, with 53% of people saying they do it before bed.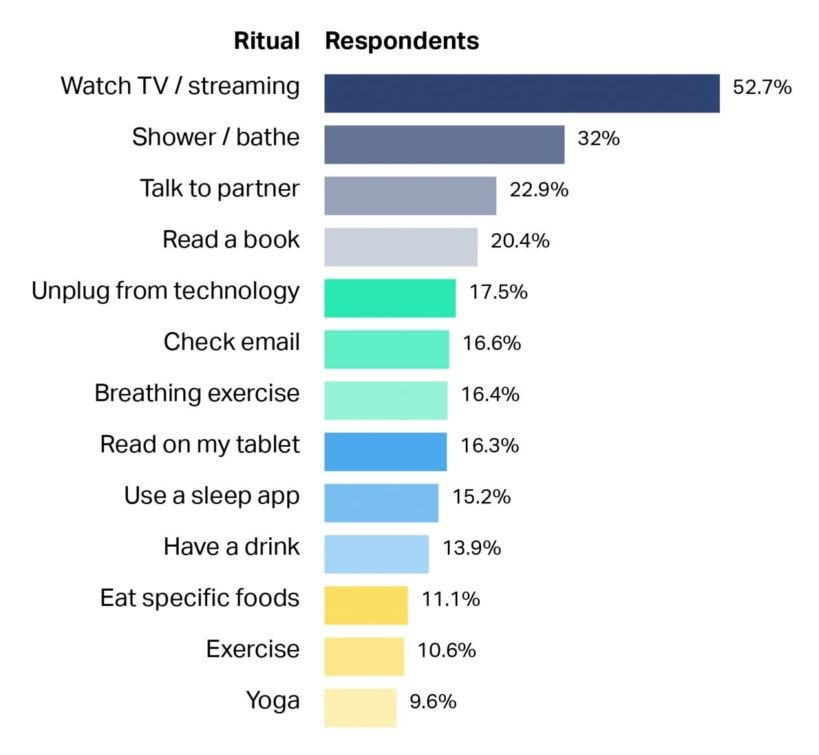 Melatonin and Sleep 
Understanding the sleep hormone
88% of adults who take melatonin say it helps them fall asleep faster.
56% of adults have consumed at least one sleep aid in the past month, 49% of adults have used melatonin, which is the most popular sleep aid. | Learn more
The average melatonin dosage for adults is 4.8 milligrams. 71% of adults take 5 milligrams of melatonin or less. | Learn more
On average, adults who take melatonin do it 211 days each year. 39% of adults take melatonin every day.
Melatonin use increased 425% between 1999 and 2018

among adults.
88% of melatonin products

are inaccurately labeled. An analysis of melatonin supplements found that they may include 347% more melatonin per dose than what is on the label.
46% of parents report giving melatonin to their children under 13 to help them fall asleep. | Learn More
Sleep Aids and Sleep 
The prevalence and influence of sleep aids
8% of adults say they took medication to help them sleep at least four times

in the past week.
58% of respondents with seasonal affective disorder use sleep aids, compared to 26% of those without it, according to a SleepFoundation.org survey.
79% of adults who take prescription sleep medication

experience a residual effect

such as oversleeping, feeling groggy, or having a hard time concentrating the next day.
20% of adults

use marijuana or cannabidiol (CBD) as a sleep aid.
23% of adults have taken Benadryl, or diphenhydramine, as a sleep aid in the past month.
28% of adults

use a cellphone to track their sleep. These include sleep-tracker apps.
Sex and Sleep 
The effects of sleep on sex
Insomnia may be a risk factor for sexual dysfunction, with both insufficient and disrupted sleep linked to a higher risk of erectile dysfunction.
Getting an extra hour of sleep for women can increase the interest in partnered sexual activity up to 14%

.
30% of couples who started sleeping in separate beds cited their sleep habits as the reason. | Learn more
8% of patients

at a sleep disorders center reported experiencing symptoms of sexsomnia, also known as sleep sex.
More than 70%

of people report experiencing a sex dream at least once in their life.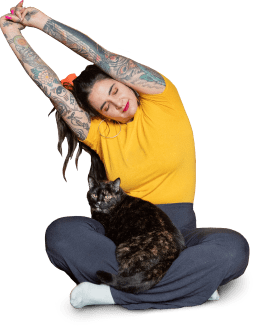 Your Diet and Sleep
What you eat can impact your sleep
Diet and nutrition affect the quality of your sleep and your food choices can make it easier or harder to get the sleep you need.
Drinking more than two servings of alcohol per day for men and more than one serving per day for women can decrease sleep quality by 39%

.
51% of adults who sleep more than normal over Thanksgiving cite overeating and alcohol consumption as the reason. | Learn more
On average, adults snack before bedtime 3.9 nights each week. Adults who snack on seeds and nuts before bed sleep 32 minutes more, on average, than those who snack on chips, crackers, or pretzels. | Learn more
Eating within two hours before bed is linked to later bedtimes, trouble falling and staying asleep, and obesity.
Caffeine and Sleep
How coffee and caffeine can hurt our sleep
Most adults can safely consume up to 400 milligrams

of caffeine each day, which is roughly equivalent to four cups of coffee.
94% of Americans drink caffeinated beverages, with 64% drinking them every day. | Learn More
71% of SleepFoundation.org survey respondents drink coffee every day. 70% think caffeine has an impact on their sleep.
Top sleep issues reported by caffeine-drinkers include daytime sleepiness, fatigue, and insomnia. 30% of survey respondents reported experiencing anxiety.
The half-life of caffeine, or the time required for just half of it to be eliminated from the body, is usually 4 to 6 hours, but can be anywhere from 2 to 12 hours.
Coffee promotes alertness and reduces tiredness by blocking adenosine receptors and preventing its sleep-promoting effects. However, once the effects wear off, people can experience sleepiness and muscle fatigue

.
Daylight Saving Time and Sleep
Is DST affecting our sleep?
The majority of Americans support abolishing Daylight Saving Time (DST), but legislation to make DST permanent year-round has not been enacted. While it is believed major sleep disruptions are less likely to occur when DST ends, one study

found that in the week after the November time change, people experienced the following:
115% increase in difficulty falling asleep
103% increase in excessive daytime sleepiness
64% increase in difficulty staying asleep
34% increase in sleep dissatisfaction
Your environment and sleep
Optimizing Your Bedroom for Better Sleep 
Researchers have established a link between using blue light emitting devices before bed and increases in the amount of time it takes someone to fall asleep.
The median household has five electronic devices, and 18% of homes are hyper-connected

, containing 10 or more devices.
57% of teens

who use technology in the bedroom, such as a television or smartphone, suffer from sleep problems.
The best room temperature for sleep is approximately 65 degrees.
Your core body temperature generally hovers around 98.6 degrees, but fluctuates by about 2 degrees throughout the night.
Infants more sensitive to changes in temperature may benefit from a bedroom that is warmer, up to 69 degrees.
A sleeping environment that is too warm can interfere with the body's thermoregulation and affect the time spent in different sleep stages

. A cold bedroom temperature is not considered to be as detrimental to sleep quality.
Got a hot tip? Pitch us your story idea, share your expertise with SleepFoundation.org, or let us know about your sleep experiences right here.
Learn More About How Sleep Works
Other Articles of Interest