Best Organic Mattresses
Methodology
We personally test every mattress featured in our reviews and guides to provide accurate, data-driven recommendations.
Learn More
Up-to-Date
We recently updated this list to include the Plank Firm Natural as our pick for best firm mattress. The Birch Mattress remains our best overall pick.
In recent years, we've seen a growing number of mattress brands that incorporate organic components to make their products more sustainable and environmentally friendly. While many beds feature natural materials, the term "organic" is reserved for components that have received certifications from reputable authorities such as the Global Organic Textile Standard (GOTS), Global Organic Latex Standard (GOLS), and the U.S. Department of Agriculture. Some of the most common organic materials used in today's mattresses include latex, cotton, and wool.
Organic mattresses hold a unique distinction within the mattress industry, but our testing team evaluates them with the same criteria we use for non-organic models. To come up with top picks, our crew tested dozens of organic mattresses and rated them for durability, pressure relief, temperature neutrality, and other performance categories. The mattress testers represent a range of body types and sleep positions, which also allowed us to determine which types of sleepers will feel most comfortable on a given bed.
Best Organic Mattress Video
Watch our video below to learn more about our lab's top picks for best organic mattress.
These top picks earned the highest ratings from our testing team. Each one has at least one component that has received an organic certification. To learn more about these mattresses, scroll down to read our in-depth product profiles. This page also includes a detailed buyer's guide that discusses some important considerations for mattress buyers, as well as an overview of what constitutes an "organic" material. If you're also in the market for bedding, check out our list of best organic sheets.
Product Details
We consider the Birch to be a standout organic mattress for a few reasons. These include a true medium firm (6) feel, which delivered a comfortable balance of cushioning and support for our testers across different body type and sleep position groups. An approachable price-point also makes the Birch one of the most affordable organic models we've tested.
How It Performed
The Birch drew positive ratings from most of our testers. The most favorable responses came from our side sleepers weighing at least 130 pounds, back sleepers between 130 and 230 pounds, and stomach sleepers up to 230 pounds. That said, nearly all of us awarded the mattress a rating of "good" or better.
Using thermal body sensors, we detected minimal heat buildup when testing the Birch for temperature control. We attributed this to the bed's breathable comfort layers and strong airflow through the coil system. Our testers also encountered very little resistance when moving across the surface, and we noticed strong pushback during our edge support tests. Since high-quality latex resists indentations over time, we've also given the Birch an above-average rating for expected durability.
What It's Made of
The Birch begins with an organic cotton cover, followed by layers of organic wool that act as a fire barrier while also cooling off the mattress' surface. A comfort layer of natural, ventilated Talalay latex makes the surface feel responsive. The pocketed coil support core also adds to the Birch's bouncy feel. Wool and rayon fibers form the base layer for added fire protection and stability. At 11 inches thick, the Birch is considered a medium-profile mattress and is shorter than many of the other latex hybrids we've tested. This may be an appealing quality for people who struggle getting in and out of taller beds.
The cotton cover holds certification with the Global Organic Textile Standard (GOTS). Another notable certification for the mattress comes from the PGC Wrightson Wool Integrity Program, which ensures the sheep used to obtain the wool layers are treated ethically and humanely. Additional honors for the mattress include GREENGUARD and eco-INSTITUT certifications, which test for harmful chemicals and emissions.
The Birch's sticker price is much lower than that of the average latex hybrid, and shipping is free to all 50 states. Your purchase also includes two Birch pillows at no extra cost. The sleep trial runs for 100 nights, and those who keep their mattress also receive a 25-year warranty against structural defects.
Read our Full Birch Mattress Review to learn more
Many latex hybrids on the market tend to be on the expensive side, but the Silk & Snow Organic is a notable exception. This mattress uses high-quality, organic materials that earned high ratings from our testers while keeping a lower-than-average price-point.
How It Performed
The mattress has a medium firm (6) feel that performed best among our team's side and back sleepers. Our side sleepers between 130 and 230 pounds and back sleepers weighing up to 230 pounds were particularly impressed with the mattress' cradling for pressure points and supportive coil system. Stomach sleepers who weigh less than 130 pounds may find the mattress comfortable, but those in other weight categories will probably sink too deeply.
Thanks to the use of breathable components like wool, latex, coils, and cotton, this is one of the coolest mattresses we've tested. Our heat guns detected minimal buildup on the surface. We also recommend the mattress if you and your partner value both responsiveness for sex and motion isolation. The latex comfort system absorbed a good amount of movement transfer and noise during our tests. Meanwhile, latex's naturally bouncy feel made it easy to move across the mattress with little to no restriction.
What It's Made of
A layer of Joma wool acts as a natural fire barrier while adding cushioning to the surface. Next is a thick layer of GOLS-certified organic Dunlop latex that gently cradles your body to alleviate pressure buildup. The support core features a pocketed coil system in a zoned configuration. Thinner coils are located beneath the head and foot of the mattress to cradle lighter areas of the body, while thicker coils in the center prevent midsection sagging. Extra coils line the perimeter of the mattress to bolster the edges, making it easier for you to sit or lie near the edges. A breathable cover made from GOTS-certified organic cotton encases the mattress.
Silk & Snow ships free to customers in the contiguous U.S. and provincial Canada. A 100-night sleep trial allows you to test the mattress and return it anytime after the 30-night break-in period for a full refund. The Silk & Snow Organic is backed by a 15-year manufacturer's warranty.
Read our Full Silk & Snow Organic Review to learn more
Saatva is known for luxurious and eco-friendly sleep products, but the Latex Hybrid takes sustainable design to the next level with a slew of organic, natural, and recycled materials. The mattress also benefits sleepers with multiple zoned layers to reinforce areas of weight concentration while cradling the head and legs.
How It Performed
The Latex Hybrid has a medium firm (6) feel. During our tests, the back and stomach sleepers on our team weighing up to 230 pounds received gentle contouring and sufficient reinforcement – two key factors for comfortable sleep among people who use these positions. Our side sleepers weighing at least 130 pounds also gave the mattress favorable ratings.
Our tests showed better-than-average pressure relief compared to other latex hybrids. We've attributed this to the bed's zoned transitional and support layers, which push back against extra weight around the midsection to prevent excessive sinkage. We also noted steady airflow throughout the mattress and a breathable cover also reduced heat buildup during our temperature control tests.
What It's Made of
The Latex Hybrid is constructed with a New Zealand wool top layer that serves as a fire barrier and keeps you cool during the night. The comfort layer is composed of ventilated, natural Talalay latex that responds to movement with a strong bounce, allowing you to move across the surface with ease. This layer is divided into five firmness zones for extra support to your chest, stomach, and hips. Similar zoning is found in the pocketed coil support core. These coils are also thicker along the perimeter to keep the edges even when you get in and out of bed. A cover made of organic cotton encases the entire mattress.
GOTS certifications for the organic cotton cover and wool batting layer ensure these materials have been sustainably and ethically sourced. The coils are made of recycled steel. Another eco-friendly component is the Guardin antimicrobial treatment applied to each Latex Hybrid model during production. This is a green alternative to chemical sprays often used to safeguard mattresses against harmful bacteria.
Saatva is one of the only online mattress brands offering free White Glove delivery throughout the contiguous U.S. This service includes a scheduled delivery date, full assembly of the Latex Hybrid in a room of your choice, and removal of your old mattress and box spring upon request. The company's sleep trial lets you test out the mattress for an entire year, and your purchase is also backed by a lifetime warranty.
Read our Full Saatva Latex Hybrid Review to learn more
The WinkBeds EcoCloud's combination of deep cushioning and targeted support makes it an approachable mattress option for a wide range of sleepers. The mattress achieves this balanced medium (5) feel with a thick comfort layer reinforced with robust pocketed coils, both layers zoned to feel firmer and denser beneath heavier areas of your body.
How It Performed
Our tests show the EcoCloud provides adequate contouring for side sleepers while maintaining an even sleep surface for back and stomach sleepers. Ratings were particularly strong among our side and back sleepers weighing up to 230 pounds. We all noticed generous pushback around the midsection, but this didn't affect cushioning from the thick latex comfort layer.
Temperature control, ease of movement, and edge support were some of the EcoCloud's strongest performance areas during our tests. These are areas where latex hybrids typically stand out. The thick comfort layer and softer feel also earned the mattress high marks for pressure relief, an area where latex hybrids often underperform.
What It's Made of
The EcoCloud contains two layers. The comfort layer consists of Talalay latex measuring 4 inches thick. Our testers noticed a highly responsive surface that also cushions and contours closely. The latex is divided into five different zones to ensure extra reinforcement around your midsection and softer cradling for lighter areas of your body. The mattress' pocketed coils are zoned in similar fashion. Thicker coils also reinforce the perimeter to prevent excessive sinkage when you get in and out of bed. A cover made of a cotton-wool blend encases the mattress.
The cotton in the cover is GOTS-certified, and the wool it's blended with is natural and sourced from New Zealand. The latex also holds a Rainforest Alliance certification, indicating the rubber trees used to produce the latex are sustainably grown and harvested.
A competitive price-point and free shipping throughout the contiguous U.S. make the EcoCloud a high-value option for organic mattress shoppers. WinkBeds' sleep trial runs for 120 nights. If you decide to keep the mattress, you'll also receive a lifetime warranty.
Read our Full WinkBeds EcoCloud Review to learn more
If you sleep on your side, then pressure relief and adequate support for sensitive areas along the spine are equally important for a good night's sleep. The Nolah Natural 11 is better suited for side sleepers than many competing latex hybrids, and this is largely due to its deep comfort system with two latex layers. A zoned support core adds extra reinforcement for the shoulders, hips, and other areas where pressure tends to build when you lie on your side.
How It Performed
During our tests, the Nolah Natural 11 received a positive response across all sleeper categories. Ratings were especially strong from side sleepers weighing at least 130 pounds, who noted even contouring and adequate cushioning from the latex layers. Our back sleepers weighing up to 230 pounds and stomach sleepers under 130 pounds also felt comfortable on the mattress. The zoned coils pushed back against their midsections, allowing them to lie comfortably without sinking too much.
The latex layers and coils give the surface considerable bounce, which we felt when testing the Natural 11 for ease of movement. A sturdy perimeter helped us get on and off the mattress with relative ease. As is usually the case for latex hybrids, we gave the Natural 11 exemplary ratings for temperature control and expected durability.
What It's Made of
Many of the latex hybrids we've tested contain a single latex layer. The Nolah Natural 11 is a standout because it is constructed with two latex layers, the first being softer and more adaptive than the second. This resulted in deep cushioning as we got onto the mattress, followed by more pushback as our bodies settled into the second, denser layer. The coils are zoned to be thicker and stronger beneath your torso and hips, so you'll notice extra support in these areas.
A cotton cover encases the mattress, and a thin layer of wool batting is sewn onto the surface to act as a fire barrier. Both the cotton and wool are GOTS-certified. The foundational layer also features these organic materials. Natural latex is used in the comfort system.
Seven sizes are available for the Natural 11, including a split king intended for couples who share adjustable beds. The Natural 11 is affordably priced compared to the average latex hybrid and shipping is free throughout the contiguous U.S. Nolah includes a 120-night sleep trial with each order. You can opt out of the trial if you wish and cut your up-front costs by as much as $150, though this means you won't be able to return the mattress at any point. Those who keep their Natural 11 receive lifetime warranties.
Read our Full Nolah Natural 11 Review to learn more
Many sleepers with back pain find relief through all-latex mattresses, which gently adapt to the body without the deep hug or sinkage of foam layers. The PlushBeds Botanical Bliss is an all-latex model available in multiple firmness and thickness levels, allowing you to choose the design best suited to your body type and primary sleep position.
How It Performed
We've personally tested each firmness and thickness option for the Botanical Bliss. Overall, models with a medium (5) feel earned their most favorable ratings from our testers weighing up to 230 pounds, particularly side and back sleepers. We attribute this to deep contouring and cushioning from the latex layers. The firm (7) feel was better suited to our testers who weigh more than 230 pounds, though back and stomach sleepers between 130 and 230 pounds also felt comfortable lying on these models.
Profile also played a role in our tests. The 9-inch and 10-inch models provided adequate support to our testers weighing up to 230 pounds. Those of us who weigh more preferred the added reinforcement of the 12-inch model. Since all layers of the Botanical Bliss are ventilated and the top layer is composed of moisture-wicking wool, we don't expect bothersome heat retention to be an issue. The natural responsiveness of latex also makes the surface easy to move across, and the mattress should be suitably bouncy for most couples during sex.
What It's Made of
The Botanical Bliss' specific construction depends on the profile you choose. The 9-inch and 10-inch model contain three individual latex layers, and the latter has a slightly thicker top layer. The 12-inch model features four individual layers. All beds include a top layer of wool batting that adds an inch to the profile. The cover encasing the mattress is made of organic cotton. Please note this mattress is quite heavy, weighing more than 200 pounds in its thickest and largest designs.
The Botanical Bliss holds a wide array of eco-friendly certifications. All latex layers have earned a Global Organic Latex Standard (GOLS) certification. Likewise, the cotton cover and wool batting are GOTS-certified. Additionally, all three materials are certified as organic by the U.S. Department of Agriculture. A Forest Stewardship Council certification also ensures the rubber trees used to produce the latex are sustainably grown and cultivated.
The Botanical Bliss is available in nine sizes, including split queen, split king, and split California king for couples who share adjustable beds. Price-point varies by size and thickness. PlushBeds offers free shipping anywhere in the contiguous U.S. The company's sleep trial spans 100 nights in length, and those who keep their mattress receive a warranty covering structural defects for up to 25 years.
Read our Full PlushBeds Botanical Bliss Review to learn more
Awara's Premier Latex Hybrid is another organic mattress that strives for balanced comfort. The Euro-top is cushioned with a thick latex comfort layer that rests on robust pocketed coils. This creates a medium firm (6) feel, which should appeal to anyone who wants even contouring and strong support. Our tests show the mattress is particularly well suited to co-sleepers. The surface is springy and easy to move across, the edges feel highly stable, and the breathable design effectively limits heat buildup.
How It Performed
The Premier Latex Hybrid earned solid ratings from most of the testers on our team. Our side and back sleepers weighing at least 130 pounds and stomach sleepers between 130 and 230 pounds were particularly impressed with the mattress' overall stability. At the same time, they found that the deep latex layer created an invitingly plush feel with comfortable cushioning. This prevented the surface from feeling excessively firm.
We noticed minimal sinkage during our edge support and ease of movement tests, which is typical of other latex hybrids we've tested. Our thermal sensors did not detect much heat buildup, and most of our testers experienced little to no pressure while lying on the mattress. Based on the natural durability of latex and the Premier Hybrid's thick coil system, we anticipate a longer-than-average lifespan for this mattress.
What It's Made of
A 4-inch layer of Dunlop latex cushions the Premier Latex Hybrid's Euro-top. Dunlop latex is denser and slower to respond than Talalay latex, so you should expect deeper contouring from this mattress. That said, we still found the surface fairly bouncy – especially compared to hybrids with foam layers. The support core contains pocketed coils, and the entire mattress is encased in a cover made from cotton-wool blend fabric.
The cotton and wool used in the Premier Latex Hybrid's cover are both certified as organic. Additionally, the latex has earned certification from the Rainforest Alliance. This ensures the rubber trees used for latex extraction are responsibly and sustainably grown.
The Awara Premier Latex Hybrid is competitively priced and shipping is free throughout the contiguous U.S. Your order comes with a generous sleep trial, allowing you to test the mattress for up to a year before deciding to return it or keep it. If you opt for the latter, you'll receive a lifetime warranty covering excessive sinkage and other structural defects.
Read our Full Awara Premier Latex Hybrid Review to learn more
The Latex for Less Hybrid Latex Mattress is a latex hybrid available in two firmness levels: medium (5) and firm (7). Both have an exceptionally responsive feel that earned high ratings in our ease of movement tests. This makes the mattress a great choice if you tend to toss and turn at night.
How It Performed
Performance differs slightly depending on the firmness level you choose. The mid-range feel earned decent marks across sleeping position preferences, but it especially appealed to side sleepers between 130 and 230 pounds. Back and stomach sleepers weighing less than 130 pounds should also feel supported. Meanwhile, our back and stomach sleepers in other weight categories enjoyed the firmer model's even sleep surface. Side sleepers weighing more than 230 pounds should also feel comfortable.
All models have a responsive feel and earned high ratings during our edge support tests. These mattresses are great choices if you and your partner prefer a bouncy surface for sex that's easy to move across. Latex is a naturally breathable material on its own, but the addition of a cotton cover and wool comfort system further encourage airflow. Our temperature control tests found little to no heat retention on the surface.
What It's Made of
Both models begin with a comfort layer of wool that gives the surface a plush feel and acts as a fire barrier. A Dunlop latex comfort layer cradles your body to alleviate pressure buildup while staying responsive. Pocketed coils make up the support core, reinforcing the sleep surface to prevent uncomfortable sagging. A breathable cover made from GOTS-certified organic cotton encases the mattress.
Latex for Less ships free to customers living in the contiguous U.S. Your purchase comes with a 120-night trial to test the mattress. If you decide to keep the Latex for Less Hybrid Latex Mattress, it is backed by a 20-year warranty against structural defects.
Read our Full Latex for Less Hybrid Latex Mattress Review to learn more
The Plank Firm Natural is an organic mattress with a lot to offer. The latex hybrid provides excellent support for fans of firm beds, but the standout feature is a reversible design that allows you to choose between two firmness levels. If you're in the market for a supportive bed, you'll have two strong options to choose from with this mattress.
How It Performed
Our test team rated the firmer side an 8 on our 10-point firmness scale, while the softer side was rated medium firm (6). We found the firm side was comfortable for most back sleepers over 130 pounds and stomach sleepers, since it offered sturdy support to keep the spine properly aligned. The medium firm side offered more contouring and was best suited to side sleepers and back sleepers who enjoy beds with some cushioning for pressure-sensitive areas like the shoulders, hips, and spine.
The mattress is made with latex and wool, which both have cooling properties, so we recommend this bed for sleepers who run hot. The coils also promote airflow and help keep the bed's interior nicely ventilated. Thicker coils reinforce the mattress perimeter, giving it strong edge support. We found the surface very easy to move around on.
What It's Made of
Both sides of the Plank Firm Natural have an organic cotton cover quilted with plush, breathable wool. The cotton is GOTS-certified to ensure it has met rigorous standards for organic sourcing. Next is a layer of Talalay latex that gives the surface a responsive feel. Between the two sides is a thick support core composed of pocketed coils that generates sturdy support while gently responding to your body.
The Plank Firm Natural ships free to addresses in the contiguous U.S. The mattress is backed by a 120-night sleep trial and a 10-year warranty.
Painful pressure points along the spine are a barrier to healthy sleep for many people. Mattresses that cushion the body tend to excel at pressure relief, but support is also key. With the Spindle Organic Latex Mattress, you can modify and adjust the feel whenever you wish. This ensures a comfortable balance of contouring and pushback every night, even if your weight or personal preferences change over time.
How It Performed
Each Organic Latex Mattress comes with medium soft (4) medium (5), and firm (7) latex inserts. These inserts are interchangeable within the mattress cover, allowing you to rearrange them and create your ideal firmness. We tested various configurations and found each one has a distinct feel. Our testers' favorite configurations largely fell in line with their body types. Testers under 130 pounds preferred the medium soft insert on top, while those of us weighing at least 130 pounds preferred either the medium or firm insert on top – or both, in some cases.
The mattress earned high marks during our temperature control tests thanks to its cotton cover, moisture-wicking wool fire barrier, and ventilated latex layers. Since the latex is more responsive and less adaptive than memory foam, none of us sank too much or felt trapped while moving across the surface. We recommend the mattress to couples who need a mattress that reduces pressure and prefer a bouncy surface for sex.
What It's Made of
The Organic Latex Mattress contains three latex inserts, each measuring 3 inches thick. The wool batting sewn onto the cotton cover adds an additional inch to the profile. A wraparound zipper allows you to open the mattress and rearrange the inserts as you see fit. The inserts are encased in cotton liners for easy adjustments. However, take caution when lifting the inserts as they can weigh up to 50 pounds apiece. GOTS and GOLS certifications ensure all of the mattress' components come from sustainably sourced materials.
As part of Spindle's Comfort Life program, you can purchase new latex inserts at a 30% discount up to 25 years after purchasing your Organic Latex Mattress. This can be particularly useful if you decide you want an even softer or firmer feel from your mattress than the three standard-issue inserts can provide. Shipping is free within the contiguous U.S., and all mattress orders include a generous year-long sleep trial.
Read our Full Spindle Organic Latex Mattress Review to learn more
Each sleep position has unique needs. If you primarily sleep on your back, you'll likely prefer a mattress that cushions areas where pressure builds along the spine while also maintaining an even surface for your entire body. This description fits the Natural Escape to a tee. One of the most popular offerings from My Green Mattress, the Natural Escape offers a medium firm (6) feel and a zoned coil system to ensure even the heaviest areas of your body receive adequate support.
How It Performed
Our hands-on tests show the Natural Escape is best suited to side and back sleepers. In particular, our side sleepers weighing at least 130 pounds and back sleepers between 130 and 230 pounds were impressed by the mattress' balanced construction. We noticed ample pushback around the middle and along the perimeter, where the support core's lowest-gauge coils are located, but the surface was still somewhat adaptive and never felt overly stiff.
The reinforced perimeter also helped the Natural Escape ace our edge support and ease of movement tests. Based on these two factors and high marks in our temperature control tests, we also gave the mattress high marks for sex.
What It's Made of
The Natural Escape's construction is typical of other latex hybrids we've tested. Individual components include a cotton cover, wool fire barrier, Dunlop latex comfort layer, and pocketed coil support core. However, our team was impressed with how precisely the support core is zoned. The thinnest coils – with a gauge of 15.5 – are located beneath the head and legs for gentle cradling, 14.5-gauge coils reinforce the midsection, and ultra-sturdy 13.5-gauge coils limit sinkage along the perimeter. The cotton and wool are GOTS-certified, and the latex is GOLS-certified.
The Natural Escape is reasonably priced compared to the average latex hybrid, and shipping is free throughout the contiguous U.S. Each order includes a 120-night sleep trial, during which you can return the mattress for free after testing it for at least 30 nights. My Green Mattress backs the Natural Escape with a 20-year warranty against structural defects.
Read our Full My Green Mattress Natural Escape Review to learn more
---
Other Mattress Guides
If you'd like to refine your search for a bed beyond an organic mattress, take a look at our other recommendations broken down by mattress type.
How to Shop for Organic Mattresses Video
What Makes a Mattress Organic?
Technically speaking, no mattress is 100% organic. Even the most eco-friendly beds we've tested contain coils, adhesives, small hardware parts, and other components that are at least partially synthetic. However, truly organic materials may be used to construct the mattress, and some beds are primarily made of such materials.
Certifications are key to help us separate mattresses with sustainable materials from their imitators. The certification should come from an organization that is unbiased and not affiliated with the brand. The most reputable brands will include links or downloadable files for these certifications that you can easily access.
What Types of Beds Are Organic?
Beds with certified-organic materials generally fall into one of two categories: latex or latex hybrid.
Latex is derived from the sap of rubber trees, and processed using one of two methods – Dunlop or Talalay – to create a responsive, foam-like material. How the latex is processed and which chemicals are used can help you determine whether or not it can be certified as organic by organizations like the GOLS (we'll dive deeper into the organic certification process shortly).
Natural latex is a bit trickier because there's no official certification akin to the GOLS standard for organic latex. If a brand offers a model with natural latex, you should inquire about the specific composition. Some "natural latex" layers contain a fair amount of synthetic fillers.
Latex may also be blended, which usually means it contains between 20 and 40% natural latex. Synthetic latex, on the other hand, may consist entirely of chemicals and other man-made components. These materials are often used in mattresses with lower price-points. Blended and synthetic latex tend to be less durable than organic or mostly natural latex.
Some newer hybrid models you'll encounter substitute latex for cotton and/or wool batting, which may also be certified as organic. As for the coils found in hybrids, they will almost always be made of steel, which is rendered using chemical-based processes – though some brands prioritize recycled or upcycled steel. If other components are organic or natural, then you could reasonably consider the mattress to be eco-friendly.
Other mattress types contain few, if any, organic materials. Take all-foam beds or innersprings with foam layers. Some have organic cotton covers, but the polyfoam and memory foam used in these models is polyurethane-based and will never be certified as organic.
That said, some manufacturers make an effort to produce toxin-free mattress foams in fairly sustainable ways. Mattresses from these brands might be a more cost-effective option if you are an eco-conscious shopper who doesn't like the feel of latex, or would rather not pay the high sticker price of a certified-organic mattress.
Why Consider an Organic Mattress?
However expensive they may be, we consider organic mattresses to be a pretty sound investment for some sleepers. Beds with these materials offer certain benefits and advantages over models with synthetic components.
Durability is a huge selling point for mattresses with organic components because their long lifespans somewhat make up for the expensive price-points. The average mattress will perform for about 6 to 8 years before wear and tear, loss of support, and other issues will compel you to buy a new bed. Beds with organic materials typically exceed the 8-year mark.
Organic latex is a prime example. The organic latex used in mattresses has natural resilience that allows it to bounce back and resist deep body impressions very well. Blended and synthetic latex will usually wear out more quickly. The average lifespan of a mattress with organic latex layers is about eight and a half years. For models with blended or synthetic latex, the lifespan is closer to seven or seven and a half.
Another advantage of organic mattresses is lower odor potential. When you unbox a bed with foam layers, the material will release off-gassing particles known as volatile organic compounds, or VOCs. Don't be confused by the word "organic" in their name – VOCs only come from synthetic materials. The Environmental Protection Agency notes that exposure to VOCs – especially indoors – can trigger headaches, nausea, fatigue, and other adverse health effects. Furthermore, VOCs carry a distinct chemical odor you may find unpleasant, and some beds continue to smell long after they have been unboxed.
Latex and latex hybrid mattresses may also produce a noticeable smell at first, but this is due to the material's natural odor and not VOC off-gassing. Very few people who own these mattresses report bothersome smells once the bed has aired out for a few days. The same is true of organic wool, which has a distinct, temporary natural odor but does not emit any VOCs.
Organic mattresses have also been tested for other potentially harmful substances. The GOLS and GOTS test for hazardous substances in latex and textiles, respectively. The OEKO-TEX Standard 100 also certifies that textile materials do not contain any harmful components. Rest assured: with the right certifications, you can buy a mattress knowing it does not contain any materials that pose a threat to your wellbeing.
Lastly, and perhaps most importantly, mattresses with organic and/or environmental certifications are simply better for the planet. Whether they've been certified for natural materials, sustainable farming practices, or ethical treatment of animals, the brands that make these mattresses are taking extra measures to conserve resources, reduce their footprint, and contribute to our planetary health.
You may shy away from organic mattresses because these models often come with steep price tags. How much do organic mattresses cost? That depends on the specific materials, as well as the brand. The average all-latex or hybrid mattress costs between $1,600 and $2,000 in a queen size, and as we've seen, the use of organic materials can easily drive up the cost beyond the $2,500 mark.
Are organic mattresses worth it? Absolutely, provided their price-point is within your budget.
Sustainable vs. Organic
"Organic" is an official term referring to agricultural products derived from specific, approved methods. The U.S. Department of Agriculture maintains a full list of standards for organic products, including how plants are grown, which materials can be used in manufacturing, and how the products are labeled. The GOLS and GOTS have comparable criteria.
"Sustainable" is a less official term, even if its standards are similar. A widely accepted definition for sustainability comes from the United Nations Commission on Environment and Development: "Sustainable development is development that meets the needs of the present without compromising the ability of future generations to meet their own needs."
Although sustainability has many different applications, the term is frequently assigned to environmentally friendly practices that won't deplete non-renewable resources or compromise global health.
Using our terminology, a sustainably manufactured mattress contains materials that have been produced in such a manner. This might refer to latex or cotton plants that are grown and harvested using conservation farming, mattress production facilities that take steps to minimize their carbon output, or brands that use green shipping methods to reduce their carbon footprint.
There are many certifications for sustainably produced materials you'll undoubtedly come across during your mattress search. These include some we've already discussed, such as the Rainforest Alliance certification for sustainable agriculture and forestry practices. A sustainable mattress material may not be certified as organic due to its composition or other factors. However, this does not mean the material is bad for the environment – in many cases, the opposite is true.
Certifications to Look For
As you browse different organic mattresses, you'll notice dozens of certifications. Many of these are awards from unbiased, third-party organizations that certify materials based on rigid standards. Others may be less legitimate.
To help you navigate the potentially confusing process of finding a truly organic mattress, we've outlined three top certifications with a proven track record in the mattress industry. This list is far from exhaustive, and there are many worthwhile certifications to consider.
Gold: GOTS & GOLS
The Global Organic Textile Standard (GOTS) and Global Organic Latex Standard (GOLS) are widely considered the leading certifications for organic mattress materials.
According to GOTS standards, a textile must contain at least 70% organic fibers to be certified as organic. The textile's synthetic components must also meet certain standards for environmental impact and toxicology. In most mattresses that carry this certification, the textile in question will be organic cotton and/or organic wool. These materials are usually found in covers, but – as we've seen with some of our top picks – can also be used in comfort, transitional, and support layers.
According to the GOLS, latex in mattresses must be at least 95% organic to receive the organic certification. The remaining 5% or less consists of chemical agents that form the latex foam, and these must meet certain GOLS criteria, as well. The standard also covers practices on rubber plantations where the latex is cultivated, as well as carbon emissions during production.
Silver: OEKO-TEX Standard 100
Short for the International Association for Research and Testing in the Field of Textile and Leather Ecology, OEKO-TEX tests textiles for the presence of harmful substances. The organization's premier certification is the OEKO-TEX Standard 100.
When submitted for the OEKO-TEX Standard 100, a textile undergoes a rigorous evaluation that includes roughly 100 parameters (hence the name). A full explanation is available and worth the read if you'd like to learn more, but the process boils down to this: every individual component of the textile will be tested for banned substances – such as azo dyes, nickel, and formaldehyde – and materials that may cause adverse health effects, but have not been regulated yet.
The Standard 100 awards certification in four different classes based on how close, if at all, the textile comes into contact with a person's skin.
Class I: Direct-contact products approved for babies and infants up to 36 months old.
Class II: Direct-contact products approved for children and adults over 36 months.
Class III: Textiles primarily used away from the skin, such as pillow fill.
Class IV: Textiles that do not come into direct contact with the skin.
Many inner mattress materials earn the Class IV rating because you'll never see or touch them.
Bronze: CertiPUR-US
The CertiPUR-US certification does not recognize organic or natural mattress materials. Rather, this award is reserved for the foams used in mattresses and other products. According to CertiPUR-US, certified foams do not contain the following components that have been linked to human health problems:
The CertiPUR-US certification also tests for VOC off-gassing. Certified foams must exhibit low VOC emissions for indoor air quality, which equates to less than 0.5 parts per million.
As we've already discussed, an all-foam, innerspring, or hybrid with polyfoam or memory foam layers will never be certified as organic because polyurethane foam is usually 100% chemical-based. However, the CertiPUR-US certification ensures the foam does not contain anything that will make you or your loved ones sick.
What Else You Can Do
Purchasing a mattress with organic or otherwise environmentally certified materials might not seem like much, but little steps like this go a long way toward helping the planet. There are other measures you can take to make your bedroom more eco-friendly, as well.
Recycling or Donating Your Old Mattress
If you purchase a new mattress, what will happen to your old bed? Many people choose to dispose of their former mattress at a dump or landfill. Unfortunately, these establishments – while convenient – are not very eco-friendly. As garbage deteriorates, its chemical components release chemicals into the air, and high volumes of trash can negatively affect soil and water quality in surrounding areas.
Recycling is a much more sustainable way to dispose of a mattress. This process ensures most mattress components will be reused for other products. There are some downsides to recycling a mattress, though. For one, it will require you to transport the mattress to the nearest recycling facility. Most people in urban areas live in relative proximity to a recycling center, but if you're a rural-dweller this can amount to an hours-long drive. The good news: recycling a mattress anywhere in the country is fairly inexpensive, and usually will not cost more than $20 per bed.
"Why do I pay an up-front recycling fee when I buy a new mattress?" That's what you might wonder if you live in California, Connecticut, or Rhode Island. These three states have special laws intended to help reduce mattress-related waste. Mattress brands charge buyers a one-time fee at the time of purchase, and this money is used to fund statewide mattress recycling programs. Fortunately, these fees are fairly low. Californians pay $10.50, Connecticuters pay $10, and Rhode Islanders pay $11.75. In exchange for paying the fee up-front, these residents can recycle mattresses for free at any state facility. People in California even receive a monetary incentive for each mattress they recycle.
An equally sustainable alternative to recycling a mattress is to donate it for reuse. Some organizations will accept used mattresses directly, such as the Furniture Bank Association, which donates beds and other furnishings to needy families. Another option is DonationTown.org, which helps mattress owners find charities in their local area that take used beds. However, most places won't accept damaged, soiled, or overused mattresses.
If you'd rather have someone else recycle your old mattress, consider White Glove delivery. This service from mattress brands includes scheduled delivery, in-home assembly of your new mattress, and removal of your old bed. The couriers will either donate or recycle the old mattress. However, not all brands offer White Glove delivery, it usually costs at least $150, and this service is rarely available outside the contiguous U.S.
How to Dispose of a Mattress – Video
Watch the video below to explore different ways to dispose of your mattress.
Organic Pillows and Bedding
Pillows, sheets, and other bedding may also be certified as organic if they contain certain materials. This allows you to optimize your entire sleep space with eco-friendly products.
Latex pillows are widely available, and many of them contain the same GOLS-certified organic latex found in mattress layers. If the material is not certified as organic, it may also carry certifications for sustainable farming, eco-friendly production, or testing for harmful substances. Organic latex can also be used in mattress toppers, which are layers of padding placed on top of a mattress to change how firm it feels.
Sheets and pillowcases may also be made of GOTS-certified fibers. Organic cotton and organic wool sheet sets are widely available. Organic wool bedding products may also receive additional certifications for responsible and ethical treatment of sheep used to harvest the fibers.
Silk, a natural protein produced by silkworm larvae, can be used to make sheets and pillowcases. Another natural fiber used for bedding is linen, which comes from the flax plant and also has organic potential. Either of these materials may be GOTS-certified if they meet standard criteria. However, certified-organic silk and linen sheet sets are fairly rare, and both tend to be expensive.
Ethical Down
Down refers to the soft inner plumage found on ducks and geese. The material has an exceptionally fluffy and airy feel, making it a great choice for pillow fill. Down is also used as an insulating material in jackets and other garments.
Down production has recently come under fire for the way birds are housed, fed, and plucked. The Responsible Down Standard, or RDS, is a new benchmark for manufacturers meant to curb these often inhumane practices. A major provision of the RDS is that live animals cannot be plucked for down, a practice that often results in open wounds and sores. Additionally, the birds cannot be force-fed and harvesters must demonstrate "holistic respect for animal welfare" up to and during slaughter.
A product must contain 100% ethical down to carry the RDS label. If you see a bedding product with this logo, you can purchase it knowing no ducks or geese came to harm.
Packaging and Return Policies
While you're researching how mattress brands manufacture their products, you should also look into their shipping policies.
Some brands box their beds using recyclable cardboard and other green materials. Mattress-in-a-box companies go a step further by compressing their mattresses for shipping, which reduces their size and the need for larger boxes. Additionally, companies that offer White Glove delivery will deliver directly to the customer's house. This can conserve fuel and other resources related to shipping.
Let's say you haven't finished your new mattress sleep trial but you've already decided to return the bed. Most online mattress brands offer free returns, and this often includes couriers who will come to your house and remove the mattress for recycling or donation. Other brands will require you to recycle the mattress yourself, but still issue a full refund on the mattress.
Why Do People Buy New Mattresses?
Sleepers purchase new mattresses for a variety of reasons. Oftentimes they're replacing a bed that no longer feels comfortable. Other times they're upgrading to a model made with higher-quality — or perhaps more eco-conscious — materials. We polled thousands of Sleep Foundation subscribers to gain a better understanding of the reasons people buy new beds. Below are our results.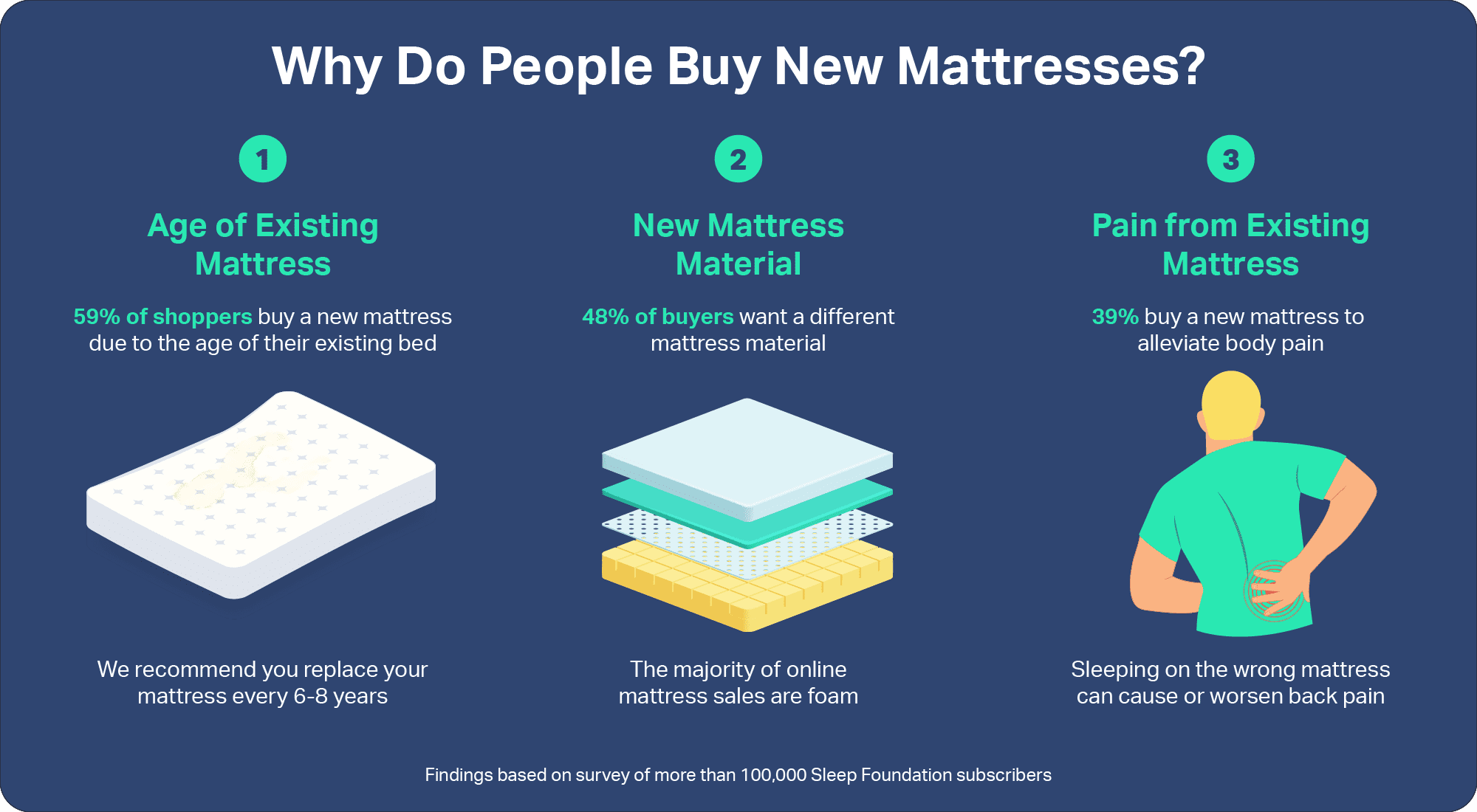 Frequently Asked Questions
Other Articles of Interest