Best Mattress Pads of 2023
Methodology
We personally test every product featured in our reviews and guides to provide accurate, data-driven recommendations.
Learn More
Up-to-Date
After recent tests, we've updated our list to include the Pure Parima Down Alternative Mattress Pad as our best deep-pocket pick. The Saatva Organic Mattress Pad remains our best overall pick.
When you buy through our links, we may earn a commission. Products or services advertised on this page may be offered by an entity that is affiliated with us. Learn more.
A mattress pad is a popular choice for people who want to help keep their mattress in tip-top shape while adding a touch of comfort to their bed. With a design that's simple both to use and clean, a mattress pad is a quick-and-easy way to upgrade your sleeping surface.
Shoppers who start browsing online for mattress pads are confronted by a bevy of options made with a huge diversity of materials and at a wide range of prices. With a crowded set of products, picking out the cream of the crop can be burdensome.
We take the stress out of the process by identifying the best mattress pads in key categories. Whether you're looking for something organic, budget-friendly, waterproof, or built for kids' beds, our guide has you covered. We also provide an in-depth explanation of the benefits of mattress pads, how they compare to mattress toppers and encasements, and the most important considerations when trying to identify your ideal mattress pad.
Product Details
Saatva Organic Mattress Pad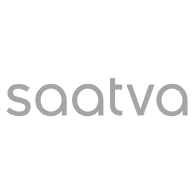 Price: $175
Cover Material: GOTS-certified organic cotton (top panel), GOTS-certified organic cotton and spandex (side panel)
Fill: Organic cotton
Who it's best for:
Shoppers who prioritize natural materials

Sleepers who want the softness and breathability of cotton

Customers looking for an extended sleep trial
Highlights:
Constructed from sustainably sourced, GOTS-certified organic cotton

Deep pocket corners make the pad compatible with most mattresses

Breathable composition ensures good temperature regulation
Sleep Foundation Exclusive Offer!
Buy more, save more. Get up to $450 off!
The Saatva Organic Mattress Pad is our top pick for customers who want a mattress pad made with natural, chemical-free organic cotton.
The top of this pad is made with 100% cotton that has been certified to be organic by the Global Organic Textile Standard (GOTS). GOTS certification requires compliance with strict standards for organic production as well as the fair treatment of workers. For shoppers who want the health benefits of a natural material combined with the environmental and social benefits of sustainable production, the Saatva Organic Mattress Pad is a compelling option.
The cotton in this mattress pad has a thread count of 300, making it soft, smooth, and able to add a welcoming feel to your mattress. At the same time, it is durable and can effectively wick moisture to help you maintain a stable body temperature. The mattress pad has deep side panels that are 4% spandex to give them extra stretch to fit mattresses up to 16 inches deep.
The Saatva Organic Mattress Pad comes with free standard shipping. The Saatva Company has a strong reputation in the mattress and bedding industry for its product quality and customer service. They back this mattress pad with a 45-day trial during which you can return it for a full refund if you aren't satisfied.
Cozy Earth Bamboo Mattress Pad
Price: $203
Cover Material: Viscose derived from bamboo
Fill: Fiber fill derived from bamboo
Who it's best for:
Hot sleepers and people who live in warm areas

Those who don't want to change the feel of their mattress too much

People who prefer very soft bedding products
Highlights:
Exceptional breathability and cooling

Thin profile for minor comfort adjustment

Silky-soft hand-feel
Sleep Foundation Exclusive Offer!
Use this SleepFoundation.org link for the most current discount on Cozy Earth products
In recent years, bedding products made from bamboo-derived materials have become popular among hot sleepers and those who reside in warmer climates. This can be attributed to bamboo's natural breathability. The Cozy Earth Bamboo Mattress Pad is composed entirely of bamboo-based components. The cover is made of silky-soft viscose derived from bamboo, while the fill consists of bamboo-derived fibers that create a plush feel.
The Bamboo Mattress Pad has a fairly thin profile, so it won't drastically change the feel of your sleep surface, but the pad excels at temperature regulation. The elasticated corners are designed to fit mattresses up to 20 inches thick, a range that includes the vast majority of beds sold today.
Caring for the pad is convenient and straightforward. You can wash and dry it in any household machine, provided you don't wash it on a spin cycle or use bleach or fabric softener. Cozy Earth recommends hanging the pad in sunlight two to three times per year to refresh the bamboo fibers.
Cozy Earth offers free shipping throughout the contiguous U.S. Each customer receives a sleep trial that allows them to test out the Bamboo Mattress Pad for up to 100 nights before deciding whether to keep it or return it.
Sijo TempTune Mattress Pad
Price: $175
Cover Material: Tencel and nylon blend
Fill: Clima fill with waterproof membrane
Who it's best for:
Hot sleepers

Shoppers seeking a waterproof pad that is soft and less noisy than competing pads

People who eat or drink in bed
Highlights:
Tencel shell feels soft and wicks moisture

Phase change material in the fill helps neutralize temperature

Waterproof membrane protects bed from moisture
Sleep Foundation Exclusive Offer!
Use this SleepFoundation.org link for the most current discount on Sijo products
Some waterproof mattress pads have stiff or crinkly designs, ultimately compromising on comfort to achieve a waterproof design. However, the Sijo TempTune Mattress Pad offers protection from liquids while still giving sleepers a comfortable surface to sleep on.
The shell is composed of a nylon blend material and Tencel, a fabric known for its softness and moisture-wicking properties. The fill is made of Clima fiber, a phase change material engineered to maintain temperature neutrality. The interior also features a waterproof layer that prevents liquids from seeping into your mattress. This careful construction not only protects your bed from spills and moisture, but also helps keep a cool surface for sleepers who overheat or sweat a lot at night.
The TempTune Mattress Pad is available in four sizes – full, queen, king, and California king. The elasticated design features a 15-inch pocket depth that enables the pad to fit snugly over most mattresses on the market, though it may not be compatible with high-profile beds. You can machine wash the pad in cool water on a gentle cycle, then tumble dry on a low setting.
Sijo allows customers to try out the pad for 30 nights free of risk. You may return the pad for a full refund within this trial period. Shipping and returns are free to the contiguous U.S. for orders over $65.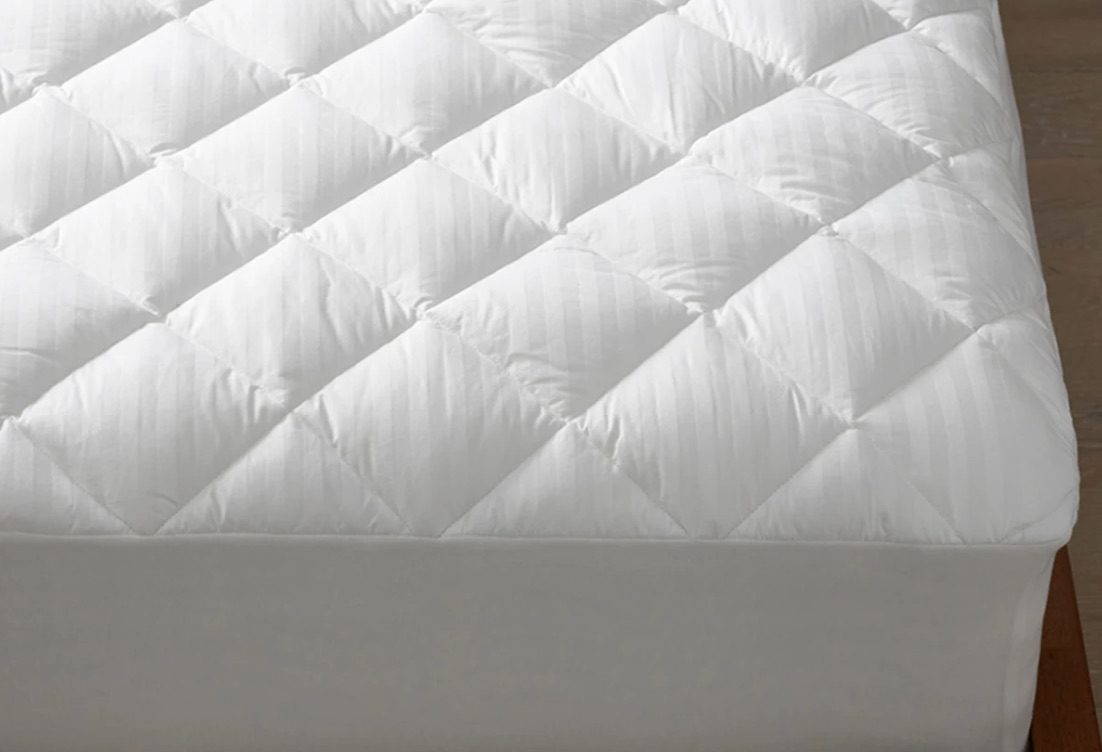 The Company Store Legends Hotel Waterproof Mattress Pad
Price: $159
Cover Material: 100% cotton damask (400TC)
Fill: Polyester down alternative fibers and a waterproof membrane encased in cotton jersey
Who it's best for:
People with sensitive skin

Children who are prone to bedwetting

Anyone who owns a mattress up to 18 inches thick
Highlights:
Plush down alternative fibers encased in cotton damask creates a luxuriously soft feel

Waterproof membrane safeguards your mattress from stains and liquid damage

Available in two pocket depths to accommodate the vast majority of mattress owners
Sleep Foundation Exclusive Offer!
Use this SleepFoundation.org link for the most current discount on The Company Store products
Those who enjoy the luxurious feel of hotel-style bedding should be pleased with the Legends Hotel Waterproof Mattress Pad from The Company Store. The pad is constructed with plush down alternative clusters and a shell made of cotton damask. A waterproof membrane buffered with layers of breathable cotton jersey protects your mattress from liquid damage without causing the pad to retain excessive amounts of body heat. The shell is also smooth enough to ensure people with sensitive skin will sleep comfortably.
Customers can choose from pocket depths of 11 or 18 inches, depending on the height of their mattress. This range encompasses nearly every mattress made today, including pillow-tops and other high-profile models that are not compatible with low-pocket pads. The pad is also available in six sizes that correspond with standard mattress dimensions. For quick and easy care, the pad is completely machine-washable. Simply wash on a gentle cycle with like colors, then tumble dry on low heat. Do not iron the pad, as this can cause permanent damage.
Pads with an 18-inch pocket depth are slightly more expensive than those with the 11-inch depth, but both are affordably priced in all sizes. The Company Store also offers free ground delivery for all orders in the contiguous U.S. and reasonable flat-rate shipping to Alaska, Hawaii, and U.S. territories. All purchases include a sleep trial that spans 90 nights in length.
Parachute Down Alternative Mattress Pad
Price: $149
Cover Material: 100% cambric cotton
Fill: Microfiber
Who it's best for:
Animal-conscious individuals

People with down allergies

Those who want to add cushioning to their sleep surface
Highlights:
Plush, animal-free fiber fill mimics the exceptional softness of real down

Smooth cambric cotton shell encases the pad

Elastic perimeter helps ensure a secure fit
Sleep Foundation Exclusive Offer!
Use this SleepFoundation.org link for the most current discount on Parachute products
Most mattress pads provide minimal padding, especially compared to toppers, but the Parachute Down Alternative Mattress Pad is a notable exception. The fill consists of microfiber clusters engineered to mimic the lightness and softness of real down without relying on animal-based materials, retaining heat, or triggering allergy symptoms. A relatively thick profile adds substantial cushioning to your mattress.
A shell made of smooth cambric cotton encases the fill and adds to the breathable design. Double-stitch baffle boxes evenly distribute the fill and help maintain a full shape. The perimeter is elasticated for a secure fit. With a pocket depth of 18 inches, the pad is compatible with the vast majority of mattresses sold today. The pad is fully machine-washable, though you can opt for dry cleaning if this method is more convenient. Six sizes are available for the pad, all of which correspond to standard mattress dimensions.
The Down Alternative Mattress Pad is competitively priced and Parachute offers free ground shipping to all 50 states. The company takes measures to ensure carbon-neutral shipping foreach order. If you are not satisfied with your purchase, you may return the pad within 60 days.
Slumber Cloud Performance Mattress Pad
Price: $209
Cover Material: Tencel
Fill: Down alternative fibers
Who it's best for:
Hot sleepers

People who own high-profile mattresses

Co-sleepers who share a king size adjustable bed base
Highlights:
Breathable construction includes moisture-wicking Outlast fabric and fiber fill that retains minimal heat

Pockets reach up to 20 inches deep

Seven sizes available including split king
Sleep Foundation Exclusive Offer!
Use this SleepFoundation.org link for the most current discount on Slumber Cloud products
Slumber Cloud offers an extensive line of pads and protectors made of Outlast, a proprietary material derived from moisture-wicking Tencel fabric. Outlast is engineered to capture and dissipate body heat, leaving your mattress cool and comfortable regardless of how hot you feel. One of the latest Slumber Cloud products to integrate this technology is the Performance Mattress Pad, which also features a down alternative fiber fill to create some added plushness for your sleep surface.
Outlast fabric is also exceptionally soft and smooth, so it shouldn't cause irritation if you have sensitive skin. The pad is fully machine-washable for quick, convenient cleaning and care. The elastic corners offer a pocket depth of up to 20 inches, making the pad compatible with virtually any mattress made today including pillow-top hybrids and other high-profile models that are too tall for pads with standard pockets. The pad is designed to be tucked beneath your fitted sheet.
The Performance Mattress Pad is available in six sizes that correspond with standard mattress dimensions, as well as a split king for couples who use adjustable beds. The latter consists of two twin XL pads shipped together. Slumber Cloud offers free shipping to U.S. customers and reasonable flat rates for Canadian orders. Each purchase is backed by a 60-night trial period and a manufacturer's warranty that covers structural defects for 180 days.
Naturepedic Organic Waterproof Pad
Price: $159
Cover Material: Organic cotton
Fill: Polyurethane waterproofing
Who it's best for:
Children prone to bedwetting

Kids who sleep on twin, twin XL, full, or queen size mattresses

Parents who prefer to purchase eco-friendly products
Highlights:
Three-layer design is fully waterproof

GOTS certification indicates cotton is organic and sustainably sourced

Breathable materials reduce heat retention without sacrificing mattress protection
Sleep Foundation Exclusive Offer!
SF Readers get 15% off sitewide at Naturepedic with code SF15
A waterproof mattress pad is essential if your child wets the bed. This protective pad from Naturepedic features a three-layer design consisting of a natural waterproof membrane encased in organic cotton. The naturally breathable cotton promotes airflow and the membrane is engineered to repel liquids while dissipating water vapor, so kids shouldn't experience the uncomfortable heat retention that often occurs with waterproof pads.
While not a full encasement, the pad has an elasticated border to ensure a sure fit on most mattresses. Twin, twin XL, full, and queen sizes are available. The pad is fully machine-washable, allowing you to clean as needed. Some shrinkage may occur after the first laundry cycle, but each pad is slightly oversize to compensate for this. Eco-conscious parents should also find the pad appealing since both the top and bottom cotton layers have earned GOTS organic certification, ensuring sustainable growth and sourcing.
Affordable pricing and free delivery throughout the contiguous U.S. and provincial Canada make the pad a great option for shoppers with limited budgets. Naturepedic Organic Waterproof Pad comes with a 30-night trial period that includes free shipping for returns. This product is also backed by a 1-year warranty against structural and material defects.
Price: $229
Cover Material: Bamboo-derived fabric
Fill: Down alternative fill
Who it's best for:
Hot sleepers and people who are prone to night sweats

Anyone who owns a mattress up to 15 inches thick

Those who find their current mattress too firm
Highlights:
Down alternative clusters encased in bamboo-derived viscose create a luxuriously plush feel

Shell material is breathable and moisture-wicking

Fully machine-washable for easy care
Sleep Foundation Exclusive Offer!
$750 off mattresses and free luxury bundle ($600 worth of accessories – Puffy pillows, sheet set and protector) free with every mattress order – a total saving of $1,350.
An all-season mattress pad can be a great investment for people who tend to sleep hot or sweat in their sleep, as well as those who reside in exceptionally warm or humid places. The Puffy Mattress Pad is constructed with a shell made of viscose derived from bamboo, a highly breathable material that also wicks away moisture from the body. Its fill is composed of down alternative clusters that mimic the natural plushness of real down without retaining heat. At the same time, the fill provides decent insulation, so you shouldn't feel too cold during chillier times of the year.
A quilted jacquard surface accentuates the plush feel. Above-average cushioning makes the pad suitable for anyone whose current mattress is too firm or stiff. The pad has elasticated corners that can be secured to any mattress measuring up to 15 inches thick – a range that covers most models sold today. The fully machine-washable design makes the pad easy to keep clean.
You can choose from six sizes that correspond to standard mattress dimensions. Puffy offers free ground shipping throughout all 50 states, and each purchase is backed by a sleep trial that runs for 101 nights. Those who keep their Puffy Mattress Pad also receive a lifetime warranty against structural and material defects.
Pure Parima Down Alternative Mattress Pad
Price: $189
Material: Down alternative fibers
Who it's best for:
Those with high-profile mattresses

Hot sleepers

Animal-friendly shoppers
Highlights:
Soft Egyptian cotton cover

Plush down alternative fibers give the surface a plush feel

18-inch pocket depth
Sleep Foundation Exclusive Offer!
Use this SleepFoundation.org link for the most current discount on Pure Parima products
Shoppers with pillow-top mattresses or thick mattress toppers can often have trouble finding a mattress pad that fits over their whole bed. The Pure Parima Down Alternative Mattress Pad's 18-inch pocket depth should accommodate most high-profile mattresses.
A shell made from 100% Egyptian cotton sateen gives the surface a soft feel. Egyptian cotton is also naturally breathable and moisture-wicking, making it a great choice if you are a hot sleeper, tend to sweat at night, or live in a humid climate. Inside is polyester down alternative fibers that give the surface slight cushioning. Diamond quilting prevents the fill from shifting or bunching near your feel over time.
You can choose between queen- and king-sized mattress pads, each including a reusable dust bag for linens. Pure Parima ships free to customers in all 50 states. The company also offers a 100-night sleep trial to test the mattress pad and return it for a full refund.
Best Temperature Regulating
ViscoSoft Copper Pillow Top Mattress Pad
Price: $160
Cover Material: Copper-infused fabric
Fill: Down alternative fibers
Who it's best for:
Hot sleepers

Anyone with a mattress up to 18 inches thick

Value seekers
Highlights:
Moisture-wicking fabric infused with cooling copper provides excellent temperature control

Generous 18-inch pocket depth ensures compatibility with most mattresses

Fully machine washable
Sleep Foundation Exclusive Offer!
SF customers receive 25% off + free shipping
The ideal mattress pad will provide a noticeable comfort adjustment and help protect your sleep surface from undesirable elements. The ViscoSoft Copper Pillow Top Mattress Pad checks both of these boxes, and an approachable sticker price makes it a great deal for shoppers on a budget.
The shell is composed of moisture-wicking fabric infused with copper fibers for added cooling. Copper is also naturally antimicrobial to keep harmful bacteria out of your bed and manage unwanted odors that build up over time. The quilted pillow top contains plush fiber fill that adjusts the feel of your mattress without making it feel too soft (as a topper might do).
The elasticated corners reach a pocket depth of 18 inches, so the pad can be used with nearly every mattress sold today including most high-profile models. You can launder the pad in your household machines, so you won't have to spend time hand washing the fabric or spend extra to have it dry cleaned. The pad is available in six different sizes that correspond with standard mattress dimensions.
An affordable price-point and strong performance make this pad a high-value sleep accessory. All orders qualify for free ground delivery. Your purchase is backed by a sleep trial that lasts 60 nights and a 5-year warranty against structural defects.
---
In-Depth Mattress Pad Guides
What is a Mattress Pad?
A mattress pad is a layer of fabric that goes between the mattress and a fitted sheet.
There are two principal uses of a mattress pad:
Making the sleeping surface more comfortable. In most cases, a mattress pad provides added softness, but it can also boost comfort through its cooling or heating properties or with a cozy pillow-top.
Providing a line of defense against damage to the mattress. By placing a layer on top of the mattress, a pad can offer protection against spills and the collection of dust and allergens. Some pads have waterproof layers for more complete protection, but not all mattress pads are designed to be impermeable.
In contrast to a mattress pad, a mattress topper is thicker and used principally to adjust the feel of a mattress. A mattress encasement, sometimes called a mattress protector, goes all the way around a mattress with a zippered enclosure and is almost always waterproof.
How to Choose a Mattress Pad
A mattress protector can be a useful addition to your bedding, but it can be challenging to find the right product among all of the options that are on the market. Knowing what to look for when shopping can make all the difference in finding a top mattress pad.
What to Consider When Purchasing a Mattress Pad
Mattress pads are designed to solve different problems, and that can at times make it hard to do easy apples-to-apple comparisons among them. To get to the bottom of which mattress pad is best in your situation, review the following factors and consider which are your highest priorities.
Price
For the majority of shoppers, there's no getting around cost as one of the deciding factors when purchasing a new mattress pad. To streamline your shopping, it makes sense to start by setting a rough budget so that you don't spend excess time looking at options that are out of your price range. The most basic mattress pads can cost around $20 while higher-end models can cost $300 or more.
Waterproofing
If you want the most hardened defense against liquid spills, you need a truly waterproof mattress pad. On the other hand, if you rarely have food or drinks near your bed, a water-resistant mattress pad may be enough for you. To make sure a mattress pad is waterproof, look for details about the actual layer, usually made with vinyl or polyurethane, that creates a barrier against liquids.
Quality Materials
Durable and dependable mattress pads are composed of high-quality materials. Companies that invest in smart designs and solid components tend to win much higher praise from customers. In considering the construction of a mattress pad, you may also consider whether it's important to you if it uses natural, organic, or eco-friendly materials.
Cooling Properties
If you live in a warm climate or have a propensity to sleep hot, then a cooling mattress pad can bring added comfort to your bed. Cooling properties can include breathable fabrics that pull moisture away from the body so that it can evaporate, a process known as comfort cooling. Phase change materials (PCMs) are another type of textile technology that can promote effective temperature regulation. Remember, though, that sleeping temperature is not just about your mattress pad; your mattress, sheets, and blankets can all play a role as well.
Thickness
For a mattress pad that boosts the height of your bed or changes its feel, a thicker option is your best bet. If you mainly want waterproofing or just a touch of softness, a thinner pad is a better fit.
Firmness Level
When looking at a thicker mattress pad, such as a pillow-top mattress pad, make sure to take the firmness feel into account. For example, a thick down mattress pad can make a bed feel much more plush, which could be a positive or negative depending on your preferences. Thinner mattress pads are less likely to significantly affect the comfort feel of your bed.
Pressure Relief
For thicker mattress pads that more substantially change the feel of the bed, consider whether it will affect the overall pressure relief that you receive. Make sure to think about how the pad will work in conjunction with your mattress and whether that combination will be able to properly cushion your shoulders, hips, neck, lower back, or other pressure points.
Pocket Depth
Most shoppers don't have to worry about a mattress pad fitting on their bed, but if you have an extra-deep mattress, check the dimensions and ensure that any mattress pad you are considering will be able to fit comfortably.
Cleaning
People who are accident-prone or who frequently have food and drink in their beds can benefit from a mattress pad that's easier to keep clean. The majority of pads can be machine-washed and -dried, but checking the manufacturer's instructions ahead of time can confirm that keeping your mattress pad fresh won't be a pain.
Noise
Some mattress pads have a plastic-like build that can be crinkly and noisy during the night. For this reason, most people prefer smoother and thinner mattress pads that customer reviews describe as quiet.
Which Type of Mattress Pad Should I Choose?
Mattress pads come in a number of types of materials, although the range of construction is narrower than in mattress toppers. Each way of designing a mattress pad brings potential benefits and downsides.
Cotton is one of the most popular choices for mattress pads. Its performance is impressive, providing softness and moisture-wicking with virtually no noise. Most cotton is durable and can be safely machine-washed and dried. Some types of cotton mattress pads are available at a low cost, but many, including higher-end and organic cotton mattress pads, are more expensive.
Polyester is another of the most common materials used in mattress pads. Polyester can be thin and soft, like in athletic clothing, or brushed microfiber, which has a plush feel. Polyester can wick moisture, although it is not as breathable as cotton. Polyester mattress pads are often the least expensive and easy to launder, but their reduced durability is a drawback.
Down feathers are found in many bedding products, including mattress pads. Down's light and soft feel makes this material especially popular in thicker mattress pads meant to provide a plush sleeping surface. The negatives to down are its high price point, its potential for causing allergies in some people, and its reduced loft and performance if it gets wet.
Rayon is a fabric derived from natural fibers, including different types of wood pulp. It has many similar characteristics to cotton in terms of its smoothness and breathability, but it may not be quite as soft to the touch.
Wool is found in some mattress pads and is valued for its breathability and natural temperature regulation that allows it to be comfortable in both winter and summer. Like down, it is soft and can cultivate a plush feel, but it tends to be expensive. The selection of wool mattress pads is considerably smaller than that of materials like cotton and polyester.
With virtually any of these materials, a waterproofing layer can be added to keep liquids from seeping into a mattress. The most common form of waterproofing is a lining or backing made of vinyl or thermoplastic polyurethane (TPU).
What Are the Benefits of a Mattress Pad?
There are a handful of reasons to use mattress pads, and each customer can consider whether a mattress pad is the best match for their situation relative to a mattress topper or mattress encasement.
Some of the main benefits of mattress pads include:
Mattress Protection
If a mattress pad is waterproof, it offers a strong seal against liquids permeating into and potentially damaging your mattress. Even if a pad isn't fully waterproof, it can still absorb some spills, reducing the impact on the mattress and buying time to get things cleaned up.
Reduction in Allergens
A mattress pad can provide a defense against seasonal allergens and year-round dust mites that can collect in a mattress. An impermeable layer of vinyl or TPU offers a more dependable barrier, but any fabric can help cut down on the ability of allergens to reach your mattress.
Comfort
The added softness from a mattress pad can make a mattress more comfortable, and this effect can be pronounced with thicker and plusher pads made of materials like down and wool. Cooling mattress pads can contribute to comfort by preventing sleepers from overheating during the night.
Ease of Cleaning
Trying to spot-clean a mattress without damaging it can be a pain. In contrast, most mattress pads are easily washed and dried. In this way, a mattress pad can make it much simpler to keep your bed smelling and feeling fresh.
Cost Effectiveness
Mattress pads can often be found at much lower prices than mattress toppers and protectors, making them a compelling choice for budget-shoppers and value-seekers.
In most cases, the mattress protection offered by a mattress pad is less than a full mattress encasement, and the comfort boost is less than what's offered by a mattress topper. However, mattress pads provide an affordable and easy-to-use middle ground that delivers a well-rounded set of benefits.
Frequently Asked Questions About Mattress Pads
If you're still wondering about whether a mattress pad is right for your bed, some frequently asked questions may address your remaining doubts.
How Does a Mattress Pad Attach to the Bed?
Almost all mattress pads use elastic to connect to the bed and stay in place.

The most common way that this elastic is deployed is by sewing it into the perimeter of the pad. A skirt or side panel goes over the sides of the mattress, and the skirt has elastic placed either in the corners only or in a continuous band that goes around the full hem. In this way, these mattress pads resemble a fitted sheet.

In some cases, a mattress pad does not have a skirt or side panels and uses elastic straps in each corner to go under the mattress and hold the pad in place. Pads with this design are often prone to shifting around and needing to be reattached.
Can Mattress Pads Adjust the Firmness of My Bed?
Most mattress pads make only limited changes to the firmness of a bed, but some pads, especially thicker ones composed of soft materials like down feathers, can make a bed feel plusher. In most cases, people who want to dramatically change the feel of their bed are better off with a mattress topper than a mattress pad.
How Do I Clean My Mattress Pad?
It is important to follow the instructions provided by the manufacturer about how to clean any specific mattress pad. Laundering a mattress pad in the recommended way can extend its longevity and keep it from wearing thin or losing its waterproofing.
In general, mattress pads can be machine-washed and dried on gentle or low-heat settings, but the optimal way of cleaning a mattress pad will depend on its materials.
What's the Difference Between a Mattress Pad and a Mattress Topper or Mattress Protector?
A mattress pad is thinner than a mattress topper, which is instead built primarily for the purpose of changing the feel of a bed. Mattress pads offer a line of defense for a mattress, but they don't fully encase it on all sides like a mattress protector.

Each of these products serves a different core need. If your focus is maximum protection against spills and allergens, a mattress encasement is the strongest fit. If your focus is on maximum change to the feel of the mattress, a topper is ideal. If you want something that falls in between, defending the mattress while lightly changing its feel, then a mattress pad is a compelling choice.
Still have questions?
Our product experts have extensive experience testing just about every sleep product on the market. Send an email to [email protected] or call us at (877) 672-8966 with your questions and we'll help you find exactly what you're looking for.
Thanks for the feedback - we're glad you found our work instructive!
If you're ready for more, sign up to receive our email newsletter!
Was this article helpful?
Thanks for the feedback - we're glad you found our work instructive!
Submitting your Answer...
Other Articles of Interest