Restless Legs Syndrome (RLS)
What it is, its causes and symptoms, and how it can be addressed to improve sleep
Fact-Checked
Our team of writers, editors, and medical experts rigorously evaluates each article to ensure the information is accurate and exclusively cites reputable sources.
Learn More
Up-to-Date
We regularly assess how the content in this article aligns with current scientific literature and expert recommendations in order to provide the most up-to-date research.
Restless legs syndrome (RLS), also called Willis Ekbom disease, causes uncomfortable feelings in the legs, such as itching, prickling, pulling, or crawling. These sensations create an overwhelming urge to move the legs.
People with RLS may walk, stretch, or shake their legs to achieve relief. Symptoms tend to be worse when inactive, including when relaxing or lying down. As a result, the symptoms of RLS often disrupt sleep.
RLS affects 5 to 10% Trusted Source Medline Plus MedlinePlus is an online health information resource for patients and their families and friends. View Source of adults and 2 to 4% of children in the U.S. and it is found in women more often than men. People of all ages can develop RLS, but the most severe symptoms tend to occur in older adults Trusted Source National Institute of Neurological Disorders and Stroke (NINDS) NINDS aims to seek fundamental knowledge about the brain and nervous system and to use that knowledge to reduce the burden of neurological disease. View Source .
What Are the Symptoms of Restless Legs Syndrome?
The sensations associated with RLS are distinct from normal sensations experienced by those who don't have the disorder. This makes them difficult to characterize. According to the International Classification of Sleep Disorders Trusted Source American Academy of Sleep Medicine (AASM) AASM sets standards and promotes excellence in sleep medicine health care, education, and research. View Source , the words and phrases most commonly used by RLS patients to describe the feelings are:
"Twitchy"
"Uncomfortable"
"Restless"
"Need to stretch"
"Urge to move"
"Legs want to move on their own"
Learn more about RLS symptoms here.
Restless Legs Syndrome and Insomnia
The desire to move one's legs makes falling asleep and staying asleep difficult for many people with RLS. A study found that 88% of individuals Trusted Source National Library of Medicine, Biotech Information The National Center for Biotechnology Information advances science and health by providing access to biomedical and genomic information. View Source with RLS reported at least one sleep-related symptom. RLS symptoms often appear shortly after laying down at night and patients will kick, squirm, or massage their legs to lessen the sensation. Some people with RLS are compelled to get out of bed and pace or stretch.
As a result of the sleep disturbances associated with RLS, patients often experience fatigue and daytime sleepiness. Sleep deficiency is associated Trusted Source National Heart, Lung, and Blood Institute (NHLBI) The NHLBI is the nation's leader in the prevention and treatment of heart, lung, blood and sleep disorders. View Source with depression, anxiety, heart disease, and obesity. RLS patients are at greater risk for these issues as well. Concerns about sleep are the main reason RLS patients seek medical care for their condition.
Back
Back
Back
Back
Restless Legs Syndrome and Periodic Limb Movement Disorder
Most people Trusted Source Merck Manual First published in 1899 as a small reference book for physicians and pharmacists, the Manual grew in size and scope to become one of the most widely used comprehensive medical resources for professionals and consumers. View Source who have RLS also have a condition called periodic limb movement disorder (PLMD). PLMD involves repetitive flexing or twitching of the limbs while asleep at night. It is different from RLS in that these movements are not accompanied by uncomfortable sensations and because they occur during sleep, patients are often not aware of them. However, PLMD-associated movements can cause a person to wake up and therefore can compound sleep issues in patients who also have RLS.
Although most people with RLS have PLMD, many with PLMD do not have RLS.
What Causes Restless Legs Syndrome?
Sometimes, RLS is associated with other medical conditions, such as late-stage kidney disease, iron deficiency, neuropathy, multiple sclerosis, or Parkinson's disease.
RLS can also occur temporarily during pregnancy, with around 20% of women Trusted Source National Library of Medicine, Biotech Information The National Center for Biotechnology Information advances science and health by providing access to biomedical and genomic information. View Source developing RLS during the third trimester. The symptoms of RLS typically decline after delivery.
However, the cause of most RLS cases is unknown. RLS may have a genetic component. Between 40% and 90% of patients with RLS have at least one first-degree relative (parent, sibling, or child) with the condition. Researchers have identified some genetic changes that increase risk for RLS, but it is likely that more have yet to be discovered.
Restless Legs Syndrome Triggers
Sitting or resting are common triggers for RLS symptoms. Additionally, some substances can make symptoms worse. These include:
Alcohol
Caffeine
Nicotine
Medications, including certain drugs used to treat nausea, colds and allergies, and mental health conditions
Incidentally, most of these substances when taken in excess or too close to bedtime can also adversely affect our sleep architecture.
How Is Restless Legs Syndrome Managed?
The goals of treatment for RLS are to stabilize symptoms and improve sleep consistency. There are both non-medicinal approaches and drug treatments available to manage RLS.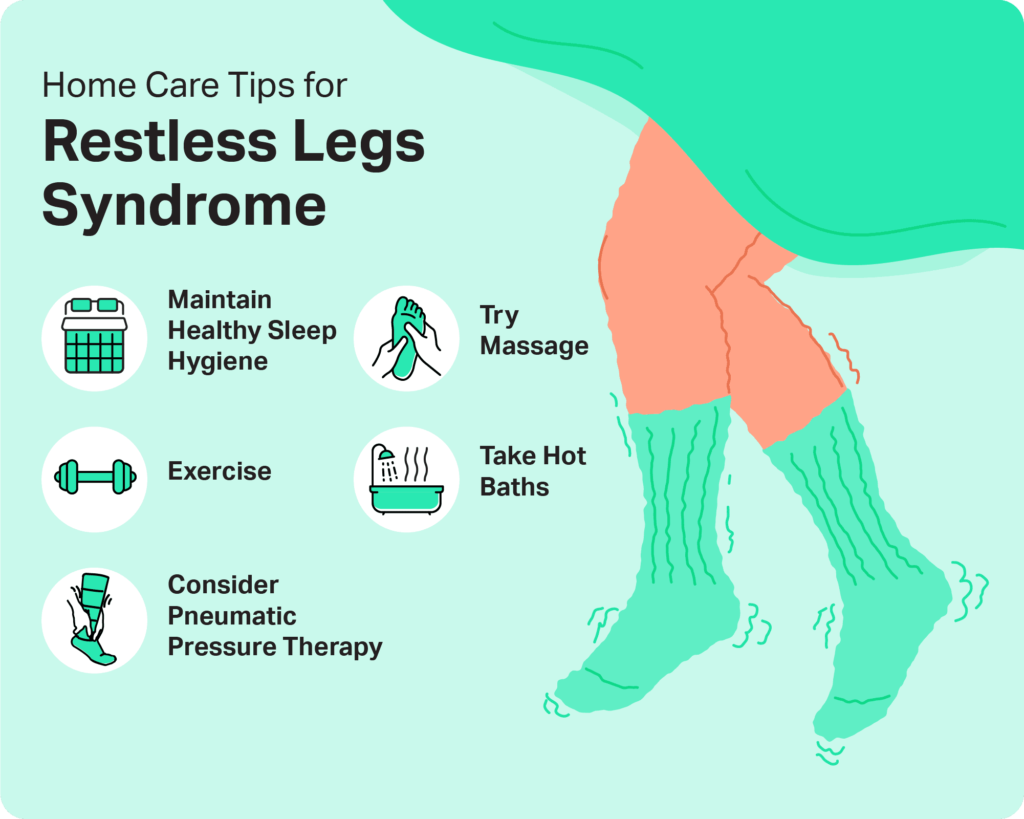 Home Care Tips for Restless Legs Syndrome
The following approaches can reduce symptoms in patients with mild or moderate RLS and may be used in combination with medication in RLS patients who have severe symptoms.
Sleep hygiene: Good sleep hygiene means maintaining a bedroom environment and a daily routine that supports high-quality sleep. Avoiding alcohol and caffeine is especially important for RLS patients because these substances can worsen symptoms.
Exercise: Because physical inactivity often triggers RLS symptoms, exercise may be helpful. A

research study

found that RLS patients showed af 39% reduction in symptom severity after six weeks of engaging in an exercise program compared to an 8% symptom reduction in patients who did not exercise.
Pneumatic pressure therapy: Pneumatic compression devices increase blood flow to the legs by filling with air to squeeze the legs. Researchers found that

the device improved

Trusted Source

Elsevier

Elsevier is a publishing company that aims to help researchers and health care professionals advance science and improve health outcomes for the benefit of society.

View Source

RLS symptoms, quality-of-life, and fatigue after one month of daily use compared to a control group.
Massage and hot baths: Using massage and hot baths to stimulate the legs is

widely recommended

Trusted Source

National Library of Medicine, Biotech Information

The National Center for Biotechnology Information advances science and health by providing access to biomedical and genomic information.

View Source

in RLS literature; however, there is limited scientific evidence supporting the effectiveness of these methods at this time.
Thanks for the feedback - we're glad you found our work instructive!
If you're ready for more, sign up to receive our email newsletter!
Was this article helpful?
Thanks for the feedback - we're glad you found our work instructive!
Submitting your Answer...
Read How Restless Legs Syndrome Affects Sleep
Other Articles of Interest