When you buy through our links, we may earn a commission. Products or services may be offered by an affiliated entity. Learn more.
---
Best Mattress for Sciatica
Sciatica causes radiating pain in the lower back, hips, and legs that may make it difficult to get a good night's sleep. The pain can be short-term or it can persist for a while. In either case, having a mattress that cushions sore spots and takes pressure off the lower back can be a crucial step to getting some shut-eye.
Our team at Sleep Foundation has researched and tested some of the best mattresses for sciatica on the market today. Drawing on years of experience in the mattress industry, we've evaluated beds with special attention toward pressure relief and support, which can both help alleviate sciatica-related pain. Our testers also looked at other criteria such as breathability and motion isolation.
Want to learn more about how we choose our top mattress picks? Visit our list of 2023's best mattresses for more details. If you're seeking relief for sciatica-related discomfort, another helpful resource is our list of the best mattresses for back pain.
Jump to: Best Mattresses for Sciatica | Full Reviews | How We Test | How to Shop
Watch Video: We Tested the Best Mattresses for Sciatica – Here Are Our Favorites
Watch the video below to get a closer look at some of our top mattress picks for sleepers with sciatica.
Read our mattress profiles below to learn more about our top picks and how they might benefit people who experience sciatica. We also offer a comprehensive buyer's guide to finding mattresses that can help with sciatica pain. Our guide dives into the different ways a mattress can impact sciatica pain and provides tips on how to pick a mattress for your body type, preferred sleep position, and other factors.
Our Recommendations
Data-Driven Results You Can Trust
Our Sleep Foundation team ranges in body weight and sleep preference, allowing us to accurately match sleepers with the appropriate mattress. We have spent years testing mattresses and researching sleep health, so we know what to look for when selecting the best models. Our rigorous testing process includes a thorough look at pressure relief and support, which are critical for those who experience sciatica.
How Our Testing Process Works
When reviewing mattresses, we use physical methods like lying down and switching sleep positions as well as technology for pressure point mapping. We continually review new mattresses to provide you with the most comprehensive and current information about the best mattresses for sciatica.
Read on to find out about our product research methodology:
Dive Deeper – In-Depth Mattress Guides
For more help finding a mattress that's right for you, you can browse our guides sorted by mattresses for your particular requirements.
How to Choose a Mattress for Sciatica
People with sciatica experience pain and numbness in the lower back, hips, buttocks, and legs. The pain can occur on one or both sides of the body, and in severe cases, sciatica may even interfere with bladder function. Studies estimate that the lifetime prevalence of sciatica may be between 13 and 40 percent.
Not surprisingly, people who have sciatica often have trouble finding a comfortable sleep position. Unfortunately, poor-quality sleep can lead us to experience pain more vividly, provoking a vicious cycle that's hard to break.
A mattress with above-average pressure relief and support can help minimize aches and pains from sciatica and help you get a better rest. Some sleepers may also have additional needs, such as motion isolation to reduce disruptions from their partner's movement or strong edges to facilitate getting in and out of bed.
This guide discusses the impact of sciatica on your sleep and provides advice on how to choose the best mattress for sciatica based on your body type, preferred sleep position, and other factors.
What to Look for in a Mattress
It can feel overwhelming to sift through the confusing terminology that saturates the mattress industry. At the end of the day, however, buying a mattress basically boils down to a few key points. Focusing on the following factors can help you see past the marketing hype and choose the best mattress for your sciatica.
Price: There's no need to break the bank to get a mattress that can help relieve sciatica pain. Before you start to research mattress options, work out a budget and filter your choices accordingly. Many mattress companies even offer significant discounts, especially around major holidays.
Quality Materials: A mattress made with poor-quality materials may succumb to premature sagging or indentations, which affects its ability to deliver support and alleviate pressure points. Higher-quality mattresses may cost more, but they are a better guarantee of long-lasting relief.
Firmness Level: Mattress firmness is a subjective measure, and the best firmness for you will depend on your body type, preferred sleeping position, and personal preference. People with sciatica should look for a mattress that is sufficiently firm to support the lumbar area, without putting unwanted pressure on the hips and shoulders.
Pressure Relief: Pressure relief is essential for people who experience sciatica, especially side sleepers whose sciatica flares up in the hips. Mattresses with memory foam or latex comfort layers tend to perform best at pressure relief, cushioning heavier parts of the body to ease pressure build-up.
Edge Support: A mattress with strong edges can make you feel more secure when lying near the edge of the bed. This can also be an invaluable support when getting in and out of bed, particularly if your sciatica makes some movements painful or awkward.
Contouring: Materials that mold themselves to the body's curves promote proper spinal alignment and help provide pressure relief, both of which are essential for people with sciatica. Memory foam typically offers the best contouring, and some latex and polyfoam mattresses also do well in this category.
Temperature Regulation: While temperature won't necessarily have a direct effect on your sciatica, a sleeping environment that's too warm can severely impact your sleep quality. People who are prone to overheating at night may find that a cooling mattress helps them get the rest and recovery they need.
Ease of Movement: Many people with sciatica find the pain gets worse after they stay in the same position for a long time. For these people, latex and hybrid mattresses provide a responsive surface that makes it easier to switch sleeping positions.
Mattress Type: Mattresses aren't one-size-fits-all, and the right mattress for you will depend on your individual needs. Having a general idea of which features you value most can help guide you toward a specific mattress type and make it easier to reach a decision.
Why Buy a New Mattress?
People purchase new beds for any number of reasons, whether it's to replace a mattress that's become too uncomfortable or to find a model that helps alleviate physical pain. We polled thousands of Sleep Foundation readers to find out the top reasons people invest in new beds.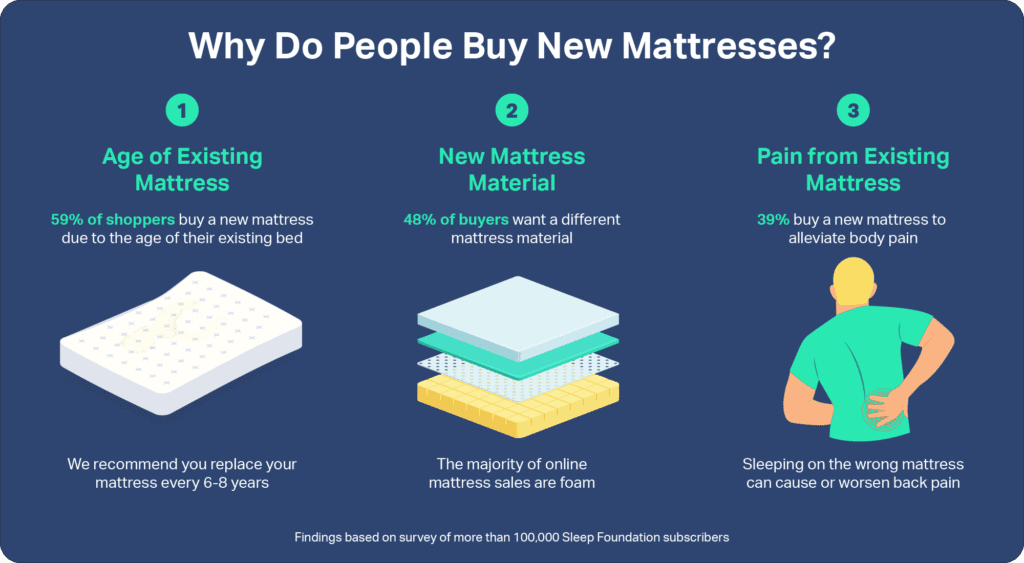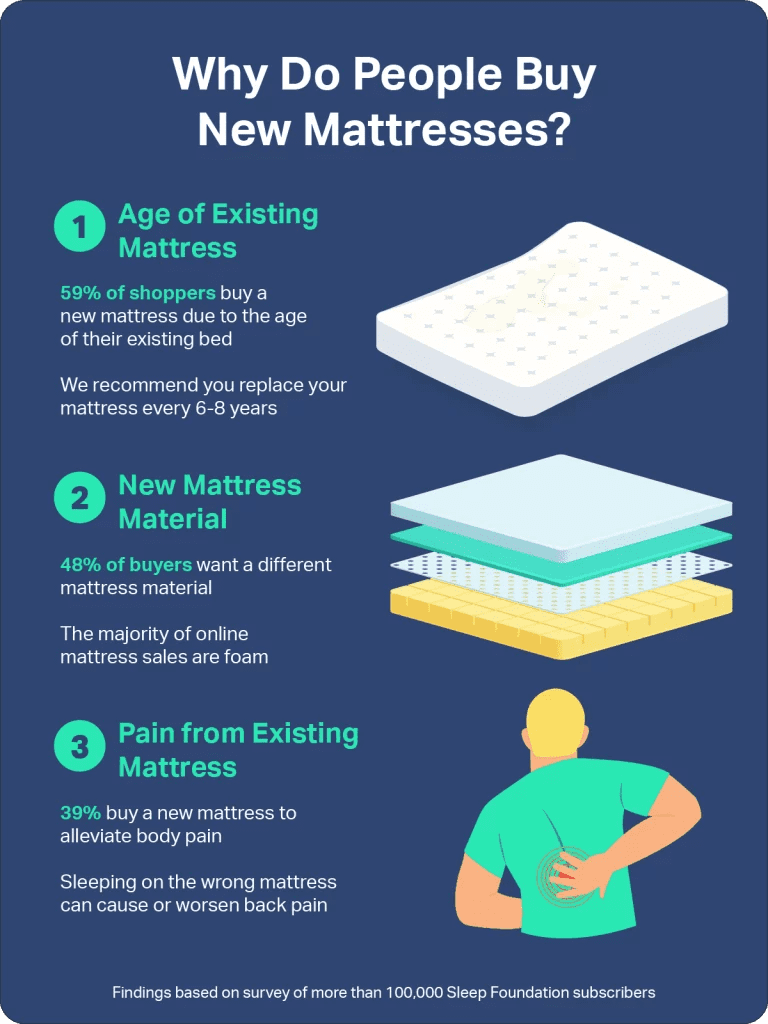 What Type of Mattress is Best for Sciatica?
Most mattresses available today fall into one of the five categories listed below. Mattresses of a given category will share some common qualities thanks to their similar construction.
Of course, there is plenty of variation within each mattress type depending on design, materials, and other special features. Nevertheless, understanding the basic differences between mattress types can be a useful way of narrowing down which mattress is right for you.
Hybrid
Definition: Hybrid mattresses combine a thick comfort layer section with an innerspring support core. The comfort layers may be made of polyfoam, memory foam, latex, microcoils, fiberfill, cotton, wool, or down.
Best of Both Worlds. Hybrids aim to provide the support, airflow, and edge support of an innerspring mattress as well as the conforming pressure relief and motion isolation of an all-foam or latex model. This makes hybrids ideally placed to deliver the balance of support and pressure relief that is needed to ease pressure on the sciatic nerve.
Innerspring
Definition: Innerspring mattresses feature a construction made primarily with metal coils. While this is sometimes supplemented by a thin comfort layer, this does not noticeably affect the way the mattress feels.
Affordable. Innerspring mattresses are widely available and are one of the most affordable mattress options. While they may not provide enough pressure relief for sleepers with sciatica, using an innerspring mattress with a mattress topper can be an inexpensive way to customize the feel to your liking.
Latex
Definition: Latex can either be made synthetically or naturally, from a substance originating in the rubber tree. Latex mattresses usually use a denser latex in the support core and a plusher pressure-relieving latex in the comfort layers.
Responsive Pressure Relief. Latex offers substantial pressure relief without the close "hug" feeling of memory foam. This makes it a good option for people with sciatica who frequently change sleep positions.
Airbed
Definition: The support core of an airbed consists of air chambers that can be inflated or deflated to adjust the bed's firmness level. Mattresses for two people usually feature individual air chambers so each user can choose their own firmness level. Additionally, many airbeds soften the feel of the mattress with foam, latex, or other comfort layers.
Immediate Relief. No other type of mattress comes close to giving you such exact control over the firmness of the bed. This can be a lifesaver for people with sciatica whose pain changes from night to night or every time they switch sleeping positions. Airbeds tend to be very expensive compared to other mattress types and may be too pricey for those looking for a cheap mattress.
Foam
Definition: Foam mattresses are constructed without a coil support core. They most often feature a support core of high-density polyfoam, plus comfort layers consisting of memory foam, polyfoam, or latex.
Advanced Pressure Relief. Foam mattresses, especially those which include memory foam in the comfort layers, offer unrivaled pressure relief that soothes and cushions pressure points. The foam's conforming abilities can also fill in the lumbar area to prevent pressure build-up in the gap between the lower back and the mattress.
How Does Sciatica Affect Sleep?
The sciatic nerves originate in the lower back and run through the buttocks, back of the legs, and soles of the feet down to the toes. Sciatica is the result of a problem with the sciatic nerves, most often a pinched or irritated nerve caused by a herniated disc. Risk factors for sciatica include poor posture, injury, obesity, a sedentary lifestyle, arthritis, or bone spurs.
Sciatica is often described as a radiating pain that starts in the lower back and travels down the back of the legs and sometimes the feet. It can present as numbness, tingling, throbbing, heat, inflammation, sharp pain, aching, or even muscle spasms in the areas affected by the sciatic nerve. These symptoms can be mild or severe, acute or chronic, and they often occur only on one side of the body. Patients may find some relief with anti-inflammatory drugs or by applying ice, but for severe cases, surgery is sometimes required.
Many people with sciatica may have difficulty finding a comfortable sleep position. Lying down can put pressure on the hips and lumbar area, leading many people to experience flare-ups when trying to sleep or upon waking up after lying in the same position all night. People with sciatica require a mattress that can distribute body weight and support the lower back in order to help take pressure off the sciatic nerves.
Chances are your sciatica keeps you tossing and turning to try to find a comfortable position. Those who experience severe sciatica may also have problems with bladder control. In these cases, choosing a mattress that isolates motion transfer can help reduce disturbances to a sleeping partner during midnight bathroom visits. Strong edge support and a responsive surface can also make it easier to get in and out of bed.
Other techniques to relieve sciatica pain include elevating the knees, using an adjustable base or zoned mattress, tucking a pillow between your knees to keep the hips in line when side sleeping, or inserting a pillow below your midsection to relieve pressure on your lower back when stomach sleeping. Taking a warm bath or doing some light stretching before bed can also provide some temporary relief. You should always consult your healthcare professional before starting any treatment.
How Does Sleep Position Affect People with Sciatica?
Different sleeping positions put pressure on different parts of our bodies, which can have a significant impact on sciatica pain. Back and side sleeping are commonly touted as the best positions for people with sciatica, but as we'll see here, this advice comes with some caveats.
Back Sleepers
Back sleeping encourages healthy spinal alignment and is typically regarded as the healthiest sleeping position. That said, there are a few factors that sleepers with sciatica should watch for in order to ensure they're getting the maximum benefits from their mattress.
One of the most notable issues for people with sciatica to look out for when sleeping on the back is insufficient support to the lumbar region. A mattress that is too firm can leave space between your lower back and the mattress, leading to pressure build-up in the lumbar area. By contrast, a mattress that is too plush may let your hips sink in too far, which also puts pressure on your lower back. The best mattress for back sleepers with sciatica needs to balance pressure relief and support. You may get additional relief from using a thin pillow under your knees.
Side Sleepers
Side sleepers often develop pressure points in the hips and shoulders as a result of these areas digging into the mattress. This can be doubly painful for people who have sciatica in the hips. For this reason, it's important to choose a mattress that cushions the hips and shoulders. Memory foam is generally considered to have the best pressure-relieving capabilities.
It may be tempting to go with the softest mattress possible to alleviate pressure points, but mattresses that don't offer enough support in the lumbar area may also cause lower back pain as a result of the hips bending at awkward angles. The best mattress for side sleepers with sciatica will contour to these curves, filling in the lumbar area and allowing the hips and shoulders to sink in just enough to keep the spine on an even plane. Some side sleepers may find that tucking a pillow between the knees can ease pressure on the lower back and hips.
Side sleeping is an excellent choice for people who only experience sciatica pain on one side. Strategically placed pillows can help prevent you from rolling over to the painful side during your sleep.
Stomach Sleepers
Sleeping on your stomach is not usually recommended for people with sciatica as it is very likely to exacerbate symptoms. Since most people carry the bulk of their weight around their hips, this heavier area is prone to sinking into the mattress, which in turn puts pressure on the lower back and neck.
If you must sleep on your stomach, you'll do best with a firm mattress that supports the hips. Using a thin pillow or even no pillow for your head and placing a pillow beneath your hips can also help promote a more natural position for your spine.
Combination Sleepers
No matter how comfortable the mattress, people who have sciatica often find they need to switch sleep positions sometimes to take pressure off a given area. Therefore, in addition to pressure relief and support, a mattress for combination sleepers should facilitate movement. Latex and hybrid mattresses can provide the extra responsiveness that keeps you from feeling stuck in the bed when you switch sleeping positions.
Last Things to Consider with a Mattress for Sciatica
Regardless of whether or not you experience sciatica, there are some general principles that every shopper should keep in mind when purchasing a new mattress.
How Can I Get Relief On a Budget?
Spending thousands of dollars on a mattress isn't for everybody, but with a bit of digging, you should be able to find a mattress that meets your needs without breaking the bank. You can save some money by buying a smaller size like a full mattress, but most sizes under a queen tend to be insufficient for those who switch sleep positions frequently.
The recent rise of online mattress companies means that customers now have access to a wealth of options at affordable price-points. These "mattress in a box" purchases reflect the lack of sales commissions and other costs associated with brick-and-mortar stores.
Another option is to keep an eye out for sales, which are commonly offered on major holidays at both online and traditional retail stores. Your local newspaper may also have cut-out coupons.
If your current mattress hasn't lost its supportive ability and all you need is a firmness adjustment, you may have luck with a mattress topper. Mattress toppers are layers of foam, latex, wool, or other materials that are designed to lie on top of your mattress and make it firmer or softer. They are a cost-effective way to get added pressure relief for your sciatica without buying an entire mattress.
How Does Body Type Affect Mattress Selection?
The more you weigh, the more you'll sink into a mattress. This is why lighter people tend to prefer plush, conforming mattresses and heavier people tend to prefer a firmer, more supportive surface. For example, an all-foam mattress may provide the extra pressure relief needed for a person under 130 pounds, while someone over 230 pounds may prefer the more supportive feel of a hybrid or latex mattress. Of course, this will also depend on your preferred sleeping position and other factors.
How Much of an Investment Do I Need to Make?
The average price for a good-quality foam mattress starts around $800, with other mattress types or more sophisticated models costing up to $2,000 or more. Additional features such as cooling technology tend to be reflected in the price tag, so the budget of your mattress will depend on what features are important to you.
Mattress Warranty and Other Policies
Most online mattress companies offer sleep trials so you can try out the mattress in your own home before committing to a purchase. You should look for a sleep trial that's at least 90 nights long, which will give your body time to adjust to the feel of the new mattress. Some mattress companies impose mandatory break-in periods or charge return fees, so be sure to check the fine print before ordering.
After the sleep trial ends, a mattress warranty can protect you against premature sagging, ensuring your mattress will continue to deliver the support you need to reduce sciatica pain. Mattress warranties tend to last at least 10 years and cover significant defects in materials and workmanship. That said, mattress warranties shouldn't be the main factor that influences which mattress you buy.