When you buy through our links, we may earn a commission. Products or services may be offered by an affiliated entity. Learn more.
---
Best Mattress for Back Pain: Tested and Ranked by Experts
If you live with back pain, choosing the right mattress is crucial for getting a good night's sleep.
Sleep is imperative for recovery, and a mattress that lacks proper support for sleep posture and spinal alignment can worsen existing aches and pains. Our testing has shown that the best mattresses help alleviate pain and enable deeper, more restorative sleep by supporting the spine.
Our team has evaluated hundreds of mattresses using a comprehensive methodology that incorporates several performance categories. For these picks, our testers focused on the categories specifically related to back pain like pressure relief, support, and ease of movement.
Jump to: Best Mattresses for Back Pain | Full Reviews | How We Test | How to Shop
Watch Video: We Tested the Best Mattresses for Back Pain — Here Are Our Favorites
Real Testing by Real Experts
We've compiled our top-rated mattresses based on findings in our testing lab. Our team has tested more than 1,300 mattresses to determine how each model performs in various contexts. We've conducted extensive research into the causes and effects of back pain, working with medical experts and everyday people to pinpoint what makes a mattress a good match for those living with back pain. For more information about how we test mattresses, check out our methodology section below.
We've also included an informative buyer's guide that covers common causes of back pain in bed, the best types of mattresses to alleviate it, and how to choose the right mattress based on construction and materials.
Our Recommendations
Data-Driven Results You Can Trust
At Sleep Foundation, we've personally tested hundreds of mattress models to bring you the top picks listed above. Our expert team includes product testers that represent a wide range of body types, sleep positions, and comfort preferences. After thorough hands-on testing, we consider these selections to be the best of the bunch.
To evaluate mattresses for back pain relief, we ask our testers to lie down on each mattress. Ideally, a mattress should contour to the body while maintaining even support, so we measure how deeply the mattress sinks beneath the tester's weight. We also use body-mapping sensors to pinpoint locations where painful pressure points are likely to occur. Although we relied on feedback from all of our testers, we focused on those who have a history of upper and/or lower back pain.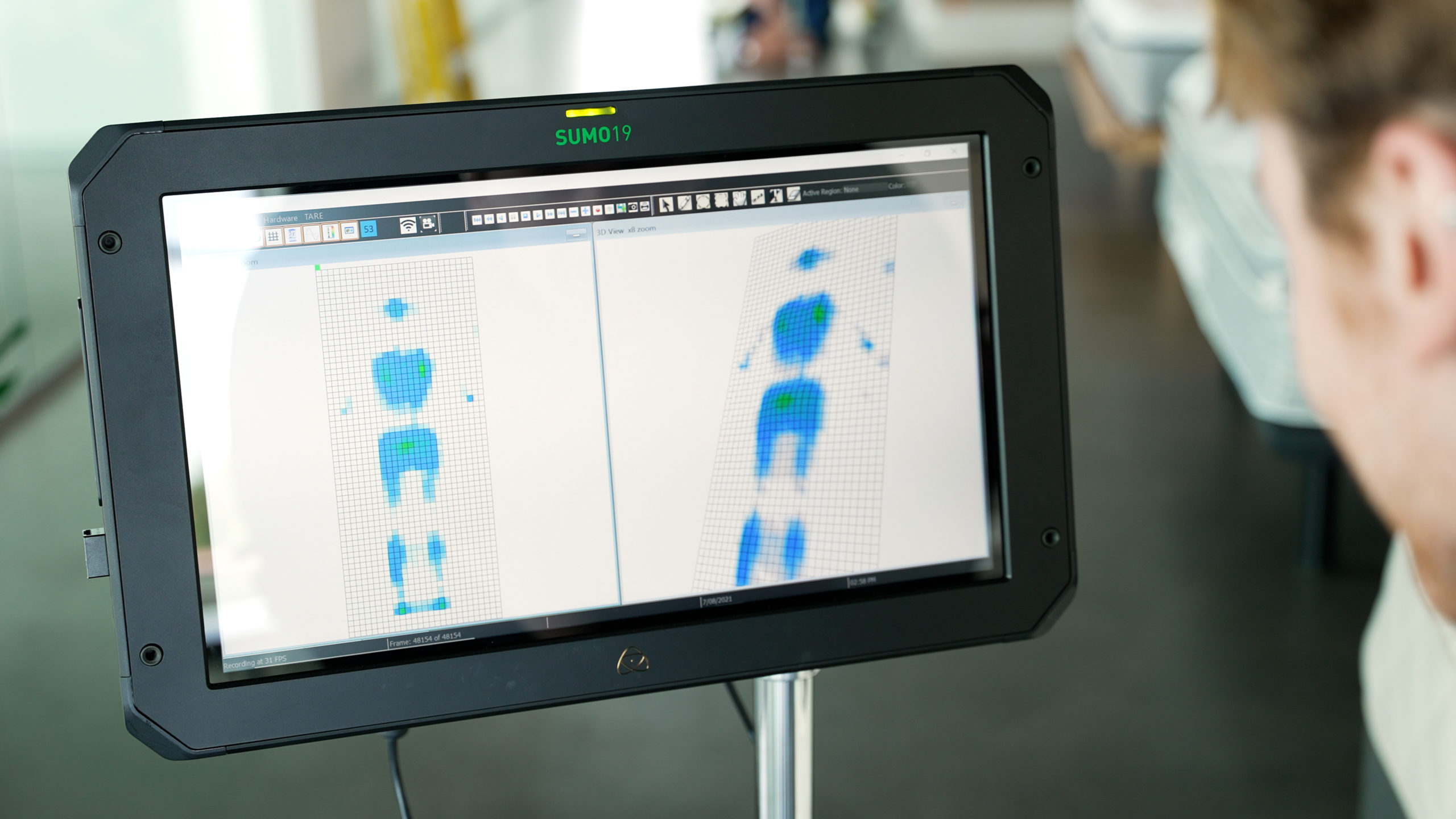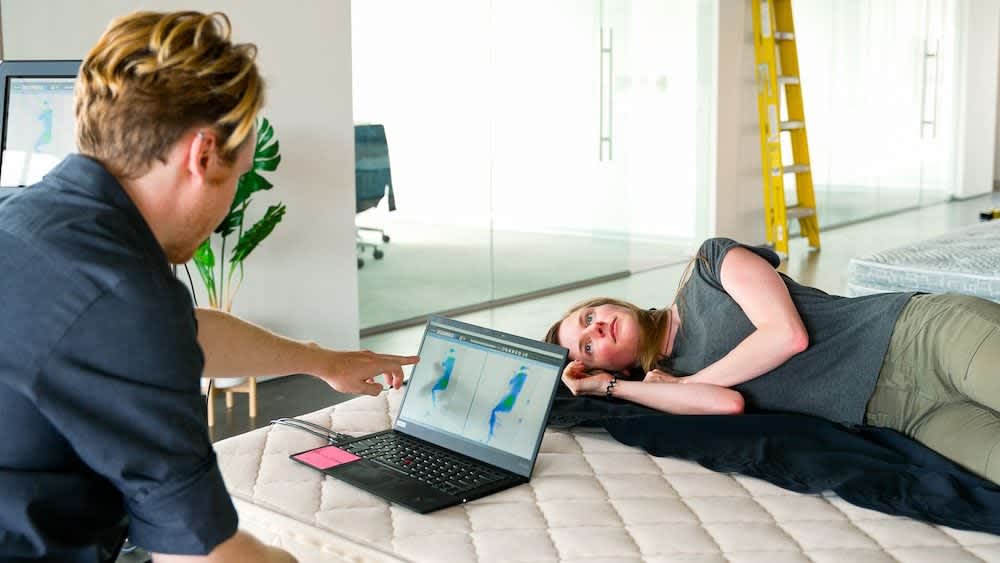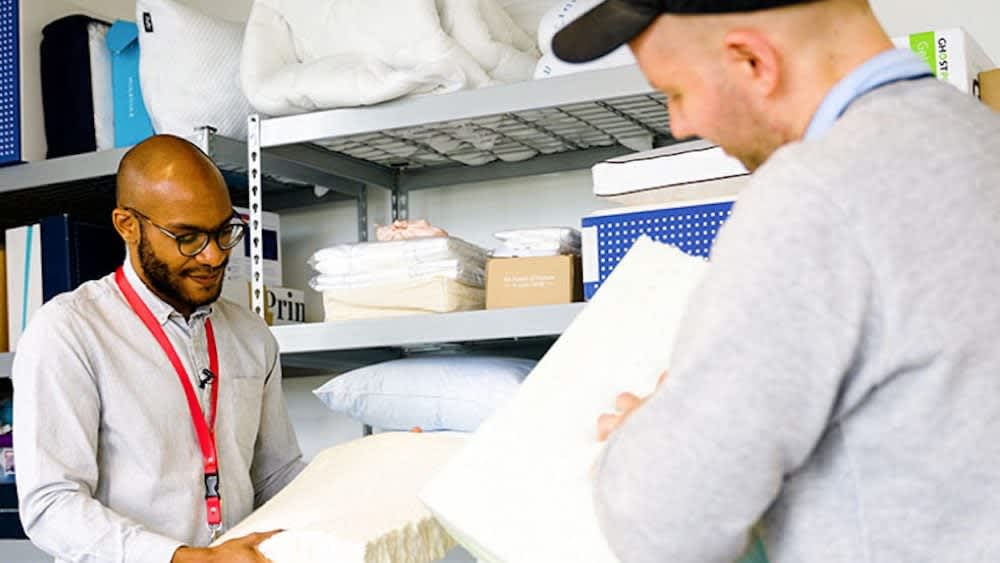 To learn more about our mattress evaluation process, check out our product research methodology below:
Dive Deeper — In-Depth Mattress Guides
For more help deciding which mattress is right for your specific needs, check out the guides below.
Types of Back Pain and Your Mattress
A mattress plays an important role in how the body is positioned throughout the night. Most people know that posture is important but only think about it in the context of standing and sitting. This can cause them to overlook the importance of having a mattress that is the proper fit based on their body shape, weight, and sleeping position.
Mattresses and Lower Back Pain

Lower back pain is by far the most common type of back pain. It affects the lumbar region, which includes the lowest five vertebrae (L1-L5) of the spine.

The lower back has more curvature and range of motion than other parts of the back, and this makes it more susceptible to injury related to movement and posture, including positioning during sleep. If a mattress offers insufficient support, the lower back may twist or bend in an unnatural way. We've found that if the bed is too soft or is worn out, the hips, which carry more weight, may sink deeply into the mattress and out of alignment with the lumbar area. When that or any other misaligned position is held for an extended period during the night, it can be a direct contributor to back pain.
Mattresses and Mid-Back Pain

Middle back pain is much less common than lower back pain. The middle back is generally identified as above the lumbar spine but below the rib cage.

Stiffness and aching in the mid-back can arise because of poor posture and lack of spinal support. Because of the amount of time spent in the lying position during sleep, these alignment issues can often be connected to a mattress that does not adequately support the body and cushion a person's pressure points.

Mattresses and Upper Back Pain

Upper back pain is less common than lower back pain but occurs more frequently than middle back pain. It affects the thoracic region, which runs from the bottom of the rib cage up to the lower neck and involves the 12 vertebrae that connect to the ribs.

Pain in the upper back and shoulders can come from awkward or unsupportive body positioning. If a pillow is not the right height or if a mattress doesn't properly accommodate the shoulders, it may place undue pressure on the anatomy of the thoracic region, heightening the risk of upper back pain.
Mattresses and Neck Pain

Neck pain can occur due to different reasons. Many people develop strains and sore spots due to less-than-optimal posture, which can be especially problematic for people who sit at a desk for their jobs. The pillow and mattress you choose are important considerations for people with neck pain. Our product tests reveal time and time again that, in order to reduce aches and pains, a pillow should provide enough support and loft to keep your neck aligned with the spine and hips.
Sleeping Position and Back Pain
Each sleeping position creates a unique set of pressure points and areas that need cushioning, and this is why our testers believe having the right mattress to suit your sleeping position is an important part of preventing and reducing back pain.
Back sleepers tend to have their most serious pressure points around the lumbar area. Our pressure tests on various mattresses have shown that if a mattress is too soft, the weight of the abdomen will cause this region to sink out of alignment with the rest of the back and hips. If the mattress is too hard, it won't accommodate the natural curvature of the spine in the lumbar area. For this reason, a medium firm to firm mattress usually works best for back sleepers.
Side sleepers have high-impact areas where the body is the widest, notably at the shoulders and hips. A mattress needs to be contouring enough to cushion those pressure points but not so soft as to let them sink too deeply into the bed and out of line with the rest of the body. Most side sleepers on our test team get the best results from a medium to medium firm mattress.
Stomach sleepers have pronounced pressure points in the lumbar area and around the neck. If their pillow is too tall, it can put excess bend in the neck and upper back. If the mattress is soft, the pelvic area can dip too far, putting the body in a U shape that stresses the spine as well as the muscles and ligaments in the lower back. As a result, stomach sleepers on our team tend to have less back pain if they use a thin pillow and have a firm mattress. Stomach sleepers who weigh more than 230 pounds may even benefit from an extra firm mattress.
No matter what type of sleeper you are, changing your sleeping position is one way to try to get back pain relief.
If you are a back or stomach sleeper with a soft mattress and you don't have the budget for a new bed, try switching to a side sleeping position that will give you more support from your existing mattress. Experts generally recommend that stomach sleepers try to adjust to side or back sleeping because it's easier to get appropriate support in those positions.
Along with sleeping position, body weight is another important factor to consider when choosing your mattress. People who weigh more will sink further into a mattress, exacerbating the risks in all sleeping positions of the heavier parts of the body becoming misaligned. Sleepers of above-average body weight (over 230 pounds) typically need a firmer mattress than someone of average weight who sleeps in the same position.
Similarly, people who weigh under 130 pounds are less prone to sinking into the bed, and can sleep on a softer, more contouring mattress without the same risks of the body sagging out of alignment.
For more on the best mattress for back pain relief for different types of sleeping positions check out the video below.
Which Type of Mattress is Best for Back Pain?
A key step in choosing a mattress is deciding which mattress type is most likely to work for you. Virtually all mattresses on the market today can be broken into five types based on their construction and materials.
Within each category, you can find consistent features; however, we know there can be notable variation from one brand or model to the next. Some types allow for a greater diversity of designs, which leads to a wider variation in the expected feel and performance of any specific mattress.
Hybrid
Definition: Hybrids are constructed with an innerspring support core that is supplemented by a significant comfort system that may include layers of foam, latex, microcoils, cotton or fiber fill, down, and/or wool. The comfort layers on a hybrid are much more robust than on an innerspring mattress.
Highlight: Balanced Features. Hybrids try to capture the best of multiple bed types without suffering from their downsides. For example, we've found that hybrids tend to offer moderate to significant contouring that aids in pressure point relief, while their coils permit excellent ventilation, making temperature regulation a plus on most hybrid beds.
Innerspring
Definition: An innerspring mattress is composed almost entirely of metal coils. There may be a thin layer of cotton, polyester, or foam above the coils, but we generally find that this layer does not significantly change the mattress performance. Historically, innersprings were the most common mattresses, but their popularity has declined considerably as foam, latex, and hybrid models have gained steam.
Highlight: Inexpensive and Customizable. A benefit to innersprings is that they are among the most inexpensive options that you can find. One option we recommend is to use the money saved to customize the bed's feel with a mattress topper.
Latex
Definition: Latex mattresses have an interior construction made completely with latex, which is a type of rubber. Most mattresses use natural latex from trees, but synthetic or blended latex is used occasionally. The comfort layers and support core may employ different types of formulations of latex.
Highlight: Supportive Contouring. We've tested numerous latex beds, and most of them have moderate contouring effects. This allows the bed to cushion the body without an excessive amount of sink.
Airbed
Definition: Airbeds feature a support core of inflatable chambers. Sleepers can use a remote or smartphone app to control a pump that can add or remove air from the chambers, adjusting firmness in real time. There may be other materials, including foam, latex, cotton, polyester, or wool, layered as a comfort system above the support core.
Highlight: Adjustable Firmness. Our test team believes the primary benefit of airbeds is their adjustability. Being able to quickly modify the firmness of the bed can be a huge plus for people with back pain because it lets them get "dialed in" depending on the nature of their pain and posture at that exact point in time.
Foam
Definition: Foam is layered to create both the support core and comfort system of an all-foam mattress. Memory foam is a popular material in foam mattresses as is polyurethane foam (polyfoam), which can be manufactured to have a range of distinct characteristics. Latex may be included among the layers, but no coils are used in a foam mattress.
Highlight: Deep Contouring. Memory foam tends to offer the highest degree of hug. This allows these mattresses to deliver proportional cushioning to the areas of the body that need it most. Side sleepers on our test team can attest that foam is especially useful for cushioning sharp impact points like shoulders and hips.
Mattress Features to Look for to Relieve Back Pain
When shopping for a mattress to help relieve back pain, some features are more important than others. With so many products and a bevy of marketing hype, it can be tough to parse out what really matters. Based on our extensive experience testing mattresses, we believe that you're most likely to get the most satisfaction out of your purchase by focusing on certain key considerations:
Mattress Type: The materials and design will play a huge role in the performance of a mattress. The contouring, bounce, firmness, temperature regulation, and motion isolation of a mattress will be different for each mattress type, so it is critical for shoppers to think about their priorities and choose a mattress with components that will best meet their needs.
Zoned Support: Weight from the body is not distributed evenly; instead, certain areas tend to require more cushioning. A zoned mattress takes that into account and offers reinforced support in those areas.
Quality Materials: We've found that a mattress made with excellent materials is much more likely to provide the performance, reliability, and durability that people with back pain need.
Firmness Level: Firmness is a key driver of mattress comfort and is largely a matter of personal preference. At the same time, the right firmness level can play a big part in whether a mattress offers sufficient support, and that will depend significantly on a person's body weight and sleeping position.
Other Articles of Interest