When you buy through our links, we may earn a commission. Products or services advertised on this page may be offered by an entity that is affiliated with us. Learn more.
The smartphone has become an integral part of waking life and, more recently, part of many people's sleep routines. About 77% percent of American adults own a smartphone. Smartphones are used in a variety of ways, such as for accessing news, social media, games, calendars, and even promoting quality sleep.
According to the Centers for Disease Control and Prevention (CDC), 1 in 3 adults don't get enough sleep each night. Sleep apps could be a valuable tool to help people achieve better sleep. If you experience sleep disruptions or suspect that you're sleep-deprived, a sleep app might be worth considering.
Product Details
Subscription Options:
Monthly, yearly, lifetime
Free Trial Period:
7 days
Those who need listening material to fall asleep
Adults and children
Employers who want to invest in relaxation programs for their workers
Extensive library of relaxing stories and music
Guided meditation programs designed to alleviate stress and anxiety
All new users receive a free 7-day trial
Sleep Foundation Special Offer
Start your free trial today
Calm is ideal if you enjoy listening to relaxing stories while you fall asleep. The app's extensive library includes stories for adults and children. Some of the narrators may sound familiar — celebrities such as Matthew McConaughey and Stephen Fry are among the readers. Those who purchase a premium subscription gain access to new content each week. Each subscriber creates a profile to track their programs and receive recommendations for further listening.
You can also use Calm for meditation, mindfulness, stretching, and breathing exercises. The library includes soothing music to help you fall asleep, as well. Options for children include lullabies and bedtime stories. The app does not track sleep data, nor does the app include an alarm clock.
Calm is available for most Android and iOS devices. You'll receive a free 7-day trial when you sign up for a subscription.
→ Read our full review of the Calm App to learn more
Best to Quiet a Racing Mind
Headspace
Subscription Options:
Monthly, yearly
Free Trial Period:
7 days (monthly subscription), 14 days (yearly subscription)
Those who are new to pre-bedtime meditation
People who struggle to get enough sleep
Anyone who deals with day-to-day stress or anxiety
Wide selection of guided meditation programs
Compatible with Apple Health
Tracking feature lets you monitor your meditation progress
Sleep Foundation Special Offer
Use this SleepFoundation.org link for the most current discount on Headspace products
Meditation has been proven to alleviate stress and anxiety. Headspace is an app dedicated to guided meditation programs. Subscribers gain access to programs about daily mindfulness practices and meditations for sleep, stress, improving focus, and becoming more resilient.
We enjoyed Headspace due to its versatility of programming. "Move Mode" workouts are designed to keep you active throughout the day. You can also take part in "SOS" meditations for moments of acute stress or anxiety, as well as mini meditations that last 2 to 3 minutes. While these programs may promote sleep and restfulness, Headspace does not include sleep tracking data or any sort of alarm.
In all, the app contains more than 500 individual programs. You can download Headspace for most Android and iOS devices, and the app is fully compatible with Apple Health. First-time users qualify for a free 7-day trial if they opt for a monthly subscription, or a free 14-day trial if they choose an annual subscription.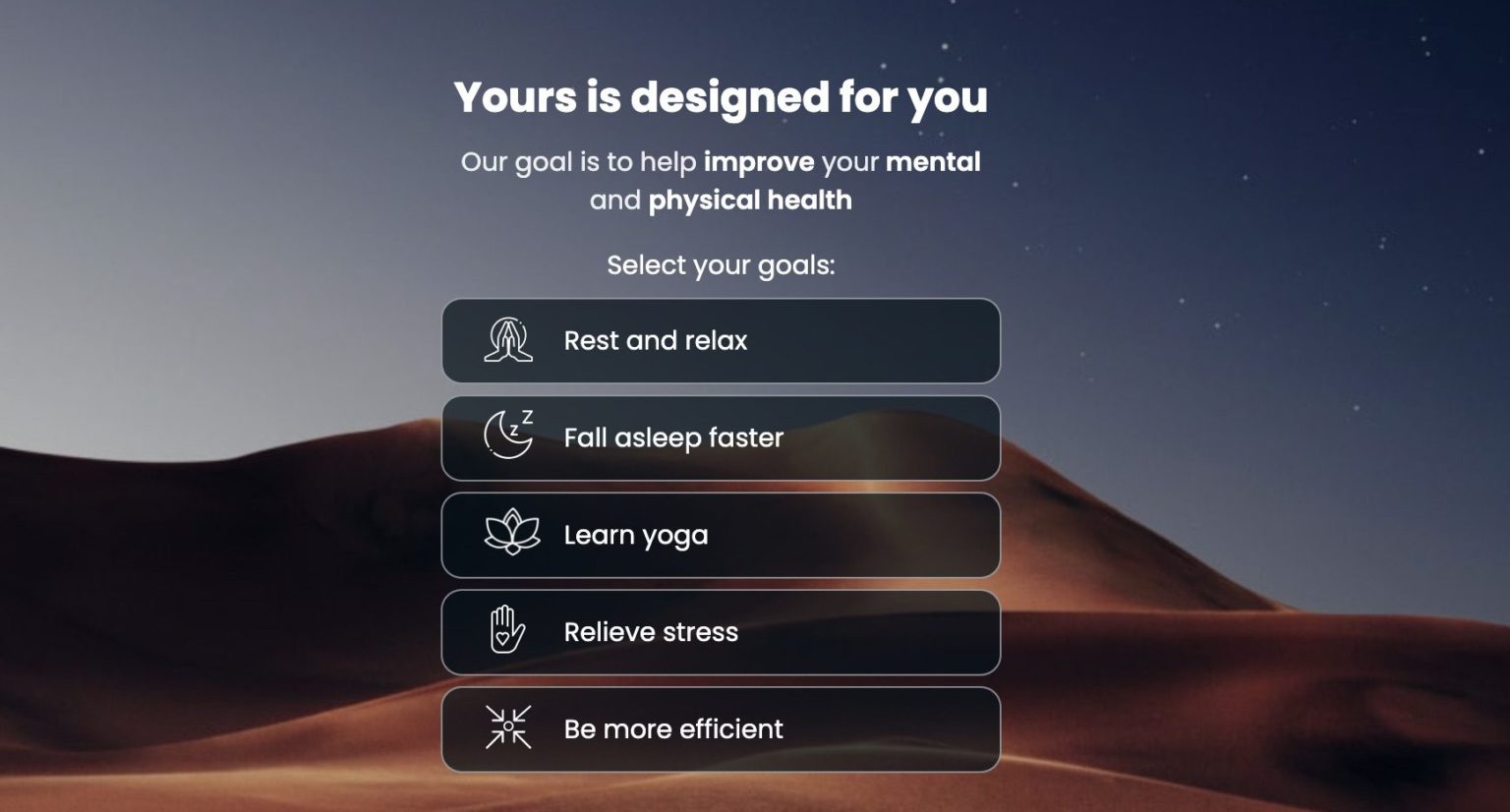 Subscription Options:
Monthly, yearly
Free Trial Period:
7 days
Those who enjoy light physical activity in the evening
People who prefer falling asleep to white noise, ambient sounds, or ASMR
Sleepers who feel anxious before bedtime
Library includes sleep stories, meditation programs, and guided breathing exercises
App features video tutorials for yoga and stretching before bed
Free 7-day trial for new subscribers
Sleep Foundation Special Offer
Use this SleepFoundation.org link for the most current discount on Yours App products
The Yours App takes a multifaceted approach to helping you sleep better at night. Each subscriber gains access to hundreds of different activities that promote relaxation, mindfulness, and overall health. After creating your account, you can customize your profile's dashboard based on your favorite activities.
The library includes sleep stories with positive messages and soothing narration meant to reduce anxiety as you fall asleep. You can also watch tutorials for yoga, light stretching, and other gentle physical activities to help you wind down before bed. Other options include guided meditation and breathing programs, informational videos that discuss aspects of physical and mental health, and a wide selection of music and sounds intended to help you sleep. For the latter, you can choose from white noise, autonomous sensory meridian response (ASMR), and nature sounds.
While the Yours App's library is quite extensive, we found the dashboard user-friendly, intuitive, and easy to navigate. Each video is slickly produced, and the audio programs are crisp and refined. New programs are added on a weekly basis. You'll receive a free 7-day trial after signing up, and substantial discounts are frequently available if you opt for an annual subscription.
Subscription Options:
Monthly
Free Trial Period:
7 days
Those who are unsure why they sleep poorly at night
People who want to learn more about healthy sleep hygiene
Anyone looking for tips from sleep experts
New users receive a sleep assessment to pinpoint patterns and ongoing issues
Built-in programs include guided meditation and sleep coaching
App tracks sleep data to help you get enough rest
Sleep Foundation Special Offer
Use this SleepFoundation.org link for the most current discount on Sleep Reset products
A personalized sleep app can be beneficial for anyone seeking customized help. Sleep Reset gives advice tailored to your specific needs. All new users begin with a comprehensive sleep assessment to help determine the root of their sleep problems. Once the assessment is complete, you'll gain access to a sleep coach and video tutorials to guide you toward more restful nights.
The sleep improvement programs featured in this app are backed by certified sleep clinicians. You'll also receive guided lessons about sleep science, mental and physical health, and sleep hygiene. Sleep Reset's library includes guided meditation and breathing exercises to help you relax before bed. You can also track sleep data and patterns to optimize your nightly routine and bedroom environment.
Sleep Reset is compatible with most iOS and Android devices. New users receive one week of free content with their subscription, and you can cancel at any time during the trial period for no extra charge.
Subscription Options:
Monthly, yearly
Free Trial Period:
7 days
Kids up to 10 years old
Parents seeking a safe, child-friendly sleep app
Value seekers
Ad-free content for kids of all ages
Library includes sleep stories, lullabies, and relaxing sounds
Monthly and annual subscriptions available
Sleep Foundation Special Offer
Use this SleepFoundation.org link for the most current discount on Stella Sleep products
Many sleep apps are suitable for adults and children in equal measure, but Stella Sleep is specifically designed with young kids in mind. The app's vast library includes an assortment of narrated stories, many of which are intended to provide emotional and social support. A total of 50 stories are included with your subscription. Other programs include lullabies, relaxing music, and guided meditation, and ambient sounds — all presented in a kid-friendly format.
The app is free to download on your iOS and Android devices. After signing up for a subscription, you can add programs to customize your child's listening library. Many of the stories involve the same characters, allowing your kiddo to follow their favorites on various adventures. Led by renowned psychologist and sleep expert Helena Kubicek Boye, the app's creative team strives to produce content that's engaging and conducive to healthy sleep. Your app will be free of ads after you subscribe.
All new customers receive a free 7-day trial with their download. After the trial period ends, you can choose between monthly or yearly subscriptions. Both payment plans are relatively low-priced, given the wide breadth of program options available to subscribers. You can opt out of your subscription at any time.
Best App-Integrated Sleep Device
Hatch Restore with Hatch Sleep App
Subscription Options:
Monthly, yearly
Free Trial Period:
7 days (monthly) or 1 month (yearly)
People who frequently wake up feeling groggy and unrefreshed
Those who enjoy falling asleep to relaxing music or sounds
Anyone who reads before bed
Smart bedside light can be programmed for different settings to help you relax before bed
Companion app features soothing music, sleep stories, and guided programs
Sunrise and sunrise alarms mimic natural light patterns
Sleep Foundation Special Offer
Use this SleepFoundation.org link for the most current discount on Hatch products
Some of the best sleep apps available are companion apps for smart devices. Our team has been particularly impressed with the Hatch app used alongside the Hatch Restore smart lamp. Using the app, you can customize the Restore's brightness and dimness settings to find your perfect bedside light level. The lamp also features sunset and sunrise alarms that mimic natural light patterns that sync with your circadian cycle. This can help you fall asleep quickly and wake up feeling refreshed.
The Hatch app also contains a library of music and ambient sounds intended to help you relax as you fall asleep. You can also access sleep stories and guided exercises. A Channels membership is needed to unlock the app's various features. If you sign up for a month-to-month subscription, you'll receive a 7-day trial. Opt for a full year of Channels and the trial period extends to 1 month.
While many smart sleep devices have companion apps, the Hatch goes above and beyond with its wide range of built-in programs. Subscriptions are relatively inexpensive, and your Hatch Restore lamp comes with free expedited shipping. You can test out the lamp for up to 60 days, and the device is backed by an additional year of warranty coverage if you decide to keep it.
Subscription Options:
Yearly
Those who frequently wake up feeling groggy
Anyone interested in tracking their sleep data
People who enjoy relaxing stories or guided meditation before bed
App tracks sleep patterns and resting heart rate
Library features a wide selection of sleep stories and relaxing sounds
Smart alarm programmed to wake you up during the lightest stage of your sleep cycle
Sleep Foundation Special Offer
Use this SleepFoundation.org link for the most current discount on Sleep Cycle products
Many people feel groggy or poorly rested in the morning because they wake up during a deep stage of their sleep cycle. If this applies to you, Sleep Cycle is worth checking out. The app features a smart alarm clock engineered to awaken you during your lightest sleep stage. Unlike traditional alarm clocks, Sleep Cycle uses a gentle tone to help you transition from sleep to wakefulness without loud beeping or intense vibrations.
The app features a tracker to monitor how much sleep you get each night, the amount of time you spend in each sleep stage, position changes, and other metrics. If you opt for a premium subscription, Sleep Cycle also tracks your resting heart rate. This upgraded subscription unlocks a library of soothing sleep stories, guided meditations, and sleep coaching programs.
The Sleep Cycle app is available for iOS smartphones, iPads, and Apple Watches, as well as most Android and Huawei devices. If you want to obtain a premium subscription, you can opt for a monthly or yearly plan.
Subscription Options:
Monthly, yearly
People with insomnia, sleep apnea, and other sleep disorders
Those who enjoy listening to music as they fall asleep
Anyone hoping to wean themselves off of sleep medication
Each user receives consultations tailored to their specific sleep problems
Extensive library of sleep-related content available to subscribers
Corporate option for employers who want to invest in sleep resources for workers
Sleep Foundation Special Offer
Use this SleepFoundation.org link for the most current discount on Sleep Easy products
Sleep disorders like insomnia and sleep apnea affect millions of adults in the U.S. With Sleep Easy, you'll gain access to hundreds of academic and scientific articles about addressing, treating, and overcoming sleep problems. Your subscription also includes consultations with certified sleep experts to help you create an action plan tailored to your specific needs.
In addition to insomnia and sleep apnea, the app features resources covering other sleep disorders such as jet lag and restless legs syndrome. You'll find information about healthy sleep hygiene practices, the neurophysiological factors that influence sleep, and strategies for getting enough rest without relying on medication. Anxiety, stress, weight gain, and other issues tangentially related to sleep are also covered, and the app includes a wide library of musical programs intended to help you relax before bedtime.
The Sleep Easy app can be used on most iOS and Android smartphones, tablets, and desktop and laptop computers. You can purchase a monthly or annual subscription, the latter of which saves you money in the long run. Sleep Easy also caters to companies and organizations with a corporate package for employers.
What is a Sleep App
Sleep apps serve a wide range of purposes. Some apps offer relaxing sounds to help you fall asleep, tutorials for relaxing evening activities like yoga or guided meditation, and coaching with sleep experts. Some apps also act as alarm clocks with features not found on your phone's default alarm.
Sleep tracking apps use smartphones' built-in accelerometers to record and interpret sleep data each night. These apps commonly track movements during sleep, record sound, wake sleepers up during light stages of their sleep cycle, and provide insights to help you interpret the data. Sleep apps are generally convenient, affordable, and beneficial for your overall sleep quality.
Research on the efficacy of sleep apps is still underway. There has yet to be definitive data on what sleep apps can provide compared to a traditional sleep study. Despite a lack of research surrounding the validity of sleep apps, many people find that tracking their own sleep data is a powerful motivational tool for implementing healthy lifestyle changes.
How to Choose a Sleep App
Today's sleep apps serve different functions. Before choosing a sleep app, you should consider what sort of information or support you'll need to sleep better. Common features of sleep apps include:
Sleep tracking: Sleep apps tend to offer fewer capabilities than dedicated sleep trackers. That said, many apps track time awake, time asleep, and position changes. Some also track more advanced metrics such as resting heart rate and time spent in different stages of sleep cycles.
Alarm clock: Some apps feature alarm systems that go beyond the default features of your phone's alarm clock. An app-based alarm may awaken you with soft sounds or vibrations that grow progressively more intense to ensure you don't sleep in. Alarms linked to sleep-tracking technology can also wake you up during lighter stages of your sleep cycle, reducing the potential for early morning grogginess.
Relaxing music and sounds: Some of the best sleep apps feature extensive libraries of instrumental music, white noise, ambient and nature sounds, binaural beats, and other recordings intended to help you relax and drift off to sleep more easily.
Sleep stories: Bedtime stories are often used to help children fall asleep, but many adults have also embraced nighttime readings as a way to unwind in bed. Sleep story apps typically feature fiction and nonfiction selections characterized by tranquil themes and calming narration. Some stories are accompanied by relaxing background music to add to the soothing ambiance.
Meditation and guided breathing: Many people have incorporated meditation and guided breathing into their pre-bedtime routines. You'll find many sleep apps with video tutorials about these activities.
Sleep advice and coaching: Consulting with a professional can be very beneficial for people with ongoing sleep issues. Some apps link you with doctors, psychologists, or certified sleep coaches to help you create a realistic plan of action for improving your sleep.
We recommend thoroughly researching a sleep app's functions and capabilities before downloading it and committing to a subscription. User reviews on app download sites can also be helpful resources.
Frequently Asked Questions About Sleep Apps
How much do sleep apps cost?
Most sleep apps are free to download onto your preferred device, but you'll often need to purchase a subscription for ongoing access and content. Subscription costs vary by app, but generally run about $5 to $10 per month or $50 to $80 per year. Many sleep apps include free trials of 7 to 14 days, allowing you to test out their capabilities before committing to a subscription.

If you manage a company or organization, some apps allow you to purchase package deals for your employees. Prices for these subscriptions are usually calculated per head, and often cost less for larger groups.
Which devices are compatible with sleep apps?
Today's sleep apps are usually compatible with iOS and Android smartphones and tablets. Some can also be used on smart watches, desktop computers, and laptops, as well as devices from other brands such as Huawei.

You may need the latest version of your device to download sleep apps. Check compatibility guidelines on the app's website, or app hubs such as the Apple Store or Google Play.
Are sleep apps suitable for children?
Some sleep apps feature bedtime stories, lullabies, and other content specifically curated for children. Other apps are designed for people who are at least 17 or 18 years of age. Double-check age recommendations before downloading a sleep app for your child.
Still have questions?
Our product experts have extensive experience testing just about every sleep product on the market. Send an email to [email protected] or call us at (877) 672-8966 with your questions and we'll help you find exactly what you're looking for.
Thanks for the feedback - we're glad you found our work instructive!
If you're ready for more, sign up to receive our email newsletter!
Was this article helpful?
Thanks for the feedback - we're glad you found our work instructive!
Submitting your Answer...