When you buy through our links, we may earn a commission. Products or services may be offered by an affiliated entity. Learn more.
---
Best Cooling Pillows: Beat the Heat With Our Expert-Reviewed Picks
Most people know the feeling of turning over the pillow to the "cool side" in the middle of the night. Some pillows retain heat and feel warm against the sleeper's face. Flipping these pillows will help them feel cooler, but only briefly. A pillow specifically designed with breathable components can reduce sweating, overheating, and the general discomfort that comes from sleeping hot. Since warm temperatures can negatively affect sleep quality, a cooling pillow can also curb sleep interruptions and help you avoid daytime fatigue.
Our best cooling pillow picks are a diverse assortment in terms of composition, firmness, and thickness. Some of our selections are composed of fill and shell materials noted for superior temperature control, while others are equipped with features that promote airflow and breathability. Our testing team consists of people who tend to sleep hot as well as those who normally don't struggle with overheating in bed, so our recommendations should reflect the experiences of most sleepers.
Our Verdict – What's the Best Cooling Pillow?
We recommend hot sleepers look for pillows made with breathable materials or enhanced cooling technology to keep them comfortable throughout the night. The Saatva Latex Pillow is made from organic cotton and latex, both naturally breathable materials that help prevent overheating.
Jump to: Best Cooling Pillows | Full Reviews | How We Test | How to Shop
Best Cooling Pillows Video
In the video below, our testers take a closer look at our top five picks for best cooling pillows. Watch the video to see how the pillows performed in the Sleep Foundation Test Lab.
Check out the pillow profiles below to learn more about each of our top picks and why they stand out from the rest of the pack. We've highlighted key strengths of each pillow and who we think will enjoy them the most. Our cooling pillows guide also includes detailed information for first-time buyers. We'll discuss types of pillows that sleep cool – as well as those known for overheating – and how much you can expect to pay for different types of pillows.
Our Recommendations
Best Overall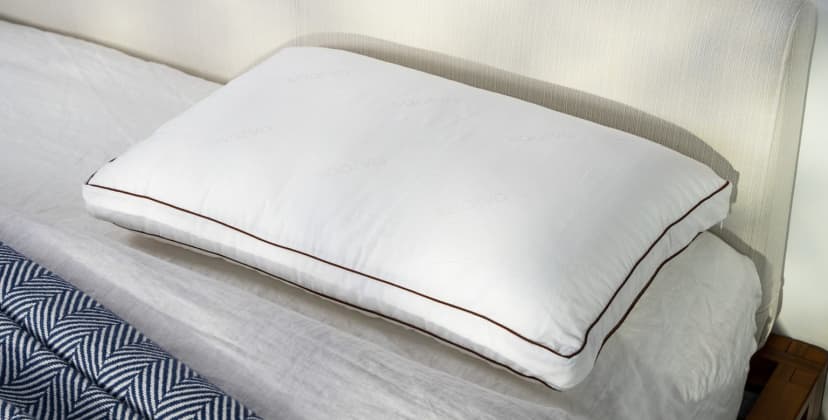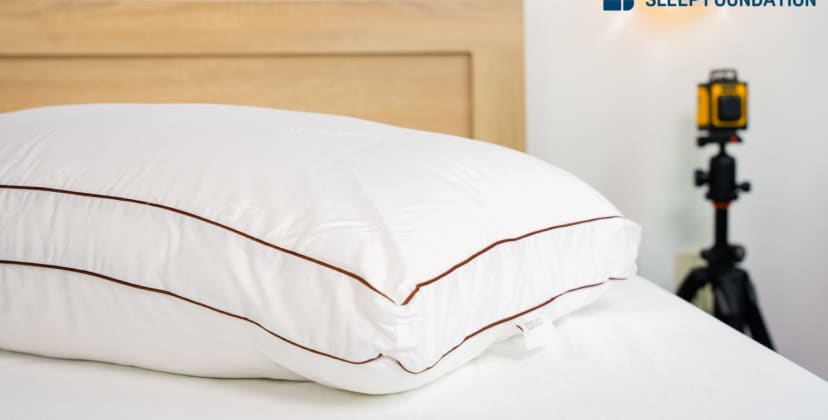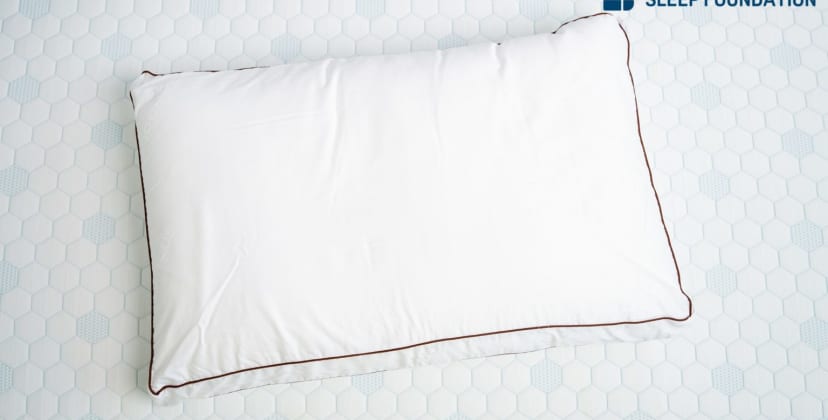 Fill:
Shredded Talalay latex and down alternative
Pros
Plush fill consists of shredded Talalay latex and microdenier material
Organic cotton cover is machine-washable
45-night sleep trial and 1-year warranty
Cons
Profile may be too high for stomach sleepers
Not suitable for sleepers with latex allergies
Bottom Line – Our Testing Team Takeaway

"The Saatva Latex Pillow has everything you want out of a cooling pillow: a 100% cotton case and shredded Talalay latex that helps with breathability. Our field tester has been sleeping on the pillow for over a month and loves the amount of support it offers her head and neck while still feeling moldable."

– Mark Horiuchi, Lead Product Tester
Product Details

Our team has personally tested hundreds of pillows, many of which sleep fairly cool. The Saatva Latex Pillow stands out from most of the pack for its durable construction, high-quality materials, and lofty shape. Shredded latex fill makes the pillow plush and responsive in equal measure, and a breathable cover further sweetens the deal for hot sleepers.

How It Performed

The Saatva Pillow measures 8 inches thick, making it thicker and loftier than many competing models. During our hands-on tests, the pillow was a big hit among our side sleepers. People who use the side position typically need a thicker pillow to fill the space between their head and downward-facing shoulder, which promotes even alignment and reduces pressure buildup. Some of our back sleepers also felt comfortable resting their head on the pillow. The thick profile makes this pillow particularly useful for back sleepers prone to snoring.

Thanks to the chambered design, our testers noticed consistent shape retention. You may need to fluff the pillow from time to time, but probably not as often as a pillow with down or down alternative fill. Latex is a naturally durable material, so we also expect this pillow to hold up well over time.

What It's Made of

The pillow's dual-chamber design consists of a shredded latex core and outer layer containing down-like microdenier fibers. These fibers make the pillow feel plush as you lay down your head, while the latex provides enough reinforcement to support your neck and shoulders. A cover made of organic cotton encases the fill.

You may machine wash the pillow after separating the cover and outer chamber from the latex core. Queen and king sizes are available. For an additional charge, you can add a pair of matching cotton sateen pillowcases. The Latex Pillow is reasonably priced and Saatva offers free shipping throughout the contiguous U.S. Each order includes a 45-night trial period, and those who keep the pillow receive a warranty covering structural defects for up to 1 year.
Most Comfortable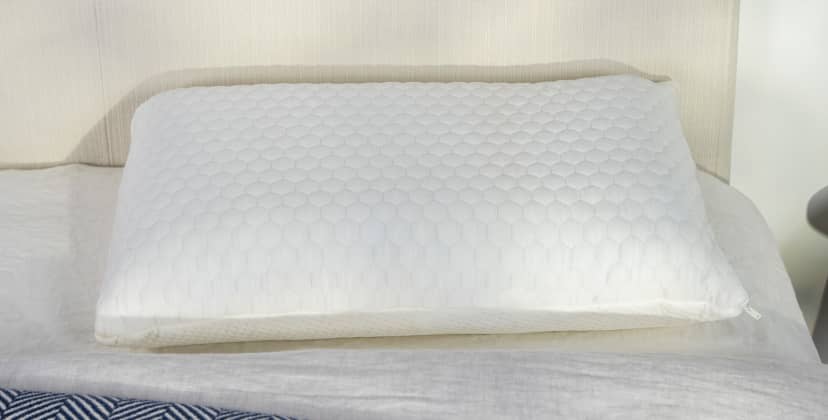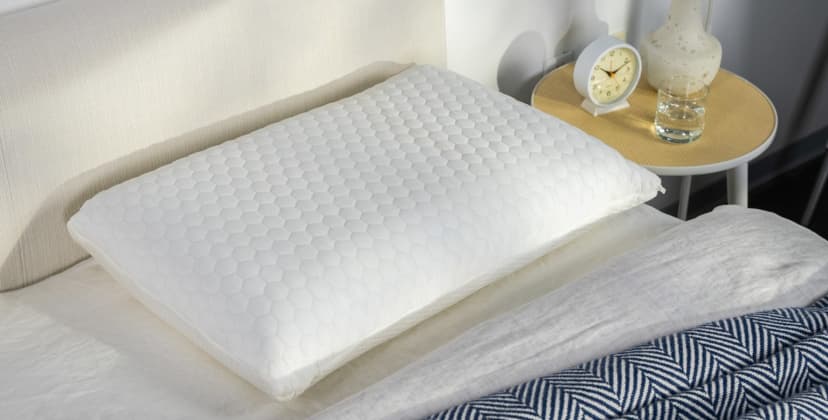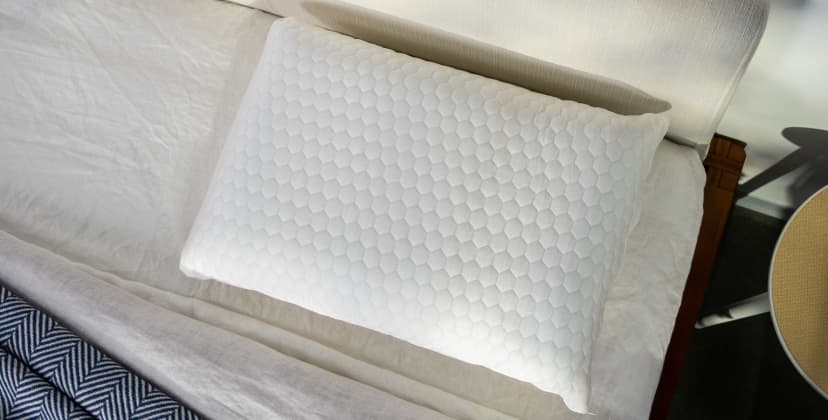 Brooklyn Bedding Luxury Cooling Memory Foam Pillow
Fill:
Open-cell memory foam
Pros
Two loft options to accommodate different positions
Open-cell foam and breathable knit cover help regulate temperature
Adaptive memory foam core contours to the head and neck to relieve pressure
Cons
Either loft may be too high for stomach sleepers
Some sleepers may not enjoy the close "hug" of foam
Bottom Line – Our Testing Team Takeaway

"It's hard finding a foam pillow that doesn't overheat, so I was surprised at how much the Brooklyn Bedding Luxury Cooling Memory Foam Pillow dissipated heat. This model also offered lots of great neck support."

– Jackson Lindeke, Director of Product Experience
Product Details

The Brooklyn Bedding Luxury Cooling Memory Foam Pillow lives up to its name in more ways than one. The solid memory foam core provides gentle contouring to relieve tension and strain in your neck and shoulders. However, temperature regulation is one of the pillow's biggest strengths. The foam is ventilated and infused with copper-graphite to ensure consistent cooling and the circular-knit cover is highly breathable, so bothersome heat absorption shouldn't be an issue for most people.

How It Performed

The pillow is available in two loft levels. The lower-loft option — which measures about 4.5 inches thick — was most popular among the back sleepers on our testing team. The thicker profile of roughly 6 inches provided adequate cushioning for our side sleepers. Some of our stomach sleepers felt comfortable on the low-loft pillow, but this pillow may be too thick and strain the neck if you primarily use the stomach position.

In our experience, solid memory foam pillows struggle during temperature control tests, so we were very impressed with this Brooklyn Bedding model. Our thermal sensors detected little to no heat buildup, and none of our testers complained of uncomfortable heat retention. No fluffing is needed to maintain a full shape, but the pillow is soft enough to provide gentle cushioning.

What It's Made of

The core contains a single piece of memory foam. Pinhole perforations allow air to circulate throughout the interior, and a copper-graphite infusion provides extra breathability and cooling. The cover is composed of circular-knit polyester. This material is engineered to feel cool to the touch at all times.

In addition to the medium- and high-loft options, you can choose from queen and king sizes. The cover is removable and machine-washable, but you should only spot clean the foam as needed.

The Luxury Cooling Memory Foam Pillow is competitively priced and shipping is free of charge for all customers in the contiguous U.S. Brooklyn Bedding's pillow trial spans 30 nights in length. Returns are free during this time frame, but those who keep their pillow also receive a 1-year warranty against structural and material defects.
Best Value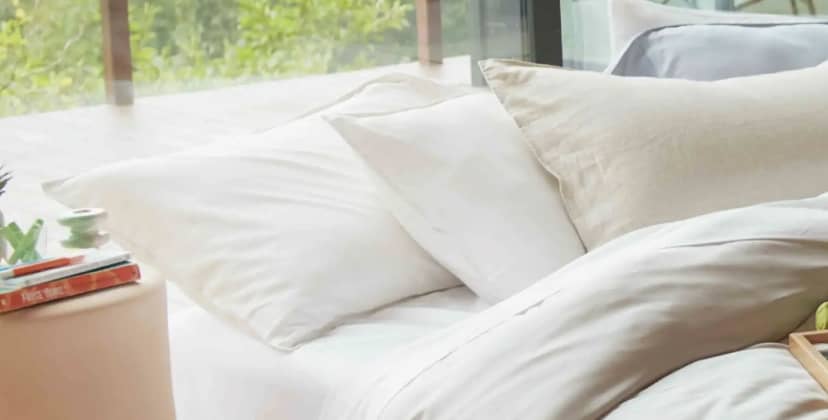 Fill:
Recycled PET fibers
Firmness:
Soft, Medium, Firm
Pros
Composed of plush down alternative fill and a moisture-wicking Tencel shell
Available in three density levels to accommodate different positions
Shoppers receive a discount for purchasing multiple pillows
Cons
Pillow cannot be machine-washed
Frequent fluffing needed to maintain a full shape
Bottom Line – Our Testing Team Takeaway

"The Buffy Cloud Pillow achieves that rare trifecta of durability, cooling, and affordability — and it's eco-friendly to boot. Our team loved the plushness of the PET fiber fill and the soft, moisture-wicking Tencel shell."

– Jeremy Klein, Senior Product Expert
Product Details

If you're shopping for a cooling pillow with a limited budget, the Buffy Cloud offers exceptional temperature and moisture control at a reasonable price. PET fibers mimic the plushness and loftiness of natural down without triggering allergy symptoms or retaining heat, and the breathable Tencel shell ensures comfortable sleep even on hot or humid nights.

How It Performed

Most of our team awarded favorable ratings to the Cloud, though their preferred density level varied by sleep position. Side sleepers appreciated the thick profile and support of the firm model, which provided ample padding between their heads and downward-facing shoulders. Some of our back sleepers found the medium density comfortable, whereas others needed the lower profile of the soft pillow to minimize neck strain. All of our stomach sleepers preferred the latter.

The PET fill is luxuriously plush, making the pillow moldable and snuggly, but you shouldn't notice much warmth — the shell offsets heat buildup to help you stay cool and dry. One potential downside is that the Cloud isn't machine-washable. You can use a cover to keep your pillow hygienic, but the insert should only be spot cleaned or dry cleaned. 

What It's Made of

The Cloud contains PET, a fiber fill derived from recycled plastic. Up to 30 bottles are used for each pillow. Moisture-wicking Tencel fabric with a Tencel weave makes up the shell. These two materials make the pillow feel quite soft. A 300 thread count also ensures plenty of airflow to help you stay cool. Standard and king sizes are available.

Not only is the Cloud affordably priced, but you'll receive a $10 discount when you purchase two pillows and a $50 discount when you purchase four. Under Buffy's generous trial policy, your credit card won't be charged for the first seven nights. Even if you keep the pillow beyond the first week, you'll be able to test it out for up to 50 nights before deciding whether or not to return it.
Best for Side Sleepers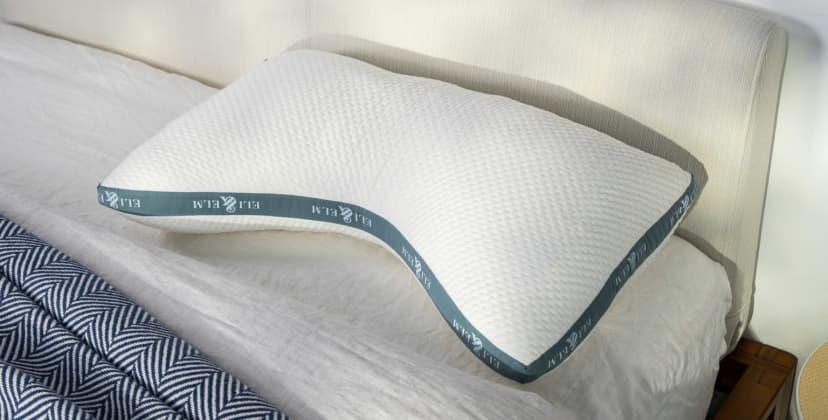 Eli & Elm Cotton Side-Sleeper Pillow
Fill:
75% Latex and 25% Polyester Fiber
Firmness:
Medium, Adjustable
Pros
Ergonomic shape enhances pressure relief for side sleepers
Latex and down alternative fill promote natural cooling
Sleepers can customize loft by adding or removing fill
Cons
Loft is probably too high for stomach sleepers
Only available in one size
Bottom Line – Our Testing Team Takeaway

"As a side sleeper, I'll attest that the curved shape of the Eli & Elm Cotton Side-Sleeper Pillow really does wonders for relieving pressure buildup at night. And you can't beat the adjustable loft, which lets you create your perfect profile."
– Tom Ryan, Head of Product Testing
Product Details

The Eli & Elm Cotton Side-Sleeper Pillow has a U-shape design that caters to the specific needs of side sleepers. The concave shape along the bottom offers a space for shoulders to rest while alleviating pressure buildup in your neck. The pillow is an ideal alternative for side sleepers who find traditionally shaped pillows uncomfortable.

How It Performed

The side sleepers on our test team gave the pillow high marks for its attentive design. While conventional rectangular pillows sometimes push up against the shoulders, this pillow's unique shape created a perfect space for the shoulder to nestle in. The cradling design promotes even alignment between the head, neck, and spine. Our testers were also impressed with the adjustability of this model. You can add or remove fill to achieve the loft that feels most comfortable to you.

We didn't notice much heat retention when we tested the pillow in our lab, and this was thanks to the breathable fill and cover material. The hot sleepers on our team recommend this pillow to anyone who lives in warmer climates or easily overheats in bed.

What It's Made of

The Cotton Side-Sleeper Pillow is filled with a blend of 75% shredded latex and 25% down alternative fibers. The latex gives the pillow a responsive feel, while the down alternative creates a bit of plushness for cushioning. The cover is composed of cotton, polyester, and spandex, and feels soft and slightly stretchy. You can unzip the cover to add or remove fill, and Eli & Elm sells additional fill for sleepers who need extra loft.

Eli & Elm ships the pillow for free to addresses in the contiguous U.S., but note that California residents are responsible for shipping fees. You'll receive a 45-night sleep trial with your pillow and a 5-year warranty.
Best for Back and Stomach Sleepers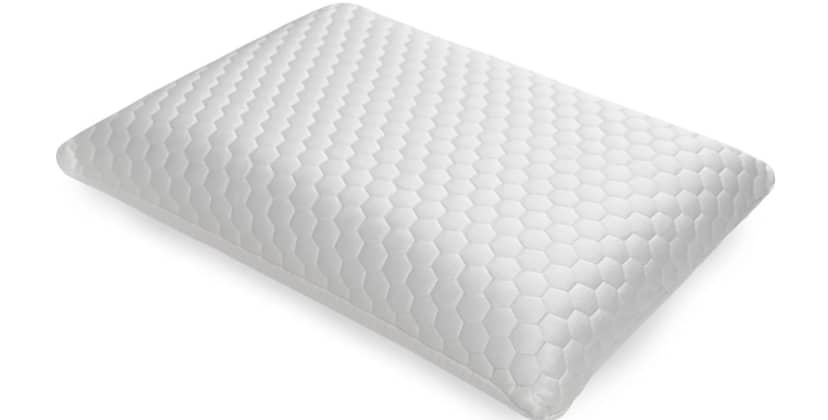 Helix GlacioTex Cooling Memory Foam Pillow – Back & Stomach Sleeper
Pros
GlacioTex phase change cover absorbs and releases body heat to remain cool at all times
Solid, copper-infused memory foam contours closely without feeling too warm
Generous 100-night trial included with all orders
Cons
Strong initial off-gassing may cause unpleasant odor for the first few days
Hugging effect may be uncomfortable for people who prefer responsive pillows
Bottom Line – Our Testing Team Takeaway

"It's rare to find a solid memory foam pillow that sleeps as cool as the Helix GlacioTex. The phase change cover and copper infusion work as intended to offset heat retention and maintain a comfortable temperature throughout the night, even during hot and humid times of the year."

– Lauren Fountain, Senior Editor
Product Details

Although preferences vary from person to person, we've found most back and stomach sleepers prefer pillows with softer, more adaptive feels and mid-range profiles. The Helix GlacioTex Cooling Memory Foam Pillow – Back & Stomach Sleeper meets both criteria, with the added bonus of providing above-average temperature control thanks to its heat-dissipating cover and copper-infused core.

How It Performed

Our team tested both of the pillow's loft levels. The Back & Stomach Sleeper model measures 4.75 inches thick, and earned favorable ratings from most of our testers who use these positions. Gentle elevation helps prevent neck strain, and the pillow's medium feel ensures close contouring without too much sinkage. If you're a side sleeper, you should receive adequate loft from the thicker 5.25-inch pillow.

During temperature control tests, we found the GlacioTex cover effectively offsets heat absorption from the memory foam. Copper fibers infused into the foam promote cooling and breathability. The pillow maintains a full shape and should never need to be fluffed. Our tests also show the pillow's close, even contouring is ideal for people with persistent neck or shoulder pain.

What It's Made of

The pillow contains a single piece of memory foam, creating an adaptive and squishy feel many of our testers described as cloud-like. A cover made of GlacioTex phase change fabric encases the foam. This material is engineered to feel cool to the touch even after repeated use. You may remove and machine-wash the cover in any household machine. Standard and king sizes are available.

The GlacioTex Cooling Memory Foam Pillow carries a below-average sticker price, and ground shipping is free for U.S. customers. Helix's lengthy sleep trial allows you to test the pillow for up to 100 nights. If you're satisfied with your purchase after the trial ends, you'll also receive a full year of warranty coverage against manufacturing defects.
Best Temperature Regulating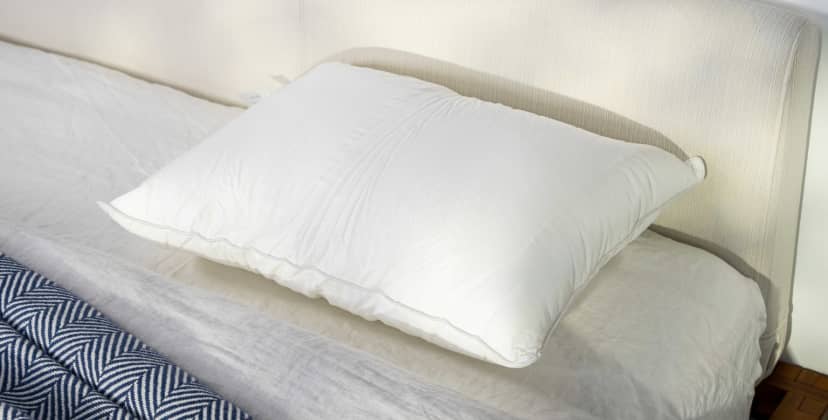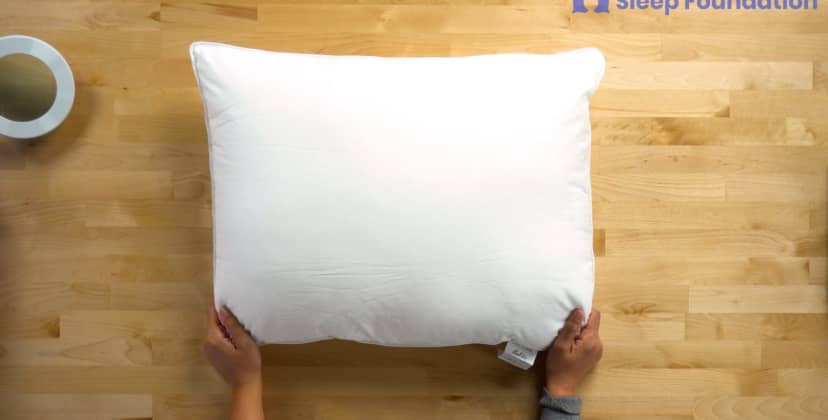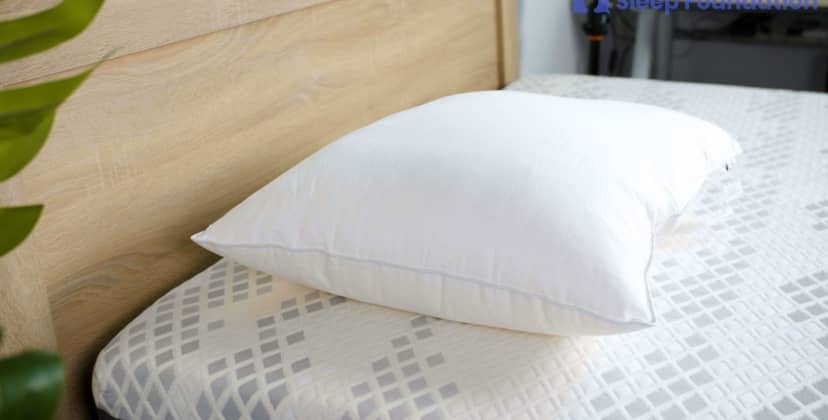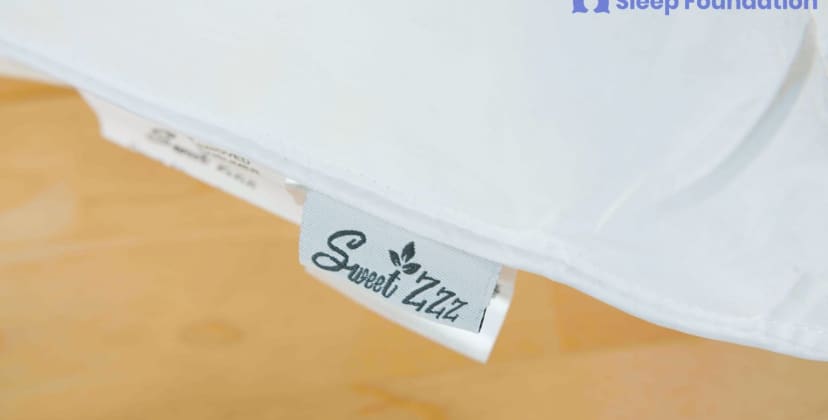 Sweet Zzz Plant-Based Pillow
Fill:
Plant-based down alternative fibers
Pros
Animal-free down alternative fill is derived from plant-based materials
Breathable cotton cover helps the pillow sleep cool
Durable design with budget-friendly pricing
Cons
Only one loft available
Stomach sleepers may find the pillow too thick
Bottom Line – Our Testing Team Takeaway

"I sleep pretty hot at night, so pillows made from natural, breathable materials like the Sweet Zzz have a special place in my heart. I stayed cool through the night thanks to the lightweight plant-based fill and the cotton cover working to disperse my body heat. The price is reasonable considering how efficient the pillow is at reducing heat retention."

– Danny Noyed, Senior Product Editor
Product Details

Comfort is a subjective quality, but we've found that some pillows have designs that appeal to a wider swath of sleepers than others. The Sweet Zzz Plant-Based Pillow lands squarely in the former category while maintaining an affordable price-point. With vegan down alternative fill and a smooth cotton cover, this pillow excelled throughout our hands-on tests and felt comfortable to the majority of side and back sleepers on our team.

How It Performed

Most of our side and back sleepers had positive things to say about the pillow. Our side sleepers found the pillow sufficiently lofty and didn't experience any neck or shoulder pain due to uneven alignment, and back sleepers received enough loft to lie comfortably. The pillow may be too thick for stomach sleepers, but our testers in this category weighing less than 130 pounds also awarded it positive ratings.

Thanks to the breathable down alternative fill, the pillow performed well during our temperature control and moldability tests. You may need to fluff the pillow frequently to maintain a full shape, but you can also place the pillow in a dryer if it flattens with use and you need to expand it.

What It's Made of

The Plant-Based Pillow's down alternative fill is derived from soybeans, so it won't trigger allergies and does not use any animal-based components. The outer chamber's fill is looser and plusher, and the core chamber is denser to ensure good support for your head and neck. A cover made of smooth natural cotton encases the fill.

The entire pillow is machine-washable for quick and easy care. You can choose from standard and king sizes.

Not only is the Plant-Based Pillow affordably priced, but most orders in the contiguous U.S. qualify for low flat-rate shipping. Sweet Zzz allows returns and exchanges within 100 nights of the delivery date, and you'll receive a 1-year manufacturer's warranty against structural and material defects if you decide to keep the pillow.
Softest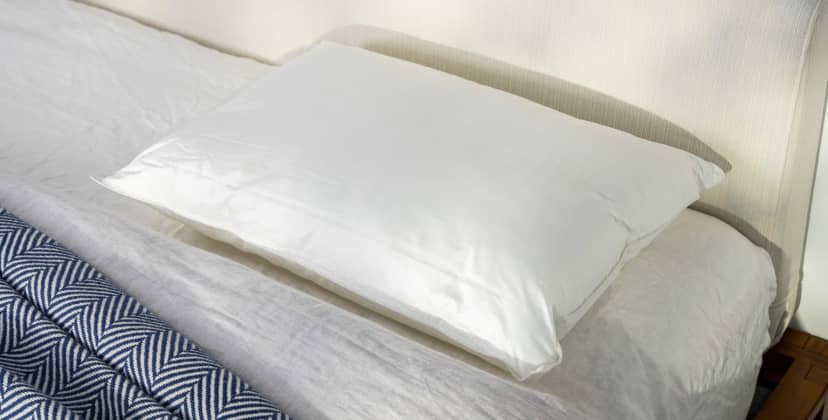 Brooklinen Down Alternative Pillow
Fill:
Shaved microfiber fill
Pros
Plush down alternative fill derived from recycled plastic
Shell composed of silky-smooth cotton sateen
Buyers receive a substantial discount for bundle purchases
Cons
Too soft for people who need extra head and neck support
Pillow should only be spot cleaned or dry cleaned
Bottom Line – Our Testing Team Takeaway

"The Brooklinen Down Alternative Pillow is one of the softest we've tested, with synthetic fill nicely mimicking the plushness of real down. A smooth cotton shell adds to the luxurious feel, and an approachable sticker price should appeal to shoppers with tight budgets."

– Brad Nehring, Product Expert
Product Details

Few materials can match the softness of real down, but the eco-friendly fill of Brooklinen's Down Alternative Pillow is a worthy substitute. The thick clusters are composed of PET, a synthetic polyester derived from recycled plastic bottles, so the pillow is a good match for eco-conscious shoppers as well as those who are allergic to down.

How It Performed

The pillow's exceptionally soft design was popular among back and stomach sleepers on our testing team. These positions often require pillows that compress deeply beneath your head and neck — otherwise you're likely to wake up feeling sore or achy. Some of our side sleepers also found the pillow comfortable, but most needed a firmer, more supportive surface to promote even spinal alignment.

The PET fibers don't retain much heat and the cotton shell is naturally breathable, so this pillow earned higher ratings during our temperature control tests than many competing models with real down fill. We also found the pillow quite moldable and ideal for snuggling. At the same time, you'll need to fluff it somewhat frequently to maintain a full shape.

What It's Made of

PET down alternative fill makes the pillow feel very plush and lofty. For added softness, the shell is made of natural cotton in a silky-smooth sateen weave. The shell's edges are double-stitched to help minimize wear and tear, and border piping gives the pillow an elegant finish. You can choose from standard and king sizes, as well as a square-shaped "Euro" option. The pillow is not machine-washable, and should only be spot cleaned or dry cleaned if stains occur.

The Down Alternative Pillow is affordably priced, and you'll receive a 10% discount when you buy two and a 15% discount if you buy four. Brooklinen offers free ground shipping for orders of two or more pillows within the contiguous U.S. The company's 365-night trial period is one of the longest in the online bedding industry. If you decide to keep the pillow, you'll receive an additional year of warranty coverage against manufacturing defects.
Best Luxury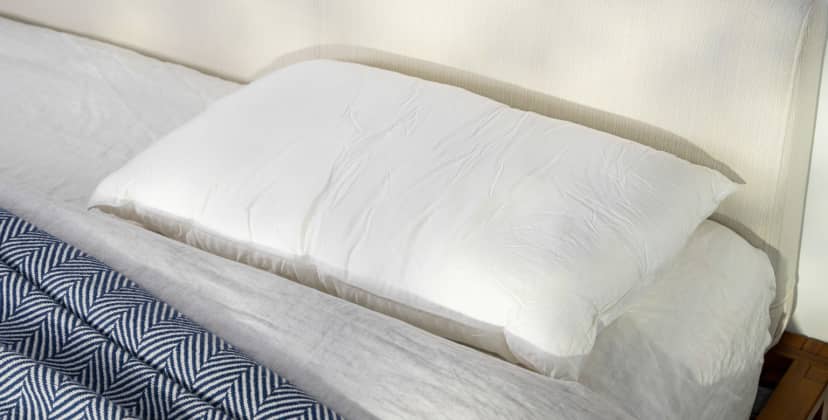 Fill:
Long-Strand Mulberry Silk
Pros
High-grade mulberry silk fill provides plush cushioning
Breathable viscose from bamboo cover helps the pillow sleep cool
Durable fill resists clumping and maintains a full shape
Cons
Expensive pricing may be a barrier to budget-conscious shoppers
Spot cleaning or dry cleaning is recommended over machine-washing
Bottom Line – Our Testing Team Takeaway

"The Cozy Earth Silk Pillow is a luxuriously soft pillow, like the kind you would sink into at a hotel while still feeling supported in the neck. The cover is made from bamboo-derived viscose, which is one of the most cooling materials you'll find in bedding."

– Logan Foley, Managing Editor
Product Details

Mulberry silk is one of the most luxurious bedding materials in use today, and most pillows made with silk carry expensive price-points as a result. The Cozy Earth Silk Pillow is more affordable than many of its direct competitors without sacrificing the quality or longevity people have come to expect from silk.

How It Performed

The Silk Pillow has a thick profile but its fill is quite plush. As a result, the pillow was popular among a wide range of testers on our team. Side and back sleepers received enough loft to lie comfortably without their heads falling back too much, while the fill compressed well for most of our stomach sleepers and didn't cause any neck strain.

Shape retention proved to be a standout quality during our tests. The pillow requires virtually no fluffing to keep a full shape and should never flatten — if it does, this is considered a defect under Cozy Earth's warranty. Temperature control was another testing highlight. The silk does not absorb much heat and the moisture-wicking cover feels cool to the touch.

What It's Made of

The pillow's fill is composed of mulberry silk strands that are grouped tightly together, resulting in a soft surface for your head and neck that shouldn't sink or lose shape. A bamboo-derived viscose cover encases the silk. Standard and king sizes are available.

You have multiple care options for your Silk Pillow. Cozy Earth recommends dry cleaning or spot cleaning, but you can also machine wash the pillow in a delicate cycle. Tumble dry on low heat with dryer balls, or hang to air dry. Keep in mind machine washing may cause the pillow to deteriorate more quickly.

Shipping is free for customers in the contiguous U.S. Your Cozy Earth Silk Pillow comes with a sleep trial spanning 100 nights. If you decide to keep the pillow, it's backed by a generous 10-year warranty against structural defects such as pilling fabric and shape loss.
Best Airflow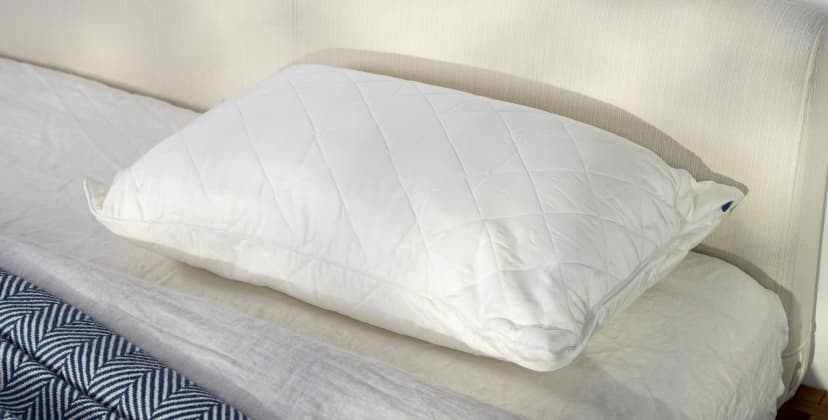 Sijo FluffBase Eucalyptus Pillow
Fill:
Tencel down alternative fibers
Pros
Quilted Tencel shell is soft and moisture-wicking
Plush down alternative fill cushions the head and neck without trapping heat
All eucalyptus used to produce the materials is grown in FSC-certified lots
Cons
Too thick for most stomach sleepers
Return period is much shorter than average
Bottom Line – Our Testing Team Takeaway

"We've tested a lot of breathable pillows, but the bursts of cooling you get from the Sijo FluffBase are on a different level from most of the competition. The Tencel fibers also give you that plush, lofty down feel without the heat buildup — this pillow really is the best of both worlds."

– Colin Simpson, Research Manager
Product Details

The Sijo FluffBase Eucalyptus Pillow's fiber fill and quilted shell are both composed of Tencel, a eucalyptus-derived fabric that retains the natural softness and breathability of its natural source. Tencel's moisture-wicking properties also make the pillow a great choice for hot and humid conditions.

How It Performed

As our hands-on tests showed, the FluffBase's medium soft feel and 5-inch loft make the pillow particularly well suited to back sleepers. Those who use this position should receive adequate head and neck support without excessive elevation or deep sinkage. Some of the side sleepers on our team also enjoyed the pillow for its high profile and ample cushioning. Stomach sleepers will likely find the pillow too thick. 

Our temperature control tests revealed little to no heat retention on the FluffBase's surface, and our testers agreed the pillow stayed cool even as the fill molded to their heads and necks. The FluffBase is also quite moldable and snuggly — but by the same token, you may need to shake out the pillow somewhat frequently to recover its full shape. 

What It's Made of

Tencel-based down alternative fibers fill the FluffBase, resulting in a plush and lofty feel without the allergy potential or heat buildup of real down. The pillow is also a good choice for people who prefer not to use products with animal-based materials. A Tencel fabric shell encases the fill. Diamond quilting adds nice detailing to the design, and a sateen weave enhances the Tencel's natural softness. You can choose from standard/queen or king sizes.

Certification from the Forest Stewardship Council ensures the eucalyptus used to produce the Tencel is sustainably grown and harvested. The pillow is technically machine-washable, though may be too large for some household appliances such as washing machines with agitators. You may need to dry clean the pillow or bring it to a laundromat if you're unable to launder it at home.

The FluffBase Eucalyptus Pillow is competitively priced and customers in the contiguous U.S. qualify for reasonable flat-rate ground shipping. Sijo's trial period spans one week, so you'll need to decide quickly if this pillow is right for you.
Best for Neck Pain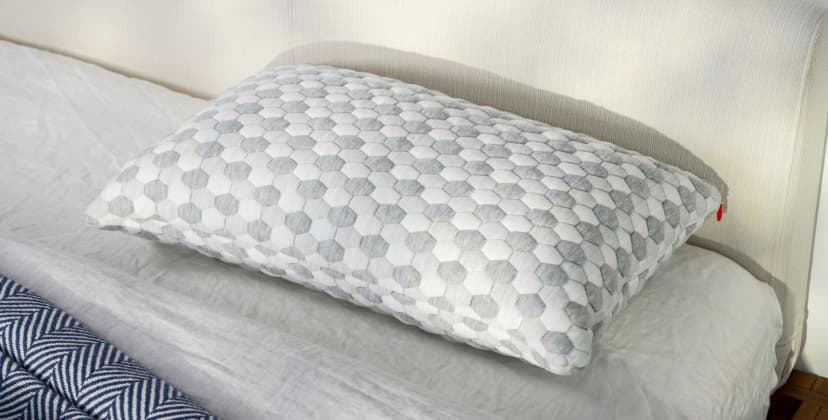 Fill:
Shredded memory foam and kapok tree fiber blend
Pros
Contains a plush blend of shredded memory foam and natural kapok fibers
Cover is infused with copper intended to promote cooling
Fill can be added or removed to adjust the loft
Cons
Some sleepers may receive insufficient support due to pillow's softness
Supplemental fill is not available
Bottom Line – Our Testing Team Takeaway

"My favorite part of the Layla Kapok Pillow is how great the loose fibers are at facilitating air flow. Our field tester is a hot sleeper but he reports zero issues with overheating after 4 years of use."

– Tom Ryan, Head of Product Testing
Product Details

If you live with frequent or chronic neck pain, choosing the right pillow can be highly beneficial. We recommend the Layla Kapok Pillow to anyone who needs a plush, slightly adaptive surface for their head and neck to sleep comfortably. The fill blend consists of shredded memory foam and natural down alternative fibers for a balance of cloud-like softness and gentle contouring. The adjustable design also allows you to customize the loft based on your sleep position and personal preferences.

How It Performed

Since the Layla Kapok Pillow is adjustable, most of our testers found a profile that was sufficiently supportive. Our side sleepers preferred the pillow at full volume, and most did not remove any of the fill. The back sleepers on our team removed about a third of the fill to avoid excessive elevation, and stomach sleepers felt most comfortable with most of the fill removed.

The fill doesn't retain much heat and the poly-viscose cover is quite breathable, so the pillow fared well during our temperature control tests. You may need to fluff the pillow if you remove some of the fill, but at full volume we noticed good shape retention. At the same time, the fill is soft enough to ensure exceptional moldability.

What It's Made of

The pillow contains shredded memory foam and kapok tree fibers. The latter have a soft, airy feel akin to real down, so the pillow feels plush but also contours evenly to the head and neck. To adjust the pillow's loft, unzip the cover and add or remove the fill to your liking. You can purchase additional fill in bulk if you run out and need to replenish your supply.

The pillow's cover is composed of polyester and viscose with a hint of Lycra spandex to give the fabric a stretchy feel. You can machine wash the cover, but must first separate it from the pouch containing the fill. The Layla Kapok Pillow is available in queen and king sizes.

Affordable pricing and free shipping within the contiguous U.S. make the Kapok Pillow a good option for budget-conscious shoppers. You can bundle your purchase with Layla bedding products for additional discounts. Each purchase comes with a 120-night trial, and you'll receive a 5-year warranty if you decide to keep the pillow.
Why You Can Trust Us
Our team at Sleep Foundation has tested over 300 pillows in order to find the best models for every type of sleeper. Each pillow undergoes the same rigorous testing process, during which we examine and handle the pillow to evaluate it for performance areas such as shape retention, moldability, and overall support. Technological implements allow us to track heat buildup and measure concentrations for particles that emit bothersome odors. We also take weight, firmness options, and ease of care into account when assigning pillow ratings.
How We Evaluated These Pillows
Since sleep position plays a large role in how comfortable a pillow feels, we've included side, back, stomach, and combination sleepers on our team, in order to address the needs of as many sleepers as possible. During the testing process, our team members lay their head on each pillow to evaluate firmness, contouring, and temperature neutrality. We've synthesized our findings to present what we believe are the best cooling pillows on the market. Our testers found that these pillows retained little heat, wicked away moisture, and slept cool compared to other models we evaluated.
What is a Cooling Pillow?
A cooling pillow prevents heat retention and provides a cool or temperature neutral sleep surface. This type of pillow is constructed to draw heat away from your body and increase airflow to prevent heat retention. The materials used in the pillow cover are often moisture-wicking and breathable.
Finding the right pillow is just one component of creating a cooling sleep environment. There is a direct relationship between temperature and sleep, and your bedroom should be set to a comfortable temperature to improve sleep quality. Colder room temperatures facilitate better sleep, and many studies recommend keeping the bedroom around 65 degrees Fahrenheit.
Your body has a circadian rhythm that lowers your body temperature when it is time to prepare for sleep. A hot room can increase wakefulness. This disrupts the body's natural sleep-wake cycle and results in poor quality sleep. Some people sleep hotter than others. This can make it harder to fall asleep. Cooling bedding can provide comfort and encourage restful sleep.
How to Choose a Cooling Pillow
There are many factors to consider when choosing a cooling pillow, including its cooling properties and the quality of materials used. Every sleeper has unique needs, but there are common elements that can help you determine if a pillow is right for them. These include price, loft, firmness level, and pressure relief. Keep in mind your sleeping position, weight, and personal preferences when shopping for a cooling pillow.
"Regulating your core body temperature during the night can make a huge difference in your overall sleep quality, so breathable materials are optimal to promote cooler temperatures. I recommend looking for breathable, natural fibers for bedding, pillows, and cooling sheets, especially if you're a hot sleeper. Opt for more hypoallergenic materials like cotton, linen, silk, or bamboo, as synthetic fibers tend to be less breathable and trap more heat at night. Your body temperature needs to drop a few degrees to transition to sleep, so having breathable bedding that promotes cooler temperatures is optimal and can help assist with your body's natural temperature regulation process at night."
– Sarah Silverman, Psy.D., a licensed psychologist and holistic sleep wellness consultant who treats patients in New York and Florida.
What to Consider When Purchasing a Cooling Pillow
Below are some key factors you should keep in mind when purchasing a cooling pillow. A cooling pillow draws heat away from your body, and certain materials do this better than others. That being said, each person is different and what works for one may not work for another.
In addition to regulating temperature and providing a comfortable sleep environment, a cooling pillow may also relieve pressure and provide ample support for your head, neck, and shoulders. While the focus of our guide is a pillow's cooling properties, there are additional factors that can help you determine if a pillow is a good purchase or not. You should consider what type of pillow you want, and what is most important to you in addition to cooling properties.
Cooling Properties: The cooling properties of a pillow determine how well it regulates your temperature, dissipates heat, and keeps you cool throughout the night. Most cooling pillows have passive cooling properties, meaning they are constructed with materials that either encourage airflow or draw heat away from your body. Gel, copper, phase change materials, and graphite are all conductive materials that dissipate heat. Moisture-wicking materials like wool, cotton, and bamboo are helpful if you're prone to sweating throughout the night. These breathable materials also circulate air and prevent heat retention. For shoppers, it is important to focus on the materials and construction of the pillow over any marketing buzz.
Sleeping Position: The position you sleep in each night determines the firmness and loft you should look for in a pillow. Side sleepers need a pillow with a higher loft that fills the space between the neck and shoulders. This helps keep the spine aligned and reduces pressure. Back sleepers maintain a neutral posture, but need a pillow that keeps their head level and not tilted too far forward or back. Stomach sleepers prefer thinner pillows that keep their head and neck at a comfortable angle.
Price: Pillows are available at a wide range of price-points, so we recommend setting a budget before shopping. Keep in mind that some materials are more expensive than others. A high-quality cooling pillow can range between $75 to $150 or more, which is more expensive than the average pillow.
Pressure Relief: A pillow provides additional support and relieves pressure and tension in your neck and shoulders. Pillows that conform to the shape of your head and neck help keep the spine aligned. Memory foam is well-known for its conforming nature, while latex also offers pressure relief.
Quality Materials: The quality of materials used in a cooling pillow determines its lifespan. Many cooling pillows are made with high-quality materials that are especially durable. This includes natural latex and foams that offer shape retention and support. As a result, cooling pillows often last longer than other pillows.
Firmness Level: For cooling pillows, a medium soft to medium firm feel is common. Materials like wool, down, and shredded memory foam are often soft. Solid foam and latex pillows are more likely to be medium to medium firm. Buckwheat pillows and some foam options can be firm. When shopping for a pillow, personal preferences and sleeping position can help you determine which firmness level is the right fit.
Loft: Loft refers to the height of the pillow. Cooling pillows often have a medium to high loft. Certain cooling pillows have an adjustable loft, meaning you can remove or add filling to change the height of the pillow. A higher loft is better for side sleepers, while back sleepers tend to prefer a medium loft. Stomach sleepers benefit from a low loft.
What Materials are in a Cooling Pillow?
A cooling pillow uses materials in its fill and cover to regulate temperature and dissipate heat. We'll break down common fill and cover materials here. It should be noted that certain materials are highly conductive and draw heat away from the body. Others allow air to flow through them to dissipate heat. There are multiple options available, and certain pillow types will work better for some than others.
Fill Materials
Latex: Latex is made from rubber tree sap, which is harvested and processed using the Dunlop or Talalay method. Dunlop latex is heavier, with a dense bottom and resilient feel. Talalay latex requires more processing, with a homogenous and breathable result. Latex offers ample pressure relief and is more breathable than synthetic foam. Some heat retention is possible, but many cooling pillows use aerated latex to dissipate heat and encourage airflow.
Memory Foam: Memory foam is a viscoelastic polyfoam that responds to heat and pressure to conform closely. This results in a customized feel for sleepers and pressure relief for the head, neck, and shoulders. Memory foam pillows may retain heat and restrict airflow, so look for a cooling pillow that offsets this. Open-cell memory foam has better airflow. Memory foam can also be shredded to let air circulate, or infused with gel or copper to draw heat away from the body.
Gel or Copper: Gel and copper are highly conductive materials that pull heat away from the body. These can be added to other fill materials, most often foam. Gel has a cool to the touch feel. Copper is antimicrobial. These materials prevent heat from building up in the pillow, but they often result in a higher price-point.
Buckwheat: Buckwheat hulls are the shells of the buckwheat grain. The hulls have an open shape and create air pockets in the pillow. This prevents heat retention. The hulls are malleable and supportive. Buckwheat pillows may take some getting used to, as the hulls have a natural odor and are prone to making a rustling noise when moved.
Wool: Wool is harvested from lambs and sheep. The natural fiber has a crimped shape that adds ample loft and airflow to a pillow. Wool acts as natural insulation, so it pulls heat and moisture away in warmer climates and retains heat in colder areas. A wool pillow is best for those who want year-round temperature regulation.
Down Alternative: Down alternative is often made with polyester or synthetic fibers that imitate the feel of down. This offers a vegan alternative to down, which is made with the down feathers of geese or ducks. Down alternative fill is less likely to retain heat than down. It is also more affordable.
Cover Materials
Cotton: Natural cotton fibers are soft and breathable. There are several varieties of cotton, and the fibers can vary from short-staple to extra-long staple. Pima cotton and Egyptian cotton are types of extra-long staple cotton that are soft and breathable. Cotton naturally wicks away moisture for a cooling feel. This material is often used in covers as it increases airflow and is easy to clean.
Phase Change Material: Phase change materials control temperature by absorbing body heat and releasing it. These materials change from a liquid to solid state to regulate temperature. Textiles that incorporate phase-change materials are often used in cooling pillows to draw heat away from the body.
Bamboo: Bamboo is a natural fiber that is moisture-wicking and lightweight. It is more absorbent than cotton, making it an ideal choice for hot sleepers who sweat throughout the night. Bamboo is breathable and increases airflow throughout the pillow.
What Are the Pros and Cons of a Cooling Pillow?
Many shoppers are drawn to cooling pillows for their temperature-regulating properties. These pillows reduce heat retention and are an important part of creating a comfortable sleep environment. However, due to the cooling properties and materials used, cooling pillows are more expensive. There are a few pros and cons shoppers should consider before purchasing a cooling pillow.
Pros
Cons

Temperature Neutrality: Cooling pillows draw heat away from the body and prevent sleeping hot.
Long Lifespan: Cooling pillows are made with durable materials that result in a longer lifespan.
Pressure Relief: Tension in the neck and shoulders is relieved by cooling pillows that have a latex or foam construction.
Adjustable Loft: Shredded foam, buckwheat, or wool fill can be removed or added to an adjustable pillow for a customized feel.
Often Allergen Resistant: Materials like latex, foam, and wool are often used in cooling pillows and resist common allergens.

Cost: Cooling pillows have a higher-than-average price-point due to the quality of materials used.
Maintenance: Many cooling pillows are difficult to clean, especially if they have a solid foam or latex core that cannot be washed.
Not for Everyone: Those who do not sleep hot may find a cooling pillow is unnecessary.
Odor: Materials used in cooling pillows may off-gas or have a natural odor.
Who is Best Suited to a Cooling Pillow?
Hot sleepers especially benefit from cooling pillows, but there are also benefits for side and back sleepers. It is important for you to consider sleeping position and personal preferences when shopping for a pillow. A cooling pillow might not be right for you and there are special considerations that should be kept in mind.
A cooling pillow is best suited for:
Hot Sleepers: Hot sleepers need cooling bedding to prevent overheating. This allows them to sleep comfortably, as temperature and sleep quality are connected. A cooling pillow can help draw heat away from the body and provide a cooling surface for hot sleepers. A cooling pillow will also wick away sweat.
Side Sleepers: Side sleepers need a higher loft pillow to keep the head elevated and neck aligned. Many cooling pillows have a higher loft that is suitable for side sleepers. Adjustable cooling pillows allow for additional fill and a higher loft.
Back Sleepers: Back sleepers need a medium loft pillow that supports the head without letting it tilt too far forward or back. Most cooling pillows have the ideal loft and firmness for back sleepers. Materials like memory foam and latex contour to the shape of the head for proper support and alignment.
These kinds of pillows are not well suited for:
Stomach Sleepers: Stomach sleepers need a low loft pillow. This keeps the neck at a comfortable angle. Some cooling pillows are adjustable, but most have a medium to high loft that is less than ideal for stomach sleepers. Stomach sleepers often prefer a soft pillow and most cooling pillows are considered medium soft to firm.
Sleepers with Odor Sensitivities: Cooling pillows often use synthetic foams or natural materials that prevent heat retention. Synthetic foam tends to off-gas, which causes a chemical smell in the pillow. This usually dissipates within a few days, but those who are sensitive to odors may notice it for longer. Materials like wool and buckwheat also have a natural odor that may be off-putting to sleepers with odor sensitivities.
Other Tips for Sleeping Cool
A cooling pillow is an essential part of a comfortable sleep environment, but it is just one component. You can take additional measures to stay cool throughout the night.
Bedding: Using breathable, lightweight bedding prevents heat retention. Natural materials like cotton, bamboo, and eucalyptus are ideal. These fibers are commonly used in cooling bed sheets, comforters, and duvets. Pay attention to thread count and weave to ensure your bedding allows air to circulate. A percale weave offers a crisp and cool feel for hot sleepers. Avoid heavy fabrics and synthetic materials that are not breathable.
Room Temperature: A cool room improves sleep quality. The ideal room temperature is around 65 degrees Fahrenheit. Set the thermostat in this range, and use a fan to keep air circulating. Window shades can act as insulation, keeping hot air out of your room and preventing cool air from escaping.
Mattress: There are plenty of mattress options that regulate temperature and reduce heat retention. The best mattresses for hot sleepers are often made with latex or gel-infused memory foam. A hybrid construction with coil support increases airflow throughout the mattress and can make a significant difference for hot sleepers.
Pajamas: What you wear to bed plays a role in how well your body regulates temperature. Opt for natural, breathable fabrics like cotton and bamboo. Avoid heavier fabrics, thermal pajamas, or flannel pieces.
Mattress Topper: If buying a new mattress is not in the cards, a mattress topper can be an affordable way to make your current mattress more comfortable. Toppers act as an additional comfort layer and can improve the temperature regulation of the mattress. Aerated or gel-infused foam, latex, and wool are all breathable mattress topper options.
Cooling Pillow FAQs
How do cooling pillows work?
Cooling pillows are often infused with materials like gel, graphite, or copper that help draw heat away from your body. Certain models combine these elements with a construction that promotes airflow so that heat can escape. Cover fabrics like cotton, rayon derived from bamboo, and wool are beneficial too since they wick sweat and increase breathability.

Your pillow's shape can also have an effect on how cool it feels. A solid piece of foam will generally retain more heat than it will when the foam is shredded, as air can better circulate around the shredded fill. Consider your sleeper type and fill preferences to find a cooling pillow that has all the qualities you need.
How do you wash a cool gel pillow?
While exact washing directions will vary by manufacturer, many cool gel pillows are spot clean only and should not be put in a washing machine. Most cooling pillows take this into account and provide a washable cover that's easily removed. If you need an option that's simple to launder, make sure to research the manufacturer's recommendations.
Can cooling pillows be toxic?
Purchasing a pillow that's OEKO-Tex certified and CertiPUR-US certified can help you ensure that your pillow has low levels of volatile organic compounds (VOCs). In small doses, VOCs aren't a threat to your health but can be irritating to people with allergies or respiratory problems. VOCs are present in many foam products and can have an unpleasant smell. It typically takes about 24 to 48 hours for these VOCs to dissipate, so sleepers particularly sensitive to smell should allow their pillow to fully air out before use.
How long do cooling pillows last?
Your cooling pillow's lifespan will depend on the quality of its materials, but you can expect a well-made pillow to last 3 to 4 years. Your weight and sleeper type can also affect how long your pillow lasts. A pillow that gets significant amounts of direct pressure will likely break down faster than one that has less weight applied. Choosing a high-quality fill and the correct firmness level for your sleeper type can help ensure your pillow goes the distance.
Still have questions?
Our product experts have extensive experience testing just about every sleep product on the market. Send an email to [email protected] or call us at (877) 672-8966 with your questions and we'll help you find exactly what you're looking for.