Best Gel Pillows
Methodology
We personally test every pillow featured in our reviews and guides to provide accurate, data-driven recommendations.
Learn More
Up-to-Date
We recently updated this list by naming the Marlow Pillow as our best overall pick for best gel pillows.
We may earn a commission through products purchased using links on this page. Products or services advertised on this page may be offered by an entity that is affiliated with us. Learn more about our process here.
Gel pillows use cooling gel to regulate temperature and reduce heat build-up on the surface of the pillow. They may use different designs to accomplish this, including gel pods, laminated gel layers, and gel infusions in the pillow material. Gel is most often used in memory foam pillows, which are known for their heat retention. If you're struggling to maintain a neutral temperature while sleeping, a gel pillow may be the answer.
Gel pillows come in various models, including solid memory foam, shredded memory foam, and microfiber. Despite their claims, not all gel pillows succeed in keeping sleepers cool overnight. It's important to do your research to ensure you're getting a product that works. We'll examine common models and features of gel pillows and share our recommendations to help you find the best gel pillow for your sleeping style.
Product Details
Price: $65 – Standard $85 – King
Fill: 80% memory foam, 20% polyester fiber
Firmness: Adjustable
Who it's best for:
Side and back sleepers

Those who are unsure of their ideal firmness and loft

Anyone seeking pressure relief for the neck at night
Highlights:
Adjustable loft and firmness

Shredded memory foam contours evenly for a balance of contouring and support

365-day return policy
Sleep Foundation Exclusive Offer!
Use this SleepFoundation.org link for the most current discount on Marlow pillows
Many pillows offer adjustable loft, but few allow you to customize firmness level. The Marlow Pillow is a memory foam model with a unique design that allows you to adjust firmness with ease.
The pillow's adjustable design lets you pick your ideal firmness, but regardless of the firmness option, our testers found that the foam construction provides excellent contouring for the head and neck without sacrificing support. Side sleepers on our team found the cradling quite comfortable. Back sleepers typically need substantial support as well as moderate contouring, and the adjustable firmness allowed our back-sleeping testers to pick the loft that suited them best.
The pillow is filled with shredded gel-infused memory foam and polyester fibers. The shell is 100% cotton, with a mesh gusset made from polyester. You can adjust the firmness and loft through a simple zippered construction. If you prefer a pillow with higher loft and a firmer feel, you may zip the side of the cover. If you wish to decrease the loft and firmness, simply unzip the side.
The Marlow comes with a generous 365-day return policy and a 2-year warranty. Shipping is free within the contiguous U.S.
Linens & Hutch Plush Down-Alternative Gel-Fiber Pillow (2-Pack)
Price: $130 – Queen $150 – King
Fill: Gel-infused down alternative fibers
Firmness: Soft
Who it's best for:
Hot sleepers

People who enjoy pillows they can squeeze

Sleepers seeking a pillow with moderate loft
Highlights:
Down alternative fill feels fluffy and plush

Cotton cover is soft and breathable

Gel-infused fibers help keep the pillow cool
Sleep Foundation Exclusive Offer!
SleepFoundation.org readers get 60% off select products at Linens & Hutch with code: SLEEP60
Many gel pillows you'll find on the market are composed of foam, but the Linens & Hutch Plush Down-Alternative Gel-Fiber PIllow stands out for its microfiber fill. This material gives the pillow a plush feel that will appeal to sleepers who need or prefer soft pillows.
The pillow cover is composed of breathable cotton with a 240 thread count. Inside the pillow you'll find microfibers that mimic the feel of down. The fibers are infused with gel to keep the pillow cool and prevent overheating. The pillow is plusher and fluffier than the foam pillows you'll find on this list, but it's also lofty enough to generate support for those looking to keep the head moderately elevated.
The Down-Alternative Gel-Fiber Pillow is sold in packs of two, and you can choose between a queen or king size. Linens & Hutch backs the pillow with a 101-night sleep trial, and shipping is free to the contiguous U.S.
Brooklyn Bedding Luxury Cooling Memory Foam Pillow
Price: $129 – Queen $149 – King
Fill: Open-cell memory foam
Firmness: Medium
Who it's best for:
People who feel pressure along the neck and shoulders

Those who often sleep hot on memory foam pillows

Value seekers
Highlights:
Two loft options make the pillow compatible with multiple sleep positions

Breathable components help to offset the memory foam's heat-absorbing properties

30-night trial with free return shipping
Sleep Foundation Exclusive Offer!
Use this SleepFoundation.org link for the most current discount on Brooklyn Bedding pillows
Multiple loft levels and a mid-range feel make the Brooklyn Bedding Luxury Cooling Memory Foam Pillow an appealing choice for different types of sleepers. The foam core feels adaptive and contours closely without sinking beneath the head and neck, which can improve alignment and alleviate discomfort for people who experience pressure points along the spine. The low-loft pillow measures 4.5 inches thick and is best suited to stomach sleeping, while the 6-inch high-loft model should provide adequate support for side sleepers. Back sleepers may feel comfortable with either loft, depending on their personal preferences.
The foam is infused with copper and graphite, two materials with natural cooling properties, while a gel coating also helps the pillow sleep at a comfortable temperature despite the foam's heat-retaining tendencies. The cover, composed of circular-knit polyester, is also quite breathable. You may remove and machine-wash the cover whenever the fabric needs to be cleaned, but the foam is spot-clean only. Queen and king sizes are available.
The Luxury Cooling Memory Foam Pillow's price-point is reasonable compared to competing models constructed with the same materials. Brooklyn Bedding also provides free ground delivery for all customers in the contiguous U.S. Each order includes a 30-night trial period with complimentary return shipping for those who aren't satisfied with their pillow. This product is also backed by a 3-year warranty against structural and material defects.
Tempur-Pedic TEMPUR-Cloud Breeze Dual Cooling Pillow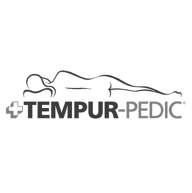 Price: $199 – Queen $239 – King
Fill: TEMPUR memory foam with TEMPUR-Breeze Gel coating
Firmness: Medium (5)
Who it's best for:
Side sleepers

People who enjoy high loft

Shoppers looking for a pillow with cooling features
Highlights:
TEMPUR memory foam core

Two gel layers designed to draw heat away from the body

Excellent pressure relief
Sleep Foundation Exclusive Offer!
Use this SleepFoundation.org link for the most current discount on Tempur-Pedic pillows
Tempur-Pedic offers a line of high-quality pillows that feature its proprietary TEMPUR memory foam material. The TEMPUR-Cloud Breeze Dual Cooling Pillow stands apart from other models by offering cooling features designed to minimize the heat-trapping properties that memory foam is known for.
The TEMPUR-Cloud Breeze is made with a single piece of TEMPUR memory foam, which boasts a medium feel and closely contours to the head and neck. The foam core sits between two layers of proprietary gel designed to draw heat away from the body. At 6.4 inches thick, the TEMPUR-Cloud Breeze is well-suited for side sleepers, who typically benefit from higher loft pillows that conform to the shape of their neck and head during sleep.
The pillow is encased in a 100% cotton cover that is removable and machine-washable. The breathable cotton helps promote air circulation. TEMPUR-Pedic offers free shipping but does not allow pillow returns. The company offers a 5-year warranty on pillows.
Allswell Gel Cooling Pillow
Price: $40 – Standard
Fill: Memory foam
Firmness: Medium
Who it's best for:
Sleepers who run warm

Shoppers on a budget

Side and back sleepers
Highlights:
Gel insert in cover helps prevent overheating

Durable memory foam construction

OEKO-TEX-certified materials
Sleep Foundation Exclusive Offer!
Use this SleepFoundation.org link for the most current discount on Allswell pillows
While many memory foam products tend to trap heat, the Allswell Gel Cooling Pillow features a gel insert in the knit cover that distributes warmth and allows the pillow to remain comfortably cool throughout the night. The pillow is available at an affordable price-point that falls well above the average for a high-quality memory foam pillow.
The Gel Cooling Pillow has a medium feel that performs particularly well for side and back sleepers. Individuals who value pressure point relief will likely enjoy the Gel Cooling Pillow's memory foam construction, which contours deeply. The knit cover is also made using OEKO-TEX-certified materials, meaning it is free from any harmful substances that could impede healthy rest. The pillow comes in a standard queen size. For easy care, the knit cover is removable and can be machine-washed.
Allswell offers free ground shipping on orders over $35 to addresses in the contiguous United States, with the exception of California. The Gel Cooling Pillow can also be returned within 30 days of delivery, though it must be in its original packaging and tags.
The Company Store Dual Memory Foam and Gel Fiber Pillow
Price: $59 – Standard
Fill: Gel and fiber blend (side 1), solid memory foam (side 2)
Firmness: Medium Soft (Side 1), Medium (Side 2)
Who it's best for:
Side and back sleepers

People who frequently wake up with sore or stiff necks

Value seekers
Highlights:
Reversible with adaptive memory foam and plush fiber surfaces

Gusseted design maintains a full, lofty shape

Breathable cotton cover and cooling gel infusion help to reduce heat buildup
Sleep Foundation Exclusive Offer!
Use this SleepFoundation.org link for the most current discount on Hollander Sleep Products pillows
People who frequently wake up with neck pain should consider a new pillow that provides adequate loft and support. The versatile Dual Memory Foam and Gel Fiber Pillow from The Company Store has a reversible design, and each surface offers a different firmness level. An adaptive feel ensures plenty of cushioning for side sleepers, but our tests indicate the pillow is also lofty and supportive enough for most back sleepers.
One side contains solid memory foam that contours evenly to the head and neck, resulting in mid-level support. The opposite side is cushioned with plush fiber fill for a noticeably softer feel. When testing this pillow in our lab, most team members felt comfortable lying on at least one of the pillow's surfaces — and some of us enjoyed both sides.
A soft, breathable cotton shell encases the fill. The side is shaped with a thick gusset to help the pillow maintain a full shape, even when compressed. You may remove the cover and machine wash it as needed, but you should only spot clean the foam if stains or smudges occur. The Company Store offers this pillow in a single standard size.
The Dual Memory Foam and Gel Fiber Pillow carries a relatively low sticker price, and all customers in the contiguous U.S. qualify for affordable flat-rate shipping. You may test out the pillow for up to 90 nights before deciding whether to return it for a refund or keep it.
Tuft & Needle Original Foam Pillow
Price: $85 – Standard $110 – King
Fill: T&N Adaptive Foam
Firmness: Medium
Who it's best for:
Hot sleepers who enjoy foam pillows

Shoppers looking for a conforming pillow

Those who enjoy medium loft pillows
Highlights:
Foam pillow with cooling features

Strong balance of support and contouring

100-night sleep trial
Sleep Foundation Exclusive Offer!
Up to 15% off mattresses & bedding basics
The Tuft & Needle Original Foam Pillow is constructed with T&N Adaptive foam, a proprietary foam blend that relieves pressure and promotes spinal alignment. Because of its close contouring, the pillow is a good fit for sleepers who experience neck and back pain.
The micro polyamide and polyester cover of the Original Foam Pillow has a breathable fabrication that helps increase airflow throughout the pillow. The core of the pillow is made with the Adaptive foam, which incorporates graphite and cooling gel to draw heat away from sleepers. Ceramic gel beads also provide support and contribute to the responsiveness of the foam. The pillow retains its shape and is very durable.
The 5-inch profile of the Original Foam Pillow may feel too high for some, but the Adaptive foam has a medium firmness and responsive nature that allows it to contour to the shape of the head and neck. This ensures a balance of comfort and support for back and side sleepers.
The pillow comes with a 100-night sleep trial, giving purchasers a chance to try out the pillow before making a decision. Additionally, Tuft & Needle offers a 3-year limited warranty that covers defects in manufacturing and workmanship.
Best for Combination Sleepers
Coop Home Goods Eden
Price: $80 – Queen $90 – King
Fill: Cross-cut gel-infused memory foam and microfiber
Firmness: Medium Soft
Who it's best for:
Hot sleepers

Sleepers who prefer a pillow with adjustable loft

Value seekers
Highlights:
Adjustable loft

Plush, pressure-relieving blend of shredded memory foam and microfiber

Designed for cooling with a breathable cover and gel-infused foam
Sleep Foundation Exclusive Offer!
Use this SleepFoundation.org link for the most current discount on Coop Home Goods pillows
A pillow with adjustable fill is ideal for those whose thickness preferences fluctuate from night to night, as well as pillow shoppers who are unsure about their desired loft. The Coop Home Goods Eden is a great choice for first-time buyers thanks to its premium construction and approachable price-point. The pillow contains a proprietary blend of gel-infused memory foam and microfiber fill that can be added or removed to increase or decrease the loft. Coop Home Goods also sells the fill in bulk whenever your supply is running low.
The Eden has a medium soft feel and the foam contours deeply around the head and neck. This makes it suitable for anyone who experiences aches, pains, or pressure points in these areas. The pillow also sleeps exceptionally cool. Air circulates through the core thanks to the shredded fill, and the cover – composed of pure organic cotton – is also highly breathable. You can wash and dry the entire pillow in your household machines. Tumble drying can also assist with shape recovery whenever the pillow becomes flattened with use.
Since the fill can be replaced as needed, the Eden is considered very durable for a memory foam pillow. Shipping is free for all U.S. orders. Coop Home Goods also offers a 100-night sleep trial and a five-year warranty.
---
What is a Gel Pillow?
Gel pillows aim to reduce heat retention using gel, either in the form of gel infusions, gel beads, gel pods, or laminated gel layers. The gel works by absorbing heat and transferring it away from your body to prevent the pillow from heating up. Depending on the design, this may be more or less effective at maintaining a neutral temperature on the sleep surface. Using breathable bedding and a cooling mattress can also help with temperature regulation.
The most common types of gel pillows are solid and shredded memory foam pillows. Memory foam is a desirable pillow material because it contours closely to reduce pressure points, but many people find that the material retains too much heat. Adding gel beads or gel swirls can help curb this heat retention. Shredded memory foam pillows offer greater moldability and better airflow, while solid memory foam pillows hold their shape better.
You may also see other types of pillows that have a thin layer of gel on one or both sides. Some manufacturers make flippable pillows with more intense cooling on one side, or removable gel layers that allow the customer to personalize the feel. Alternatively, some manufacturers directly infuse gel into the fibers of down alternative pillows.
Most gel pillows are somewhat reliant on the ambient temperature, meaning that if your bedroom is very hot, there's only so much they can do to keep you cool. To enhance the gel's cooling effects, most gel pillows have a cover made of cotton, Tencel, or another breathable fabric. Some may take it a step further and add a cover with phase change material that's cool to the touch.
How to Choose a Gel Pillow
As the term "gel pillow" refers to the practice of adding gel to a pillow instead of to a specific pillow type, there's quite a lot of variation within this category. In the following sections, we'll discuss the pros and cons of gel pillows and what type of sleeper is best-suited to a gel pillow. We'll also answer some commonly asked questions about gel pillows and provide buyer advice on choosing the best cooling gel pillow for your situation.
What to Consider When Purchasing a Gel Pillow
As with any important purchase, it's helpful to have an idea of what you're looking for before you start your research. Variables like the pillow's loft, firmness level, and shape can have a major impact on how comfortable a gel pillow feels and how well it supports you.
Unfortunately, some gel pillow manufacturers can use confusing marketing language to sell their pillows. Focusing on the following key factors and your needs can help you see past the hype and find the best gel pillow for your sleeping style.
Loft
Ideally, the pillow should be just high enough to keep the head, neck, and spine in a flat line. A higher loft is favorable for side sleepers, who have a larger gap to fill between the head and the mattress. By contrast, back sleepers need a medium loft, and stomach sleepers need a very low loft or sometimes no pillow at all.
Fill
The fill used to make a pillow determines its overall feel, as well as other properties such as the amount of airflow it allows. Gel pillows incorporate gel into the fill, either in standalone gel layers or by infusing gel into the other components.
Support
A pillow is only as good as its ability to provide the right support for your head and neck. Pillows that sag under the weight of the head can put added strain on the neck and cause soreness. When evaluating a pillow on how much support it's likely to provide, be sure to take into account the original loft as well as the firmness. This accounts for any compression that may reduce the loft.
Firmness Level
The ideal firmness depends on your sleeping position and personal preference. A too-firm pillow may cause pressure to build up, while a too-soft pillow may sag excessively and fail to provide the needed amount of support. Most sleepers opt for a pillow that falls somewhere in between. Some pillows offer the option of adding or removing filling to adjust the firmness level.
Pressure Relief
Down, memory foam, and other plush materials conform to fit the head and neck, distributing weight and relieving pressure build-up. This is especially important for side sleepers, who are prone to sore ears when lying on hard pillows. Gel layers that are integrated into the pillow cover often provide extra pressure relief.
Shape
There are a variety of shapes to choose from if you don't like the traditional rectangular pillow. Side sleepers may prefer a pillow with flared ends that allow more room for the shoulders. Those who sleep on their back may prefer a cervical pillow with a raised neck area for better support.
Price
Your pillow is an important component of your sleep setup, and it may make the difference between a restful, reparative sleep versus a sore neck. While you shouldn't have to break the bank on a pillow, investing in a decent one can help you sleep better and prolong the time before you need to invest in another new one.
Quality Materials
Better-quality materials not only last longer, but they also provide superior support and pressure relief. When buying your gel pillow, check for indicators of quality such as the foam density or third-party certifications.
Moldability
Most pillows adapt somewhat to the curves of the head and neck, but some pillows take this to the next level and allow sleepers to manually scrunch the pillow into the shape they choose. Shredded memory foam and poly fiber pillows tend to be the most moldable, with solid memory foam pillows settling back to their original shape after pressure is lifted.
Temperature Regulation
The idea of a gel pillow is to help regulate temperature and prevent overheating. Pillows that incorporate room for airflow, such as with ventilated holes or breathable cover materials, have a better chance of reducing heat retention. Some pillows have gel on only one side to accommodate changing ambient temperatures. In the case of cooling pillows, it's also important to check whether the cover is made of breathable materials.
What Are the Pros and Cons of Gel Pillows?
The obvious advantage of a gel pillow is that it keeps you cool, especially as compared to a traditional memory foam pillow. However, because of limitations in the materials used to make gel pillows, some sleepers may find they aren't appropriate for their sleeping style.
Pros
Cons

Cooling: Gel pillows draw heat away from the sleeper to prevent heating the surface of the pillow.
Support: In some cases, gel infusions enhance the pillow's ability to form a supportive cradle.
Moldability: Many gel pillows are made of poly fiber or shredded memory foam, both of which allow users to scrunch them into shape.
Hypoallergenic: Gel pillows are almost always made with memory foam or microfiber, both of which are resistant to dust mites and other allergens.

Not Always Effective: Gel only cools to a certain extent and may not be enough to beat high temperatures in warmer climates.
May Be Too Firm: Gel pillows are rarely made of very soft materials such as feathers, so those who prefer a plusher pillow may have trouble finding a gel model that works for them.
Off-Gassing: Gel pillows often emit off-gassing odors at first, which may be bothersome to some people.
Not Washable: Most down alternative gel pillows can be machine-washed, but memory foam pillows are usually spot-clean only.
Unique Feel: Pillows with layers of laminated gel or gel pods on the outside present a jelly-like feel that's not for everybody.
Who is Best Suited to a Gel Pillow?
Gel pillows are favored by people who live in warmer climates or those who tend to overheat while sleeping. They also offer some advantages for other sleeper types.
Hot Sleepers: The primary aim of gel pillows is to provide a cooler sleep surface. Not every gel pillow sleeps as cool as advertised. It's advisable for hot sleepers to do their research and take advantage of a pillow's sleep trial before committing to a purchase.
Side Sleepers: Gel pillows most frequently have one-piece memory foam, shredded memory foam, or down alternative fills. All of these constructions lend themselves well to the needs of side sleepers, as they have a higher loft and cushioning materials that reduce pressure build-up on the ears.
Sleepers Who Have Neck Pain: Cervical memory foam pillows have a wavy shape that's designed to accommodate the curve of the neck and reduce neck pain. For neck pain sufferers who sleep hot, there is a wide selection of cervical gel pillows on the market.
Pregnant Women: The cooling effects of a gel pillow may help pregnant women or those going through menopause. Moreover, pregnant women in their second and third trimester are advised to sleep on their side, and many gel pillows are suited to side sleepers. Some women may choose to tuck an additional gel pillow between the legs.
Who is not suited:
Those Who Prefer a Plush Pillow: As they're most often made with memory foam or poly fiber, gel pillows usually have a medium or medium firm feel. People who prefer to sink deeper into their pillow may want to look at non-gel down or feather models.
Stomach Sleepers: Stomach sleepers tend to be most comfortable on a pillow with a lower loft, as this helps optimize spinal alignment when lying face-down. Unfortunately, most gel pillows have a higher loft and are made of materials that don't compress as much. This may place strain on the neck.
Which Gel Pillow Sizes Are Available?
Gel pillows may be sold in the following sizes:
Standard: Standard pillows are the most common pillow type. They are most commonly used for twin beds but they can be used with any size mattress. They measure 20 by 26 inches.
Super Standard: Super standard pillows are two inches longer than standard pillows, coming in at 20 by 28 inches. This size is more rarely seen.
Queen: Queen size pillows measure 20 by 30 inches and despite the name, many shoppers opt to use this size on other types of mattresses as well. Queen size pillows are long enough to accommodate sleepers who frequently switch sleeping positions.
King: King size pillows are significantly longer, measuring 20 by 36 inches. They are specifically designed for a king size mattress, and are also long enough to be used as a backrest when sitting up in bed.
Specialty: Some manufacturers may offer specialty sizes such as the square Euro pillow, the longer body pillow, or orthopedic pillows designed to provide superior support.
Frequently Asked Questions About Gel Pillows
How much do gel pillows cost?
On average, gel pillows cost between $40 and $50. The price may vary depending on what type of pillow it is, what the cover is made of, and how the gel is distributed. You may also pay more for features such as adjustable loft or removable covers.
How do I clean a gel pillow?
Gel memory foam pillows can handle gentle spot-cleaning, while down alternative pillows can typically be machine-washed and dried. In the latter case, this can also help plump up the filling to extend the longevity of the pillow. Many pillows have removable covers that can be machine-washed to keep the exterior of the pillow clean. Always check the manufacturer's instructions before cleaning a pillow.
Where can I buy a gel pillow?
Gel pillows are readily available online and in brick-and-mortar stores. Pillows bought online sometimes come with sleep trials that allow customers to try the pillow out at home and return it for a refund if it doesn't suit them.
How long do gel pillows last?
On average, a gel pillow lasts for 2 to 3 years before needing to be replaced. This lifespan is on par with most other pillow types, although the exact length may vary depending on materials and design. In most cases, the gel loses its effectiveness over time, and the filling gradually gets compressed and fails to provide adequate support.
Are gel pillows adjustable?
Some gel pillows feature an adjustable loft, particularly shredded memory foam and down alternative pillows in which filling can be added or removed. Solid memory foam pillows may also have two or more layers that can be manually adjusted. In gel pillows with cooling gel on just one side, flipping the pillow over can change the temperature and in some cases the firmness of the pillow.
Do gel pillows have an odor?
Gel memory foam pillows may present some off-gassing smells when they first arrive. These smells are referred to as volatile organic compound (VOC) emissions, and they are common with polyfoam and memory foam products. Most sleepers find that any odor goes away after a few days.
Still have questions?
Our product experts have extensive experience testing just about every sleep product on the market. Send an email to [email protected] or call us at (877) 672-8966 with your questions and we'll help you find exactly what you're looking for.
Thanks for the feedback - we're glad you found our work instructive!
If you're ready for more, sign up to receive our email newsletter!
Was this article helpful?
Thanks for the feedback - we're glad you found our work instructive!
Submitting your Answer...
Other Articles of Interest