Best Tempur-Pedic Pillows
When you buy through our links, we may earn a commission. Products or services advertised on this page may be offered by an entity that is affiliated with us. Learn more.
Tempur-Pedic is one of the best-known mattress brands. Often credited with popularizing the use of memory foam in sleep products, Tempur-Pedic's main claim to fame is its proprietary TEMPUR material, which was developed based on pressure-relieving foam originally created by NASA.
In addition to its mattress line, Tempur-Pedic also crafts pillows using its TEMPUR foam. Currently, 14 main pillow options are available, including bed pillows, travel pillows, and ergonomic pillows. One piece of TEMPUR foam typically makes up the bulk of the pillow, and firmness options range from extra soft to extra firm.
Each pillow comes with a 5-year limited warranty that protects against defects. Pillows purchased through Tempur-Pedic ship free within the contiguous United States. Tempur-Pedic accepts returns for pillows that arrive damaged or defective, but no sleep trial is available. Purchases from third-party retailers may be subject to different return policies.
We'll cover some of our favorite Tempur-Pedic pillow options and explain what makes each stand out. We'll also go over what to keep in mind as you select the right Tempur-Pedic pillow for you.
Product Details
Tempur-Pedic TEMPUR-Cloud Pillow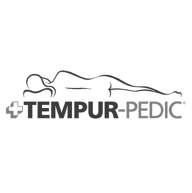 Back sleepers
Stomach sleepers
Travelers

Extra-soft feel provides cloud-like comfort
Compresses easily for travel
5-year limited warranty
Sleep Foundation Special Offer
Buy 2 TEMPUR-Cloud Pillows for $119 and save $59!
The Tempur-Pedic TEMPUR-Cloud Pillow offers excellent performance at a reasonable price, thanks to its cloud-like comfort and convenient design.
This pillow has an extra soft feel balanced with good support, making it a strong option for back and stomach sleepers looking for a bit of plushness. At 5 inches thick, it's a medium-loft pillow, but its extra soft feel allows significant compression.
TEMPUR memory foam makes up the body of the pillow, while a knit polyester cover encases it. The cover is removable and washable, making it easier to keep the pillow clean and fresh. It also fits in a standard or queen pillowcase.
The TEMPUR-Cloud Pillow can be compressed and rolled to fit more neatly into a suitcase when traveling.
Tempur-Pedic TEMPUR-Neck Pillow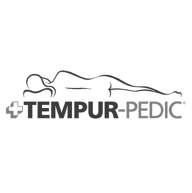 Back sleepers
Side sleepers
Those who suffer from frequent neck aches

Ergonomic, contoured design reduces pressure on the neck
Promotes spinal alignment
Choice of three standard sizes, as well as a travel-friendly model
Sleep Foundation Special Offer
Use this SleepFoundation.org link for the most current discount on Tempur-Pedic pillows
Engineered with neck support in mind, the TEMPUR-Neck Pillow's extra-firm feel and ergonomic design can help align the neck and spine, which may reduce neck discomfort.
The body of the pillow uses TEMPUR material. Its contoured shape is designed to match the natural curvature of the neck to provide optimal support for side and back sleepers.
Three sizes are available: small, medium, and large. The small measures 3 inches thick, the medium is 4 inches thick, and the large is 4.5 inches thick. While all of these can be classified as medium loft, these size options are intended to accommodate different body types. Individuals with less distance between their neck and the tip of their shoulder may be better served by a smaller option, while those with a greater distance may need the extra thickness of a larger option.
This pillow comes with a knit polyester hypoallergenic cover, which is removable and washable.
Tempur-Pedic TEMPUR-Cloud Adjustable Pillow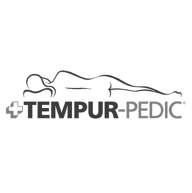 Fill:
Shredded memory foam
Combination sleepers
People with neck pain
Shoppers on a budget

Proprietary fill blend includes three different types of TEMPUR memory foam
Adjustable design lets owners customize the loft
Machine-washable cover is treated with Surface-Guard Technology to stave off harmful bacteria
Sleep Foundation Special Offer
Use this SleepFoundation.org link for the most current discount on Tempur-Pedic pillows
If you frequently change sleep positions, then a pillow with adjustable loft may be a valuable investment. The TEMPUR-Cloud Adjustable Pillow is cushioned with plush, shredded memory foam that adapts to the head and neck, making it ideal for many side sleepers. That said, the customizable design of this pillow can serve back and stomach sleepers just as effectively.
In our experience, side sleepers typically prefer a fuller, thicker loft. This fills the gap between the sleeper's shoulder and head, which in turn promotes spinal alignment and alleviates pressure along the spine. Most back sleepers also need some loft to keep the head upright, but not as much as side sleepers, whereas stomach sleepers tend to prefer low-loft pillows – otherwise they may experience neck pain due to excessive head elevation.
The pillow's fill consists of three types of TEMPUR memory foam. TEMPUR Pressure Relief foam cushions and contours closely, TEMPUR Plush Comfort is an open-cell foam engineered for breathability, and TEMPUR Premium Support is a high-density material that resists sinkage and reinforces the neck. These three components create a comfortable balance of pressure relief, cooling, and sturdy support.
A thin liner contains the foam, and a polyester cover encases the liner. The outer cover is treated with Surface-Guard Technology, an antimicrobial agent intended to safeguard the pillow from mold, mildew, dust mites, and other contaminants. The cover is also removable and machine-washable, but the foam and liner should only be spot cleaned as needed.
An approachable price-point and free shipping throughout the contiguous U.S. make the TEMPUR-Cloud Adjustable Pillow a solid option for value seekers. As with other pillows, Tempur-Pedic does not allow returns for this model and all sales are final. However, each buyer receives a manufacturer's warranty with their purchase that covers structural defects for up to 5 years.
Tempur-Pedic TEMPUR-Symphony Pillow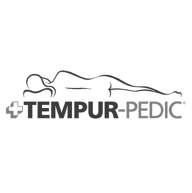 Combination sleepers
Those with any position preferences
Shoppers looking for a versatile pillow

Two pillow designs in one
Accommodates a wide range of sleep positions and preferences
Versatile design is well suited for combination sleepers
Sleep Foundation Special Offer
Use this SleepFoundation.org link for the most current discount on Tempur-Pedic pillows
Each side of the TEMPUR-Symphony Pillow is constructed with specific sleep positions in mind, making the TEMPUR-Symphony Pillow a strong, versatile option regardless of how you prefer to sleep.
This soft pillow contains TEMPUR material for support and plushness. One side of the pillow is curved to support a back or side sleeper's neck, while the other side is flat to accommodate stomach sleepers. A hypoallergenic polyester knit cover can be removed and washed to keep the pillow surface clean.
The TEMPUR-Symphony Pillow measures 5 inches thick, so it is a medium-loft option. Stomach sleepers usually prefer low-loft pillows, but the TEMPUR-Symphony Pillow's soft feel and flat side should add plushness without lifting the head excessively.
Tempur-Pedic TEMPUR-Cloud Breeze Dual Cooling Pillow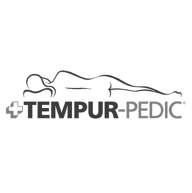 Fill:
TEMPUR memory foam with TEMPUR-Breeze Gel coating
People who tend to sleep hot
Those who live in warm climates
Individuals with any sleep position preferences

Gel-infused foams help keep the pillow cool
The conforming and support of memory foam, without the excessive heat
Medium firmness feel balances support and cushioning
Sleep Foundation Special Offer
Use this SleepFoundation.org link for the most current discount on Tempur-Pedic pillows
Sleepers won't have to keep flipping the Tempur-Pedic TEMPUR-Cloud Breeze Dual Cooling Pillow to switch to the cool side. Both sides are cool and comfortable thanks to their TEMPUR-Breeze Gel Layers, which transfer heat away from the sleeper to maintain a more even surface temperature.
The pillow's cooling capability is enhanced by its breathable cotton quilted cover, which is also removable and washable. A layer of TEMPUR material makes up the core. Since it has a medium feel, the TEMPUR-Cloud strikes a balance between support and cushioning.
The TEMPUR-Cloud Breeze Dual Cooling Pillow is available in queen and king sizes. Both sizes measure 6.4 inches thick, making this a high-loft model. High-loft pillows are typically best suited to side sleepers, though the TEMPUR-Cloud Breeze Dual Cooling Pillow is crafted to accommodate all sleep positions.
Tempur-Pedic ComfortPillow – Travel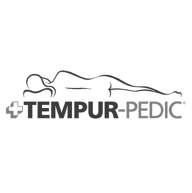 Fill:
TEMPUR Micro-Cushions
Firmness:
Medium Firm (6)
Travelers
Shoppers looking for a smaller pillow
Sleepers who want a pillow that's somewhat firm while relieving pressure

Compact design – 16″ x 10″ x 4″
TEMPUR Micro-Cushions provide customized comfort
Medium-firm feel and medium loft provide a versatile choice for most sleepers
Sleep Foundation Special Offer
Use this SleepFoundation.org link for the most current discount on Tempur-Pedic pillows
Designed for travel, the Tempur-Pedic ComfortPillow – Travel is compact and supportive for on-the-go comfort.
The body of the pillow consists of a TEMPUR sleeve filled with TEMPUR Micro-Cushions that adjust to the individual's shape. A removable, washable cover comes with the pillow for added protection against the wear and tear of travel. The ComfortPillow – Travel has a medium firm feel, offering ample support while molding to an individual's head and neck to relieve pressure and provide cushioning.
At 16 inches by 10 inches, the ComfortPillow – Travel is smaller than a standard bed pillow. This may make it an ideal option for traveling, lounging, placing under the lower back or knees while sleeping on your back, or using between the knees while sleeping on your side. It is 4 inches thick, which can be classified as medium loft.
What is a Tempur-Pedic Pillow?
The defining characteristic of a Tempur-Pedic pillow is its TEMPUR foam core. This unique memory foam molds to a sleeper's head and neck, relieving pressure while providing support. Each Tempur-Pedic pillow has a unique construction. The firmness of the foam varies between models to accommodate different comfort and sleep position preferences. Some pillow options also contain other materials, like down and cooling gel.
Tempur-Pedic products typically have a reputation for quality, which further sets its pillows apart from other pillows on the market. Shoppers looking for a durable and supportive option may gravitate towards Tempur-Pedic's robust product line.
How to Choose a Tempur-Pedic Pillow
With 14 pillow options to select from, choosing the best Tempur-Pedic for you could be challenging. Assessing the traits that make each model unique can help you find the pillow that will be most comfortable for your sleep position, comfort preferences, and support needs.
What to Consider When Purchasing a Tempur-Pedic Pillow
As many factors influence what makes a pillow ideal and comfort is subjective, one pillow is unlikely to feel ideal to all sleepers. The best way to determine what will feel most comfortable to you is usually focusing on specific factors that may affect your sleep experience. The following criteria frequently influence shoppers' pillow purchasing. These same traits may also play a role in which Tempur-Pedic pillow you might like best.
Size
Tempur-Pedic pillows range in size from small, travel options to king size bed pillows. The size of the pillow influences how much room you have to move around and how well the pillow fits into your space. Most often, shoppers will want to select bed pillows that correspond to the size of their mattresses for the best fit.
Incline
A pillow's incline affects how much it elevates your upper body. More elevation may be beneficial for certain conditions, such as snoring and acid reflux. Customers shopping for a pillow with a notable incline usually purchase wedge pillows. Tempur-Pedic does not currently produce wedge pillows, and most of its models have a fairly consistent thickness throughout. Because of this, Tempur-Pedic's options may not be ideal for sleepers looking for more elevation.
Shape
A pillow's shape affects how it supports your head and neck. Most of the pillows in the Tempur-Pedic line have a conventional rectangular shape, while others have a contoured design for ergonomic support. The company also produces some smaller travel pillows, including a u-shaped option.
Weight
Heavier pillows typically have a firmer feel, while lightweight options are often plusher. Tempur-Pedic does not publicly list the weight of its pillows, however, so shoppers may not be able to assess this trait.
Perhaps more importantly, the sleeper's weight can also influence how they experience their pillow. Heavier individuals typically prefer firmer pillows for added support, while lighter people often favor a softer option for more cushioning.
Firmness Level
The right firmness level is critical to support. A pillow that is too firm could feel hard and/or lift the head and neck too far upward, while a pillow that's too soft may not provide enough support. The ideal firmness varies based on the sleeper's weight and preferred sleep position. On average, most sleepers are likely to favor an option with a medium feel. However, stomach sleepers and lightweight individuals may find a softer pillow comfortable, while heavier individuals often prefer a firmer feel.
Tempur-Pedic produces pillows ranging from extra soft to extra firm, so there should be a suitable option available for virtually any kind of sleeper.
Pressure Relief
Tempur-Pedic's proprietary TEMPUR foam shapes to the sleeper to evenly distribute the force of their weight. Since all of its pillows contain this material, sleepers can expect notable pressure relief when they select the right size and firmness for their body type and sleep position. This may make it easier to maintain proper spinal alignment and help reduce neck aches.
Price
Pillow prices typically vary a great deal, with some starting at under $10 and others topping $1,000. Tempur-Pedic's range from under $100 to around $200. Selecting a pillow that fits in your budget is important, but you may also want to consider the pillow's longevity when making your purchase. A long-lasting pillow with a higher initial price tag may ultimately be more budget-friendly than a lower-priced option that you need to replace sooner.
Quality Materials
Quality materials often make the difference between a comfortable pillow you can use for years to come and a lumpy or unsupportive pillow you replace after a few months. A wide range of materials are used to craft pillows, and any of these options can be high-quality. Tempur-Pedic's pillows are especially prized for their quality since they use the company's popular proprietary memory foam, which tends to perform well and outlast many materials.
Temperature Regulation
Sleepers who are prone to overheating during the night often prefer a pillow that stays cool. Tempur-Pedic pillows typically have breathable covers that allow air to circulate. Several pillows in the line also use special cooling gel to reduce heat retention.
What Types of Tempur-Pedic Pillows Are Available?
As all of Tempur-Pedic's pillows use TEMPUR foam, there isn't a lot of variation between the types of pillows in their line. However, there are some subtle differences between designs that may be important to consider.
Rectangular: About half of Tempur-Pedic's pillow line is composed of standard, rectangular pillows commonly used for sleeping in bed.
Contoured: Tempur-Pedic produces several contoured pillows engineered to ergonomically support the head, neck, and shoulders. These options are typically firmer.
Travel: There are four different shapes of travel-friendly pillows in Tempur-Pedic's line. These pillows are designed for support and comfort whether you're on a plane or in a hotel. They are on the firmer end of the spectrum, ranging from medium firm to extra firm.
Single Slab: Most Tempur-Pedic pillows consist of one piece of TEMPUR material encased in a fabric cover. This material is responsible for the pillow's cushioning, pressure relief, and support.
Mixed Materials: A few Tempur-Pedic pillows include TEMPUR material along with additional components to adjust the feel, such as cooling gel, micro-cushions, or down.
Frequently Asked Questions About Tempur-Pedic Pillows
Why are Tempur-Pedic pillows more expensive?
Pillows that contain proprietary materials are typically more expensive due to the cost of their development and production. Tempur-Pedic pillows contain the brand's proprietary memory foam. When coupled with the fact that Tempur-Pedic's products are known for their quality, this explains the higher price point.
How much do Tempur-Pedic pillows cost?
Tempur-Pedic pillows start at under $100 and go up to over $200. While this price may induce sticker shock for some shoppers, the high quality may make the pillows a better value over their lifespan than many budget models.
How do I clean a Tempur-Pedic pillow?
Most Tempur-Pedic pillows have removable, washable covers for easy cleaning. These covers can typically be laundered in cold water using a mild detergent. The pillows themselves are not washable, but Tempur-Pedic suggests you can roll and unroll your pillow to help it "breathe." Following the manufacturer's care instructions provided with your Tempur-Pedic pillow can help protect it so that it remains comfortable and supportive.
Where can I buy a Tempur-Pedic pillow?
Tempur-Pedic pillows are sold through the Tempur-Pedic website and at various online and brick-and-mortar third-party retailers, including mattress stores, housewares stores, and department stores.
How long do Tempur-Pedic pillows last?
Customers can typically expect their Tempur-Pedic pillow to last for at least five years. Each pillow comes with a 5-year warranty. If qualifying defects arise before that, the pillow may be eligible for repair or replacement. This life expectancy is longer than the average pillow due to Tempur-Pedic's high-quality materials.
Are Tempur-Pedic pillows adjustable?
Tempur-Pedic does not currently sell adjustable models through its website, but some are available through third-party retailers.
Still have questions?
Our product experts have extensive experience testing just about every sleep product on the market. Send an email to [email protected] or call us at (877) 672-8966 with your questions and we'll help you find exactly what you're looking for.
Thanks for the feedback - we're glad you found our work instructive!
If you're ready for more, sign up to receive our email newsletter!
Was this article helpful?
Thanks for the feedback - we're glad you found our work instructive!
Submitting your Answer...
Other Articles of Interest