When you buy through our links, we may earn a commission. Products or services may be offered by an affiliated entity. Learn more.
As more sleepers are seeking out natural materials for their bedding, bamboo pillows have enjoyed a surge in popularity. Bamboo has many advantages over other traditional pillow fabric and fill materials. The process of growing and harvesting bamboo can be more sustainable than other textile crops like cotton, which require larger amounts of water, fertilizers, and pesticides. Bamboo materials are also naturally durable, cooling, antimicrobial, and hypoallergenic.
However, bamboo pillows can vary widely from brand to brand. This includes their general construction as well as the type of bamboo fabric and interior fill used. With a higher price tag than your average pillow, it's important to know exactly what sets the best bamboo pillows apart. Our comprehensive guide will cover everything you need to know so you can determine whether a bamboo pillow is right for you. We'll break down the different bamboo fabrics, common types of fill material, differences in pillow constructions, and how to tell if a certain pillow will work for your unique comfort preferences.
Product Details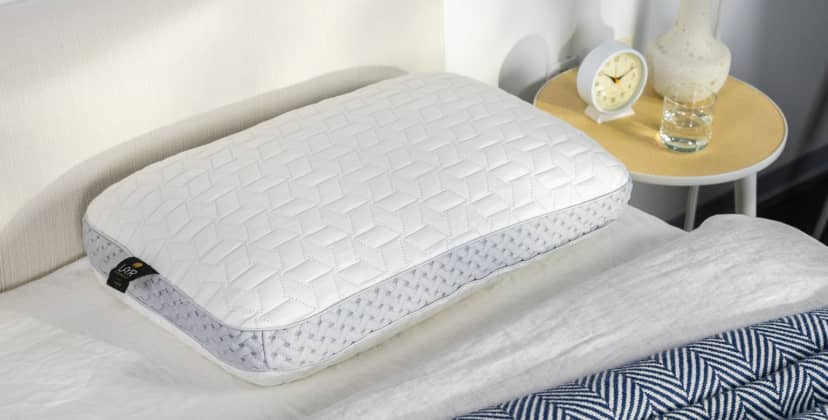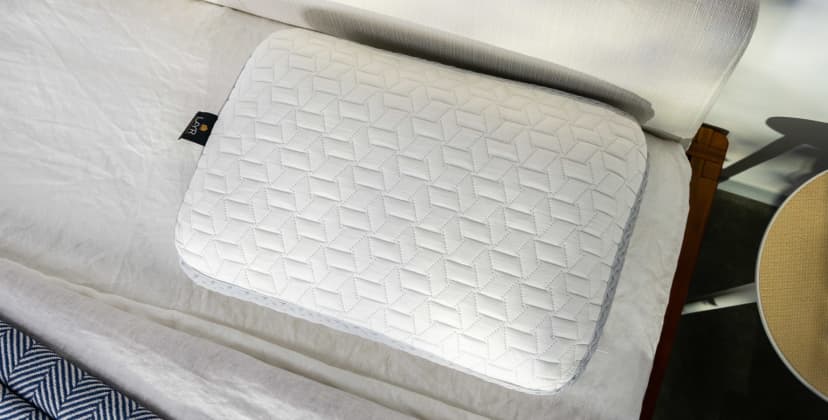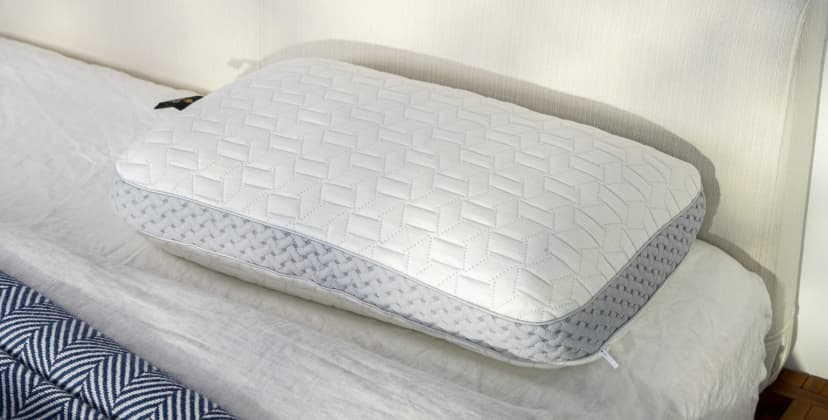 Luxome LAYR Customizable Pillow
Fill:
Down alternative, shredded gel-infused memory foam, and solid gel-infused memory foam
Hot sleepers
Shoppers looking for a highly customizable pillow
Sleepers with pressure points

Adjustable by firmness and height
Includes three different inserts
Viscose from bamboo cover regulates temperature
Sleep Foundation Special Offer
Use this link for the most current Luxome discounts
The LAYR Customizable Pillow from Luxome is a highly adjustable pillow that a wide range of sleepers should find comfortable. Luxome's model comes with three inserts that are each intended to feel and perform differently. Sleepers can adjust both the pillow's loft and firmness level by mixing and matching inserts. The price-point is within the average range for a luxury pillow and its customizable design offers added value for shoppers.
Sleepers can pick between three materials for a personalized sleep surface. The first insert has a down alternative fill that feels soft. The second insert's fill is 75% shredded gel-infused memory foam and 25% down alternative. This medium firm combination offers support and pressure relief while remaining plush. The third insert is the firmest. It's comprised of two solid pieces of gel-infused memory foam that offer structured support in two different loft levels.
When all three inserts are used, the pillow's total height is 11 inches. Luxome recommends adding and removing the inserts to find a combination that suits your sleep style rather than using all three. Back, stomach, and side sleepers are all likely to find a loft and support level that's well-suited to their needs.
Hot sleepers may appreciate the temperature regulating qualities of the gel-infused memory foam and viscose from bamboo cover. Heat retention will vary depending on which fill you choose, though the cover's mesh vent and fabric promote breathability and airflow. The cover is machine-washable as are the 100% cotton covers that wrap each insert.

Fill:
Shredded memory foam
Combination sleepers
People who usually overheat or sweat in their sleep
Bundle seekers

Adjustable design lets you add or remove foam fill to change the loft and overall feel
Removable cover is made of breathable, moisture-wicking rayon derived from bamboo
Each order includes two pillows
Sleep Foundation Special Offer
Use this SleepFoundation.org link for the most current discount on Nolah pillows
Most pillows containing bamboo-derived components offer above-average temperature control, but the Nolah Squishy Pillow's design sets it apart from many competing models. The fill consists of memory foam cut into cube shapes, allowing air to circulate throughout the interior without sacrificing the even contouring and pressure relief sleepers expect from this material. The cover, made of rayon derived from bamboo, is both breathable and moisture-wicking to ensure a comfortable night's sleep for most people – even those prone to night sweats.
Dual-chamber construction allows you to add or remove as much foam as you wish. This makes the pillow suitable for side, back, and stomach sleepers, as well as those who frequently shift between different positions. The cover can be removed and washed in household machines, making the pillow fairly easy to keep clean.
All purchases include two queen size pillows. Given the relatively low cost of this bundle, the Squishy Pillow is a great option for shoppers on a budget. Nolah also provides free ground delivery throughout the contiguous U.S. You'll receive a 30-night trial period with your order and return shipping is free as well.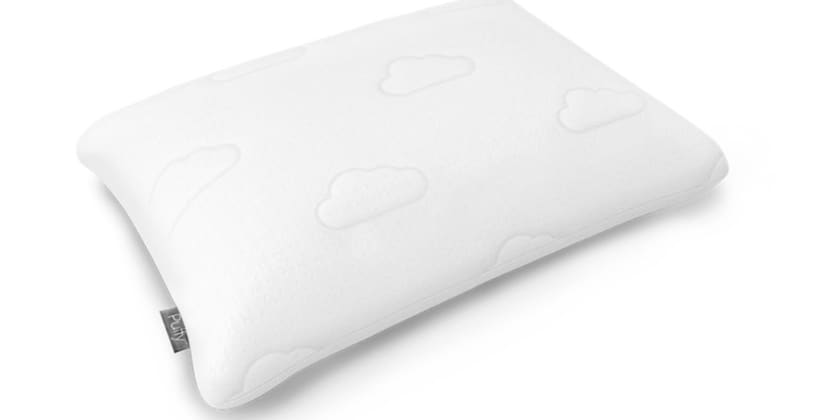 Fill:
Shredded Memory Foam
Combination sleepers and others whose loft needs may change throughout the night
People who usually sleep hot on foam pillows
Shoppers looking for a pillow with a long sleep trial

Adjustable shredded foam fill provides optimal loft for most sleepers
Breathable cover promotes airflow to keep the pillow cool
101-night sleep trial and lifetime warranty
Sleep Foundation Special Offer
$750 off mattresses and free luxury bundle ($600 worth of accessories – Puffy pillows, sheet set and protector) free with every mattress order – a total saving of $1,350.
Pillows featuring bamboo-derived components generally sleep cooler than other pillow types, but the Puffy Pillow elevates this quality with cover and fill materials that offer excellent temperature regulation. The core contains shredded, gel-infused memory foam that circulates air fairly well and shouldn't trap heat like solid foam. The rayon-derived-from-bamboo cover also promotes circulation, and the fabric wicks away moisture to keep your head and neck dry
Adjustable loft is another benefit of the Puffy Pillow. Owners may add or remove as much foam as needed to achieve the ideal loft for their body type and sleep position. This also benefits combination sleepers and anyone else who may need a fill adjustment in the middle of the night. The cover can be washed and dried in household machines.
Puffy's 101-night sleep trial exceeds the pillow trial periods from most competing brands. Those who choose to keep the pillow, rather than return it, will also receive a lifetime warranty that covers defects for as long as they retain ownership. Ground shipping is free of charge throughout all 50 states.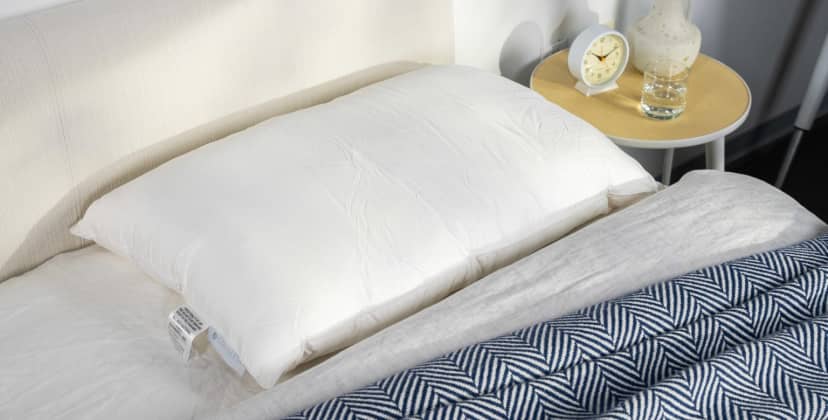 Fill:
Long-Strand Mulberry Silk
Shoppers who want a luxury option
People who sleep hot
Sleepers sensitive to allergens

Bamboo-derived shell sleeps cool
Unique silk fill feels soft
Highly moldable
Sleep Foundation Special Offer
Get 35% off sitewide with code: SLEEPFOUNDATION
Shoppers looking for a unique and luxurious pillow will find that the Cozy Earth Silk Pillow checks both boxes. The pillow's fill is crafted from 100% long-strand mulberry silk that feels soft, supple, and plush. Sleepers should find that this is pillow easy to mold and that it holds its shape well. Though it has a higher-than-average sticker price, the Cozy Earth Pillow's cost may be worth it to sleepers who want a luxe option crafted from sustainably sourced materials.
Cozy Earth has designed this pillow to reduce humidity and stay cool while you sleep. The silk fill and 100% viscose from bamboo cover allow air to circulate, ensuring your pillow doesn't retain too much heat. The pillow has a medium loft level that's best suited to back and side sleepers.
The manufacturer recommends spot cleaning or machine washing the cover only when necessary to preserve its longevity. Sleepers with sensitive skin may find the Silk Pillow suitable since it's manufactured without harsh dyes or chemicals and is intended to be hypoallergenic. Cozy Earth backs its pillow with a 10-year warranty and 30-night sleep trial. Customers in the contiguous U.S. qualify for free shipping and returns.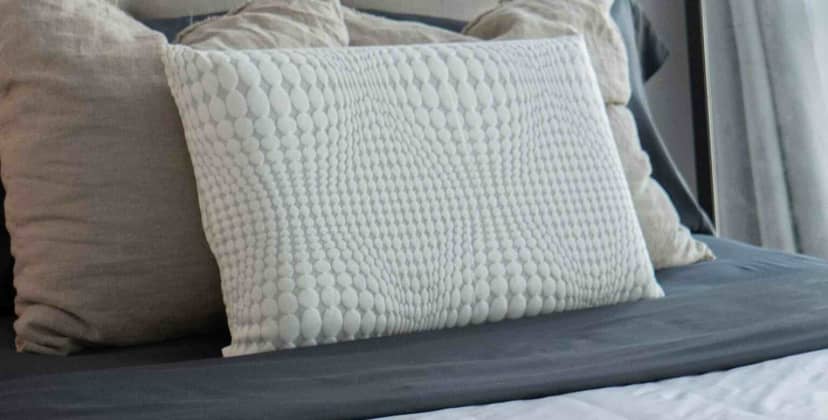 Side and back sleepers
People with neck pain
Those who enjoy the conforming feel of foam

Solid memory foam provides excellent contouring and pressure relief
Medium firm feel offers strong support
Bamboo-derived viscose cover reduces heat retention
Sleep Foundation Special Offer
Use this SleepFoundation.org link for the most current discount on Hush pillows
The Hush Eco-Pillow offers a careful balance of contouring and support that helps promote healthy alignment of the head, neck, and spine. This goes a long way toward alleviating neck pain or discomfort during sleep.
The pillow is composed of solid foam with a medium firm feel. You'll receive ample contouring to cradle your head and neck, but the above-average firmness ensures that your head won't sink too deep into the pillow. The 4.5-inch thickness is considered a medium loft for pillows, so it's ideal if you enjoy moderate head elevation during sleep. The loft and generous contouring make this a suitable model for side and back sleepers, since it's thick enough to support the neck but moldable enough to cradle your head and keep it at a comfortable angle.
The cover is made with a bamboo-derived viscose that feels smooth and cool to the touch. You can remove the cover and wash it on a cool, gentle cycle, then tumble dry on low heat. The pillow is available in a queen or king size.
The Eco-Pillow comes with a 30-night sleep trial and a 1-year warranty. Hush offers free shipping throughout the U.S.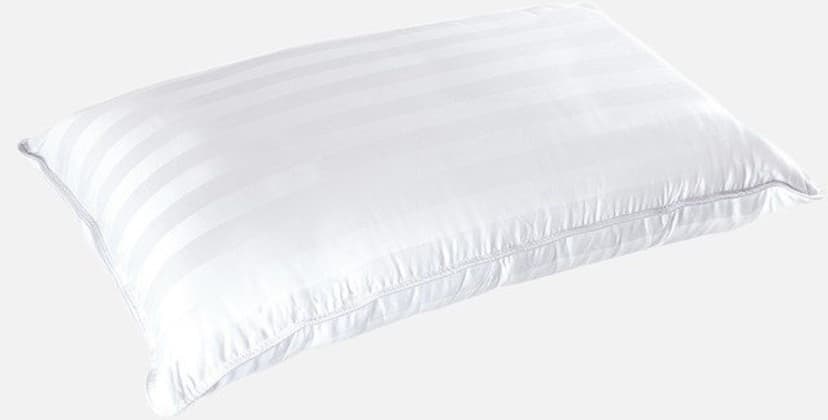 Fill:
100% bamboo charcoal memory foam
Those who usually sleep hot on foam-filled pillows
Sleepers with neck pain
Customers who prefer the conforming feel of memory foam

Pressure-relieving memory foam fill
Bamboo-derived material stays cool to the touch
Machine-washable cover
Sleep Foundation Special Offer
Use this SleepFoundation.org link for the most current discount on Cariloha Bamboo pillows
The Cariloha Retreat Pillow combines the softness from bamboo-derived viscose with pressure-relieving memory foam. This material has a more responsive feel that side sleepers on our team thoroughly enjoyed. The cover material is naturally breathable and wicks away moisture, making it a strong choice for hot sleepers as well.
The outer cover is composed of 100% bamboo-derived viscose, while the inner lining is made from a blend of microfiber and viscose. These materials stay breathable while providing exceptional softness. Charcoal-infused memory foam makes up the middle fill, contouring to relieve pain and pressure points in the neck and shoulders. Combining the memory foam fill and the medium firm (6) feel supports the head to promote healthy spinal alignment and prevent pain.
Cariloha offers free shipping to the contiguous U.S. for all orders of $100 or more. If you are not satisfied with the Retreat Pillow, you can send it back to the company within 30 days of delivery.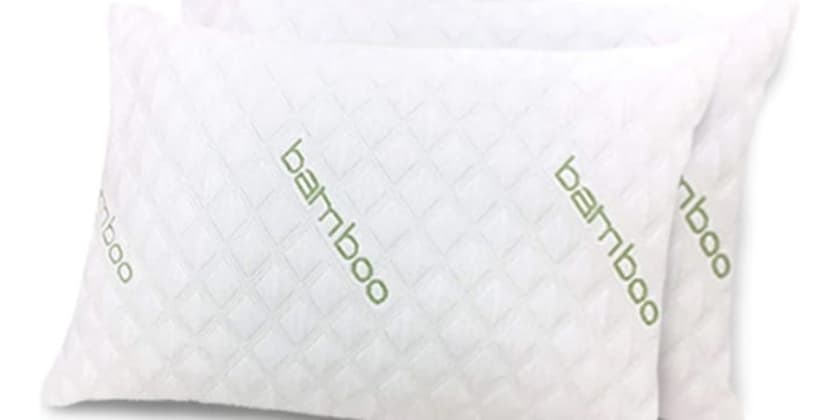 Best for Combination Sleepers
Sleepsia IK Bamboo Pillow

Fill:
Shredded Memory Foam
People who reside in hot or humid places
Those who want a customizable pillow
Shoppers with tight budgets

Shredded memory foam fill can be added or removed to adjust the loft
Cover composed of breathable, moisture-wicking rayon derived from bamboo
Each purchase includes two pillows
Sleep Foundation Special Offer
SleepFoundation.org readers get 10% off with code: SF10.
The Sleepsia IK Bamboo Pillow has a shredded foam interior that cradles the head and neck to relieve pressure buildup. The adjustable design also made the pillow comfortable for most of our testers, helping to keep the head and neck aligned with the rest of the body.
In addition to a bamboo-derived rayon shell, this pillow's above-average cooling can be attributed to shredded foam fill that retains a minimal amount of body heat. Air circulates freely throughout the interior, making the IK Bamboo Pillow a good choice for sleepers who live in exceptionally hot or humid places. The cover has a zipper that allows you easy access to the fill compartment. You can add or remove the foam to customize the loft based on your sleep position and thickness preferences. The cover is fully machine-washable, allowing you to keep the pillow clean with relative ease, but the foam should not be exposed to water. You can also tumble dry the pillow to recover its shape, as flattening may occur with use. Queen and king sizes are available.
All orders include two pillows, making the IK Bamboo Pillow a good option for budget-conscious shoppers. Shipping is also free of charge for U.S. orders. Sleepsia permits returns for unused, undamaged pillows with their original packaging still intact.
What is a Bamboo Pillow?
With more consumers interested in bedding made from natural plant and animal fibers, bamboo pillows have enjoyed increasing popularity in recent years. Bamboo pillows typically contain a memory foam or bamboo fiber fill encased in a woven outer cover made with fibers derived from bamboo, a fast-growing grass. This creates a plush yet firm and supportive pillow with a cover that is soft to the touch but still durable.
Bamboo pillows with memory foam fill may either be solid or shredded. Shredded memory foam, memory foam that has been torn into small pieces, allows sleepers to more freely adjust the loft of their pillow depending on their preferred sleep position.
The bamboo-derived pillows covers are made from 100% bamboo fiber. Bamboo is frequently touted for its benefits over other common materials such as cotton and synthetics. Bamboo is naturally hypoallergenic, antimicrobial, lightweight, and cooling.
However, bamboo is often combined with other materials to create a hybrid woven material for the pillow cover. This can improve the softness of the material while retaining the best features of bamboo fabric.
How is Bamboo Fiber Made?
Bamboo belongs to the family of Poaceae plants more commonly known as grasses. While all continents except Antarctica and Europe have their own native bamboo species, it grows especially well in warm and moist areas including both tropical and temperate climates.
As a grass, bamboo grows very quickly. Its fast growth makes bamboo well suited to commercial use. After harvesting, plants that have been cut can regrow back to full height in a short time. Unlike cotton, bamboo requires little in the way of fertilizer, pesticides, or irrigation. This also makes bamboo an environmentally friendly crop that can help restore degraded land.
Once harvested, there are two common methods to create bamboo fiber.
Mechanical Processing: the woody stem of the plant is crushed using machinery and then a natural enzyme treatment helps to break down the bamboo walls. The result is a mushy mass that can be combed through to extract the plant fibers. Plant fibers are then spun into yarn. The result is often referred to as bamboo linen which is highly durable, requires minimal processing, and readily takes up dyes, but is very expensive.
Chemical Processing: this is a more affordable method for creating bamboo-derived fabrics. Also referred to as the viscose process, this method uses strong chemicals to dissolve bamboo stalks to create a thick liquid. The liquid can then be filtered to separate the bamboo fibers, which are spun into a thread to create bamboo-based rayon fabric. Lyocell bamboo involves a similar process but uses less harmful chemicals.
How to Choose a Bamboo Pillow
Bamboo pillows offer a highly breathable sleep surface that can help promote proper spinal alignment in the neck. However, you must take into account your own unique needs when shopping for a new pillow. Here we cover the most important aspects to consider when choosing a bamboo pillow.
What to Consider When Purchasing a Bamboo Pillow
Bamboo pillows are known for their breathability, adjustability, and natural materials. While most bamboo pillows share these same general qualities, not all bamboo pillows are created equal. They can vary widely in terms of the type of bamboo fabric, fill material, and construction.
Many bamboo pillows only contain bamboo fabric in their cover while others use bamboo construction in both the cover and the pillow fill material. The type of fill material will have a significant impact on the performance and comfort of your pillow. That's why we recommend comparing different brands and pillow models before deciding which bamboo pillow to buy.
Below we've highlighted the most important aspects to consider when purchasing a bamboo pillow. If you take these factors into account and prioritize based on your personal preferences, you'll be able to find a bamboo pillow that suits your needs.
Loft
Loft refers to how tall a pillow sits. Side sleepers typically prefer pillows with higher lofts, stomach sleepers gravitate toward low loft pillows, and back sleepers often look for a more medium loft.
Most bamboo pillows are designed to provide an adjustable loft, where an interior zippered cover allows you to access the interior fill. Fill can be removed or added to create a customized loft that's comfortable for all types of sleepers.
Fill
Bamboo pillows typically come with either a memory foam or bamboo fiber fill. Memory foam fill can take the form of the more traditional solid memory foam core or shredded memory foam. As the name suggests, shredded memory foam fill is made up of finely torn pieces of memory foam. While solid memory foam can be more firm and supportive, shredded memory is more breathable and adjustable to suit a wider range of comfort and sleep position preferences. Bamboo fiber is even more breathable and may emit fewer off-gassing odors.
Support
The level of support will largely depend on the exact type of fill the pillow contains. Bamboo pillows with a memory foam interior tend to provide ample support, as the foam molds to the shape of the sleeper's head and neck promoting proper spinal alignment. However, bamboo pillows made with bamboo fiber fill can also offer suitable support that cushions the head and neck.
Firmness Level
This is an indicator of how soft a pillow will feel. The ideal firmness is largely subjective. Some sleepers prefer a more soft, plush pillow while others enjoy a pillow with less give. Bamboo pillows made with shredded memory foam make it easy to adjust the level of firmness by manipulating the shape of the pillow to create a customized firmness level that matches your comfort preferences.
Pressure Relief
Memory foam-based bamboo pillows provide excellent pressure relief by molding to the sleeper's head, neck, and shoulders relieving pressure, tension, and pain.
Shape
Bamboo pillows follow the traditional rectangular sizing conventions for pillows sold in North America. This includes standard, queen, and king sizes. Some brands may also offer specialty sizing in the form of square or body-style pillow options, but these shapes will be harder to find.
Price
Bamboo pillows typically cost between $50 and $150 depending on the quality and materials. While this is on the higher end of the price range for a new pillow, it's relatively easy to find sales, deals, and promotions to reduce the final price tag.
Quality Materials
Bamboo fiber is generally considered a long lasting, durable material. Often, the limiting factor when it comes to the life of your bamboo pillow will be the fill. Memory foam and other fills will degrade over time, eventually losing their ability to properly support your head and neck. However, some bamboo pillows made with shredded memory foam or bamboo fiber fill may be able to be restuffed with extra fill, extending their life span.
Moldability
This refers to how pliable or squishy a pillow feels. Bamboo pillows made with a solid memory foam interior will have the classic conforming comfort of memory foam, but lack moldability. In contrast, bamboo pillows made with shredded memory foam or bamboo fiber will be more moldable and easy to manipulate.
Temperature Regulation
Pillows may sleep hot, cool, or neutral. The degree of temperature regulation for an individual pillow will depend on both the fill and cover materials. Hot sleepers typically prefer a cooling pillow to help stay comfortable through the night.
Bamboo fabric is known for its excellent breathability. Combined with a shredded memory foam or bamboo fiber fill that promotes greater airflow than traditional solid memory foam pillows, most bamboo pillows will provide a temperature neutral sleep surface for your head and neck.
What Are the Pros and Cons of Bamboo Pillows?
Bamboo pillows are naturally breathable and made to be highly adjustable. However, bamboo pillows made with a memory foam-based fill share some of the benefits and downsides of other memory foam pillows. The following table presents an in-depth look at the pros and cons of bamboo pillows.
Pros
Cons

Many bamboo pillows are adjustable, making them comfortable for a broad range of sleep positions. Bamboo pillows with interior zippers allow sleepers to customize the feel of their pillow. You can either remove or add fill to adjust the loft or manipulate the shape of the pillow to provide a softer or firmer surface for your head and neck
Fabric made with bamboo fiber has many naturally desirable qualities. Bamboo-based fabric is highly breathable as well as antimicrobial and hypoallergenic.
Compared to other textile crops, bamboo is fast growing, doesn't require as much use of fertilizers or pesticides, and may help restore degraded farmland.
When made with memory foam fill or bamboo fiber, bamboo pillows are very quiet and generate almost no noise when you toss and turn. Some other pillow materials such as buckwheat, an eco-friendly alternative to bamboo pillows, can create a rustling sound as you change positions which some sleepers may find disruptive.

Although bamboo cultivation is fairly eco-friendly, the same cannot be said for the manufacturing processes used to produce bamboo fabrics. Processing methods may use harmful chemicals that can impact the environment as well as the health of workers.
Bamboo pillows made with memory foam filling are susceptible to off-gassing odors compared to pillows made with more natural fills.
What Types of Bamboo Fabric are Available?
Rayon: Rayon derived from bamboo is one of the most common forms of bamboo-based fabrics. Also called bamboo viscose, bamboo rayon is a semi-synthetic fabric made by chemically processing raw bamboo to extract the plant's fibers for use in textiles. Rayon is affordable and also very soft, making it a good fabric to use in pillows.
Lyocell: Lyocell bamboo shares many similar properties to bamboo-derived rayon. And while the process used to create lyocell is similar to the one used for rayon, it uses a more environmentally-friendly process. If you're worried about the environmental impact of rayon bamboo but also need an affordable bamboo pillow option, lyocell bamboo represents a good middle ground.
Linen: Bamboo linen is considered the most environmentally friendly option in terms of bamboo fabrics. That's because it requires very few chemicals and minimal processing. Bamboo linen can be coarse and may not be the best for next-to-face comfort. However, higher thread count bamboo linen fabrics are softer. Bamboo linen is highly durable, but also costly. Because the process involves more manual labor, a pillow that uses bamboo linen will likely be on the highest end of the price range for a bamboo pillow.
Which Bamboo Pillow Sizes Are Available?
Similar to mattresses, pillows also come in various sizes to suit a wide range of sleeper preferences. However, not every retailer carries every size, so be aware of what sizes are available as you scout different brands of bamboo pillows. While sizes tend to be standardized, there can be some minor variations from brand to brand. With that in mind, here are the most commonly available pillow sizes.
Standard: A standard pillow usually measures 20 inches wide by 26 inches long. Most sleepers can get a good night's sleep with a standard pillow. However, with less surface area than other options, it's best for less active sleepers who don't toss and turn or change positions frequently throughout the night. The standard pillow size is typically easy to find and also less expensive than other larger options.
Super Standard: At 20 inches wide by 28 inches long, the super standard pillow offers a slight upgrade from the standard pillow without being too oversized. Consider the super standard if you feel like you need a bit more room with your standard pillow.
Queen: A queen size pillow is typically 20 inches wide by 30 inches long. In addition to the standard and king size, the queen pillow is usually easy to find among most popular pillow brands.
King: A king size pillow usually measures 20 inches wide by 36 inches long. This represents a big step up from the previous pillow sizes in length and is ideal for those who toss and turn or frequently change positions throughout the night.
Specialty: Some companies also offer specialty pillow sizing. This can include a Euro size, a compact, square-shaped pillow, and the body pillow, an extra long pillow preferred by stomach and side sleepers who like to hold onto their pillow as they sleep.
Frequently Asked Questions About Bamboo Pillows
How much do bamboo pillows cost?
Bamboo pillows typically cost between $50 and $150 for a standard or queen size. While a bamboo pillow may be a bit more expensive than your ordinary pillow, it's possible to find affordable options. Many brands often hold frequent sales and promotions which can significantly lower the cost of a new bamboo pillow.
How do I clean a bamboo pillow?
Bamboo pillows constructed with shredded memory foam or bamboo fill can usually be cleaned in your washing machine, while solid memory foam models should be spot-cleaned. Some models feature a zippered outer cover that can also be removed for machine washing. Regardless of the type of bamboo pillow, make sure you follow the manufacturer's cleaning instructions.
Where can I buy a bamboo pillow?
You can buy a bamboo pillow online or in stores at major retailers that stock home goods. Many big box stores as well brick and mortar mattress and bedding retailers sell bamboo pillows. However, if you want more options, you'll be able to find many more choices when it comes to sizing, firmness, loft, and different materials by shopping online.
How long do bamboo pillows last?
If frequently used, bamboo pillows typically last around two years. Pillows will start to sag and lose their shape and supportiveness with repeated use. It's important to periodically replace your pillows to ensure your neck is properly supported during the night.
Are bamboo pillows adjustable?
Bamboo pillows made with shredded memory foam are often adjustable. Many models feature an interior cover that you can use to open and adjust the inner filling material. This allows sleepers to customize their pillow's loft to suit their comfort preferences and favorite sleeping position.
Do bamboo pillows have an odor?
Yes, bamboo pillows may initially emit off-gassing odors but this should quickly dissipate. Many bamboo pillows contain a memory foam interior. The production process used by most memory foam manufacturers creates volatile organic compounds (VOCs).

While not considered harmful, VOCs can create an unpleasant odor, especially for products sealed in plastic directly after manufacturing. This smell may be obvious when you first unbox your new pillow. Simply give your new pillow a few hours to air out in a well-ventilated room before sleeping on it.

Bamboo pillows featuring bamboo fiber fill are less likely to emit noticeable off-gassing odors when new.
Is bamboo environmentally friendly?
It depends on the type of bamboo fabric. While bamboo cultivation and harvesting requires far fewer resources such as water, pesticides, and fertilizer compared to other textile fibers like cotton, different manufacturing methods for creating bamboo fabric have varying levels of impact on the environment.

Bamboo linen made by mechanical processing is the most natural and environmentally friendly form of bamboo fabric. On the other hand, rayon derived from bamboo requires heavier chemical processing that can be harmful for both the environment and the workers involved. Lyocell bamboo represents a good middle ground. It's not as minimally processed as bamboo linen but uses fewer chemicals than rayon.
Still have questions?
Our product experts have extensive experience testing just about every sleep product on the market. Send an email to [email protected] or call us at (877) 672-8966 with your questions and we'll help you find exactly what you're looking for.
Other Articles of Interest