Best Online Mattress
Methodology
We personally test every mattress featured in our reviews and guides to provide accurate, data-driven recommendations.
Learn More
Up-to-Date
In light of some recent tests, we've updated this page to add the Bear Elite Hybrid as our top pick for couples. The DreamCloud Mattress remains our best overall online mattress.
Historically, buying a new mattress required a visit to a physical store. In the past decade, we have seen a major shift in the mattress industry as many brands have made their beds available to online shoppers. Buying mattresses online is more convenient and – in many cases – less expensive compared to purchasing at a brick-and-mortar location. Most mattress websites feature live web chat with customer service representatives and detailed information about each model. Many brands incentivize customers with free ground shipping and an in-home sleep trial for testing out the mattress before making a final decision.
Our testing team has individually reviewed hundreds of models, assigning ratings for performance categories like durability, pressure relief, edge support, and temperature regulation. Our testers also took turns lying on these mattresses to evaluate how they felt for people with different body types, sleep positions, and personal preferences. After scoring all of these mattresses, we're pleased to bring you our top online mattress picks listed below.
Best Online Mattress Video
Watch our video below to learn more about our lab's top picks for best online mattress.
The product profiles below contain in-depth information about each of our best online mattress selections, based on extensive hands-on testing in our sleep lab. Scroll down further to read our detailed buyer's guide, which covers everything you need to know about buying a mattress online. This includes available mattress types and sizes, price estimates, an overview of shipping and return policies, and answers to the most common questions we receive from prospective online mattress owners.
Product Details
The DreamCloud Mattress' hybrid design features pressure-relieving memory foam and pocketed coils that promote healthy spinal alignment. During testing, we found this design to be very comfortable for many types of sleepers, providing a plush feel without excessive sinkage and heat retention.
How It Performed
The side sleepers on our team, as well as those with sensitive pressure points, benefited the most from the DreamCloud's balanced contouring and support. We found the plush surface cushioned our shoulders and hips, while the coils kept our lower backs supported.
Thanks to the individually wrapped coils, we think couples will appreciate the mattress' ability to limit motion transfer. We noticed that the foam layers also absorbed a good amount of noise, so we didn't hear each other's movements when sharing the bed. We also recommend this mattress for people who enjoy foam surfaces but tend to overheat on them. The foam comfort layer has a nice plush feel, but the coil support core circulates more air than an all-foam construction.
What It's Made of
The DreamCloud is encased in a cashmere blend fabric that our testers found breathable and soft to the touch. A layer of polyfoam quilted into the cover gave the surface a pillow-top feel when we lay on it. A comfort layer of memory foam conformed evenly to relieve pressure buildup, and the foam is infused with gel to absorb and dissipate excess body heat. The polyfoam transition layer offered a deeper, pressure-relieving contour. It also kept our bodies from excessively sinking into the bed, buffering us from the support core.
Individually wrapped pocketed coils make up the support core. These coils move independently, so any weight applied to one coil does not affect those surrounding it. The coils provide targeted support to the heavier areas of your body, and the coils allow air to circulate throughout the mattress for enhanced cooling. A high-density polyfoam base completes the design.
Along with the competitive price-point, DreamCloud ships free to the contiguous U.S. Mattress purchases are backed by a 365-night sleep trial and a lifetime warranty.
Read our Full DreamCloud Mattress Review to learn more
The Nectar Mattress is an all-foam model constructed of three layers. Based on our extensive lab tests, we believe the Nectar's balanced performance and approachable price-point should appeal to a variety of sleepers.
How It Performed
Our test team rates the Nectar a 6 on our 10-point firmness scale, which translates into a medium firm feel. We've found this firmness rating is popular with most sleepers, so the Nectar should be able to accommodate sleepers from most weight groups in any sleep position. Because the firmness is relatively mid-range, however, the Nectar felt most comfortable for our testers weighing between 130 and 230 pounds.
Thanks to the foam comfort layers, we found the Nectar absorbed most motion. When more than one tester lay on the bed, they experienced almost no disturbances from each other's movements. The mattress also conforms to pain points in the hips and shoulders, so our testers experienced significant pressure relief in these areas.
What It's Made of
Our testers found the quilted memory foam cover was soft to the touch, while the breathable Tencel fabric allowed more cooling airflow. The foam layer beneath conformed closely to our testers' bodies to relieve pressure points, while the infusion of cooling gel in the foam helped dissipate heat often associated with close-conforming memory foam. We found the polyfoam transition layer was very supportive, which helped prevent sinking against the firmer support core. A high-density polyfoam base layer reinforced the rest of the mattress.
Nectar's sleep trial is 365 nights long, and the mattress has a lifetime limited warranty.
Read our Full Nectar Mattress Review to learn more
The Helix Midnight is a hybrid mattress with multiple layers of foam and a layer of pocketed coils. Our hands-on tests showed that this design offers excellent pressure relief and support for side sleepers. Our testers also found that this construction balanced bounce, contouring, edge support, and temperature neutrality.
How It Performed
Compared to other models we've tested, we give the Helix Midnight a 6 on our 10-point firmness scale – which we call a medium firm feel. This falls in the range most sleepers prefer. Sleepers on our team who weighed up to 230 pounds found the combination of cushioning and support very comfortable. While many of our testers enjoyed the bed, side sleepers in particular enjoyed the balanced feel. They also found the mattress' thicker comfort layers were excellent at relieving pressure buildup.
Foam layers can often trap too much heat, but we found that the airflow through the coil core reduced this heat retention and kept testers fairly cool. Hot sleepers who often find memory foam too hot may appreciate the Midnight.
What It's Made of
A proprietary Soft Touch Design cover is made from stretchy polyester, designed for enhanced breathability. The comfort layer uses memory foam to conform to a sleeper's body, which is ideal for relieving pressure points. Our testers found the dense polyfoam transition layer to be very supportive and effective at keeping bodies from sinking in. The support core is made up of responsive pocketed coils. The pocketed design enables coils to respond individually to your weight, reducing the spread of motion and cradling your body more deeply. Reinforced coils around the perimeter support the edge of the bed to make it easier to use the full mattress surface.
The Helix Midnight comes with a 10-year limited warranty and a 100-night sleep trial. Shipping is free for customers in all 50 states.
Read our Full Helix Midnight Review to learn more
The Saatva Mattress features a hybrid design that combines multiple layers of foam with a dual-coil innerspring system to give the mattress support, bounce, and breathability. Our testers recommend this mattress to shoppers who are willing to spend more on a mattress made with high quality materials.
How It Performed
The Saatva is available in soft (3), medium firm (6), and firm (8), and it comes in 11.5-inch and 14.5-inch versions. With so many options available, most testers on our team found a combination that suited them. The soft version appealed to testers under 130 pounds, while the medium firm option worked well for testers between 130 and 230 pounds. Testers over 230 pounds preferred the extra support of the firm version.
The foam comfort layers in all three firmness options greatly relieved pressure, and airflow from the coil support core regulated body temperature. The medium firm and firm options ranked exceptionally well for edge support and sex, so we believe couples can confidently use the full area of the bed without slipping off.
What It's Made of
A Euro-top cushions the surface of the mattress. This layer consists of an organic cotton cover and a layer of polyfoam. Underneath is a thin layer of memory foam to provide extra support and cushioning near the hips. The comfort system also includes a layer of pocketed coils. We found that these coils contoured to our bodies and enhanced airflow, while the pocketed design reduced the spread of motion between coils.
The support base consists of durable Bonnell coils made from recycled steel. A foam encasement wraps around the perimeter of the mattress to prevent sagging. Our testers were able to use the full mattress surface thanks to the strong edge support.
Saatva offers free White Glove delivery, a lifetime warranty, and a 365-night sleep trial.
Read our Full Saatva Classic Review to learn more
Thanks to a foam hybrid design, our test lab found that the WinkBed balances pressure relief and spinal alignment for a highly comfortable sleep surface. The WinkBed is the company's flagship hybrid mattress and is available in four firmness levels: medium soft (4), medium firm (6), firm (7), and firm (8).
How It Performed
Our testing found the WinkBed comfortable across sleeping positions and weight groups thanks to the different firmness options. On our team, side sleepers and testers weighing under 130 pounds appreciated the deeper contouring and pressure point relief from the softer model. We found the medium firm option was the most versatile, while the firm option appealed to back and side sleepers in our lab. For sleepers over 230 pounds, we recommend the WinkBed Plus, which is specifically made for people in this weight category.
In addition to being generally supportive, the mattress has strong edge support that stood out compared to other beds we've tested. This is largely due to higher-gauge coils positioned around the bed's perimeter. The ventilation through the pocketed coils also helps the bed stay cool, which our hot sleepers appreciated. The coils are individually wrapped to stop excessive motion transfer. When combined with the thick foam layers, we found this feature helped absorb motion to prevent disturbances from transferring from one side of the bed to the other when more than one tester shared the surface. Couples seeking more motion isolation may prefer the softest model.
What It's Made of
At 13.5 inches tall, the WinkBed has a fairly high profile compared to other beds we've tested. This is a result of its substantial foam comfort layers and coil support core. The mattress features a gel-infused polyfoam Euro-top that we found wicks excess moisture while relieving pressure point discomfort. The Euro-top also contains a polyfoam transitional layer that kept us comfortably situated "on" the mattress, rather than "in" it. The medium soft model features a second polyfoam layer that evenly distributed the weight of our testers across the surface and enhanced cushioning.
Under the comfort system is a pocketed coil support core, which lifts the midsection and shoulders to maintain healthy spinal alignment. These layers are all encased in a Tencel lyocell material, which is known for its breathability and durability. Our testers, even the sleepers who run hot, felt fairly cool while lying on the surface.
Standard deliveries are free for WinkBed customers in the contiguous U.S. The mattress qualifies for a 120-night sleep trial as well as a lifetime warranty.
Read our Full WinkBed Review to learn more
Many mattresses we've tested that are made with foam layers can retain more heat, but the Brooklyn Bedding Aurora Luxe is a notable exception. Phase change material, proprietary cooling technology, and a breathable support core made this mattress a hit with the hot sleepers on our testing team.
How It Performed
We noticed three models have a pretty balanced feel across sleeping positions, but each offered benefits for different body types. The softest model performed best among our side and back sleepers who weigh under 130 pounds. Thanks to the balanced feel, the medium firm suited the widest range of sleepers. Side sleepers weighing between 130 and 230 pounds, as well as back sleepers weighing under 130 pounds particularly enjoyed the mid-range firmness level. The firmest option's even contouring was most comfortable for back and stomach sleepers who weigh at least 130 pounds.
The Aurora Luxe's cooling capabilities were a standout feature, but it also excelled in our edge support and pressure relief tests. The coil-reinforced perimeter makes it a great option if you have trouble entering or exiting the bed. We could sit on the edges of the bed without sinking or slipping off. We also recommend the Aurora Luxe if you have sharp pressure points in your shoulders, hips, or lower back, thanks to the adaptive foam layers.
What It's Made of
All three models – mediums soft (4), medium firm (6), and firm (7) – start with a top layer made from CopperFlex foam. This proprietary polyfoam is infused with copper and phase change material meant to absorb and dissipate excess body heat. Next is a TitanFlex foam transitional layer, a type of polyfoam with a denser feel to keep you from sinking into the mattress. Depending on your desired firmness, the final comfort layer differs. The two softer models use a layer of gel-infused memory foam that relieves pressure and evenly distributes your weight. The firmest option has a second layer of TitanFlex foam for additional support. If you need more cushioning, an extra foam comfort layer known as the "Cloud" pillow-top is available for an additional fee.
Pocketed coils in a zoned configuration make up the support core. Thinner coils cushion the shoulders and legs, while thicker ones provide ample pushback to your midsection. Some thicker coils line the perimeter of the bed for enhanced edge support. The coils rest on a base layer made of polyfoam to prevent shifting. A fabric cover with phase change material encases the mattress, keeping the surface cool to the touch.
Brooklyn Bedding ships free to customers in the contiguous U.S., and it offers a 120-night sleep trial. You can test a mattress and return it after a 30-night break-in period for a full refund. If you decide to keep the Aurora Luxe, it is backed by a 10-year warranty.
Read our Full Brooklyn Bedding Aurora Luxe Review to learn more
The Nolah Evolution 15 is a high-profile foam hybrid with three firmness levels: medium (5), medium firm (6), and firm (8). Based on our battery of performance tests, we found that each model's zoned coils create a highly comfortable surface that helps you maintain healthy spinal alignment.
How It Performed
Each firmness level caters to different sleep needs. Among all our testers, side sleepers up to 230 pounds and back sleepers under 130 pounds enjoyed the deeper contouring from the medium feel. Our testers found the medium firm model's balanced feel made it the most versatile. This model was best suited for side sleepers over 230 pounds, back sleepers weighing up to 230 pounds, and stomach sleepers between 130 and 230 pounds. Back sleepers who weighed at least 130 pounds and stomach sleepers over 230 pounds appreciated the firmest option's even surface.
The Evolution's performance varied across our testing criteria depending on the firmness chosen. Couples who value motion isolation may opt for the medium feel, whereas those who prioritize sex may appreciate the firmer models. During testing, the medium firm and firm options also earned higher marks in edge support and temperature regulation. Testers with persistent pressure points found more relief from the softest model.
What It's Made of
A quilted cover made from proprietary ArcticTex fiber encases the mattress, which is meant to keep the surface cool to the touch. During testing, we found the Euro-top quilted with polyfoam had a nice plush feel that closely contours to the body to relieve pressure. A polyfoam comfort layer infused with graphite is designed to reduce heat buildup, and we found this layer helped evenly distribute weight across the mattress surface to promote spinal alignment.
The polyfoam transitional layer adds cushioning between the comfort system and the coils. This layer also prevented our testers from sinking too deeply into the mattress. Zoned pocketed coils make up the support core, and they offer ample pushback to the hips and shoulders to avoid uncomfortable sagging. Extra coils along the perimeter reinforced the edges noticeably.
Six standard sizes are available, as well as a split king size for adjustable beds. Nolah ships free to customers in the contiguous U.S. Purchases come with a 120-night sleep trial, where you can return the mattress anytime after the 30-night break-in period. Evolution 15 purchases come with a generous lifetime warranty against structural defects.
Read our Full Nolah Evolution 15 Review to learn more
If you share your mattress with a partner, there are some special considerations to take into account. These include edge support, motion isolation, and adequate responsiveness for sex. The Bear Elite Hybrid checks all of these boxes thanks to its design, which uses adaptive foam layers and robust pocketed coils. You can also choose from three firmness levels, and couples with king-size adjustable beds can opt for dual firmness if their preferences differ.
How It Performed
Our tests show the Elite Hybrid's performance varies by firmness. Side and back sleepers on our team weighing less than 130 pounds received adequate cushioning and contouring from the medium (5) model, which is the softest design. Testers who prefer slightly more support and gentler conforming preferred the medium firm (6) feel. This model is the most balanced of the three and earned favorable ratings from most of our side and back sleepers across all weight groups. If you need extra reinforcement, we recommend the firm (8) model. Our testers over 230 pounds felt most comfortable on this mattress.
All three versions of the Elite Hybrid excelled during our temperature control tests. The mattress' cooling Celliant-blend cover, gel-infused comfort layer, and coil system all play a role in maintaining a comfortable temperature throughout the night. Thick foam layers also help ensure good motion isolation for couples, while the reinforced perimeter allows you and your partner to use the entire surface for sleep or sex.
What It's Made of
The Elite Hybrid's comfort system consists of gel-infused memory foam over transitional polyfoam. The latter layer features five firmness zones with denser foam pushing back against the torso and hips, resulting in enhanced support for the entire body without excessive stiffness beneath the head and legs.
The support core contains pocketed coils and high-density base foam. Thicker coils line the perimeter to stabilize the edges and prevent sinkage when you get in and out of bed. A cover woven with cooling Celliant fibers encases the mattress. Measuring 14 inches thick, the Elite Hybrid is considered a high-profile model and may require deep-pocket sheets.
The Elite Hybrid is competitively priced, but shipping is free within the contiguous U.S., and all orders include two free pillows at no extra cost. Bear offers a 120-night sleep trial. Those who choose to keep the mattress receive a lifetime warranty covering structural and material defects, and they can purchase an additional plan that protects against stains and other types of physical damage for up to 10 years.
Read our Full Bear Elite Hybrid Review to learn more
The key to pressure relief for most sleepers is a balance of contouring and support. Our team has found that closely conforming comfort layers can reduce sharp pressure points along the spine, but reinforcement is also needed to prevent you from sinking too much and developing new aches and pains in the upper and lower back. We think the Birch Mattress is an excellent example of a bed that achieves this balance.
How It Performed
The latex comfort layer is ventilated with small holes to push air near the surface of the mattress, while the coils generate additional airflow throughout the interior. We found these components allowed the Birch Mattress to sleep very cool. The slight contour from the latex comfort layers helped to relieve pressure in our testers' hips and shoulders. Meanwhile, the coil support core lifted the body to maintain healthy spinal alignment.
The components of this mattress are sustainably sourced. The latex has earned a Rainforest Alliance certification, which indicates the rubber trees used to produce the material are sustainably grown and cultivated. A certification from the Global Organic Textile Standard also ensures the cotton is grown without pesticides and processed using eco-friendly means. The mattress has been recognized with a Wool Integrity NZ certification for ethical and humane treatment of sheep used to obtain the wool in its fire barrier.
What It's Made of
Our performance tests showed that the bed's medium firm (6) feel and strong coil system stabilized the mattress quite well, while the latex comfort layer provided ample cushioning to alleviate pressure in sensitive areas like the shoulders and hips. The mattress is encased in a breathable cotton cover, and the fire barrier located beneath the surface contains natural wool with moisture-wicking properties. Ventilated Talalay latex slightly conformed to the body to relieve pressure, trapping less heat than foam options. The support core consists of pocketed coils for an even sleep surface.
The Birch Mattress has an accessible price-point compared to the average latex hybrid, and shipping is free of charge for customers in all 50 states. Each purchase is backed by a 100-night sleep trial and a 25-year manufacturer's warranty.
Read our Full Birch Mattress Review to learn more
The Plank Firm Luxe is an excellent choice for sleepers who prefer a particularly firm bed. The mattress features a flippable design, each side with a distinct feel. Our test team gives one side a firm (7) rating and the other side an extra firm (9) rating, but we found both sides provide great support to keep the spine aligned and avoid back pain.
How It Performed
The Plank Firm Luxe performed best among the back and side sleepers on our team, especially those weighing over 230 pounds. Thanks to the pocketed coil support core, couples should find the mattress has the bounce many prefer for sex. Sleep partners may also appreciate the mattress' sturdy perimeter, as we found the strong perimeter allowed us to lie closer to the edge. Hot sleepers may want to opt for the cooling panel for exceptional temperature regulation, but the hot sleepers on our team reported that the standard cover on its own retains very little heat.
What It's Made of
The standard cover is made from a breathable cotton-microfiber blend, and you can choose to add a sewn-in cooling panel made with phase change material for an additional fee. This material is designed to absorb and dissipate excess body heat. The quilted cover's thickness varies depending on the side of the mattress, measuring 1.5 inches on the firm side and .75 inches on the extra firm side.
Both sides feature a 2-inch comfort layer of high-density polyfoam and 6 inches of pocketed coils. Our test team found this design excelled at evenly distributing weight and offering targeted support. The firm side adds an extra layer of TitanFlex foam to the comfort system to gently cradle the body. Pocketed coils make up the shared support core for stability.
Twelve size options are available, including short queen and RV sizes. Along with the competitive price-point, Brooklyn Bedding ships free to the contiguous U.S. Plank Luxe Hybrid purchases are backed by a 120-night trial and a 10-year warranty.
Read our Full Plank Firm Luxe Review to learn more
OkiOki is a mattress brand that offers a selection of memory foam and hybrid models that cater to different body types and sleep positions. As its name implies, the all-foam OkiSoft is the company's plushest model. Our test team gives it a 5 on our 10-point firmness scale.
How It Performed
The balanced feel of this mattress was ideal for testers who weigh up to 230 pounds, particularly side sleepers. The foam delivered precise contouring and even weight distribution in order to alleviate discomfort and pressure points along the spine. Throughout our performance testing, the OkiSoft also excelled at isolating motion and reducing transfer, so couples can rest undisturbed when their partner moves in bed or gets on and off the mattress. The Ice Yarn fabric cover is designed to draw heat away from your body, allowing the mattress to sleep cooler than many competing memory foam models we've tested.
What It's Made of
This all-foam mattress is encased in a cover featuring phase change material, engineered to disperse excess heat. We found the 3-inch memory foam comfort layer closely conformed to the body, and testers who preferred the deep "body hug" of memory foam appreciated the plush feel. This layer significantly relieves pressure in the hips and shoulders. The support core consists of 7 inches of high-density polyfoam that is divided into two parts. The top section is made from softer polyfoam to evenly distribute weight. Underneath this layer is firmer polyfoam. This section prevents excessive sinkage to promote spinal alignment.
Considering the average memory foam mattress costs at least $900 in a queen size, the OkiSoft is very reasonably priced. OkiOki also provides free shipping for all contiguous U.S. orders. The mattress comes with a year-long sleep trial, giving you ample time to decide whether to keep, return, or exchange it. A 10-year warranty is also included with each order.
Read our Full OkiOki OkiSoft Review to learn more
---
How-to Video: Buying Online vs. Brick-and-Mortar
Watch our video below to explore the pros and cons of buying mattresses online versus in a brick-and-mortar store.
Other Mattress Guides
If you'd like to narrow down your search for a bed beyond an online mattress, consider our other recommendations below broken down by mattress type.
What are the Benefits of Buying a Mattress Online?
Online mattress sales have skyrocketed largely due to the many benefits associated with shopping online. While the perceived benefits may vary between shoppers, our research has singled out a few common reasons why people enjoy buying mattresses online.
Affordability
Because direct-to-consumer mattress companies have less overhead than most brick-and-mortar stores, it is often more affordable to buy a mattress online than in-store. This is particularly true of mattresses that ship compressed. Many manufacturers only build a mattress after an order is placed, cutting back on the cost of storage.
Sleep Trials
Some people are nervous about purchasing a mattress online because they cannot feel the mattress before placing their order. Online mattress companies are aware of this concern and usually offer sleep trials to put customers' minds at ease and give them an option if they don't like the mattress they purchased. Since these sleep trials often last around 100 nights, they can give sleepers a much more realistic idea of how the mattress performs for them than shoppers would get by trying a mattress in a store.
Convenient
Many customers find purchasing a mattress online more convenient than buying one in a store. Since online buyers are not limited by store hours, they can shop whenever it's convenient for them. Additionally, many mattresses that ship compressed do not require a signature for delivery, so the customer may not need to be home to receive the shipment. They can then unpack the mattress themselves without having a delivery team in their house.
Why Do People Buy New Mattresses?
The average mattress needs to be replaced every 7 years. When the time comes, you'll want to buy a new mattress — a used mattress could have unforeseen structural issues, and you won't be covered by the original owner's warranty if repairs are needed. Buying a mattress online is convenient and often more affordable than making your purchase in a brick-and-mortar store. You can place an order from the comfort of your own home, and many online mattress companies deliver directly to your doorstep.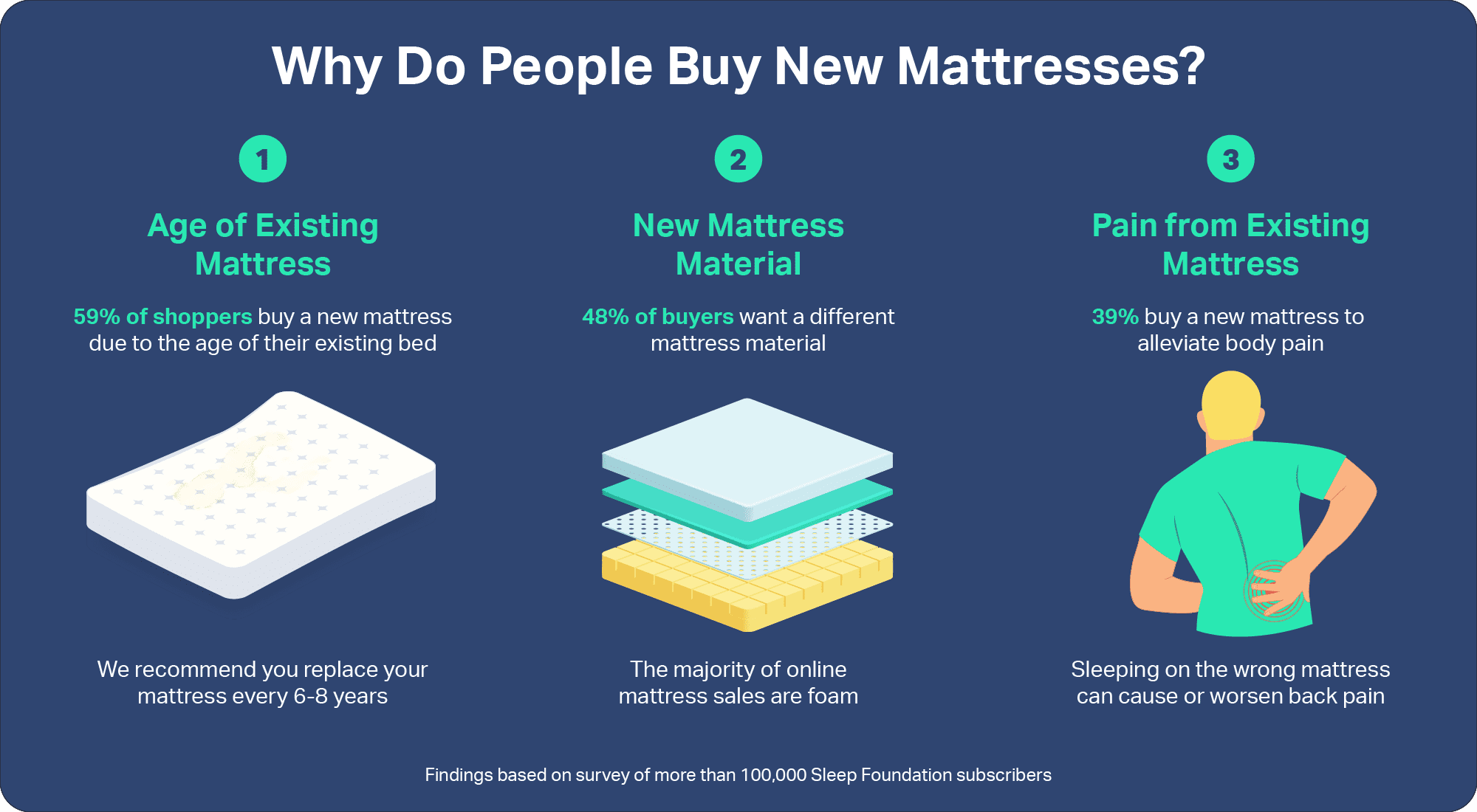 How to Buy a Mattress Online
With so many online mattress companies, it can be hard to know where to start. We recommend you begin by assessing your own needs and preferences, as this can help you narrow your focus. Reading mattress reviews can also help you understand what factors play a role in a mattress's performance, giving you the tools you need to better assess your options.
The brands that we've featured above are some popular online options. Nectar, Tuft & Needle, Casper, Saatva, Leesa, Brooklyn Bedding, Purple, and Helix are some of the most well-known names on the market. Many of these brands produce several mattress models, so even if the options we noted above don't meet your needs, another model by these brands might.
Buying a mattress online is a simple process. The product site usually has a menu with different mattress sizes. Select the size you are interested in. Depending on the mattress, you may also have additional options to choose from, including firmness, height, and optional add-on products. Choose what you like and add your selection to the cart. During the checkout process, you'll be asked to give contact and payment information. Payment usually requires a credit card.
To get the best deal on your mattress, watch for special offers from the mattress companies. We've found that many companies have frequent promotions, which may include discounts or free products. While shoppers can find deals like this all year, they're particularly common on holiday weekends, like Martin Luther King Jr. Day, Presidents Day, Memorial Day, the Fourth of July, Labor Day, and Thanksgiving.
Unboxing
Most online retailers will give customers instructions on how to unbox their mattresses. We've unboxed countless mattresses and found that following the manufacturer's instructions can help ensure the process goes smoothly, without inadvertently damaging the mattress. While we encourage you to follow the unboxing instructions provided by the manufacturer, we'll give you an overview of what the process may entail for compressed mattresses.
Before unpacking the mattress, we recommend moving it to the room in which you intend to use it. We've found that larger sizes like the king mattress or the California king can be heavy to move and may require two people. Since the mattress is compressed in the package, it is much less bulky, making it easier to navigate through hallways and around corners. Additionally, the packaging often has handles for easier carrying.
Once the mattress is in your room of choice, most manufacturer instructions call for using a knife or scissors to carefully open the box, keeping the sharp object away from the mattress to avoid damaging it. Next, slide the compressed mattress out of the box and carefully unwrap the plastic encasing the mattress. Some companies will include a special tool to do this.
After a mattress is unpacked, it may require some time to expand and air out. This varies between manufacturers. We have found some mattresses are usable right away, while others require a few days to decompress. Do not be concerned if your mattress does not immediately look or feel like you expected. It may not be done expanding, which could influence the look and feel. Following the manufacturer's instructions can help ensure you don't damage your mattress by sleeping on it prematurely.
Moving and unboxing a compressed mattress usually doesn't require a lot of strength, but we advise someone help you since a mattress may be too heavy for some individuals to unpack on their own.
Off-Gassing
Off-gassing is a term used to refer to the smell emitted by many new mattresses. While any new mattress may have a smell, compressed mattresses are especially likely to retain some manufacturing odors since they do not have the opportunity to air out in a storage facility. Off-gassing smells vary between mattresses, but generally, they are akin to a "new" smell, like you may notice in a new car or with new paint.
All-foam mattresses are particularly prone to off-gassing odors. Foams often emit volatile organic compounds (VOCs), which are gaseous chemicals that may have a noticeable smell. While some people may find these odors displeasing, they are not usually harmful to most individuals. However, some individuals may experience headaches, dizziness, nausea, or symptoms of allergies. Individuals with respiratory conditions or allergies should take particular care to avoid issues.
Sleepers who are sensitive to smells may wish to look for a model with less off-gassing potential. Mattresses that contain polyfoam and/or memory foam are usually the most prone to off-gassing odors. Innerspring and natural latex models may have a slight initial odor but are less likely to produce noticeable off-gassing.
Off-gassing odors usually dissipate on their own. However, you may wish to leave your new mattress in a well-ventilated space for a few days to allow it to air out before introducing it to your bedroom. Consult the manufacturer's instructions on the best practices for airing out the mattress.
Foundations and Platforms
Mattress-in-a-box models do not come with a solid platform or foundation for the mattress to rest on. However, our research shows that these beds require even support to prevent sagging and extend the life of the mattress. Many mattress companies specify what sort of base to use, so we recommend reviewing any guidance from the manufacturer to make sure you select a base that complies with company guidelines. Note that without a proper base, you may risk voiding the mattress's warranty.
Most mattress bases fall into two categories: platform beds or bed frames with box springs. A platform bed lifts the mattress off the ground and supports the mattress. With a bed frame and box spring, these two components work together to provide the lift and support. The bed frame raises the sleeping surface, while the box spring supports the mattress.
How Do You Know an Online Mattress Company is Reputable?
Online mattress companies are increasingly common, and many brands look quite similar on the surface. If you are unsure whether or not a company is reputable, researching it further can help save a lot of headaches in the long run.
First, we recommend reading the company's website carefully. Many companies are eager to tout their mattresses' features and detail the company's background. This can give you a clearer picture of the product and brand.
Next, reading mattress reviews can help inform your decision. You can find reviews for virtually every model from reputable brands. While new models may have fewer reviews, you should still be able to find some information about them online.
For additional reassurance, you might also look at the company's rating from the Better Business Bureau. The most well-known companies usually have Better Business Bureau ratings, which might put your mind at ease.
Finally, a company's return and warranty policies may be indicative of its trustworthiness. Online mattress companies frequently offer sleep trials and warranties, so reading the fine print on these policies may help you judge whether you trust the company.
Shipping, Returns, and Warranties
As noted in the section above, a company's warranty and sleep trial may point to its trustworthiness. When a company stands behind their products with generous return and warranty policies, it may show that they aim to produce a quality product and want their customers to be satisfied.
But beyond that, understanding a company's policies on shipping, return, and warranties can give you a clearer idea of what to expect when purchasing your mattress.
Shipping
How long does it take to ship?
Shipping times vary between manufacturers. Since many companies only construct a mattress after an order is placed, you can generally expect construction to take at least a few business days and shipping to take around a week.
Where does it ship from?
Many companies ship directly from the manufacturing facility. The locations of these facilities vary between companies, which can affect the shipping time. Company websites frequently note the location of the factory, which might give you a better idea of when you can expect your mattress to arrive.
How is it shipped?
Shipping methods vary between companies, and some companies have multiple shipping options. Online retailers frequently ship mattresses compressed in a box. When using this method, you may not need to be home to receive the shipment.
Some companies also have White Glove delivery. While a few companies provide White Glove delivery free of charge, others offer it for an extra fee. White Glove delivery frequently includes mattress setup and packing removal. In certain cases, it may also include old mattress removal, but some companies charge an extra fee for this service.
Returns
Are returns free?
Free returns are quite common for online mattresses. Policies vary between companies, though many offer a 100-night return period. Some mattress companies also have a required break-in period, where a sleeper must try the mattress for a set amount of time before it is eligible for return.
While many companies accept returns and give a full refund, others may deduct shipping or recycling fees.
How are they handled?
Generally, the customer contacts the customer service team within the designated return window to arrange the return of the mattress.
How does one return a mattress? Do you have to drop it off somewhere? What happens to a returned mattress?
The return process varies between companies. Some ask you to donate the unwanted mattress to an approved charity and provide photos and donation receipts as proof. Others send a team to remove the unwanted mattress for you. A few may ask you to package your mattress for a team to pick it up from your curb. You may wish to read the company's return policy for additional information on the specific process.
Warranties
What is a warranty? Why do companies offer them?
Warranties protect a purchase against qualifying defects. Companies offer warranties to ensure customers that they will stand behind the mattress and work to correct qualifying issues that arise.
What does a warranty typically cover?
Mattress warranties generally cover specific defects in materials or craftsmanship. Virtually all mattress warranties will cover indentations that measure a certain depth (typically 1 inch or 1.5 inches). Some mattress warranties will also cover defects in the mattress cover, splitting in the foam, and other similar issues.
What should customers look for when comparing warranties?
While reading a warranty policy may seem intimidating, we recommend looking it over ahead of time to get a clearer idea of what is covered and what you must do to qualify for warranty coverage. Here's our quick rundown on understanding your mattress warranty.
First, we suggest that you look over what the policy requires of customers. They often require that the law tag must remain attached, the customer must have proof of purchase (a receipt), and the customer must be the original purchaser and have bought the mattress from an authorized seller. Warranty policies also frequently dictate how a customer must care for his or her mattress, and violating these terms could void the warranty.
Most companies also list what is and isn't covered by their warranty policies. Some companies cover more potential defects than others, so looking at these lists may help you determine how comprehensive the policy is.
Finally, check the warranty length and whether the warranty is prorated. The length of the warranty indicates how long you'll continue to have warranty coverage. If the warranty is prorated, it means you may be responsible for part of the cost of repair or replacement. Note that some warranty policies also dictate that the customer is responsible for shipping and handling charges.
Types of Mattresses Sold Online
There are several different types of mattresses on the market today, and you can buy all the major types of mattresses online. Based on our testing of hundreds of mattresses, we know firsthand that a mattress's quality, construction, and materials can lead to notable differences between models within the same category. However, certain types of mattresses tend to share some similar features.
Hybrid
Definition: Hybrid mattresses get their name because they act like a cross between a foam or latex model and a traditional innerspring. They generally pair a substantial comfort layer of foam and/or latex with a coil support core.
Highlight: Benefits of Two Mattress Types with Fewer Drawbacks. Hybrids often have some of the benefits of both foam and innerspring mattresses without as many drawbacks. The foam and/or latex in the comfort layer usually contours to the body, isolates motion, and muffles noise, while the coil support layer tends to give the mattress extra bounce, and edge support.
Innerspring
Definition: The main defining feature of an innerspring mattress is the layer of metal coils. The bulk of the mattress is made up of this substantial coil layer, though it may also have a thin top layer of a material like cotton or foam for a bit more softness.
Highlight: Budget Friendly. For shoppers looking for a cheap mattress option, we've found that innerspring mattresses are often more affordable than other types of mattresses. For shoppers who are nervous to purchase a mattress online for the first time, this price-point may seem less intimidating.
Latex
Definition: Latex mattresses may be constructed of natural latex, synthetic latex, or a blend. Natural latex can be fabricated using either the Talalay process or Dunlop process, which influences the overall feel of the resulting latex foam. Talalay latex tends to be bouncier, while Dunlop latex is usually more durable.
Highlight: Durable. Natural latex mattresses tend to last longer than most other types of mattresses, so you might not need to replace them as often.
Airbed
Definition: An airbed's support comes from two or more air chambers, which can be emptied or filled using either a manual control, a remote, or an app. Some airbeds may also use a comfort layer of foam or latex for added comfort.
Highlight: Adjustable. The sleeper can adjust the feel of the airbed by filling or emptying air chambers. Fuller air chambers create a firmer feel, while emptier air chambers make the bed softer. Since online shoppers frequently haven't experienced the mattress and worry it may not be comfortable for them, the adjustable firmness of an airbed gives them the chance to modify the feel to match their needs and preferences.
Foam
Definition: Most all-foam mattresses are constructed either entirely of polyfoam or a combination of memory foam and polyfoam. Some may also incorporate one or more layers of latex. The foams used in all-foam models can be fabricated with different feels. Softer foams are traditionally used in the comfort layer and firmer foams are used in the support layer.
Highlight: Close Conforming. Foam mattresses, especially those with memory foam, tend to conform exceptionally closely to a sleeper's body. This can provide pressure relief and create the characteristic hugging sensation often associated with foam mattresses.
Important Considerations When Buying a Mattress Online
Looking at mattress websites can be confusing. With so many special terms and eye-catching graphics, it's easy to miss the most important details. Yet one of the benefits of online shopping is that you don't have to deal with pressure tactics from sales people, so we highly recommend taking your time before making a purchase. Below, we've put together a list of some key factors to take into account as you shop for a mattress online.
Frequently Asked Questions
---
Thanks for the feedback - we're glad you found our work instructive!
If you're ready for more, sign up to receive our email newsletter!
Was this article helpful?
Thanks for the feedback - we're glad you found our work instructive!
Submitting your Answer...
Other Articles of Interest