The burgeoning online mattress industry has increasingly become a phenomenon in the U.S., and the trend extends to Canada. A host of high-quality beds are designed and manufactured in Canada by Canadian companies, and many of these mattresses are available for shipping to U.S. customers.
Our team of Sleep Foundation experts has tested a number of Canadian mattresses with various features and performance categories in mind, including firmness, pressure relief, durability, and breathability. Our testers include side, back, stomach, and combination sleepers, so we can accurately assess each bed's suitability for different sleep positions.
Our list of the best mattresses in Canada focuses on products that are thoughtfully designed, well-built, made in Canada, and shipped within the country. Read below to learn more about our picks. We've included options that span various price-points and mattress types, allowing customers to zero in on their top choice. If you need extra guidance on purchasing a mattress, scroll further down for a comprehensive buyer's guide. We go into detail about how to choose a Canadian mattress and what you need to know when shopping for a mattress online.
Our Recommendations
The Silk & Snow Hybrid offers balanced support and comfort that suited many of our testers regardless of body type or sleep preferences. A well-cushioned foam comfort system and pocketed coil support core work to relieve pressure and limit sinkage. The bed also reduces motion transfer and heat retention, making it ideal if you share the bed with a partner.
How It Performed
The pressure-relieving foam comfort layers and medium firm (6) feel was most comfortable for our side sleepers, especially those between 130 and 230 pounds. Back sleepers weighing up to 230 pounds also felt adequately supported. The memory foam, along with zoned coils in the support core, significantly reduced our testers' pressure points and minimized motion transfer when we moved across the surface of the bed. The mattress also slept relatively cool during our temperature regulation tests thanks to airflow through the coil layer.
The polyfoam edge reinforcement lets you use the entire surface of the mattress without experiencing deep sagging or sinkage near the edge. This feature is especially beneficial if you sleep with a partner or need to sit on the edge to get out of bed in the morning.
What It's Made of
The mattress features a cover made with silver-infused polyester and spandex fabric. Beneath is a quilted, gel-infused polyfoam layer, followed by a layer of gel-infused memory foam. These layers closely contour to your body to alleviate pressure buildup, and the gel infusions are meant to limit heat retention on the surface. The support core consists of individually pocketed coils arranged in three zones to provide stronger support for heavier areas of your body. A high-density polyfoam encasement around the bed's perimeter bolsters the bed's edge support.
Silk & Snow offers free shipping to the contiguous U.S. and provincial Canada, and it backs the mattress with a 100-night sleep trial. A 15-year warranty protects against structural defects.
Mattresses made with foam comfort layers often trap too much heat, but the Hush Arctic Luxe Hybrid Mattress uses a breathable support core and cooling infusions to regulate temperature internally and on the surface. Phase change material in the cover is also meant to absorb and dissipate excess heat, keeping you cool throughout the night.
How It Performed
The Hush performed best among our team's back and stomach sleepers. The innerspring design and medium firm (6) evenly contours to the body while offering exceptional support, reducing uncomfortable sagging. Side sleepers over 230 pounds may also appreciate this combination of support and slight cushioning for their hips and shoulders.
We also recommend the Hush to couples, as it excelled in our ease of movement and edge support tests. The coils also offer the responsiveness that many couples prefer during sex. You and your partner should find you can easily move across the bed's surface and lay closer to the perimeter without slipping off.
What It's Made of
A pillow-top quilted with graphite-infused memory foam is the first layer in the comfort system. This gives the surface a luxuriously plush feel, while the graphite infusion is meant to conduct heat away from the surface. Underneath is a memory foam layer infused with cooling gel beads designed to reduce heat buildup. This layer and the pillow-top closely contour to the body to relieve pressure points.
Pocketed coils make up the support core, and they are zoned with thicker coils in the center and thinner coils at the head and feet. This zoning is intended to prevent midsection sagging and promotes spinal alignment. A cover made from 100% viscose derived from bamboo encases the mattress, which is naturally breathable and soft.
Hush ships free Canada-wide, and it offers a 100-night sleep trial. You can return the mattress after a 30-night break-in period and receive a full refund. Mattress purchases come with 10-year warranties covering structural defects.
Many sleepers find memory foam mattresses uncomfortably warm because the material tends to trap body heat. The Silk & Snow Mattress sleeps noticeably cooler than other foam mattresses we've tested, making it a good option if you have had bad experiences with other foam beds. The mattress also has a reasonable price-point compared to competing all-foam models.
How It Performed
The Silk & Snow Mattress has a medium (5) feel and is well suited to people with shoulder, back, and hip pain thanks to the adaptive foam layers. Side sleepers on our team noted significant cushioning for even alignment and less pressure along the spine without sinking too much around the midsection. We also recommend the mattress if you and your partner prioritize motion isolation. The foam absorbed movement when we moved around or got in and out of bed, resulting in minimal motion transfer across the surface.
What It's Made of
The stretchy and breathable cover can be removed and laundered in your household machines for easy care. The comfort layer is made of memory foam infused with gel engineered to draw heat away from your body. This layer closely contours to your body to relieve pressure buildup. A transitional polyfoam layer helps ensure even weight distribution. The dense polyfoam support core prevents excessive sinkage and promotes an even sleep surface.
Silk & Snow is based in Canada, but the company provides complimentary ground shipping to all Canadian provinces and the contiguous U.S. The mattress is backed by a 100-night sleep trial and a 15-year warranty.
As the name implies, the Hush Iced Hybrid uses breathable components and cooling technology to prevent overheating at night. Our testing found that the foam layers offer generous cushioning for sore spots without trapping too much heat on the surface.
How It Performed
Our side- and back-sleeping testers weighing up to 230 pounds enjoyed the foam hybrid construction and medium (5) feel the most. These testers appreciated the close contouring for the joints and lower back, while the coils helped them maintain healthy sleep postures. However, stomach sleepers and people weighing more than 230 pounds will likely need a more supportive model.
Temperature regulation was the mattress' most notable strength, but it also excelled in our motion isolation tests. We took turns moving across the mattress and changing sleeping positions, and we detected minimal motion transfer. You should notice fewer disturbances at night if your partner tends to toss and turn.
What It's Made of
The comfort system begins with a layer of adaptive foam infused with cooling materials that closely contours to the body to alleviate pressure. Underneath is a polyfoam layer infused with copper, titanium, and graphite, which are intended to help dissipate heat. Both of these layers create a plush surface that reduces pressure buildup.
Pocketed coils reinforce the mattress, preventing your body from sinking too deeply. The coils rest on a polyfoam base layer to limit shifting. A breathable cover made from a polyester, Tencel, and spandex blend encases the mattress. The cover is fully removable and machine-washable for easy care.
Hush ships free to customers living in the contiguous U.S. Mattress purchases come with 100-night sleep trials, during which you can return the mattress for a full refund anytime after the 30-night break-in period. The Iced Hybrid is backed by a 10-year warranty against structural defects.
During our hands-on tests, we've found that side sleepers generally feel comfortable on mattresses with mid-range firmness levels and comfort layers that provide deep cushioning. The Polysleep Origin 2.0 Mattress checks all of these boxes, but our tests indicate the medium firm (6) all-foam design is also a good fit for back sleepers.
How It Performed
The Origin 2.0 earned its most favorable ratings from side sleepers weighing at least 130 pounds and back sleepers up to 230 pounds. Testers enjoyed the balance of close, surface-level contouring and even support. Combination sleepers between 130 and 230 pounds should also receive adequate cushioning and support from the mattress.
As with other all-foam models we've tested, the Origin 2.0 earned excellent ratings during our motion isolation tests. All three foam layers work together to absorb movement and reduce motion transfer to a significant extent. Our body-mapping sensors also found the mattress alleviates pressure well, and the moisture-wicking cover is effective at reducing heat retention.
What It's Made of
The Origin 2.0 consists of three individual layers. The topmost is composed of open-cell memory foam, a material that conforms closely and promotes breathability. Dense polyfoam makes up the transitional and base layers to create a stable support system and maintain an even surface for your body. The soft, stretchy cover is made from a cooling blend of viscose, polyester, and spandex.
The Origin 2.0 Mattress is exclusively available to customers in Canada. Its sticker price is below-average compared to other all-foam models on the market, and Polysleep ships the mattress free of charge throughout the provinces. Your order comes with a 100-night trial, during which you may return the mattress after sleeping on it for at least 45 nights. The manufacturer's warranty covers structural and material defects for up to 10 years.
Uneven alignment is a common reason for stiffness and soreness when you wake up. In order to properly align your spine, a mattress should cradle your body on the surface while providing adequate reinforcement and minimizing deep sinkage. The Logan & Cove is a pillow-top hybrid designed to meet all of these criteria. Since you can choose from two firmness options, our tests indicate the mattress should accommodate most people regardless of how much they weigh or which sleep position they primarily use.
How It Performed
Our team personally tested both of the Logan & Cove's firmness levels. The medium soft (4) design is highly adaptive, resulting in deep contouring from head to toe. This model was most popular among our side sleepers up to 230 pounds, and our back and stomach sleepers under 130 pounds. The medium firm (6) model delivers more support without sacrificing plushness on the surface. Our side sleepers over 230 pounds and back and stomach sleepers of at least 130 pounds all preferred this design.
Due to its thick foam layers, our tests show the Logan & Cove performs well in categories where hybrids often fall short. These include pressure relief and motion isolation for couples. At the same time, a dense foam encasement around the coil system prevents the deep perimeter sinkage one might expect from a softer mattress. Thermal mapping also shows the mattress sleeps cool, which is thanks to both steady airflow through the coils and the moisture-wicking cover.
What It's Made of
The Logan & Cove's pillow-top surface contains a top layer of silk batting followed by four individual foam layers. Most of the latter layers are composed of bio-foam, a material derived in part from natural plant matter. A fifth foam layer provides transitional support, and is zoned to push back against extra weight in your midsection.
The support core consists of pocketed coils with a perimeter foam encasement intended to reduce sinkage when you lie close to the edges or get in and out of bed. A cover made of breathable, moisture-wicking Tencel encases the entire mattress. At 14 inches thick, the Logan & Cove is considered a high-profile model.
As part of the GoodMorning.com mattress line, the Logan & Cove is exclusively available to Canadian shoppers. Each purchase includes a 120-night sleep trial with a 30-night break-in period. Those who keep their mattress also receive a 15-year manufacturer's warranty.
The Silk & Snow Organic features a thick comfort layer made of wool and latex, both naturally breathable materials that helped the surface stay cool in our temperature control tests. Meanwhile, they provided excellent pressure relief for our testers with persistent back pain.
How It Performed
Thanks to the responsive feel, zoned coils, and medium firm (6) feel, we found the mattress best suited back sleepers weighing up to 230 pounds. Side sleepers weighing between 130 and 230 pounds also received adequate cushioning for their shoulders and hips.
Based on its ventilated latex comfort layer and pocketed coil design, we recommend the mattress to anyone who tends to sleep hot. These components promote steady airflow to maintain a comfortable core temperature. The reinforced perimeter and zoned supportive coils also helped us move across the Silk & Snow Organic with ease. You and your partner can use the entire surface for sleep or sex, rather than being confined to the middle.
What It's Made of
The mattress is constructed with a top layer of New Zealand wool batting, followed by layers of organic Dunlop latex. This dense, responsive material provides great reinforcement and light conforming. The latex is ventilated with small holes for added airflow and cooling. The support core contains individually pocketed coils that offer stability and responsiveness. This layer is zoned with thicker coils beneath your midsection and hips for targeted support and thinner coils to cradle your head, shoulders, and legs. The perimeter is also bolstered with thicker coils to prevent excessive sinkage when you sit on or sleep near the edges of the mattress.
The mattress is very reasonably priced for a latex hybrid, and Silk & Snow provides free ground shipping to all Canadian provinces and the contiguous U.S. The mattress is backed by a 100-night sleep trial and a 15-year warranty.
The Douglas Alpine checks a lot of boxes for people who share their bed with a partner. This all-foam model excelled at motion isolation during our hands-on tests and we didn't notice any noise when getting on and off the mattress. A medium firm (6) feel and responsive comfort layer also help ensure the Alpine won't sink excessively and hinder movement during sex.
How It Performed
The Alpine earned strong ratings from the side sleepers on our team, particularly those weighing at least 130 pounds. Back sleepers up to 230 pounds also felt comfortable lying on the mattress. We recommend the Alpine to anyone who needs light conforming and sturdy support from their mattress, particularly if you have found other all-foam beds too soft or prone to excessive sinkage.
Motion isolation was a highlight during our tests. While the polyfoam layers are a bit more responsive than memory foam, none of our testers noticed much motion transfer when lying next to someone else on the mattress. Temperature control was another strength. The foam layers may absorb some heat, but the cooling gel offsets this effect to a noticeable extent.
What It's Made of
The three-layer Alpine begins with a comfort layer of proprietary ecolight polyfoam. This material shares the adaptive properties of memory foam, but also feels more responsive and shouldn't hug the body too tightly. A transitional layer of Elastex polyfoam also delivers some bounce while cushioning the body and serving as a buffer between you and the support core.
The base layer is composed of high-density polyfoam, which stabilizes the mattress well and reinforces the relatively firm feel. A knit polyester cover encases the entire mattress. Measuring 11 inches thick, the Alpine is considered a medium-profile mattress.
The Alpine is priced competitively and shipping is free for all customers in provincial Canada. Each order includes a 365-night trial period, and those who keep their mattress receive a 20-year warranty against structural defects.
If pressure relief is important in your search for a new mattress, the Endy Hybrid has a well-rounded design that promotes healthy sleep posture while cushioning sensitive areas of your body. We found that the foam-and-coil design eases pressure buildup and maintains strong overall support.
How It Performed
The Endy Hybrid's polyfoam layers earned the bed high marks during our pressure relief tests. Our testers reported close cradling in areas prone to pressure buildup, such as the shoulders and hips. Despite the strong cushioning, the bed still felt supportive to most of our testers, and we could move around the surface with relative ease. Side and back sleepers up to 230 pounds felt most comfortable on the Endy Hybrid, since these sleep positions are highly compatible with beds that offer an even balance of cushioning and support.
We found the mattress stayed fairly cool thanks to airflow through the pocketed coils in the support core. With two testers lying on the surface at the same time, we noticed that the foam layers absorbed movement effectively. This means you shouldn't be disturbed when your sleep partner moves at night.
What It's Made of
The mattress has a quilted surface with a plush feel, followed by a polyfoam layer that closely cradles your body. Beneath is another polyfoam layer that offers more contouring but also has a firmer feel to keep you from sinking too deeply. Thick pocketed coils provide sturdy support. The coil system is zoned to give you extra support in the lumbar region, which is beneficial for spinal alignment. The entire mattress is encased in a polyester cover.
Endy offers free shipping to all Canadian provinces. Your purchase includes a 100-night sleep trial to try out the mattress. If you decide to keep the mattress, you'll also receive a 15-year warranty.
Polysleep is a Canadian mattress company that produces several foam beds. Among all its models, the Zephyr has one of the most advanced designs, using aerated foams and proprietary cooling technology to reduce heat retention. If you're looking for a luxury cooling mattress, we recommend this model.
How It Performed
The Zephyr is composed of four foam layers with an overall medium firm (6) feel. Our side sleepers who weigh up to 230 pounds benefitted the most from this bed. This is due to the generous cushioning and the zoned design of the polyfoam layer, which provided extra support around our midsections and lumbar areas. Some of our back sleepers weighing up to 230 pounds also felt supported by this design.
The aerated foams supported more steady airflow than many other foam models we've tested, and our heat guns detected minimal heat retention as a result. So if you enjoy the feel of foam but typically find it too hot, this could be a good option. A high-density polyfoam encasement also provides excellent edge support, which is unusual for all-foam beds.
What It's Made of
The comfort system begins with a layer of memory foam. A gel infusion in this layer is meant to absorb and dissipate excess heat. Beneath is an aerated polyfoam layer, followed by another polyfoam layer that offers firmer support. The support core is made of high-density polyfoam that stabilizes the entire bed. The polyester, spandex, and cotton cover is designed with a Nanobionic infrared technology intended to promote restorative sleep.
Polysleep offers free shipping for Canadian provinces and throughout the contiguous U.S. The bed comes with a 100-night sleep trial, during which you can test the mattress and return it anytime after a 45-night break-in period. The Zephyr Mattress is backed by a 10-year warranty.
Why You Can Trust Us
Throughout the years, our testing team has reviewed hundreds of different mattresses. Our team members include side, back, stomach, and combination sleepers, as well as those with different body types and comfort preferences. Having multiple types of sleepers on our team allows us to better predict who will prefer each mattress.
Methodology
How We Evaluated These Mattresses
In our sleep lab, the testing team scores each mattress on a series of metrics including temperature regulation, motion isolation, pressure relief, and support. These tests rely on in-person data collected after team members use each mattress as well as information gathered with technology like thermal cameras and pressure point mapping. After rigorous evaluation, the mattresses in this list were chosen as the top picks currently available in Canada.
For more information about our team's evaluation process, below is a closer look at our product research methodology:
Other Mattress Guides
If you'd like to narrow down your search for a bed in Canada further, read through our other recommendations categorized by mattress type.
Finding the Best Mattress in Canada
To get quality sleep, we really count on having a great mattress. A bedroom that feels inviting and conducive to sleep demands having a mattress that is comfortable, supportive, and a match with our needs.
Finding a mattress with the right performance doesn't have to be a burdensome process. Knowing some key information allows you to define your priorities, refine your options, and select the best mattress for your home.
What Mattresses Are Available in Canada?
Canadians aren't lacking for mattress options, but we think it's important to make a distinction between mattresses made in Canada and those imported into the country.
Some mattress companies are based in Canada, and their design and manufacturing processes take place in Canada as well. All of the top picks featured in our guide are from the best Canadian mattress brands with beds that are actually made in Canada.
Other mattress options are sold in Canada but manufactured outside the country. Many of these beds are made in the United States where there is a well-developed online mattress industry. Other products, especially lower-cost models, may be manufactured in China.
There's no right or wrong place for a mattress to be built; it's really a matter of your preference. Some shoppers want a mattress that's made domestically, supports the national workforce, and is sold without any import duties or international shipping charges. Other customers may decide that getting the ideal mattress requires purchasing one from a foreign manufacturer.
Where is the Best Place to Buy a Mattress in Canada?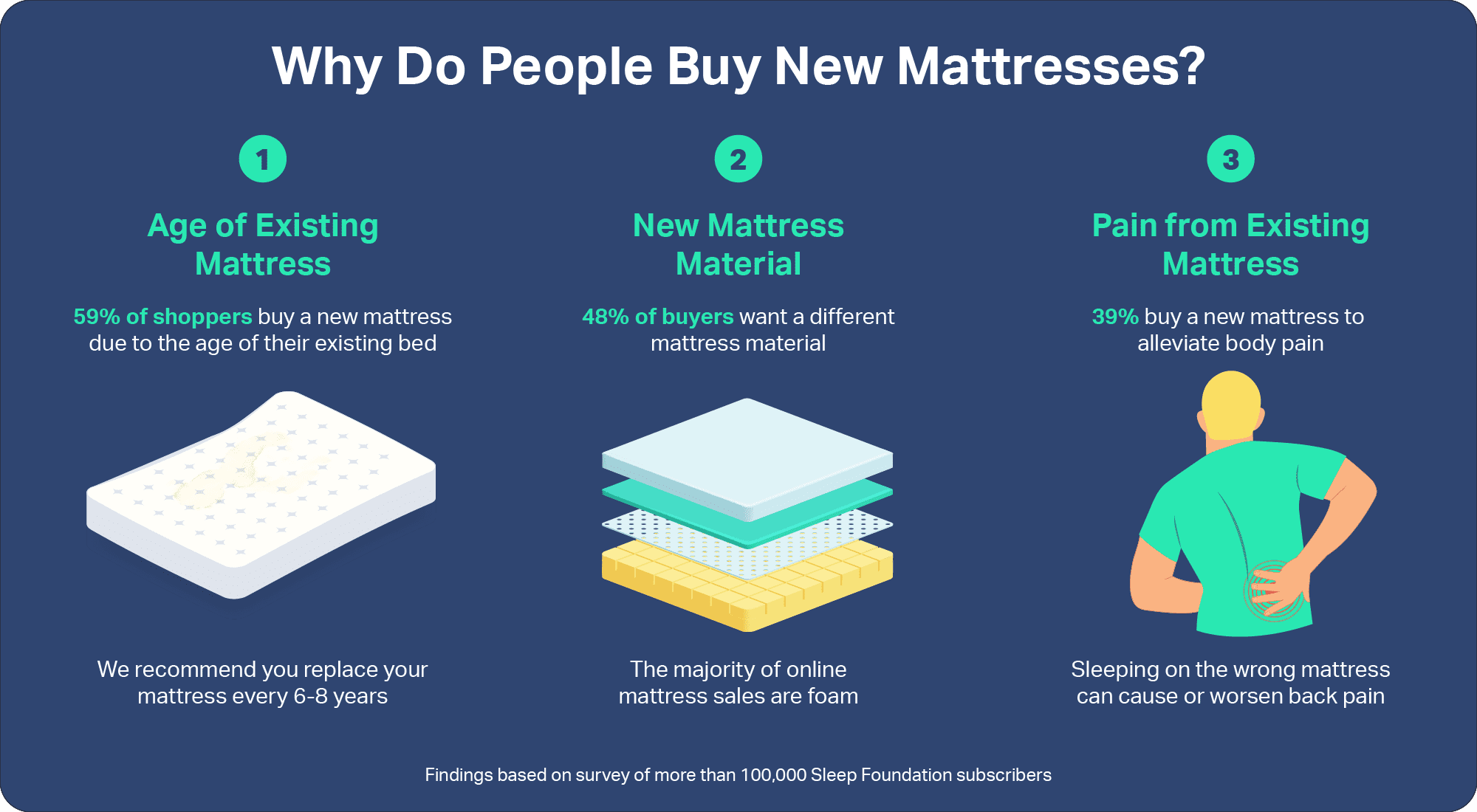 While the online mattress industry is growing rapidly, there are still abundant options for in-person mattress shopping. For some shoppers, going to a physical store is still an important part of the buying process.
That said, there are some decided benefits to shopping online. The selection tends to be greater, and prices are generally more customer-friendly. When buying online, you can shop at your own pace and without a salesperson applying pressure to make an on-the-spot purchase. In-home sleep trials for online mattresses allow you to test out a mattress for months with the option to return it for a full refund if you aren't satisfied.
Given the convenience, quality of options, and competitive pricing, our list of the best mattresses in Canada focuses on brands with a major online presence.
Buying Online vs. Brick and Mortar – Video
To learn more about differences between buying a mattress online and in a brick-and-mortar store, check out the video below.
What is Important to Look For in a Mattress?
When you think about a great mattress, your mind may jump first to whether it "feels right" when you lie down on it. While the feel of the mattress is important, there are other factors and performance features worth considering.
Price : You don't want to purchase an inexpensive mattress that's poorly built, but at the same time, a mattress has to be within your budget. Consider what you can reasonably afford and use that figure to trim down your options. If you're shopping online, there are numerous good values and promotion opportunities.
Sleeping Position : Side, back, and stomach sleepers often have different requirements when it comes to the optimal mattress. That's because they have distinct pressure points and generally need different firmness levels. As described in a later section, sleeping position and body weight together can have a profound influence on the best mattress for any individual.
Mattress Type : The interior construction of a mattress plays an integral role in how it feels and performs. Identifying one or two preferred mattress types can help you narrow down the options that you're considering.
Contouring : Conforming, also known as contouring, is when a mattress compresses in response to a person's weight, in effect hugging or cradling the body. This can help with pressure relief and spinal alignment. At the same time, for some sleepers, too much contouring can stifle movement, increase heat buildup, and feel uncomfortable. Memory foam tends to be the most conforming of the popular mattress materials.
Firmness Level: A mattress can have a wide array of features, but if it doesn't feel comfortable, you will have a hard time sleeping on it. For this reason, it's essential to find a mattress that meets your wants and needs, especially with regards to how firm or soft it feels.
Quality Materials : Well-built components of a mattress simply perform better and last longer. To get the most out of a mattress, it's worth ensuring that high-quality materials are used in each layer.
Motion Isolation : An important factor for people who share a bed is motion isolation. Beds with good motion isolation, such as memory foam mattresses, help you sleep through the night even if your bed partner is moving around or getting in and out of bed.
Ease of Movement / Sex : A responsive mattress springs back when you adjust your weight on it, and this bouncy feel can be important to avoid feeling like you're "stuck" in the mattress. Bounce, often most pronounced in latex and hybrid mattresses, also helps facilitate an active sex life.
Edge Support : If you sit or sleep near the edge of the bed, it's important that the mattress not feel like it's caving in. Hybrid and latex mattresses often have the best edge support, but some foam options have special design elements, such as a dense foam encasement, to reinforce the edges.
Temperature Regulation : Retaining heat at night can be bothersome, causing you to wake up in a pool of sweat. This can happen when airflow around the body is restricted (by excessive sinkage into the bed, for example) or when the mattress material retains a lot of heat. Memory foam tends to sleep the warmest while latex and hybrids more effectively resist heat buildup.
Noise: A quiet mattress prevents annoying noises from keeping you up at night. Most modern mattresses aren't too noisy, but the quietest are usually made with foam and latex.
What's Your Optimal Firmness Level?
Finding the right firmness level is an essential part of the mattress-buying process. Three main factors will help determine your optimal firmness.
Personal Preference: The right firmness is inherently subjective. While we can offer insight about what usually works best, personal preference is paramount.
Sleeping Position: Your preferred sleeping position (side, back, or stomach) determines how and where your body weight is distributed on the bed. For this reason, your sleep position plays a large role in your ideal mattress firmness.
Body Weight: The more a person weighs, the more they will tend to cause the mattress materials to compress. For that reason, people who weigh over 230 pounds may perceive a mattress to be softer than someone who weighs under 130 pounds.
We rank firmness on a 1-10 scale, with 10 being the firmest. Mattresses at the extreme ends of this scale are rare, and most fall between 3 (soft) and 8 (firm).
Below is a table that lists typical firmness preferences based on an individual's weight and sleeping position.
What Mattress Types Are Available in Canada?
When reviewing your mattress options, it's helpful to consider the different types of mattresses available based on interior construction. There are five main types on the market right now: hybrid, latex, all-foam, innerspring, and airbeds.
No one type is necessarily better than the others; each has pros and cons. In terms of availability in Canada, all-foam and hybrid mattresses are the most common when shopping online.
Hybrid Mattresses
Definition: Hybrids have an innerspring support core and a considerable comfort system that includes microcoils, foam, latex, and/or textile fabrics.
Price Range: 2,000-2,800 CAD
Latex Mattresses
Definition: If all of the interior layers are made with latex, it is considered to be a latex mattress. These may also be known as all-latex or true-latex mattresses, and they typically use latex derived from trees (natural latex).
Price Range: 2,200-2,800 CAD
All-Foam
Definition: In an all-foam bed, the support core is made with polyfoam, and the comfort system uses memory foam, polyfoam, latex, and/or textiles. There are no coil components in an all-foam bed.
Price Range: 1,200-1,800 CAD
Innerspring
Definition: The central component of an innerspring is a coil-based support system. Besides the cover, there is little else to an innerspring. At most, the comfort layer is thin and made with polyfoam or a fabric like cotton or polyester.
Price Range: 400-1,500 CAD
Airbed
Definition: Airbeds are built around an air chamber that serves as the bed's support core. Sleepers can control how much air is in the chamber, which directly modifies the firmness. There may be a comfort system with foam, latex, and/or fabrics.
Price Range: 2,700-3,400 CAD
What Are Important Company Policies to Consider?
Beyond the characteristics of a mattress itself, shoppers should also consider company policies, such as those for shipping, returns, warranties, and discounts, when looking for a new bed.
Shipping
When buying online from a Canadian brand, customers in Canada will almost always get free standard shipping, which means the mattress is sent to your doorstep inside a box. To facilitate shipping, the mattress is compressed inside plastic packaging before being placed in the box.
When it is delivered, you need to bring the mattress to the bedroom and remove the packaging. At that point, the mattress will retake its full size. Though compact, the box may be quite heavy since compressing the mattress does not affect its overall weight (a queen mattress can weigh at least 75 pounds). For most beds, it takes two people to safely set up a mattress-in-a-box.
For an extra charge, some companies may offer a White Glove delivery service that involves setup of the new mattress in the room of your choosing as well as removal of an existing mattress.
Customers in remote areas of Canada may be charged a fee for shipping and should check with the mattress company before completing their purchase.
For mattresses made outside Canada and delivered to the country, additional fees may be applied for international shipping as well as local taxes and duties related to customs and laws of importation.
Returns / Sleep Trials
If you buy a mattress online, you should expect to have a sleep trial — normally around 100 nights — during which you can use the mattress in your own bedroom for a period of time with the ability to return it for a refund.
Before you can return the mattress, you may be required to keep it for a "break-in period" of around 30 days. When you request a return, most mattress companies will work with you to either pick up the bed or identify a local group that can accept the mattress as a donation.
Warranties
Every mattress should come with a warranty that protects against egregious defects in materials or manufacturing, but customers should know that spills and other accidental damage won't be covered. Normal, anticipated wear-and-tear is also not normally covered by a warranty.
In general, a warranty will offer repair or replacement if a defect arises within the stated warranty period. In some warranties, known as prorated warranties, the customer is required to pay a portion of the replacement cost based on how long they have owned the bed.
Discounts
Paying the full listed price for a mattress is very rare when shopping online. Most popular brands frequently run promotions or discounts that are easy to find on their website. These deals help make the prices offered online even more budget-friendly. If you are having a hard time finding a discount, check with third-party sites like ours for details on promotions and coupons.
Thanks for the feedback - we're glad you found our work instructive!
If you're ready for more, sign up to receive our email newsletter!
Was this article helpful?
Thanks for the feedback - we're glad you found our work instructive!
Submitting your Answer...
Other Articles of Interest