When you buy through our links, we may earn a commission. Products or services may be offered by an affiliated entity. Learn more.
Cyber Monday sales are live with the biggest discounts of the year! Shop all the best mattress deals featured below.
Most RVs come standard with a factory mattress, but you can swap out the existing model for one that better meets your needs while resting on the road.
Our testing team uses tools to assess mattress features such as temperature regulation, pressure relief, motion isolation, and durability — all of which are important for a quality RV mattress. Many RV beds have shorter or narrower dimensions than standard mattresses, so we also consider size options in our assessments.
Want to learn more about how we choose our top mattress picks? Our guide to the best mattresses of 2023 covers our hands-on testing process. You can also visit our list of best mattresses in a box for information about RV-friendly mattresses you can order online.
Jump to: Best RV Mattresses | Full Reviews | How We Test | How to Shop
Watch Video: We Tested the Best RV Mattresses of 2023 – Here Are Our Favorites
Watch the video below to get some in-depth tips on how to buy the perfect mattress for your RV.
Our top picks represent the best mattresses in categories that we've deemed most relevant to RV owners. Some of the mattresses we've tested can be used interchangeably between bedrooms and RV sleep spaces. Other mattresses are specifically designed to be used in RVs. You can read more about each of our best RV mattresses below. Scroll down further for our comprehensive buyer's guide, in which we'll discuss everything you need to know about buying a new RV mattress.
Our Recommendations
Data-Driven Results You Can Trust
Each member of our expert team has years of experience researching and testing various sleep products. Our testers fall into different groups based on their body type, sleep position(s), and comfort preferences. This variety ensures our ratings are reflective of as many sleeper types as possible.
How Our Testing Process Works
Our testing process involves gathering feedback from our team and quantitative data from our in-house tests, during which we use tools like pressure mapping mats, heat guns, and weights. These tests help us determine how well a mattress meets different testing criteria, including motion isolation, temperature control, and pressure relief. An RV-friendly design was the main criterion for our top picks, but we also took factors like durability, performance, and pricing into account. The best RV mattresses listed above earned the most favorable ratings during our tests.
For a better look at how our our team ranks mattresses, read our product research methodology below:
Dive Deeper – In-Depth Mattress Guides
If you'd like to expand your search for a bed beyond finding an RV mattress, take a look at our other guides broken down by mattress type.
What is an RV Mattress?
RVs generally come equipped with a mattress in the sleeping area. These mattresses are often overly firm, thin, and otherwise uncomfortable. To customize your road experience and make your RV feel more like home, you may choose to upgrade your RV mattress. This ensures the mattress meets your unique needs and preferences.
The layout of an RV determines how much space there is for a bed. Some have less space for a bedroom, while others include bunks or pop-up spaces that require a smaller mattress. RV mattresses are often shorter or narrower than standard mattresses to accommodate a compact configuration.
Traveling in an RV may shift priorities. While shoppers may look for a high-profile, luxury mattress for their homes, an RV may require a lower profile and simpler construction. Not every type of mattress will work well in an RV. There are several factors to keep in mind, which we will cover in-depth later in this guide. These include mattress size, profile, weight, and overall durability.
How to Choose an RV Mattress
There are unique mattress shopping considerations for RV owners. Qualities like pressure relief and temperature regulation become more important if you are traveling, hiking, or staying in warmer climates. Those who share an RV may find noise reduction and motion isolation especially important. Each RV has a specific configuration that may require a lower profile, lighter weight, or smaller mattress. Everyone has different comfort preferences and needs to consider as well. Before choosing an RV mattress, you should keep all of these factors in mind.
What to Look For in an RV Mattress
The following factors are the most important things to look for when purchasing an RV mattress. We've found that some mattress companies use misleading terminology or exaggerated marketing claims to sell mattresses. This can be confusing and overwhelming if you're seeking an RV mattress. Focusing on the basic details of the mattress and how it performs will help shoppers pick a high-quality bed that best suits their needs and RV lifestyles.
Price: Many shoppers will want to spend less on an RV mattress than they would on a mattress for the home, especially if they do not plan to use the RV full-time. RV mattresses are available at a wide range of price-points, from budget options to luxury choices. We recommend setting a budget beforehand to help narrow down your choices, but keep in mind that a high-quality mattress is an investment. Beds made with quality materials will last longer and will not need to be replaced as often.
Profile: Your RV mattress needs to fit in the vehicle's allotted space. If your RV has a bunk bed or pop-up trailer, this will probably require a low-profile mattress. Taking measurements of the bed frame and space beforehand will let you know which profile will fit comfortably. Many RV mattresses have a 6- or 8-inch profile, though some spaces can accommodate a 10- or 12-inch mattress.
Weight: You should keep your RV's weight limit in mind when shopping for a mattress. When driving an RV, lighter is better. Where the mattress is being installed is another important consideration. For bunk beds and pop-up trailers, the mattress may need to be lifted overhead. Foam is often the most lightweight mattress option. Hybrid and latex mattresses can be heavy.
Contouring: How well a mattress conforms to the shape of your body determines how much pressure relief it provides. If you are active, a contouring mattress can relieve aches and pains from hiking and other activities. It can also reduce tension if you have been driving for long periods of time. Many RV mattresses are made with memory foam, which cushions your shoulders and hips to help keep the spine aligned.
Noise: An RV is often a shared space for families who want to minimize sleep disturbances throughout the night. If you are prone to tossing and turning, a mattress that is silent when bearing weight is ideal. This reduces the likelihood of waking up others who are sleeping. Foam and latex mattresses are typically silent, while mattresses with coils are more likely to make noise when bearing weight.
Sleeping Position: Sleeping position affects which mattress type and firmness will be right for you. We've found that side sleepers often need ample cushioning for their shoulders and hips, while back sleepers benefit from additional lumbar support. Stomach sleepers, on the other hand, need a firm surface that prevents their hips and abdomens from sinking too deeply. If you're a combination sleeper, you should look for a mattress that allows for ease of movement to change positions as needed.
Durability: An RV mattress will need to withstand the elements. If you use your RV for recreation and road trips, you'll encounter different climates, weather, and elements. You may also use the mattress seasonally or year-round. This varied usage means the mattress should be durable and made with materials that offer consistent comfort and support.
Temperature Regulation: Since an RV is often used for travel, especially in the summer months, temperature regulation is an essential consideration. A mattress that regulates your temperature can prevent you from overheating and keeps you comfortable. Some mattresses incorporate cooling graphite, gel, or phase change materials to dissipate body hear. Breathable covers wick away moisture for additional comfort.
What Sizes of RV Mattresses are Available?
There are many more RV mattress sizes to choose from compared to standard mattress sizes. RV mattresses are often shorter and/or narrower than regular mattresses, so it is important to check the measurements of your vehicle's bed frame or foundation. The size of the bed depends on your RV's type and configuration.
Mattress sizes can vary between manufacturers, so in addition to double-checking the measurements of your space, be sure to read the product description and measurements before making a purchase. Common sizes and dimensions are listed below.
What Types of RV Mattresses Are Available?
Common mattress types include foam, latex, hybrid, innerspring, and airbeds. Though any mattress type will technically work in your RV, some are much better suited than others. Due to the size and weight constrictions of an RV, a foam mattress is usually best. This type of mattress is lightweight, making it ideal for spaces that require lifting the mattress overhead. Foam models also help you avoid adding too much weight to the RV. That being said, there are benefits and drawbacks to each type of mattress, which we will break down here.
Foam
Definition: A foam mattress is made entirely of foam. This can include memory foam, a responsive viscoelastic material that conforms to the shape of the body and relieves pressure. Most of these mattresses also include denser polyfoam in their base layers. Foam can be infused with gel, graphite, or copper to prevent heat retention. The flexibility of foam makes it an ideal choice for RV owners.
Pressure Relief. Foam cushions pressure points and contours to the shape of the body to reduce tension. If you like to hike, climb, or otherwise lead an active lifestyle, this type of mattress can prevent aches and pains and improve sleep quality.
Hybrid
Definition: A hybrid mattress incorporates elements of an innerspring and latex or foam mattress. The pocketed coil base minimizes motion transfer and responds to pressure for a supportive feel. These mattresses typically have a thicker comfort system, ensuring better pressure relief compared to a traditional innerspring mattress. The comfort layers may include memory foam, polyfoam, and/or latex. Some hybrid mattresses include a transition layer of microcoils.
Temperature Regulation. The coil support base of a hybrid mattress increases airflow and helps regulate temperature. The comfort layers are often made with breathable materials like latex or open-cell foam. This is beneficial for hot sleepers and RV owners staying in warmer climates.
Innerspring
Definition: An innerspring mattress has a coil support base. The comfort system is thinner than that of a hybrid mattress and is often made with foam, fiber, or other padding. These mattresses typically have a simple construction and lower profile, which is beneficial for RVs. The coils add airflow throughout the mattress.
Affordable. Innerspring mattresses are widely available. This traditional mattress style is often affordable, so they may be appealing if you don't want to invest in an expensive mattress.
Latex
Definition: This type of mattress is made entirely of latex. This can include natural, synthetic, or blended latex. Natural latex is harvested from rubber trees and is processed in one of two ways. Dunlop latex is dense and heavy, while Talalay latex is lighter and more homogenous. Latex is more breathable than synthetic foam. It also offers moderate contouring for pressure relief.
Durability. Natural latex is highly durable with a long lifespan. For RVs that will be exposed to the elements, latex is designed to withstand different climates and provide consistent support. This means RV owners will have to replace the mattress less frequently.
Airbed
Definition: An airbed has air chambers in the support base. This means the mattress is adjustable, as the chambers can be inflated or deflated to change the overall firmness of the mattress. Airbeds are often adjusted with a remote or smartphone app, and most need electric power to operate. They are less commonly found in RVs, and tend to be quite expensive compared to other mattress types.
Adjustability. Users can set the airbed to their preferred firmness level. Some have dual chambers that allow couples with differing preferences to customize their side of the bed. For sleepers who are not sure what firmness level they prefer or for those with changing needs, the adjustability of an airbed is beneficial.
Why Do People Buy New Mattresses?
Whether it's an RV mattress or a mattress for the bedroom, sleepers purchase new beds for many different reasons. We polled thousands of Sleep Foundation subscribers to find out some of the top reasons people invest in new beds.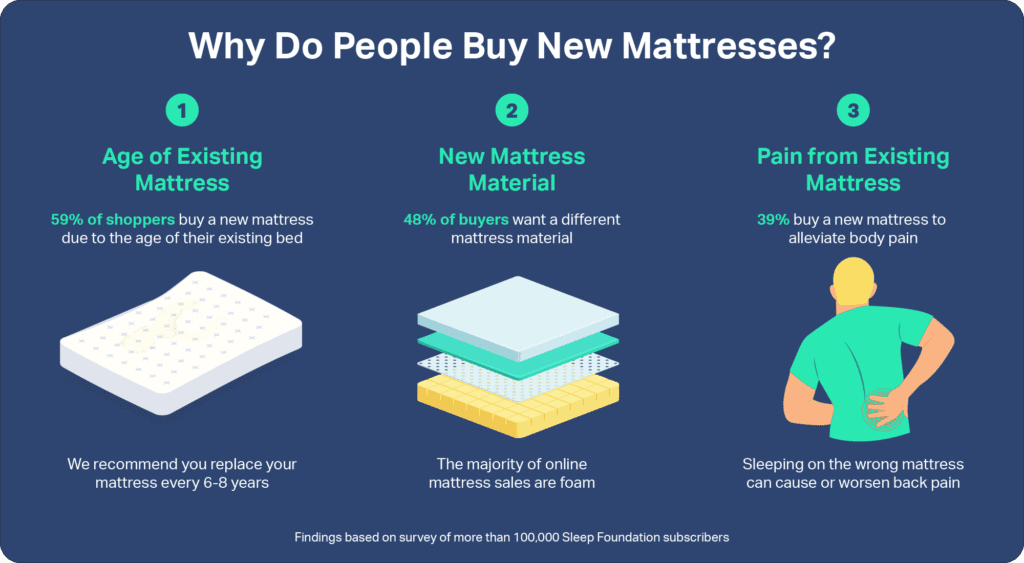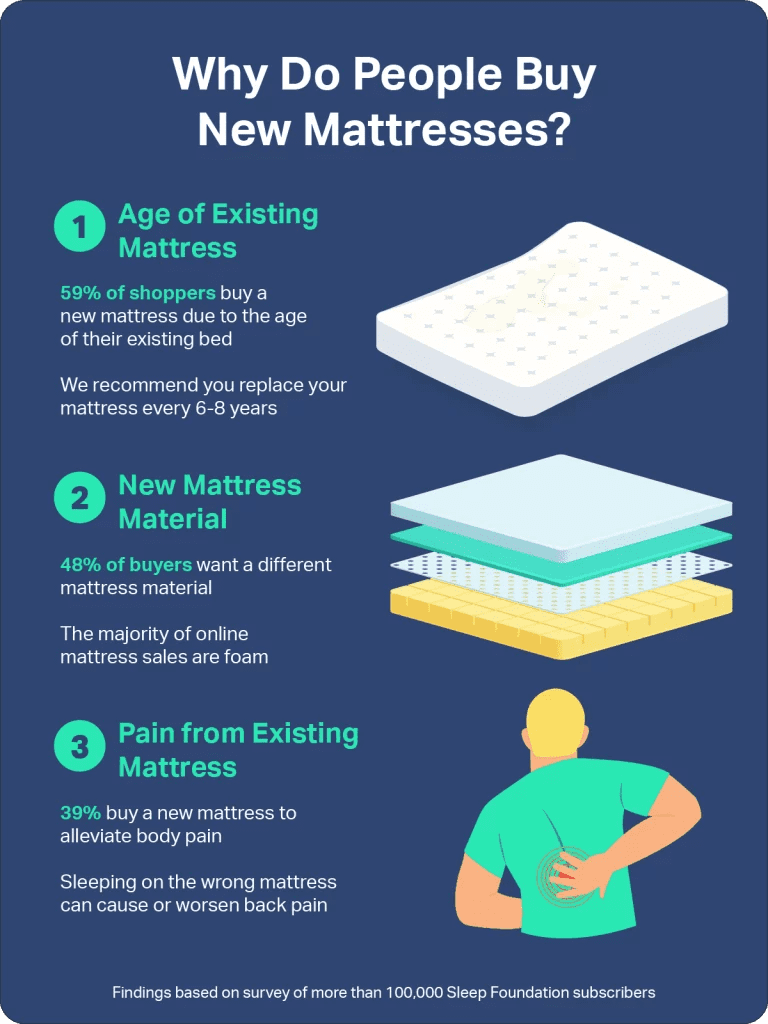 Last Things to Consider With an RV Mattress
There are plenty of factors to consider when shopping for an RV mattress. Everyone has unique needs and preferences. Additionally, RVs differ in configuration and usage. Keep the following considerations in mind when shopping for a new RV mattress.
Durability
Consider how much time you'll spend in your RV, as this will determine how important the durability of your mattress will be. How often a mattress is used affects its lifespan. If you use the RV as a primary residence and travel during the majority of the year, you will want to invest in a durable mattress that can withstand the elements. This is especially important if your RV is not weather-tight.
Number of Sleep Surfaces
How many mattresses your RV needs should be taken into consideration. Some RVs only have one sleeping area, while others have bunks or multiple beds. Solo travelers and those who share a bed may be able to invest in a more expensive mattress. If you're replacing multiple mattresses in an RV, we recommend creating a budget beforehand – especially if you plan to buy all of the mattresses at once.
Mattress Toppers
Many RVs come with a mattress already in place. For pull-out beds and mattresses that cannot be removed or easily placed, a mattress topper to provide extra cushioning is worth considering. A topper is an affordable way to customize the existing mattress. It acts as an additional comfort layer that changes the firmness and feel of the mattress. These are often made of latex, foam, down, or wool. Keep in mind that a topper will add height to the mattress profile.
Comfort Preferences
While the configuration of the RV sleeping area will determine the mattress size and profile needed, comfort preferences should also be considered when shopping for a mattress. Each person is unique and will have different needs and preferences. Sleeping position and body type often affect which firmness and mattress type will be most beneficial. Hot sleepers will need breathable materials that prevent overheating. Those with allergies will want to look for a mattress that resists dust mites and other allergens.
How to Sleep in a Van
There's RV living — and then there is van life. To get a taste of what it's like to sleep and live in a van, watch our video below. Learn some firsthand tips for building an optimal sleep environment in a confined living space.