We Actually Sleep 10 More Minutes When It Snows
At a Glance
People gain an average of 10 minutes of sleep during heavy snowfall, among survey respondents who have lived in an area with measurable snowfall in the past five years.
People in areas that see 2 feet or more of snow at one time average 18 minutes more sleep during snowfall.
People who report sleeping less during snowfall lose 43 minutes of sleep, on average.
56.1% of people who lose sleep during snowfall blame anxiety and stress.
Sleep latency, or the time it takes to fall asleep, may increase slightly during snowfall.
Record-breaking snowfall has become more common each winter, with even Buffalo, New York, seeing more snow than normal during a particularly brutal holiday season in December 2022. More than 1,300 flights were canceled for a February 2023 snowfall sweeping the Midwest, as well. Severe winter snow storms wreak havoc, fray nerves, and remind us about climate change .
But according to a SleepFoundation.org survey of 1,250 U.S. adults, snow also causes many of us to sleep just a bit more.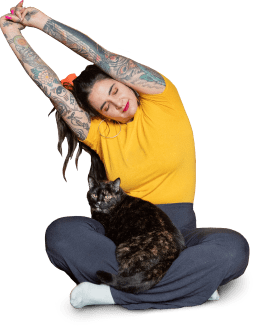 Survey respondents who saw a measurable amount of snowfall in the past five years reported sleeping 10 minutes more a night, on average, when snowfall was at its heaviest. Overall, 31.3% say they sleep more when it snows, compared to 11.6% saying they sleep less.
Another 16.1% say they sleep irregularly when it snows.
Got a hot tip? Pitch us your story idea, share your expertise with SleepFoundation.org, or let us know about your sleep experiences right here.
So what factors into sleep habits when it's snowing? The amount of snow itself and where you live, to start. Let's dig in to understand more about how we sleep when we need to dig out.
Who's Sleeping During the Storm, and Who's Not?
Research connecting snow and sleep is limited, says Dr. Alex Dimitriu, founder of Menlo Park Psychiatry & Sleep Medicine in Menlo Park, California, and a SleepFoundation.org medical-review panel member.
"Heavy snow, like heavy rain, may trigger some tendency to sleep in and stay in," he says. "[But] this has not been fully studied."
A 2021 study Trusted Source National Library of Medicine, Biotech Information The National Center for Biotechnology Information advances science and health by providing access to biomedical and genomic information. View Source found that we typically sleep more in the winter than in the spring and go to bed earlier. Fewer daylight hours in the winter plays a role, as may the start of daylight saving time.
Sleep latency, the time it takes to fall asleep, may increase during heavy snowfall, he says.
"People are less active by day when the weather is adverse outside," Dr. Dimitriu says. "Less vertical time," or time spent moving around, "results in a later bedtime."
This did track with SleepFoundation.org survey respondents. Among people who lived somewhere with a measurable snowfall in the past five years, 64.4% take longer than the average 20 minutes to fall asleep when it snows. That's a bit more than the 61.8% who take longer than 20 minutes regardless of the weather.
But respondents also reported sleeping more when it snowed more. People residing in areas that have accumulated 2 feet or more of snow in recent years average 18 more minutes of sleep during snowfall, with those who see 1 foot or more sleeping 13 minutes more. About 75% of those respondents live in the Northeast or Midwest.
Folks living in areas where the heaviest snowfall is a trace to three inches report sleeping six minutes less than usual. About 71% of those respondents live in the South or West; the survey included an equal number of respondents from each of those four Census regions.
The Chilling Effect of Snow and SAD
For people with anxiety and depression, snow days can be particularly difficult for sleep schedules. This includes people with seasonal affective disorder (SAD), a condition that triggers symptoms of depression and can affect sleep.
During snowfall, more than a third (37%) of people with SAD are short sleepers, averaging less than six hours of sleep per night, compared to 19.8% when it's not snowing. Some 16% are oversleepers, sleeping more than nine hours per night when it snows, compared to 1.1% normally.
Robin Sweet, a 41-year-old stay-at-home mom from Denver, says she relies on her active lifestyle to maintain good mental health when her SAD hits. But she says it's difficult to get motivated when it's cold and snowing.
"You don't get any vitamin D or fresh air, and you have to do so much bundling [up] to go out. It's so laborious," she says. "And that's just overwhelming for somebody who already struggles with any sort of mental health issues like depression or anxiety. We don't need more reasons to be overwhelmed. I may as well just go to bed."
That may help explain why, on average, people with SAD sleep nine minutes more during snowfall than normal, or 6 hours, 45 minutes, versus 6 hours, 36 minutes. Among respondents with SAD, 35.8% say they sleep more when it snows, 22.2% say they sleep less, and 25.9% say they sleep irregularly.
Storm and Stress: What Keeps Us Awake
According to the survey, respondents who say they lose sleep during heavy snowfall average 43 minutes less sleep than normal at that time. More than half (56.1%) cite anxiety and stress as the main culprit for lost sleep. Low temperatures were the next reason at 52.9%, followed by shoveling or disposing of snow at 35.8%.
This group also was more likely to have insomnia (33.3%) than those who sleep more during snow (23.4%) and to have seasonal affective disorder (14.6% versus 8.7%).
Sleeping less during snow is slightly more common among men (12.9%) than women (9.7%). It's also more common among respondents who identified as Hispanic or Latino (19.4%) than those identifying as Black (11.7%), white (11.7%), or of Asian descent (9.9%).
A job that doesn't stop for blizzards may also factor into a lack of sleep. Devon Jenks, a 33-year-old from Twin Falls, Idaho, knows that scenario well.
A package handler at FedEx and a senior accountant at the College of Southern Idaho, Jenks says he struggles to get a good night's sleep when it snows. That's common in Twin Falls, which averages 18 inches of snow per year.
"I still have to get to work even when it is snowing, so I tend to be more restless, worried about getting to work on time through the snow," Jenks says, adding that FedEx is especially busy during the winter holiday season. "I usually leave for work earlier if it is snowing to get there on time, so I tend to wake up frequently to make sure I'm not late."
How To Keep Your Sleep Sanity When It Snows
The loss of daylight that occurs during the winter months can affect our circadian rhythms, throwing off our sleep as it is. And winter's effect on sleep can be twofold when it snows, leading to a lack of activity and a lack of that crucial daylight.
As a night owl throughout the year, Sweet says she sees it during snowfall: "[I'm] less likely to stay up late and be productive."
Dr. Dimitriu recommends doubling down on vertical time, which can mean getting active indoors or bundling up and going outside.
"For many people, as we saw with COVID-19, getting out of the house can be beneficial for health, productivity, and socialization," he says, "as well as sleep at night."
Methodology
The survey commissioned by SleepFoundation.org was conducted on the online survey platform Pollfish on Dec. 6, 2022. Results are from 1,250 survey participants in the United States who were age 18 or older at the time of the survey. All respondents attested to answering the survey questions truthfully and accurately.
References
3 Sources
National Oceanic and Atmospheric Administration's National Centers for Environmental Information. (2016, January 25). Climate Change and Extreme Snow in the U.S. National Centers for Environmental Information., Retrieved Jan. 6, 2023, from

https://www.ncei.noaa.gov/news/climate-change-and-extreme-snow-us

Mattingly, S. M., Grover, T., Martinez, G. J., Aledavood, T., Robles-Granda, P., Nies, K., Striegel, A., & Mark, G. (2021). The effects of seasons and weather on sleep patterns measured through longitudinal multimodal sensing. NPJ Digital Medicine, 4(1), 76., Retrieved Dec. 27, 2022, from

https://pubmed.ncbi.nlm.nih.gov/33911176/

Climate and Geography. Twin Falls Area Chamber of Commerce., Retrieved Dec. 27, 2022, from

https://twinfallschamber.com/live/climate-geography/
Learn More About Sleep News
Other Articles of Interest