When you buy through our links, we may earn a commission. Products or services advertised on this page may be offered by an entity that is affiliated with us. Learn more.
Many sleepers turn to knee pillows to increase comfort while lying down. Knee pillows are small pillows specifically made to fit between or beneath the knees. Side sleepers often use knee pillows between their knees, while back sleepers commonly put them beneath the knees.
Using a knee pillow promotes spinal alignment in side sleepers. Without a knee pillow, the upper knee rests on the lower knee. This arrangement can misalign the back, put pressure on the hips, and create pain.
Using a knee pillow between the legs while sleeping on your side or beneath the knees while sleeping on your back can reduce knee pain. Many knee pillows are ergonomically designed to fit between the legs, which helps promote proper hip and spinal alignment.
Product Details
Cushion Lab Side Sleeper Knee Pillow
Side sleepers
People with pain and pressure points due to poor alignment
Hot sleepers
Excellent contouring around the knees
Available in two size options
Sleeps cool
Sleep Foundation Special Offer
Use this SleepFoundation.org link for the most current discount on Cushion Lab pillows
The Side Sleeper Knee Pillow is another top pick that excels at precise contouring and pain relief due to its firm feel and dense composition. The Hyperfoam memory foam core resists shape loss and indentations to provide long-lasting support, even if you frequently need to use the pillow. A cover made from rayon and polyester also allows the pillow to sleep fairly cool.
Cushion Lab offers two sizes for this pillow. The small size is geared toward people who stand 5 feet 8 inches or shorter, while the large size is better suited to taller people or sleepers of any height who prefer extra leg support. The cover can be removed and laundered in any household machine. You'll also receive a storage bag with your purchase at no extra cost.
All Cushion Lab customers in the contiguous U.S. qualify for free ground shipping with their order. Returns are accepted within 30 days of the original order, and you may also exchange the pillow during this timeframe.
The Company Store Knee and Leg Posture Pillow
People suffering from chronic aches and pains
Those who sleep hot
Side sleepers in need of extra cushioning on the knees and ankles
A moldable design
Entire pillow is machine-washable
Specifically developed for back and side sleepers
Sleep Foundation Special Offer
Use this SleepFoundation.org link for the most current discount on The Company Store pillows
Engineered with side and back sleepers in mind, The Company Store Knee and Leg Posture Pillow helps reduce tension in the lower back and pelvic region. Depending on your sleep style, the pillow is intended to fit either between or below your legs in order to promote good posture during sleep.
The Knee and Leg Posture Pillow consists of polyester fiberfill with a breathable cotton-blend cover. The medium feel is soft enough to cushion the knees and ankles while still being supportive enough to help align the spine. The pillow is more pliable than certain memory foam designs and can be shaped according to each sleeper's needs.
Both the polyester fill and cotton shell reduce heat buildup, which helps sleepers stay cool at night. The longer design also makes the pillow suitable for taller individuals. The pillow and removable cotton shell are both machine-washable for convenient cleaning. A matching cotton pillow protector can also be purchased separately.
The Company Store offers free shipping within the contiguous U.S. for orders $50 and over. The Knee and Leg Posture Pillow comes with a 90-night sleep trial, which gives purchasers the chance to test compatibility. The pillow may be returned for a full refund at any point during the 90-day period.
Back Support Systems Knee-T Leg Pillow
Side sleepers
Sleepers suffering from sciatica, back pain, or hip pain
Shoppers who want a thinner knee pillow
Multiple foam, cover, and size options
Leg strap keeps pillow in place
Machine-washable cover
Sleep Foundation Special Offer
Shop Back Support System pillows with 20% off sitewide + free shipping. Use code SF20
The Back Support Systems Knee-T Leg Pillow helps alleviate pain for side sleepers with an ergonomic design. The pillow is made from high-density memory foam and polyfoam for better shape retention. It is engineered to provide relief from sciatica, back pain, hip pain, and varicose veins. The pillow's comfort strap helps keep the pillow in place to promote proper alignment.
The Knee-T Leg Pillow has a streamlined design that is less bulky than other knee pillows. It comes in three sizes: standard, long, and pro. The standard size is designed for sleepers shorter than 5 feet, 8 inches, and under 160 pounds, while the long and pro sizes are intended for taller and heavier sleepers.
Sleepers can choose between regular polyfoam and a proprietary Be Cool foam, which is designed to regulate temperature. Shoppers also have their choice of a bamboo-derived or sherpa cover. Both cover materials are machine-washable.
While the Knee-T Leg Pillow has a higher price-point than some of its competitors, it may be worth considering for those with back and hip pain. Back Support Systems offers a 30-day money-back guarantee, though a 20% restocking fee applies to returned items.
Coop Sleep Goods Orthopedic Knee Pillow
Side sleepers
Sleepers wanting adjustable firmness
People with allergies
Value-minded shoppers
Adjustable thickness and firmness
100-night sleep trial
Below-average price point
Sleep Foundation Special Offer
Use this SleepFoundation.org link for the most current discount on Coop Sleep Goods pillows
The Coop Home Goods Orthopedic Knee Pillow is ergonomically designed to fit between the knees. As a result, it works well for side sleepers. This pillow is made of memory foam with a cover made from Lulltra fabric, which is a blend of polyester and viscose rayon derived from bamboo. Its cover features a hidden zipper that allows you to adjust the pillow's firmness and thickness.
Inside the pillow are three parts: two pieces of rounded, contoured memory foam and a flat memory foam insert. Sleepers may choose to remove the insert, which decreases both the firmness and thickness of the pillow. The adjustability of the pillow makes it a versatile knee pillow choice. This is one of the only adjustable knee pillows available on the market. Most knee pillows come in only one thickness and firmness.
People with allergies can rest assured that the Coop Home Goods Orthopedic Knee Pillow is completely hypoallergenic and resistant to dust mites. In fact, it's one of the few knee pillows that has CertiPUR-US certification.
The pillow's cover is washable, but only by hand. Coop Home Goods does not recommend putting it into a washing machine or using bleach or fabric softener on it. The cover should be air dried rather than machine dried. The foam interior portions of the pillow are not washable.
Coop Home Goods offers a 100-night sleep trial, which is more than average for a knee pillow. The pillow also comes with a five-year limited warranty.
Tempur-Pedic All-Purpose Pillow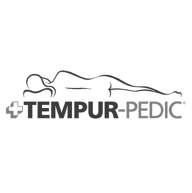 Frequent fliers
People who feel soreness or stiffness in areas along the spine
Value seekers
Core composed of dense and durable TEMPUR memory foam
Unique peanut shape can serve as a cushion for the neck, lower back, or knees
Compact and travel-friendly design
Sleep Foundation Special Offer
Use this SleepFoundation.org link for the most current discount on Tempur-Pedic pillows
The versatile All-Purpose Pillow from Tempur-Pedic features a peanut-shaped design that's effective at alleviating pressure in different areas of the body. The pillow contains TEMPUR memory foam, a proprietary material with a dense composition that cushions and conforms without sinking. Whether you need a neck roll, cushion for your lower back, or a pillow that fits snugly between your knees, this compact pillow has got you covered.
A removable velour cover with a smooth hand-feel encases the foam. This cover can be removed and machine-washed for easy care. A built-in carrying strap – coupled with the compact size – makes the pillow ideal for use during flights or road trips. At less than a pound, the pillow should easily fit into your carry-on without adding excess weight.
The All-Purpose Pillow carries an affordable price-point, especially considering its expected longevity, and shipping is free for all orders in the contiguous U.S. Tempur-Pedic does not allow returns, but each owner receives a manufacturer's warranty that covers structural defects for up to 5 years after the purchase date.
Best for Spinal Alignment
Sleep Number Knee Pillow
Side sleepers
Shoppers who want a knee pillow designed for high support
Value seekers
Memory foam cushions and supports
Microfiber cover feels soft
Ergonomic shape promotes alignment
Sleep Foundation Special Offer
Use this SleepFoundation.org link for the most current discount on Sleep Number pillows
A pillow that's designed to help with alignment can be particularly beneficial for side sleepers. The Sleep Number Knee Pillow is engineered with both support and pressure relief in mind. Shoppers looking for an affordable knee pillow will likely appreciate Sleep Number's model, which has a below-average sticker price.
The pillow rests between side sleepers' knees, creating a comfortable buffer that adds space between each leg. When your knees are positioned like this, it can be easier for your back, hips, and legs to properly align. The pillow's solid memory foam fill offers substantial support as well as pressure relief. Your knees sink slightly into the foam, which closely contours to your joints and helps alleviate discomfort.
A soft and velvety microfiber cover wraps the pillow. Sleepers can remove the cover to machine wash and dry when necessary. For best results, the foam should only be spot cleaned. This pillow is available in grey and in one standard size. Sleep Number has designed its Knee Pillow to be hypoallergenic.
Though Sleep Number does not accept returns on this pillow, shoppers have a 30-day window to make exchanges, and those in the contiguous U.S. enjoy free UPS ground shipping. The Knee Pillow is backed by a 1-year warranty.
Luna Orthopedic Knee Pillow
People with sciatica and other conditions that cause lower back and hip pain
Side and back sleepers
Shoppers with tight budgets
Firm, solid memory foam withstands compression to promote even alignment
Cover is breathable and fully machine-washable
Affordable pricing and 30-night trial with all orders
Sleep Foundation Special Offer
SleepFoundation.org readers get 25% off with code TSFxLUNA
The Luna Orthopedic Knee Pillow is a great example of an affordable, high-quality sleep product to aid people with persistent back pain. The core contains solid memory foam with a dense composition and firm feel. You'll feel some cushioning from the foam, but the pillow withstands compression well and shouldn't sink or lose shape easily.
The pillow's ergonomic hourglass shape allows you to fit it snugly between your knees without feeling extra pressure in your legs. You can also use the pillow as a bolster for your legs, feet, or torso while lying upright. A breathable cover encases the pillow. You can remove and machine wash the cover any time a cleaning is needed.
In addition to its low upfront cost, the Orthopedic Knee Pillow also qualifies for free ground shipping throughout the contiguous U.S. Your order includes a 30-night sleep trial. You may return the pillow for a full refund at any point during this time frame, provided it hasn't been washed and is still in excellent condition.
Price:
$234 – Petite $249 – Regular $264 – Tall
Fill:
Memory foam, latex, or wool
Firmness:
Soft, Medium, Firm, Extra Firm
Sleepers who experience back pain
Shoppers who have trouble finding a knee pillow compatible with their size
Those who prioritize organic bedding
Four firmness options and three sizes
All materials are GOTS- and GOLS-certified organic
Adjustable fill
Sleep Foundation Special Offer
Use this SleepFoundation.org link for the most current discount on Noble pillows
The Noble Lower Body Pillow is a high-end pillow that caters to sleepers who are willing to splurge on thoughtfully crafted, quality bedding. Available in a range of sizes and fills, the pillow is suitable for a wide range of body types and sleep preferences.
While some orthopedic pillows feature unique shapes or cutout designs, this pillow has a simple triangular shape that integrates nicely onto your bed. Side sleepers can place the pillow between their legs while back sleepers can place it under the legs. The pillow is designed with nine different sections that can be rearranged to customize support where you need it most.
You can choose between four different firmness levels, and you can adjust the amount of fill to achieve the perfect feel. The soft model is filled with memory foam and the medium model contains latex. The firm model contains a blend of wool and latex and the extra firm model is filled entirely with wool. All pillows are encased in a cover made of 100% cotton. If eco-conscious bedding is a priority for you, the wool and cotton are GOTS-certified and the latex is GOLS-certified to ensure organic sourcing.
The pillow is sold in a petite, regular, or tall size, so you can pick the dimensions that will suit your body best. All pillows come with a pillowcase composed of GOTS-certified organic cotton in a silky sateen weave. You'll also receive a bag of extra fill if you'd like to add more fill to the pillow.
Noble ships free in the U.S. You may return the pillow within 30 days for a full refund, minus return shipping fees. The pillow is also backed by a 5-year warranty.
Contour Legacy Leg & Knee Pillow
Fill:
Solid, ventilated memory foam
People with frequent pain in their lower back or hips
Those who normally sleep hot on memory foam pillows
Shoppers with tight budgets
Solid memory foam contours evenly while maintaining firm support
Ventilated core and breathable cover help ensure excellent cooling
Tapered shape provides ergonomic comfort for your lower body
Sleep Foundation Special Offer
Use this SleepFoundation.org link for the most current discount on Contour pillows
Contour's Legacy Leg & Knee Pillow delivers thoughtful, high-quality construction at an approachable sticker price. The core is formed from solid memory foam that's both squishy and dense, so it cushions and adapts evenly without sinking or compressing too much between your knees. A tapered shape also aligns your hips with the rest of your spine to help ensure even alignment and less pressure in the lumbar region.
Many people complain about the heat-retaining properties of memory foam. The Legacy's foam core is ventilated with large holes that promote airflow throughout the interior, and the cover is composed of breathable quilted cotton, so the pillow should sleep fairly cool compared to the competition. You can remove and machine wash the cover whenever a cleaning is needed.
Not only is the Legacy Leg & Knee Pillow affordably priced, but Contour offers reasonable flat-rate shipping for all orders within the contiguous U.S. Returns are accepted within 45 days and customers do not incur any restocking fees. If you decide to keep the pillow, it's also backed by a 1-year warranty against material defects.
Sharper Image Cooling Foam Leg Pillow
Side sleepers
People who normally find memory foam pillows too warm
Shoppers with limited budgets
Dense foam and ergonomic shape can alleviate lower back pain
Cooling gel coating on each side helps reduce heat retention
Cover is made of soft, machine-washable polyester velour
Sleep Foundation Special Offer
Use this SleepFoundation.org link for the most current discount on Sharper Image pillows
The Cooling Foam Leg Pillow from Sharper Image features a gel coating on each side. The gel is designed to dissipate heat and prevent excessive warmth – a common issue with solid memory foam pillows. A cover made of breathable velour also promotes airflow to enjoy the pressure-relieving benefits of memory foam without overheating.
The pillow's firm feel helps ensure optimal spinal alignment and good stability for the pelvis and hips. The ergonomic shape also allows the pillow to fit comfortably between your knees while lying on either side. Thanks to the foam's dense composition, the pillow should hold up well over time and resist the shape loss that often occurs with low- or medium-density foams.
The Cooling Foam Leg Pillow is affordably priced and Sharper Image offers reasonable shipping rates for U.S. customers. You'll also receive a 1-year warranty against structural defects with your purchase. Returns are allowed for unopened and unused pillows.
What is a Knee Pillow?
Knee pillows exist to increase a person's comfort while sleeping. They do so by promoting spinal alignment, relieving pressure, and helping keep the body in a comfortable position.
There are many people who benefit from, or could benefit from, using a knee pillow while sleeping. For example, side sleepers and pregnant women often opt for knee pillows.
Some people use regular bed pillows beneath or between their knees. While this might provide comfort, a specifically designed knee pillow is likely to provide more comfort with less bulk. Knee pillows are much smaller than standard bed pillows and are often ergonomically designed to fit between a person's legs.
Generally, side sleepers use knee pillows by placing them between their legs. Back sleepers, on the other hand, tend to sleep with knee pillows beneath their knees. Stomach sleepers are not likely to use or need to use knee pillows.
Without a knee pillow, a side sleeper might find their spine fall out of alignment and they may experience hip, knee, or lower back pain as a result. A knee pillow can restore that alignment, relieving joint pressure and pain.
How to Choose a Knee Pillow
Although knee pillows from different brands might look similar at a glance, they do vary in terms of materials, construction, and features. Some people find more comfort in certain knee pillows than others because of these differences.
When purchasing a knee pillow, it's important to keep your needs and characteristics in mind. Your sleep position preference, body weight, and budget impact which pillow is best for you.
What to Consider When Purchasing a Knee Pillow
There are multiple factors to consider when shopping for a knee pillow. Knowing exactly what to look for can save time and help you purchase the best knee pillow for you.
Unfortunately, some sleep product companies use fluffy, difficult-to-decipher wording when describing their sleep products, including knee pillows. With flowery writing, they can make their knee pillows sound wonderful without sharing much concrete information about them.
We encourage you to look past vague advertising claims and examine specific features of knee pillows instead. The best pillow for you will depend on your body and personal preferences.
In this section, we delve into the various factors that are important when it comes to knee pillow shopping. With a deeper understanding of shape, support, firmness level, and more, you will be prepared to evaluate the many knee pillow options on the market.
Shape
Many knee pillows are contoured so the pillow easily fits between a person's legs. The best knee pillow for side sleepers is designed to sit between the thighs or fit along the length of a person's calves. There are also knee pillows shaped like cylinders and wedges, which work well for back sleepers who put a pillow beneath their knees.
Support
In knee pillows, the amount of support provided is closely tied to the pillow's thickness and firmness level. Generally, thicker, firmer pillows provide more support. Larger, heavier people likely need the most support, while lightweight individuals can use thinner, softer pillows and receive adequate support.
Firmness Level
Unlike mattresses, knee pillows don't usually come with a firmness rating. Instead, companies usually describe their knee pillow's firmness in words, which can be subjective. Trying out a knee pillow is the best way to determine if its firmness is adequate for you. Reading customer reviews from knee pillow owners of a similar build to you can also help.
Pressure Relief
Knee pillows provide pressure relief indirectly by promoting spinal alignment. When the spine is not properly aligned, pressure develops in the spine and hips. Knee pillows can also directly relieve pressure in the knees. The thickness and firmness of the knee pillow impacts how well it relieves pressure.
Price
The prices of knee pillows range greatly, with the least expensive costing less around five dollars and the most expensive costing over $100. That said, most knee pillows fall in the $20 to $60 range. Prices come from the product's materials and construction, as well as from the brand's reputation.
Quality Materials
Most knee pillows are made of memory foam and have some type of fabric cover. High-density memory foam is generally higher quality than low-density memory foam. Unfortunately, not all manufacturers share details about the memory foam they use. Reading customer reviews may be more useful for determining product quality.
Size/Weight
The size and weight of a knee pillow is relevant to people who travel or sleep outside the home. Some knee pillows are small, while others are nearly as large as traditional pillows. Knee pillow weights also vary. Manufacturers generally list their knee pillows' measurements and weight online.
Temperature Regulation
Temperature regulation refers to how warm a pillow becomes in response to body heat. A knee pillow that regulates temperature well stays relatively cool. Most knee pillows are filled with memory foam, which tends to trap heat. Often, covers are made with cooling, breathable fabrics to counteract this tendency.
Who Should Use a Knee Pillow?
Side sleepers and pregnant women are most likely to benefit from using a knee pillow. ack sleepers and people with back or hip pain can also benefit from using a knee pillow.
Side Sleepers: Knee pillows promote spinal alignment in side sleepers, relieving pressure from their hips and lower back. Without a knee pillow, side sleepers often find their spine coming out of alignment. Their uppermost leg puts weight on their lower leg. As a result, their hips shift and experience more stress. Using a knee pillow can reduce hip and back pain in side sleepers.
Pregnant Women: Pregnant women often experience leg cramps and back pain. Using a body pillow or small knee pillow may help by promoting proper spinal alignment.
Those with Back or Hip Pain: People with back or hip pain might experience relief by adding a knee pillow to their sleep routine. Sometimes pain is caused or exacerbated by improper spinal alignment overnight. Using a pillow to increase support and pressure relief can help.
Back Sleepers: Back sleepers tend to benefit most from a knee pillow placed beneath rather than between the knees. Placing a pillow beneath the knees of a back sleeper promotes the spine's natural curve. It also reduces pressure put on the lower back.
Who should avoid knee pillows:
Sleepers Who Move Frequently: Some people toss and turn too frequently to keep a knee pillow in place overnight. They may try a knee pillow with a velcro strap, but that might not be enough to keep the pillow in place all night.
Stomach Sleepers: Stomach sleepers generally don't need knee pillows because their sleep position doesn't affect spinal alignment in the same way. Instead, they might want to put a pillow beneath the hips.
What Types of Knee Pillows Are Available?
The most common knee pillow type is shaped like an hourglass, and all of our recommendations feature variations on this shape. Still, there are knee pillows of other shapes available, so you should be aware of them.
Hourglass: The hourglass knee pillow is thinner in the middle and thicker at the edges. It fits well between a person's thighs and is designed to stay in place. Hourglass knee pillows work best for side sleepers wanting to keep their knees separated.
Body Pillow: A body pillow is usually the width of a bed pillow, but double the length. Body pillows work well for side sleepers and pregnant women. In addition to putting space between the knees, they give people something to hug.
Half Moon: The half-moon shaped pillow looks like a cylinder with one flat edge. It's commonly put beneath the knees by back sleepers, but can also be put between the legs by side sleepers.
Cylinder: A cylindrical knee pillow is similar to the half moon pillow, but it's completely round instead of having one flat side. This pillow is most commonly used by back sleepers beneath the knees.
Wedge: Most wedge knee pillows look triangular from the side, but there are also rounded versions. Generally, these pillows are used by back sleepers beneath their knees. Some are designed to elevate the legs.
Heart: The heart-shaped knee pillow is the smallest on the market and usually the least expensive. It fits between the knees and thighs of side sleepers and often includes a strap to hold it in place.
Frequently Asked Questions About Knee Pillows
Can I use a regular pillow as a knee pillow?
Yes, but it might not be as comfortable as a designated knee pillow. A regular pillow is often too thin, too thick, or too long to fit properly beneath or between the knees. Knee pillows, however, are specifically designed to fit between or beneath the knees. As a result, they tend to work better at providing comfort.
How much do knee pillows cost?
Most knee pillows cost between $20 and $60. That said, there are knee pillows that sell for as little as five dollars and for as much as over $100. The price of a knee pillow depends on its size, the materials it contains, and the brand that manufactures it.
How do I clean a knee pillow?
Most knee pillows come with a removable, washable cover. Some knee pillow covers may be washed in a washing machine, while others should be washed by hand. Knee pillow owners should carefully read the manufacturer's cleaning instructions prior to washing their knee pillow. Incorrectly washing or drying a knee pillow could damage it and void the warranty.
Where can I buy a knee pillow?
Many online and in-person stores that sell mattresses, bedding, or traditional pillows also sell knee pillows. We suggest visiting the sites of the knee pillow companies we've shared on this page or doing a simple search for knee pillows to find more options. When buying a knee pillow online, check to see if the company offers free shipping and free returns.
How long do knee pillows last?
Knee pillows can last anywhere from one year to several years. Read customer reviews to get an idea of how long people have owned knee pillows made by particular brands. Sometimes knee pillows are thrown away for hygiene reasons. Washable, hypoallergenic knee pillows can stay hygenic longer.
Are knee pillows adjustable?
Some, but not all, knee pillows are adjustable. Be sure to carefully read the packaging or manufacturer's website to determine if a knee pillow is adjustable. Adjustable knee pillows generally unzip and have removable portions. Changing the contents of a knee pillow also adjusts its thickness and firmness.
Still have questions?
Our product experts have extensive experience testing just about every sleep product on the market. Send an email to [email protected] or call us at (877) 672-8966 with your questions and we'll help you find exactly what you're looking for.
Thanks for the feedback - we're glad you found our work instructive!
If you're ready for more, sign up to receive our email newsletter!
Was this article helpful?
Thanks for the feedback - we're glad you found our work instructive!
Submitting your Answer...
Other Articles of Interest