Queen Size Bed Dimensions
Key Takeaways
The queen size mattress is the most popular mattress size. At 60 inches long and 80 inches wide, it easily accommodates two people, so it's a good choice for couples and co-sleepers. Heavier sleepers, those who share a bed with children or pets, or sleepers who like plenty of space may prefer a larger mattress size. If you're considering a queen size mattress, make sure your bedroom is large enough to comfortably accommodate it.
Queen mattresses are the most common mattress size. Most couples can sleep together comfortably on this mattress size, and many bedrooms can accommodate a queen size bed. Additionally, finding accessories like sheets, mattress toppers, and bed frames for queen size mattresses is easy due to this mattress' popularity.
We'll discuss the dimensions of a queen size mattress and how it compares to a king size. We'll also discuss important factors to consider when determining which mattress size is best for you.
The Dimensions of a Queen Size Bed
A queen size mattress is 60 inches wide by 80 inches long. The height of a queen size mattress can range from 8 inches to over 14 inches.
If you sleep with a partner, pet, or child, a queen size mattress should comfortably accommodate you. If you sleep alone but enjoy spreading out in bed or have a taller body, a queen size mattress may also be a good choice. For couples who share their bed with more than one child or pet, a queen may not be large enough.
At 80 inches long, a queen size mattress can accommodate most sleepers. Taller individuals, however, may want to consider an extra long mattress, such as a California king.
Mattress Sizes
Mattresses come in six standard sizes. These sizes are defined according to width and length, although there may be slight variation in size across manufacturers. The height of a mattress is independent of this sizing framework and often depends on the materials used. In addition to standard sizes, some mattress companies also make custom mattress sizes.
| Mattress sizes | Dimensions (Width x Length) |
| --- | --- |
| Twin | 38″ x 75″ |
| Twin XL | 38″ x 80″ |
| Full | 54″ x 75″ |
| Queen | 60″ x 80″ |
| King | 76″ x 80″ |
| California King | 72″ x 84″ |
Queen vs. King Size Beds
Queen and king size beds both tend to be well suited to couples. The two sizes can usually accommodate at least two people, and accessories like sheets and mattress toppers are commonly sold in these sizes. The right size for you depends on your particular circumstances and preferences.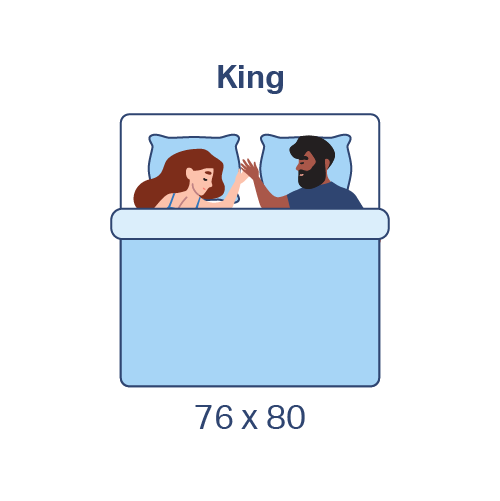 If your space is limited, a queen size bed may be a better choice. Due to its smaller size, a queen size mattress is easier to move and may also be preferable if your bedroom is located in an area in your house that's harder to access. Queen size mattresses are generally less expensive than king mattresses.
A king size mattress is equivalent in width to two twin size mattresses side by side. You may want to consider a king size if you or your partner need more space to sleep comfortably. Additionally, if you anticipate more than two sleepers on your mattress, you may want to consider a king size mattress.
How to Choose a Mattress Size
When choosing a mattress, it's important to consider your personal needs and circumstances. Factors such as whether you share a bed, body size, the size and configuration of your room, and your budget are all important when determining the right mattress size.
Sleeping Partners
If you sleep with a partner, a queen size bed is likely a good fit for you. Even if you don't have a partner but you share your bed with a pet or child, a queen offers a comfortable amount of space. For some couples, a full size mattress may feel like enough space, but most couples will likely find a queen to be more accommodating. Couples who sleep with children or pets might need a larger mattress such as a king or California king.
If you sleep alone, a smaller mattress such as a twin or full may suit your needs. However, if you toss and turn at night or prefer extra space, you may want to consider a queen mattress.
Height
If you sleep alone, you may be considering a twin size mattress. At 75 inches long, a twin size mattress accommodates sleepers under 6 feet tall. However, for those over 6 feet, a twin mattress will not accommodate your height. Longer or wider mattresses, such as a twin XL or queen size, are better suited to taller individuals. If you're especially tall, you may want to consider a California king, which is 84 inches long.
Sleep Position
A mattress' length may be less critical if you're a side sleeper. Those who sleep on their sides often curl their bodies and don't use the entire mattress length. However, if you're a back or stomach sleeper, you'll want to make sure your mattress length can accommodate your height. This is because back and stomach sleepers fully extend in these positions. Additionally, back and stomach sleepers may prefer a wider surface than stomach sleepers.
Bedroom Size
It's important to make sure your bedroom can accommodate a mattress size before purchasing. A bed that takes up too much space in a bedroom can make the room feel cramped. Try to allow for at least 24 inches of space on the foot and either side of the bed. If you're having trouble imagining how a bed will look in a space, use painter's tape on the floor to outline the footprint of a mattress. Doing so will give you a better idea of how a bed will look in your space.
Budget
The cost of a mattress can range from hundreds to thousands of dollars. The construction and quality of a mattress largely determines the price. The size of a mattress also plays a role in a bed's price-point. Queen and king models can cost significantly more than twin sizes. Consider your priorities concerning size and quality when choosing a mattress that fits your budget.
Learn More About Mattress Sizes and Dimensions
Other Articles of Interest