Twin is the smallest among the six standard mattress sizes. Twins offer some benefits that other mattress sizes don't. For one, twin sizes tend to be the cheapest option for any mattress model. Twins also take up the least amount of floor space, making them suitable for people with smaller bedrooms.
Our team thoroughly tests each mattress to find the models that are most worth your money. We take comfort, support, and value into account when making these selections. Our testing team includes people across a wide span of weights and sleeper types so that we can provide thorough recommendations for readers.
Best Twin Mattress Video
Watch the video below to get a more in-depth look at our top picks for Best Twin Mattress.
In addition to our top picks for twin mattresses, we'll discuss different mattress types and their pros and cons. Our comprehensive buyer's guide will help you learn important factors to look for when purchasing a new mattress, as well as what to avoid. We'll help you choose the best twin mattress for your sleeper type, living space, and budget.
Our Recommendations
The Helix Kids Mattress is a hybrid with a flippable design. With two firmness levels – one on each side – this model is intended to meet your child's evolving firmness and support needs as they grow older.
How It Performed
Kids do not test our mattresses, but our testing process for the Helix Kids focused on factors important to how kids sleep. The mattress has medium soft (4) and medium firm (6) sides. The softer side caters to children 3 to 7 years old, an age group that fares better with plusher surfaces. The firm side is aimed at 8- to 12-year-olds, since this age group may need a firmer mattress to support their growing bodies.
Between the foam comfort layers and coil core, both sides offered a mix of support and contouring during our tests. This is ideal if your child sleeps on their side, a position that requires cradling in the shoulders and hips but also benefits from support for the lower back.
What It's Made of
The softer side begins with a layer of memory foam that adapts to the body to relieve pressure. This layer is infused with cooling gel designed to absorb and dissipate excess body heat. Meanwhile, the firmer side features a polyfoam comfort system that has a slightly denser feel. This side ensures your child's weight is evenly distributed across the surface without sinking too deeply. Both sides share a support core made of pocketed coils with a reinforced perimeter that prevents sinking along the edges. The cover is made of a breathable Tencel fabric, and the entire mattress has a water-repellent finish meant to protect against nighttime accidents and messy spills.
Helix provides a 100-night sleep trial for your child to test the mattress. The bed also comes with a 10-year limited warranty against structural defects. Customers in all 50 states receive free shipping with their purchases.
The Nectar Mattress stood out during our tests, thanks to its premium materials, high-quality design, and approachable pricing. The medium firm feel made it more supportive than other memory foam models we've tested.
How It Performed
The Nectar earned much higher marks in our edge support tests compared to other all-foam models. This prevented sagging when our testers got on and off the bed, and it added more stability when they lay near the perimeter.
The Nectar's moderate conforming made the mattress optimal for our team's side sleepers of any weight. These testers found that the foam cushions the shoulders and hips to align the spine and reduce pressure throughout the body. A sturdy support system also ensured comfortable contouring and minimal sinkage for our back and stomach sleepers under 230 pounds. The bed is virtually silent, as well, so you don't need to worry about disruptive squeaks and creaks if you switch to a different sleeping position.
What It's Made of
The Nectar starts with a memory foam comfort layer that closely contours the body to relieve pressure in the joints and lower back. Beneath that is a polyfoam transitional layer that provides gentle contouring to prevent you from sinking too deeply beneath the surface. A support core of high-density polyfoam provides pushback to your hips and shoulders to promote healthy spinal alignment.
Customers in the contiguous U.S. qualify for free ground shipping. The Nectar is backed by a 365-night sleep trial – one of the longest in the industry – and a non-prorated lifetime warranty for added peace of mind.
The Bear Original has an appealing, innovative design with a firm (7) feel that's more supportive than other all-foam models we've tested. The firmer feel also helps the mattress stay cooler than many other foam models. The approachable price-point, coupled with strong performance, makes the Bear Original a good long-term investment.
How It Performed
Children and teens are likely to find the mattress comfortable, as many prefer firmer mattresses compared to adults. The Bear Original offers other advantages based on its all-foam design. Sleep disturbances shouldn't be a major issue, but most sizes smaller than a queen mattress tend to be insufficient if you share the bed with a partner. Our testers noted that the memory foam also provided even contouring along their spines, improving alignment and alleviating pressure in areas like the shoulders and hips.
Sleepers have had varying experiences with Celliant, but those who have attested to its capabilities include active people and those with physically demanding jobs. Based on our testing, the mattress is best suited to side sleepers who weigh more than 230 pounds, back sleepers who weigh at least 130 pounds, and stomach sleepers who weigh less than 130 pounds.
What It's Made of
The mattress contains a comfort layer of memory foam that evenly contours to your body to relieve pressure. Next is a polyfoam transitional layer that evenly distributes weight to promote spinal alignment. The support core features high-density polyfoam that offers pushback to the hips and shoulders and limits excessive sinkage. One of the most notable features of the mattress is its cover made of Celliant fabric. This material is designed to convert your body heat into infrared energy, then transmit this energy back to you through your skin – a process that can help your body recover during sleep.
In addition to its low sticker price, the Bear Original also comes with a 120-night sleep trial and a lifetime warranty against structural defects. Ground shipping is free of charge throughout the contiguous U.S.
Side sleepers often experience pressure buildup in their joints because of the weight they put on their side. The Nolah Signature 12 combats pressure buildup with an all-foam construction and a medium (5) feel, which allowed our team's side sleepers to sink into the mattress comfortably.
How It Performed
Our side-sleeping testers under 130 pounds felt most comfortable on the Signature 12, but side sleepers in other weight categories also felt comfortable and supported. During our testing, the mattress absorbed most movement transfer and noise. This makes it a great choice if you tend to switch positions at night. Compared to other all-foam models, the mattress performed well during our temperature control tests. This is largely to do the use of denser polyfoam layers and a breathable cover that reduces heat buildup on the surface.
What It's Made of
The mattress' construction starts with proprietary AirFoam polyfoam that closely contours to your body. This foam is engineered to provide extra breathability and limit heat buildup. Next is a denser polyfoam layer that prevents you from sinking too deeply into the mattress, and a firmer transitional layer of AirFoam that ensures your weight is evenly distributed across the mattress surface. The support core features high-density polyfoam that limits sagging in your midsection. A cover made from breathable organic cotton encases the mattress.
The mattress comes in seven sizes, including a split king. Nolah ships free to customers in the contiguous U.S. Mattress purchases come with 120-night sleep trials, during which you can return the mattress after a 30-night break-in period. If you decide to keep the Nolah Signature, it is backed by a lifetime warranty.
If you live with chronic or frequent back pain, you should invest in a mattress that cushions the body while maintaining even support. These are defining qualities of the WinkBed, a luxury hybrid with a deep comfort system and zoned pocketed coils. The mattress is available in four firmness levels, ensuring most people can find a comfortable design regardless of how much they weigh or which sleep position they use.
How It Performed
During our hands-on tests, the Softer WinkBed (4) earned its most favorable ratings from side and back sleepers weighing less than 130 pounds. This model contours closely to cushion the body and reduce soreness along the spine. Most of our testers felt comfortable on the Luxury Firm WinkBed (6) due to its balanced feel, with the highest ratings coming from side sleepers between 130 and 230 pounds and back and stomach sleepers up to 230 pounds. If you weigh more than 230 pounds, the Firmer Winkbed (7) and WinkBed Plus (8) will probably provide sufficient support.
Our temperature control tests for the WinkBed revealed very little heat buildup, with the firmest two models sleeping the coolest for our testers. We've attributed this to comfort layers that retain minimal heat, a coil system that generates steady airflow, and a moisture-wicking cover. The zoned coils also allowed the WinkBed to perform well during our edge support and ease of movement tests, and we believe the mattress should provide enough responsiveness for sex.
What It's Made of
The Softer, Luxury Firm, and Firmer WinkBed models contain polyfoam comfort and transitional layers. The foams have open-cell compositions, so heat retention is minimal and you should sleep fairly cool. WinkBed Plus models swap the polyfoam transitional layer for 2.5 inches of zoned latex. This material feels very responsive, and you'll notice extra reinforcement beneath your chest and hips. The WinkBed Plus is specifically designed for people who weigh more than 230 pounds.
The support core consists of pocketed coils in a zoned configuration. Thicker coils rest in the middle to push back against extra weight from your midsection, and the perimeter is reinforced to minimize sinkage when you lie or sit along the edges. A breathable Tencel cover encases the entire mattress.
WinkBeds offers free ground shipping throughout the contiguous U.S. The company's sleep trial runs for 120 nights. If you aren't satisfied with your initial firmness selection, you may exchange your mattress for a softer or firmer model after 30 nights. The replacement mattress is backed by an additional 60-night trial. No matter which WinkBed you ultimately choose, you'll receive a lifetime warranty against structural defects.
Spinal alignment is important for all sleepers, but especially for growing children. The Saatva Youth is a reversible innerspring with a distinct feel on each side. The softer surface has a medium feel (5) and provides cushioning to help children between ages 3 and 7 sleep comfortably through the night. The firm (7) opposite side feels denser and more supportive to promote proper development for kids ages 8 to 12.
How It Performed
As with most mattresses designed with children in mind, we relied on feedback from adults to rate the Saatva Youth. Temperature control was one area where the mattress excelled during our hands-on tests. We attributed this to internal layers that generate plenty of airflow and a breathable cover that retains very little heat. Another strong point was ease of movement. Unlike pocketed coils, which move independently and create minimal transfer, the Youth's hourglass coils are highly responsive. As a result, the surface is quite bouncy to help your child move across the mattress without too much sink.
What It's Made of
The surface intended for younger children begins with a foam layer divided into five firmness zones. This ensures adequate support around the midsection and gentler cradling for the rest of your child's body. On the opposite side, a layer of high-density foam maintains a firm feel for older children. Both foam layers are convoluted to create room for air to circulate freely. The shared support core consists of hourglass coils made from recycled steel. A lumbar plate provides extra reinforcement to the lower back.
A breathable organic cotton cover encases the entire mattress. Both sides contain a waterproof membrane, which can protect the mattress from bedwetting episodes when your child is younger and other types of liquid damage as they age. A botanical-based Guardin treatment is designed to provide chemical-free antimicrobial protection. Please note the Saatva Youth has a weight capacity of 250 pounds.
Twin, twin XL, and full sizes are available. Saatva offers free White Glove delivery anywhere in the contiguous U.S. With this service, couriers set up the Youth in a room of your choice and remove your child's old mattress upon request. The company's generous sleep trial spans an entire year, and the mattress is also backed by a lifetime warranty against structural defects.
The Birch Mattress is a latex hybrid with a medium firm (6) feel that suits a wide variety of sleepers. Made from organic cotton and wool and natural Talalay latex, the Birch is an excellent option for shoppers seeking a mattress made with eco-friendly materials.
How It Performed
Thanks to the balanced medium firm (6) feel, our testers found the Birch comfortable across different sleeping positions and weight categories. Specifically, if you weigh at least 130 pounds, you should feel most comfortable on the responsive mattress. Our side and back sleepers under 130 pounds found the mattress too firm, but stomach sleepers in this weight category appreciated the extra support.
Like most other latex hybrids, the Birch performed well in our sex and temperature regulation tests. Responsiveness and extra edge support from the coil support core ensure couples can easily move across the surface and lay near the edges without slipping off. Meanwhile, breathable cotton, wool, latex, and coils made the mattress a standout in terms of cooling.
What It's Made of
A blend of organic wool and rayon acts as a fire barrier, followed by a second layer of organic wool. Wool is naturally breathable and helps regulate temperature while giving the surface a plush feel. Next is Rainforest Alliance-certified Talalay latex that gently cradles your body and relieves pressure points without sinking too deeply. Latex is also naturally breathable, so it didn't trap as much heat as adaptive foams during our tests.
Pocketed coils make up the support core. These coils move independently to offer targeted support where you need it most. Some coils are zoned along the perimeter for extra edge support. The coils rest on a base layer of wool and rayon for stability, and a breathable, organic cotton cover encases the mattress.
Birch ships free to all 50 states and offers a 100-night sleep trial for you to test the mattress. Purchases are backed by 25-year warranties, covering structural defects.
The Layla Hybrid is a flippable model, meaning each side features a sleep surface with a different firmness level. One side is medium soft (4) and the other is firm (7), giving each surface a distinct feel that can accommodate different sleeper types based on body type and preferred position. Thick foam layers and enhanced edge support also make the Layla Hybrid a good option for co-sleepers.
What It's Made of
The medium soft side contains a memory foam comfort layer that contours evenly to the body, followed by a zoned polyfoam transitional layer with a firmer feel around the middle and gentler cradling for the head, shoulders, and legs. The firm side features the same components, but the layers are thinner to create a more supportive feel.
A shared support core of pocketed coils provides stability for each side. The coils are more robust along the edges to protect the perimeter from deep sinkage. A breathable polyester-viscose cover encases the entire mattress.
How It Performed
Each of the Layla Hybrid's sides performs well in certain areas. The medium soft surface conforms very closely to cradle the spine, improve alignment, and reduce pressure for side sleepers – especially those who weigh 230 pounds or less. This side also excels at motion isolation to help you and your partner sleep soundly when the other person moves around in bed.
The firm side offers extra support for back and stomach sleepers who weigh at least 130 pounds, as well as side sleepers over 230 pounds. Most people will find moving across this surface easier, and the edges are noticeably stronger.
Layla offers free ground shipping for all orders within the contiguous U.S. Your purchase will include a 120-night sleep trial and 10-year warranty.
The Siena Memory Foam Mattress is an all-foam bed with a medium firm (6) feel that was comfortable to a wide swath of testers on our team. The versatility makes this mattress a good fit if you anticipate different sleepers using the bed. The approachable price-point may also appeal to those shopping on a budget.
How It Performed
One of the standout features of this mattress is pressure relief. The foam layers cradle your body closely to relieve pressure in sensitive areas like the shoulders, hips, and spine. People who develop painful pressure points at night will benefit from the adaptive foam layers. The bed is also very quiet, which may appeal to restless sleepers who wake easily at night. The memory foam layers make little to no noise when you move around.
Among our testers, the bed received the highest marks from side sleepers up to 230 pounds and back and stomach sleepers under 130 pounds. These sleepers received the perfect balance of cushioning and support from the foam layers. Those in heavier weight categories sunk deeper into the mattress and received less support.
What It's Made of
The Siena Memory Foam Mattress begins with a layer of memory foam that gently hugs your body. Next is a polyfoam layer that further contours to your body but has a firmer feel for a slight amount of pushback. The polyfoam has a convoluted design that helps reduce some of the heat retention that foam is known for. Beneath is a thick core of high-density foam that provides sturdy support for the entire mattress.
Siena offers a 180-night sleep trial to try out the mattress at home. The bed is further backed by a 10-year warranty. Shipping is free to addresses in the contiguous U.S.
Why You Can Trust Us
We've evaluated hundreds of mattresses using hands-on methods to determine the best twin size models on the market. Our team includes side, back, stomach, and combination sleepers, as well as sleepers in different weight categories. This helps us evaluate mattresses from different points of view.
Methodology
How We Evaluated These Mattresses
When testing mattresses, our team considers key performance areas by lying on the surface in different positions, using temperature sensors, and recording how closely the surface conforms to the body. Our top picks above represent the twin beds that earned the highest marks in our testing process.
More information about our product research methodology is detailed below:
Other Mattress Guides
If you're still not sure which mattress is right for you and your home, you can take a look at our mattress guides broken down by size.
How to Choose a Twin Mattress
Although it is the smallest mattress size, a twin can be useful in different situations. Twin models make great beds for children because they are generally inexpensive, so you won't spend too much on a mattress that will most likely need to be replaced following a big growth spurt. Their affordability and space-saving dimensions also make twin mattresses a great option for college students sharing dorm rooms, or beds for a guest room in your house.
We'll cover everything you need to know about twin size mattresses, including dimensions, price expectations, and other important factors for buyers.
What to Look for in a Mattress
Choosing the right mattress requires a fair amount of legwork on your part. You should research different brands and models to see how mattresses compare in terms of construction, feel, and price. Some mattress brands advertise their products using exaggerated and unrealistic descriptions. These include claims that their beds offer universal comfort regardless of your body type or normal position, or that a mattress will last forever.
Instead, we recommend using the following qualities and attributes to guide your new mattress search.
Price: The average mattress costs $500 to $1,000 in a twin size. However, price-points vary significantly by mattress type. Expect to pay less for a twin size all-foam or innerspring mattress, while hybrids, all-latex models, and airbeds will likely cost much more. Additionally, you should expect prices to be higher for certain brands.
Sleeping Position: People who sleep on their side often prefer softer mattresses that cushion the shoulders and hips. This helps to align the spine and alleviate pressure points. Back and stomach sleepers usually require more support to keep their bodies on an even, upright plane.
Mattress Type: Each mattress type provides a distinct feel. All-foam beds offer close contouring and respond slowly to your body. Latex beds also conform, but not as closely as all-foam models, so the surface has more bounciness. Hybrids and innersprings both feature coil systems that make them feel responsive, but hybrids typically have thicker comfort layers that offer more contouring. Airbeds allow you to customize the firmness by adding or releasing air from their support core chambers.
Contouring: Whether a bed conforms very closely or barely at all, the contouring should be even across the surface. This ensures enhanced support for your lower back, hips, and other areas where people carry a disproportionate amount of weight, and gentler cradling for your head, neck, shoulders, and legs. Beds that do not contour evenly may cause added pressure points and other aches and pains.
Quality Materials: Certain mattress materials are associated with better durability and stronger performance in specific categories. These include high-density memory foam for exceptional contouring and pressure relief, breathable and eco-friendly organic latex, and thick steel coils to support the bed and reinforce the edges. You may pay more for mattresses with these components, but you'll get more mileage and comfort out of your bed.
Firmness Level: Mattress firmness is evaluated using a 1-10 scale, with 1 being the softest and 10 the firmest – though most mattresses made today fall between 3 and 8. A softer mattress (1-3) will conform more closely, so you should expect deeper contouring and more sinkage. A firmer mattress (7-10) won't conform as much, but these models feel more supportive. Many sleepers prefer a mid-level firmness (4-6) with a balance of contouring and support.
Pressure Relief: The best mattress for pressure relief will cushion your body and support the spine without sinking too deeply beneath heavier areas of your body. People who weigh less than 130 pounds often find that softer mattresses alleviate the most pressure thanks to their close conforming. Those who weigh more than 230 pounds will probably prefer a firmer bed that won't sink too deeply in certain areas.
Edge Support: Edge support refers to how well the support core components reinforce the perimeter against deep sinkage. Coils typically offer the strongest edge support. You won't sink very much when getting on and off most hybrids and innersprings. Foam and latex support cores cannot withstand compression as well, so you'll probably sink a bit more on these models.
Temperature Regulation: Mattresses usually sleep cooler if they are constructed with breathable components such as ventilated foam or latex, coil systems that promote airflow, and covers made from natural fabrics and fibers. People who weigh 130 pounds or more may also find that they sink less on firmer mattresses, resulting in better surface airflow and more comfortable temperatures.
Noise: The coils found in innersprings and hybrids may produce squeaks and creaks that you find disruptive. This issue tends to worsen over time as the springs wear out. Foam and latex support cores do not produce any noise, so mattresses with these base layer components are usually silent.
Who Is Best Suited to a Twin Mattress?
The twin size mattress – also known as a single – usually measures about 39 inches wide and 75 inches long. This size is better suited to certain types of sleepers, and less so for others. Couples and co-sleepers often find twin beds too narrow, whereas most single sleepers enjoy ample space to move around during the night.
Based on its dimensions, we recommend a twin size mattress for the following sleeper groups:
Toddlers and Kids: Twin size mattresses offer more than enough space for most growing toddlers and young children. Since they'll likely undergo growth spurts in the years ahead, buying a twin for their first big kid bed can be very cost-effective. Twins also take up less space than other mattress sizes, which can be handy if the child's bedroom is on the smaller side, and many bunk beds for room-sharing siblings are compatible with twin size mattresses.
Teenagers: As with toddlers and kids, teenagers typically experience major growth spurts. While the twin will be too short for teens who stand taller than 6 feet 2 inches, these mattresses should offer enough legroom for shorter teens without their feet dangling over the foot of the bed.
College Students: Many college students who share dorm rooms choose twin beds for their narrower and shorter dimensions, as larger sizes take up more floor space. Twins also tend to be a cheap mattress option for students on a budget. Additionally, many bunk- and loft-style beds available to dorm dwellers can accommodate a twin-size mattress.
Single Adults: If you normally sleep alone and do not share your bed with another person very often, then a twin size mattress should provide ample space – provided your height doesn't exceed 6 feet 2 inches, in which case you may need a twin XL. Twins are especially useful if your bedroom or apartment is somewhat small and you'd like to conserve space.
Those with Guest Rooms: Twin beds are ideal if you frequently host single houseguests. They won't take up as much space as a foldout sofa, and twin models tend to be more comfortable than futons or sofa beds.
Twin vs. Twin XL
The twin and twin XL are the smallest standard mattress sizes. Most twins measure approximately 39 inches wide and 75 inches long. The twin XL shares the same width of 39 inches, but most of these models measure 80 inches long.
Neither size is suited to couples or co-sleepers, but a twin XL will be more comfortable if you stand between 6 feet 3 inches and 6 feet 7 inches tall. If you're in this category, you may be a bit too tall for a standard twin and your feet will probably dangle over the foot of the bed. Meanwhile, a twin XL provides extra space for your legs and feet.
Pros and Cons of a Twin Mattress
Like other mattress sizes, twins carry their own pros and cons for sleepers and shoppers. Some notable benefits and drawbacks of twin size beds are listed below.
What Type of Mattress Is Best for a Twin?
Next, let's take a closer look at the five main mattress types. Mattresses sold today fall into five general categories based on how the comfort layers and support core are constructed: hybrid, innerspring, latex, airbed, and all-foam. Mattress types generally earn the same ratings in performance categories like durability, pressure relief, and temperature neutrality. However, you'll notice a lot of variation with these categories in terms of feel, price, and other factors.
Hybrid
Definition: Hybrids are technically innersprings, but they are constructed with comfort layers of memory foam, latex, and other materials that conform more closely. As a result, we find they tend to alleviate more pressure than traditional innersprings. Hybrids almost always have pocketed coil support cores, as well.
All-Encompassing Design: Hybrids are designed to perform well in several different areas. Their contouring comfort layers offer extra support for the spine and more pressure relief for sleepers – our side sleepers, in particular. However, their coil systems also provide enough reinforcement for most of our back and stomach sleepers to lie comfortably without sagging too much. Hybrids sleep cooler than most all-foam models, while earning higher marks in motion isolation than the average innerspring.
Innerspring
Definition: Innersprings are the oldest mattress type still sold today, as well as the most popular among U.S. consumers. Most feature thin comfort layers of polyfoam (and possibly memory foam) over a support core of open steel coils. As a result, innersprings often feel quite responsive on the surface regardless of the firmness level.
Excellent Temperature Regulation: Innersprings tend to sleep cool during our temperature control tests for a few reasons. Since their comfort layers are usually somewhat thin, they won't absorb and trap much of your body heat. Their coil systems also promote steady airflow to help the mattress maintain a cool interior temperature, and their responsive surfaces prevent most sleepers from sinking too deeply.
Latex
Definition: Latex is a material derived from the sap of rubber trees. It can be processed with chemical fillers to create a soft, foamy material that conforms to your body while also maintaining some natural responsiveness. Latex is also very durable, so you can expect a healthy lifespan from your twin size latex mattress.
Contouring Without the Sink: Latex beds are suitable if you prefer some noticeable body-conforming, but don't want to sink too deeply into your mattress. The latex layers also offer great longevity and won't develop deep body impressions as quickly as memory foam or polyfoam layers.
Airbed
Definition: An airbed is constructed with two or more air chambers in its support core. You can add or release air from individual chambers, which in turn changes the firmness in different areas of the sleep surface. Some airbeds also include comfort layers of polyfoam, memory foam, and other contouring materials.
Highly Customizable: Due to their adjustable feels, airbeds offer unparalleled customization compared to other mattress types. However, many airbeds are designed for dual-firmness, or a different feel on each side, to accommodate couples with different comfort preferences. As a result, you'll have a harder time finding high-quality airbeds in the twin size.
Foam
Definition: An all-foam mattress is constructed with comfort layers of polyfoam and/or memory foam, along with a support core of high-density polyfoam. Many models also include transitional polyfoam or memory foam layers to prevent you from sinking too deeply. These mattresses respond slowly to your body and often conform quite closely, so you should expect less springiness and more sink.
Exceptional Pressure Relief: All-foam beds offer closer conforming than other mattress types. For most sleepers, this means better pressure relief around the shoulders, lower back, hips, and other sensitive areas. If you experience frequent pressure points, then you should consider an all-foam bed – but take your body type and sleeping position into account before choosing a model to ensure the bed will be soft/firm enough.
Last Things to Consider with a Twin Mattress
Before you head off to find the right twin size mattress, take a few more minutes to peek at our final considerations for twin mattress buyers.
Who Will Use the Mattress?
This is an important consideration because the best twin mattress for adults may be a bit different than the best model for children and teenagers. If you plan to use the twin size mattress yourself, be sure to compare different models based on how the beds feel. The firmness level of the mattress you choose should align with your body type and sleep position, as well as your general preferences for how soft or firm a surface should feel.
If you're buying the mattress for a child or teenager, first get their input on what kind of mattress they'd prefer. You may want to consider visiting a brick-and-mortar mattress store, where your child can try out different beds and see which firmness and responsiveness levels feel most comfortable. The best twin mattress for a toddler should offer a bit more support to ensure they don't sink too deeply into the bed.
If you are a college student planning to use a bunk- or loft-style bed, or you have children with the same type of bed, keep in mind the bed's thickness should should correspond to safety rails on the top bunk. Read below for more details on bunk beds.
Is the Mattress for a Bunk Bed?
Many bunk beds are specifically designed for twin size mattresses. These include standard double and triple bunks, as well as twin-over-loft beds with an open area beneath the top bunk.
One thing to keep in mind when selecting a twin mattress for a bunk bed is thickness. According to the U.S. Consumer Product Safety Commission, the mattress used on a top bunk should be at least 5 inches shorter than the guard rails on either lengthwise side. For this reason, a low-profile mattress of about 6 or 7 inches thick will be optimal for most bunk beds.
Mattress Warranty and Other Policies
Before choosing a mattress, take a glance at the brand's shipping, return, and warranty policies. You may save a lot of money down the road by choosing a model backed by favorable policies for owners.
If you order your mattress online and reside in the contiguous U.S., chances are the retailer will mail your "mattress in a box" free of charge via standard ground shipping. Customers in Alaska, Hawaii, and other places outside the contiguous U.S. usually need to pay extra delivery fees.
Your mattress will probably come with a sleep trial of at least 90 nights. Most online mattress brands offer free shipping and full refunds for returns within the trial period, but some charge return fees. Be sure to check the fine print on how much of a refund you'll receive.
All mattresses come with a warranty of some kind, and most last 10 years or longer. If the warranty is non-prorated, then you won't pay anything to have a defective mattress repaired or replaced apart from some nominal shipping fees. If the warranty is partially prorated, then you'll pay a certain percentage of the bed's original price to have the mattress replaced. This percentage usually increases for each year you own the mattress.
Common defects covered under a mattress warranty include body impressions in the surface that measure 0.5 to 1.5 inches deep (this varies by model), manufacturing flaws that cause materials to deteriorate prematurely, and defects associated with the cover. Other issues, such as normal wear and tear or physical damage you cause to the mattress, will not be covered.
Why Buy a New Mattress?
Sleepers invest in new mattresses for many different reasons. While some might buy a new mattress for a child or guest room, others might be looking to upgrade an aging mattress. We polled thousands of Sleep Foundation readers to gain some insight into the reasons people purchase new beds. Read our results below.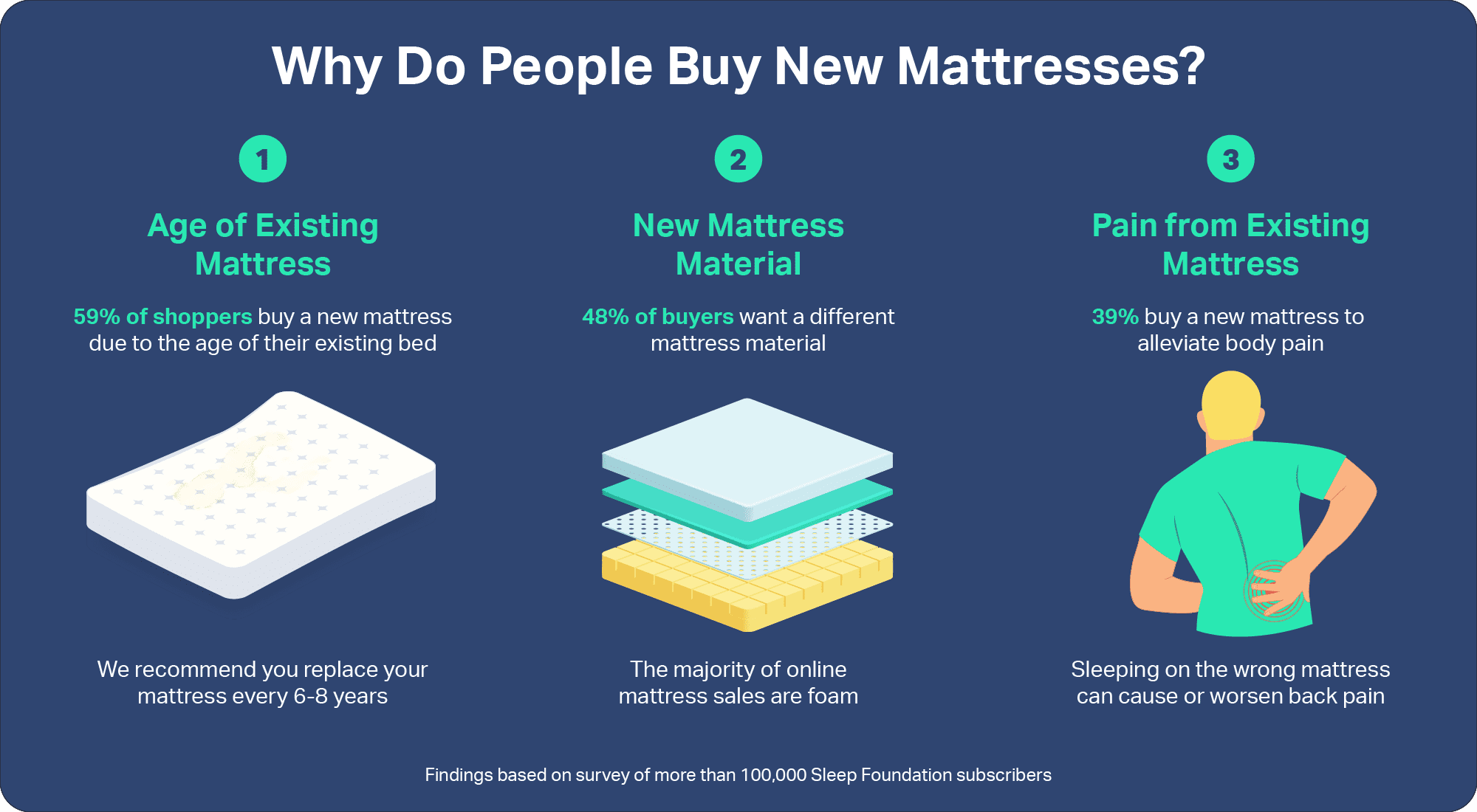 Other Articles of Interest