When you buy through our links, we may earn a commission. Products or services may be offered by an affiliated entity. Learn more.
---
Best Full/Double Mattress
The full – or double – is one of the six standard mattress sizes. Although dimensions vary by model, most full size mattresses measure 53 to 54 inches wide and 75 inches long. These dimensions fall between a twin XL and queen mattress, making the full a mid-range size. It's an ideal choice for single sleepers who want a roomier sleep surface compared to a twin or twin XL, but still want to conserve floor space. Full size mattresses will be too narrow for most couples, and won't be long enough for people who stand taller than 6 feet 3 inches.
To select our top picks for the best full mattresses sold today, we've focused on qualities and performance metrics that matter most to solo sleepers. These include durability, pressure relief, edge support, and temperature neutrality. Since full mattresses are generally more affordable than larger sizes intended for two people, sticker price and overall value also came into play.
Jump to: Best Full/Double Mattresses | Full Reviews | How We Test | How to Shop
We've summarized our findings in the mattress profiles below and awarded a unique accolade to each top pick based on areas where that mattress performed particularly well. Our guide to full mattresses also includes detailed information for first-time buyers. Scroll down to learn about the pros and cons of full size mattresses, how they compare to other sizes, and who should consider buying one.
Our Recommendations
Data-Driven Results You Can Trust
We have tested hundreds of mattresses, drawing on years of experience in the sleep product industry. Our team includes various body types and sleeping positions to ensure that our findings represent as as many sleepers as possible.
Each person on our 10-person testing panel has spent years researching and evaluating mattresses and other sleep products. Some us have also worked directly with mattress manufacturers. We source additional testing data from other internal and external evaluators in order to ensure comprehensive feedback from people with different sleep needs and preferences.
Our team tests all mattresses in a sleep lab equipped with a wide array of sensors and tools used to measure various metrics. Each mattress is subjected to testing for eight performance categories. To arrive at our final ratings, we combine quantitative results from these tests with qualitative experiences from our testers and evaluators. This holistic approach to mattress testing helps us determine who is — and is not — well suited to each model.
How Our Testing Process Works
Our testers laid on each full-size mattress and moved around the surface to evaluate criteria such as firmness and support. We performed tests and used special tools to measure temperature neutrality, pressure relief, and motion isolation. You will find the top results of our research in the mattress picks above.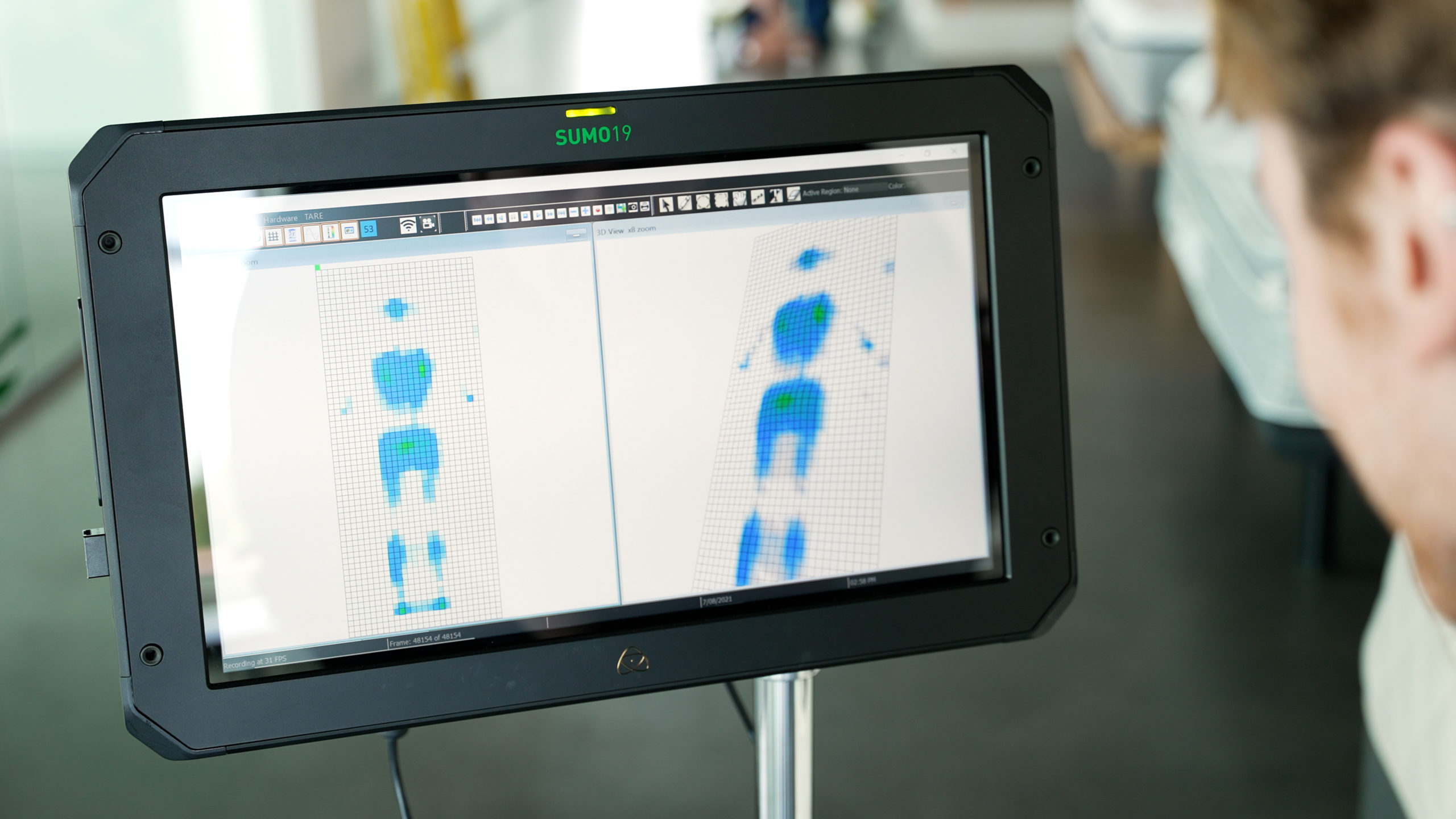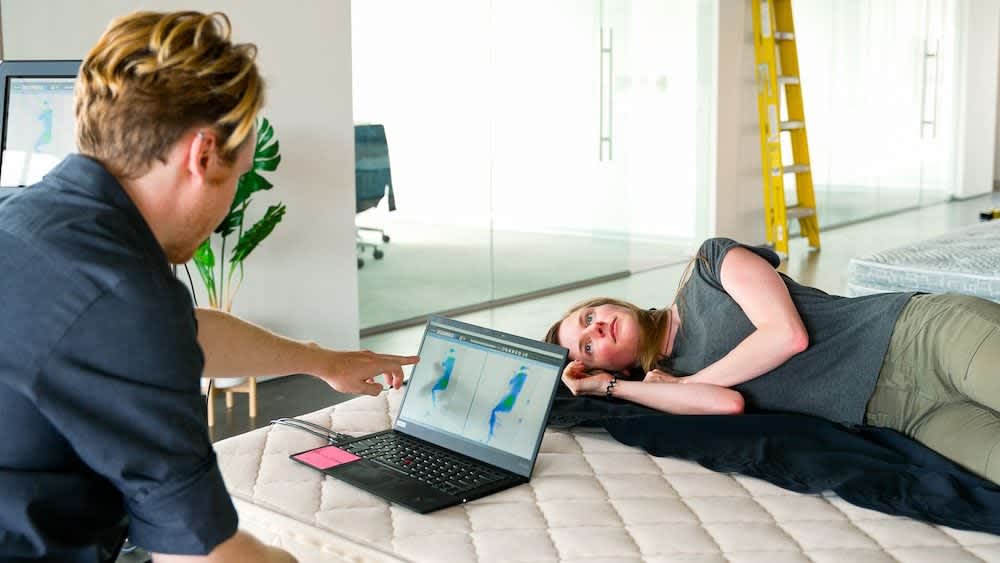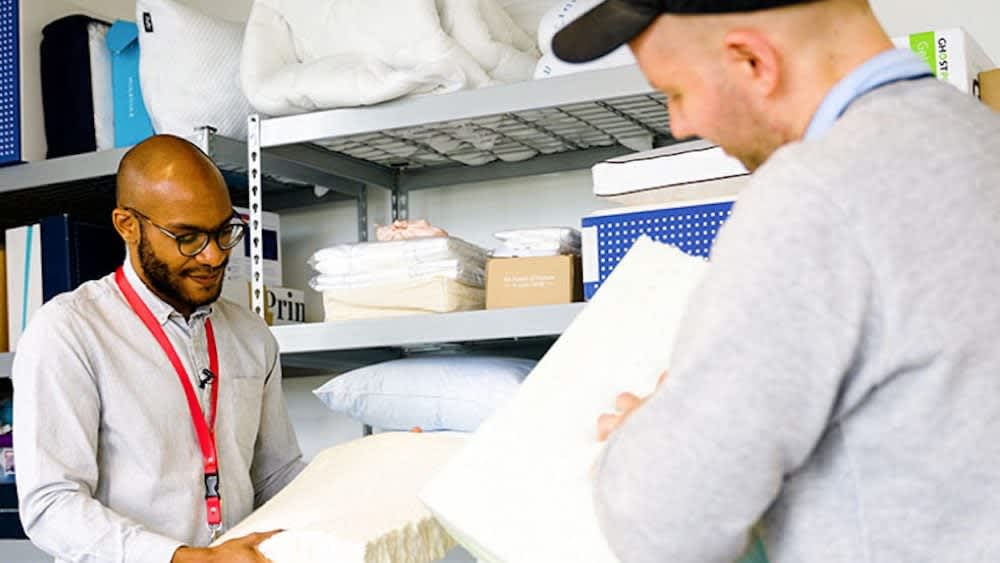 For more details, you can read our product research methodology below:
Dive Deeper – In-Depth Mattress Guides
If you want to expand your search for a new mattress beyond full and double beds, you can take a look at our detailed recommendations broken down by mattress size.
How to Choose a Full Mattress
The full (or double) is a popular mid-level mattress size for single sleepers. It offers more width than a twin or twin XL, creating plenty of space for people who toss and turn or frequently shift positions, but the full conserves more space than a queen, king, or California king.
As with mattresses of any other size, selecting the right full size model requires a bit of research on your part. Read on to learn about different factors to consider when choosing your full mattress.
What to Look for in a Mattress
Brand and product research is essential for finding the best full size mattress. Every individual model offers a unique sleep experience, and is designed for people with certain body types, sleep positions, and firmness preferences. Keep that in mind as you visit mattress websites and read product descriptions. Some brands have a tendency to infuse misleading and hyperbolic descriptions into their onsite advertising. Be especially wary of claims that a mattress is suited for any type of sleeper or that it will last forever.
Instead, we recommend using these attributes to guide your full size mattress search.
Price: The price of a full size mattress will depend on its materials and design, as well as the brand selling the bed. That said, you should be able to find a high-quality full mattress for $1,500 or less. Be sure to factor in shipping costs if you reside in Alaska or Hawaii, as well as return fees if they apply.
Sleeping Position: Your sleep position will most likely dictate which mattresses feel more and less comfortable. Side sleepers typically need a softer feel for adequate cushioning, even spinal alignment, and pressure relief. For back and stomach sleepers, a balance of contouring and support is needed to keep their bodies on an even plane.
Mattress Type: Mattresses sold today fall into five general categories, each associated with distinct characteristics. All-foam mattresses offer close body-conforming and slow response, while all-latex beds feel a bit springier as they contour. A traditional innerspring will feel very responsive, whereas hybrids offer the bounciness of coils and the conforming of thick comfort layers. If you want a mattress that offers adjustable firmness, then an airbed may be the best option.
Contouring: Some mattresses conform closely to the body while others feel stiff and conform very little. The best full mattresses for contouring will promote even support to reinforce your torso and hips while cradling the head, neck, and legs. All-foam, all-latex, and hybrid mattresses generally provide the best contouring.
Quality Materials: The materials used to build your mattress can affect a number of factors, including durability, temperature neutrality, pressure relief, and edge support. High-quality mattress components associated with strong overall performance include dense memory foam, organic latex, and sturdy coils divided into thickness zones.
Firmness Level: We use a 1-10 scale to evaluate mattress firmness, with 1 being the softest possible feel and 10 the firmest. Most beds sold today fall between 2 and 8. You may prefer a softer mattress (1-3) if you want a deep body contour and a bit of sinking. A firmer mattress (7-10) may be more suitable if you want less conforming and stronger support. For many people, a mid-level firmness (4-6) offers the most comfortable and balanced feel.
Pressure Relief: Many people experience pressure points in their shoulders, lower back, and hips. A mattress that does not support these areas and promote spinal alignment can make the issue worse. Whether you sleep on your side, back, or stomach, be sure to choose a mattress that will keep your body and spine on an even plane.
Edge Support: Mattresses with weak edge support will sink quite a bit when you get on and off the bed. You may also feel less secure lying near the perimeter, leaving you confined to the center. Coils generally provide the best edge support, whereas foam and latex layers are more prone to deep sinkage and less perimeter stability.
Temperature Regulation: If you sleep hot, you may want to select a mattress made with components that promote breathability and temperature control. These include ventilated foam or latex comfort layers, coils that promote airflow, and covers made from natural fibers. Dense foam tends to sleep warmer than any other mattress material.
Noise: Most all-foam and all-latex mattresses are completely silent. These models will be best suited to people who easily wake up due to noise. Other beds tend to be louder due to their internal components, such as the coils found in innersprings and hybrids, or the whirring air chambers used to adjust the firmness levels in airbeds.
Why Buy a New Mattress?
Your mattress will eventually develop indentations on the surface. This is part of normal wear and tear, but over time the uneven surface can cause pain and pressure points to buildup. We recommend replacing your mattress every 7 years, or sooner if you start to notice deep impressions that affect the bed's overall comfort level. A new full mattress is a good option if you're upgrading from a twin or twin XL, or you want to save the money you'd otherwise spend on a larger size.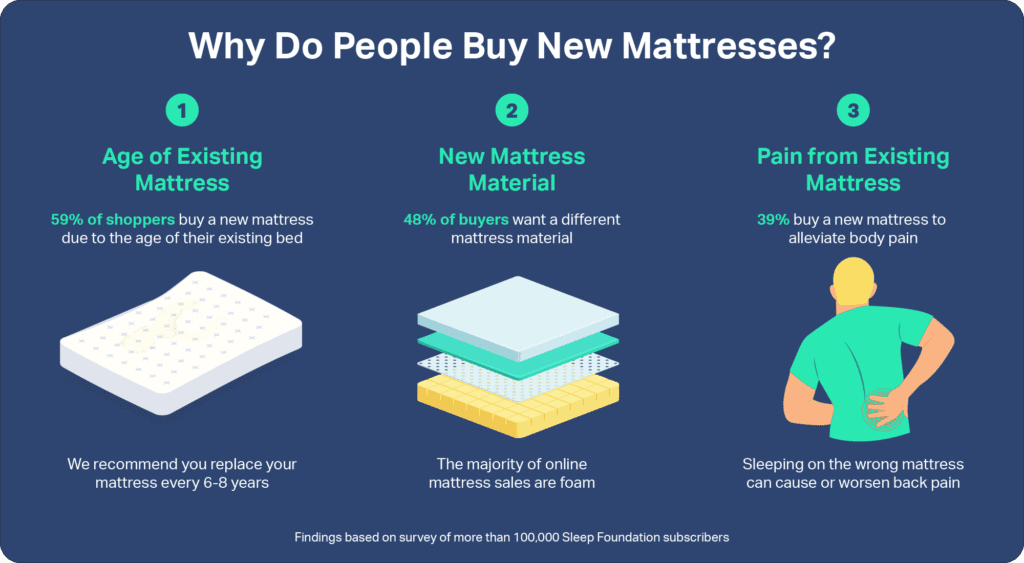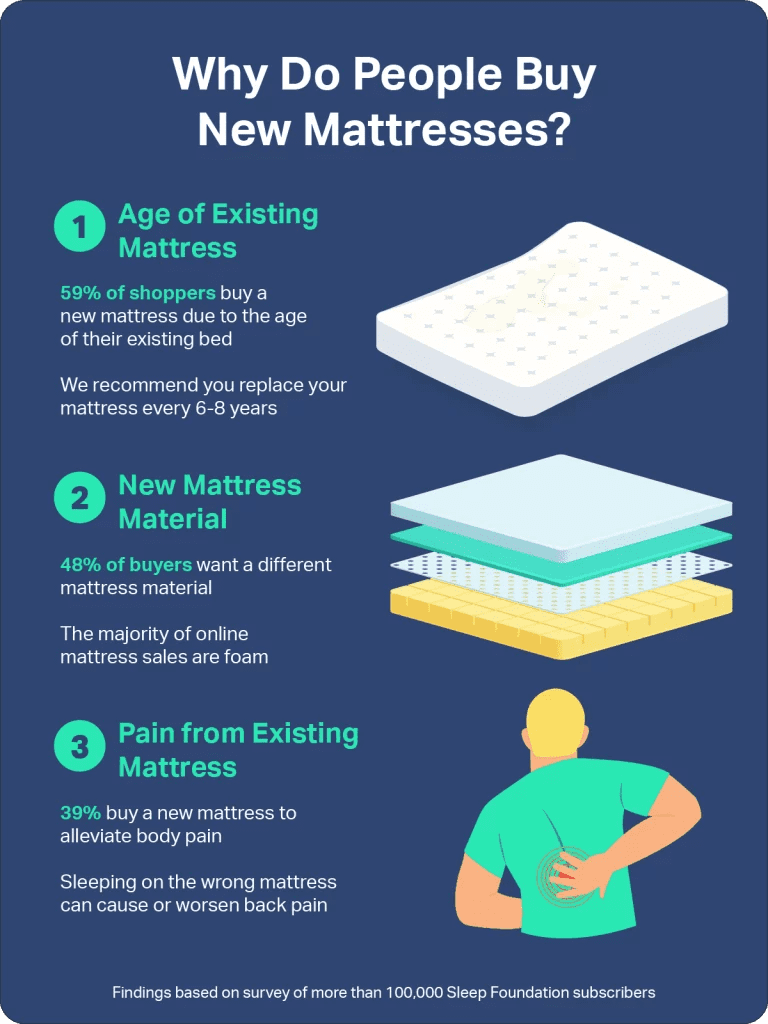 Who Is Best Suited to a Full Mattress?
Full size mattresses usually measure 53 to 54 inches wide and 75 inches long. Some brands use "double" for this size instead, but the terms are interchangeable. Fulls are about 14 to 15 inches wider than a standard twin or twin XL. While still a little too narrow for most couples, this extra width ensures ample room for solo sleepers. However, it's important to note that anyone who stands taller than 6 feet 2 inches (74 inches) may not have enough room for their legs and feet on a full size bed.
Toddlers and Kids: Full size mattresses are a good option for children and toddlers, especially if your child wants a larger bed to themselves. Fulls are a bit pricier than twin and twin XL models, but costs are usually reasonable, and they take up less floor space than queens, kings, and California kings. Select twin-over-full and full-over-full bunk beds are available, as well. Toddlers need a more supportive surface to help them maintain spinal alignment as they grow, so we recommend looking at some of the firmer options on our list for this age group.
Teenagers: A full size mattress can be ideal for teenagers, especially if they tend to move around in their sleep. Bedroom dimensions may be an issue, though, since teenagers' rooms tend to be on the smaller side. Typically, teens need a firmer mattress than toddlers and children because they weigh more and require added support.
College Students: While a full mattress may not be ideal for exceptionally small dorm rooms, this size should work in a decently sized suite or apartment bedroom. Students who stand taller than 6 feet 2 inches may want to consider a twin XL for the added legroom and extra floor space.
Single Adults: If you normally sleep alone, then a full size mattress should provide adequate space without taking up too much room. Many people find the full sleeps a single sleeper and a dog or cat rather comfortably, but adding a second person into the equation may feel too cramped for all involved.
Guest Rooms: Like the twin and twin XL, a full size mattress is a good option for guest bedrooms because it takes up a minimal amount of floor space and shouldn't cost too much. However, the mattress will probably only sleep comfortably for one overnight guest. To make sure your guest room mattress accommodates as many needs as possible, focus on models that have a balanced feel. Some examples include hybrid mattresses and models with a mid-range firmness level.
Full vs. Queen
The full mattress is similar to a queen, but slightly shorter and narrower. A standard full size mattress measures 53 to 54 inches wide and 75 inches long. Its width is best suited to single sleepers. Couples who don't mind getting cozy may feel comfortable, but most will find a full size too narrow. The length of a full size mattress is optimal for people who stand 6 feet 2 inches or shorter.
A standard queen measures 60 inches wide and 80 inches long. Due to its wider and longer dimensions, a queen can comfortably sleep two people, as well as individuals who stand 6 feet 7 inches or shorter. However, queens take up more floor space than fulls, and – in most cases – also have higher price-points.
If the full sounds appealing but you need a slightly longer sleep surface, a full XL mattress measures roughly 54 inches wide and 80 inches long.
Pros and Cons of a Full Mattress
Every mattress size carries its own list of pros and cons. Some notable benefits and drawbacks of full size mattresses are outlined below.
What Type of Mattress Is Best for a Full?
Mattresses sold today fall into one of five general categories based on material content and design: hybrid, innerspring, latex, airbed, or memory foam. Each mattress type excels in some areas and underperforms in others. The trick to finding the best double mattress is determining which attributes are most important to you. Check out our detailed look at each mattress type below for more details.
Hybrid
Definition: A hybrid is a specialized type of coil mattress designed to provide a balance of contouring and support. These models usually have comfort layers of polyfoam, memory foam, latex, and other conforming materials. The support core almost always consists of individually pocketed coils.
Pressure Relief with Added Support: Due to their all-encompassing designs, hybrids offer consistent performance in a wide range of areas. Their thick comfort layers conform and cushion the body to align the spine and reduce pressure and back pain. Hybrids also sleep reasonably cool thanks to air-circulating coils, and edge support is typically very strong.
Innerspring
Definition: A traditional innerspring is built with thin comfort layers of polyfoam and/or memory foam and a thick support core containing steel coils. As the name implies, these mattresses feel very "springy" on the surface. Innersprings are the most widely sold mattress type among U.S. consumers, as well as the cheapest on average.
Extra Bounce: An innerspring is ideal for anyone who wants a highly responsive mattress. You won't feel much of a contour due to the thinner comfort layer(s), but innersprings are easy to move across because they don't sink excessively. Edge support is usually quite strong, as well, so you'll have an easier time getting in and out of bed.
Latex
Definition: Latex is a material composed from the sap of rubber trees mixed with chemical fillers. When processed into a foam material for mattresses, latex contours a bit but also feels fairly responsive. The material is very durable, as well. You can expect to sleep on a latex mattress for at least 8 years until a replacement is needed.
Sink-Free Contouring: While memory foam contours very closely and evenly, a common complaint is that the material sinks too much. Latex offers comparable conforming but its natural responsiveness prevents you from sinking deeply beneath the surface. Additionally, latex is more breathable than foam and won't absorb or trap as much body heat.
Airbed
Definition: Airbeds are designed with two or more air chambers in their support cores. You can add or release air from any chamber to adjust the firmness in different areas of the sleep surface. Airbeds may also have comfort layers of polyfoam, memory foam, and/or latex. On average, airbeds are the most expensive mattress type.
Exceptional Customization: Some people would rather sleep on a softer mattress one night and a firmer one the next. Airbeds are an ideal choice for these individuals. On high-quality airbeds, you can choose from dozens of firmness levels, and many are designed with dual-firmness options for couples whose preferences differ.
Foam
Definition: An all-foam mattress features comfort layers of polyfoam, memory foam, or a combination of both materials. Most models also contain transitional and support layers made from denser foam material. All-foam beds provide unparalleled body-conforming, allowing you to sink into the surface of the mattress. Like innersprings, these models tend to have below-average price-points.
Targeted Pressure Relief: People who frequently feel pressure points should consider an all-foam mattress. This is particularly true for side sleepers who experience pressure due to irregular spinal alignment. Back sleepers and stomach sleepers also benefit from the contouring of an all-foam mattress, provided the support system is robust enough to keep them on an even plane.
Last Things to Consider with a Full Mattress
Now that we've discussed the dimensions and price expectations for a full size mattress, as well as important considerations for mattress buyers, you're almost ready to go pick out a bed. But before you do, take a gander at these common questions regarding full size models.