When you buy through our links, we may earn a commission. Products or services advertised on this page may be offered by an entity that is affiliated with us. Learn more.
Snoring can affect the sleep quality of both the snorer and their partner. This familiar noise occurs due to vibrations in the airway, which may be caused by inflammation, gravity affecting the soft tissues, and other factors.
While there is no reliable cure for snoring, some adjustments may help reduce it. Purchasing a pillow for snoring is often one of the first attempts sleepers make to find relief since this option is usually affordable and convenient.
For many individuals, snoring is affected by sleep position. A pillow that sufficiently lifts the upper body may help reduce airway compression from the head falling back due to an unsupportive pillow or being pushed too far forward by a pillow that's excessively thick and/or firm.
We'll share some of the best pillows for snoring and explain how they may help. We'll also examine factors that could influence which pillow may be best for your snoring, explore possible causes of the condition, and provide other potential ways to reduce snoring.
While snoring is common, it can be a sign of a serious health condition, so it's important to discuss your symptoms with your doctor. Only your qualified medical provider can help you decide what is best for your health.
Product Details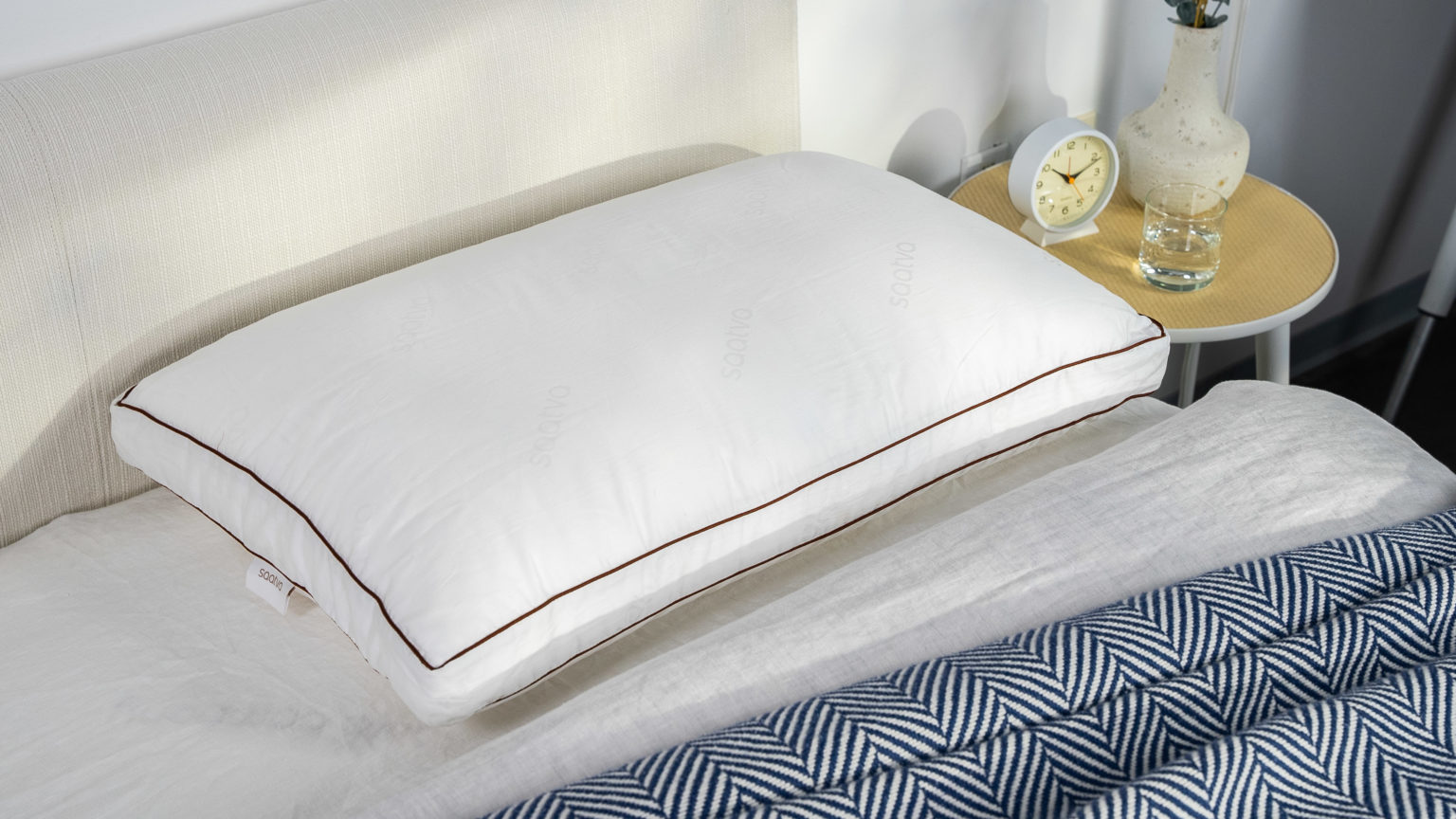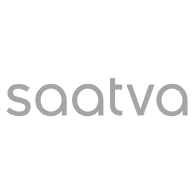 Fill:
Shredded Talalay latex and down alternative
Back sleepers
Combination sleepers who switch between their back and side
Allergy suffers

Plush yet supportive
Blend of shredded latex and down alternative provides a unique feel
Lofty design is well suited to back and combination sleepers
Sleep Foundation Special Offer
Use this SleepFoundation.org link for the most current discount on Saatva pillows
Thanks to its three-part design, the Saatva Latex Pillow gives back sleepers the power to add or remove components to achieve the best loft for their snoring.
The core consists of shredded Talalay latex that combines support, shape retention, responsiveness, and breathability to help keep the spine aligned without retaining a lot of heat. This piece fits into an outer plush layer of down-like microdenier fiber encased in a cotton shell, which adds cushioning and loft while enhancing the breathability. A cotton pillow cover zips over these layers.
Both the microdenier fiber layer and cover are removable and machine-washable. Owners can configure their pillow however they like, whether that involves combining all three pieces or using the Talalay core and microdenier fiber layers separately.
When fully assembled, the pillow has a medium soft feel that may be most comfortable for individuals who weigh less than 130 pounds. Snorers who weigh more than 230 pounds may not get enough support to prevent their head from slumping down and increasing pressure on the airway.
The Saatva Latex Pillow is available in queen and king sizes. It comes with a 45-day return policy, during which customers can return the product for a full refund of the purchase price if they decide it's not right for them.
Brooklyn Bedding Luxury Cooling Memory Foam Pillow
Fill:
Open-cell memory foam
Side and back sleepers
Those who normally sleep hot with memory foam pillows
Shoppers with tight budgets

Solid memory foam contours evenly to reduce pressure in the head and neck
Two profile options to accommodate different sleep positions
Ventilated foam and breathable cover ensure excellent temperature control
Sleep Foundation Special Offer
Use this SleepFoundation.org link for the most current discount on Brooklyn Bedding pillows
The Luxury Cooling Memory Foam Pillow from Brooklyn Bedding is ideal for side and back sleepers due to its thick loft. You can choose from two profile options depending on which of these positions you prefer, and the solid foam core cradles the head and neck to alleviate soreness and pressure points in these areas. An approachable sticker price makes this pillow particularly appealing if you are seeking a high-quality pillow for snoring, but don't want to spend too much.
The foam is ventilated with small holes intended to promote air circulation, so the pillow shouldn't retain an excessive amount of heat. Another cooling component is the circular-knit cover engineered to dissipate heat on contact and maintain a cool-to-the-touch feel at all times. You can remove and machine wash the cover as needed to keep your pillow clean and hygienic.
We tested both of the pillow's profiles. Back sleepers on our team felt most comfortable on models measuring 4.5 inches thick, as this loft elevated the head enough to help prevent snoring without causing neck strain. The 6-inch profile was more popular among our side sleepers because it provided adequate padding between their head and downward-facing shoulder, resulting in even alignment and minimal pressure along the spine.
Brooklyn Bedding offers free ground shipping throughout the contiguous U.S. You may test out the pillow for up to 30 nights, and return the Luxury Cooling Memory Foam Pillow at no extra charge if you aren't satisfied with it. A 3-year warranty covers structural and material defects for those who decide to keep their pillow.
Eli & Elm Cotton Side-Sleeper Pillow
Fill:
75% Latex and 25% Polyester Fiber
Firmness:
Medium, Adjustable
Side sleepers
Those who are unsure of their ideal firmness
Individuals prone to sleeping hot

Specifically designed for side sleepers
Shoulder cut-out improves comfort and spinal alignment
Shredded fill provides a highly moldable sleep surface
Sleep Foundation Special Offer
SleepFoundation readers get 20% off. Discount automatically applied to cart.
The Eli & Elm Cotton Side-Sleeper Pillow's unique U-shape is specially designed to promote proper spinal alignment for side sleepers, which may also limit airway compression that could cause snoring.
Shredded latex and polyester make up the fill for a plush, supportive, highly moldable surface. The fill is encased in an interior liner, and an outer cover consisting of cotton, polyester, and spandex goes over it. This cover is removable and machine-washable in cold water. Both the fill and cover materials let air circulate to limit heat buildup and help the sleeper maintain a more comfortable temperature.
Owners can customize the firmness of the Side-Sleeper Pillow by unzipping it and adding or removing fill to achieve the desired firmness, support, and loft. Unmodified, the pillow has a medium feel. However, if this is not firm enough, you can request additional fill for a fee. Snorers can test out different fill levels until they find the solution that works best for them.
Customers that are not satisfied with the pillow can return it for the first 45 days for a full refund of the purchase price. A 5-year warranty covers defects in materials and workmanship, including issues like the stitching coming undone and the fabric fraying or ripping.
Luxome LAYR Customizable Pillow
Fill:
Down alternative, shredded gel-infused memory foam, solid gel-infused memory foam
People who need exceptionally thick pillows to reduce their snoring
Hot sleepers
Those who frequently change sleep positions

Customizable design with three optional inserts for changing the firmness and loft
Breathable, moisture-wicking cover with side vents for extra airflow
Bundle shoppers receive a 50% discount on their second pillow
Sleep Foundation Special Offer
SleepFoundation readers get the best price on Luxome products
Sleepers can minimize their snoring by using a pillow with thicker loft. Most pillows have a fixed loft that cannot be changed, but the Luxome LAYR Customizable Pillow is a notable exception thanks to its adjustable design. The pillow comes with three inserts, each with a different firmness and support level. You can use one, two, or even all three inserts to bring the pillow's loft to your optimal level.
The softest insert contains down alternative fibers that mimic the light, plush feel of real down without triggering allergies. Your purchase also includes an insert cushioned with shredded memory foam, which has a medium feel and contours evenly around the head and neck. The third insert contains two solid blocks of memory foam, one measuring 1 inch thick and the other measuring 2 inches thick. Both have a firm feel. Using two of the inserts creates a reversible pillow design with a distinct feel on each side. If you sleep on your back and frequently snore, using two or more of the inserts should provide sufficient loft.
The pillow's cover is made of viscose derived from bamboo, a breathable fabric with moisture-wicking properties to keep you cool and dry at night. The cover's side panel features vents to promote airflow inside the pillow. You can machine wash the cover, as well as the liners encasing each insert.
The LAYR Customizable Pillow is affordably priced, given its versatile design, and those who purchase two receive a 50% discount on the second pillow. Luxome provides free ground shipping within the contiguous U.S., or you can pay an additional fee for expedited delivery. All pillow orders come with 30-night trial periods.
Tempur-Pedic TEMPUR-Neck Pillow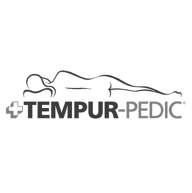 Side and back sleepers
People who feel pressure or soreness in the neck and shoulders
Shoppers who want to invest in a long-lasting memory foam pillow

Ergonomic design cradles the head and supports the neck
Core consists of dense, durable TEMPUR memory foam
Three sizes to accommodate different sleep positions
Sleep Foundation Special Offer
Use this SleepFoundation.org link for the most current discount on Tempur-Pedic pillows
One of Tempur-Pedic's most popular pillows, the TEMPUR-Neck features a contoured shape designed to provide ergonomic support. The bottom of the pillow is slightly elevated to lift the neck and reduce pressure, while the top sits lower to gently cradle the head.
Solid, high-density TEMPUR memory foam makes up the core. This durable material contours evenly without the deep sinkage that often occurs with low-density foam, resulting in a firm feel. A breathable knit cover encases the foam. The cover can be removed and machine-washed whenever it needs to be cleaned, but you should avoid washing the foam and only spot-clean as needed.
The pillow is available in small, medium, and large sizes. Tempur-Pedic recommends choosing a size based on your preferred sleep position and neck-to-shoulder measurements. Side sleepers with 4 inches or less between their neck and shoulders and back sleepers with 6 inches or less should consider the small size with 3.5-inch loft. The large size with a loft of 4.75 inches may be more suitable for side sleepers whose neck-to-shoulder measurements exceed 6 inches, and the same applies to back sleepers with more than 10 inches. Anyone who falls in the middle will likely prefer the 4-inch medium size.
The TEMPUR-Neck's sticker price is quite reasonable given its expected longevity and thoughtful, pressure-relieving design. Tempur-Pedic also offers free ground shipping throughout the contiguous U.S. Returns are not permitted, so all sales of the pillow are considered final, but each order is backed by a 5-year manufacturer's warranty.
Fill:
Gel Memory Foam and Polyfoam
Back sleepers
Individuals who weigh more than 130 pounds
Those seeking pressure relief and support

Gentle wedge slope elevates the upper body, reducing airway compression
Strong shape retention and a medium firm feel
Wedge shape is most conducive to back sleeping
Sleep Foundation Special Offer
Use this SleepFoundation.org link for the most current discount on Helix pillows
The Helix Wedge Pillow lifts the upper body while conforming to the sleeper's shape to reduce airway compression from gravity without creating sharp pressure points.
This pillow measures 24 inches by 24 inches by10 inches and uses a classic triangular wedge design. It has a medium firm feel and is constructed of a layer of gel memory foam and a layer of polyfoam to mold to the body without allowing excessive sinkage. A rayon and polyester blend cover allows air to circulate into the pillow so that heat can escape. This cover can be removed and washed in a machine to keep the surface fresh.
Given its firmness, the Helix Wedge Pillow may provide the best mixture of cushioning and support for those who weigh over 130 pounds. The wedge shape is most conducive to back sleeping, though some also enjoy this design for side sleeping.
Shape retention, conforming, and durability are among the Helix Wedge Pillow's greatest strengths. It should resist indentations and sagging to provide support for years to come, while also contouring enough for added comfort.
A 100-night sleep trial allows you to test whether this pillow helps improve your snoring. If you don't find relief after 30 nights, you can return it for a refund of the purchase price. A 1-year limited warranty protects against manufacturing defects, like stains, rips, and tears.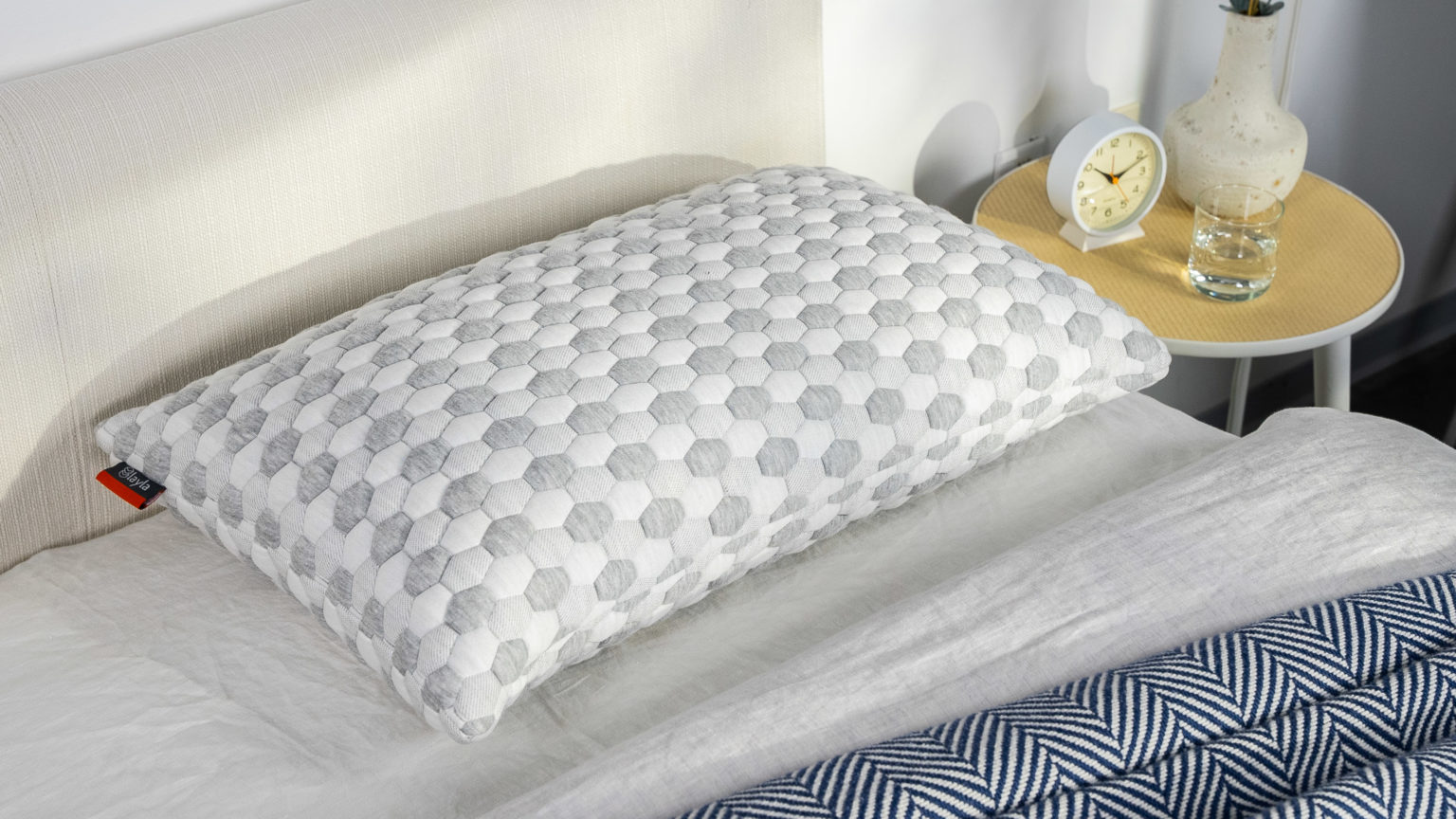 Fill:
Shredded memory foam and kapok tree fiber blend
Back and side sleepers
Those who want more control over the loft of their pillow
People who like a plush, moldable option

Fully adjustable by adding or removing fill
Copper infused cover improves cooling
Breathable fill
Sleep Foundation Special Offer
Use this SleepFoundation.org link for the most current discount on Layla pillows
Finding a comfortable position that reduces snoring often requires determining the optimal pillow loft for you. The Layla Kapok Pillow makes that a little easier by allowing owners to customize the loft to fit their needs and preferences.
The pillow arrives overstuffed with a fill of plush memory foam and kapok tree fiber. If it is too thick for you, simply unzip the cover and remove some of the fill for a thinner pillow. Owners can continue to experiment with the loft level until they find the right balance for their snoring. The material is also highly moldable, so sleepers can also bunch and manipulate the pillow as needed.
A soft polyester and viscose blend cover with CuTEC fibers encases the fill. CuTEC is a proprietary copper fiber technology designed to wick away heat and limit odors.
While the pillow generally has a medium soft feel, it may seem plusher if you remove some of the fill. At full loft, snorers who sleep on their backs and sides are likely to get the right level of support. Stomach sleepers will likely need to remove much of the fill to prevent their heads from being pushed too far backward and potentially putting more pressure on their airways.
This pillow is a standard rectangular shape and comes in queen and king sizes. A 120-night money-back guarantee lets you return the pillow for a refund after you've tried it for at least two weeks. Defects like faulty seams and flattening of the fill are covered by a 5-year warranty.
Cushion Lab Neck Relief Cervical Pillow
Side and back sleepers
People who experience neck or shoulder pain
Value seekers

Ergonomic design cradles the head and supports the neck
Organic cotton cover and mesh liner promote airflow and reduce heat retention
Approachable sticker price and 1-year warranty
Sleep Foundation Special Offer
Use this SleepFoundation.org link for the most current discount on Cushion Lab pillows
Many pillows are designed to reduce snoring, but the Neck Relief Cervical Pillow from Cushion Lab features an ergonomic shape that can also reduce aches, pains, and pressure around the neck and shoulders. The center of the pillow is concave to cradle the head, while a sloped divot provides arched neck support. One side of the pillow is slightly elevated to accommodate side sleepers, but back sleepers should also find the pillow suitable for their pain and pressure relief needs.
The core is composed of proprietary memory foam with a firm feel, so the pillow shouldn't sink too much or cause added discomfort. The foam is encased in a polyester mesh liner while the outer shell is made of breathable organic cotton. Both of these materials promote air circulation and can prevent the foam from absorbing excessive amounts of body heat. The outer cover is fully machine-washable for easy care.
The Neck Relief Cervical Pillow is very affordable compared to other ergonomic models with this type of detailed design. Customers also receive a discount on the second pillow when they buy two or more. All orders in the contiguous U.S. qualify for free ground delivery and Cushion Lab offers reasonable shipping rates for those in Alaska and Hawaii. The pillow is backed by a 1-year warranty.
Fill:
Canadian white down clusters or down/feather blend
Firmness:
Plush, Mid-Plush, Firm
Back and side sleepers
People who enjoy the feel of down
Shoppers seeking a long sleep trial

Three firmness options
Down construction offers soft, fluffy feel
365-night sleep trial
Sleep Foundation Special Offer
Use this SleepFoundation.org link for the most current discount on Brooklinen pillows
Of all the pillow types on the market, down pillows are typically among the most expensive. While the Brooklinen Down Pillow carries a high-end price-point, it's more affordable than many pillows on this list without sacrificing a luxury design. With three firmness levels available, the pillow is a good fit for nearly all sleep positions and body types.
You can choose between a plush, mid-plush, and firm option. The plush pillow is filled entirely with down clusters, giving it a soft, fluffy feel. The other models contain an inner layer of feathers for support and an outer layer of down clusters. The firm model has more feathers than down to create even more support. The fill is encased in a shell made of 100% cotton in a smooth sateen weave.
Our testers found the plush option was best suited for stomach sleepers, who need soft pillows to ensure the neck is not propped too high. Side sleepers preferred the firm model, since this sleep position needs strong support to keep the head, neck, and spine aligned. The mid-plush option strikes an even balance between plushness and support, so we found it appeals to a wide array of sleepers.
You can purchase the pillow in a standard or king size. Shipping is free to customers in the U.S., and you'll receive a 365-night sleep trial. The pillow also comes with a 1-year warranty beyond the trial period.
Fill:
100% long-strand mulberry silk
Hot sleepers
People who prefer exceptionally soft surfaces for their head and neck
High-end shoppers

Fill consists of luxurious, durable mulberry silk
Breathable bamboo-derived viscose shell helps the pillow sleep exceptionally cool
Excellent shape recovery ensures good resistance to clumping and shifting
Sleep Foundation Special Offer
Use this SleepFoundation.org link for the most current discount on Cozy Earth pillows
The Cozy Earth Silk Pillow is an excellent choice for sleepers who want to splurge a little on their pillow purchase. The materials give the pillow a firm and luxurious feel while keeping you cool through the night.
The mulberry silk fill felt exceptionally soft to our testers, and is also highly durable. The silk created a cushion for the head and neck during tests, but each strand holds its shape well and you shouldn't need to fluff the pillow too often. The pillow is designed with breathable, temperature-regulating materials, so the hot sleepers on our test team found it very comfortable.
The pillow is filled with breathable silk, allowing air to circulate freely throughout the interior. Another cooling component is the cover made of viscose derived from bamboo. This material retains the natural cooling properties of its botanical source and wicked away moisture to keep our testers comfortable. A sateen weave gave the fabric a luxuriously smooth feel, making it ideal for testers with sensitive skin.
To preserve the pillow's structural integrity, you should only machine wash on a cold, gentle cycle and tumble dry with low heat or hang to dry. Too many laundry cycles can damage the pillow over time, so you should spot or dry clean if minor stains or smudges occur. Cozy Earth recommends using a pillowcase to maintain a clean, hygienic surface and minimize the need for machine washing.
All Cozy Earth orders come with 100-night sleep trials, giving you plenty of time to decide if the pillow is right for you. The company also backs the pillow with a 10-year warranty against shifting fill and other defects.
How to Choose a Pillow for Snoring
Selecting a pillow for snoring requires all the normal considerations involved in finding the right pillow and some factors unique to the condition. Assessing your needs and preferences will help inform your decision.
What to Consider When Purchasing a Pillow for Snoring
Sleeping position, loft, support, firmness, and other factors are some of the top things to look for when purchasing a pillow for snoring. Not only do these factors affect comfort, but they can also influence the likelihood of soft tissues vibrating during the night.
Many companies that produce pillows for snoring try to present their models as ideal for all sleepers and positions. While these options may accommodate most individuals, they won't be optimal for everyone since personal needs and preferences vary. Weighing the unique factors that affect your sleep with specific aspects of the pillow design can help you find the best snoring pillow for you.
Sleeping Position
Sleeping position can affect comfort, alignment, and snoring. Most sleepers should aim for a pillow that keeps the neck aligned since allowing the head to slump or forcing it upward could lead to more pressure on the airway and trigger snoring. Because of the force gravity has on the soft tissues in the airway, snoring is especially common for back sleepers, so some who favor this position prefer to use a wedge pillow for additional elevation.
Loft
The right pillow loft is critical to healthy spinal alignment, and it can also help with snoring. A model that is too thick might push the head up, while one that is too thin could allow the head to droop, either of which could contribute to airway constriction and increased snoring.
"Side sleepers tend to need a high-loft pillow for support and to fill the space beneath the head and neck to promote proper spinal alignment. Keep your head and neck in alignment at around 30 degrees with the help of a good pillow so your airway stays open during the night, allowing air to flow from your nose to your lungs without obstruction."
– Sarah Silverman, Psy.D., a licensed psychologist and holistic sleep wellness consultant who treats patients in New York and Florida.
The ideal loft depends primarily on body type and sleep position. Sleepers with broader shoulders and/or heavier heads usually need a thicker pillow to fill the space between their mattress and head and neck while providing adequate support, and those with narrower shoulders and/or smaller heads often need a thinner model for support without excessive lift.
Support
Support is essential to maintaining proper spinal alignment, and it can also play a role in snoring prevention. If the pillow goes flat under the weight of a back or side sleeper's head, the neck may bend and cause the airway to constrict. Similarly, if the pillow is too supportive, it may force the neck to bend in the other direction, also potentially putting pressure on the soft tissues. Unfortunately, finding the right level of support is often a matter of trial and error since it can depend on the weight of your head, your sleep position, your shoulder depth, and more.
Firmness Level
The firmness level affects the pillow's support and comfort. A firm pillow may be ideal for individuals who weigh more and need the extra support to keep their necks aligned, while a softer option may be better for smaller sleepers who need extra plushness to sink in.
You should also consider sleep position and pillow loft when assessing firmness. Side and back sleepers usually need firmer options than stomach sleepers. However, depending on the fill, an especially thick pillow may not need to be as firm to feel supportive.
Pressure Relief
While pressure relief does not significantly affect snoring, it can have a major impact on comfort. A pillow that molds to the head and neck to redistribute their weight can help prevent pressure from accumulating around any one area, which may limit aches and pains and "hot spots" from pressure buildup.
Shape
Various pillow shapes may be used as anti-snoring pillows depending on sleep position and personal preferences. Some sleepers prefer standard rectangular bed pillows, while others may benefit from a wedge-style pillow or contoured design. Wedge pillows elevate the entire upper body rather than just the head and neck, which is intended to reduce the likelihood of gravity forcing the soft tissues of the airway to compress. Ergonomic, contoured pillows are designed to support spinal alignment, and this could also limit snoring for some individuals.
Price
As with any pillow, the prices of snoring pillows vary a great deal. Budget-friendly options start at under $40, while high-end and technologically advanced options can top $150. When considering the price-point, you should also weigh the overall value. More durable options may not need to be replaced as frequently, so they may be worth it over time even if they require a higher initial investment.
Quality Materials
Pillow materials influence comfort, performance, durability, and support, so selecting a model constructed of quality materials can make a big difference in the sleep experience. Those made of lower-quality components often cost less, but it may be worth spending extra for a high-quality anti-snore pillow if it is likely to be more effective, feel more comfortable, and/or last longer. Since allergic reactions can contribute to snoring, allergy sufferers may also want to weigh the ease of care and allergy potential of any materials in the pillow.
Moldability
Moldability refers to how easy it is to manipulate the shape of the pillow. Some snorers may prefer to bunch up their pillow to fit comfortably under their head and neck and accommodate any sleep position they choose. However, this may also require more effort during the night to find the right shape to keep the spine aligned and limit airway compression.
Temperature Regulation
While little research examines the effects of temperature on snoring, many experts believe sleeping in a cooler room is beneficial. Similarly, finding a pillow that regulates temperatures well can reduce the likelihood of the sleeper overheating and trying to reposition to find the cool side of the pillow. Breathable models usually provide strong temperature control by allowing heat to escape. Some advanced components, like phase change material and gel-infused foam, also purport cooling effects.
What Pillow Styles are Best for Snoring?
The best pillow style for snoring will depend on your sleep position and personal preferences, but wedge pillows, ergonomic models, adjustable options, and memory foam varieties often top the list.
Wedge: Wedge pillows get their name from their distinctive wedge-like shape. These models are typically constructed of foam and designed to elevate the upper body, which is thought to limit soft tissue compression that leads to snoring and relieve sinus pressure by allowing drainage.
Adjustable: Adjustable options allow users to modify the loft and/or firmness of their pillow based on their personal needs and preferences. These models may be beneficial for snorers since they provide the opportunity to experiment with different feels to see what works best. Additionally, if symptoms change over time, the owner can adjust their pillow accordingly.
Memory Foam: Solid memory foam pillows respond to the sleeper's heat and weight to mold to their head and neck. This may help sleepers maintain the natural banana-like curvature of the neck, which could in turn reduce the likelihood of poor posture contributing to throat vibrations.
Shredded memory foam pillows are also available. These options tend to be more moldable than solid memory foam, but they're less likely to retain their shape for consistent support throughout the night.
Polyfoam: Like memory foam pillows, polyfoam models may contain either shredded or solid material. The shredded options typically perform better in moldability and the solid options generally earn higher marks for shape retention. Since polyfoam tends to be more breathable than memory foam, it may be a good option for snorers concerned about overheating. However, lower-quality polyfoam options may be more prone to developing lasting indentations that limit the pillow's ability to keep the spine aligned.
Latex: A latex pillow may use either shredded or solid latex foam. Since latex tends to be relatively dense, either option should be durable and supportive, though shredded models will likely be more moldable. Natural latex is resistant to dust mites, a frequent allergy trigger, so pillows made of the material may be ideal for those who snore due to their allergy symptoms.
Feather: Feather pillows are often both moldable and supportive, which may make it easier for snorers to find a comfortable position that limits snoring. However, some feather pillows may harbor allergens, so they might not be ideal if you suspect allergies are contributing to your snoring.
Down: Down is a softer, lighter type of feather that has a plush feel and exceptional moldability. Like feathers, however, down models could trigger allergy symptoms for some individuals, potentially aggravating snoring.
What Causes Snoring?
There are several possible causes of snoring. While the root cause is a vibration of the tissues in the airway, this can be triggered by muscle relaxation, allergies, and certain physical ailments, like a deviated septum, nasal polyps, and/or enlarged tonsils and adenoids. If a condition could cause inflammation or narrowing of the airway, it could also likely lead to snoring.
Age and weight are also often linked to snoring. As an individual gets older, the throat muscles may relax more overnight, leading to sonorous vibrations. Carrying extra weight could also be linked to less muscle tone and more tissue around the neck, which may increase the likelihood of snoring.
Other more controllable aspects could also contribute to snoring. Many people snore more when sleeping on their backs because gravity may make the throat more likely to narrow. Alcohol acts as a muscle relaxant, so consuming it may cause the airway to relax and contribute to more snoring. Additionally, smoking could irritate the airway and trigger inflammation that could cause the throat to vibrate.
Many snorers find relief with the right pillow since it can change their position. Lifting the head and neck often makes gravity work in the sleeper's favor, allowing their throat muscles to relax without blocking the airway.
We want you to get the best night's sleep possible, which can be done under a medical professional's guidance. Talk to your doctor for help determining the cause of your snoring and charting a course of action.
Other Tips for Reducing Snoring
Pillow choice can be one of the easiest and most affordable ways to reduce the severity of snoring, but there are other options. The following tips may be used in addition to selecting the right pillow for you.
Ask Your Doctor About Sleep Apnea: Sleep apnea is a medical condition that causes abnormal breathing during sleep, and snoring is a common sign of the disorder. A sleeper may temporarily stop breathing, which can lower the body's oxygen supply and lead to less restful slumber. This condition can have serious health impacts, so it's important to talk to your doctor to determine whether you suffer from sleep apnea and what should be done to protect your health.
Use an Anti-Snoring Mouthpiece: Anti-snoring mouthpieces are designed to reduce snoring by either holding the lower jaw or tongue forward to prevent them from falling back and putting pressure on the airway. Most of these devices are sold over the counter, but you may want to consult with your doctor to see if they're a good option for you.
Sleep on Your Side: If you're a back sleeper, repositioning to your side may help limit snoring. This position makes the tongue and lower jaw less likely to fall towards the back and press on the airway, so many individuals snore less when sleeping on their sides than on their backs. If you struggle to stay on your side, a body pillow positioned behind you might help prevent you from inadvertently returning to back sleeping.
Limit Alcohol and Tobacco Consumption: Alcohol can relax the muscles, while tobacco can cause throat irritation, both of which could lead to vibrations in the airway. Limiting or eliminating your use of alcohol and/or tobacco may help reduce snoring.
Use an Adjustable Bed: Lifting the upper body can often relieve snoring by reducing pressure on the airway. While this can be done with the right pillow, an adjustable bed is another great option that allows you to experiment with what position works best for you.
Our guide details some of the most important factors to consider when purchasing a pillow for snoring and highlights some top picks, but we know you may still have some lingering uncertainties. We'll answer some of the most common questions shoppers have while shopping.
Frequently Asked Questions About Pillows for Snoring
Will a Wedge Pillow Help with Snoring?
A wedge pillow may help reduce snoring for some sleepers. They lift the upper part of the body so that the soft tissues are less likely to block passages due to posture, thereby limiting vibrations. While wedge pillows may not be effective for all individuals depending on the cause of their snoring, many sleepers find them helpful.
Does Sleep Position Affect Snoring?
Sleep position often affects snoring. When sleeping on the back, the tongue and lower jaw can recede and put pressure on the airway, so back sleepers are often especially prone to snoring. If you want to see if your snoring is affected by your sleep position, try repositioning onto your side to see if it continues.
How Common is Snoring?
Snoring is very common, affecting approximately 57% of men and 40% of women. These numbers may be even higher for older individuals.
Where Can I Find a Good Anti-Snoring Pillow?
Since snoring is so widespread, anti-snoring pillows are available from most retailers that sell pillows, including department stores, home goods retailers, and mattress stores. You can also frequently buy anti-snoring pillows directly through the manufacturer.
Still have questions?
Our product experts have extensive experience testing just about every sleep product on the market. Send an email to [email protected] or call us at (877) 672-8966 with your questions and we'll help you find exactly what you're looking for.
Thanks for the feedback - we're glad you found our work instructive!
If you're ready for more, sign up to receive our email newsletter!
Was this article helpful?
Thanks for the feedback - we're glad you found our work instructive!
Submitting your Answer...
Other Articles of Interest