When you buy through our links, we may earn a commission. Products or services advertised on this page may be offered by an entity that is affiliated with us. Learn more.
In the past few years there's been a huge increase in different types of pillows on the market, giving consumers more options than the classic down or fiber pillow. One increasingly popular pillow style is the latex pillow. Often made from shredded latex, these pillows offer the plushness of a traditional polyfill or down alternative pillow with additional firmness and flexibility.
To help choose the perfect latex pillow, read on to learn more about our picks for the best options in several categories. We've completed intensive product research to determine our ratings, and have some helpful advice to help you compare options.
Product Details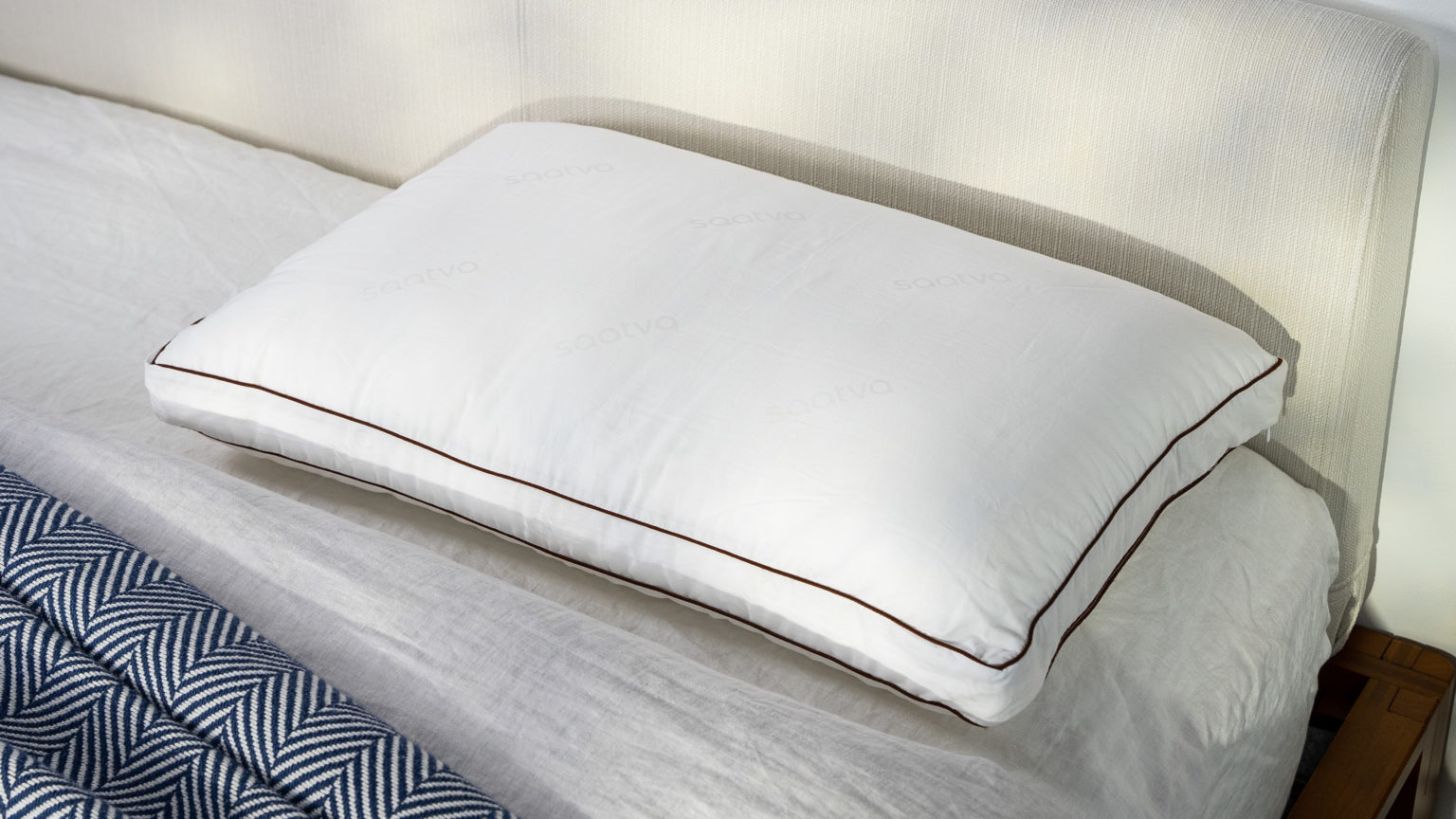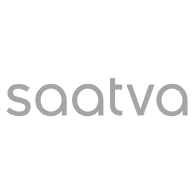 Price:
$165 – Queen $185 – King
Fill:
Shredded Talalay latex and down alternative
People who prefer pillows with adjustable thickness
Side and back sleepers weighing up to 230 pounds
Hot sleepers
Talalay latex and down-alternative combine for a plush, supportive feel
Removable inner pillow allows for adjustable loft
Breathable organic cotton cover
Sleep Foundation Special Offer
Use this SleepFoundation.org link for the most current discount on Saatva pillows
The Saatva Latex Pillow is a good option for people who experience aches, pains, and pressure points in their neck. The pillow is constructed with a core of shredded, American-made Talalay latex encased in a smaller, removable pillow padded with soft microdenier fibers. These fibers have the same consistency as down or down alternative to provide extra cushioning.
You can keep the smaller pillow intact for maximum thickness if you sleep on your back, or remove it to decrease the loft for more comfortable side sleeping. After testing the pillow, we found it was best suited to sleepers who weigh 230 pounds or less. The outer cover is composed of breathable organic cotton that helps the pillow sleep cool.
Latex is a naturally durable material, so the pillow should perform for several years without drastically flattening. Although the pillow has a medium soft feel, the shredded fill does not conform as closely as memory foam and you may notice some responsiveness when you lay down your head – a common characteristic of Talalay latex. The latex is washed five times during the production process, reducing the potential for triggering latex allergy symptoms.
Compared to other latex pillows, the Saatva Pillow is very reasonably priced, and all customers in the contiguous U.S. qualify for free ground shipping. Saatva accepts gently used returns within 45 days of the original purchase, though the company asks that you wash the pillow before shipping it. The pillow is also backed by a one-year warranty.
Turmerry Organic Latex Pillow
Price:
$80 – Standard $100 – Queen $120 – King
Fill:
Solid, ventilated GOLS-certified organic latex
Firmness:
Soft, Medium, Firm
Side and back sleepers
Hot sleepers
People who prefer to buy organic products
Solid Dunlop latex provides cushioning and support in equal measure
Breathable core and cover components ensure excellent cooling
Organic-certified materials
Sleep Foundation Special Offer
Use this SleepFoundation.org link for the most current discount on Turmerry pillows
The Turmerry Organic Latex Pillow achieves a comfortable balance for sleepers seeking mid-range levels of contouring and support. The core contains a single piece of Dunlop latex, a material known for dense composition, gentle contouring, and even support. Since the pillow has a medium feel, you should expect noticeable conforming, but your head and neck won't sink excessively nor will the latex hug too closely.
The organic latex is GOLS-certified and Turmerry's production facility is Carbon Neutral certified, so this pillow will also appeal to eco-conscious consumers. Hot sleepers should find the pillow quite comfortable, as well. The latex is perforated to allow steady airflow throughout the core, and the cover is made of organic cotton for added breathability. The 5-inch loft – coupled with the supportive feel – will be ideal for many back sleepers, as well as side sleepers who prefer mid-range thickness settings.
The Organic Latex Pillow is quite reasonably priced compared to many of its GOLS-certified competitors. Shipping is also free throughout the contiguous U.S. Turmerry accepts returns within 30 days of the original purchase date, and also backs the pillow with a one-year warranty.
Price:
$89 – Standard $99 – Queen $109 – King
Fill:
GOLS-certified shredded latex and GOTS-certified kapok fibers
Hot sleepers
People whose pillow loft preferences vary on a nightly basis
Consumers who prefer to buy and use sustainably made products
Eco-friendly fill consists of shredded latex and downy-soft kapok fibers
Adjustable design allows owners to customize their pillow loft
Organic cotton cover is breathable and machine-washable
Sleep Foundation Special Offer
SLEEPFOUNDATION
Many latex pillows cushion and conform to the head and neck much like foam, but the natural responsiveness of latex can make the material feel a bit too firm for some people. The Avocado Green Pillow's fill combines shredded latex with fibers from the kapok tree, which have a soft consistency similar to that of natural down. The result is a pillow that feels both plush and supportive.
The Green Pillow is also eco-friendly. The latex and kapok fibers are both certified as organic by the GOLS and GOTS, respectively. The pillow's organic cotton cover has received GOTS certification, as well. Avocado is also a carbon negative company, meaning it offsets more than 100% of emissions that occur during production and shipping. Since the kapok fibers are a substitute for real down, the pillow is also considered vegan-friendly.
You can adjust the pillow's loft by adding or removing the fill. Each order includes a bag with supplemental fill, which can be beneficial for side sleepers and other individuals who need maximum pillow volume to feel comfortable. The cover is removable and machine-washable, allowing you to keep the pillow clean and hygienic without damaging the interior components.
While Avocado is known for high-end sleep products, the Green Pillow carries an approachable price-point and shipping is free for customers in all 50 states. Each order includes a 100-night sleep trial and a 1-year manufacturer's warranty.
Price:
$349 – Standard $374 – Queen $399 – King
Fill:
Wool, shredded latex, or memory foam
Firmness:
Medium Soft, Medium Firm, Firm
People who tend to run hot in bed
Combination sleepers
High-end shoppers
Shredded latex fill gently adapts to the head and neck without hugging too closely
Customizable design consists of multiple chambers with adjustable loft
Materials are breathable and sustainably sourced
Sleep Foundation Special Offer
Use this SleepFoundation.org link for the most current discount on Noble pillows
If you're shopping for a new pillow with a flexible budget, the Noble Head Pillow offers both advanced customization and high-quality materials. An adjustable design with nine separate chambers lets you optimize loft levels for different areas of your head, neck, and shoulders, so you should be able to lie comfortably in any position — even if you're a combination sleeper.
Noble allows you to choose from three fill types. The shredded latex option delivers a balance of adaptive contouring and even support, which should be ideal for anyone who dislikes the deep hug of foam but prefers some plushness for their pillow surface. You can choose from three sizes, each of which provides a loft adjustment range of at least 1 to 8 inches. Determining your optimal loft level may require some trial and error, so we recommend experimenting with different profiles.
The organic cotton cover can be removed and laundered in household appliances. This material is highly breathable and the latex doesn't retain too much heat, so the pillow is a good option for hot sleepers. GOTS and GOLS certifications also ensure the cover and fill materials have been sustainably sourced.
Standard ground shipping is free within the U.S. and Canada. You'll receive extra fill with your purchase, and you can request an additional bulk shipment during the first 30 days after the pillow arrives. If you decide the latex fill isn't a good fit, you may request an exchange for shredded memory foam or GOTS-certified wool fill during this time frame. The Noble Head Pillow is backed by a 5-year warranty against structural and material defects.
Naturepedic Organic Solid Latex Pillow
Price:
$99 – Standard $119 – Queen
People who tend to overheat while they sleep
Side and back sleepers
Consumers who prefer to purchase sustainably made goods
Eco-friendly design consists of organic latex encased in organic cotton
Breathable materials ensure excellent cooling
Affordable pricing in both sizes
Sleep Foundation Special Offer
SF Readers get 15% off sitewide at Naturepedic with code SF15
If you wake up with stiffness or sore spots in your neck, you may need a pillow that provides better support. The Naturepedic Organic Solid Latex Pillow is 5.5 inches thick, resulting in a high loft to keep the head and neck properly elevated. This profile should be substantial enough to fill the gap between the heads and shoulders of side sleepers, promoting even alignment in the process. Back sleepers who prefer thicker pillows should also receive adequate support – especially if they snore or live with acid reflux.
The core consists of solid latex with a plush yet responsive feel, so it shouldn't sink or hug too closely like memory foam. Latex also retains less heat than foam to keep you cool and comfortable at night. Another breathable component is the cover made of crisp cotton. Both the latex and cotton hold organic certifications, ensuring these materials have been sustainably sourced. The cover can be removed and machine washed whenever a cleaning is needed.
Standard and king sizes are available for the Organic Solid Latex Pillow. Both carry affordable price-points compared to the average latex pillow, and customers in the contiguous U.S. enjoy free ground shipping. Returns and exchanges are accepted within 30 days of delivery. Those who decide to keep their pillow also receive a 1-year manufacturer's warranty.
Eli & Elm Cotton Side-Sleeper Pillow
Fill:
75% Latex and 25% Polyester Fiber
Firmness:
Medium, Adjustable
Sleepers with loft or firmness preferences that might vary day to day
Individuals who sleep hot
Side sleepers who struggle with neck or shoulder pain
Adjustable fill for custom loft and firmness levels
U-shaped design cradles the neck for enhanced pressure relief
Latex and polyester fiber fill
Sleep Foundation Special Offer
SleepFoundation readers get 20% off. Discount automatically applied to cart.
The Eli & Elm Cotton Side-Sleeper Pillow is an adjustable model that features a unique U-shape design intended to reduce tension or pain for side sleepers. The gentle curve along the bottom accommodates the shoulders and relieves pressure in the neck, making this pillow a great choice for side sleepers who struggle to find a pillow that adequately supports their sleep style.
The pillow is made using a plush latex and polyester fill, which cushions the body to help relieve pressure. With a breathable cotton and polyester cover, the pillow also offers above-average temperature regulation. The cover is removable and machine-washable for quick and easy care.
Sleepers can customize the firmness and loft of the pillow by adding or removing the latex and polyester fill. Increasing the fill will give the pillow a firmer feel and higher loft, while decreasing it will result in a softer surface with a lower loft. Shoppers can purchase additional bags of fill and easily adjust the amount by simply opening the zippered lining.
The Side-Sleeper Pillow is backed by a 45-day sleep trial and a 5-year warranty. Eli & Elm also offers free shipping to customers in the contiguous United States. Orders typically arrive within 8 business days from when the order is placed.
Price:
$110 – Standard $130 – King
Fill:
Ventilated Talalay latex
Side and back sleepers
People who overheat while they sleep
Shoppers who want to invest in a long-lasting pillow
Talalay latex core provides a balance of cushioning and responsiveness
Cooling fibers sewn into breathable Tencel cover to ensure excellent cooling
Durable, high-loft design offers great neck support
Sleep Foundation Special Offer
Use this SleepFoundation.org link for the most current discount on Sijo pillows
Latex pillows are known for above-average temperature control, but the Sijo CloudSupport Pillow takes breathability and cooling to the next level. The Talalay latex core is perforated with small holes to promote airflow, so the pillow shouldn't retain as much heat as one containing solid foam. Another key component is the cover, which is made of moisture-wicking Tencel infused with proprietary Clima fibers engineered to absorb and release body heat.
A loft of roughly 6 inches makes this pillow a great option for side sleepers, since people who use this position often need a thicker profile to keep their head and neck aligned with the spine. Back sleepers who prefer more loft should also find the pillow comfortable. Standard and king sizes are available. The cover can be removed and laundered in any household machines, but the latex should only be spot cleaned if stains or smudges occur.
The CloudSupport Pillow is reasonably priced compared to other pillows with solid latex cores. Sijo also offers free delivery and return shipping for all orders of $65 or more, including both sizes for the pillow. Most orders come with a sleep trial that lasts 30 nights, but the company extends the trial period to 60 nights during the holiday season.
PlushBeds Organic Shredded Latex Pillow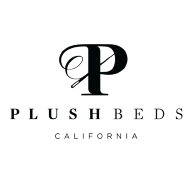 Price:
$99 – Standard $110 – Queen $124 – King
Fill:
GOLS-certified shredded organic latex
Every type of sleeper, including those who switch positions during the night
Those who want an eco-friendly, hypoallergenic pillow
Those who sleep hot
Shredded organic latex stays cool
Global Organic Latex Standard (GOLS) certified
Breathable 100% cotton cover
Sleep Foundation Special Offer
Use this SleepFoundation.org link for the most current discount on PlushBeds pillows
The Plushbeds Organic Shredded Latex Pillow is a great all-around option in terms of construction, comfort, and performance. Made from 100% Global Organic Latex Standard (GOLS) certified shredded Dunlop latex, it offers the feeling of a traditional down or polyfill pillow without the flattening, bunching, or clumping common with those fills. Wrapped in 100% organic cotton, the PlushBeds shredded latex pillow is made without any harsh chemicals or dyes, making it an ideal choice when you want a healthy place to rest your head.
Latex is naturally resistant to allergens, including mold dust mites, and bacteria. Although the pillow cannot be machine washed, it can be spot cleaned. The filling is easily fluffed and adjusted to your comfort. The shredded latex bounces back quickly when compressed, helping the pillow stay plump and fluffy. If you tend to sleep warm, the pillow will stay fairly cool, thanks to the breathability of the latex and the added airflow created by the shredded material.
Although you're likely to find the Organic Shredded Latex Pillow supportive regardless of your sleeping position, side and back sleepers tend to find latex pillows most comfortable in general. Stomach sleepers may find the pillow too firm for their liking; a pillow with a lower loft that allows for better spinal alignment may be a better choice. The Organic Shredded Latex Pillow does not allow you to remove filling for customization, either.
PlushBeds offers the Organic Shredded Latex Pillow in three sizes: standard, queen, and king. The company does not accept returns on pillows, but does offer a three-year warranty on materials and workmanship and free shipping on all orders.
Best for Spinal Alignment
Nest Bedding Easy Breather Natural
Price:
$99 – Standard $119 – Queen $149 – King
Fill:
75% shredded latex, 25% polyester fibers
Combination sleepers
People who typically sleep hot
Shoppers with limited budgets
Adjustable design allows you to customize the loft to your liking
Breathable fill blend contains shredded latex and down alternative fibers
Exceptionally low price-point for a latex pillow
Sleep Foundation Special Offer
Get an additional 10% off the Easy Breather and Easy Breather Natural Pillows with code SF10.
If you wake up with stiffness or soreness in your neck, you should choose a pillow that provides adequate loft — and your ideal loft largely depends on which sleep position you favor. The Easy Breather Natural from Nest Bedding is fully adjustable, allowing you to comfortably use the pillow in any position. The fill consists of shredded latex blended with down alternative fibers, resulting in a balance of softness and springiness.
Our testing shows stomach sleepers prefer a lower profile with at least 50% of the fill removed. This ensures minimal neck strain — a common source of discomfort for those who use this position. Back sleepers on our team felt more comfortable with the pillow volume at 50% to 70%. People who use this position typically need some elevation to keep the head upright and reduce the potential for snoring. Most side sleepers on our team agreed the pillow was most comfortable at full volume because it adequately cushioned the area between their head and downward-facing shoulder, resulting in even spinal alignment.
The fill is contained within an internal pouch. A cover made from breathable and stretchy cotton-polyester encases the pouch, and may be removed for cleaning. You may wash the cover in cold water on a delicate cycle, then dry on low heat. High heat may cause the cover to shrink and create difficulty reassembling the pillow after the laundry cycle is finished.
The Easy Breather Natural carries a below-average sticker price compared to the average latex pillow, and Nest Bedding frequently offers generous discounts to further reduce the cost. You'll also qualify for free ground shipping if you reside in the contiguous U.S. Each pillow is backed by a 30-night trial period and a 2-year warranty against material defects.
What is Latex?
When you hear the word "latex," the idea of a natural, biodegradable product may not be the first thing that comes to mind. When you're talking about bedding products like mattresses and pillows, though, natural latex is not only possible, but also common and, for many people, preferable to other products made with synthetic chemicals.
The term "organic latex" refers to a natural substance made from the sap of rubber trees. The sap is collected and processed into a material that's then poured into a mold. Manufacturers use one of two methods to create latex foams: Talalay or Dunlop. Talalay latex is processed tree sap that's poured partway into a mold. The rest of the mold is filled with air, creating a more uniform density for the finished product. With Dunlop latex, the liquid latex filled the entire mold, resulting in a finished product with different densities.
Because organic latex is entirely plant-based, it's naturally hypoallergenic and free of toxic ingredients. It's also a very breathable substance, so it won't retain heat like foam or other materials, and naturally resistant to mold, mites, and bacteria. It's a popular choice for pillow temperature neutrality, breathability, and moderate conforming. It also doesn't flatten like fiber-filled pillows, increasing their durability.
How to Choose a Latex Pillow
Much like choosing a mattress, choosing your pillow is a personal decision influenced by your preferred sleep position and body type and size. Even the type of mattress you sleep on matters: Some mattresses (like memory foam) are designed so you sink into the surface, for example, meaning an especially thick pillow will leave your head at an uncomfortable angle and cause pain.
However, the biggest factor in most pillow buying decisions is the filling. What's inside your pillow makes a big difference in terms of support and pressure relief, as well as how well the pillow holds up to regular use. Polyester or polyfill, down alternative, down, and feather pillows are common, but latex pillows are becoming increasingly popular. The latex may be shredded or formed, but it offers some advantages over other materials, including better temperature neutrality and resistance to allergens.
If you're considering a latex pillow, read on to learn more about what you should look for in a quality pillow.
What to Consider When Purchasing a Latex Pillow
Purchasing a latex pillow can be confusing, as many terms are used interchangeably, and may be misleading. For example, "latex" itself often conjures images of synthetic, plastic-like materials. Synthetic latex does exist, but the latex used in most bedding is a natural, organic product made without chemicals. Look for products that specifically note that the latex is made without additives.
Other terms that may muddy the waters when shopping for a latex pillow are rubber — which is generally the same as latex, as they are both derived from rubber trees — and Dunlop or Talalay. These terms refer to how the latex is processed, and make little difference to the feel of your pillow.
These are just some of the terms to watch for when purchasing a new pillow. When you're comparing your options, keep the following in mind as well to make the best decision.
Loft: Loft refers to the height or thickness of a pillow, and is directly related to its comfort. Most pillows have either low (less than three inches thick), medium (3-5 inches thick), or high (more than five inches) loft. Although an exceptionally low or high loft isn't comfortable, keep in mind that the loft will change when you lie on the pillow and compress the filling. Generally speaking, back sleepers prefer medium loft, side sleepers are more comfortable on a high loft pillow, and stomach sleepers are best suited by a low or medium loft pillow.
Support: A supportive pillow is important to keeping your spine aligned and allowing your neck and shoulders to relax. For example, side sleepers have more space between their neck and the mattress, so a pillow should fill that space to ensure adequate support and prevent pain. Firmer pillows are generally more supportive.
Firmness Level: Pillows are usually rated on a scale from soft to firm. A pillow's firmness is closely related to how well it maintains its shape and stays fluffy. The firmer the pillow, the less likely it is to flatten. Flat pillows are more uncomfortable and won't provide as much support.
Pressure Relief: A close-conforming will relieve pressure on your neck and shoulders, allowing you to relax and get restful sleep — and keeps you from waking up in pain. Softer pillows generally provide more pressure relief.
Shape: The most common shape for a pillow is a rectangle, but some pillows are designed for specific sleeping positions; for instance, they may have a curved side for back and side sleepers.
Price: Natural and organic pillows tend to have a higher price point than traditional latex pillows. Expect to pay upwards of $150 for a quality organic pillow.
Quality Materials: The higher the quality materials used in your pillow, the longer it will last. Choose the highest quality fill that fits your budget, as that will determine the comfort, support, and longevity of your pillow.
Moldability: If you change positions throughout the night, or use your pillow for support while reading or watching TV, or simply like to mold your pillow into your preferred shape, you want to choose a moldable pillow that can be adjusted to your preference. A pillow that uses a form provides extra support, but can't be easily molded for comfort.
Temperature Regulation: If you have a tendency to sleep hot, your pillow should allow for plenty of airflow so you can stay cool and comfortable. Some materials, like memory foam, retain body heat and can cause sleep disruptions.
What Are the Pros and Cons of Latex Pillows?
Although the best pillow for your individual needs depends largely on personal preference, there are some distinct pros and cons to latex pillows. On the plus side, they offer exceptional pressure relief and support for side and back sleepers, and stay cooler than other options. On the downside, they can be expensive, and aren't always flexible enough to conform comfortably.
Pros
Cons

Moderately conforming and responsive latex provides an above average level of support for your head and ensures proper alignment and pressure relief.
Latex is naturally breathable, and a shredded latex filling allows increased airflow so you sleep cool.
Latex is a natural material, and is naturally hypoallergenic. It's also naturally resistant to mold, dust mites, and microbial resistant.
Latex is virtually silent.

Some latex pillows don't mold to your head, or it can be challenging to form them into a comfortable position.
Latex pillows are more expensive than other types of pillows.
Some people are allergic to latex.
Not all latex pillows offer removable covers, making cleaning a challenge.
Who is Best Suited to a Latex Pillow?
Generally speaking, side and back sleepers tend to be most comfortable on latex pillows. Latex provides extra firmness and support where it's needed most, around the neck and shoulders.
Side Sleepers: Side sleepers have a gap between their neck and the mattress, which needs extra support to ensure proper alignment. Without it, they are likely to wake up with pain and stiffness in their neck. A latex pillow helps fill that space and offers that support and firmness.
Sleepers Who Have Neck Pain: Again, adequate support for the shoulders, neck, and head ensures proper alignment and reduces the likelihood of pain and discomfort from sleeping with the neck bent at an angle.
Back Sleepers: Back sleepers are also well suited to latex pillows. Maintaining proper alignment is important to preventing pain and discomfort in this position, and a softer latex pillow with a medium loft generally fits the bill. The exception to this are lighter sleepers who weigh less than 130 pounds. Lightweight individuals do not compress their mattress as much, and need higher loft pillows to ensure proper alignment.
Hot Sleepers: Latex is ideal if you tend to sleep hot, as it's a naturally cool material. Shredded latex in particular allows for plenty of airflow to keep you cool all night.
Who is not suited:
Those With Latex Allergies: If you have a latex allergy, a pillow filled with the material is not a good choice, regardless of the cover or other materials used.
Stomach Sleepers: Stomach sleepers may not even need a pillow, and might find that they are more comfortable without it. Latex pillows are often too firm and too thick to be comfortable for stomach sleepers.
Which Latex Pillow Sizes Are Available?
The most common pillows you'll find on the market today are one of the following five sizes: Standard, Super Standard, Queen, King, or Body Pillow. The best size for you depends on a number of fasters, including your personal preference, the size of your bed, and your sleeping style.
Standard pillows are the most common pillow size, and also the smallest and usually the least expensive. They also tend to have the most options for pillow cases, as well, especially when bundled with twin, full, and queen sheet sets. Super standard pillows are slightly wider, giving you just a little more space when you find standard pillows too small.
Queen pillows are typically a full four inches wider than a standard pillow, giving you plenty of extra room. They are ideal when you have a tendency to shift positions throughout the night, or roll over a lot. King pillows are even larger, providing plenty of space for "active" sleepers. King pillows are also a good choice if you like to sit up in bed to read or watch television, as their size provides additional support.
Finally, body pillows are designed for people who like to cradle their pillow, or who want extra support while sleeping. These pillows are especially popular among pregnant women, as they easily support the weight of their growing belly and help keep hips in alignment when placed between the knees.
Standard: 20" x 26"
Super Standard: 20 x 28"
Queen: 20 x 30"
King: 20 x 36"
Body Pillow: 54" x 20" or 48" x 20" (most common sizes)
Frequently Asked Questions About Latex Pillows
How much do latex pillows cost?
Typical latex pillows are more expensive than those with fiber filling. Prices range significantly, from $40 for a basic model to $200 for a luxury organic pillow. The quality of the materials used in the manufacture of the pillow are the biggest determinant of price, but the size and loft can also influence your cost.
How do I clean a latex pillow?
Latex pillows are typically not machine washable, especially when they are made with a combination of wool and latex. Depending on your specific pillow, you may be able to fluff it in the dryer on low or no heat and some pillows are made with a removable, washable cover. Simply remove the cover and wash according to the manufacturer's instructions. Otherwise, latex pillows can usually be spot cleaned. It's best to cover your pillow with a washable cover or case to keep it clean. Never allow your latex pillow to remain in direct sunlight for too long, as that can cause the material to break down.
Where can I buy a latex pillow?
Latex pillows can be purchased anywhere you buy bedding, including retailers like Amazon, Target, or Bed, Bath & Beyond. Some luxury or organic options are only available online, directly from the manufacturer.
How long do latex pillows last?
A well-maintained latex pillow can last about 5-10 years. However, individual factors like how you clean the pillow, your sleeping habits, and the durability of the pillow itself can influence its longevity. All pillows should be replaced every few years, or if it starts to lose its shape, you are waking up with pain, you change your sleeping position, or if you notice changes in your skin (like acne).
Are latex pillows adjustable?
Some latex pillows are designed to be adjustable. These typically have a zippered covered that allows you to remove or add fill as needed to adjust the pillow to your preference.
Do latex pillows have an odor?
Because latex is made without harsh chemicals, latex pillows typically don't have the same issues with off-gassing or odors as foam pillows. Some people notice a slight rubber smell when they first open a new pillow, but any odors will subside quickly and should not be offensive in any way.
Still have questions?
Our product experts have extensive experience testing just about every sleep product on the market. Send an email to [email protected] or call us at (877) 672-8966 with your questions and we'll help you find exactly what you're looking for.
Thanks for the feedback - we're glad you found our work instructive!
If you're ready for more, sign up to receive our email newsletter!
Was this article helpful?
Thanks for the feedback - we're glad you found our work instructive!
Submitting your Answer...
Other Articles of Interest