When you buy through our links, we may earn a commission. Products or services advertised on this page may be offered by an entity that is affiliated with us. Learn more.
Do you prefer pillows with an exceptionally plush feel that sink beneath your head and neck? Are you more partial to light pillows that are very moldable and ideal for snuggling? If you answered yes to either question, then you may be a great candidate for a down pillow. Down refers to the inner plumage of ducks and geese, which is very soft and lightweight. Some pillows only contain down while others contain a blend of down and feathers, the coarser outer plumage of the same birds.
Ethical sourcing is an important consideration for down pillows. Since the down and feathers must be extracted from animals, consumers should research how different pillows are sourced and constructed.
Read on to learn more about down pillows in terms of pricing, available designs, and performance across different categories. Below, you'll find our top eight picks for down pillows sold today. Each selection is based on experiences and reviews from verified owners, as well as our own product research and analysis.
Best Down Pillows Video
Our product experts got hands-on with some of our favorite down pillows, offering an in-depth look at each pillow's design and materials. Watch the video to get a better idea of how the pillows feel and perform.
Product Details
Fill:
Canadian white down clusters or down/feather blend
Firmness:
Plush, Mid-Plush, Firm
Sleepers seeking a plush, mid-level, or firm feel from their down pillow
People with down allergies
Value seekers
Three firmness levels suitable for different sleep positions and body types
Impeccable design with above-average durability
Generous 365-day return policy
Sleep Foundation Special Offer
Use this SleepFoundation.org link for the most current discount on Brooklinen pillows
The Brooklinen Down Pillow exemplifies many of the qualities people have come to love about this pillow type. The interior does not include any chambers or baffles, resulting in a traditional feel – though support level depends on the selected loft level. The soft "plush" feel contains 100 percent down, resulting in deep sinkage around the head and neck. This will be the most comfortable choice for many stomach sleepers. The medium "mid-plush" and firm feels mostly contain feathers, so you'll feel more reinforcement and sink much less. We recommend these loftier options for side and back sleepers.
A shell made of smooth cotton sateen encases the entire pillow and double-stitched seams help to keep the cover intact and prevent escaping fill. The down and feathers are also treated during production to remove microbes that trigger allergies for some sleepers. Spot or dry cleaning is recommended if stains occur, but you can freshen up the pillow and expand its shape by placing it in a dryer on an air fluff setting.
Regardless of which loft you choose, the Brooklinen Down Pillow is very affordable. Brooklinen also allows you to return the pillow in exchange for a full refund within 365 days of purchase, even if you've used and cleaned it. Shipping is free for customers in all 50 states, as well.
Boll & Branch Down Chamber Pillow
Firmness:
Soft, Medium, Firm
Most sleepers regardless of their loft/firmness preferences
Those who prefer very moldable pillows
Animal-conscious shoppers
Three firmness options to accommodate preference differences
Organic cotton shell and responsibly-sourced down fill
Three-chamber construction to maintain shape and structure
Sleep Foundation Special Offer
Use this SleepFoundation.org link for the most current discount on Boll & Branch pillows
A common complaint about down pillows is that they feel too soft, since many are crafted for an exceptionally plush feel. The Boll & Branch Down Chamber Pillow is a notable exception because it is available in three density settings. The soft option contains the least amount of fill, which equates to a fill power of about 600. The medium density option contains a slightly more fill, resulting in a mid-level feel, while the firm option has a fill power of 700 and provides great support to the head and neck.
The cover is made of organic cotton that has been certified by the Global Organic Textile Standard, one of the world's foremost authorities on organic fabrics. The down fill has also earned a certification from the International Down Standard, ensuring no animals are harmed or treated unfairly when the down is collected. Boll & Branch washes the down fill three times to remove as many allergens as possible. As a result, the pillow is hypoallergenic and its fill holds up well over time. The pillow can be washed and dried in any household machine.
The price-point of this pillow depends on the density you select, but all three options are quite affordable given the high-quality materials and construction. Boll & Branch also offers free shipping to all customers in the contiguous U.S. and accepts returns within 30 days of delivery.
The Company Store Legends Hotel Best Down Pillow
Fill:
600 fill power down
Firmness:
Soft, Medium, Firm, Extra Firm
Stomach sleepers
People who experience neck pain during sleep
Those who enjoy extremely plush pillows
Four firmness options
Composed of 600 fill power down
Lifetime guarantee
Sleep Foundation Special Offer
Use this SleepFoundation.org link for the most current discount on The Company Store pillows
The Legends Hotel Best Down Pillow from The Company Store is available in multiple firmness options and sizes. This down model has the luxurious feel of a pillow you'd find in a quality hotel.
The pillow is filled with 600 fill power down and comes encased in a cotton cover with 235 thread count. It's available in three sizes (standard, queen, and king) and four firmness options (soft, medium, firm, and extra firm). Whichever firmness option you choose, the down offers a plush feel that deeply cushions the head and neck. This can help alleviate pain that arises from pillows that are too lofty or firm.
With its soft feel and multiple firmness options, the Best Down Pillow is suitable for all sleep positions. Even stomach sleepers, who typically need pillow lofts that are thinner than many pillows on the market, should find this pillow comfortable. Side and back sleepers who need strong support from their pillow may prefer a model with firmer construction.
The Company Store recommends dry cleaning the pillow to enhance longevity. The pillow comes with a generous lifetime guarantee, and shipping is free within the contiguous U.S. on orders of $50 or more.
Pacific Coast Luxury Goose Down Pillow
Fill:
600 fill power white goose down
Firmness:
Soft, Medium, Firm
Hot sleepers who enjoy down pillows
Animal-conscious individuals
Those who aren't sure whether they're allergic to down
White goose down fill cradles the head and neck
Soft organic cotton cover trimmed with cording to prevent rips and tears
RDS certification ensures ethical practices
Sleep Foundation Special Offer
Free ground shipping on all domestic orders with code: PACIFIC
Down pillows are prized for their luxurious softness, and many carry expensive points that reflect their high-end designs. With the Luxury Goose Down Pillow from Pacific Coast, you'll notice a decadently plush surface for your head and neck that relieves undue pressure buildup.
A shell composed of organic cotton encases the fill. The fabric is highly breathable, allowing air to circulate and maintaining a cool feel despite the down's heat-retaining properties. Thick cording trims the cover's perimeter to strengthen the fabric and reduce the potential for rips and tears. The pillow is machine-washable and compatible with most household appliances. Make sure your machines are large enough to accommodate the pillow. A Responsible Down Standard certification ensures ethical animal treatment and responsible production practices.
The down and feathers are washed at least eight times to remove allergens. Even then, the pillow may lead to symptoms if you're allergic to these materials. As part of Pacific Coast's 30-night trial, you may return the pillow free of charge if the fill triggers your down and feather allergies. Low-cost shipping is available for customers in the contiguous U.S., and you'll receive a 3-year warranty against structural and material defects.
FluffCo Down & Feather Pillow
Fill:
100% white duck feathers (inner chamber), 100% 600 fill power white duck down (outer chamber)
People who experience painful pressure buildup in the neck
Sleepers who enjoy pillows with a fluffy feel
Side and back sleepers
RDS certification ensures cruelty-free practices
Available in two firmness options
Double-chambered design provides balance of support and pressure relief
Sleep Foundation Special Offer
Use this SleepFoundation.org link for the most current discount on FluffCo pillows
The FluffCo Down & Feather Pillow is a reasonably priced model that comes in two firmness options. With two versions to choose from, most of the sleepers on our team were able to find a pillow that felt comfortable for their specific sleep position and personal preferences.
The pillow features a unique two-chambered design that excels in pressure relief while still providing strong support. The outer chamber is filled with white duck down, which gives the surface a plush feel. The inner chamber contains white duck feathers, which have a slightly firmer feel to better support your head and neck. So while your head should sink luxuriously into the pillow, it won't sink uncomfortably deep. We recommend the firmer option for back sleepers who need extra loft. The softer option may be better suited for side sleepers or anyone who prefers lower-profile pillows.
The cover is made with 100% cotton and the pillow also comes with a free pillow protector that is composed of cotton. Thanks to cotton's natural breathability, you shouldn't experience excessive heat buildup on the surface. You'll find double-stitching along the edges of the pillow to help prevent feathers from poking out. If you're worried about ethical sourcing, the pillow has Responsible Down Standard certification to show that it meets certain standards for cruelty-free practices.
FluffCo provides free shipping on orders over $75. You may return the pillow within 30 days for a full refund.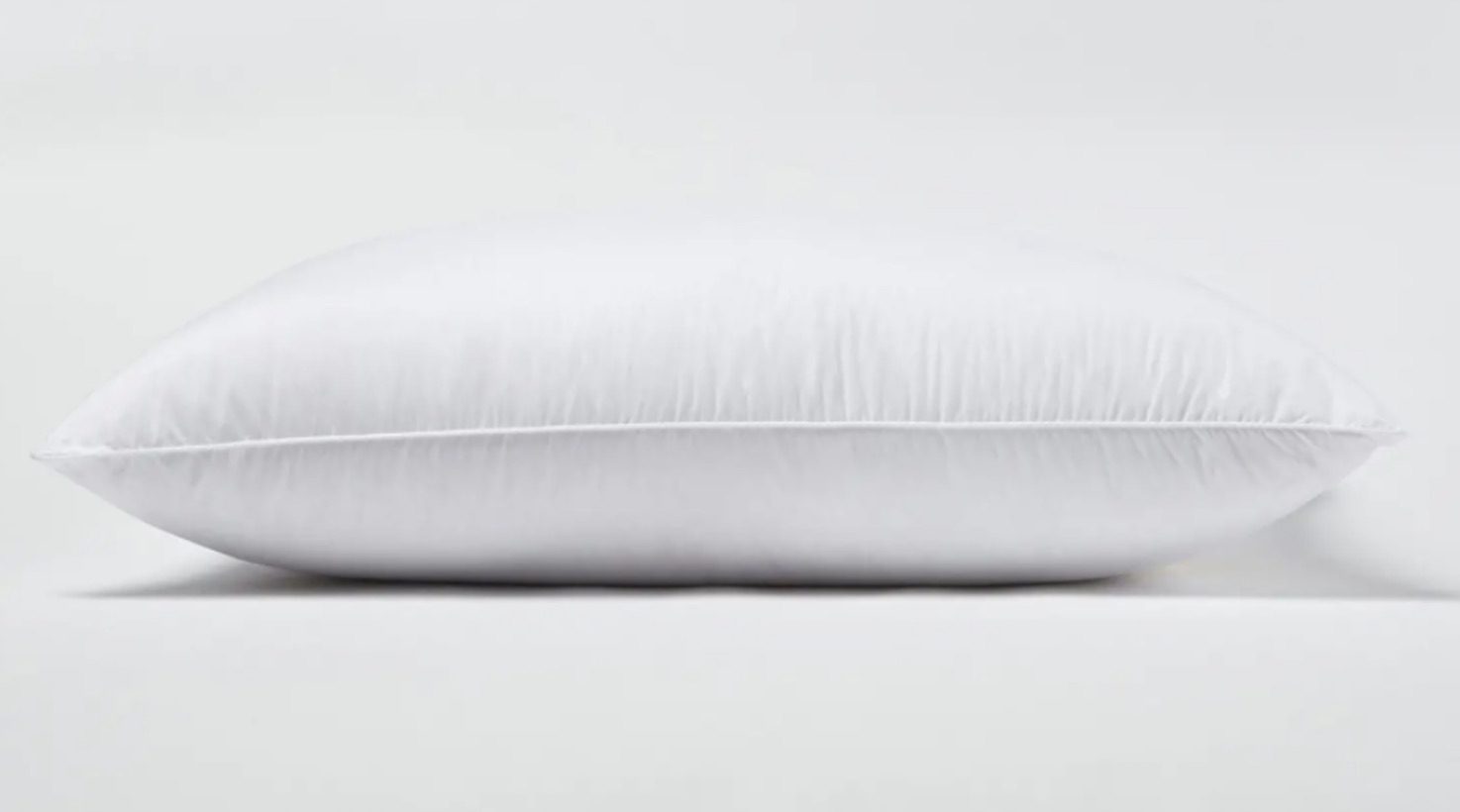 Quince Premium Down Pillow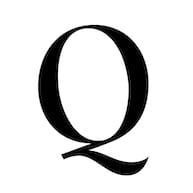 Firmness:
Medium, Medium Firm
Those who prefer exceptionally plush pillows
Shoppers seeking an affordable down pillow
People with persistent neck pain
Soft down with 650 fill power contours to the head and neck to alleviate pressure
Breathable cotton shell cuts down on heat retention
365-day return policy
Sleep Foundation Special Offer
Use this SleepFoundation.org link for the most current discount on Quince pillows
Quince offers a line of quality pillows that contain either real down or down alternative fibers. The Premium Down Pillow is the brand's most affordable down pillow and has a notably soft feel that should appeal to sleepers looking for a plush surface.
The pillow is made with 100% classic white down with a fill power of 650 that gives it a plush and lofty feel. Certification from the Responsible Down Standard ensures the down fill was sourced ethically with animal welfare in mind. Medium and medium firm feels are available. We recommend the softer model for stomach sleepers, who should sink in enough to prevent strain in the neck. The medium firm version is a bit more supportive and should feel comfortable for side and back sleepers.
The shell is made from 100% cotton with a sateen weave, resulting in a cool, silky feel. The cover's edges feature double-stitched edges and German piping to prevent the feathers from poking through and escaping over time. Given the quality of its materials and construction, the pillow carries a reasonable price-point compared to competing down pillows.
The Premium Down Pillow comes in standard, queen, and king sizes. While many down pillows are not machine-washable, this model can be machine-washed at home if your machine is large enough to accommodate it. Wash in cold water on a gentle cycle and tumble dry on a low setting. Quince ships free and offers a generous sleep trial. Customers may return pillows for a full refund within 365 days.
Parachute Down Side Sleeper Pillow
Fill:
85% down, 15% down and feather blend
Side sleepers
Hot sleepers
People with sensitive skin
Plush, cloudlike European white down fill
Lofty feel and full shape
750 fill power for enhanced loft and insulation
Sleep Foundation Special Offer
Use this SleepFoundation.org link for the most current discount on Parachute pillows
Side sleepers often struggle with down pillows because they are not lofty enough, resulting in uncomfortable sinkage along the head and neck. As its name implies, the Parachute Down Side Sleeper Pillow is designed to remedy this issue. A thick 3.5-inch gusset along the sides helps the pillow maintain a thick, full shape that is conducive to the side sleeping position. This gusset is reinforced with thick piping for added longevity.
Although the pillow has a medium feel, most of its fill consists of premium European white down. This creates a plush, cloud-like feel. The cover is made from smooth cotton sateen, making this pillow a good option for people with sensitive skin. Parachute recommends machine washing the pillow in a cold, gentle cycle with mild detergent if it needs to be cleaned, though dry cleaning is also acceptable. Standard and king sizes are available.
Parachute offers free shipping to all 50 states, as well as Army and Air Post Office locations. You may return the pillow for a full refund within 60 days of your original order, even if it has been used or cleaned. A three-year warranty is also included with each purchase.
Helix Down & Feather Pillow
Fill:
White Down, Feathers
Side sleepers
People who normally find down and feather pillows lacking in support
Animal-conscious consumers
Three-chamber construction features soft down padding and sturdy feather support
Double-stitched perimeter helps the shell resist wear and tear
RDS certification ensures ethical animal treatment
Sleep Foundation Special Offer
Use this SleepFoundation.org link for the most current discount on Casper pillows
For all of their positive qualities, down pillows feel exceptionally soft and may not provide adequate support for the head and neck. Aches and pains can follow. The Helix Down & Feather Pillow features a three-chamber design consisting of down cushioning the surface and feathers filling the core. This results in a plush feel as you lie down, but the feathers reinforce the outer chambers to prevent excessive sinkage.
A shell made of crisp cotton cambric encases the fill. Double-stitched seams strengthen the perimeter and protect the fabric from rips and tears that can allow the down and feathers to escape. The pillow isn't machine-washable — spot clean the shell if stains occur — so you may want to invest in a pillowcase or protector. Standard and king sizes are available. A certification from the Responsible Down Standard ensures plumage is never collected from live birds, and that the animals are humanely treated, fed, and sheltered during their entire lifespan.
The Down & Feather Pillow carries a relatively low price-point compared to other pillows of comparable construction and quality. Helix also delivers the pillow free of charge to customers in all 50 states. Your order comes with a generous sleep trial spanning 100 nights in length. If you decide to keep the pillow after the return period ends, you'll also receive a 1-year warranty against manufacturing defects.
Kassatex Organic Cotton Pillow
Fill:
Recycled down or recycled down alternative
People who prefer to use exceptionally soft pillows
Side and back sleepers
Shoppers looking for a pillow that's easy to clean
Pure down creates a lofty, cloud-like surface for the head and neck
Thick piping trims the seams to protect against wear and tear
Fully machine-washable for quick and easy care
Sleep Foundation Special Offer
Use this SleepFoundation.org link for the most current discount on Kassatex pillows
If you wake up with a sore or stiff neck, your pillow may be to blame. The Kassatex Organic Cotton Pillow is packed with pure down, creating a luxuriously soft and lofty feel that can cradle the neck to alleviate aches and pains. A thick profile makes the pillow especially well-suited to side sleepers, since people who use this position need ample cushioning between their head and downward-facing shoulder to ensure proper spinal alignment. Back sleepers on our team also felt comfortable on this pillow because the down was sufficiently supportive.
A shell made of organic cotton encases the down. The cotton's thread count is 288, so the fabric is breathable without feeling flimsy. Thick piping around the seams helps protect the shell from rips and tears. The pillow is fully machine-washable, making it easy to keep clean. Simply wash in warm water on a delicate cycle, then tumble dry on low heat. Drying with tennis balls can help restore the pillow's full shape. Standard/queen and king sizes are available.
If you're allergic to down or prefer not to use products with animal-based materials, the Organic Cotton Pillow is also available with down alternative fill. Standard ground shipping is free of charge for all U.S. orders. If you aren't satisfied with the pillow, Kassatex allows returns within 60 days of the delivery date.
What Is Down?
Down feathers, or simply just down, are the soft inner plumage found beneath coarser exterior feathers of ducks and geese. Ducklings and goslings are entirely covered in down when they are very young; as they age, the exterior feathers will develop. Since down's primary purpose is to insulate birds against the cold, the material has become very popular in jackets, vests, gloves, and other garments intended for cold weather. Down is also exceptionally soft and lightweight, making it ideal for pillows, comforters, and other bedding accessories. Some products contain 100 percent down and are labeled as such, but most feature a blend of down and feathers.
The plush feel of down pillows causes them to sink deeply beneath your head and neck while you sleep. This distinguishes down pillows from other pillow types – such as memory foam, latex, and buckwheat – that feel firmer and provide stronger support. Goose down typically comes in thicker clusters. As a result, goose down pillows often feel plusher and more insulating than those filled with duck down.
Read on to learn more about how to find the best down feather pillows. This guide will discuss price expectations, size availability, pros and cons for sleepers, and ethical considerations for this type of pillow.
How to Choose a Down Pillow
Most down pillows offer a similar feel characterized by exceptional plushness and deep sinkage beneath the head and neck. However, there are subtle differences between these pillow models that make them better suited for some types of sleepers and less suited for others. Important considerations include the type of down used, ratio of down to feathers, cover material, loft, and price-point. We also encourage shoppers to research the down and feather harvesting practices of different companies to ensure their pillows and other products are ethically sourced and manufactured.
What to Consider When Purchasing a Down Pillow
While misleading claims and specs are widely used throughout the mattress and bedding industry, this problem is particularly common with products containing down. Some pillows contain 100 percent down, but most contain a blend of down and feathers from the same type of bird. The feathers provide more support to stabilize the pillow and prevent excessive sinkage.
The Federal Trade Commission (FTC) regulates how down and feather pillows and other products are labeled. According to the International Down and Feather Testing Laboratory (IDFL), pillows containing at least 75 percent down require the percentage of down to be listed on the product tag. If a pillow contains less than 75 percent down, then percentages for both down and feather fill must both be listed. Only pillows that contain 100 percent down can carry this listing.
Below, you'll find the most important considerations to take into account when shopping for a down pillow.
Loft
Loft, or thickness, affects how supportive the pillow feels. Side sleepers generally need more loft in order to align the head and neck with the spine, which in turn reduces pressure throughout the body. Back sleepers need some loft to keep their body on an even plane, but too much can elevate the head and create neck and shoulder pain. For most stomach sleepers, a low-loft down pillow allows them to rest comfortably without contorting their head too much.
Fill Ratio
As we discussed above, 100 percent down pillows can be found but they are somewhat scarce and usually quite expensive. High feather content in a down pillow may drive down the price-point and make the pillow more supportive, but this can cause the pillow to feel less plush. For most sleepers, 50 to 80 percent down is the sweet spot – you'll feel soft cushioning of down without sacrificing feather support for the head and neck.
Support
Support is tied to both loft and down/feather content. For any given sleeper, the pillow should keep the head and neck upright and even with the rest of the body. Other factors like head size and sleep position can change how supportive a pillow feels, too. It's important to note that traditional down pillows sink a bit and do not offer the same support as pillows with sturdier fill materials, such as memory foam, latex, or buckwheat hulls.
Firmness Level
How soft or firm you prefer your pillow to be is likely tied to your sleep position and head/shoulder dimensions. When browsing different down pillows, look for the "fill power" of each model. This indicates how dense the down fill is and, consequently, how firm or soft the pillow will feel. A lofty down pillow with high fill power will probably be the firmest option – but even then, down pillows tend to feel softer compared to other pillow types.
Pressure Relief
While down molds closely to the head and neck, the material doesn't conform evenly to provide support and alleviate pressure quite like foam or latex. Since down pillows tend to sink a bit, some sleepers may experience added or increased pressure as their head falls back.
Shape
Most down pillows are sold in traditional standard, queen, and king sizes, all of which have a rectangular shape. Some brands offer body pillows padded with down and feather fill, as well, but these models are fairly rare. Contoured and orthopedic down pillows are virtually non-existent; in order to reduce neck and shoulder pain, these pillows are constructed from foams, latex, and other denser materials.
Price
The average down pillow costs between $80 and $200 in a standard or queen size. Expect to pay more for pillows with 100 percent down content or a high content of goose down. Those with higher ratios of feather fill will typically cost less.
Quality Materials
The quality of a down pillow can affect how it performs in different areas. Dense down with a high fill power will give the pillow a fuller shape that requires less fluffing and shaking on your part. Cover quality is also important, since shell fabrics that deteriorate quickly can cause the down and feathers to escape and essentially ruin the pillow.
Moldability
Moldability refers to how snuggly a pillow is and whether it can be scrunched into different shapes to provide more or less support. Down pillows are very moldable due to their soft fill. They are a great option for people who like snuggling with a pillow or prefer a bolster between their knees.
Temperature Regulation
Since down insulates birds beneath their exterior feathers, you may notice more heat buildup with down pillows. That said, these pillows generally don't sleep as warm as pillows with polyfoam or memory foam fill. The composition of the cover can play a role in temperature regulation since some fabrics – such as organic cotton and cotton percale – are more breathable than others.
What Are the Pros and Cons of Down Pillows?
Down pillows offer an exceptionally plush and lightweight feel that distinguish them from other pillow types. Some sleepers find the softness and sinking effect quite comfortable – but for others, the pillows do not provide enough support to the head and neck. And while down pillows can provide above-average insulation in colder weather, the insulating properties of down cause them to sleep excessively warm for some people.
Pros
Cons

If you prefer a softer feel for your pillow, then you're probably well suited to down. The material offers unparalleled plushness and cushioning for the head and neck, even compared to feathers, and you'll sink quite deeply into the pillow.
Down's main purpose is to keep ducks and geese warm. As a result, many down pillows provide excellent insulation during colder times of the year.
The soft and lightweight feel of down pillows makes them ideal for snuggling. They can also be scrunched into different shapes.
Most down pillows are designed for durability. The covers will be piped or double-stitched around the seams to prevent down and feathers from escaping and the fill itself will not lose its softness over time.

While you can find plenty of budget-friendly options, most down pillows – particularly those with high down content – are fairly expensive.
Since down has natural insulating properties, this fill material can cause the pillow to absorb body heat and sleep somewhat warm. This is especially true if the shell and liners are made from less breathable fabrics like polyester.
Since down pillows tend to sink quite a bit, they may not provide enough support for some sleepers. Thankfully, many down pillow manufacturers offer these models with different loft and firmness options.
Most down pillows do not maintain a full shape very well, so you'll need to fluff them regularly. Many can be placed in a dryer for expedited shape recovery.
Who Is Best Suited to a Down Pillow?
We recommend down pillows to anyone who feels most comfortable on a very soft surface that sinks deeply beneath the head and neck. However, how much you like or dislike lying on a down pillow may depend on your sleep position, body type, head size, and other factors. Our picks for who is and isn't suited to a down pillow include the following:
Who is suited:
Side Sleepers: The best down pillows for side sleepers offer a high loft and dense fill. Side sleepers often develop pressure points because their head, neck, and shoulders are not aligned with the spine. A fuller down pillow ensures that their body remains on an even plane. Down pillows with less loft may cause added aches and pains.
Back Sleepers: The back sleeping position promotes spinal alignment, so the key for these sleepers is even support from head to toe. A mid-loft down pillow that sinks a bit while reinforcing the head and neck will be ideal for many back sleepers, but too much loft can cause pain to develop around the neck and shoulders.
Sleepers Who Enjoy Moldability: Down pillows are highly moldable, allowing you to scrunch them into different shapes to add or decrease support. They are also quite snuggly and provide good padding if you enjoy sleeping with a pillow between your knees.
Hot Sleepers: Although down has insulating properties, most down pillows sold today sleep fairly cool because the fill is not too dense. The pillows usually contain a fair amount of feather fill, as well. Feathers don't absorb body heat quite like down.
Who is not suited:
Sleepers Over 230 Pounds: Since people who weigh more than 230 pounds tend to have larger heads and broader shoulders, many find down pillows uncomfortable because they sink too deeply and do not provide adequate reinforcement. These sleepers may want to consider a pillow with solid memory foam, latex, buckwheat hulls, or other supportive fill types.
Stomach Sleepers: Stomach sleepers may feel comfortable on low-loft down pillows that are somewhat flat. This way, they won't need to turn their heads to the side – leaving them vulnerable to neck and shoulder pain. Unfortunately, many down pillows have medium to high loft and will be too thick for stomach sleepers to rest comfortably.
Those with Sleep Apnea: Sleep apnea is a disorder characterized by temporary loss of breath during sleep. People with sleep apnea require enhanced neck and head support to maintain an open airway and minimize choking episodes. Most down pillows do not provide this level of reinforcement.
Vegan Shoppers: Vegans oppose products that use animal-based components, even if the animals are not killed or harmed in the process. Down and feather pillows will not be suitable for dedicated vegans, but down alternative pillows – cushioned with polyester puffballs that mimic the softness of authentic down – can be a comfortable substitute.
Which Down Pillow Sizes Are Available?
Down pillows are widely available in the standard, queen, and king sizes. Although some brands offer down and feather body pillows, these models are much less common. Next, we'll discuss the most common pillow sizes and dimensions. Please note: the dimensions listed below may vary by a few inches, depending on the manufacturer.
Standard: The standard size typically measures 20 inches wide by 26 inches long. This size is ideal for people who sleep on a twin, twin XL, or full mattress, as well as couples that share a queen, king, or California king. Standards are quite common.
Super Standard: The super standard size measures 20 inches wide by 28 inches long, giving sleepers a bit more space than a traditional standard. This size is not particularly common, but some brands offer "standard" sizes that are technically super standards based on their measurements.
Queen: Another very common size, the queen measures 20 inches wide and 30 inches long. If you tend to change sleep positions or toss and turn, the queen offers a bit of extra space compared to the standard.
King: A typical king size pillow measures 20 inches wide and 36 inches long, so this will be an ideal size for anyone who moves around frequently in bed. Keep in mind that this size will take up most of the surface of a twin or twin XL mattress, so you may only need one if your bed is this size.
Body Pillow: A body pillow is quite long – usually 54 inches or longer – but its width will be about 20 inches. You can sleep with a body pillow beneath your head while snuggling with it, a favored position among many pregnant women. Unfortunately, you'll have a hard time finding body pillows made from authentic down. Down alternative body pillows are much more common.
How Can You Tell if Down Is Ethically Sourced?
A manufacturer that offers ethically sourced and cruelty-free down and feather products should carry a certification attesting to these qualities. The Responsible Down Standard (RDS) is considered one of the most prominent certifying organizations for this type of material.
In recent years, manufacturers of down and feather products have faced added scrutiny for how these materials are harvested from ducks and geese. As noted during an in-depth report from CBS News, plucking down and feathers from live birds can leave bloody wounds and open sores on the animals. Inhumane living conditions for animals and force-feeding practices are other issues that have come under attack from animal rights activists.
The RDS carries strict criteria. In order to earn this certification, manufacturers cannot pluck down or feathers from live birds or force-feed the animals. The RDS also requires "holistic respect for animal welfare," which means the birds must be treated humanely from the time they hatch until they are slaughtered. The RDS awards this certification after thoroughly auditing the manufacturer during a series of onsite visits, animal inspections, and staff interviews.
Many manufacturers claim their down products are ethically produced, but you should still ask to see certifications that prove these products are made humanely.
Frequently Asked Questions About Down Pillows
How much do down pillows cost?
You can usually find a standard or queen size down pillow in the range of $80 to $200. However, fill content can affect the price since pillows containing 100 percent down tend to be quite expensive, whereas pillows with a high content of feather fill often cost much less.
How do I clean a down pillow?
Many down pillows should only be spot cleaned or dry cleaned if stains occur. Washing them in a machine can damage the down and also cause rips in the cover that lead to escaping fill. However, you can place most down pillows in a dryer to recover their shape. Some down pillows can be washed and dried in your household machine, so be sure to check the care tag just in case.
Where can I buy a down pillow? Down pillows are widely available through online and brick-and-mortar sellers. However, you'll want to check the product specs to ensure you aren't buying a "down" pillow that contains 90 percent feathers.
How long do down pillows last?
Most down pillows are well made and offer decent longevity, so expect them to last at least two to three years. Cover durability is a key concern. If the fabric does not hold up well over time and the seams come apart, then the pillow may lose some of its fill. You can use a pillowcase or protector to extend the lifespan, too.
Are down pillows adjustable?
Most down pillows cannot be adjusted by adding or removing fill, but many manufacturers offer multiple loft options and allow you to exchange the pillow if it feels too thick or thin. You should never attempt to adjust a down pillow yourself unless it is explicitly designed for customizable loft. Otherwise you could permanently damage the pillow.
Do down pillows have an odor?
The treatments and cleaning procedures for down and feather fill can result in a distinct odor for new down pillows. However, most people say these smells dissipate within a few days. Try placing the down pillow in a dryer before using it for the first time. This will help its shape expand and flush out unwanted odors.
Still have questions?
Our product experts have extensive experience testing just about every sleep product on the market. Send an email to [email protected] or call us at (877) 672-8966 with your questions and we'll help you find exactly what you're looking for.
Thanks for the feedback - we're glad you found our work instructive!
If you're ready for more, sign up to receive our email newsletter!
Was this article helpful?
Thanks for the feedback - we're glad you found our work instructive!
Submitting your Answer...
Other Articles of Interest