When you buy through our links, we may earn a commission. Products or services advertised on this page may be offered by an entity that is affiliated with us. Learn more.
When you're traveling, sleeping en route may seem like the perfect way to arrive at your destination refreshed and ready to go. Unfortunately, aches and pains may be the unforeseen consequences of a convenient snooze. Different pressure points may develop when you sleep upright than when you lie down. Many individuals also slump over or bend their necks when sleeping in a sitting position, putting their spines out of alignment.
Travel pillows can be one of the best solutions to get some sleep on the go while limiting the discomfort often associated with sleeping upright. These pillows are typically smaller than bed pillows and tuck behind or around the neck, filling the space between the neck and the headrest while keeping the neck from bending too far.
There are many different types of travel pillows on the market to fit virtually any traveler's needs and preferences. Below, we'll detail the most important factors to consider when selecting a travel pillow and share some of our favorite picks.
Product Details
Ostrichpillow Go Neck Pillow
People who often feel uncomfortable sleeping on planes or in cars
Those who tend to tilt their heads while asleep
Frequent fliers

Wrappable ergonomic design provides optimal neck support when you're sleeping upright
Solid memory foam cushions and contours to the head and neck
Three color options
Sleep Foundation Special Offer
Use this SleepFoundation.org link for the most current discount on Ostrichpillow pillows
The Go Neck Pillow from Ostrichpillow is ideal for anyone who struggles to sleep when sleeping upright during their travels. Designed for ergonomic comfort, the pillow wraps around the neck with thick padding to support the back of your head and prevent it from tilting to one side while you snooze on planes or in automobiles. A hook-and-loop closure lets you customize how tight or loose the pillow feels, so it never feels too constrictive.
The interior contains solid memory foam that cushions and contours closely without feeling too stiff or rigid. This foam is moldable, allowing you to stuff the pillow into your luggage and conserve space. Thanks to its circular shape, you can also wrap the pillow around your luggage handles for easy access. The foam is encased in a smooth, breathable stretch-viscose cover that shouldn't retain too much heat or irritate the skin. You can remove and machine-wash the cover whenever it needs to be cleaned. Three two-tone color options are available.
Ground delivery is free for orders of $65 or more, so you may need to purchase additional Ostrichpillow items to qualify – but the flat shipping rates for orders that don't reach this benchmark are still quite reasonable. Each order includes a 100-night trial period and a 2-year warranty against structural defects.
Sleep Number U-Neck Pillow
Fill:
Polyester down alternative fibers
Frequent flyers
People who are allergic to real down
Value seekers

Plush down alternative fibers cushion the head and neck
Shell composed of velvety-soft microfiber material
All orders include a 100-night trial period
Sleep Foundation Special Offer
Use this SleepFoundation.org link for the most current discount on Sleep Number pillows
The Sleep Number U-Neck Pillow offers ergonomic comfort for travelers at an approachable price-point. Ultrasoft down alternative fibers make up the fill. This material mimics the plushness of real down, but does not use any animal-based materials and won't trigger symptoms for people with down allergies. A microfiber cover with a velvety-soft feel provides additional softness.
Thanks to its U-shape design, the pillow is especially well suited to public transportation. The 4-inch loft ensures you'll receive adequate support while attempting to sleep upright, and the wraparound construction prevents you from tilting your head too far to the left or right. Ease of care is another strength. You can remove the cover from the inner liner, then wash and dry the former in any household appliance.
In addition to affordable pricing, the U-Neck Pillow qualifies for free ground shipping throughout the contiguous U.S. Your order includes a generous sleep trial that runs 100 nights in length. If you decide to keep the pillow after the trial period ends, you'll also receive a 1-year warranty against structural defects.
Tempur-Pedic Travel Pillow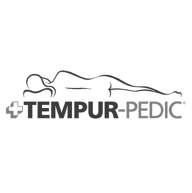 Anyone seeking a relatively firm travel pillow
People who frequently experience neck or shoulder pain when traveling
Shoppers with tight budgets

Solid TEMPUR foam contours evenly for pain and pressure relief
Cover is removable and machine-washable
Shoppers receive a 25% discount when placing double orders
Sleep Foundation Special Offer
Use this SleepFoundation.org link for the most current discount on Tempur-Pedic pillows
If you tend to experience aches and pains in your neck when traveling, you should invest in a pillow that props up your head and provides deep cushioning. The Tempur-Pedic Travel Pillow does just that. The fill consists of solid TEMPUR memory foam, a proprietary material known for dense composition and above-average durability. A medium firm feel helps ensure excellent support while you're sleeping on planes, in cars, and using other forms of transportation.
Thanks to its horseshoe shape and 3-inch loft, the pillow should prop up your head without causing excessive strain. The pillow is also easy to keep clean, as the microfiber cover can be removed and machine washed. Tempur-Pedic recommends washing the cover in cool water, then air drying until the fabric is completely moisture-free.
The Travel Pillow is affordably priced, and those who purchase two pillows receive a 25% discount. Tempur-Pedic also offers free ground shipping anywhere in the contiguous U.S. The company does not allow returns for the pillow, so all sales are final, but each order is backed by a manufacturer's warranty covering structural and material defects for up to 5 years.
Fill:
Shredded GOTS-certified organic latex and kapok fibers
People who tend to sleep hot in hotels or while using public transportation
Those who want a pillow with customizable loft
Value seekers

Sustainably sourced fill consists of shredded latex and downy-soft kapok tree fibers
Loft can be adjusted by adding or removing the fill
Organic cotton cover is breathable and machine-washable
Sleep Foundation Special Offer
SLEEPFOUNDATION
The Avocado Mini Pillow is essentially a travel-size version of the company's popular Green Pillow. The fill is a plush blend of shredded latex and fibers from the kapok tree, the latter of which has a soft, lightweight feel akin to natural down. You may add or remove as much fill as you wish. This allows you to sleep comfortably in hotels, or give the pillow a thinner profile when napping on planes, trains, and other modes of transportation. A half-pound bag of supplemental fill is included with each purchase.
Both the latex and kapok fibers have received organic certifications, as has the cotton cover, and Avocado maintains carbon negative status by offsetting emissions through eco-friendly production and shipping methods. These qualities should appeal to people who prefer to buy and use sustainably made products. You may remove the cover and machine wash it in warm water whenever a cleaning is needed.
The Mini Pillow is lightweight, compact, and moldable, allowing you to fit it into your luggage without too much hassle. A below-average price-point makes the pillow a good option for shoppers with tight budgets, and Avocado offers free ground delivery to all customers in the contiguous U.S. Your purchase comes with a 100-night trial period. If you decide to keep the pillow, you'll also receive a manufacturer's warranty that covers structural defects for up to one year.
Cabeau The Neck's Evolution S3 Neck Pillow
Adults and children 13 and older
Those who tend to nod their heads to one side when sleeping in a seat
Travelers who normally find that solid foam pillows sleep hot

Dense memory foam provides gentle cushioning and sturdy support
Strap system attaches the pillow to your seat and keeps your head upright
Machine-washable cover is available in six different colors
Sleep Foundation Special Offer
Use this SleepFoundation.org link for the most current discount on Cabeau pillows
Most people who have traveled by plane or train can attest to the discomfort of nodding off and waking up with their head tilted to one side. This can occur with even the sturdiest neck pillows. What makes Cabeau's The Neck's Evolution S3 — TNE for short — so unique is a strap system that allows you to attach the pillow to your seat's headrest. This holds the pillow in place, stabilizes your chin, and keeps your head upright to prevent neck pain when you wake up, not to mention awkward encounters with passengers in neighboring seats.
Cabeau recommends the pillow for all adults and children who are at least 13 years of age. The TNE's core is composed of dense, solid memory foam. This material gently cushions the head and neck while maintaining excellent support. An opening in the front allows air to circulate, reducing the potential for excessive heat retention in the process. The cover is made from soft, fleecy fabric and available in six color schemes. You can remove the cover and wash it in a machine to ensure your pillow stays hygienic while you're on the road and between excursions.
The TNE is reasonably priced compared to other solid foam travel pillows on the market today. A travel bag is also included with your order, and the pillow can be scrunched by roughly one-third of its size to help you conserve luggage space. Cabeau accepts returns within 30 days of the purchase date, and backs each TNE order with a 1-year manufacturer's warranty.
The Company Store LaCrosse Travel Throw & Pillow Set
Fill:
RDS-certified down and feathers
Those who get chilly on public transportation
Frequent travelers looking for easily washable accessories
Animal-conscious consumers

Handy travel bundle features a supportive pillow and a cozy throw blanket
Both items encased in durable cotton twill and filled with plush down and feathers
RDS certification ensures ethical and humane animal treatment
Sleep Foundation Special Offer
Use this SleepFoundation.org link for the most current discount on The Company Store pillows
The Company Store's LaCrosse Travel Set features a cozy throw blanket and comfy pillow. Both components contain plush down and feather fill, and durable cotton-twill shells protect the items from wear and tear while you're on the road. Hook-and-loop straps allow you to fold and easily stow the pillow and blanket in your carry-on bag. At 2 pounds total, the set shouldn't add too much weight to your bag. A carrying case and pillow cover are also included with your purchase.
The pillow and blanket are fully machine-washable for easy care while you're away. Machine wash both items in cold water, then tumble dry on low heat. Tan, navy and pewter colors are available, and you can add a monogram or personal message onto both components for a small surcharge. The down and feather fill has received certification from the Responsible Down Standard, ensuring the geese are properly cared for, fed, and housed.
Shipping is free of charge for all orders within the contiguous U.S. Returns are allowed within 90 days for non-personalized sets, provided each item in the collection is accounted for and in reasonable condition.
Manta Sleep Travel Pillow
Fill:
Air chamber (inflatable)
People who tend to tilt their heads when sleeping upright
Those with sensitive skin
Value seekers

Versatile design provides 360-degree support for the head and neck
Inflatable and compressible for convenient packing
Cover composed of plush microfleece
Sleep Foundation Special Offer
Use this SleepFoundation.org link for the most current discount on Manta Sleep pillows
The Manta Sleep Travel Pillow boasts an ingenious design that offers multiple position options. Building on the traditional U shape, the pillow consists of two thick cushions tied together with string at the front and separated by a small bridge at the back. You can untie the string and place the pillow over your shoulders for a traditional feel, flip the pillow around and rest your chin on the bridge, or tie the cushions together for 360-degree support. The pillow is particularly useful for people who tend to nod or tilt their heads while sleeping on planes or in automobiles.
The pillow is inflatable – two deep breaths should completely fill the interior chamber. With no air in the chamber, the pillow is very compact and should fit easily into your luggage. The cover is a plush microfleece fabric that is gentle on your skin, so harsh rubbing won't be an issue while you sleep. One side features a zippered pocket for storing headphones, earplugs, or even a cell phone.
An affordable sticker price and reasonable shipping rates make the Manta Sleep Travel Pillow a good option for shoppers with limited budgets. Your purchase comes with a sleep trial that allows you to test out the pillow for up to 60 days. The pillow is also backed by a 6-month warranty against structural defects.
Side sleepers
People who experience pain issues in their neck and shoulders
Those who normally find memory foam pillows too hot

Specifically designed for side sleepers
Solid memory foam with multiple loft options
Charcoal-infused foam retains less body heat
Sleep Foundation Special Offer
Use this SleepFoundation.org link for the most current discount on Pillow Cube pillows
Simple yet innovative, the Pillow Cube Sidekick is a small, cube-shaped pillow containing charcoal-infused memory foam. Since your head and shoulders form a right angle when you sleep on your side, a cube is an ideal pillow shape for many people who primarily use this position. The Sidekick comes in two loft sizes. The 5-inch loft is considered best for people who stand between 5 feet 4 inches and 6 feet 3 inches, while the 6-inch profile should be more comfortable for taller people.
The Sidekick's fill consists of solid memory foam. A charcoal infusion helps prevent the foam from retaining too much body heat throughout the night. The pillow features a quilted cover, and you can include a microfiber pillowcase with your order for an extra fee.
The Sidekick carries a lower-than-average price point and Pillow Cube offers low flat-rate shipping for customers in the contiguous U.S. The company also delivers free of charge for orders of $125 or more. You may test out the pillow for 60 nights before deciding whether to keep it or return it.
Fill:
Shredded memory foam and polyester fibers
Backpackers and campers
People who enjoy the feel of a thick, soft pillow
Hot sleepers

Reversible design protects the fill with durable nylon shell
Shredded memory foam fill can be removed or added to change the thickness
Highly compact and outdoor-friendly
Sleep Foundation Special Offer
Use this SleepFoundation.org link for the most current discount on Hest pillows
The innovative Hest Pillow is engineered for outdoor use. The reversible construction consists of an outer shell made of tough nylon twill with polyurethane backing that resists stains, cuts, and general wear and tear. Unzip the shell and turn the design inside out to access the pillow, which contains a blend of shredded memory foam and polyester fibers. Secure the zipper and the pillow takes full shape, offering 8 inches of luxurious cushioning wherever you rest your head.
Since the pillow is quite lightweight – 2.2 pounds in all – and compact when the shell is on the outside, making it the perfect accessory for car camping or long road trips. You can also adjust the loft by adding or removing the fill to avoid neck and shoulder aches when sleeping on uneven terrain. The cover is machine-washable, so you'll be able to clean the pillow between treks.
The pillow is quite reasonably priced considering how practical and innovative it is. Shipping rates are also low for all customers in the U.S. Your order comes with a trial period that spans 100 nights in length, and Hest will accept returns even if the pillow has been used.
What is a Travel Pillow?
Travel pillows come in a variety of sizes, shapes, and styles, but they share one common purpose: to make traveling more comfortable. Most travel pillows fit behind or around the neck to provide extra support. Many travelers doze off on their journeys, but sleeping upright can be problematic. The head is likely to tilt or slump over, potentially straining the neck. A supportive travel pillow can help keep the spine well aligned to reduce unnecessary pressure on the neck.
While travel pillows are designed specifically for travel, they are more versatile than the name would imply. Many owners also choose to use their travel pillows at home. A travel pillow can also help support the neck as you watch TV or work on your computer. Some shapes of travel pillows may also be suitable for tucking under or between the knees while you lie in bed.
How to Choose a Travel Pillow
All travel pillows aim to make your travels more comfortable, but there are still many differences between models. Understanding the factors that differentiate one travel pillow from another can help you select the best travel pillow for your needs, preferences, and planned uses.
What to Consider When Purchasing a Travel Pillow
Below, we'll detail some of the top criteria customers should use to assess a travel pillow. Each factor has implications for the pillow's comfort and convenience, but individual shoppers will prioritize some features more than others based on their unique needs and preferences. While some travel pillow manufacturers may imply that their pillow is suitable for all travelers, the ideal option for you is going to depend on your personal travel needs.
Size
For travelers, the size of the pillow is important to take into account for packing. Small or compressible pillows tend to be easier to pack. However, some individuals prefer larger pillows for extra cushioning.
Shape
Many people immediately picture the classic u-shaped travel pillow that wraps around the neck, but travel pillows come in several different shapes. The shape can affect the pillow's performance, versatility, and ease of packing. We'll discuss the most common pillow shapes in more detail below.
Portability
Travel pillow manufacturers typically engineer their products with portability in mind. Many travel pillows come with a carrying bag to keep the pillow clean and contained. Pillows and their bags also frequently have cords so that they can be easily affixed to the outside of a suitcase for convenient access.
Weight
Even the heaviest travel pillows probably won't seem particularly weighty when you first purchase them. However, when you're lugging your bags from destination to destination, that extra weight may seem more impactful. Considering the weight of the travel pillow before making your purchase can help shave off a few valuable ounces off the total weight of your luggage. While this might seem insignificant to some, avid travelers and backpackers frequently pay attention to any additional weight.
Firmness Level
Firmness level can affect the comfort and supportiveness of a travel pillow. Unfortunately, most manufacturers do not indicate the firmness of their travel pillows, so customers are left to guess. The construction of the pillow can give you some hints. Inflatable pillows are typically firm when fully inflated, but they can be filled with less air for a softer feel. Memory foam and polyfoam pillows generally balance softness and support. Fiber-filled and microbead pillows usually have a softer, cushier feel.
Inflatable vs. Not Inflatable
Both inflatable and non-inflatable pillows have distinct potential benefits. Inflatable pillows can be deflated so that they take up very little room in your luggage. The inflatablity also lets travelers adjust the air level to modify the feel of the pillow. Non-inflatable pillows come in a wider array of materials, which may make it easier for shoppers to find options that are comfortable for them. However, they are usually bulkier.
Price
Like most sleep products, travel pillows vary widely in price based on their construction, materials, and quality. Budget-friendly options start at around $10, while luxury options can cost over $100. Either option may be suitable, but lower-quality pillows may not last as long or provide as much support.
Quality Materials
Material quality is often directly tied to a pillow's performance, price, and durability. High-quality materials typically provide more support and last longer, but customers usually pay a higher price upfront. Lower-quality options tend to be more affordable, but they may break down more quickly under the rigors of travel. Ultimately, either option could be a better value depending on your needs and goals.
Temperature Regulation
The climates of airplanes and cars can be quite inconsistent, making strong temperature regulation that much more important. Many travel pillows have special cooling features, like breathable, moisture-wicking fabrics, to help keep the pillow from trapping excessive heat. However, some pillows use memory foam, which is typically more prone to heat retention.
Who Should Use a Travel Pillow?
Because travel pillows are so versatile, virtually anyone may benefit from using one. They are particularly popular with travelers, campers, and backpackers, but most people could find an opportunity to use one even if they don't leave their homes.
Plane Travel: During long flights, sleeping may be one of the best ways to pass the time. Unfortunately, slumping over in your seat could also put a strain on your neck and leave you with aches and pains. Frequent fliers often look for a travel pillow with exceptional neck support to keep their neck relatively straight even if they fall asleep. A lightweight, compact design may simplify packing, but it isn't always essential since many air travelers strap their pillow to the outside of their suitcases.
Car Travel: Car headrests are usually engineered for safety in case of accidents, so they aren't always comfortable. Using a travel pillow can add support and cushioning on a long road trip. Passengers' travel pillow choices for riding in a car may vary more based on their personal preferences.
Camping: Campers often use travel pillows to rest their heads on at night. Because of this, they generally look for an hourglass or a rectangular travel pillow with enough cushioning to comfortably cradle their head and neck. Weight and size may also be worth considering, especially if there is a hike to the campsite.
Backpacking: Like campers, backpackers frequently use travel pillows at night. Because of this, they'll typically select a small rectangular or hourglass pillow that balances softness and support. The size and weight of the travel pillow tend to be high priorities for backpackers since they'll be carrying it around with them.
Sleepovers: A rectangular or hourglass pillow are some of the best pillows for kids' sleepovers. They're less bulky than conventional bed pillows, and they're usually easier to clean. Since kids will need a pillow to sleep on, a travel pillow should be both cushioning and supportive.
What Types of Travel Pillows Are Available?
In this section, we'll detail popular styles and materials of travel pillows. While these are some of the most common options, you may also find other selections that do not fall into an existing category.
Styles
U-Shape
As the name implies, u-shaped travel pillows are shaped like the letter u. This is the most common type of travel pillow on the market. It goes around the neck, supporting the back and sides of the neck to promote better spinal alignment. Its combination of cushioning and support makes this design popular, but the shape often makes them more difficult to pack and store.
Wrap
Wrap style pillows work like a scarf, wrapping closely around the neck while built-in support helps prevent the head from tilting excessively. Since they're less bulky than most u-shaped pillows, they are also usually quite compact and lightweight.
J-Shape
The j-shaped travel pillow is relatively new. It traditionally goes across the front of the body and loops over one shoulder, allowing the traveler to prop up their head to rest. However, their unique shape often makes them bulkier to pack.
Hourglass
Most travel pillows are built for neck support, but the hourglass pillow is more versatile. While you can tuck it under your neck on a plane, you might also use it beneath your back or knees while you're at home. The main potential drawback is that it doesn't provide the multi-directional neck support of many travel pillows, so you may still inadvertently tilt your head.
Rectangular
Rectangular travel pillows look more like the traditional bed pillow that you're familiar with, but there are some key differences. They are built for travel, so they are usually compact and lightweight. A rectangular travel pillow may be a good option for campers, RVers, and backpackers, but they usually aren't ideal for plane or car travel since your head may still tilt to the side.
Materials
Inflatable
Inflatable pillows typically inflate with just a few puffs of air and deflate even more quickly. This makes them exceptionally easy to pack and store, and it allows the user to adjust the firmness.
Memory Foam
Memory foam travel pillows adjust to the individual's shape to support their neck. While memory foam is popular for its exceptional contouring and cushioning, it is also more prone to heat retention than some materials.
Polyfoam
Like memory foam, polyfoam molds to the traveler's body. Its open cell structure makes polyfoam more breathable than most memory foam, but lower-density polyfoams also tend to be less durable.
Inflatable
Non-Inflatable
Pros

Portability. Once deflated, inflatable pillows can usually fit in a small space for easy packing.
Adjustability. The traveler can empty or fill the air chamber to change the feel of the pillow.
Affordability. Inflatable pillows are usually some of the most budget-friendly travel pillows on the market.

Comfort. Non-inflatable pillows use a wider variety of materials, so many people can find an option they feel is more comfortable than an inflatable pillow.
More variety. There's a wide range of different shapes, styles, and lofts for non-inflatable pillows, giving customers more options to fit their preferences.

Cons

Potential air loss. Over time, air may seep out of some inflatable pillows.
Durability. If the air chamber is torn or punctured, an inflatable pillow will no longer provide much, if any, cushioning.

Portability. While many non-inflatable travel pillows are designed to fit in a small space, they're still often bulkier than a deflated inflatable pillow.
Price. Many non-inflatable pillows have a higher price tag than their inflatable counterparts.
Frequently Asked Questions About Travel Pillows
What style of travel pillow is best for specific types of travel?
The best type of travel pillow will depend on the type of travel as well as how you intend to use the pillow. Backpackers and campers who plan to use their travel pillow for sleeping while lying down will typically prefer a rectangular or an hourglass pillow. Travelers looking for a pillow to support their neck while they sleep upright on a plane or in a car may want to go with a u-shaped, wrap, or j-shaped pillow.
How much do travel pillows cost?
Travel pillows can vary from under $10 to over $100. This price is determined largely by their quality, materials, and construction.
How do I clean a travel pillow?
Most travel pillow manufacturers provide cleaning instructions. It's always best to follow the manufacturer's instructions in order to preserve the life expectancy of your pillow. Many travel pillows have removable, machine-washable covers. Their interiors usually aren't machine-washable, but they can often be spot cleaned.
Where can I buy a travel pillow?
You can buy travel pillows through manufacturer websites, at department stores, and online marketplaces. Travel pillows are popular and widely available, so you should be able to find one at most stores that sell home goods, travel accessories, and/or sleep products.
How long do travel pillows last?
The life expectancy of your travel pillow will vary based on its quality and how well you care for it. A high-quality, well-maintained travel pillow could last for several years. However, the wear and tear of travel may shorten a pillow's lifespan, particularly for models that do not stow away in luggage.
Are travel pillows adjustable?
Some travel pillows are adjustable to an extent. Inflatable pillows can be adjusted by filling or emptying the air chambers, thus altering their firmness. Many travel pillows also have adjustable neck closures.
Still have questions?
Our product experts have extensive experience testing just about every sleep product on the market. Send an email to [email protected] or call us at (877) 672-8966 with your questions and we'll help you find exactly what you're looking for.
Thanks for the feedback - we're glad you found our work instructive!
If you're ready for more, sign up to receive our email newsletter!
Was this article helpful?
Thanks for the feedback - we're glad you found our work instructive!
Submitting your Answer...
Other Articles of Interest