Best Mattress for the Money
Methodology
We personally test every mattress featured in our reviews and guides to provide accurate, data-driven recommendations.
Learn More
Over the next few weeks, we will assess our picks for best mattress for the money and revisit key features such as durability, support, and overall construction. We may update some of our picks during this process.
A new mattress represents a significant investment for most households, so you should strive to find the best mattress within your budget. Thanks to the booming online mattress industry, today's shoppers can find plenty of high-value beds at different price-points.
Ultimately, the best mattress for the money depends on how much you want to spend. For that reason, our top picks include budget-friendly beds, mattresses with mid-range sticker prices, and high-end luxury models. The common denominators are high-quality materials and strong ratings across different performance categories to ensure a great return on your investment. For each top pick below, our testing team evaluated the mattress for factors like durability and quality of materials, then weighed their findings against its sticker price.
Best Mattress for the Money Video
Watch the video below to learn more about our lab's best mattress for the money picks.
Below, you can read more about our best mattress for the money top picks. Also be sure to check out our buyer's guide further down, which includes an overview of mattress types, factors that affect mattress pricing, and other important considerations for shoppers.
Product Details
Memory foam mattresses frequently have a price-point that falls well above what most people would consider to be affordable, but the Nectar is a welcome exception. With a competitive price and multiple layers of memory foam, it's a compelling pick for people looking for pressure relief.
What It's Made of
The first layer of memory foam in the Nectar's comfort system is quilted into the bed's cover. The memory foam is gel-infused to help minimize heat retention, and the Tencel cover works in conjunction to boost breathability. Next is a thick layer of memory foam, which sits on top of a thinner layer of gel-infused memory foam. All together, the foam layers provide considerable cushioning to match where the body most needs it and ultimately promotes proper spinal alignment.
How It Performed
The Nectar has a medium firm feel that is sturdier than many other memory foam mattresses, meaning that it doesn't cause the body to sink deeply into the bed. For this reason, it is a good option for most side sleepers, particularly those over 130 pounds, as well as many stomach and back sleepers who weigh up to 230 pounds. Side sleepers should appreciate the deep contour from the memory foam comfort layers, relieving pressure buildup in the hips and shoulders. These foam layers also absorb a significant amount of motion. Those easily disturbed by a partner's nighttime movement should notice fewer disturbances.
Even at an accessible price, a mattress is still a big investment, and Nectar recognizes that by allowing customers to try it out for 365 nights with the option to return it for a full refund. They also provide a lifetime warranty that includes coverage of potential mattress defects.
Read our Full Nectar Mattress Review to learn more
The WinkBed is a competitively priced hybrid mattress available in four firmness levels. These include standard Softer (4), Luxury Firm (6), and Firm (7) models. The WinkBed Plus (8) is designed for people who weigh more than 230 pounds with a slightly different construction from the other three. This versatility ensures most people can find at least one comfortable option regardless of how much they weigh or which sleep position they prefer.
What It's Made of
Standard WinkBed models are constructed with a layer of adaptive polyfoam encased in a Euro-top cover, followed by a second polyfoam layer. These materials contour evenly to distribute your weight, promote even alignment, and reduce pressure along the spine. WinkBed Plus models also include foam quilted into the cover, but the second layer is composed of responsive zoned latex that provides strong support around the torso and hips.
All versions of the WinkBed feature pocketed coil systems in their support cores. The coils are arranged in different zones, resulting in extra reinforcement for the midsection and generous push-back along the perimeter. The cover is made of breathable, moisture-wicking Tencel. Measuring 13.5 inches thick, the WinkBed is considered a high-profile mattress.
How It Performed
During our tests, the Softer WinkBed received favorable ratings from side sleepers across all weight groups. These models contour very closely to cushion the shoulders and hips, two common areas of pressure buildup for people who use the side position. Back and stomach sleepers under 130 pounds also enjoyed this feel. Thanks to its balance of conforming and support, the Luxury Firm model was most popular among our testers weighing up to 230 pounds across all position groups. Back and stomach sleepers weighing more than 230 pounds received adequate support from the Firmer and Plus models.
The WinkBed's zoned coils are a great asset, particularly for people who carry disproportionate weight in their chest, stomach, and hips. We noticed sturdy support in these areas and very little sinkage while testing the mattress for edge support. Temperature control is another major strength. We attributed this to the cooling Tencel cover and steady airflow throughout the coil support core.
WinkBeds offers free ground shipping anywhere in the contiguous U.S. Each mattress order includes a sleep trial that runs 120 nights. If you aren't satisfied with your initial firmness selection, the company allows you to exchange the mattress for a new model at no additional cost. The replacement mattress is backed by a 60-night trial, and all buyers receive a lifetime warranty against structural defects.
Read our Full WinkBed Review to learn more
With a robust innerspring design, the DreamCloud provides a "best of all worlds" type of feel at a wallet-friendly price. The balanced feel makes this a comfortable bed for a wide range of sleepers.
What It's Made of
The DreamCloud has a high-profile design that starts with a layer of polyfoam quilted into a cashmere blend cover that is soft and stylish. The next layer is made with gel-infused memory foam that earns the mattress high marks for pressure relief and conforming. Firmer polyfoam sits beneath the memory foam, offering a stable layer to prevent significant sinkage.
The support core is made with individually wrapped innerspring coils that cultivate considerable bounce without causing much in the way of motion transfer. The coils are arranged in zones to offer more support to heavier parts of the body. The coils rest on a base layer of high-density polyfoam for shock and noise absorption.
How It Performed
The DreamCloud has a medium firm (6) feel that provides both comfort and cushioning for side sleepers, especially those over 130 pounds. It is also a good fit for many back and stomach sleepers that want a degree of contouring from their mattress. The pocketed coil support core creates a responsive surface conducive to unrestricted movement, which allows combination sleepers to move easily across the mattress surface. Hot sleepers should experience little overheating thanks to enhanced air circulation through the coil support core. The gel infused into the memory foam is also designed to absorb and dissipate excess body heat.
Customers who want plenty of time to try out a mattress will appreciate that the DreamCloud comes with a 365-night sleep trial. It has a lifetime warranty that provides coverage for defects in materials and craftsmanship for as long as you own the bed.
Read our Full DreamCloud Mattress Review to learn more
Side sleepers tend to put more pressure on their joints compared to other sleep positions. The Helix Midnight features a memory foam comfort layer that closely contours pain points to reduce pressure buildup in these areas.
What It's Made of
A cover made from Helix's proprietary Soft Touch Design fabric encases the mattress. This material is stretchy and breathable to allow for more air circulation. The proprietary Memory Foam Plus comfort layer is engineered to be more responsive than typical memory foam, while a transitional polyfoam layer beneath helps evenly distribute weight and acts as a cushion between the comfort layers and the support core. A layer of pocketed coils makes up the support core. These coils help lift the wider areas of the body to keep the spine aligned. Extra coils line the perimeter for reinforcement, allowing sleepers to sit or sleep closer to the edge. A final base layer made from polyfoam prevents shifting.
How It Performed
Our testing found the foam layers and medium firm (6) feel performed best with side sleepers who are at least 130 pounds. Sleepers who frequently experience joint pain also found the memory foam comfort layer significantly reduced pressure-induced pain in these areas. Thanks to air circulation from the coil support core, the mattress keeps cooler compared to other models made with memory foam. Hot sleepers who enjoy the "body-hugging" feel of memory foam but find it retains too much heat may like the Helix Midnight.
Along with a competitive price-point for the Midnight, Helix offers free ground shipping to all 50 states. Midnight mattress purchases are backed by a 100-night sleep trial and a 10-year warranty protecting against structural defects.
Read our Full Helix Midnight Review to learn more
Sleepers who feel pressure points in their shoulders, lower back, and hips typically need a mattress that provides a balance of even contouring and sturdy support. The Silk & Snow Hybrid accomplishes this thanks to its balanced medium firm (6) feel, and a foam lumbar pad designed to cushion and reduce pressure in the lower back.
What It's Made of
The mattress features a Euro-top cushioned with adaptive polyfoam, followed by a memory foam comfort layer. These materials contour evenly to create a cloud-like feel as your body settles into the mattress. A foam lumbar pad cushions the lower back. The pocketed coils are zoned to feel thicker and more supportive beneath the torso and hips. Extra coil reinforcement along the perimeter also reduces sinkage when you get in and out of bed. The entire mattress is encased in a soft and stretchy polyester-spandex cover.
How It Performed
The Silk & Snow Hybrid excelled in a few performance areas. A dense comfort layer combined with a mid-range firmness allows the mattress to contour closely, alleviate pressure along the spine, and reduce a significant amount of motion transfer – especially compared to other hybrids. Steady airflow through the coils also helped the mattress perform well during our temperature control tests. Among our team members, the mattress was most popular with side and back sleepers weighing up to 230 pounds.
The Silk & Snow Hybrid's sticker price is below-average compared to other hybrids, and Silk & Snow provides free shipping for customers in the contiguous U.S. and provincial Canada. Each mattress is backed by a 100-night trial period with a 30-night break-in requirement and a 15-year warranty against structural defects.
Read our Full Silk & Snow Hybrid Review to learn more
The Brooklyn Bedding Signature Hybrid is available in three firmness levels, allowing customers to choose the best model for their sleeping style. You can opt for medium soft (4), medium firm (6), or firm (8), which all have similar compositions but distinct feels. The balanced design makes this mattress a good fit for people who alternate between different sleeping positions.
What It's Made of
The Signature Hybrid's support core is made from 8 inches of pocketed coils that sit on a thin polyfoam base. The coils are encased individually so that they move independently as you lie on them. In addition to providing a comfortable sleep surface, this feature also helps cut down on how much motion is transferred across the bed. The perimeter is lined with reinforced coils to increase edge support.
Each model incorporates the same materials into its comfort system starting with a transitional layer of VariFlex, a proprietary foam that's designed to relieve pressure point discomfort. Above that layer is another patented foam called TitanFlex, which adapts to your individual movements as you sleep. The firm model uses slightly different heights of each foam to achieve its increased support level. Each model also includes a quilted top that helps the surface feel comfortable and slightly more plush.
How It Performed
Our testing team found that all three models excelled at regulating temperature and relieving pressure. Mattresses that have significant amounts of foam hug the body to alleviate pressure points but they often retain body heat. However, the Signature Hybrid combats this issue by using gel-infused foam intended to help you stay cool.
Each mattress carries a 10-year warranty and a 120-night sleep trial. Anyone wishing to return their mattress must first try it for 30 nights. Free shipping is available to addresses in the contiguous U.S.
Read our Full Brooklyn Bedding Signature Hybrid Review to learn more
The Original 10 is one of Nolah's best-selling mattresses, and for good reason. Its combination of pressure relief and durable support make it well-suited to many lightweight sleepers, especially side sleepers. The bed is designed with cooling features to combat heat retention, and with a rating of 5 out of 10 on the firmness scale, a wide range of sleepers should enjoy the model's balanced comfort.
What It's Made Of
The Nolah's three-layered design begins with 2 inches of AirFoam, a proprietary polyfoam. The foam is formulated to create the sensation of sleeping on rather than in the mattress, and is engineered to trap less heat than memory foam. Another polyfoam layer below functions as a comfortable and resilient buffer between the memory foam comfort system and the mattress' base. The high-density polyfoam core offers substantial support and durability.
How It Performed
The Nolah Original features a Tencel cover that promotes airflow and helps decrease heat retention, giving the model better-than-average marks for temperature control in a foam mattress. People who prioritize motion isolation should also consider the Nolah, as its all-foam construction successfully prevents motion transfer. The soft feel is well suited for all sleepers under 130 pounds, as it offers just the right amount of support and cushioning to promote good sleep posture in this weight category. Side sleepers in particular will benefit from the bed's contouring for the shoulders and hips.
Nolah includes a 120-night sleep trial with each purchase. Those wishing to initiate a return must first test the mattress for 30 nights. A prorated lifetime warranty covers manufacturer defects. The Original 10 ships free within the contiguous U.S.
Read our Full Nolah Original 10 Review to learn more
Saatva's Memory Foam Hybrid is a luxury mattress with a more affordable price-point than many of the brand's other models. The mattress' mid-range feel with balanced cushioning and support made it comfortable for many of our testers.
What It's Made of
The Memory Foam Hybrid begins with a layer of adaptive polyfoam quilted into the surface. Underneath is a memory foam layer zoned to feel firmer around the lower back and hips. These areas carry more weight than the rest of the body and often need enhanced support. This layer is also infused with cooling gel meant to reduce heat buildup.
A convoluted memory foam transitional layer offers additional cushioning but prevents you from sinking too deeply. The egg crate design also helps facilitate airflow throughout the comfort system. The support core features pocketed coils that reinforce the sleep surface and keep your body on an even plane. A cover made of breathable organic cotton encases the entire mattress.
How It Performed
Our testing found the Memory Foam Hybrid alleviated the most pressure for side sleepers and back and stomach sleepers weighing up to 230 pounds. Close yet even contouring, zoned top layers, and a robust coil system all contribute to this mattress' balanced medium firm (6) feel.
The Memory Foam Hybrid excelled in a few testing categories. The coil system creates a bouncy feel to help you move across the surface with ease. This also makes getting in and out of bed less awkward and ensures a comfortable surface for sex. At the same time, the foam layers absorb enough movement to reduce motion transfer and help you and your partner sleep soundly, regardless of the other person's movements. Temperature regulation was another one of the mattress' strengths thanks to the breathable cover and steady airflow through the coils.
The Memory Foam Hybrid is available in eight sizes, including a split king for couples who use adjustable bed bases. Saatva offers free White Glove delivery – including full setup in a room of your choice and removal of your old mattress – with all orders in the contiguous U.S. Your purchase comes with a 365-night sleep trial, and you'll also receive a lifetime manufacturer's warranty if you decide to keep the mattress.
Read our Full Saatva Memory Foam Hybrid Review to learn more
The Siena Memory Foam Mattress is an all-foam model with a medium firm (6) feel. The Siena earns high marks in many performance categories, especially compared to beds with similarly affordable price-points. The balanced feel of this model makes it a good fit for guest rooms, which need beds that can accommodate many sleepers with differing sleep preferences.
What It's Made of
The Siena is constructed with three foam layers, beginning with a thick layer of cooling gel-infused memory foam that closely contours to your body. The layer beneath contains polyfoam with a higher density, which further enhances contouring and generates greater support than the top layer. This polyfoam also has a grooved design that facilitates airflow through the interior. The support core is made of a high-density polyfoam to stabilize the bed and provide a sturdy base. The cover is composed of a polyester blend fabric.
How It Performed
The memory foam and polyfoam layers on the surface excel at cushioning the body and relieving pressure, which benefits sleepers who wake up with aches related to pressure buildup. The foam also absorbs most movement on the surface, which greatly reduces sleep disruptions caused by restless co-sleepers. Our test team found that back and side sleepers up to 230 pounds received a perfect balance of contouring and support to keep their spines aligned, but sleepers above 230 pounds sank more deeply and received inadequate support.
The Siena comes with a 180-night sleep trial and a 10-year warranty. Shipping is free to addresses in the contiguous U.S.
Read our Full Siena Memory Foam Mattress Review to learn more
It's a challenge to find another quality hybrid mattress that is as affordable as the Allswell Hybrid. Even with its budget price-point, it contains solid components and extra features that are more often found in much pricier hybrid models.
What It's Made of
The comfort system is composed of graphite- and copper-infused memory foam. This layer helps cushion pressure points but does not have deep hug like traditional memory foam. The support core of the Allswell is made up of individually pocketed coils with perimeter reinforcements for added edge support. This type of coil system fosters significant bounce while reducing motion transfer thanks to the ability of each spring to compress more independently of the other coils around it.
How It Performed
The overall feel is firm (7), which makes the Allswell a great fit for most back and stomach sleepers. The bounce from the coils facilitates easy movement on top of the bed, which may appeal to combination sleepers who frequently adjust their position during the night. Couples should find the Allswell comfortable for sleep and for sex. The memory foam contributes to slightly above-average motion isolation, so people who are easily disturbed by a partner's movement at night should feel few disturbances. Meanwhile, the pocketed coil support core creates a more responsive surface for sex. The coil-reinforced perimeter also allows couples to use the full area of the bed without slipping off.
Even with its low price, the Allswell comes with a no-risk sleep trial that lasts for 100 nights. A 10-year warranty provides customers with a remedy in case of a defect in materials or workmanship.
Read our Full Allswell Mattress Review to learn more
---
Other Mattress Guides
For more help in finding the best value bed that meets all of your needs, take a look at our recommendations sorted by price points.
How to Shop for a High-Value Mattress
Shopping online is one of the best ways to get the most for your mattress dollar. While you can find deals when shopping in a brick-and-mortar store, it's a trickier task that usually requires good timing and savvy negotiating. Online, though, significant competition makes values far easier to find.
A benefit to shopping online is that it lets you browse at your own pace, researching from the comfort of your home computer. You can learn about the benefits and downsides of different options, read independent reviews, and comparison shop to determine your best options.
Many mattresses sold online are available for the best price when purchased directly from the manufacturer; however, you can find models available from third-party sites like Amazon. Sellers range from smaller, online-only brands to mattress industry powerhouses like Sealy and Tempur-Pedic.
Mattress stores often upsell their products, playing on their customer's ignorance by selling mattresses above list price. If you do decide to shop in store, make sure you research mattress prices online first.
While there are times of the year that almost always feature sales, including most major holidays (Labor Day, Memorial Day, etc.), promotions are common year-round for mattresses sold online. Discounts are often displayed from the get-go, and if not, you can check third party sites for coupons. These offers can deliver meaningful savings, in many cases cutting the final price by 10% or more.
Standard shipping is almost always included in the price of a mattress sold online. Some sellers offer financing plans, but you'll generally need to pay upfront (with a credit card, Paypal, or other electronic payment). These mattresses normally have a sleep trial, letting you return the mattress within a set window of time to get a refund.
Important Mattress Value Considerations
Whether you're looking in the affordable, value, or luxury category, it's essential that you find a mattress that allows you to get consistent amounts of restorative sleep. That means choosing an option that doesn't just have a great price but more importantly is the right fit for your needs.
The bevy of brands, products, and marketing lingo can make it tricky to know what to really look for when shopping for a new mattress. Stay on the right track by focusing on these key factors: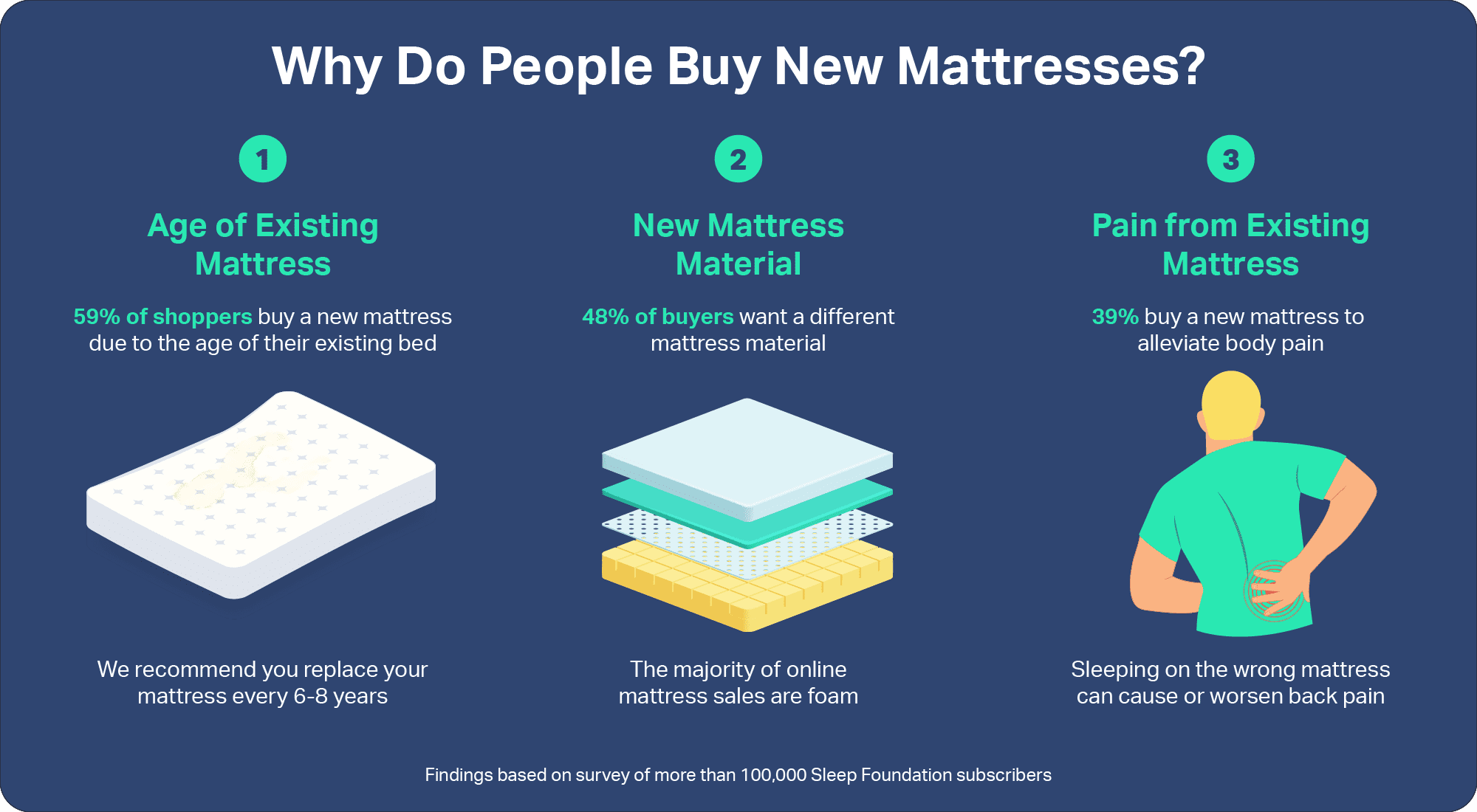 What Can Affect the Price of a Mattress?
As you start shopping for a new mattress, you'll find that prices can be all over the map. Understanding what affects the price of a mattress can help you detect a good value. Some of the most important factors to know include:
Type of mattress: On a broad level, certain types of mattresses, like airbeds, tend to be more expensive, and others, like innersprings, are usually more economical.
Thickness of layers: Some materials have a higher cost, and when they are included in thick layers, it can push up the price of a mattress. For example, a mattress with 1 inch of memory foam in its comfort system will usually cost less than a mattress that is otherwise comparable but has a 3-inch memory foam layer.
Quality of materials: This is one of the key determining factors because higher-end materials cost more to produce and make a mattress more expensive. Elements of materials quality that can affect the price include its sourcing, its density (in the case of foam and latex), whether or not it's made by hand, and the complexity of its construction (as with innerspring coils).
Eco-friendly production: It typically costs more to make organic or environmentally friendly materials, and getting a product certified can bring on additional costs.
Cooling features: Many mattresses have extra features to try to maintain a stable temperature. These can include foams infused with gel or copper, open-cell or aerated foams, phase change material (PCM), and infrared-producing textiles, all of which contribute to a higher price tag.
Design elements: Adding extra design features, such as zoned coils and foams, reinforced edges, sewn-on handles, or pillow-tops may affect the total price.
Where it's manufactured: If a mattress is made in the U.S., it will likely cost more, especially if most or all of the component parts are made in the U.S. as well.
Shipping, Returns, and Warranties
If you're in the market for a new mattress and shopping online, you might be wondering about how shipping, returns, and warranties are handled and if they end up affecting the cost of your new bed.
Shipping
Basic ground shipping to your home is almost always free for a mattress bought online. With standard shipping, the mattress is compressed, shrink-wrapped, and mailed as a mattress in a box to your door. When it arrives, you take the box to your bedroom, and when you remove the packaging, the mattress will retake its complete size.
Standard shipping normally takes a few business days depending on where you are located and where the mattress ships from, which is usually a production facility or warehouse. Before shipping, some companies require a few extra days to process your order and/or build the mattress.
This delivery method is usually free for customers who live in the contiguous United States. Standard shipping to Alaska, Hawaii, or international locations is offered by some companies but generally with an extra cost.
White Glove Delivery
Another option for delivery includes actually setting up the mattress in your bedroom. This service often includes removal of an old mattress at the same time.
A few companies provide White Glove delivery for free with the purchase of a mattress. Others offer it for an extra charge, and in some cases, there may be different prices for installation alone as opposed to installation and removal of an existing mattress.
White Glove delivery may not be available in all areas, including in places outside the contiguous 48 U.S. states. In those places, customers in need of these services can look for third-party companies that help with these types of projects.
Returns
Generous return policies are commonplace in the online mattress industry. With most brands, you can expect to have a sleep trial that lets you try out the bed at home with the option to return it if it doesn't work for you.
Most sleep trials are around 100 nights, but some last for even a full year. In many cases, you'll be required to keep the mattress for a period of time — usually up to a month — before starting a return so that your body can adjust to a new sleeping surface.
If you want to return the mattress, you won't need to try to get it back in the box. Many companies will send someone to pick it up from your home, and then the company will donate the bed. This is a simpler method, although you may need to move the mattress to your front door or curb.
Other companies don't pick the mattress up but instead require that you donate the mattress and provide a copy of the donation receipt. If you are unable to personally coordinate donation, you can speak directly with the manufacturer for assistance.
The majority of companies offer a sleep trial that has no restocking or return shipping fees; however, you should always check because in some cases there are costs deducted from your refund. Costs above-and-beyond the mattress itself, such as for expedited shipping or White Glove delivery, are almost never refunded if you opt for a return.
These typical return policies apply to mattresses purchased directly from the manufacturer. If you purchase from a third-party retailer (like Amazon), the length and terms of the return policy may be different.
Warranties
A warranty is a guarantee against defects in a mattress. These warranties cover abnormal or premature deterioration but not typical wear-and-tear. A minor amount of sagging that occurs gradually over time is expected from most mattresses and won't usually be covered by a warranty.
Mattress warranties can have complicated terms. One component is the length, which often runs from 10 to 25 years. Another component is the remedy, which is what the company will do if a defect arises. Most often, the company will have the choice of either repairing or replacing a defective bed.
Whether you have to pay anything, including shipping costs, as part of this remedy also depends on the terms. A prorated warranty provides less coverage over time, requiring you to pay an increasing portion of the repair or replacement costs based on how long you've had the mattress. A non-prorated warranty offers the same coverage no matter how long you've had it.
The most valuable warranties are long, cover a broad range of defects, are non-prorated, and do not require the customer to pay any shipping costs.
Additional Mattress Costs
The cost of the mattress itself is not the only item to account for as outfit your bedroom. While these won't apply for every shopper, they are important to think through as you plan to make your mattress purchase.
Foundations and Bed Frames: If you either need or want a new base for your bed, you'll need to factor that into your budget. Make sure that any bed base properly supports the mattress so that you don't inadvertently void the warranty. If you want to use an adjustable frame, confirm that the mattress you want is compatible.
Bedding: Most mattresses are clothed with a sheet set, pillows, and a comforter or duvet. If you get a new mattress that's a different size than your old one, you may have to replace your some of these to accommodate the new size. We also recommend purchasing a mattress protector to protect your bed from things like spills and skin cell buildup.
Old Mattress Removal: To make room for a new mattress, you'll need to clear out the old one. Haul-away may be included with White Glove delivery or may be provided by local organizations. Charges for haul-away vary by location.
In-Home Assembly: White Glove delivery from the mattress maker can come at a cost, but if it's not offered, you can likely find a local service provider to get your bed set up. This can be especially useful if you are also purchasing a new bed base. Prices will vary based on location and how many pieces you need assembled.
Types of Mattresses
The following sections give an introduction to the five key types of mattresses. Within each mattress type, you can expect commonalities, but it's important not to assume that all mattresses within a category will have the same performance. There can be variation depending on the specifics of how the mattress is built, the quality of its materials, and other factors.
Hybrid
Definition: As the name indicates, a hybrid makes use of multiple different materials. A hybrid always has a support core made with innerspring coils. The comfort system, though, can utilize memory foam, polyfoam, latex, microcoils, and other textiles. The comfort system is thick and noticeably affects the overall feel of the bed.
Balanced Performance: The goal of a hybrid is to provide the benefits of various materials without triggering their drawbacks. A hybrid can provide the responsiveness and edge support of an innerspring but with the pressure relief and comfort of a foam mattress.
Innerspring
Definition: Innersprings have one central component, which is a coil system. The coils, or springs, compress and bounce back as you move on top of the mattress. The comfort system is sparse or non-existent, featuring at most thin layers that are usually made with cotton or polyester.
A Low-Cost Building Block: Some customers choose to "DIY" their own hybrid by first purchasing an innerspring mattress and then placing their preferred mattress topper above it to serve as a comfort system. This requires separate purchases but offers flexibility and can bring cost savings.
Latex
Definition: The performance of a latex mattress is driven by latex rubber. The latex used in mattresses is usually natural, meaning that it is derived from trees; however, latex can also be produced synthetically. Natural latex can be made using the Dunlop or Talalay process, which will affect its overall feel.
Responsive With Contouring: Latex has an appealing mixture of cushioning and bounce. It can lightly cradle the body, but it's also easy to move on top of, which keeps you from feeling stuck in the bed.
Airbed
Definition: The defining feature of an airbed is its support core that is made with an air chamber. That chamber can inflate or deflate, changing the firmness with the touch of a button on a remote or smartphone. Comfort systems above the air chambers vary widely and can include foam, latex, wool, cotton, and/or fiber fill.
Choose Your Own Firmness: Customers who want the ability to adjust their mattress firmness are big fans of airbeds. In addition, each side has a separate chamber, which works great for people who share a bed but have different firmness needs.
Foam
Definition: Foam mattresses are built with an array of layers that can include polyfoam, memory foam, and latex. No coils or spring are used in foam beds. The feel of a foam mattress depends in large part on the type of foams used and the thickness of the layers.
Standout Contouring: Foam mattresses, especially memory foam options, lead the pack when it comes to contouring and pressure relief. This can promote healthy spinal alignment and make the bed more comfortable for people with pronounced pressure points.
How to Get The Best Deal on a Mattress
One of the best ways to get the best mattress for your money is to score the best deal possible. The next sections explain some helpful steps to be a savvy mattress shopper.
Do Your Homework
A little bit of research can go a long way in helping you save money on a mattress. Understanding the normal price ranges and what influences price can fine-tune your ability to spot a good deal.
Comparison shopping is another useful money-saving strategy. Without the pressure of a salesperson, you can collect information at your own pace and see how similar models are priced. Knowing about competitors' pricing enables you to more effectively negotiate and ask for price matching or other deals.
When doing your research, make sure to be on the lookout for bundles, especially if you also need a new bed frame, pillows, or bedding. Many companies offer free extras, or you can negotiate for them to be included with your purchase.
Holiday Deals and Sales
Holiday sales are a big deal in the mattress industry. Historically, brick-and-mortar stores offered the best values on a handful of holidays because of the nature of the mattress sales cycle. New models were regularly launched in the early summer, creating a motivation to clear out inventory with big sales around Memorial Day. The Fourth of July and Labor Day anchored sale events to promote the new mattress lines. In addition, other major shopping days, like Black Friday, have been a staple for retail mattress stores.
Fortunately for shoppers, the online mattress industry has followed suit, offering great values on holidays to compete with brick-and-mortar stores. They've even added new holidays – Prime Day and Cyber Monday – to the list.
If you can shop on these holidays, you likely won't have to look hard to find promotions. Retail stores publish ads and flyers, and online companies have banners and pop-up ads that show major savings. You can usually find reduced prices, free accessories, or both.
If you aren't able to make a purchase around these dates, it can still be useful to make note of holiday deals. Keep a record of the details, and then later, you can ask for the same pricing. While this negotiating tactic won't always work, some sellers will end up giving you the price offered during a prior sale.
Thanks for the feedback - we're glad you found our work instructive!
If you're ready for more ⟶ sign up to receive our email newsletter!
Was this article helpful?
Thanks for the feedback - we're glad you found our work instructive!
Submitting your Answer...
Other Articles of Interest