Best Pillows for Sleep Apnea
Methodology
We personally test every pillow featured in our reviews and guides to provide accurate, data-driven recommendations.
Learn More
Following a recent round of tests, we've updated this page to feature the Scandvia CPAP Pillow in the best overall spot. We've also added the PlushBeds Contoured Side Sleeper Pillow as our top pick for side sleepers.
We may earn a commission through products purchased using links on this page. Products or services advertised on this page may be offered by an entity that is affiliated with us. Learn more about our process here.
Sleep apnea is a common sleep disorder that may affect as many as 1 in 4 adults, although many cases go undiagnosed. Obstructive sleep apnea (OSA) is the most common form of the disorder, and often the most disruptive to daily life. Fortunately, continuous positive airway pressure (CPAP) therapy is an effective treatment for many individuals suffering from the condition. However, nightly use of a CPAP machine will necessitate some changes to the sleep environment.
Many CPAP users find that their mask presses into the pillow, causing mask leaks and discomfort. A good pillow can help improve comfort for sleep apnea patients while also reducing the risk of face mask air leaks. Some pillow designs feature indents for CPAP masks and hoses, and others are crafted to keep sleepers comfortable on their backs. The best pillows for sleep apnea can improve both comfort and CPAP performance, often resulting in better quality sleep.
If you have or suspect you may have sleep apnea, you should talk to your doctor for a diagnosis and treatment options. The best pillow for sleep apnea may be beneficial, but it is not a replacement for medical care. Instead, it should act as a complement to your existing treatment plan.
The Best Pillows for Sleep Apnea
Product Details
Fill: Solid Memory Foam
Firmness: Medium
Who it's best for:
Side sleepers

CPAP users who experience mask leaks

Sleepers looking for an inexpensive CPAP pillow
Highlights:
Features indents to accommodate CPAP masks

High-loft design well suited for side sleepers.

Wedge-like shape designed to promote airway alignment
Sleep Foundation Exclusive Offer!
Use this SleepFoundation.org link for the most current discount on Scandvia pillows
The Scandvia CPAP Pillow is a specialty pillow designed for side sleepers. Its contoured shape leaves space for the sleeper's shoulders, and the 5.5-inch loft adequately supports the head and neck to promote spinal alignment. Additionally, the pillow design is wedge-like, featuring a slight slant designed to help improve airway alignment.
A stretchy jersey cotton/spandex blend cover encases the pillow and is fully removable for easy care. The fill of the Scandvia pillow is solid memory foam with a medium firmness rating.
The unique shape of the Scandvia CPAP Pillow is designed to accommodate CPAP masks and hoses. It features indents and cut-outs on the sides of the pillow, which help to keep CPAP tubing organized. This design also helps to alleviate mask pressure on the face while reducing the frequency of air leaks.
Only one size is available, and it does not offer any customization features. Its unique design measures 19.9 inches by 15.75 inches by 3.9 inches at the front, and 23.6 inches by 15.75 inches by 5.5 inches at the back. Scandvia provides a satisfaction guarantee on this model, offering to replace or refund purchases should the sleeper be dissatisfied with the product.
Price: $95 – Standard
Fill: Gel Memory Foam and Polyfoam
Firmness: Medium Firm
Who it's best for:
Back sleepers

Those who tend to sleep hot

Individuals who weigh over 130 lbs
Highlights:
Sloped design elevates the upper body, which reduces airway compression

Contains gel-infused memory foam

Removable cover for easy washing
Sleep Foundation Exclusive Offer!
Use this SleepFoundation.org link for the most current discount on Helix pillows
The Helix Wedge Pillow uses a classic triangular wedge design with a gradual slope. It is designed for a variety of applications, including reading in bed, reducing back pain, and reducing snoring. Some individuals find that using a wedge pillow for sleep apnea helps them get more restful sleep. Others simply enjoy the wedge shape for relaxing in bed. By lifting the upper body, wedge pillows may help to reduce airway compression caused by gravity.
Polyfoam and memory foam make up the body of the Helix Wedge Pillow to provide support while subtly contouring to the sleeper's body. A gel infusion within the memory foam is designed to limit heat buildup. The cover is made of a polyester/rayon blend and is removable and machine washable.
The wedge shape of this pillow is well suited to back sleepers, although some side sleepers also enjoy this design. The medium-firm composition of the pillow also means that it holds its shape well and is appropriate for most individuals who weigh over 130 pounds.
The Helix Wedge Pillow is available in one size, measuring 24 inches by 24 inches by 10 inches. It comes with a 100-night sleep trial and is protected by a 1-year limited warranty.
PlushBeds Contoured Side Sleeper Pillow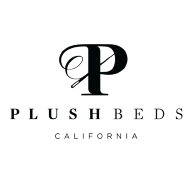 Price: $131 – Queen
Fill: 100% Shropshire wool
Firmness: Medium Soft
Who it's best for:
Side sleepers

Those who tend to sleep hot

Shoppers who prefer to buy eco-friendly products
Highlights:
Ergonomic design ensures proper loft and even alignment

Wool fill is breathable and sustainably sourced

Shell composed of smooth cotton sateen
Sleep Foundation Exclusive Offer!
Use this SleepFoundation.org link for the most current discount on PlushBeds pillows
If you've been diagnosed with sleep apnea, switching from sleeping on your back to the side position can alleviate some of the heavy snoring associated with this medical condition. In doing so, you may need a new pillow. Side sleepers require more pillow loft to fill the space between their head and downward-facing shoulder — otherwise poor alignment can occur and pain often follows.
The PlushBeds Contoured Side Sleeper Pillow features an ergonomic design that specifically caters to this position, elevating the neck and cradling the head to minimize potential for neck and shoulder pain. Its bowtie shape is also conducive to CPAP treatment regardless of which type of face mask you use. The fill is made from tufts of luxurious Shropshire wool, a naturally soft and breathable material with moisture-wicking properties to keep you dry on humid nights. The pillow is adjustable, so you can remove the fill if its initial profile is too thick.
A cover composed of smooth cotton sateen encases the fill. The cotton is sustainably sourced and the wool is procured through cruelty-free means, so the pillow should appeal to people who are eco- and animal-conscious. You may separate the pouch containing the wool from the cover and machine wash the latter whenever a cleaning is needed.
PlushBeds offers free ground shipping within the contiguous U.S. The Contoured Side Sleeper Pillow may not be returned, so all sales are final, but each purchase includes a warranty that covers manufacturing defects for up to 5 years.
Fill: Polyester fiber fill
Firmness: Medium Firm
Who it's best for:
Back and combination sleepers

People who use any type of CPAP mask

Those who experience frequent air leaks with their CPAP gear
Highlights:
Design features cutouts for more comfortable sleep with CPAP masks and hoses

Poly-fiber fill creates a plush surface feel

Comfortable mid-range profile
Sleep Foundation Exclusive Offer!
Use this SleepFoundation.org link for the most current discount on Bilt-Rite Mastex Health pillows
Back sleeping can be a challenge for people with sleep apnea. This position promotes heavier snoring than side or stomach sleeping, and those who use CPAP therapy may feel the added discomfort of a mask placing pressure on their face. For those who still prefer back sleeping despite their CPAP equipment, the Bilt-Rite CPAP Pillow offers a few useful features to help you rest as comfortably as possible.
Each side of the pillow features a large circular cutout designed to prevent your air mask from shifting – a common cause of disruptive air leaks. The cutouts also provide enough room for any connective hose. The top and bottom are also slightly contoured to cushion the head while you lie on your back. This ensures even alignment, as excessively thick pillows can create discomfort around the neck and shoulders.
The fill consists of polyester fibers that can be likened to artificial down, giving the pillows a plush yet supportive feel. The cover is made from a breathable polyester and cotton blend with a smooth feel ideal for people with sensitive skin. The entire pillow can be washed and dried in your household machines, making it very convenient to clean as needed.
The pillow has a relatively low price-point. Standard economy shipping is free for all orders within the contiguous U.S., and those who reside in other locations qualify for free delivery on orders of $150 or more. If you buy the Bilt-Rite CPAP Pillow from Health Products for You, you may return the item unused and undamaged within 30 days of the original purchase.
---
How to Choose a Pillow for Sleep Apnea
The pillow you choose will affect your comfort and quality of rest. For CPAP users, a quality model can reduce the frequency of mask air leaks and uncomfortable pressure on the face. Factors such as support, pressure relief, loft, and firmness all affect the overall performance of a pillow, so shoppers should carefully consider them. For those with sleep apnea, aspects such as contouring, pillow shape, and CPAP-specific design features should also be kept in mind.
What to Consider When Purchasing a Sleep Apnea Pillow
The following criteria can influence the performance, comfort, and quality of a pillow, so they're worth assessing when shopping for new pillows. There are many pillow options on the market, but sleepers can easily narrow down their options by focusing on the factors that are most important for those with sleep apnea.
Sleeping Position
Sleeping position has a substantial effect on pillow performance, particularly for CPAP users. Side and stomach sleepers often experience pressure from their mask pushing into the pillow, which can cause both discomfort and air leaks. Those who sleep on their side or stomach may benefit from a CPAP pillow with indents or cutouts to accommodate their mask, while back sleepers can also utilize cervical and wedge pillow designs.
Shape
The shape of a pillow and how well it retains its shape are important considerations for those with sleep apnea. Side sleepers often prefer contoured designs, which can comfortably accommodate the shoulders and neck. Specialty shapes, such as wedge pillows and CPAP pillows, are also worth considering for certain sleepers. CPAP pillows allow space for the mask and hose, making them popular with side and stomach sleepers, while wedge pillows elevate the upper body, which may appeal to back sleepers.
Mask Accommodation
Many of the best pillows for CPAP users feature design elements intended to accommodate CPAP masks and hoses. Generally, this includes indented areas of the pillow which give extra room for face masks. It may also include grooves that the tubing can rest in. This factor is most important for side and stomach sleepers and for any CPAP user who has experienced trouble with mask seal or comfort in the past.
Loft
Loft refers to the height of the pillow. It influences the angle of the head and neck, which can affect spinal alignment, ease of breathing, comfort, and more. Some pillows have an adjustable loft, allowing sleepers to add or remove material to achieve their desired comfort level. Stomach sleepers tend to prefer low-loft pillows, back sleepers medium-loft, and side sleepers high-loft.
Support
Support measures how well the pillow holds up the neck and head and keeps the spine aligned. Some materials, like polyfoam and memory foam, tend to be more supportive than others.
Firmness Level
Firmness is measured on a scale of very soft to very firm. Personal comfort preferences, sleeping position, and bodyweight can all influence the desired firmness level for each sleeper. The best firmness for a sleeper typically balances support and contouring to promote spinal alignment while providing comfort.
Pressure Relief
Depending on their designs, pillows can either relieve pressure or create pressure points. A pillow's loft, materials, and firmness level, combined with sleeping position, all contribute to a pillow's pressure relief performance. Some specialty designs have specific features intended to relieve pressure on the neck. In the case of cervical pillows, a small indent is found in the center of the pillow, cradling the head and reducing pressure on the neck.
Price
Pillows can be found in a range of price-points. Quality pillows for sleep apnea will generally be found in the $50 to $150 range. The best values are often competitively priced models with high-quality materials and design features since they balance quality and affordability.
Quality Materials
Pillows can be made with a variety of materials, although most for sleep apnea use memory foam. There are varying levels of quality within each category of materials. Regardless of the type of material, high-quality components typically enhance the pillow's comfort, performance, and durability.
Temperature Regulation
Some pillows trap warmth more than others. For sleepers who tend to overheat at night, a pillow's temperature-regulating properties are an important consideration. Memory foam tends to sleep warmer than many materials. However, these models often contain cooling design features intended to combat heat retention, like gel infusions or perforations for better airflow.
What Types of Pillows Are Best for Sleep Apnea?
There are many different pillow styles, each with distinct pros and cons. Pillows can differ in shape, style, materials, and firmness levels. Finding the option that works best for you depends on your personal preference and sleep position. As for sleep apnea pillows, there are a few categories that are generally best.
CPAP Pillow: CPAP pillows are specifically designed to accommodate CPAP masks. They generally feature indented areas on both edges of the pillow, which leave space for bulky full-face masks and/or tubes. These pillows are well suited to side and stomach sleepers who need the extra space to accommodate their mask, although back sleepers may find that they are too lofty.
Wedge Pillow: Wedge pillows feature a sloped design that helps to elevate the upper body in bed. They are commonly used for lounging in bed while reading or watching TV, but some sleepers also find them useful for sleeping. Their elevation can reduce airway compression and may also help to minimize snoring.
Cervical Pillow: Cervical pillows are ergonomically designed and primarily intended for back sleepers. They are engineered to relieve pressure on the neck, often featuring an indent in the center of the pillow intended to cradle the head. Sleep apnea patients who are combination sleepers or back sleepers may benefit from cervical pillows.
Standard Pillow: Standard pillows are generally filled with down, feathers, down alternative, or foam. They have a standard rectangular shape, are widely available, and are generally inexpensive. However, they do not offer any features specifically designed for the needs of those with sleep apnea.
Tips for Getting Better Rest with Sleep Apnea
Choosing the right pillow can help those with sleep apnea get better rest, but there are many other factors worth exploring. In addition to practicing good sleep hygiene and finding the best mattress to meet their individual needs, there are some practices that those with sleep apnea should pay close attention to.
Using a CPAP Properly
For those who have been prescribed CPAP therapy, using the machine nightly is very important. Various small steps can help improve the efficacy of the machine, including ensuring the mask fits properly and washing your face before putting on the mask.
Cleaning CPAP Components
Ensuring that the CPAP components are cleaned frequently is important for safety, sleep quality, and general hygiene. CPAP masks, in particular, require frequent cleaning in order to reduce the buildup of body oils. A clean CPAP mask will provide a tighter seal, reducing the risk of air leaks.
Working With a Doctor
Sleep apnea is a long-term condition for many sleepers, and its severity can change over time. Family doctors and sleep specialists can tailor recommendations to each patient. For example, they may customize pressure settings on CPAP units based on your needs. Patients should make appointments with a sleep specialist every few years, particularly if sleep issues arise.
Maintaining a Healthy Weight
Bodyweight can have a substantial impact on the severity of sleep apnea symptoms. Excess weight, particularly near the throat, can cause airway restriction and other breathing issues.
Adding Humidification
Many modern CPAP units have built-in humidification. For those who do not use a heated humidifier, it may be worth trying. Humidifiers help keep the nasal passage moist, potentially reducing irritation and congestion and improving CPAP performance.
Altering Sleeping Positions
Trying out different sleep positions may be worthwhile for those struggling with sleep apnea. Some individuals experience reduced sleep apnea symptoms while on their sides. Others prefer back sleeping, as it allows for the most comfortable fit for CPAP masks.
Lifestyle Changes
Various lifestyle changes, including reducing alcohol consumption, increasing aerobic exercise, and cutting back on smoking can all have an effect on sleep quality for those with sleep apnea.
Frequently Asked Questions About Pillows for Sleep Apnea
The guide above supplies most of the information you will need to find a good pillow for sleep apnea. If you still need help, we'll answer commonly asked questions below.
How much do sleep apnea pillows cost?
A good CPAP pillow will usually cost between $40 and $100. Wedge pillows are often more in the $75-$150 range. Material, size, and design features can all affect pillow pricing. Certain materials, like down, latex, and wool, tend to cost more than popular options like memory foam and polyfoam.
Does sleeping with the head elevated help sleep apnea?
Some individuals with sleep apnea find that sleeping with their head elevated does improve sleep quality. A study published in 2017 found that a slight elevation of the upper body "significantly improves OSA severity without interfering in sleep architecture". This sleeping position can be achieved with the help of a wedge pillow for sleep apnea or an adjustable bed.
Does sleeping on a wedge help with sleep apnea?
Sleeping on a wedge may help with sleep apnea. As referenced above, one study found that sleep apnea patients sleeping with their head elevated slightly (7.5 degrees) experienced improved sleep quality.
Does sleeping without a pillow help sleep apnea?
Sleeping without a pillow is unlikely to improve sleep apnea severity. In fact, it is likely to jeopardize the spinal alignment of side and back sleepers, potentially putting more pressure on the airway. However, stomach sleeping may be beneficial for those with sleep apnea, and many individuals who favor this position sleep without a pillow to avoid forcing the head backward.
Do sleep apnea pillows really work?
Some pillows may help certain individuals get better sleep. Finding the right pillow is a highly individualized process, so there is no way to know with certainty whether a specific pillow will work for you. If you're struggling to rest comfortably with sleep apnea, you should talk to your doctor. Not only can they provide a treatment plan, but they may also be able to suggest what type of sleep apnea pillow may be best for your condition.
Still have questions?
Our product experts have extensive experience testing just about every sleep product on the market. Send an email to [email protected] or call us at (877) 672-8966 with your questions and we'll help you find exactly what you're looking for.
Thanks for the feedback - we're glad you found our work instructive!
If you're ready for more ⟶ sign up to receive our email newsletter!
Was this article helpful?
Thanks for the feedback - we're glad you found our work instructive!
Submitting your Answer...
Other Articles of Interest