Best Tempur-Pedic Mattress for Stomach Sleepers
When you buy through our links, we may earn a commission. Products or services advertised on this page may be offered by an entity that is affiliated with us. Learn more.
Memory foam was originally developed by NASA for use in spacecraft, but Tempur-Pedic pioneered using the material in mattresses. Since the company's launch, memory foam mattresses have skyrocketed in popularity and Tempur-Pedic has become one of the world's largest and best-known mattress companies.
Your bed greatly impacts your overall sleep experience, so selecting the right one can be of critical importance. Typically, support is one of the most important factors for stomach sleepers since their hips and bellies could pull their spines out of alignment without sufficient support.
Tempur-Pedic currently has five models in its line: the Cloud, the Adapt, the ProAdapt, the LuxeAdapt, and the breeze°. Each of these models may be appropriate for some stomach sleepers, but performance will vary between models. An individual's unique sleep style and body type will also influence which mattress is best for them.
We'll share our favorite Tempur-Pedic mattresses for stomach sleepers. We'll detail some of the factors that set these models apart and also explain some of the most important criteria to consider when selecting a Tempur-Pedic mattress for stomach sleeping.
The Best Tempur-Pedic Mattresses for Stomach Sleepers
Memorial Day Mattress Sales Are Here
Memorial Day is a great time to buy a mattress, with many mattress companies offering major discounts. Sales have already begun, so check our product reviews below for discount information. You can also head to our list of Memorial Day deals and discounts.
Product Details
Tempur-Pedic TEMPUR-Cloud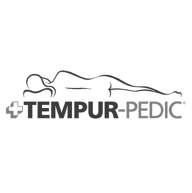 Price Range:
$1,699 – $3,398
Warranty:
10 Year, Limited
Trial Length:
90 nights (30-night requirement)
Sizes:
Twin, Twin XL, Full, Queen, King, California King, Split King
Stomach sleepers who weigh less than 130 pounds
Budget shoppers
People who enjoy a close-conforming hug
Lower price-point
Mattress-in-a-box design
Medium feel balances contouring and support
Sleep Foundation Special Offer
Save 30% on TEMPUR-Cloud & TEMPER-Cloud Hybrid mattresses with code: CLOUD30
The TEMPUR-Cloud's balance of conforming and support works well for a variety of stomach sleepers. As Tempur-Pedic's first mattress-in-a-box model, it may be especially appealing to those looking for the feel of TEMPUR memory foam on a budget.
The TEMPUR-Cloud is an all-foam model that uses a three-layer design. Both the comfort and transition layers use TEMPUR memory foam to cradle the sleeper's curves while providing support. The polyfoam core reinforces the mattress surface. A stretchy cover encases the bed without restricting its contouring. The cover material is also moisture-wicking to keep the sleeper dry through the night.
The TEMPUR-Cloud has a medium feel, rating at a 5 on the standard 10-point firmness scale. This is on the softer end of the range most stomach sleepers prefer, so it may not be supportive enough to promote proper spinal alignment for some individuals who weigh over 130 pounds. However, stomach sleepers who weigh less than 130 pounds should experience close-conforming support that helps them maintain their natural alignment.
Pressure relief and motion isolation are some of the TEMPUR-Cloud's biggest strengths, which can make it a good option for stomach sleepers with sharp pressure points as well as sleepers that share a bed.
As a mattress-in-a-box model, the TEMPUR-Cloud is delivered to the customer's door compressed in either a box or a canvas bag. It ships free within the contiguous United States. Customers can try the bed at home during its 90-night trial period, while a 10-year limited warranty protects the purchase.
Tempur-Pedic TEMPUR-ProAdapt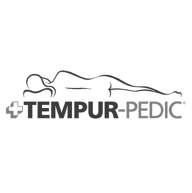 Price Range:
$2,899 – $5,698
Warranty:
10 Year, Limited
Trial Length:
90 nights (30-night requirement)
Sizes:
Twin, Twin XL, Full, Queen, King, California King, Split King, Split California King
Stomach sleepers looking for more firmness options to match their body types
Shoppers looking for a removable, washable cover
Those with sharp pressure points
Three firmness options appropriate for stomach sleepers with different body types
Notable pressure relief and support
Zip-off cover with washable layer
Sleep Foundation Special Offer
Use this SleepFoundation.org link for the most current discount on Tempur-Pedic mattresses
Its three firmness options and high-end contouring help the TEMPUR-ProAdapt accommodate stomach sleepers from different weight groups.
The firmness options include soft (3), medium (5), and firm (7). An all-foam version comes in all three firmness options, while a hybrid option is available in the medium feel. As stomach sleepers typically need extra support to keep their spines aligned, the medium and firm versions will likely be best for most individuals. Stomach sleepers who weigh under 130 pounds may like either option, while those who weigh more than 130 pounds typically get better support from the firm feel.
Both the all-foam and hybrid options are constructed of three main layers. The comfort and transition layers consist of proprietary TEMPUR memory foam, though the exact type of TEMPUR material varies between the firmness options in order to adjust the feel. Polyfoam makes up the core of the all-foam versions of the bed, while the hybrid version uses coils.
Each firmness option earns high marks for pressure relief and motion isolation. The hybrid version and the firm all-foam mattress tend to perform better for ease of movement, edge support, and sex. Additionally, the hybrid option's breathable coil core enhances its temperature regulation.
Customers within the contiguous United States typically receive free White Glove delivery, which includes new mattress setup and old mattress removal. The TEMPUR-ProAdapt also comes with a 90-night sleep trial and a 10-year limited warranty.
Tempur-Pedic TEMPUR-breeze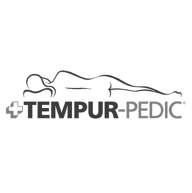 Price Range:
$3,949 – $7,898
Mattress Type:
Foam, Hybrid
Warranty:
10 Year, Limited
Sizes:
Twin, Twin XL, Full, Queen, King, California King, Split King, Split California King
Stomach sleepers who tend to sleep hot
People who want to select between three firmness options
Those who prefer a machine washable cover
Engineered to stay up to 8 degrees cooler
Soft, medium, and firm options
All-foam and hybrid selections
Sleep Foundation Special Offer
Use this SleepFoundation.org link for the most current discount on Tempur-Pedic mattresses
Since the front side of a stomach sleeper typically makes direct contact with the mattress, they may be more prone to overheating than sleepers who prefer other sleep positions. Stomach sleepers who want to combat the heat and stay cool and comfortable may appreciate the TEMPUR-breeze°'s advanced cooling technology.
Customers can select between multiple versions of the bed. The PRObreeze comes in all-foam and hybrid versions, each of which has a medium (5) feel. It is engineered to feel up to 3 degrees cooler. The LUXEbreeze is an all-foam model with two firmness options: soft (3) and firm (7). This version is crafted to feel up to 8 degrees cooler.
Stomach sleepers from any weight group might get the support and contouring they're looking for from the firm version of the LUXEbreeze. Individuals who weigh under 130 pounds and prefer a plusher feel may also like the medium feel of either version of the PRObreeze.
Across all options, the TEMPUR-breeze° excels in terms of motion isolation, temperature neutrality, and pressure relief. The hybrid version of the PRObreeze tends to perform slightly better than the other options when it comes to ease of movement and edge support.
The TEMPUR-breeze° has a cool-to-the-touch cover constructed of two layers. Its outer layer can be unzipped, removed from the bed, and washed in a machine. Beneath the cover, a layer of phase change material works to enhance the bed's cooling capability.
A comfort layer of TEMPUR-CM+ is specially formulated for cooling and breathability. Its infusion of phase change material further adds to this effect. The transition layer of the LUXEbreeze is made up of Ventilated TEMPUR-APR that allows additional airflow, while the PRObreeze uses original TEMPUR material. The all-foam versions of the bed have polyfoam cores, and the hybrid PRObreeze is made with a base of coils.
Within the contiguous United States, free White Glove delivery is customary for this model. All versions of the TEMPUR-breeze° also come with a 90-night sleep trial and a 10-year limited warranty.
Other Mattress Guides
If you want to expand your search for a new mattress beyond these options, you can take a look at our collection of detailed recommendations broken down by types of sleepers.
Stomach Sleeping Explained
Stomach sleeping can carry with it some potential issues, which is why experts typically don't recommend it. That being said, sleeping on the stomach just feels the most comfortable for some sleepers.
While stomach sleeping may not be ideal, it does have a few potential advantages:
Reduced snoring. Since snoring is often a result of gravity forcing the tongue to the back of the mouth and/or causing the airway to compress, stomach sleeping can put gravity on your side to help reduce snoring.
Decreased acid reflux. Sleeping on the stomach with the top part of the body slightly elevated may help reduce some symptoms of acid reflux.
Potential drawbacks include the following:
Spinal strain. It's challenging to maintain a neutral spine position when sleeping on your stomach. Stomach sleepers often turn their head to the side and/or use a pillow that forces it backward, which can strain the neck. Their midsections may also sink into the mattress more deeply than the rest of their bodies, putting a strain on the lumbar region.
Numbness. Stomach sleeping could put pressure on the nerves and parts of the circulatory system. If the pressure is significant enough, the sleeper may experience numbness or tingling in parts of their body.
How to Choose a Tempur-Pedic Mattress for Stomach Sleepers
If you prefer sleeping on your stomach, finding the best mattress for you requires taking into account both common mattress shopping criteria as well as some special considerations unique to stomach sleeping. We'll highlight some of the most important factors to keep in mind as you shop for a Tempur-Pedic mattress.
What to Look for in a Mattress for Stomach Sleepers
The following aspects are valuable for any mattress shopper to consider before making their purchase, but stomach sleepers should also understand how their sleep position can affect these performance factors.
Mattress companies are in the business of selling, so some may try to claim that their mattress is comfortable for every kind of sleeper. While a model may work well enough with a wide variety of weight groups and position preferences, it's unlikely to actually be ideal for everyone. Taking into account your unique needs and preferences can help you figure out what's important to you and find a mattress that is better suited to your personal sleeping style.
Firmness Level
Firmness is a key characteristic that can impact multiple aspects of a mattress's performance. Tempur-Pedic produces several firmness options, so most stomach sleepers should be able to find an option that's appropriate for them.
Stomach sleepers typically prefer a somewhat firmer mattress than side and back sleepers do. This is because most people carry much of their body weight around the middle, which can drag the center of their body too far into a mattress that's too soft and put a strain on the lumbar region.
As a general rule, people who weigh between 130 and 230 pounds usually look for a mattress between 5 (medium) and 6 (medium firm) on the 10-point scale to get the right blend of conforming and support. Individuals who weigh less than 130 pounds tend to like a slightly softer mattress than average, and those who weigh over 230 pounds generally prefer a firmer feel. However, since Tempur-Pedic's firmer options also have exceptional contouring, many stomach sleepers may prefer them regardless of their weight group.
Quality Materials
Quality materials are typically the main factor that separates luxury models from budget models. High-quality materials can enhance the bed's performance and lifespan. Mattresses constructed of quality materials usually require a greater investment up front, but this can pay off over time since owners may be able to use their bed longer. Many customers consider Tempur-Pedic to be synonymous with quality due to the brand's exceptional materials.
Pressure Relief
Stomach sleeping puts pressure on the front of the body, which can cause tingling and numbness from nerve compression or restricted blood flow. A mattress engineered for pressure relief distributes the weight of the body more evenly to reduce pressure buildup around heavier, wider body parts. Temper-Pedic's proprietary TEMPUR materials excel in pressure relief, which may appeal to stomach sleepers.
Contouring
Contouring is how a mattress shapes to the sleeper's body. Stomach sleepers typically find some contouring comfortable, but they need a balance between contouring and support to keep their spines aligned. Tempur-Pedic's models have notable contouring, but they are also built for support. With the right firmness, stomach sleepers should be able to enjoy the close contouring of a Tempur-Pedic mattress without sinking too far into the bed.
Price
Your budget may influence any major purchasing decision, but try not to make it your top concern when shopping for a mattress. Budget models are appealing, but some can be more prone to developing long-term body impressions early on. Once these indentations form, stomach sleepers may not get the support they need for proper spinal alignment, leading to aches and pains.
Spending more on your purchase may help you snag a mattress that provides strong conforming and support for years to come, which can ultimately be a better value in the long run. Tempur-Pedic produces luxury models that are built to last, so they typically have a higher than average price tag.
Edge Support
Strong edge support can extend the usable surface of the bed by making the perimeter feel secure enough to sit or sleep on. Stomach sleepers who sleep with a partner or who prefer to lay near the edge may like this added support. Tempur-Pedic's hybrid versions and firmer all-foam options typically have a more supportive edge than its softer all-foam models.
Temperature Regulation
Temperature regulation is often a top concern for people who tend to sleep hot and those that live in warm climates. Memory foam can be prone to trapping heat against the body, but many mattresses in the Tempur-Pedic line have features to enhance their breathability. Thanks to its advanced cooling materials, the TEMPUR-breeze° may be an excellent match for stomach sleepers looking for the cradling and support of memory foam without getting too hot at night.
Ease of Movement
Some sleepers may feel "trapped in the bed" if a mattress is soft, conforms closely to the body, and is slow to respond to changes in pressure. This can make it more difficult to change positions or move across the mattress surface. Memory foam mattresses often receive lower scores in this category due to their hug and slower response times. Stomach sleepers who change positions a lot or who have mobility issues may prefer one of Tempur-Pedic's firmer options, which are typically easier to move on because they don't permit as much sinkage.
Mattress Type
Most shoppers look at innerspring, hybrid, latex, or all-foam mattress models. A mattress's performance follows general trends based on its type, but stomach sleepers may find any of these options suitable depending on their materials, constructions, and performance. The Tempur-Pedic line includes all-foam and hybrid models, which offer distinct advantages. The all-foam options typically limit motion transfer to a greater extent, while the hybrid versions have coil layers that add bounce, breathability, and edge support.
Other Considerations for Stomach Sleepers
Spinal Alignment: Spinal alignment is an important consideration with any sleep position. Since stomach sleeping may contribute to improper spinal alignment, people who prefer this position may need to pay special attention to how their mattress supports their body. Most people carry much of their weight near their hips and bellies, so their midsections may pull the center of their body more deeply into the mattress. This may put a strain on the lumbar region and contribute to aches and pains. As a result, stomach sleepers often need a firmer mattress to get enough support.
Neck Pain: Neck pain can be the result of two factors. First, stomach sleepers often turn their heads to the side. Maintaining this position throughout the night may contribute to greater neck pain the next day. The sleeper's pillow can also force their neck to extend backward, adding some strain and discomfort. To limit this, some stomach sleepers choose to either forgo using a pillow or use a thin pillow.
Interrupted Sleep: Since stomach sleeping is sometimes associated with pain, discomfort, and numbness, stomach sleepers may toss and turn during the night to try and get comfortable. This can interrupt their sleep and affect their overall sleep quality, so they may not feel well-rested the next day.
What is a Tempur-Pedic Mattress?
Tempur-Pedic is one of the most popular and respected mattress brands. Its proprietary TEMPUR material revolutionized mattress construction, popularizing the use of memory foam in beds. TEMPUR material is based on NASA's special foam for spacecraft seats. Since its initial development of TEMPUR memory foam, Tempur-Pedic has engineered several variations to adjust the feel and performance.
Five models make up the main product line: TEMPUR-Cloud, the TEMPUR-Adapt, the TEMPUR-ProAdapt, the TEMPUR-LuxeAdapt, and the TEMPUR-breeze°. Tempur-Pedic does not release many specifics about its materials and construction techniques, but each model has a slightly different design to achieve its unique performance goals. That being said, they all share some similarities in their basic construction.
Cover: The mattress cover varies between models, but many wick away moisture or feel cool to the touch. Some are also removable and machine washable.
Comfort Layer: All of Tempur-Pedic's models use some form of proprietary TEMPUR material in their comfort and transition layers to cradle the body and relieve pressure. This may include TEMPUR, TEMPUR-ES, TEMPUR-APR, and/or TEMPUR-CM+ foams. Each material has a slightly different effect on the bed's feel and performance.
Support Core: Each Tempur-Pedic model uses one of two support cores: polyfoam or coils. The all-foam models use polyfoam for support and motion isolation, while the hybrid models use coils for enhanced airflow, responsiveness, and edge support.
Current Tempur-Pedic Mattress Models
| Model | Type | Firmness | Price |
| --- | --- | --- | --- |
| TEMPUR-Cloud | All-Foam | Medium (5) | $1,999 |
| TEMPUR-Adapt | All-Foam, Hybrid | Medium (5) | $2,199 |
| TEMPUR-ProAdapt | All-Foam, Hybrid | Soft (3), Medium (5), Firm (7) | $2,999 |
| TEMPUR-LuxeAdapt | All-Foam | Soft (3), Firm (7) | $3,699 |
| TEMPUR-PRObreeze° | All-Foam, Hybrid | Medium (5) | $3,999 |
| TEMPUR-LUXEbreeze° | All-Foam | Soft (3), Firm (7) | $4,699 |
Are Tempur-Pedic Mattresses Suited to Stomach Sleepers?
While there's a good match available for virtually any stomach sleeper, you'll have to take your needs and preferences into account to find the best Tempur-Pedic mattress for you. Tempur-Pedic produces a range of mattress models with different features, benefits, and firmness options, but all of them provide notable contouring and support. These traits are typically important for stomach sleepers since they need the right balance to promote good spinal alignment.
Our picks include a broad range of Tempur-Pedic's offerings, so they're particularly great for stomach sleepers from different weight groups and with different comfort preferences.
Weight is one of the most critical factors to consider when determining which mattress is best for you. Stomach sleepers often experience sagging near the midsection of the bed, which jeopardizes their spinal alignment. Because of this, they typically prefer a firmer mattress model.
Stomach sleepers of any weight may prefer Tempur-Pedic's firm mattresses due to their strong support, but this is an especially important factor for those who weigh more than 130 pounds. Those who weigh under 130 pounds might find either a medium or firm Tempur-Pedic mattress comfortable.
Other personal preferences may also come into play. Tempur-Pedic produces all-foam and hybrid models, which vary somewhat in their performance. Stomach sleepers who tend to wake up whenever their partner moves might prioritize the strong motion isolation of the all-foam models, while those who prefer extra bounce, edge support, and breathability may want to go with a hybrid option.
Last Things to Consider with a Tempur-Pedic Mattress for Stomach Sleepers
A mattress is a big purchase, and there's a lot to take into account. You probably still have some questions left, so we'll answer some of the top questions that stomach sleepers have when shopping for a Tempur-Pedic mattress.
What Else Can I Do to Sleep Comfortably as a Stomach Sleeper?
Experts typically advise against stomach sleeping because it can be more difficult to maintain proper alignment, so stomach sleepers are likely to suffer from some aches and pains. However, there are ways to make it more comfortable.
One way is by using a very thin pillow or no pillow. Thicker pillows can force the neck backward and put the spine out of alignment. A thin pillow under the pelvis can also help relieve some pressure on the lower back, while a thin pillow under the shoulders can reduce pressure on the upper back by filling the gap between the neck and the sleep surface.
Some stomach sleepers also choose to use a body pillow to prop themselves up and transition towards side sleeping.
What Other Products Does Tempur-Pedic Offer?
Tempur-Pedic focuses primarily on sleep products, including mattresses, pillows, sheets, blankets, bases, slippers, and sleep masks, but it also produces cushions and stuffed animals.
How Much do Tempur-Pedic Mattresses Cost?
Shoppers can expect to pay at least $2,000 for a queen size Tempur-Pedic mattress, with the brand's more advanced options costing upwards of $4,000. While this range is higher than average for all-foam and hybrid models, owners often prize their Tempur-Pedic mattresses for their quality and durability, which may make them a good value in the long run despite the higher initial price point.
How Durable Are Tempur-Pedic Mattresses?
Thanks to the high-quality TEMPUR material, Tempur-Pedic mattresses tend to be more durable than other models that use memory foam. TEMPUR should resist lasting impressions, giving stomach sleepers more consistent support and contouring over the lifespan of the bed. We'd typically expect a memory foam mattress to last between 6 and 7 years, but Tempur-Pedic mattresses often last for at least 7 years.
Mattress Warranty and Other Policies
Customers who purchase their mattress directly through Tempur-Pedic can take advantage of a 90-night sleep trial. After a required 30-night break-in period, customers can return their mattress, though a $175 shipping fee may apply.
Tempur-Pedic also provides a 10-year limited warranty that offers to repair or replace mattresses with qualifying defects, while the customer covers transportation charges. Additional terms and conditions apply.
Still have questions?
Our product experts have extensive experience testing just about every sleep product on the market. Send an email to [email protected] or call us at (877) 672-8966 with your questions and we'll help you find exactly what you're looking for.
Thanks for the feedback - we're glad you found our work instructive!
If you're ready for more, sign up to receive our email newsletter!
Was this article helpful?
Thanks for the feedback - we're glad you found our work instructive!
Submitting your Answer...
Other Articles of Interest