Key Takeaways
Twin mattresses typically measure 38 inches wide by 75 inches long.
A twin bed can be a good fit for children, teenagers, and adults under 6 feet tall.
A twin size may be right for you if you sleep alone, have a small bedroom, or have a limited mattress budget.
Although queen and king beds certainly have their appeal, bigger is not always better when choosing a mattress. In fact, certain shoppers have needs that are better addressed by a smaller mattress like a twin.
A twin bed is generally the shortest and narrowest mattress option, but many people can sleep comfortably on a twin. With its compact size, a twin is an ideal choice when bedroom space is limited. And because a twin mattress is more affordable, it can be a great option when shopping on a tight budget.
We'll discuss the typical dimensions of a twin size bed, who can benefit from this mattress size, and the factors that are the most important to consider when choosing a size for a new mattress.
The Dimensions of a Twin Size Bed
A typical twin mattress is about 38 inches wide and 75 inches long, making it the smallest standard bed size. This smaller size provides both advantages and disadvantages that make it particularly well suited to certain kinds of sleepers.
In particular, a twin can provide plenty of space for children, teenagers, and adults who are less than 6 feet tall. For these sleepers, the twin's shorter length rarely poses a problem. Some taller people can also be comfortable on a twin if they sleep on their side and tend to curl up.
Additionally, twin beds are a great option for people with smaller bedrooms. Because they're more compact, they take up less room and open up floor space for other furniture or for simply walking around freely in a bedroom. As an added benefit, twin beds have lower prices, which can make them appealing to budget shoppers.
Mattress Sizes
When choosing a mattress, deciding on a size is an important initial step. Depending on your height, whether you sleep alone, and how big your bedroom is, certain mattress sizes might be better suited to your needs.
While exact mattress sizes vary by manufacturer, there are six standard sizes with roughly similar dimensions that are most commonly found across the industry.
| Mattress Size | Dimensions (Width x Length) |
| --- | --- |
| Twin | 38" x 75" |
| Twin XL | 38" x 80" |
| Full | 54" x 74" |
| Queen | 60" x 80" |
| King | 76" x 80" |
| California King | 72" x 84" |
Twin vs. Twin XL Beds
Twin and twin XL mattresses are the two smallest of the standard mattress sizes. Usually measuring around 38 inches wide, both twin and twin XL mattresses are good options for people who sleep alone, have smaller bedrooms, or are on a limited budget.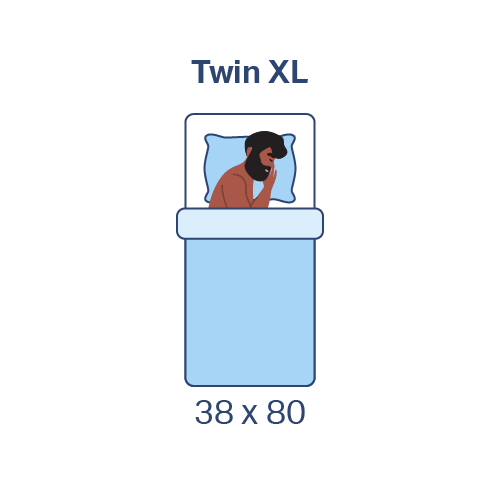 While a twin and twin XL have the same width, a twin XL usually measures around 80 inches long compared to 75 inches for a standard twin.
The 5-inch difference in length can affect whether a twin or twin XL mattress is the best match for certain sleepers. A twin can be a great mattress for children, teenagers, and people under 6 feet tall. On the other hand, taller people or sleepers who tend to stretch out their limbs are generally better suited to a twin XL.
Twin mattresses usually cost less than twin XLs. Twins are a standard choice available from most manufacturers, so twin beds and bedding are often easy to find. While many companies also make twin XL mattresses, they are not quite as common. Finding proper bedding for a twin XL may also be more difficult, as not all standard twin bedding will fit on a twin XL.
How to Choose a Mattress Size
The ideal mattress size depends on your individual needs and preferences. Your height, sleep position, bedroom size, budget, and whether you share a bed are among the key factors to consider when deciding on which mattress size to purchase.
Height
Your height can play a major role in determining your optimal mattress size. For example, twin and full mattresses are 75 inches long, while twin XL, queen, and king mattresses have a length of 80 inches.
In general, a shorter mattress should work well if you are under 6 feet tall or if you tend to curl up when you're sleeping. If you are more than 6 feet tall or want plenty of space to stretch out, a longer bed is a better match for you.
Taller people who stretch their arms or legs out to the side may also want to consider a mattress that is wider than a twin or twin XL, which offer only 38 inches of width. In contrast, a full size mattress is 54 inches wide, while a queen or king offers even more space to spread out.
Sleep Position
Generally, people either sleep on their back, side, stomach, or some combination of the three, and sleep position is an important factor to consider when choosing a mattress size.
People who sleep on their stomach or back tend to fully extend their legs, meaning they often need longer beds to comfortably fit their body. On the other hand, many side sleepers curl up their legs, which may make a shorter bed a viable option.
People who are combination sleepers or who often toss and turn during the night may benefit from a wider mattress — such as a full, queen, or king — that offers more width for rolling over or otherwise moving around.
Bed Sharing
People who regularly share their bed with another person or a pet may want to seek out a larger mattress.
Couples generally need at least a full size mattress, and a larger bed can also be more comfortable for parents and caregivers who often find that their children join them in bed. A bigger mattress can also provide useful extra space for people who have a dog or cat that frequently hops into bed during the night.
Bedroom Size
When choosing a mattress size, it's important to think about the layout and interior design of your bedroom. If you have a large bedroom, any mattress size will be an option. However, if you have a smaller bedroom, a twin or twin XL may be the only mattress size that fits.
Even if your bedroom has enough space to fit a bigger bed, it is important to consider how much space you need for other furniture, including a bed frame and one or more nightstands. You should also think about how much room you want for moving around. Having more open space in your bedroom can also help avoid feeling cramped or crowded.
Budget
Bigger mattresses generally cost more, so your budget can directly impact the mattress size that's right for you. Larger mattresses require more materials, which leads to their higher costs. It doesn't just stop at the mattress, either. The prices of things like sheets, comforters, and blankets are also tiered by size, with bigger mattresses requiring costlier accessories. As a result, it is much easier for twin mattresses and accessories to fit into a limited budget.
Learn More About Mattress Sizes and Dimensions
Other Articles of Interest