Best Luxury Pillows
Methodology
We personally test every pillow featured in our reviews and guides to provide accurate, data-driven recommendations.
Learn More
In light of some recent product tests, we've updated this page to include the Boll & Branch Down Chamber Pillow as our top pick for combination sleepers, and The Company Store's Legends Hotel Best Down Pillow as our best hotel-style pick. The Cozy Earth Silk Pillow remains our best overall luxury pillow.
We may earn a commission through products purchased using links on this page. Products or services advertised on this page may be offered by an entity that is affiliated with us. Learn more about our process here.
Shoppers may associate luxury pillows with hotel stays and vacations, but there are benefits to using a luxury pillow at home. Luxury pillows are made with high-quality materials that offer long-lasting support and comfort. Sleepers can often feel the difference, especially when compared to a lower quality pillow that does not retain its shape or offer consistent support.
Pillows play an important role in the overall sleep experience, as they can affect how the neck and spine are kept in alignment and how much pressure relief sleepers get. Although luxury pillows may cost more than the average pillow, they are an investment. Since this type of pillow is often more durable, it retains its shape and has a longer than average lifespan. Luxury pillows are often made with breathable materials to help keep sleepers comfortable and prevent heat retention.
When looking for a luxury pillow, shoppers should consider the materials, including the pillow cover and fill, in addition to the quality of its construction. Your preferred sleeping position and body weight should also be considered, as these can determine what type of pillow you will find most comfortable.
We'll review our top picks for the best luxury pillows, including how they perform in terms of pressure relief and temperature regulation. We'll also break down what a luxury pillow is and what sets this type of pillow apart from the rest. To help shoppers determine what pillow to choose, we'll also answer frequently asked questions about luxury pillows and how to maintain them.
Best Luxury Pillows Video
Watch the video below to learn more about our top picks for best luxury pillows.
Product Details
---
Price: $279 – Standard $329 – King
Fill: 100% long-strand mulberry silk
Firmness: Medium soft
Who it's best for:
Hot sleepers

Those who like to mold their pillow

Shoppers who want a soft and supportive option
Highlights:
Viscose from bamboo cover feels cool to the touch

Mulberry silk fill is plush

Includes generous sleep trial and warranty
Sleep Foundation Exclusive Offer!
Use this SleepFoundation.org link for the most current discount on Cozy Earth pillows
The Cozy Earth Silk Pillow is soft both inside and out, thanks to its silk fill and viscose from bamboo cover. The 100% long-strand mulberry silk fill feels plush and molds easily into your preferred shape. This medium soft pillow is well-suited to shoppers who are willing to pay a bit more for high-quality construction and transparent materials sourcing.
Hot sleepers and people in warm climates will appreciate Cozy Earth's dedication to temperature control. Both silk and bamboo-derived fabrics are highly breathable and moisture-wicking. Air flows freely between the pillow core and cover, which helps draw body heat away rather than trapping it against your skin. The Silk Pillow is also very smooth, making it a worthwhile choice for shoppers with skin sensitivities.
The medium loft level is a good all-around fit for many sleepers, though back and side sleepers will likely find it most comfortable. Though the pillow's cover is washable, Cozy Earth recommends spot cleaning instead of machine washing. The Silk Pillow is backed by a 10-year warranty and 100-night sleep trial. Shipping and returns are free to shoppers within the contiguous U.S.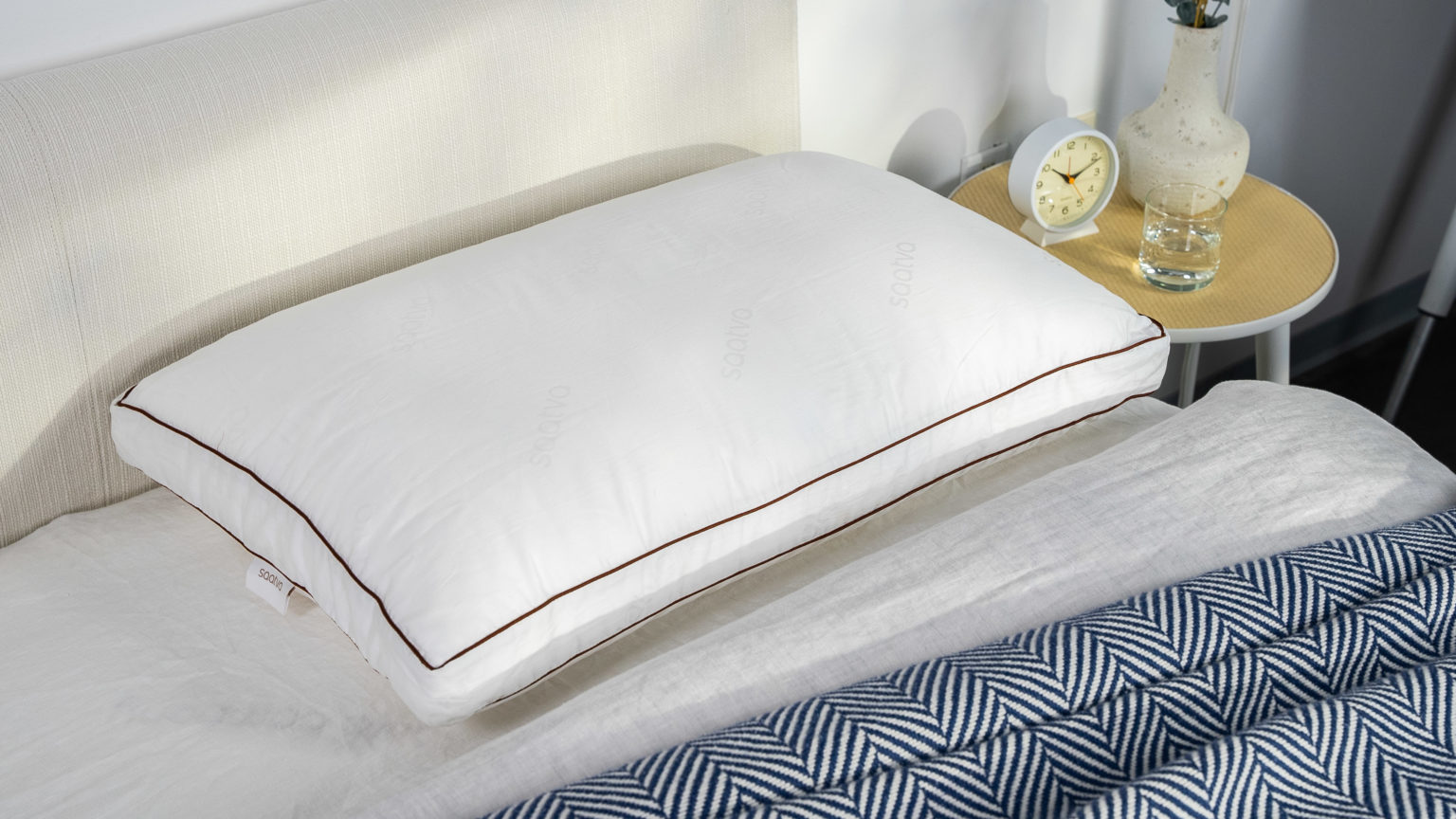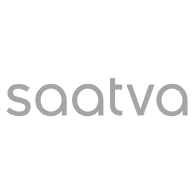 Price: $165 – Queen $185 – King
Fill: Shredded 100% American Talalay latex and down alternative
Firmness: Medium Soft
Who it's best for:
People who prefer medium soft pillows

Hot sleepers

Customers looking for a pillow with an above-average lifespan
Highlights:
Proprietary latex and fiber feel offers a balance of cushioning and support

GOTS-certified organic cotton cover

45-night sleep trial for all orders
Sleep Foundation Exclusive Offer!
Use this SleepFoundation.org link for the most current discount on Saatva pillows
Latex is a popular pillow material because it conforms to the head and neck much like memory foam, but without absorbing excess body heat. The Saatva Latex Pillow is a standout in this product category for a few reasons. It consists of a small inner pillow with shredded Talalay latex that is highly supportive, and a larger outer pillow that contains microdenier fabric with a downy feel. These materials create a highly comfortable pillow without too much sinkage.
The pillow's cover is made of organic cotton that has been certified by the Global Organic Textile Standard, one of the world's leading authorities for this type of fiber. The outer pillow can be washed and dried in any household machine. You can also remove the inner pillow to change the loft and overall feel.
Queen and king sizes are available. For a small added fee, you can also add a pair of cotton sateen pillowcases when you make your purchase.
Saatva allows you to test out the pillow for up to 45 days before deciding whether to return it, but the company requests that customers wash the item before shipping it back. Should you decide to keep the pillow, you'll also receive a one-year warranty. Shipping is free of charge for all orders in the contiguous U.S.
Read our Full Saatva Latex Pillow Review to learn more
Price: $69-$99 – Standard $89-$119 – King
Fill: Canadian white down with feather core
Firmness: Plush, Mid-Plush, Firm
Who it's best for:
Back and side sleepers

People who enjoy the feel of down

Shoppers seeking a long sleep trial
Highlights:
Three firmness options

Down construction offers soft, fluffy feel

365-night sleep trial
Sleep Foundation Exclusive Offer!
Use this SleepFoundation.org link for the most current discount on Brooklinen pillows
Of all the pillow types on the market, down pillows are typically among the most expensive. While the Brooklinen Down Pillow carries a high-end price-point, it's more affordable than many pillows on this list without sacrificing a luxury design.
You can choose between three firmness levels — plush, mid-plush, and firm. The plush pillow is filled entirely with down clusters, giving it a soft, fluffy feel. The other models contain an inner layer of feathers for support and an outer layer of down clusters. The firm model has more feathers than down to create even more support. The fill is encased in a shell made of 100% cotton in a smooth sateen weave.
Our testers found the plush option was best suited for stomach sleepers, who need soft pillows to ensure the neck is not propped too high. Side sleepers preferred the firm model, since this sleep position needs strong support to keep the head, neck, and spine aligned. The mid-plush option strikes an even balance between plushness and support, so we found it appeals to a wide array of sleepers.
You can purchase the pillow in a standard or king size. Shipping is free to customers in the U.S., and you'll receive a 365-night sleep trial. The pillow also comes with a 1-year warranty beyond the trial period.
Eli & Elm Cotton Side-Sleeper Pillow
Price: $125
Fill: 75% Latex and 25% Polyester Fiber
Firmness: Medium, adjustable
Who it's best for:
Side sleepers

People who sleep hot

Those who feel pressure points
Highlights:
Latex and polyester fill can be added or removed for customized loft

Breathable cover materials enhance airflow

U-shape design promotes spinal alignment
Sleep Foundation Exclusive Offer!
SleepFoundation readers get 20% off. Discount automatically applied to cart.
The Cotton Side-Sleeper Pillow from Eli & Elm is a versatile model designed specifically for those who prefer the side position. The pillow's ergonomic U-shape has a subtle curve at the bottom that's intended to promote spinal alignment and target neck pain. With a breathable cover and temperature-neutral fill, hot sleepers should also find this pillow a worthy choice.
One of this pillow's most notable features is its adjustable fill. The 75% latex and 25% polyester fill can be added and removed as needed to optimize the loft level for your individual sleep preferences. Latex also effectively relieves pressure build-up, which can be another bonus for side sleepers who feel pressure points on their head or neck. Sleepers who want a firmer, higher loft pillow can opt to purchase additional filling from Eli & Elm.
Our testing team found this pillow's plush fill highly moldable and comfortable. Though it's intended for side sleepers, the Cotton Side-Sleeper Pillow also lends itself well to back and stomach sleepers who customize the loft level. Sleepers who run hot will appreciate the machine-washable cover, which is a breathable blend of polyester, organic cotton, and spandex. Eli & Elm also offers a separate pillowcase that's compatible with the pillow's unique shape.
Shoppers who live within the contiguous U.S. qualify for free shipping and a 45-day return window. The included 5-year warranty covers manufacturer and material defects.
Best for Combination Sleepers
Boll & Branch Down Chamber Pillow
Price: $150 – Standard $160 – King
Fill: White down
Firmness: Soft, Medium, Firm
Who it's best for:
Those who prefer exceptionally plush pillows

Hot sleepers

Animal-conscious consumers
Highlights:
Shell composed of smooth, breathable organic cotton

Available in three density levels, each with a distinct loft and firmness

Ethically sourced fill certified by the International Down Standard
Sleep Foundation Exclusive Offer!
Use this SleepFoundation.org link for the most current discount on Boll & Branch pillows
Your ideal pillow loft and firmness largely depends on your preferred sleep position — and if you're a combination sleeper who utilizes more than one position on any given night, finding the right pillow can be challenging. The Down Chamber Pillow from Boll & Branch is a good starting point due to its thoughtful construction. You can choose from three density levels, all of which feature chambered designs to cushion your head and neck without sinking too much.
We recommend choosing a density based on your primary position. After testing each of the designs, we recommend the soft density to those who sleep on their stomachs most of the time. All three of this pillow's chambers contain down, resulting in a luxuriously plush feel that shouldn't cause uncomfortable neck strain. The medium density was most popular among the side sleepers on our team. This pillow features a core chamber with feathers and down, cushioned with down outer chambers to ensure a balance of softness and support. If you mostly sleep on your back, the firm density should elevate the head enough to reduce snoring. These pillows contain a higher concentration of feathers in the core chamber, resulting in extra reinforcement.
All Down Chamber Pillows are encased in shells made of soft, breathable organic cotton. The fabric promotes airflow and should offset the down's heat-retaining properties. Since the down and feathers have received International Down Standard certifications, the pillow should also appeal to people who prioritize ethically sourced animal-based products. You can wash and dry the pillow in your household machines, though Boll & Branch recommends infrequent laundry cycles — three to four times per year should suffice.
Standard and king sizes are available. The cost of your Down Chamber Pillow depends on which size and density you select, though all options are competitively priced and shipping is free for U.S. orders. Boll & Branch allows returns within 30 days of delivery during most of the year, with an extended trial period for the holiday season.
Quince Luxe Goose Down Pillow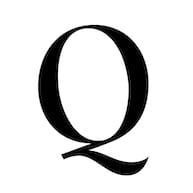 Price: $120 – Standard $159 – King
Fill: 100% European white goose down
Firmness: Soft/Medium, Medium/Firm
Who it's best for:
People who prefer very soft pillows

Animal-conscious individuals

Shoppers who need extra time testing our their new pillow
Highlights:
European white goose down creates a plush, lofty feel

Two firmness/density options to suit different sleeper needs

All orders include a 365-night sleep trial
Sleep Foundation Exclusive Offer!
Use this SleepFoundation.org link for the most current discount on Quince pillows
Goose down is prized as a pillow fill material for its natural plushness – but for some sleepers, these pillows can feel too soft and sink excessively beneath their head. The Quince Luxe Goose Down Pillow is available in two density levels. Those who enjoy the traditional down design can opt for the soft/medium feel, while sleepers who need extra support may feel more comfortable with the medium/firm design.
A shell made of smooth, breathable cotton sateen encases the down. The edges are double-stitched and trimmed with thick piping, both of which help prevent rips and tears in the fabric that can cause fill to escape. The entire pillow is machine-washable, though it may be too large for some household machines and a commercial size may be more suitable. Owners also have the option of dry cleaning.
The pillow holds a certification with the Responsible Down Standard, a leading authority for humane and ethical treatment of geese during the down extraction process. Standard and king sizes are available, both of which are affordably priced, and standard shipping is free of charge for all orders. Customers also receive a 365-night sleep trial with their purchase, ensuring plenty of time to test out the pillow.
Best for Back and Stomach Sleepers
Tempur-Pedic TEMPUR-Cloud Pillow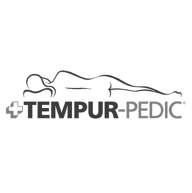 Price: $79 – Standard/Queen
Fill: Solid Memory Foam
Firmness: Extra Soft
Who it's best for:
Back and stomach sleepers

People with neck pain

Those who like to travel with their pillow
Highlights:
Soft foam provides deep contouring

5-inch loft

Machine-washable cover
Sleep Foundation Exclusive Offer!
Buy 2 TEMPUR-Cloud Pillows for $119 and save $59!
The TEMPUR-Cloud Pillow from Tempur-Pedic is a medium loft pillow with a soft feel. While medium loft pillows are typically better suited for back and side sleepers, the deep contouring of this model makes it equally appropriate for stomach sleepers.
The pillow is made from a single piece of Tempur-Pedic's proprietary TEMPUR foam, which is known for its exceptional contouring. The foam adapts to the shape of your head and neck, providing strong pressure relief, but it is also firm enough to lend support. The 5-inch loft is a good fit for back sleepers, who need a pillow that elevates the head to ensure healthy spinal alignment. Stomach sleepers typically need low-loft pillows to prevent neck strain, but the deep cushion of the TEMPUR-Cloud means that the head can sink into the pillow enough to maintain a comfortable sleep posture.
A removable and machine washable polyester knit cover encases the pillow. If you like to take your pillow on trips, the TEMPUR-Cloud can be rolled up into a compact bundle and will retain its shape upon unpacking.
Tempur-Pedic offers free shipping within the contiguous U.S. Pillows are not eligible for returns but they do come with a 5-year warranty.
The Company Store Legends Hotel Best Down Pillow
Price: $119 – Standard $129 – Queen $149 – King
Fill: 600 fill power down
Firmness: Soft, Medium, Firm, Extra Firm
Who it's best for:
Those who are unsure which pillow firmness is best for them

People with persistent neck pain

Shoppers who prefer to buy and use ethically sourced animal products
Highlights:
Double-stitched shell resists wear and tear

Three sizes and four firmness/density levels available

All pillows certified by the Responsible Down Standard
Sleep Foundation Exclusive Offer!
Use this SleepFoundation.org link for the most current discount on The Company Store pillows
The Company Store's Legends Hotel Best Down Pillow lives up to its name thanks to a plush, luxurious design reminiscent of hotel-style bedding. Down fill coupled with a smooth, breathable cover is a good match for anyone who enjoys resting on exceptionally soft surfaces, as well as people who often wake up with stiff or sore necks.
You can choose from four density levels, each with a different firmness to accommodate your sleep position. Our testers found that the soft density served stomach sleepers well because it sinks somewhat deeply, allowing you to lie face-down with your neck in proper alignment with the rest of your spine. Back sleepers will probably prefer the medium density, which elevates the head slightly but shouldn't cause any strain. The firm and extra firm density levels offer the most loft, making them best suited to side sleepers looking for a pillow that will fill the space between their head and downward-facing shoulder.
The fill is composed of European white goose down with 600 fill power, so the pillow will feel quite lofty regardless of which density you choose. Combed cotton forms the cover for a delicate feel that also feels cool to the touch. Double-stitching along the border reduces the potential for rips and tears, and this in turn prevents fill from escaping and extends the pillow's overall lifespan. According to The Company Store, the pillow should be dry cleaned once or twice per year, but never machine washed.
You can choose from standard, queen, and king sizes for your pillow. A certification from the Responsible Down Standard ensures no animals are mistreated, and that the down is only sourced using humane and ethical practices. Standard ground shipping is available for all orders within the contiguous U.S. Your purchase includes a lifetime guarantee allowing for exchanges at any time, so you can return the pillow if you aren't satisfied with your initial density selection and opt for a softer or firmer model.
Price: $110 – Standard $130 – King
Fill: Ventilated Talalay latex
Firmness: Medium
Who it's best for:
Side sleepers

Hot sleepers

People with persistent neck pain
Highlights:
Tencel lyocell and Clima fiber cover enhances cooling

Talalay latex core offers balanced pressure relief and support

High loft supports the head and neck
Sleep Foundation Exclusive Offer!
Use this SleepFoundation.org link for the most current discount on Sijo pillows
Latex pillows are known for their exceptional cooling capabilities, and the Sijo CloudSupport Pillow is no exception. This pillow takes Talalay latex's natural breathability and pairs it with a eucalyptus-derived Tencel lyocell cover and proprietary Clima cooling fibers. The result is a highly cooling pillow that's great for hot sleepers or those living in warmer climates.
The latex core gently cradles the head while staying responsive and supporting the neck, making it an excellent choice for sleepers with frequent neck pain. Our testing found side sleepers thoroughly enjoyed the extra support from the 6-inch loft. Back sleepers who prefer a higher loft may also appreciate the pillow, thanks to the medium feel. The cover is fully removable and machine-washable, but you should only spot clean the pillow insert.
Customers can choose between standard or king sizes. Sijo offers free shipping on all orders exceeding $65. CloudSupport Pillow purchases come with a 30-night sleep trial.
---
What is a Luxury Pillow?
Luxury pillows tend to have a higher price tag, so shoppers may wonder if they are worth the investment. But there are often concrete reasons for the added expense, as luxury pillows are made with high-quality materials for added durability, comfort, and consistent support.
The quality of materials used to make a luxury pillow extends to both the cover and the fill. Cotton, linen, and rayon are commonly used for luxury pillow covers, and they are woven in a way to keep the fill from poking out. The seams may have added details, reinforcements, or gusset panels to add structure to the pillow and help it keep its shape. The fill used is often ethically and sustainably sourced, especially if it includes down and feathers.
While most pillows last one to two years before needing to be replaced, purchasers can expect a luxury pillow to maintain its shape for at least three years without becoming lumpy or flat. Though there is not a standardized definition for what a luxury pillow is, there are certain features that set them apart. We'll break these down further next to help shoppers understand what to look for when shopping for a luxury pillow.
What Makes Luxury Pillows Stand Apart?
It is easy to become overwhelmed by the sheer number of pillows available in today's market. Shoppers can narrow down their choices by considering the following factors that make luxury pillows stand apart from the rest. These characteristics point to a luxury pillow that is made to last.
As luxury pillows are made with high-quality materials, including natural fabrics and fills, they tend to be breathable and temperature-regulating. This is good news for hot sleepers, who may find that conventional pillows retain body heat and sleep warm. Down is commonly used in luxury pillows, and it acts as natural insulation to keep sleepers comfortable. Latex is also frequently used and known for its breathable nature. These materials are not only breathable, but durable as well.
In addition to the quality of materials and durability, shoppers should also consider the detailing of the pillow. Luxury pillows may have certain details that speak to the craftsmanship and quality of the pillow. This can include piped edges, embroidery, or reinforced seams that elevate the look and durability of the pillow. These extra touches can indicate that the company has invested time and extra effort in the pillow's production.
When investing in a luxury pillow, shoppers want to make sure it is a perfect fit. Adjustable luxury pillows are becoming more popular, as these pillows give purchasers the opportunity to add or remove fill for a customized feel.
How to Choose a Luxury Pillow
There are a variety of luxury pillows available, and what works for one person may not be the best for another. Each shopper will have unique needs that need to be met. Understanding your needs and priorities prior to shopping will help you know how to find a pillow that's right for you. While luxury pillows are generally a valuable investment, there are certain factors that you should consider before making a purchase.
What to Consider When Purchasing a Luxury Pillow
Luxury pillows vary widely in terms of design, but there are common factors that indicate the quality of a pillow and if it will be a good choice. These factors include temperature regulation, pressure relief, price, and more.
The term "luxury" covers a broad scope of products, and manufacturers may use it liberally to appeal to shoppers. That being said, not all pillows marketed as luxury may match that level of quality. It is important to look past product names and marketing to focus on what the pillow is actually made of and how well it will suit your personal needs. Shoppers should keep the following factors in mind when shopping for a luxury pillow.
Quality Materials
The quality of materials used determines the lifespan of the pillow. Luxury pillows are made with high-quality materials, but there are several factors to consider that speak to the durability of the pillow itself. A luxury pillow is often made with natural materials, including cotton, linen, latex, and down, or synthetic materials like memory foam and down alternative fill. Luxury brands tend to have traceable supply chains, certifications that attest to the sustainability and ethics of the materials sourced, and solid reputations for customer service and lasting quality.
Loft
The loft of a pillow is its height, which can be considered low, medium, or high. Low loft pillows are less than 3 inches high, medium loft pillows measure between 3 and 5 inches, and high loft pillows exceed 5 inches in height. The loft determines the angle of your head and neck as you sleep. Along with firmness and fill, loft affects how much support you receive. A pillow may have a high loft, but certain materials like down and down alternative compress more easily.
Sleeping position, body weight, head and shoulder size should all be considered when selecting pillow loft. Stomach sleepers often need a low loft pillow, while side and back sleepers can use a medium or higher loft pillow.
Support
A pillow supports the head and neck, helping to keep the spine aligned and relieve pressure on the neck and shoulders. Luxury pillows typically have better shape retention, so they can maintain consistent support and an even surface for sleepers throughout the night. The construction and fill determine the amount of support a pillow provides, and some luxury pillows have gusset panels or inner chambers for additional support and structure.
Firmness Level
Pillow firmness should be considered in addition to loft. Pillows can be soft, medium, or firm, and the firmness determines how much your head sinks into the pillow. Side sleepers tend to benefit from a thicker, firmer pillow that keeps the head lifted, while back sleepers may prefer a more medium firmness. Stomach sleepers often prefer a soft pillow to keep the head and neck at a comfortable angle. Some materials are firmer than others, and shoppers may need to try different pillow types and firmness levels to find the right fit.
Pressure Relief
A conforming pillow that provides consistent support can help relieve pressure and tension in the neck and shoulders. Pressure-relieving materials like memory foam, latex, and down can contour to the shape of the head and neck to help keep the spine aligned and reduce tension.
Shape
How well a pillow retains its shape is determined by its fill and construction. Luxury pillows often include structural details like pleated corners, reinforced seams, and gussets for shape retention. While conventional pillows are more likely to lose shape and flatten over time, luxury pillows tend to be made of more resilient materials like high-quality memory foam. Down pillows will need to be fluffed regularly to help keep their shape.
Price
Luxury pillows are often more expensive than conventional pillows, but there are a wide range of price points available. Shoppers should expect to spend anywhere from $50 to $150 or more, so it is important to set a budget before shopping. Factor in the cost of additional sleep accessories, such as pillow protectors and pillowcases.
Moldability
Moldability refers to how easily the pillow can be shaped or scrunched. Down pillows tend to be highly malleable, allowing sleepers to hug or shape them as needed. A moldable pillow also conforms more closely to the shape of the head and neck, which can be helpful for pressure relief.
Temperature Regulation
Luxury pillows are often made using breathable materials that help regulate temperature and prevent sleeping hot. Temperature regulation is affected by both the pillow cover and the fill. Lightweight, moisture-wicking covers include materials like cotton and linen. Down fill acts as natural insulation to regulate temperature, while latex is naturally breathable. While memory foam tends to sleep hot, luxury pillows that have this type of fill typically use modified varieties like open-cell or gel-infused memory foam to help dissipate heat.
What Are the Pros and Cons of Luxury Pillows?
One of the main benefits of a luxury pillow is its lifespan. While conventional pillows can fall flat or feel lumpy within a year or two, luxury pillows are constructed with durability in mind. As a result, they have longer than average lifespans and are valuable investments. That said, the main drawback is that these pillows tend to be more expensive, which can be off-putting for some customers. The following pros and cons should be considered when shopping for a luxury pillow.
Pros
Cons

Durability: Luxury pillows should provide consistent support for at least three years, depending on the construction and materials used. This is a longer lifespan than the average pillow.
Quality of Materials: Luxury pillows are made with premium materials that feel comfortable and supportive for sleepers, with unique details that indicate the level of craftsmanship.
Sleeps Cool: The high-quality materials used to construct these pillows are often highly breathable and moisture-wicking, which helps prevent heat retention and keep sleepers cool through the night.

High Cost: Many luxury pillows are more expensive than conventional models. While they last longer, the upfront cost may not be ideal for shoppers on a limited budget.
Maintenance: Luxury pillows may require dry cleaning or spot cleaning, which is more maintenance than pillows that are machine washable. Down pillows will also need to be fluffed regularly.
What Types of Luxury Pillows are Available?
There are several types of pillows available, categorized by the type of fill used. Certain fills are more commonly seen used in luxury pillows, like memory foam or down and down alternative, though luxury options are available in most pillow types. While the type of material used to fill a pillow will make a large impact on its performance, the factor that separates luxury pillows from the rest is the quality of that fill. We'll break down common fill and cover materials here, including some potential benefits and drawbacks of each.
Fill Materials
Memory Foam: Viscoelastic polyurethane foam, also known as memory foam, responds to heat and pressure for a closely conforming feel. Memory foam pillows may be made of a solid slab of foam, or shredded foam for adjustability and better airflow. Shredded memory foam pillows are often adjustable, while solid foam pillows are typically not.
High-density foam is more durable than low-density foam, but may trap more heat. While foam is known for retaining heat, some memory foam pillows feature unique cooling constructions, or the fill is infused with gel, graphite, or copper to draw excess heat away.
Latex: Latex is made from the sap harvested from rubber trees, which is processed using the Dunlop or Talalay methods. Like memory foam, latex can be solid or shredded. It offers moderate contouring for pressure relief. Latex is highly durable and breathable, so these types of pillows tend to last a long time and keep sleepers cool.
Down/Feathers: Down is the insulating layer under the feathers of ducks and geese. Formed in soft clusters, down is malleable and conforming. Feathers have more structure and can be added to down pillows for better shape retention. While down and feathers are highly durable, they do require more maintenance. Most down pillows should be dry cleaned.
Buckwheat: Buckwheat hulls, or the casings of buckwheat seeds, are used to fill firm pillows that contour to the shape of the head and neck. The open shape of the hull encourages airflow, making these pillows ideal for hot sleepers. Hulls can be added or removed to buckwheat pillows to adjust the loft. Some sleepers may find the rustling noise of the hulls to be bothersome.
Down Alternative: Down alternative is a synthetic fiber fill, usually polyester or rayon, that mimics the feel of down at a more accessible price point. Down alternative pillows are hypoallergenic and easy to maintain, but they are often less durable than down pillows.
Cover Materials
Cotton: Cotton is a natural fiber that wicks away heat and moisture to keep sleepers comfortable. Luxury pillows are often made with organic cotton covers. Long-staple cotton is also popular, as the longer cotton fibers result in a softer, more durable fabric.
Rayon: Rayon is a semi-synthetic fiber that can be derived from bamboo and other cellulose materials. It is a breathable fabric that is durable and affordable, but there are some environmental concerns when it comes to manufacturing rayon from bamboo or wood fibers with harsh chemicals.
Linen: Linen is a natural fiber derived from flax. It is breathable, moisture-wicking, and highly durable, but it may not feel as soft as cotton or rayon. It is also prone to wrinkling.
Frequently Asked Questions About Luxury Pillows
How do I know my pillow is truly luxury?
To know if your pillow is truly luxury, consider the quality of materials used, the construction, and the brand's reputation. A luxury pillow will be made with high-end materials that retain their shape and provide consistent support. Reading reviews from verified buyers before purchasing the pillow is beneficial, as this feedback can attest to the quality and feel of the pillow.
How much do luxury pillows cost?
Luxury pillows range widely in price, but shoppers can expect to spend between $50 and $150. Shoppers should keep in mind that price is not the only indicator of quality, and it is possible to find luxury pillows on a budget. Luxury pillows are often a valuable investment, as they last longer than conventional pillows and will not need to be replaced as often.
How do I clean a luxury pillow? 
When cleaning a luxury pillow, it is essential to follow the guidelines provided by the manufacturer. Some luxury pillows can only be dry cleaned or spot cleaned as needed, while others are machine washable. Incorrectly caring for a luxury pillow can lead to loss of pillow shape and deterioration.
How long do luxury pillows last?
Luxury pillows should last three years at least, given that they are made with durable materials and high-quality construction methods. This ensures the pillow will retain its shape and resist flattening or becoming lumpy. A luxury pillow should last longer than the average conventional pillow, which typically lasts six months to two years at most.
Are luxury pillows adjustable?
Some luxury pillows are adjustable, either with loose fill that can be added or removed, or a chambered design that has a removable core. Examples of loose fill pillows include shredded memory foam and buckwheat, while chambered pillows are often filled with down, down alternative, or latex.
Still have questions?
Our product experts have extensive experience testing just about every sleep product on the market. Send an email to [email protected] or call us at (877) 672-8966 with your questions and we'll help you find exactly what you're looking for.
Thanks for the feedback - we're glad you found our work instructive!
If you're ready for more ⟶ sign up to receive our email newsletter!
Was this article helpful?
Thanks for the feedback - we're glad you found our work instructive!
Submitting your Answer...
Other Articles of Interest