Key Takeaways
A full size bed measures 54 inches wide by 75 inches long, which is wider than a twin but narrower and shorter than a queen. Sleepers typically choose a full size bed if they sleep alone, have a small room, or want to spend less money than they would on a larger bed.
Buying a new bed can be expensive, especially if you choose a bigger bed than is necessary. After all, a larger mattress requires a larger bed frame, sheets, and blankets. All of this can quickly drive up the price of a bed.
A full size bed, which is wider than a twin but narrower and shorter than a queen, is a popular choice for many solo sleepers because it's budget friendly and space efficient for small bedrooms. A full bed can also sleep two small children in a shared room, or it can be placed in a guest bedroom to maximize space.
We'll review the most common full size bed dimensions and compare these against other standard mattress sizes to help you determine if a full size bed is the right choice for you.
The Dimensions of a Full Size Bed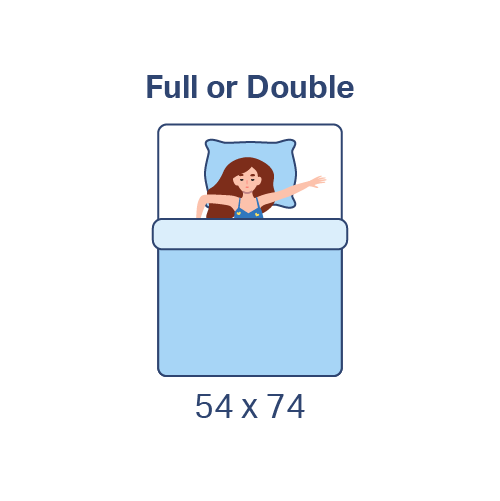 A full size bed, also known as a double bed, measures 54 inches wide by 75 inches long. Sleepers can find full size mattresses in various thicknesses, usually ranging from 8 to 14 inches. Thicker mattresses can offer more comfort and durability but may also require sheets with deep pockets to fit around the taller edges.
Full size beds are commonly used in small bedrooms that don't have space for a bigger bed. Full beds can comfortably accommodate a single sleeper who wants a little more room on either side than they would get with a twin mattress. A full bed could also accommodate two children or a parent and a young child.
Mattress Sizes
There are six standard mattress sizes, ranging from twin to California king. Although measurements are usually the same, it's not uncommon to find slight variations in mattress sizing between manufacturers. Before purchasing a mattress, look at the manufacturer's dimensions to ensure that the one you purchase will fit your bed frame properly.
Twin, twin XL, and full mattresses are typically designed to sleep one person. Queen, king, and California king mattresses can usually accommodate two or more sleepers.
| Mattress Size | Dimensions (Width x Length) |
| --- | --- |
| Twin | 38" x 75" |
| Twin XL | 38" x 80" |
| Full | 54" x 74" |
| Queen | 60" x 80" |
| King | 76" x 80" |
| California King | 72" x 84" |
Full vs. Queen Size Beds
Queen size beds are 6 inches wider and 5 inches longer than full size mattresses. The extra space helps two adults sleep comfortably side by side, making a queen bed a popular option for couples.
A full size bed has its own benefits, such as taking up less space in a room, which can make a difference in bedrooms with limited square footage. Because of their smaller size, full mattresses also tend to have lower price-points than queen size mattresses.
If you're someone who moves frequently, another perk of full beds is that they are easier to transport from one home to another. Queen mattresses can be difficult to navigate up steps and around tight doorways, but the smaller dimensions of a full bed can make it easier to move.
How to Choose a Mattress Size
Choosing a mattress involves considering the various pros and cons of each size. These are based on factors like number of sleepers, mattress height, sleep position, bedroom size, and budget. If you have limited bedroom space or a modest budget, a full bed might be the best mattress option for you.
Sleeping Partners
One of the most important considerations when choosing a mattress is whether you sleep with a partner or a pet. A full bed is 54 inches wide, which provides enough room for one person to spread out in bed or for one person to sleep with a small pet. Full beds can also be a good option for adults who share a bed with a child or for two children who share the same bed.
A queen bed is six inches wider than a full bed and is the size preferred by most couples who share a bed. The extra width provides a comfortable sleeping surface that gives each person the space they need.
Height
Your height can also impact which mattress size works best for you. If you're 6 feet or taller, you might find that your legs extend past the foot of a twin or full bed since these beds are only 75 inches long. Twin XL, queen, and king mattresses are 80 inches long, and a California king offers 84 inches of length for the tallest sleepers.
If you're a shorter person, you may not like having a lot of extra space around you. A twin or full bed could give you a more compact and cozy feel that fits your body shape better than a larger mattress.
Sleep Position
If you're a back or stomach sleeper, you probably stretch out more during the night, taking up more length on a bed. In that case, a longer bed, like a queen or king, may be most comfortable for you. If you sleep on your side and bend your legs, a twin or full bed could be plenty long enough for you.
Bedroom Size
Some bed sizes fit in smaller spaces better than others. Generally, you want to have a few feet of space around both sides of the bed as well as at the foot of the bed for easy access. To adequately fit a full bed and other bedroom furniture, your room should measure about 120 square feet. Full beds are a great choice for a guest bedroom, as they are more affordable than queen beds and take up less space. This allows the room to serve a dual purpose as a home office or storage area.
The shape of your room also affects how your bed fits into it. For instance, a twin, twin XL, or full bed may be the best choice for a narrow bedroom, while a queen or king mattress can help break up extra space in a larger bedroom.
Budget
Twin, twin XL, and full beds tend to be more affordable than the larger queen, king, and California king mattresses. Larger sizes also usually have more expensive accessories, like pillows and sheets, as well as bed frames. Opting for a full bed rather than a queen could easily save you money on the entire cost of your bed and bedding, making full beds a great option for cost-conscious shoppers.
Learn More About Mattress Sizes and Dimensions
Other Articles of Interest