Awara vs. PlushBeds Botanical Bliss Mattress Comparison
Methodology
We personally test every mattress featured in our reviews and guides to provide accurate, data-driven recommendations.
Learn More
Up-to-Date
Our product recommendations are updated weekly in cases of ratings changes, product releases, and new testing insights.
We may earn a commission through products purchased using links on this page. Products or services advertised on this page may be offered by an entity that is affiliated with us. Learn more about our process here.
Awara and PlushBeds are direct-to-consumer companies that sell mattresses and other sleep products.
Launched in 2018, Awara produces two mattress models: the Organic Latex Hybrid and Premier Latex Hybrid. The Organic Latex Hybrid has a firm feel, rating around 7 on the 10-point firmness scale, while the Premier Latex Hybrid has a medium firm (6) feel. Awara also sells a platform bed, an adjustable frame, and a frame and headboard set.
PlushBeds was founded in 2007. The company currently produces several mattress models, including latex mattresses, hybrid options, and memory foam models. In addition, PlushBeds produces mattresses for sofa beds and RVs. The Botanical Bliss is PlushBeds' most popular option. This latex model comes in three thickness and two firmness options, and the layers can be repositioned to further adjust the feel. PlushBeds also sells a wide range of sleep accessories, including pillows, sheets, protectors, toppers, bases, and more.
This comparison will focus on the Awara Premier Latex Hybrid and the PlushBeds Botanical Bliss. It will provide an in-depth look at each model's sizing, construction, reviews, performance, and pricing. Finally, it will detail company policies to take into consideration when deciding which option is best for you.
Quick Look
We've worked hard to show you which mattresses are the best fit for you. Check out our full mattress guides listed below!
Medium Firm (6), Firm (7)
Constructed of natural materials

Thick comfort layer enhances pressure relief

Tends to perform well for sleepers from all weight groups with any position preferences
Two firmness and three thickness options

Adjustable firmness

Constructed of eco-conscious materials
365 nights (30-night requirement)
Lifetime, Limited
100 nights (30-night requirement)
Lifetime, Limited
Sizing and Weight Options
A mattress's size, height, and weight can all factor into its performance, convenience, and how well it fits into your space.
Size plays a role in how much room sleepers have to move around, which could ultimately affect how well they sleep. Couples often prefer larger mattress sizes so that each partner has more space to spread out. Extra space may also limit how much motion transfer each partner experiences. The height of the mattress may be indicative of the thickness of its comfort and support systems. Larger individuals often prefer thicker models so that the bed is less likely to bottom out. The mattress's weight may also impact how securely anchored it is on the frame.
Many models arrive compressed in a box and it's up to the customer to bring them into their bedroom, so larger and heavier mattresses may be more challenging to move. When it's time to rotate the mattress, weight and size may again make the process less convenient.
The size, height, and weight of the mattress may also be important factors to consider when assessing the space and setup you have available. Larger mattress sizes may not fit in small rooms. Similarly, thick models may be problematic in spaces with limited overhead clearance, like bunk beds. If you plan on using your existing bed frame, you may also want to review your owner's manual to make sure the mattress's dimensions will fit and that the weight won't surpass the frame's weight limits while you sleep on it.
Awara
PlushBeds Botanical Bliss
Size Options
Twin, Twin XL, Full, Queen, King, California King, Split Queen, Split King, Split California King
The PlushBeds Botanical Bliss comes in a wider array of firmness, weight, height, and size options. Botanical Bliss buyers can select between two firmnesses and three heights. The Awara Premier Latex Hybrid is exclusively available in a 12-inch profile.
Both the Premier Latex Hybrid and the Botanical Bliss come in the six standard mattress sizes. However, the Botanical Bliss also comes in split queen, split king, and California king sizes, so customers looking for these sizes may prefer the Botanical Bliss.
Construction and Materials Comparison
A mattress's materials and construction techniques are some of the defining characteristics that set it apart from other models, influencing its performance and quality. While a wide array of materials may appear in mattresses, four are particularly common: latex, coils, memory foam, and polyfoam.
Latex foam has a more buoyant feel than most other types of foam. It is also prized for its breathability and durability. Natural latex, which is produced from the sap of rubber trees, is especially popular with eco-conscious consumers. However, this material also typically costs more.
Coil systems enhance a bed's bounce and breathability. High-quality coils can be quite durable, but they may produce noise as they age. Additionally, their springy feel could contribute to motion transfer. Encasing each coil individually can help limit the spread of motion since they can move on their own.
Memory foam has skyrocketed in popularity thanks to its close, pressure-relieving hug. The downside is that this close conforming could make it more difficult to change positions and trap heat against the sleeper's body. To combat heat retention, many memory foam models have special cooling technologies.
Polyfoam also shapes to the sleeper's body, but it usually responds more quickly and allows more airflow than memory foam. This material tends to be budget-friendly. However, lower-density polyfoams often break down more quickly than other materials.
Awara
The Awara Premier Latex Hybrid has three main layers. First, there is a plush Euro-top cover constructed of organic cotton and organic New Zealand wool. This cover adds cushioning while regulating the temperature of the sleep surface.
Next, 4 inches of Rainforest Alliance-certified natural Dunlop latex serves as the bed's comfort layer. Dunlop latex has a dense, buoyant feel. Latex has low point elasticity, so while it conforms to the sleeper's body, it spreads out the compression over a wider area. Sleepers often compare this to a floating sensation more akin to sleeping "on" the bed rather than "in" the bed. Those who tend to sleep hot also often enjoy latex's breathability.
The core consists of 8 inches of pocketed coils, enhancing the bounce and breathability while providing support. Each coil is wrapped individually so that it can move on its own without spreading excess motion.
PlushBeds Botanical Bliss
The PlushBeds Botanical Bliss Mattress is constructed of multiple layers of latex. Each mattress has an organic cotton cover quilted with up to 10 pounds of organic New Zealand wool, totaling around 1 inch thick. This cover provides surface-level cushioning, allows air circulation, and helps wick away heat and moisture. It is also removable for easy access to the interior.
Each of the three thickness options has a different combination of latex layers. The 9-inch version uses one 2-inch layer of Dunlop latex and two 3-inch layers. Three 3-inch layers of Dunlop latex make up the 10-inch option. The 12-inch version uses one 2-inch layer of Dunlop latex and three 3-inch layers. These layers have different firmness levels based on which mattress firmness option the customer selects.
Customers can reposition the layers of their mattress at home to finetune its feel. This may be convenient for those whose firmness preferences change over time. Since the Botanical Bliss is available in split queen, split king, and split California king sizes, the adjustability also gives couples the option of having different firmnesses on either side of the bed.
The Botanical Bliss's latex layers give it bounce, pressure relief, support, breathability, and durability. All of the latex layers use natural, organic latex certified by Global Organic Latex Standard (GOLS).
In-Depth Ratings
Shopping for a mattress can be overwhelming, but knowing what to look for may make it a little easier. Everyone has unique needs and preferences, but some traits pop up on customers' "must-have" lists more than others. Below, we'll give you an in-depth look at some of the most important factors to take into account when purchasing a mattress. Most shoppers look for a model with at least some of these features.
Durability
Customers who want their mattress to be comfortable and usable for a longer period of time will likely prefer a more durable model. Less durable mattresses may sag, deteriorate, or develop indentations more quickly. This could force the sleeper to look for a new mattress in order to get a comfortable night's sleep.
More durable mattresses traditionally have higher price tags, which is why some customers prefer less durable options. However, over the lifespan of the mattress, durable models may ultimately be the better value. Natural latex tends to be quite durable, but most other high-quality materials also hold up well over time.
Motion Isolation
A sleeper might feel motion on the surface of the bed when their partner moves, which is referred to as motion transfer. When a bed absorbs the motion rather than spreading it, this trait is called motion isolation. Motion isolation is often important for couples. Sleepers usually don't want to feel every move their partner makes during the night since it could interrupt their sleep. Mattresses with thicker memory foam or polyfoam comfort layers usually perform best in this category.
Sex
A mattress's characteristics can affect the sexual experience. Bounce and buoyancy tend to be some of the key traits couples look for, so models with latex and/or coil layers are usually popular options. Other performance factors can also contribute to how conducive a mattress is to amorous activity. Edge support can affect how much of the mattress surface is usable. Contouring can provide traction. Noise level may determine how discreet the couple can be.
Temperature Neutrality
Individuals who tend to sleep hot usually prefer a model that doesn't retain heat. Some materials are more prone to heat retention than others. The close conforming of memory foam often traps heat against the sleeper's body, so some memory foam mattresses now have special features to counteract this effect. Mattresses with latex and/or coils are usually especially breathable, so some hot sleepers may prefer models with these materials.
Pressure Relief
Pressure frequently builds up around the body parts that apply the most force to a mattress, which are usually the shoulders and hips. Models with pressure-relieving properties redistribute the sleeper's weight so that it is more evenly spread across the surface of the mattress. This limits pressure buildup and can help relieve the aches and pains associated with sharp pressure points.
Most of a bed's pressure relief comes from its comfort system. Latex, memory foam, and polyfoam comfort layers tend to perform well in this category. People who often experience discomfort caused by their hips and shoulders digging into the mattress will likely prefer a model with strong pressure relief.
Off-gassing
Like many other new products, mattresses may retain manufacturing odors. This is perhaps most common in models with synthetic foams that ship compressed. These smells are generally considered harmless for most individuals, and many customers barely notice them. However, sleepers who are more sensitive to smells may prefer a model that's less likely to have significant off-gassing odors.
This is especially true for those who also lack the time or space to air out their mattress before use. Airing out the mattress usually isn't required, but doing so can allow the odors to dissipate before you introduce the mattress to your bedroom. Most mattresses will finish airing out within a couple of days.
Ease of Movement
Sleepers who toss and turn during the night often favor a mattress that's easy to move on. People with mobility issues may also prefer a bed that doesn't restrict their movement. The beds that are easiest to move on usually don't hug as closely to the sleeper's body, don't permit a lot of sinkage, and have a bit of bounce. Latex and coils tend to make a bed easier to move on, while some sleepers find the close hug and slower response of memory foam more restrictive.
Edge Support
Because the edge of the bed compresses when an individual sits or sleeps near it, it could feel unstable. This is especially likely with softer memory foam or polyfoam models. Latex has low point elasticity, which means it spreads out compression rather than compressing directly under the weight of the individual. Therefore, the edges of latex models tend to feel more supportive. Coil layers frequently have reinforced perimeters, so the edges of these models also usually feel secure. Edge support is often especially important for couples who need the extra sleep space provided by a supportive perimeter. Individuals who like to sit or sleep near the perimeter of the bed may also prefer a sturdy edge.
Awara
Premier Latex Hybrid
Firmness

Medium Firm (6)

Durability

4

/5
Motion Isolation

3

/5
Sex

5

/5
Sleeps Cool

4

/5
Pressure Relief

3

/5
Off-Gassing

4

/5
Ease of Movement

5

/5
Edge Support

4

/5
PlushBeds Botanical Bliss
Botanical Bliss
Firmness

Medium Firm (6), Firm (7)

Durability

4

/5
Motion Isolation

3

/5
Sex

4

/5
Sleeps Cool

4

/5
Pressure Relief

4

/5
Off-Gassing

4

/5
Ease of Movement

4

/5
Edge Support

3

/5
Prices and Sizing
You've probably noticed that mattresses come in a wide range of price points. Shoppers can snag a budget-friendly model for just a few hundred dollars or invest in a luxury option for a few thousand dollars. These price disparities can be confusing, but they're usually the result of specific differences between the models.
Materials are one of the key factors in determining the price point. High-quality materials cost manufacturers more to use, so customers can also expect to pay more. New, technologically-advanced mattress components generally cost companies more to develop and produce, which also increases the price point for customers. Thicker mattresses and larger mattress sizes use more materials, leading to a higher price tag.
Where the mattress is constructed can impact the price. This is because American mattress manufacturers usually have higher facilities and labor costs.
Finally, what is included with the purchase of the mattress may affect its cost. Mattresses that come with free White Glove delivery or generous warranty policies are traditionally more expensive to compensate for these extra benefits.
The list prices of the Awara Premier Latex Hybrid and the PlushBeds Botanical Bliss appear below. However, both companies frequently have promotions that offer savings off the list prices.
Awara
| | |
| --- | --- |
| | Premier Latex Hybrid |
| Twin | $1,399 |
| Twin XL | $1,599 |
| Full | $1,699 |
| Queen | $1,799 |
| King | $2,099 |
| California King | $2,099 |
PlushBeds Botanical Bliss
| | |
| --- | --- |
| | Botanical Bliss |
| Twin | $1,549-$2,149 |
| Twin XL | $1,549-$2,149 |
| Full | $1,949-$2,749 |
| Queen | $2,049-$2,749 |
| King | $2,349-$3,049 |
| California King | $2,349-$3,049 |
| Split Queen | $2,448-$3,248 |
| Split King | $2,548-$3,348 |
| Split California King | $2,548-$3,348 |
Across all mattress sizes, the PlushBeds Botanical Bliss is more expensive than the Awara Premier Latex Hybrid. This is especially pronounced with the thicker versions of the Botanical Bliss.
This price difference can be attributed to mattress materials. Both models use organic cotton, organic wool, and natural latex. However, the Botanical Bliss uses multiple layers of latex, while the Premier Latex Hybrid consists of a layer of latex and a coil core. Latex is usually more expensive for manufacturers to use than coil systems, hence the price difference.
Customers looking for an all-latex model may feel the extra expense is worth it. Since the Botanical Bliss's layers can be rearranged to adjust the feel, sleepers whose firmness preference may change over time might also feel the price difference is justified. The PlushBeds Botanical Bliss comes in split queen, split king, and split California king sizes, so customers looking for these options may be happy to pay more.
Trials, Warranty, and Delivery
Sleep Trial & Returns
365 nights
(30-night requirement)
Warranty
Lifetime, Limited
Shipping
Free to contiguous U.S.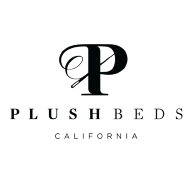 Sleep Trial & Returns
100 nights
(30-night requirement)
Warranty
Lifetime, Limited
Shipping
Free to contiguous U.S
Shipping
Awara
The Awara Premier Latex Hybrid ships free within the contiguous United States and usually goes out within 1-2 business days after the customer places their order. Delivery typically occurs 2-5 days later via FedEx Ground. Mattresses shipped outside of the contiguous United States incur shipping fees. The bed arrives compressed in a box and delivered to wherever the customer typically receives packages. They are responsible for bringing it in and setting it up.
White Glove delivery is available for an extra charge and includes a team bringing in your mattress, unpacking it, putting it in place, and removing its packaging. Customers should allot an additional 2-3 days for this service. Old mattress removal is available on request with White Glove delivery.
Awara mattresses are sold through the Awara website.
PlushBeds Botanical Bliss
PlushBeds mattresses are typically constructed after an order is placed, so customers can expect the mattress to leave the factory 7-9 business days later. Custom mattresses and orders placed during the holidays may take an additional 7 business days. Shipping is free within the contiguous United States. Those outside of the contiguous United States can contact PlushBeds for a quote.
The Botanical Bliss is delivered via FedEx and typically ships in 2-3 boxes. The company sends a tracking number when the order ships. The customer is responsible for moving the components into their home, unboxing them, and setting up the bed.
PlushBeds does not offer White Glove delivery or old mattress removal at this time, but the shipping confirmation email will contain information on local craftsmen who could help with new mattress setup or old mattress removal.
Customers can purchase the Botanical Bliss Mattress through the PlushBeds website. PlushBeds products are also sold through Amazon, though they may be subject to different policies.
Sleep Trial
Awara
Mattresses purchased through the Awara website come with a 365-night sleep trial so that customers can try their bed across seasons. This trial window begins after a 30-night break-in period. If you choose to return your mattress, a Sleep Concierge will work with you to find a solution to donate or dispose of the bed locally. The company will then issue a full refund of the purchase price. Shipping fees are non-refundable.
PlushBeds Botanical Bliss
When ordered through the PlushBeds website, the Botanical Bliss Mattress comes with a 100-night sleep trial, which has a 30-night required break-in period.
If you choose to return your undamaged mattress during the eligible window, PlushBeds will issue a full refund of the purchase price. Any bonus items you received with your purchase must also be returned, and they are required to be new and unopened. If you keep bonus items or want to return your mattress before the 30-day break-in period is complete, you will be assessed a $99 convenience fee.
To return their mattress, the customer must box it for shipping and move it to their curb. PlushBeds will arrange for the packaged mattress to be picked up from there.
Customers in the contiguous United States can also receive a one-time comfort exchange for a $145 deposit. PlushBeds will send a softer or firmer comfort layer depending on your preferences. You can then box and return the discarded comfort layer for a refund of the deposit.
Soiled or otherwise damaged mattresses are ineligible for a refund and will be returned to the customer. PlushBeds may refuse additional orders from customers who have previously returned a mattress.
Warranty
Companies traditionally provide warranty policies for free with the purchase of a new mattress. While the fine print can seem intimidating, these policies provide added value to the customer by protecting their new bed against certain defects. Policies vary between companies and sometimes even between mattress models from the same company, so customers should read through the warranty to see what it covers, what is required for eligibility, how to make claims, and how long the warranty lasts.
Reading through the warranty policy carefully can give you a clearer idea of how comprehensive it is. It may also make it easier to steer clear of inadvertently voiding the warranty.
Awara
The Awara Premier Latex Hybrid is protected by a limited Forever Warranty. This warranty is valid for the original mattress owner who bought the bed through an authorized retailer. They may be asked to furnish their receipt as proof of purchase.
Defects in the materials and workmanship may be eligible for repair or replacement. During the first 10 years, Awara will replace qualifying mattresses at no charge. After 10 years, Awara will elect to either replace the mattress or repair and re-cover it. The customer will incur a $50 shipping charge each way, which will be waived should Awara find an eligible defect. Mattresses that are repaired or replaced continue to be covered by the policy of the original mattress.
The warranty does not cover damage resulting from misuse, abuse, neglect, use of an improper frame, or failure to follow instructions. Additional terms and conditions apply.
PlushBeds Botanical Bliss
A 25-year limited warranty protects the Botanical Bliss Mattress against qualifying defects. During the first 10 years, PlushBeds will choose to either repair or replace eligible mattresses. For the next 15 years, PlushBeds will choose to either repair the mattress for a handling charge or replace the mattress at a prorated cost to the customer. Customers may be assessed transportation charges.
Impressions less than 1.5 inches deep do not qualify for warranty coverage. Damage due to an inappropriate foundation, abuse, misuse, or unsanitary conditions is also not eligible. Additional terms and conditions apply.
Still have questions?
Our product experts have extensive experience testing just about every sleep product on the market. Send an email to [email protected] or call us at (877) 672-8966 with your questions and we'll help you find exactly what you're looking for.
Other Articles of Interest