Best Storage Beds
Methodology
We personally test every product featured in our reviews and guides to provide accurate, data-driven recommendations.
Learn More
Up-to-Date
In light of some recent product tests, we've updated this page to feature the Zinus Finley Upholstered Platform Bed with Lifting Storage. The Silk & Snow Bed Frame with Storage remains our best overall pick for this product category.
When you buy through our links, we may earn a commission. Products or services advertised on this page may be offered by an entity that is affiliated with us. Learn more.
Even in small living spaces, balancing aesthetics with functionality remains a priority. A storage bed is a practical piece of furniture that can maximize space and organize clutter. This structure supports the mattress, while drawers or shelves underneath allow owners to tuck away their belongings.
Storage beds are available for most styles and budgets. Shoppers should consider the capacity, material, and customization options to decide what is right for their space. We'll cover our top picks for storage beds and explain key factors to take into account.
Product Details
Silk & Snow Bed Frame with Storage
Price: $650
Who it's best for:
People who sleep in smaller bedrooms

Those who prefer frames with headboards

Value seekers
Highlights:
Sturdy wooden frame with woven upholstery

Equipped with spacious storage drawers

Approachable pricing for all sizes
Sleep Foundation Exclusive Offer!
Use this SleepFoundation.org link for the most current discount on Silk & Snow mattresses
The Bed Frame with Storage from Silk & Snow is a standout option for storage bed shoppers thanks to its clean look and durable construction. The frame itself is crafted from a combination of solid wood and powder-coated iron, and the slats are made from poplar – a species renowned for its longevity. For the woven fabric upholstery that covers the frame and headboard, customers can choose from three neutral colors. Full, queen, and king sizes are available.
The frame is also practical due to the roomy dimensions of its storage drawer, which measures between 51 and 73 inches wide depending on the selected size. The drawer also measures 18 inches long and 8 inches high, creating plenty of space even if you opt for the full size. The drawer is mounted on casters, allowing you to open and close with ease.
The Bed Frame with Storage is manufactured in Canada and sold at a price-point that falls well below many storage beds of comparable quality. Silk & Snow also offers free ground shipping anywhere in provincial Canada and the contiguous U.S. Each order comes with a 30-night sleep trial, as well as a 5-year manufacturer's warranty.
Brooklinen Floyd Platform Bed
Price: $990
Who it's best for:
Those shopping for a minimalist design

Children or teenagers who need a bed frame that can grow with them

Frequent movers who want a bed that's easy to transport
Highlights:
Modular design for adjustable sizing

Personalizable with birch or walnut veneer and black or white hardware

Assembly takes about 20 minutes and does not require tools
Sleep Foundation Exclusive Offer!
Use this SleepFoundation.org link for the most current discount on Brooklinen mattresses
The Brooklinen Floyd Platform Bed is extremely customizable in terms of style, size, and storage space. The modern frame is built from plywood panels that can be added or removed to fit mattresses in twin, full, queen, and king sizes. The panels are available in light birch or dark walnut veneer, and the hardware comes in white or black powder-coated steel. Its platform design eliminates the need for a box spring.
Buyers can also include an optional headboard and underbed storage units for additional charges. Add-ons and expansion pieces are available for purchase with the initial order or at a later date if your needs change.
Storage drawers can be attached to either or both sides of the bed. The interior of these units measures 40.5 inches wide, 14.75 inches deep, and 4.75 inches high. The drawers are made of cotton canvas and can hold up to 80 pounds each.
The bed is secured with nylon ratchet straps rather than screws and does not require tools to assemble. It is designed to be put together in approximately 20 minutes with the help of another person.
Brooklinen offers a 30-day return window for this frame.
Avocado Kids Trundle Bed Frame
Price: $1,299
Who it's best for:
Kids who have frequent sleepovers

Parents who often sleep in the same room as their child

Eco-conscious shoppers
Highlights:
Composed entirely of solid wood

Available in white and natural wood color options

Trundle design provides spare bed
Sleep Foundation Exclusive Offer!
Use this SleepFoundation.org link for the most current discount on Avocado mattresses
The Avocado Kids Trundle Bed Frame is a high-quality frame built for durability. The trundle design is ideal for a kid's bedroom, whether it's to accommodate a parent, friend, or visiting relatives.
The frame is composed of solid beechwood, with solid pine used for the slats that support the mattress. Shoppers can pick from two color options, white and a natural beechwood color. It comes in two sizes, twin and full, and accommodates mattresses with profiles up to 7 inches. The trundle component glides smoothly under the bed for easy stowing. Avocado also provides two flat boards to convert the trundle into a storage drawer when it's not being used as an extra bed. Assembly of the entire bed is quick and easy.
For parents concerned about exposing children to harmful chemicals, Avocado uses a varnish free of VOCs and has GREENGUARD Gold certification. The company does not offer returns with this product, but the frame is covered by a 10-year warranty. Shipping is free to addresses in the contiguous U.S.
Best for Under Bed Storage
Brooklyn Bedding Super Duty High Rise Platform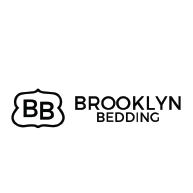 Price: $179
Who it's best for:
People seeking extra storage space

Those wanting a minimalistic-looking bed frame

Sleepers who don't own a box spring or foundation
Highlights:
Supports up to 1,500 pounds

13.75 inches of under-bed clearance

Optional head and footboard bracket for an additional fee
Sleep Foundation Exclusive Offer!
Get 25% off at Brooklyn Bedding!
The Brooklyn Bedding Super Duty High Rise Platform is a steel bed frame with 13.75 inches of under-bed clearance. We recommend this pick for people with small bedrooms or apartments seeking a minimalistic-looking frame with extra storage space.
The steel construction makes the frame feel extremely sturdy, and it can withstand up to 1,500 pounds of evenly distributed weight. The frame also has a center support beam that prevents your mattress from sagging in the middle over time. Thanks to this center support system and steel slats, it's a great choice if you don't own a mattress foundation or box spring. The frame comes fully assembled, and the retractable design makes it easy to set it up or take it down. You can also add brackets to your order for an additional fee so that you can attach a headboard and footboard.
All six standard sizes are available, and Brooklyn Bedding ships free to customers in the contiguous U.S. A 120-night sleep trial allows you to test the frame and return it for a full refund anytime after the 30-night break-in period. The Super Duty High Rise Platform is backed by a 10-year warranty.
Best for Seasonal Storage
Zinus Finley Upholstered Platform Bed with Lifting Storage
Who it's best for:
Those with limited upper body strength

Anyone with limited storage space in their residence

Homeowners who frequently host overnight guests
Highlights:
Hydraulic elevation system lifts the mattress independently

Abundant under-bed space allows you to store plenty of belongings

Ultra-sturdy design can support up to 700 pounds
Sleep Foundation Exclusive Offer!
Use this SleepFoundation.org link for the most current discount on Zinus mattresses
Most storage beds feature a drawer or hidden compartment. The Zinus Finley Upholstered Platform Bed utilizes a state-of-the-art hydraulic lifting mechanism that automatically raises the mattress and frame. Simply pull the bar at the foot of the bed and the mechanism does the rest. This feature is handy for anyone, but especially if you have limited mobility or upper body strength. The bed's functionality also makes it ideal for guest room accommodations.
Roughly 10 inches of under-bed clearance frees up plenty of storage space for out-of-season clothes, holiday decorations, spare bedding, and other items you need to access on an infrequent basis. While you'll need to purchase a mattress separately, the frame itself is composed of robust steel and has a weight capacity of up to 70 pounds. Full and queen sizes are available. When in the lowered position, the bed completely conceals the storage space. Grey upholstery fabric and a 38-inch headboard add to the minimalist aesthetic.
Assembly is a fairly quick process, as all tools and hardware needed to set up the bed are housed in a compartment inside the headboard. For an extra charge, Amazon.com shoppers can opt for expert assembly. Standard ground shipping is free of charge and Amazon backs your order with a 30-night trial period. The manufacturer's warranty covers structural defects in the bed for up to 5 years, and you can purchase an accident protection plan against stains and other types of physical damage that lasts 3 years.
---
What Is a Storage Bed?
A storage bed is a frame that is designed to include built-in storage. Options range from simple platform beds with underbed drawers or baskets to captain's beds with a bookshelf and multiple drawers. These bed frames often have a slatted base designed to support a mattress without a box spring.
Storage beds are a popular option with those who live in smaller spaces, such as a dorm room or studio apartment. However, they can be just as convenient in a kid's room or any other bedroom that lacks sufficient storage.
Often built from solid wood or particle board, the cost of storage beds varies based on their materials and construction. Each offers storage space, whether that be in the form of underbed drawers or open shelving. Some come with a headboard, which may include additional storage. However, others are designed to be used without a headboard and/or have an optional headboard available for an additional charge.
The most affordable storage beds come as kits that require at-home assembly. The complexity of the process differs between models.
How to Choose a Storage Bed
When choosing a storage bed, it is wise to consider what you'll store, how often you'll need those items, and how much space is available for the frame itself. Storage beds are readily available in the standard sizes, including twin, twin XL, full, queen, king, and California king, but they vary in storage capacity, style, cost, and materials.
What to Look For in a Storage Bed
With so many options available, knowing what features to look for in a storage bed can make the shopping process less daunting. We'll take a closer look at storage capacity, materials, assembly, and other important factors to consider.
Storage Capacity
Storage beds are usually equipped with drawers or cubbies on one or both sides of the bed. These spaces can be used to store out-of-season clothes, bed linens, and other items you want to tuck out of sight. Some storage beds also have shelving in the headboard. Depending on the model, extra storage options may be available for an additional cost.
Quality Materials
The quality of the materials can affect the bed's appearance and longevity. Many storage beds are made of particle board because the material is affordable and lightweight, making it easy to ship and move. However, a storage bed made from solid wood may be more durable.
Style
Storage beds have long been popular options for dorm rooms, but they are also available in styles to fit most tastes and decor. They come in a broad spectrum of colors, and their appearance varies from industrial to farmhouse to midcentury modern.
Compatibility with Your Mattress
Using a bed with a size that does not correspond to the size of your mattress can be problematic for a couple reasons. A bed that's too short or narrow can make your sleep surface feel uneven, while an overly wide or long bed can cause your mattress to shift and slide around during the night. Since storage beds have platform-style surfaces that eliminate the need for a box spring, the best mattresses to use with these beds include foam and latex models that require more rigid support.
Price
Storage beds range from less than $400 to over $3,000, but most are around $500 to $800. Models with lower quality materials and less storage space often carry a lower price tag.
Ease of Assembly
Many storage beds require assembly. The difficulty, time commitment, and necessary tools for this process vary between models. While most manufacturers include instructions with purchase, some also provide them in product listings. This may give you an idea of what to expect.
Noise
If you share a room with another person, the noise level of the storage system may be worth considering. Baskets, open shelving, and soft-close drawers usually produce less noise than conventional drawers.
Size Options
Storage beds come in the standard sizes to accommodate most common mattress dimensions. Which size is right for you will depend on the number of sleepers, budget, and available space.
Headboard
Not all storage bed frames come with a headboard, so you may need to purchase it separately if you want one. Many manufacturers offer a headboard that matches the storage bed at an additional charge. You may also be able to select a separate headboard design, but you should first confirm whether it is compatible with the frame.
Frequently Asked Questions About Storage Beds
How much do storage beds cost?
The cost of a storage bed depends on the material, size, and brand, but you can expect prices to range from $400 to over $3,000. Typically, storage beds made from particle board are less expensive than those made from solid wood. Cost also rises in relation to the bed's size and how many storage options it includes.
How much storage space do storage beds have?
The amount of drawer, cubby, or shelving space a storage bed provides depends on the design, size, and height of the bed. Twin beds often have compartments on just one side of the bed, while queen and king beds typically have access to storage on both sides. It is uncommon for storage beds to have compartments under the head of the bed since they may be obstructed by a nightstand.
Do you need a box spring with a storage bed?
You won't typically need a box spring with a storage bed. More often than not, these models are designed to support the mattress on a platform to allow more space for underbed drawers, shelves, or both.
How do you assemble storage beds?
Most storage bed kits come with detailed assembly instructions that owners should follow carefully to ensure the bed works as it is intended. The specific assembly details vary by model. The kit typically includes all the hardware necessary to put the pieces of the bed together. However, you may need to use your own tools.
Still have questions?
Our product experts have extensive experience testing just about every sleep product on the market. Send an email to [email protected] or call us at (877) 672-8966 with your questions and we'll help you find exactly what you're looking for.
Thanks for the feedback - we're glad you found our work instructive!
If you're ready for more, sign up to receive our email newsletter!
Was this article helpful?
Thanks for the feedback - we're glad you found our work instructive!
Submitting your Answer...
Other Articles of Interest