When you buy through our links, we may earn a commission. Products or services advertised on this page may be offered by an entity that is affiliated with us. Learn more.
Wooden bed frames offer durability and stability, and many shoppers find they add a stylish touch to the bedroom.
Made from pine, oak, maple, or other types of wood, wooden bed frames come in multiple style and color options. Although some bed frames must be used with a foundation or a box spring, many wooden bed frames have integrated slats that provide sufficient support for the mattress on their own. Wooden bed frames may also come with a headboard and footboard, or built-in drawers.
When selecting a wood bed frame, there are many considerations to keep in mind. We'll detail some of these factors, and share our picks for the best wood bed frames.
Product Details
Those who want to invest in a long-lasting bed frame
People with limited storage space in their bedrooms
Shoppers with tight budgets
All-pine construction is exceptionally sturdy
Available in natural and walnut finishes
Spacious under-bed area with roughy 1 foot of clearance
Sleep Foundation Special Offer
33% off everything
Most wooden bed frames are relatively long-lasting, but factors like wood type, leg thickness, and slat spacing make some frames more durable than others. The Nectar Aurora Bed Frame is composed entirely of pine, a hardwood known for its exceptional strength and longevity. Robust legs form a sturdy base for the frame, while the rails and slats are also fairly robust. The frame should have no trouble supporting you and your sleep partner regardless of which mattress you use.
The frame is available in natural and walnut finishes. Use a damp cloth to remove dust from the frame as needed. All tools needed for assembly are included in the packaging, and setup is a quick and painless process. With 12 inches of under-bed clearance, the frame offers plenty of storage space. This can be handy if you sleep in a small or cramped bedroom with limited space for your belongings.
The Aurora Bed Frame carries an affordable sticker price, especially compared to other hardwood frames, and shipping is free for all customers in the contiguous U.S. Each order comes with a 50-night sleep trial. Comparatively, many brands selling bed frames do not offer any sort of trial period. Nectar further backs your purchase with a 3-year warranty, should you decide to keep your Aurora.
Shoppers who want to invest in a long-lasting bed frame
Those looking for a frame with ample under-bed storage
Value seekers
Constructed from three types of durable Appalachian hardwood
Quick, straightforward assembly
100-night sleep trial and 5-year warranty
Sleep Foundation Special Offer
20% off sitewide + 2 free Dream Pillows with mattress purchase
Bed frame shoppers often need to compromise between durable models and those within their price range, but the Birch White Wood Frame gives you the best of both worlds. Three types of hardwood are used to create the frame, ensuring sturdy construction and a decent lifespan, yet the price-point is below-average compared to many competing options with similar materials and designs.
The rails are made of a composite material derived from maple and poplar, the slats are southern yellow pine, and the legs are solid maple. All materials come from trees grown in plots certified by the Forest Stewardship Council, ensuring sustainable planting and cultivation practices. The forests are also LEED and CARB compliant, which indicates Birch takes measures to monitor pollution and conserve energy.
Assembling the frame is a straightforward process that can be completed in a matter of minutes. The design incorporates Japanese joinery techniques, so no tools or metal hardware are needed for setup. The frame measures 13 inches tall, creating plenty of under-bed space for people with storage needs or small bedrooms. Six sizes are available that correspond with standard mattress dimensions.
Birch provides free ground shipping to customers in all 50 states. The White Wood Frame is backed by a 100-night sleep trial – which is longer than average for this type of product – and a 5-year manufacturer's warranty against structural defects.
Silk & Snow Wooden Bed Frame
Those who want to invest in a long-lasting bed frame
Sleepers who prefer using a headboard
People whose bedrooms have easily scratched floors
Constructed using durable Acacia hardwood sourced from Southeast Asia
Design utilizes Japanese joinery for easy assembly
Available with a headboard or in a traditional platform style
Sleep Foundation Special Offer
Use this SleepFoundation.org link for the most current discount on Silk & Snow mattresses
Silk & Snow's Wooden Bed Frame's construction is inspired by Japanese joinery techniques, the rails and posts feature intricate notches that allow these components to fit together without metal hardware or adhesives. This construction is not only easy to assemble but also remarkably sturdy thanks in part to the frame's 100% acacia composition. Acacia is a hardwood variety renowned for its natural beauty and durability. All wood is grown in the forests of central Vietnam and the Mekong River Delta.
Customers choose between a traditional platform style that stands 13 inches tall or a frame with a matching headboard that elevates the profile to 36 inches. Both options offer ample under-bed space for people with storage needs. Each leg is padded with cork to prevent damage to floors made of hardwood, parquet, and other materials that are vulnerable to scratching. Twin, full, queen, and king sizes are available.
The frame is quite easy to keep clean – simply wipe with a soft cloth, mild soap, and water as needed. Silk & Snow offers free ground shipping throughout the contiguous U.S. and provincial Canada. The Wooden Bed Frame comes with a 30-night trial period. Those who decide to return their bed within the trial window must cover all shipping costs.
People who don't own box springs or foundations
Those seeking extra storage space
Value seekers
Sturdy hardwood construction available in three color options
Quick and easy assembly with all tools included
Generous under-bed clearance creates storage space
Sleep Foundation Special Offer
SleepFoundation readers can use code SF5 to get an additional 5% off on top of website discount
The Emma Rustic Wooden Bed has a sturdy design made entirely from hardwood. The careful construction and high-quality materials make this frame a highly durable and functional option with a distinctive appearance.
You can choose between three finish options, including natural wood, almond, and gray. The Horizontal wooden slats support your mattress, while a center slat prevents the bed from sinking in the middle. The slatted design allows you to use the frame without a box spring or foundation. The platform rests 13.5 inches above the ground, creating extra storage space for people living in smaller spaces.
Assembly is quick and only requires one tool, which is included with the bed frame. Six standard sizes are available, and Emma ships free to customers living in the contiguous U.S. There is no trial period for the Rustic Wooden Bed, but it is backed by a 1-year warranty against manufacturing defects.
Individuals who want a minimalist product that is easy to assemble
Sleepers who value a quiet and stable frame
Shoppers who want ample underbed storage
Features a removable and washable pillowboard cover
Uses felt made from recycled plastic to keep the mattress from shifting
Japanese joinery techniques reduce noise and add durability
Sleep Foundation Special Offer
Use this SleepFoundation.org link for the most current discount on Thuma mattresses
The Bed by Thuma boasts a beautiful aesthetic as well as a thoughtful design. The minimalist frame that is handcrafted using natural reclaimed wood that make it incredibly sturdy.
The wooden base of The Bed is built using Japanese joinery techniques, which allow the joints to fit neatly together without metal hardware. Sturdy wooden slats support the mattress. The slats are lined with felt derived from recycled plastic, which is intended to prevent the mattress from shifting during the night. A soft, proprietary foam headboard – known as The Pillowboard – rests between the base and the wall. The Pillowboard's cover is made using a pebbled polyester-linen weave, and it can be removed and washed for easy care.
The Bed is available in twin, full, queen, king, and California king sizes. Shoppers can choose between two stains for the wood and two colors for The Pillowboard. Cork padding underneath each leg also prevents floor damage, and a 9-inch clearance allows for plenty of underbed storage.
Thuma provides free shipping throughout the contiguous United States. The Bed will arrive in three separate boxes that are easier to maneuver into your home, and setup generally takes one person about 10 to 15 minutes. The Bed comes with a 100-night risk-free sleep trial and is backed by a lifetime warranty.
Best Upholstered Wood Frame
DreamCloud Claremont Bed Frame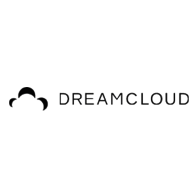 Modern upholstered design
Headboard provides a cushioned backrest for lounging
Slate or linen color options
Sleepers who enjoy bed frames with plush headboards
Shoppers seeking a frame with cushioned edges
People who frequently read or watch TV in bed
Sleep Foundation Special Offer
Use this SleepFoundation.org link for the most current discount on DreamCloud mattresses
The DreamCloud Claremont Bed Frame is a simple yet modern frame that combines clean lines with a plush upholstered design. We recommend it for shoppers who would like to add a bit of texture to their bedroom decor.
The frame is upholstered in fabric that comes in two color options, slate or linen. The headboard is padded to create a soft, cushioned backrest while you read or lounge in bed. The corners are padded, as well, so you won't need to worry about banging into sharp corners. The headboard is 40 inches high and the platform is 15 inches above the ground. The tapered wooden legs add a subtle mid-century touch to the room.
You can purchase the frame in a full, queen, or king size. Assembly is fairly simple and all necessary tools are included. DreamCloud recommends cleaning the upholstery with a damp cloth when necessary.
DreamCloud offers a 50-night sleep trial to test the frame in your home. The frame also comes with a 3-year warranty. Shipping is free to addresses in the contiguous U.S.
How to Choose a Bed Frame
The vast selection of wooden bed frames can seem overwhelming if you're just starting your search. However, with a little research, you can get a better understanding of what you're looking for.
What to Look For in a Wood Bed Frame
The right wood bed frame for you will depend on your personal needs and preferences. Overarching factors like the size, price, and type of bed frame are the first details shoppers usually focus on. Once you've established the general type of bed frame you want, you can focus on more specific details such as the design, color options, material type, ease of assembly, and noise potential.
Quality Materials
Bed frames can be built from many different types of wood, such as pine, oak, maple, or walnut. Some manufacturers also use composite woods like fiberboard or plywood. Depending on the type of wood, a bed frame may offer different advantages such as being sturdier, more lightweight, more durable, or less prone to cracking. Often, wood bed frames include components made from other materials like steel to reinforce their construction.
Price
The average wood bed frame is a little more expensive than its metal counterpart, with the majority of frames falling between $300 and $1,000. The price of a wood bed frame can vary according to its construction, performance, and materials. Frames with simpler designs generally cost less than luxury frames made with high-end materials.
Design
The bed frame's design should fit into the room's overall aesthetic. Many wood bed frames have classic designs that work well with any room style. Others have more elaborate designs intended to be a focal point of the bedroom.
Weight
Wooden bed frames vary in weight depending on the design and the types of wood used to make them. Simple designs tend to weigh less and may be easier to move, while heavier, more elaborate wood frames may feel sturdier. Consider your own priorities when evaluating the weight of the frame, and keep in mind that heavier frames may be able to support a higher weight limit.
Ease of Assembly
For those with limited mobility or people who move often, ease of assembly is a vital factor. Some models require no tools and can be assembled in just a few minutes, while others are more complex and may require the help of a second person. For bed frame models that are quite heavy or complicated, certain manufacturers offer in-home setup for an additional fee.
Noise
Wood has a tendency to swell and contract with fluctuating temperature and humidity levels, and sleepers may notice their wood bed frame emitting some creaks after a while. Wooden bed frames built with thicker cuts of wood and fewer metal parts may be less prone to noise, as they're less likely to have weak points or places of friction.
Size
Select a wood bed frame that matches the size of your mattress and fits into your bedroom space. It's always wise to measure your mattress and compare it to the frame's dimensions listed on the manufacturer's website before buying, as dimensions can sometimes be a little different.
Type
In addition to the standard platform-style wood bed frame, there are also more elaborate models. Common types of wood bed frames include bunk bed frames with two or more beds stacked on top of each other; sleigh bed frames with a curved headboard and footboard; and panel beds that can be paired with a box spring or foundation. Whether a sleek design best fits your space or whether you prefer something fancier, there are plenty of options on the market.
What Are the Pros and Cons of Wood Bed Frames?
There are both pros and cons to owning a wood bed frame. As a natural material, wood offers a unique and attractive look, but it may be vulnerable to certain types of damage.
Pros
Cons

Style Options: Wood bed frames come in a variety of wood types, finishes, colors, designs, and constructions to suit almost any shopper's style needs. Many people also like the look of the wood's natural grain.
Durability: A high-quality wood bed frame can have a long lifespan if properly cared for.
Biodegradable: Natural wood frames can be made without chemicals and they are biodegradable, although using certain types of adhesives, stains, or varnishes might mitigate these environmental benefits.
Practicality: Wood bed frames often come with slats, so users don't need to purchase an additional box spring or foundation.

Cost: Wooden bed frames often have a higher price-point than metal bed frames due to the higher cost of materials and construction.
Weight: While some wood bed frame models are lightweight, most are relatively heavy and may be difficult to assemble or move.
Ease of Care: Unlike metal bed frames, wood bed frames are susceptible to damage from heat, humidity, and pests. They require more care and attention than metal bed frames, and they may need to be replaced or repaired more frequently.
Frequently Asked Questions About Wooden Bed Frames
How much do wood bed frames cost?
There are many decent wooden bed frames available for $300 to $700, with some high-end models costing $1,000 or more. Wood bed frames made with solid hardwood are usually more expensive, but they are also generally more durable. Size and design can also impact cost.
How can I stop a wooden bed frame from squeaking?
There are several ways to eliminate bed frame noise. The first step is to determine where the noise is coming from. Check for broken slats and make sure all bolts and screws are tightly fastened. Use oil to lubricate the screws and bolts, or add plastic washers. You may also be able to reduce friction by applying wax to problem areas, using cork to plug gaps, or inserting raisers under the legs. To protect your wooden bed frame from unnecessary swelling, keep it away from water and heat sources.
What type of wood is best for bed frames?
Wood bed frames can be made out of hardwood, softwood, or composite woods like plywood or fiberboard, each of which has its own benefits. Durable hardwoods like maple, cherry, mahogany, oak, and walnut are generally considered the best types of wood for a bed frame. Softwoods such as pine, cedar, and fir are easier to shape, but they may not be as strong. Composite woods don't offer the same look as a natural wood frame, and they may contain adhesives and other synthetic materials. However, they tend to have a lower price-point and may be more resistant to damage.
Thanks for the feedback - we're glad you found our work instructive!
If you're ready for more, sign up to receive our email newsletter!
Was this article helpful?
Thanks for the feedback - we're glad you found our work instructive!
Submitting your Answer...
Other Articles of Interest