Sleep Gifts: Best Sleep Gifts for Couples
When you buy through our links, we may earn a commission. Products or services advertised on this page may be offered by an entity that is affiliated with us. Learn more.
Although it often passes under the radar, sleep might be the activity that couples spend the most time doing together. From luxury sheet sets to soothing essential oil diffusers, sleep gifts make an original and thoughtful choice that show your partner you are committed to their wellbeing and your relationship.
We share our top five picks for couple sleep gifts, as well as advice on how to choose a sleep gift that your significant other is sure to love.
Product Details
Cozy Earth Bamboo Sheet Set
Material:
100% viscose from bamboo
Partners with different temperature preferences
Couples with a high-profile mattress
Sleepers with sensitive skin
Available in five colors
Machine-washable, with a pill-resistant weave
Produced using sustainable manufacturing processes
Sleep Foundation Special Offer
Use this SleepFoundation.org link for the most current discount on Cozy Earth sheets
Cozy Earth specializes in sustainable bed and bath linens. Woven from soft bamboo viscose, the Cozy Earth Sheet Set is engineered to wick away moisture. This helps keep the sleep environment at a comfortable temperature, even if one person sleeps hot and the other tends to run cold.
The sheets are stain-resistant and machine-washable in cold water. They can be tumble dried and are designed to resist pilling. A closed-loop manufacturing process ensures the water is recycled and waste products are not released into the environment. Cozy Earth carries sustainable certification from the Forest Stewardship Council and OEKO-TEX.
Cozy Earth offers the Bamboo Sheets in a choice of five colors: white, light gray, driftwood, charcoal, and oat. The sheets are available in the standard sizes and split king. With each set, shoppers receive two pillowcases, one flat sheet, and one fitted sheet designed for mattresses up to 20 inches thick. A bamboo duvet cover is sold separately.
Shoppers receive free shipping, a 100-night sleep trial, and a 10-year warranty.
Tempur-Pedic SleepTracker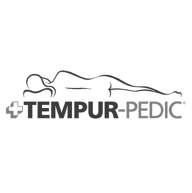 Sleep Tracker Type:
non-wearable – under mattress
Those who want actionable insights into their sleep habits
Individuals who prefer to avoid wearable technology
People who often wake up feeling groggy
Smart alarm can wake sleepers during light sleep
Individualized readings for each sleeper
Compatible with Android, iPhone, Alexa, and Hey Google
Sleep Foundation Special Offer
Use this SleepFoundation.org link for the most current discount on Tempur-Pedic products
Although Tempur-Pedic is best known for its memory foam mattresses, couples interested in improving their sleep may be drawn to the Tempur-Pedic Sleeptracker-AI Monitor. This device consists of two sensors to insert under the head of the mattress, one on each side. The sensors track each person's sleep parameters to provide individualized feedback and recommendations for improving sleep quality.
Based on the data, the app provides information about sleep stages and offers the option of a smart alarm that can wake sleepers in the lightest stage of sleep to avoid grogginess upon waking. The sensors measure room temperature, humidity levels, and air purity. For those who sleep with pets, the sensors are programmed to ignore movement at the foot of the bed.
The information is accessible via a smartphone app, which is compatible with Android and iPhone. Sleepers can also connect the sensors to a smart home system such as Alexa or Hey Google to access voice-controlled options.
Each package contains two sensors, a processor, a smart cable, and a USB power adaptor. The equipment is designed to work with most bed setups. Users will need a power base to plug in the cable. Tempur-Pedic does not accept returns for the Sleeptracker-AI Monitor, but the company offers free shipping and a 1-year warranty.
Noise Type:
White and brown noise, lullabies, and nature sounds
Features:
Color projector display, automatic shutoff
Couples who need to block out external noises
Families
Households who want an easily accessible nightlight
More than 20 sound options including white noise and lullabies
Headphone jack for individual use
Night light with adjustable color and intensity
Sleep Foundation Special Offer
Use this SleepFoundation.org link for the most current discount on Yogasleep products
The Yogasleep Dreamcenter is an all-in-one sound machine and nightlight. With its compact design, it fits easily on a bedside table or a desk. Users can program settings directly on the machine itself using the intuitive buttons.
The Dreamcenter has a total of 26 sound options, including sleep songs, nature sounds, and white or brown noise. The white and brown noise may be useful for muffling background noise for sleep, while the lullabies can be convenient for young children. For couples with differing preferences, Yogasleep includes a headphone jack so that one person can listen to sounds without disturbing their partner.
Sleepers can program the night light to different colors, adjust the volume, and use a timer to set sound options to play for 8 hours. For those who prefer not to leave the sound on overnight, the Dreamcenter timer can also be set to 45 or 90 minutes.
Yogasleep offers a 1-year warranty and a 101-night sleep trial. The company also sells mattresses and bedding accessories. Orders over $40 qualify for free shipping.
Project 62 Speckled Oil Diffuser
People who have trouble unwinding and relaxing for sleep
Shoppers on a budget
Couples who want to add a new activity to their bedtime routine
Designed to run for 6 hours
Automatic shut-off
Lightweight and understated design
Sleep Foundation Special Offer
Use this SleepFoundation.org link for the most current discount on Project 62 products
As Target's home accessories brand, Project 62 offers a variety of cozy accessories, from cushions to rugs to dishware.
The Project 62 Speckled Oil Diffuser has an elegant black and tan design that pairs with most bedroom aesthetics. Couples who enjoy using essential oils can place this lightweight diffuser on their bedside table to relax together at the end of the day.
Engineered to run up to 6 hours, the Project 62 Speckled Oil Diffuser is an ultrasonic vibrated humidifier with a capacity for 200 millimeters of water. Users can choose from two mist modes, continuous or intermittent, and the unit has an automatic shut-off in case you fall asleep while using it.
The diffuser comes with an AC power adapter so it can plug into the wall with no need for batteries. It comes with a 1-year limited warranty, and Target offers a 365-day return policy.
Sharing the Covers: Every Couple's Guide to Better Sleep
New couples or those with young children
Those with a partner who snores or has a sleep disorder
Anyone looking for thoughtful, creative solutions to couple sleep problems
Approachable language backed by data-driven insights
Broad range of topics
Activities to complete for each topic
Sleep Foundation Special Offer
Use this SleepFoundation.org link for the most current discount on Amazon products
Most research studies investigate how to improve sleep when sleeping alone, but sleep experts are starting to recognize that sleeping with a partner can make a significant difference to sleep quality. In Sharing the Covers, sleep expert Dr. Wendy Troxel explains why sleep is essential for physical health as well as the health of your relationship.
In an engaging and approachable manner, Dr. Troxel shares advice on how to enjoy the benefits of sleeping together while minimizing the drawbacks. Drawing from the latest advancements in sleep research, Dr. Troxel discusses sleep disorders, intimacy, sleep cycles, and when it might be better to sleep apart.
Through a combination of anecdotes, scientific research, quizzes, and other activities, the book walks readers through solutions for loaded topics like differing sleep schedules, children, snoring, or disagreements about the optimal bedroom environment.
Whether you are just starting a new relationship or looking for a way to address difficult topics with your significant other, this book might be a good way to start the conversation.
Our Tips for Buying Sleep Gifts for You and Your Partner
Sleep gifts for your significant other can range from practical to romantic. Couples who are just starting out may want to invest in a good pillow or a durable sheet set, whereas those already in long-term relationships may be able to identify gadgets or accessories that their partner needs for a better night's sleep.
Invest in Quality Bedding
A good pillow, comforter, and sheet set are fundamental for sleep, and the holidays are a great opportunity to ensure your partner has the best products for their sleeping style. If you and your partner are happy with your existing setup, you may be able to take your sleep to the next level with a mattress topper or a weighted blanket.
Show You Care With Sleep Accessories
You can never go wrong with cozy slippers, a warm bathrobe, or a onesie. For the person who has everything already, consider personalizing your gift or choosing a theme that's meaningful to your relationship.
Improve Your Partner's Sleep Quality With Gadgets
From anti-snoring machines to smart sleep tracking technology, shoppers can find a wealth of options to help address sleep problems.
Leverage the Power of Scents and Sounds
If your loved one has trouble sleeping at night, an essential oil diffuser or white noise machine may help them drift off. Eye masks, earplugs, or headphones can also help your partner fall asleep by blocking out sounds or light.
Help Them Relax With Books and Apps
Give your partner a book on how to sleep better, a collection of short stories specifically designed to lull them to sleep, or a journal so they can record their dreams. For the technologically minded, a subscription to a meditation app may help complete the bedtime routine.
Shopping for Sheets
Investing in a comfortable set of sheets can contribute to a romantic bedroom environment and a good night's sleep for you and your partner. Sheets are available in myriad styles, materials, and price-points, so shoppers are sure to find a set that suits both partners' needs.
Hot sleepers may prefer cotton, linen, or Tencel sheets, while those in colder climates might prefer flannel. Polyester and microfiber sheets may be more cost-effective for those on a limited budget.
Shopping for Weighted Blankets
Weighted blankets are touted for their stress-relieving benefits, and they may be ideal for snuggling up together with your partner in the evening.
To help relieve anxiety while still allowing free movement under the blanket, experts generally recommend using a weighted blanket that weighs approximately 10% of the sleeper's body weight. While weighted blankets are more commonly sold for individual use, experts suggest adhering to the same guidelines when purchasing a weighted blanket for couples.
Still have questions?
Our product experts have extensive experience testing just about every sleep product on the market. Send an email to [email protected] or call us at (877) 672-8966 with your questions and we'll help you find exactly what you're looking for.
Thanks for the feedback - we're glad you found our work instructive!
If you're ready for more, sign up to receive our email newsletter!
Was this article helpful?
Thanks for the feedback - we're glad you found our work instructive!
Submitting your Answer...
Other Articles of Interest