When you buy through our links, we may earn a commission. Products or services advertised on this page may be offered by an entity that is affiliated with us. Learn more.
Key Takeaways
A quilt is a type of bed cover typically made from sheets of fabric with a thin layer of batting in between. The best quilts are woven with durability and comfort in mind. Material, softness, breathability, and price are important considerations to make when choosing a quilt. Many companies offer several color options for sleepers to select a quilt that matches their decor and unique style preferences.
A quilt can be a fitting addition to your bed if you need more than just a top sheet but don't prefer the heaviness that duvets, comforters, or weighted blankets can add. Many of the best quilts are lightweight and made from flexible materials, like cotton or linen, allowing them to drape nicely over the bed. Because they're thinner than duvets and comforters, you can also layer them over other blankets to regulate your temperature on chilly nights.
To help you find the right quilt for you, we selected the best quilts for different preferences, whether you need an all-season quilt or want a high-quality layer to splurge on. Our picks are based on our evaluation of a variety of qualities including materials, durability, feel, and price.
Product Details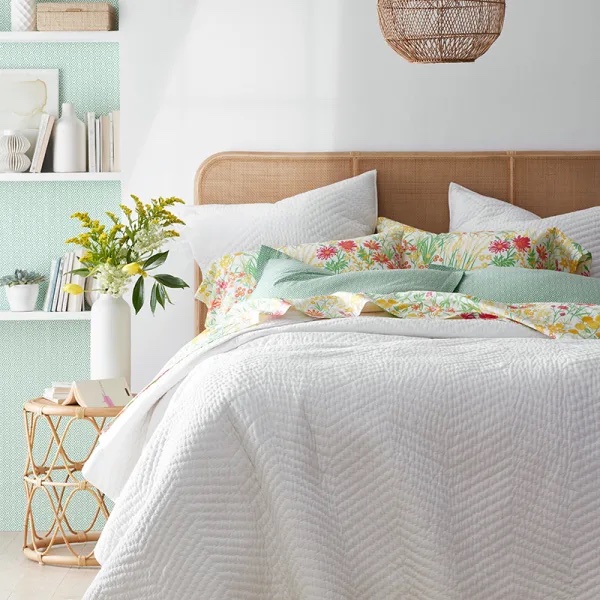 The Company Store Company Cotton Voile Quilt
Material:
100% cotton voile
Sizes:
66″ x 86″ 90″ x 92″ 104″ x 92″
Shoppers who prefer minimalist bedding
Sleepers who like to mix and match their quilt and shams
Hot sleepers

Cotton voile fabric is soft and airy
Numerous color options fit an array of bedroom styles
Lighter weight is ideal for layering with heavier blankets in cold months
Sleep Foundation Special Offer
Use this SleepFoundation.org link for the most current discount on The Company Store products
Bottom Line
With its textured design and multiple color choices, The Company Store Company Cotton Voile Quilt is a versatile and classy bedroom addition. We recommend it for sleepers who enjoy the comfort of lightweight, airy bedding.
As the name implies, The Company Store Company Cotton Voile Quilt is made from lightweight cotton voile with cotton fill. Its crafting delivers a lightweight quilt ideal for hot sleepers or people who don't like to feel weighed down when sleeping. That said, it's easy to take it from warmer months to colder seasons easily by pairing with a throw or heavier quilt. The minimalist design plays well with layered textures, patterns, and colors.
Known for its softness and breathability, cotton voile is an airy fabric ideal for quilts. It has a higher thread count than most cotton fabrics, which translates into a lightweight, almost silky feel.
This quilt offers more than 20 color options, including buttercream, deep teal, and coral so you can seamlessly match it to your bedroom decor. The Company Store has matching shams in the same rainbow of colors to mix and match as you see fit. The quilt can be machine-washed on the gentle cycle and dried on low.
With a 90-day guarantee, you can try the quilt and decide if it's right for you. It's returnable even after you wash it.
Quince 100% Organic Cotton Quilt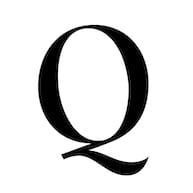 Material:
100% organic cotton voile
Sizes:
70″ x 92″ 90″ x 92″ 108″ x 92″
Shoppers looking for affordable organic bedding
People seeking a quilt that's easy to care for
Sleepers who don't cuddle up with pets

Organic cotton at an affordable price
Cotton voile is soft to the touch
Fits well in standard washers and dryers
Sleep Foundation Special Offer
Use this SleepFoundation.org link for the most current discount on Quince products
Bottom Line
For a 100% organic cotton quilt, the Quince quilt is a high-quality, affordable option. We recommend this quilt for sleepers who are interested in organic cotton bedding but usually skip it because of its higher price-point.
It's common for 100% organic cotton quilts and other bedding pieces to cost more than regular cotton ones. Because of Quince's direct-to-consumer model, the 100% Organic Cotton Quilt is brought straight from the manufacturer to you, allowing it to be priced much lower than similar quilts on the market. So, you can experience the softness of an organic cotton quilt at a budget-friendly price.
The quilt has a simple, classic design and is available in white, making it fit right into almost any bedroom decor. One caveat is that white is the only color option, and white bedding doesn't always mix well with pets or kids who share the bed. It launders well and can be washed in cool water and dried on low or hung to dry.
Made from soft, airy organic cotton voile with organic cotton fill, this quilt is breathable enough for people who tend to sleep hot. You can also use it as an extra layer during cold, wintery months without adding uncomfortable bulk to your bed.
Get a full 365 days to try the 100% Organic Cotton Quilt on your bed with Quince's generous free return policy.
Boll & Branch Heritage Quilt Set
Material:
100% organic cotton
Sizes:
74″ x 91″ 96″ x 96″ 112″ x 96″
Consumers who don't mind spending more for exceptional softness
Eco-conscious shoppers
Sleepers who prefer matching bedding pieces

Materials certified by GOTS and OEKO-TEX
Soft sheen finish creates a smooth, cooling effect for hot sleepers
Five neutral color options fit most bedroom color schemes
Sleep Foundation Special Offer
Use this SleepFoundation.org link for the most current discount on Boll & Branch products
Bottom Line
When you want your bed to feel indulgent, a 100% organic cotton, buttery soft quilt set like this one from Boll & Branch is the answer. We recommend the Boll & Branch Heritage Quilt Set to sleepers who want to invest in high-quality pieces for their beds.
Your bed is one place in your home that should always feel lavish. Made from 100% organic cotton, the Boll & Branch Heritage Quilt Set provides the lush feel of long-staple cotton, which is softer and stronger than short-staple cotton. An intricate basketweave pattern adds to the strength of the quilt and is finished by hand to ensure top quality. Dense stitching means the pattern holds its shape through each wash, so this is a quilt that will last.
This set includes a quilt and one sham with twin sets or two shams with full/queen and king/California king sets. Available in white and four shades of gray, the quilt set works equally well for neutral bedrooms and spaces with pops of color.
Boll & Branch uses organic cotton in its products and was the first Fair Trade Certified bedding company. The company also steers clear of any harsh chemicals in production, like chemical sizing agents. It's worth noting that because of this, the quilt and shams may shrink during the first few washes, a natural occurrence for untreated cotton. But this happens without compromising the look, feel, and integrity of the fabric and stitching. Plus, the quilt is intentionally larger than typical quilts to account for any shrinkage.
Boll & Branch provides a 30-day trial run for sleepers who want to see the set before committing, though the quilt must be in original condition with tags attached. Returns and shipping are free.
Sizes:
92″ x 96″ 112″ x 96″
Anyone looking for a summer-friendly quilt
Sleepers seeking an ultra-soft layer
Shoppers who want to try bedding for an extended period

Stonewashed for added softness
Simple diamond stitching creates a subtle, classic design
365-day return policy
Sleep Foundation Special Offer
Use this SleepFoundation.org link for the most current discount on Brooklinen products
Bottom Line
Made from 100% linen that's been stonewashed, Brooklinen's Linen Quilt is one of the softest to feel against your skin. This quilt is a good match for sleepers who want to top their beds with a cozy layer that isn't overly warm.
There is no better feeling than curling up in bed after a long day. Wrapping up in a super soft quilt like the Brooklinen Linen Quilt could make these moments even more worthwhile. The quilt is made from 100% linen that's been pre-washed and stonewashed, a finishing process that uses abrasives to enhance softness. The fill is 100% polyester for a lightweight feel suitable for warm months. It's also thin enough to use on top of another blanket on chilly nights without adding weight or bulk.
Stonewashed linen has a natural, slightly rumpled look with a nice drape, and this quilt comes in three neutral color options with diamond-pattern stitching. The smaller size fits full and queen mattresses, while the larger size suits king and California king mattresses.
Although this quilt is machine-washable, linen can be relatively delicate compared to other fabrics. Brooklinen suggests washing it using a gentle cycle and drying it on low to prevent snagging.
Brooklinen's generous return policy gives you a full 365 nights to try the quilt and gauge whether it's right for you. The company's guarantee also backs the quilt against quality defects.
Parachute Organic Air Cotton Quilt
Sizes:
96″ x 96″ 114″ x 96″
Anyone wanting a lightweight quilt that works all year
Sleepers who prefer organic bedding
Shoppers who appreciate carbon-neutral shipping

Pre-washed for added softness
Triple-ply construction makes it fluffy and lightweight
Certified by OEKO-TEX STANDARD 100 and GOTS
Sleep Foundation Special Offer
Use this SleepFoundation.org link for the most current discount on Parachute products
Bottom Line
Take the Parachute Organic Air Cotton Quilt from one season to the next, thanks to its thin profile and cloud-like feel that won't weigh you down. We recommend this quilt to sleepers who want a lightweight bed topper with the tell-tale softness of organic cotton.
The Parachute Organic Air Cotton Quilt is the brand's lighter version of its popular Cloud Cotton Quilt. It's an excellent choice for using alone on warm nights or layering with a warmer blanket when the temperature drops. Rather than using cotton or polyester fill, the Cloud Cotton Quilt relies on three layers of airy, cotton gauze fabric. This gives the quilt a fluffy quality without adding weight.
All three layers are made with 100% organic cotton. The pre-dyed yarn provides eye-catching, all-over color in three options: midnight, white, and pebble. The quilt is pre-washed to prevent shrinkage and enhance its softness. You can conveniently wash it in your home washing machine using the delicate cycle and mild detergent and toss it in the dryer on low. Because of this quilt's thinness, you might be able to wash your sheets simultaneously.
As a Climate Neutral Certified company, Parachute works to shrink its footprint and offset its emissions through programs like carbon neutral shipping.
You can also return this quilt for free within 60 days, either by mail or at your nearest Parachute store.
Why You Should Trust Us
Our team includes product testers, researchers, and experts with years of experience in the sleep industry. To select and compare quilts, our team follows a strict reviewing methodology that considers quality, comfort, price, and other important factors. And, as users of the products we write about, we use our firsthand experiences to guide us to the top picks in each category.
What Is a Quilt?
A quilt is a bed covering composed of multiple layers, including a fabric top, batting for insulation, and fabric backing. The top and backing layers usually contain cotton, while the fill may consist of cotton, wool, down, or synthetic fibers.
Quilts are known as much for aesthetics as performance, with some displayed as artwork in homes and museums. The top layer is usually the decorative component, and the design possibilities for quilts are nearly endless.
Quilt vs. Blanket
While both blankets and quilts are designed to keep sleepers warm, they differ in construction. A blanket traditionally consists of one layer of woven or knit fabric, while a quilt typically contains at least three layers. The difference in construction means quilts are generally heavier and warmer than blankets, though the materials can alter these characteristics. People who like a heavier cover or want more design possibilities often prefer quilts. Blankets may appeal to those who want a simpler, lighter covering.
Quilt vs. Comforter vs. Duvet
Comforters and duvets are both constructed with a thick, fabric shell filled with an insulating material, such as down, down alternative, cotton, or wool. There are subtle differences between duvets and comforters, but the main distinction is that duvets are designed to be used with a thin, washable cover, while comforters function as-is.
In general, quilts are lighter, thinner, and more breathable than comforters or duvets, with less insulating fill. This makes quilts well suited for warmer climates or layering with blankets in cold weather.
Benefits of Using a Quilt
Quilts have a rich history dating back to at least the Middle Ages, and the demand for them continues today thanks to their versatility, efficiency, and artistic value. We'll break down the practical and aesthetic benefits of quilts that have ensured their continued popularity.
Good For All Seasons
Many sleepers use their quilts year round. The breathable construction and minimal fill make quilts suitable for warmer seasons, like spring and summer. Their insulating properties also make them a popular choice as a top layer during cold winters.
Comes in Many Styles
The method of constructing quilts allows for nearly limitless design possibilities. Popular options include patchwork quilts, appliqué quilts, and embroidered quilts. Each uses a different technique to create a distinct pattern, so there's a quilt for nearly any design aesthetic.
Cost Effective
While quilts vary widely in price based on their materials, construction, and design, they're often less expensive than comforters and duvets because they use less fill. Therefore, they can be a budget-friendly way to stay warm.
Saves Space
Compared to duvets and comforters, quilts are compact. This characteristic can be useful for those who live in climates where a simple sheet or light blanket suffices during the summer. While folded duvets and comforters are bulky and require significant storage space, folded quilts are much more compact for easy storage.
Types of Quilts
The type of material affects a quilt's quality, breathability, and insulation. While each of the three layers may contain any common bedding material, the majority fall into four categories.
Cotton
This natural, lightweight material is often used for the outer layers of quilts to enhance the breathability and softness. When used as a fill, cotton makes for a lighter quilt suited to spring and summer. Cotton quilts are ideal for those who sleep hot or who live in warm climates.
Wool
Though quilts that use wool are generally heavier than the alternatives, they insulate well without sacrificing breathability. The natural material helps regulate temperatures, making it a good choice for sleepers who want to use the quilt year-round. While wool is most commonly used for fill, quilts with a wool backing layer take advantage of the material's moisture-wicking ability, which can be helpful for sleepers prone to sweating.
Down
Down quilts are filled with the fluffy clusters of feathers often found in comforters and pillows. The result is a lightweight, insulating bed cover that keeps sleepers warm in colder temperatures while retaining the compact design of a quilt.
Polyester
These synthetic fibers offer insulation that rivals natural materials, and they usually come at a lower price-point. Polyester is simple to care for, but it's not biodegradable, making it less sustainable than natural fibers. It's also more likely to clump or lose its form when used as fill.
How to Choose a Quilt
While the basics of quilt construction are simple, there are many variations to take into account. We'll explain the top features to look at when purchasing a quilt. To find the ideal quilt for you, consider how each aspect relates to your needs and taste.
Quality Materials
Every material has potential pros and cons, and sleeper preferences determine which material best suits them. That said, high-quality options often last longer. Some manufacturers detail thread count, material sourcing, or other construction information that can help buyers make a more informed decision about the quality of the material.
Design
One reason quilts are popular is that they allow so many pattern and color options. There are countless design options, but patchwork, appliqué, and embroidered quilts are particularly common. Patchwork quilts consist of fabric pieces sewn together. Appliqué quilts feature small fabric pieces sewn onto a larger background to create a pattern. Embroidered quilts have designs stitched onto the fabric.
Feel
Feel refers to the texture and weight of the quilt. If you intend to use the quilt without a top sheet, the material on the backing layer of the quilt determines the feel against your skin. The top fabric may also make a difference if you like to have an arm or leg out at night. For example, cotton is soft and light, which may appeal to sleepers with sensitive skin or those who sleep hot.
The type and amount of fill play a role in the quilt's weight and warmth. Wool tends to be thicker, heavier, and more insulating, making it a top choice for cool sleepers. Down and polyester fill tend to be light but insulating for warmth without a lot of weight. Cotton batting is traditionally light and breathable, facilitating year-round use.
Price
A quilt's price depends on its construction and the quality of the materials. Hand-stitched quilts generally cost more than those made by machine. Similarly, natural and organic materials, such as cotton and wool, usually come at a higher price-point than synthetic.
Size
Quilts are available in a variety of sizes to fit nearly any bed. Some people prefer a quilt that corresponds to their mattress size, but many opt for one size larger so that it drapes over the edges. Those looking for a quilt for a sofa or easy chair may consider a throw size.
Weight
The weight of a quilt depends on its fill and the thickness of the fabric. Quilts with feather or wool fill are generally heavier, while cotton, down, or polyester fill makes for a more lightweight covering. The amount of fill also affects the weight of the quilt. The fill's weight is measured in grams per square meter or GSM.
Durability
The quality of materials and stitching determines how long a quilt lasts. While synthetic materials can last a long time, they are more likely to clump or lose their shape when used as fill. Natural materials, like cotton and wool, are usually more durable.
Temperature Regulation
A quilt's materials determine its ability to regulate body temperature. In general, cotton and wool control temperature well because they allow air to circulate. Wool also insulates during colder weather for year-round usability. Synthetic fabrics can be designed to regulate temperature almost as well as cotton and wool. On the other hand, while down provides excellent insulation, it can get too warm for many hot sleepers.
Ease of Care
Quilts generally don't need to be washed as frequently as other bedding since the process subjects them to wear and tear. Cleaning recommendations vary depending on how you use the quilt, whether you have allergies, and its care instructions. Some owners wash their quilts once a year, while others aim for more frequent laundering. The ease of washing depends on the materials. Check the care instructions before purchasing any quilt to make sure that they meet your needs.
To help narrow down which quilt is best for you, we'll answer some of the most common questions people have when shopping for a new quilt.
Frequently Asked Questions
What type of quilt is best for all year round?
A quilt that balances breathability and insulation is generally best for year-round use. 

While you can always add layers in the winter, a quilt that's too hot is often unusable in summer. Materials that allow airflow, like wool or cotton, can help prevent overheating during warmer months. 

As a general rule, the higher the GSM, the warmer the quilt. While summer quilts typically have around 200 GSM, winter quilts usually start around 400 GSM. Sleepers planning to use their quilt throughout the year usually prefer an option at the lower end of the weight range. However, if you live in a cold climate or tend to air condition your bedroom during warmer months, a heavier option may be appropriate.
What is the difference between a quilt and a comforter?
The primary differences between quilts and comforters are their thickness, warmth, and aesthetics. Quilts tend to be flatter with less fill, so they usually trap less body heat. They are available in a wide variety of patterns, designs, and colors, which makes them popular for decorative purposes. Comforters are traditionally thicker and warmer, and they're designed to be used in colder weather. While bold colors and prints are available, many comforters are monochromatic.
What is the difference between a quilt and a coverlet?
While coverlets are often called quilts, they are thinner and smaller. Coverlets are a single piece of fabric with no insulating fill, and they usually don't drape as far as quilts. Because of these traits, coverlets are often used as decorative coverings, while quilts provide warmth as well as style.
Are quilts expensive?
Quilts carry varying price tags, ranging from budget-friendly to luxury. The price-point for machine-stitched quilts usually starts around $100 and increases based on the weight, materials, and construction. Some high-end quilts reach over $1,000. Hand-stitched or one-of-a-kind quilts by independent quiltmakers generally fall in the mid to high end of this price range. 

That said, a quality quilt can last many years with proper care, so it may be worth the splurge. At the same time, affordable used quilts are sometimes available through vintage and second-hand retailers.
What are the different types of quilts?
Quilt type may refer to the material, design, or even season. 

Common material types include cotton, wool, down, and polyester. 

Cotton: This natural fiber tends to be light and breathable, making it ideal for summer.
Wool: Thanks to its combination of breathability, insulation, and moisture wicking, wool quilts are popular for year-round use.
Down: Made from the inner feathers of waterfowl, down fill is  known for its plushness and insulation.
Polyester: This synthetic fiber is usually affordable and warm.
Quilts are also grouped based on the method of constructing their top layer. While there are countless variations, three types are most common.
Patchwork: This is the most traditional type of quilt. Pieces of fabric are sewn together to create the top layer. There are many variations on this style, ranging from T-shirt quilts, which use exclusively fabric from old T-shirts, to crazy quilts, which patch together fabric scraps of irregular shapes and sizes.
Appliqué: The design consists of pieces of fabric stitched onto a basic top layer of fabric. Since the sewn-on design does not serve as a layer of the quilt, this method often allows for more specific pictorial quilts and more elaborate patterns and shapes.
Embroidered: Like appliqué quilts, this style begins with a blank, one-piece top layer. However, rather than sewing fabric on to create the design, the quilter embroiders it using different colors of threads. The result is an elegant, handmade aesthetic.
Some manufacturers also label quilts according to what season or climate they are best for. For example, winter quilts tend to be heavier and contain an insulating fill for cold weather. Summer quilts are usually lightweight and breathable.
Can I wash a quilt?
New quilts can usually be machine-washed, but it's best to do so infrequently. Many owners wash their quilts once or twice a year. We also suggest brushing off, shaking out, or carefully vacuuming the quilt from time to time, especially before and after storing it. The manufacturer should provide detailed care directions, which are helpful to read before making a purchase.
How can I judge the quality of stitching on a quilt?
Quality stitching is generally tight, consistent, and evenly spaced. However, hand-stitched quilts may have less consistent stitching. Good stitching can make the difference between a quilt that lasts for many years and one that falls apart quickly.
Still have questions?
Our product experts have extensive experience testing just about every sleep product on the market. Send an email to [email protected] or call us at (877) 672-8966 with your questions and we'll help you find exactly what you're looking for.
Thanks for the feedback - we're glad you found our work instructive!
If you're ready for more, sign up to receive our email newsletter!
Was this article helpful?
Thanks for the feedback - we're glad you found our work instructive!
Submitting your Answer...
Other Articles of Interest