When you buy through our links, we may earn a commission. Products or services may be offered by an affiliated entity. Learn more.
Loft beds are raised beds designed to free up usable space beneath the mattress. This underbed space can be leveraged as a workspace, play area, or storage compartment. While they are popular with kids because of their fun and unique construction, loft beds are also available for teens and adults.
Generally, loft beds are made from supportive metal or wood and include guardrails that surround the bed to keep the sleeper safe from falls. Loft bed frames also include a ladder that the sleeper can climb to gain access to the bed. Some models have high lofts that free up enough space for a desk or bookshelf underneath. Others have lower lofts with space that can be used for a toy chest or storage.
There are many factors to consider when purchasing a loft bed including size, materials, performance, and style. We'll provide details about how to select a loft bed and discuss a selection of the best loft beds available today.
Product Details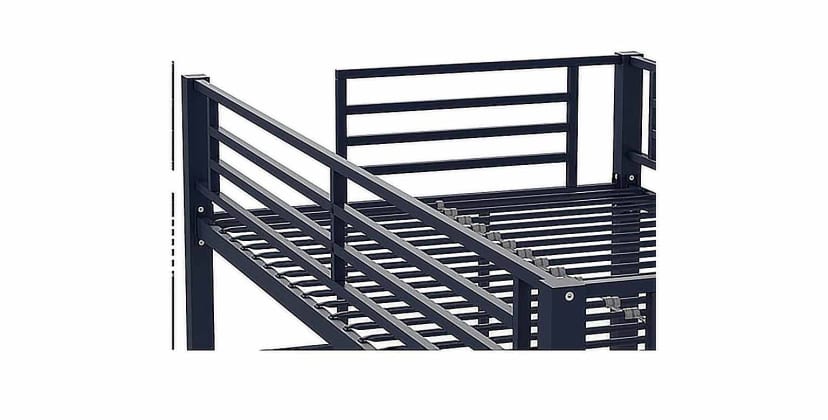 Kids or teens with a small bedroom
Those who want a variety of color options
Shoppers on a budget

Ladders built into the bed frame with two entry points
Space under the bed for a desk or play area
All-around guardrails designed for added safety
Sleep Foundation Special Offer
Use this SleepFoundation.org link for the most current discount on Your Zone mattresses
The Your Zone Metal Loft Bed has a durable all-metal design. Designed for small spaces, this affordable loft bed has ladders built into the frame at both the head and the foot of the bed. This placement allows sleepers two points of entry and reduces the amount of space occupied by inclined ladders seen on other loft bed models. This bed frame also includes guardrails around the perimeter of the mattress.
The underbed space is 58 inches high, which provides enough room for a small desk or play area. The bed frame can fit a standard twin mattress, and it is designed to support up to 200 pounds. Shoppers can choose from a variety of colors including navy blue, white, pink, silver, and black.
The bed ships in one box and offers easy assembly. Purchase of this bed frame includes a 1-year limited manufacturer's warranty.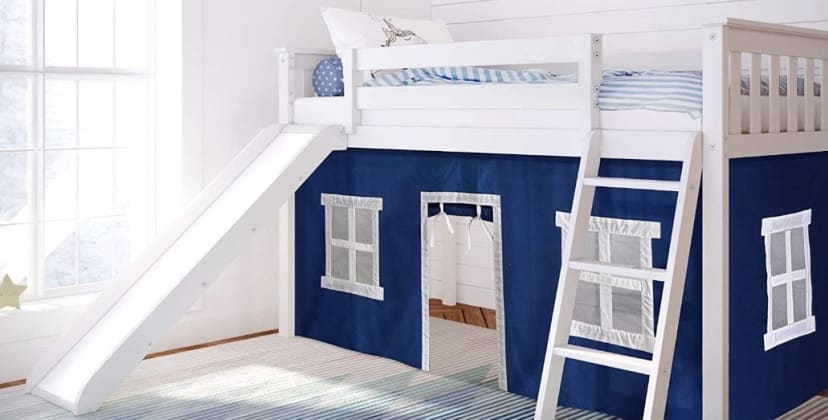 Max & Lily Low Loft Bed with Slide
Kids who have recently transitioned from toddler beds
Parents who want to invest in a long-lasting bed for their child
Shoppers with flexible budgets

Charming design includes a fun slide and under-bed play space
All-pine construction ensures excellent durability
Safety features include a ladder with anti-slip steps and tall guardrails
Sleep Foundation Special Offer
Use this SleepFoundation.org link for the most current discount on Max & Lily mattresses
Max & Lily is a company specializing in kid-friendly furnishings that are fun and well-crafted in equal measure. The Low Loft Bed with Slide nicely epitomizes both qualities. Crafted entirely from durable New Zealand pine, the frame features more than 4 feet of under-bed storage space that doubles as a play area. A cloth overlay with windows and an entrance completes the kid-friendly look.
Another playful feature is a wooden slide affixed to the head of the bed. A climbing ladder rests at the opposite end. In lieu of the slide, you can opt for a staircase. Each step has an anti-slip surface to minimize the potential for accidents when your kiddo gets in and out of bed. Another safety feature are the bed's guardrails, which measure 14 inches tall and meet height safety recommendations for most twin size child mattresses.
All components, hardware, and tools are included with your order. That said, setting up the bed frame may take some time. Alternatively, you can pay an extra fee to have a courier handle the assembly. The Low Loft Bed with Slide is available through various online retailers. If you purchase the bed through Amazon and have a Prime membership, shipping is free to most locations.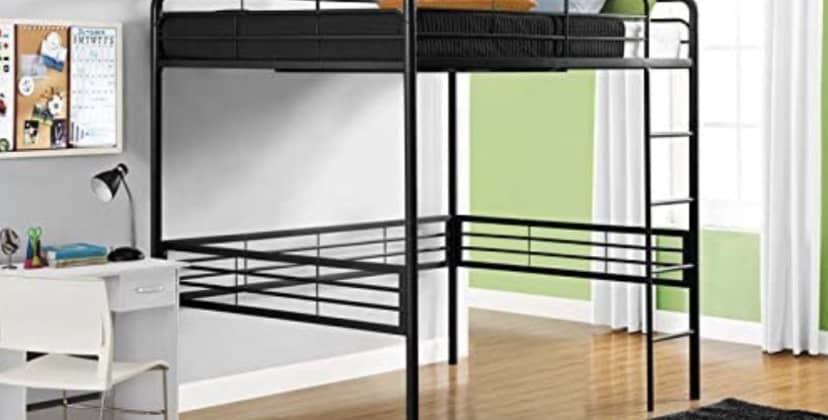 DHP Metal Loft Bed with Ladder

People who want to conserve floor space in their bedroom
Those who don't mind sleeping on thinner mattresses
Value seekers

Space-saving design offers plenty of under-bed storage without taking up too much room
Sturdy all-metal construction
Assembly is a quick and easy process
Sleep Foundation Special Offer
Use this SleepFoundation.org link for the most current discount on DHP mattresses
If your bedroom is limited on storage options, the DHP Metal Loft Bed with Ladder offers plenty of under-bed space without taking up too much room. The frame measures more than 6 feet tall, allowing you to use the free area underneath for storing your belongings or setting up a workstation desk. You can also place a second bedframe in the space if you share a sleep area with a roommate or reside in a college dorm. A built-in ladder allows you to get in and out of bed with ease.
The frame is composed entirely of steel, ensuring sturdy construction. You'll need to use a thinner mattress, as the guardrails are designed to accommodate a maximum profile of 6 inches. The weight limit is 300 pounds, so also make sure your mattress is on the lighter side — an all-foam model should be the best option. Assembling the frame takes little time, and all tools and hardware you'll need are included with your purchase.
The Metal Loft Bed with Ladder is affordably priced. Shipping costs and return options vary by seller. If you purchase the bed through Amazon.com, your order qualifies for free ground delivery and a 30-night trial period. You may also purchase a 5-year protection plan against various structural defects.
What Is a Loft Bed?
A loft bed is a raised bed frame designed to help free up usable space, with an area underneath that can be converted into a workspace, play area, or storage space. The area under the bed may include a built-in feature like a desk, or it may have open space that the sleeper can adapt for their chosen purpose.
Typically, a loft bed is made of either wood or metal, and it includes a ladder and small opening to give the sleeper access to the bed. This ladder can be built into the bed frame or extend from the frame at an angle. Loft beds usually include guardrails to protect sleepers from falls, since they are sleeping higher than on a typical bed frame.
Loft beds are often considered most suitable for kids and teens, since these frames tend to hold twin mattresses and are similar in construction to bunk beds. However, there are some models that are constructed with adults in mind. These may include additional features like a higher loft or added shelf space. Loft beds for adults may hold larger mattress sizes, and they must be constructed to support higher weight limits.
How to Choose a Loft Bed
Due to their versatile nature, loft beds come in a variety of styles and sizes. In addition to standard factors such as price, materials, construction, and design, shoppers looking for a loft bed may need to factor in additional considerations around sizing, ease of access, and underbed space.
What to Look For in a Loft Bed
Most people in the market for a loft bed are looking to conserve space. Therefore, one of the first steps when choosing a loft bed is to figure out how much space you have to fit the loft bed, and how you want to use the underbed space. Once you've established the space requirements, you can turn to other factors such as the bed's weight capacity, the quality of the materials, and the ease of assembly.
Bed Size
Most loft beds are designed to support a twin mattress, but there are also models that can fit larger mattresses or custom sizes. When choosing a size, consider the intended sleeper as well as the amount of available space in the bedroom. These factors can help determine if a twin, full, or larger bed is the best fit. You should also ensure your mattress has a low enough profile to fit safely under the guardrail.
Quality Materials
As loft beds sit higher than regular bed frames, it is crucial to choose a model made with high-quality materials that provide adequate support. Generally, loft beds are constructed with metal or wood, which are both durable and sturdy materials. Wooden models may be heavier and more difficult to set up, but they tend to be more robust.
Underbed Functionality
Depending on the height of the loft, there are many options for the underbed space created by a loft bed. Higher lofts may allow room for a workspace with a desk, a bookshelf, or a play area with a toy chest. Lower lofts may accommodate easy-to-access storage space, hanging hooks, or shoe caddies.
Weight Capacity
The construction of the bed frame and its size and materials determine its maximum weight capacity. Before purchasing a loft bed, check the manufacturer's specifications to be sure that the frame is able to support the weight of the sleeper and the mattress.
Style and Height
In addition to the aesthetics of the loft bed, pertinent design elements to consider include the placement and angle of the ladder, the width of the slats, the dimensions of the guardrail, and how high the bed sits off the floor. A loft bed should allow room for the sleeper to move freely without feeling inhibited by the ceiling, so a lower loft style may be more appropriate for bedrooms with a low ceiling.
Price
The price-point of a loft bed can vary widely depending on size, construction, materials, and functionality. Loft beds with smaller frames intended for kids and teens tend to cost less than larger frames meant for adults. Special designs, custom sizes, and built-in elements may raise the price. If you don't already have a mattress that fits the loft bed's requirements, this should also be added to the budget.
Ease of Assembly
Most loft bed designs come with hardware and labeled parts and are designed to be put together in just a few hours. Larger loft beds may require more heavy lifting, especially if they are made with wood or fiberboard, and they may need more than one person for assembly. If you can, consult the assembly instructions online before purchasing the loft bed to be better prepared. Some companies offer optional in-home setup.
Why Would I Want a Loft Bed?
Loft beds may be an attractive option for shoppers who are interested in conserving space and adding a unique design element to their bedroom. Because the bed is raised off the ground, it frees up space below that can be utilized in various ways.
For children and teens, a loft bed may be a logical transition from a child's bed, allowing more room for personal space in the bedroom. As your child grows, the underbed space can transition from a play area to a homework desk or bookshelf.
A loft bed is also an ideal way to maximize space in a dorm room or studio apartment. Higher loft beds keep the mattress out of sight, giving the homeowner more privacy when guests are over and helping create the illusion of a separate day area and night area.
In addition to their space-saving benefits, loft beds can add a fun touch to a conventional bedroom.
Frequently Asked Questions About Loft Beds
How much do loft beds cost?
Loft beds typically cost between $200 and $500, though the cost can run anywhere from $150 to $2,000 depending on their style, size, and construction. Beds made with higher-quality materials or those with built-in features like a desk or shelving may be more expensive.
Where is the best place to buy a loft bed?
Shoppers can purchase loft beds both online and in brick-and-mortar stores. Due to their hefty dimensions, loft beds are typically packaged in a box for the user to assemble once the bed arrives at their home. For an extra fee, some retailers may offer the option to have the bed set up by a professional team.
Are loft beds safe?
Loft beds are generally considered safe as long as they are used correctly. Because the bed sits higher off the ground, loft beds may pose a greater risk than standard beds. However, virtually all loft beds come with guardrails and other safety features designed to minimize the risk of falling out at night. It's critical to assemble your loft bed properly, stay within the weight limits, and follow safety guidelines regarding mattress height, age limits, usage, and ladder placement.
Who can use loft beds?
While many loft bed models are geared toward children and teens, manufacturers also offer larger and more sturdily built loft beds designed for adults. Due to safety concerns over the higher sleep surface, most loft beds have a minimum age requirement. There are also physical ability considerations, since these beds require climbing a ladder to access the bed.
What is the difference between a loft bed and a bunk bed?
A loft bed is a raised bed with open space underneath, whereas a bunk bed has an extra bed in place of the open space. Both options help conserve space, as a bunk bed has two beds that take up the floor space of one bed.
Still have questions?
Our product experts have extensive experience testing just about every sleep product on the market. Send an email to [email protected] or call us at (877) 672-8966 with your questions and we'll help you find exactly what you're looking for.
Other Articles of Interest