Best Split Queen Adjustable Bed
Methodology
We personally test every product featured in our reviews and guides to provide accurate, data-driven recommendations.
Learn More
Up-to-Date
After recent tests, we've recently updated our list to include the iDealBed 3i Custom Adjustable Bed Base as our best value pick. The PlushBeds M555 Adjustable Bed Base remains our best overall.
When you buy through our links, we may earn a commission. Products or services advertised on this page may be offered by an entity that is affiliated with us. Learn more.
A split queen bed consists of two mattresses that are placed next to each other to create the surface area of a queen size bed. While the dimensions can vary slightly by model, each half of a split queen typically measures 30 inches wide by 80 inches long.
The unique design is meant to accommodate couples with different sleep needs. With a split queen bed, each sleeper can customize the firmness level and feel of their side of the mattress.
A split queen adjustable bed allows even more customization. Users can change the bed's head and foot positions to their preferred angle to reduce snoring or alleviate swelling or pain. Many adjustable beds also include premium features such as voice commands and zero-gravity positions.
We'll share our picks for the best split queen adjustable beds and provide tips on important considerations like mattress compatibility and ease of assembly.
Product Details
PlushBeds M555 Adjustable Bed Base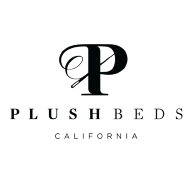 Price: $1,649
Mattress Type: Base
Firmness: N/A
Trial Length:
Warranty:
Sizes:
Who it's best for:
Tech-savvy users

People who snore heavily

Shoppers seeking advanced massage settings
Highlights:
Backlit wireless remote with five preset positions

Four massage settings for increased relaxation

Bluetooth compatible
Sleep Foundation Exclusive Offer!
$1,200 off bedroom mattresses + receive $349 in free bedding with purchase.
Why It's Best Overall
The PlushBeds M555 Adjustable Bed Base includes a range of advanced features to improve couples' nightly sleep, including a wireless remote with multiple preset options. It has built-in Bluetooth and pairs with an app that allows users to adjust the bed via voice control, smartphones, or tablets.
Notable Features
Users can quickly switch between five preset positions — zero gravity, lounge, TV, anti-snore, and flat — using either the wireless remote or the Malouf Base app. Alternatively, couples can program two custom positions that suit their specific needs.
With built-in Bluetooth and app integration, sleepers can use touch or voice commands for position and settings changes. The adjustable bed also has USB ports on each side and underbed LED nightlights. Its 12-inch legs are removable, allowing it to be used with just a mattress or with a slat bed, platform base, or foundation. It has a 750-pound weight limit.
How It Performed
The foldable PlushBeds M555 Adjustable Base is easy to assemble. Each side of the split queen model can be adjusted, with the head position moving a maximum of 60 degrees and the foot position up to 45 degrees. Couples can also activate a versatile massage feature with four modes — constant, pulse, oscillate, and wave — at intensity levels ranging from gentle to deep.
PlushBeds ships orders free in the contiguous U.S. While the adjustable base is not returnable, it includes a 20-year limited warranty. Customers can also buy a 3-, 5-, or 10-year protection plan that includes coverage for normal wear and tear, electrical failures, and repairs.
iDealBed 3i Custom Adjustable Bed Base
Mattress Type: Adjustable Bed
Firmness: N/A
Trial Length:
Warranty: 10 Year
Sizes: Twin XL, Full, Queen Split Queen, King, Split King, California King, Split California King
Who it's best for:
Value seekers

Those seeking extra storage space

People seeking an adjustable bed that's easy to move and assemble
Highlights:
Tubular steel frame is lightweight while staying durable

Legs adjustable between 6 and 12 inches high

Easy assembly requires no tools
Sleep Foundation Exclusive Offer!
Use this SleepFoundation.org link for the most current discount on iDealBed mattresses
The iDealBed 3i Custom Adjustable Bed Base is a great example that you don't have to spend more money to get a high-performing adjustable bed. Packed with several preset options and special features, we highly recommend this pick for value seekers.
Notable Features
The head of the bed is adjustable up to 75 degrees and the foot can go up to 45 degrees. A Zero-Gravity preset is available on the included remote, along with a flat preset and two programmable memory positions. The remote is also backlit for easy visibility if you want to adjust positions in the middle of the night. A foot retainer at the end of the bed also prevents your mattress from shifting while adjusting. Three leg options are included: 6, 9, and 12 inches.
How It Performed
The 3i Custom Adjustable Bed Base has an exceptionally quiet design that appeals to couples. You shouldn't bother your partner while adjusting positions throughout the night. The adjustable leg height is another attractive feature for people living in smaller spaces. Adjusting the height up to 12 inches creates a generous amount of storage space under the bed. A tubular steel construction makes the base feel lightweight while staying sturdy enough to bear up to 850 pounds of evenly distributed weight. Assembly is easy and requires no tools.
iDealBed 5i Custom Adjustable Bed Base
Mattress Type: Adjustable Bed
Firmness: N/A
Trial Length:
Warranty: 10 Year
Sizes: Twin XL, Full, Queen, Split Queen, King, California King, Split King, Split California King
Who it's best for:
Shoppers seeking numerous advanced features, including massage options

Couples who are easily awakened

People who prioritize simple assembly
Highlights:
Wall-hugger design keeps you close to your nightstand

Smart massage feature with DeepSonic rotation

Two USB charging ports
Sleep Foundation Exclusive Offer!
Use this SleepFoundation.org link for the most current discount on iDealBed mattresses
The iDealBed 5i Custom Adjustable Bed Base's wide range of features add convenience and a spa-like feel to the bedroom, aiding sleepers in attaining quality sleep through customization and relaxation.
Notable Features
The iDealBed 5i Custom Adjustable Bed Base comes with a backlit remote with flat and zero-gravity preset positions, plus three programmable memory settings for custom positions. The bed base's head tilts up to 70 degrees and the foot adjusts up to 45 degrees.
The smart massage setting features rotating vibrations meant to improve circulation and blood flow. Users can choose from three intensity options and set a timer for 10, 20, or 30 minutes.
Sleepers can also adjust the height of the base's legs between 6, 9, and 12 inches, which increases its compatibility with various bedroom furniture. The adjustable bed features exceptionally quiet motors so users can make adjustments without waking a sleep partner, and it includes an emergency battery backup in case of power loss.
How It Performed
The iDealBed 5i Custom Adjustable Bed Base has a superior range of features and a reasonable price-point compared with many similar adjustable bed models.
The easy-to-assemble base has an 850-pound capacity. Its wall-hugging design moves the base toward the wall as the head of the bed is raised, ensuring that you stay within reach of your nightstand. A microbead grip fabric secures the mattress to the base, and a foot retainer bar adds stability.
---
Why You Should Trust Us
Before providing reviews, our team personally researches and tests an array of products and evaluates them on a variety of important factors, including features, performance, pricing, and construction.
When testing adjustable beds, we have a range of sleepers on our team with different body types and sleep styles to achieve the most thorough results.
How to Choose a Split Queen Adjustable Bed
When buying a split queen adjustable bed, it's important to look for one that's compatible with the mattresses you plan to use. It's also crucial to know the product's weight limit, assembly requirements, cost, and the details of its warranty.
What to Look For in an Adjustable Bed
When mattress shopping, we urge you to ignore misleading marketing language often used by mattress companies. For example, you may notice companies advertising a product as "the top adjustable bed on the market," or "ideal for any sleeper."
Instead of heeding those claims, pay close attention to the following considerations while keeping your personal preferences and needs in mind.
Mattress Compatibility
Split queen adjustable beds require compatible mattresses. To ensure the mattress will work with your intended base, it helps to order the adjustable bed frame and mattresses from the same company, especially if the products are designed to be used together.
We recommend using memory foam, latex, or hybrid mattresses with an adjustable bed due to their flexibility. An innerspring mattress may sustain damage when bent for position changes.
Weight Limit
Consider an adjustable bed's weight limit before purchasing. Be sure to factor in the weight of the mattresses and your body weight to ensure the adjustable bed frame has the strength and durability to provide a stable base.
Most quality adjustable bases can handle at least several hundred pounds. Cheaper models made with lightweight materials may lack sufficient sturdiness.
Assembly
Adjustable beds are often very heavy, and some models are more difficult to put together and require at least two people. Those who want to simplify the setup process should consider purchasing from a company that offers White Glove delivery, which includes in-home assembly.
Price
Prices vary widely for split queen adjustable beds. Lower-tier options may cost less than $1,000, but higher-end models can have price-points well over $3,000. Pricing typically depends on the materials used in the adjustable bed's construction, the features included, and the delivery and setup method.
Warranty
Many adjustable beds include warranties, but the length of coverage can vary significantly. Electrical components are often covered separately and for a shorter length of time than the rest of the materials.
Split Queen vs. Queen Adjustable Beds
A standard queen size adjustable mattress measures 60 inches wide by 80 inches long. A typical split queen adjustable bed uses two 30-inch by 80-inch mattresses to achieve the same surface area as a regular queen size bed. With a split queen, each mattress can be adjusted independently.
While luxury features are available for both split queen and queen adjustable beds, models may vary in terms of specific features.
Bed Type
Split Queen Adjustable Bed
Queen Adjustable Bed
Benefits
A split queen adjustable bed uses two mattresses side by side. Couples can customize each mattress to create their ideal sleep experience.
A queen adjustable bed uses one queen size mattress. The adjustable base operates the bed as a whole, letting users adjust head and foot positions, along with other settings.
Pros

Sleep partners can utilize the bed's features independently without intruding on the other sleeper's needs.
Each person can choose their own mattress, enhancing customization.
Split queens often include a wireless remote control for each user.

Some couples may find cuddling and sex more comfortable on one queen size mattress with no seam.
Sheets for queen adjustable beds are more readily available than sheet sets for split queen models.

Cons

The less common size of split queen mattresses makes shopping for sheets more difficult.
Though discreet, the seam between the mattresses may bother some couples.

Queen size mattresses are heavier and harder to move than split queen mattresses.
Luxury features such as massage and zero-gravity positions must be used by both sleep partners simultaneously.
Optimize Your Experience
People can have widely varying needs depending on factors like sleep position and body type. For a petite side sleeper, a soft mattress may be ideal. But this person's heavier partner may be a stomach sleeper who finds that a firm mattress better suits them.
With a split adjustable bed, each person can have a mattress customized for their individual preferences. For partners with disparate tastes, a split bed could be a perfect fit.
Tailor Each Mattress to Fit Individual Needs
The advantage of a split adjustable bed is that a person can accomodate special sleep needs without disturbing their partner. For example, one partner may require more cushioning while the other may want to add a contouring mattress topper. In another common scenario, someone who snores can raise the head of just their side of the bed to gain relief.
Luxury Features
Many of the latest adjustable beds combine luxury and convenience by taking advantage of current technology. For example, wireless remote controls with one-touch and programmable presets and Bluetooth-enabled beds that connect with apps make adjustments hassle free.
Some adjustable beds offer massage settings to encourage relaxation and have USB charging ports to ensure phones and tablets are always within reach.
Frequently Asked Questions About Split Queen Adjustable Mattresses
Can you use your existing queen bed frame?
If you already have the perfect bed frame and don't want to change it, you're in luck. Many of the adjustable beds on the market today work with any existing bed frame.With adjustable or removable legs, most split queen adjustable beds fit neatly within the boundaries of a bed frame, meaning you don't have to worry about whether the item matches your carefully chosen furnishings. Most adjustable beds are also made for standalone use.
Do you need to buy new sheets?
At 30 inches by 80 inches, each mattress in a split queen adjustable bed is an unusual size, so regular twin size sheets won't fit. Additionally, because the mattresses are individually adjustable, each requires its own fitted sheet. It's often easiest to find split queen sheets online.The sheets you purchase for your split model should come with either elastic corners or straps to keep them from sliding as the mattress is adjusted. Buyers can also use clips and other specially designed fasteners to hold the sheets in place.
How do you keep a split queen adjustable bed together?
The mattresses on a split adjustable bed can sometimes slide during the night as partners change positions, causing a gap to form between the mattresses. Slick sheets can add to the problem.To avoid this inconvenience, shoppers can purchase non-slip pads that go between the mattress and the bed frame. Split queen adjustable bed users can also buy mattress suspenders that pull the two mattresses together and prevent a gap from forming in the middle of the bed.
How much does a split king mattress cost?
Split king prices can run the gamut depending on their materials, but they tend to be more expensive than traditional kings or California kings. Because they're two separate mattresses, manufacturers use more materials to build them than they would to create a single king bed. Split king foundations are also generally more expensive for the same reason.
Still have questions?
Our product experts have extensive experience testing just about every sleep product on the market. Send an email to [email protected] or call us at (877) 672-8966 with your questions and we'll help you find exactly what you're looking for.
Thanks for the feedback - we're glad you found our work instructive!
If you're ready for more, sign up to receive our email newsletter!
Was this article helpful?
Thanks for the feedback - we're glad you found our work instructive!
Submitting your Answer...
Other Articles of Interest